Making our House a Home – Paint Color
Making our House a Home is our goal, and that has to do with the paint color! We LOVE our house and property so much… but pulling up to it each day it wasn't us. Now to share the power of paint!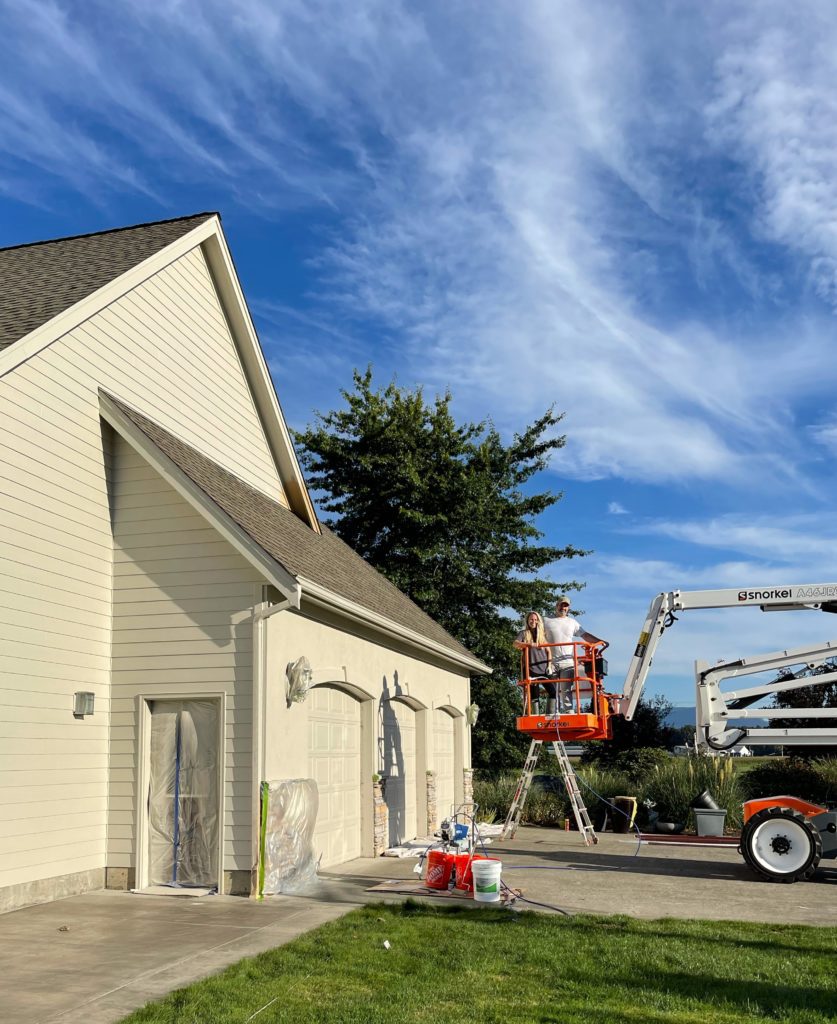 I had a dream of what I wanted this house to look like, imagine English – French Country Side! I didn't want it to look like a farmhouse ( White and Black) Even though we live in the farmland… it just doesn't match the house and our house sticks out enough where we live so why not make it look like it should.

I really wanted a beautiful off white, and green these are the colors I was going to do. I planned on the Behr Off white, but I had so many of you share another color with me and I second guessed myself and really so glad I did!!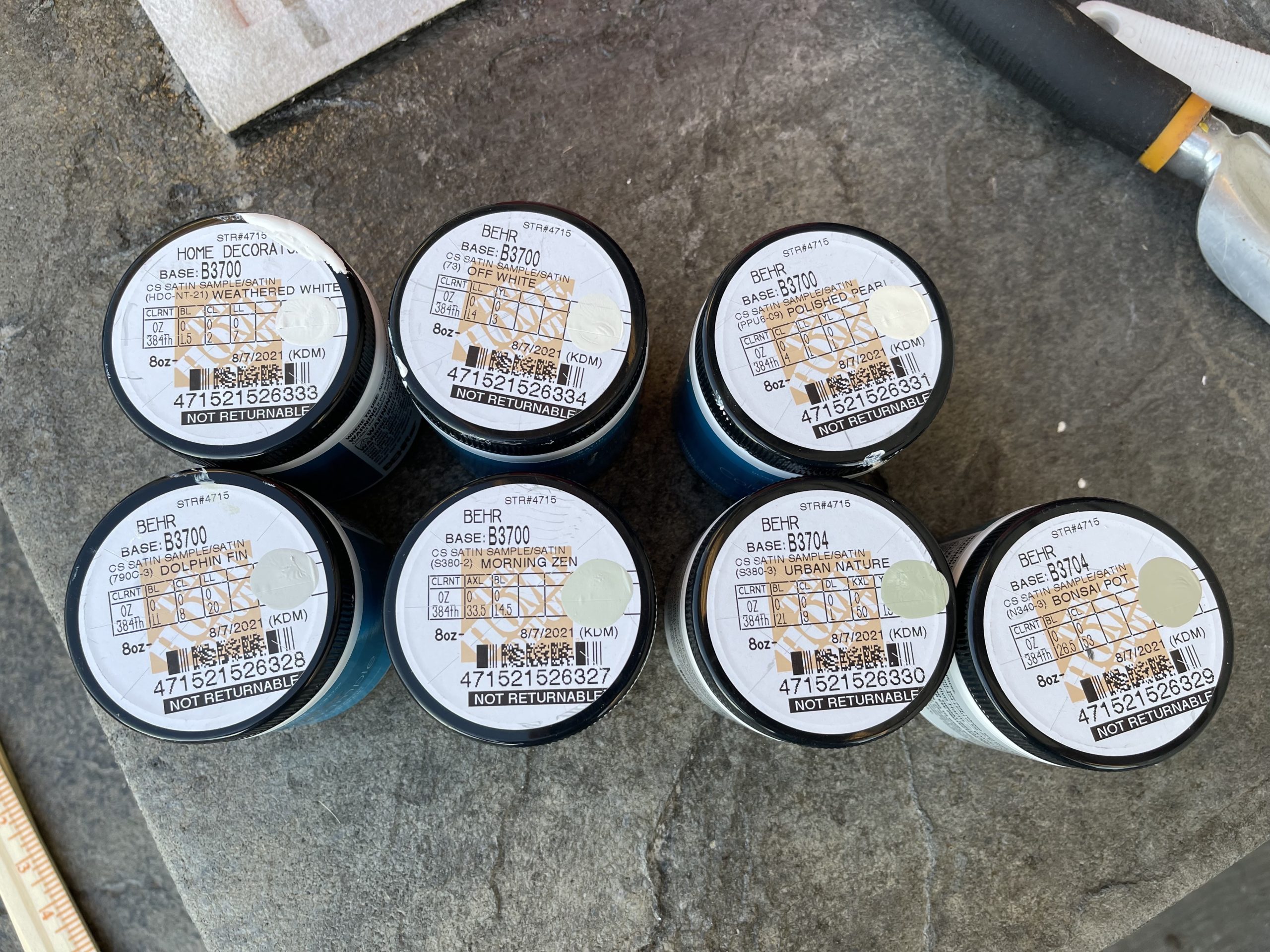 While I thought my choice above was going to be amazing… let me show you where we went with it and the color we chose! ( I will be honest through the process I might have second guessed myself again but until the tape and plastic is off and completely done you cant see its true colors!)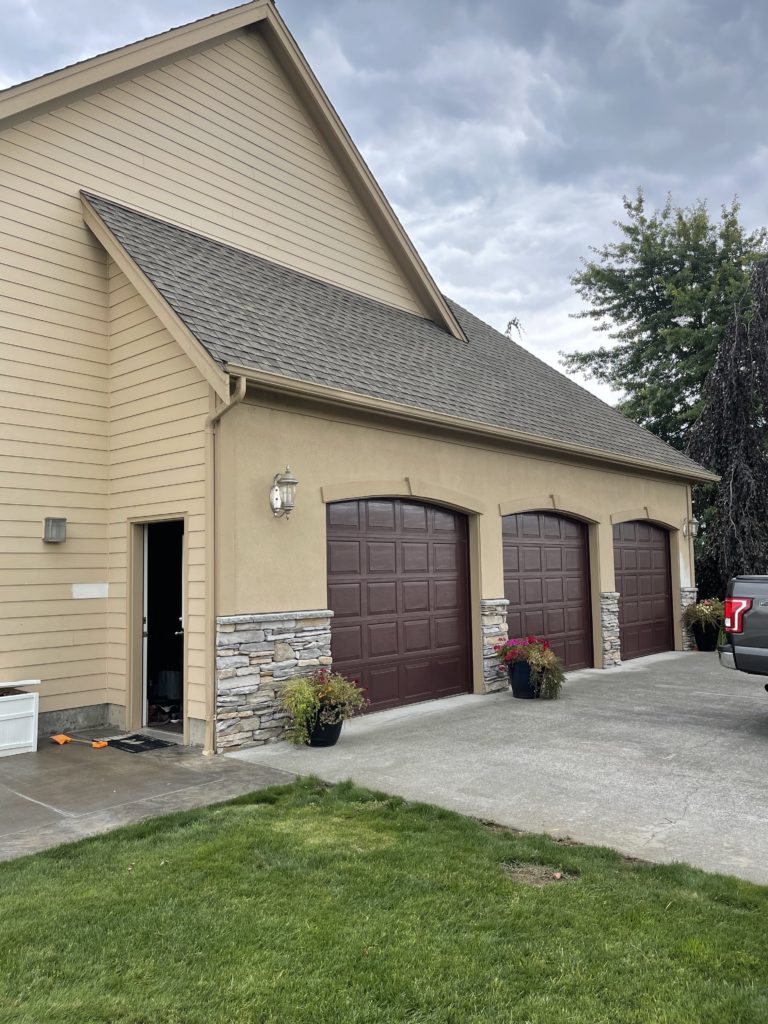 This Off White by Behr, looked so off white and dark next to all the other whites…but when I tried this new color it was exactly what I was going for! Just a reminder this was the day before we were going to paint our entire house!
I grabbed the paint that I wanted to try – Benjamin Moore Revere Pewter and we decided to paint the shed so we can see if it was the one! Worse case we just paint again right? Its better than our whole house and then questioning it!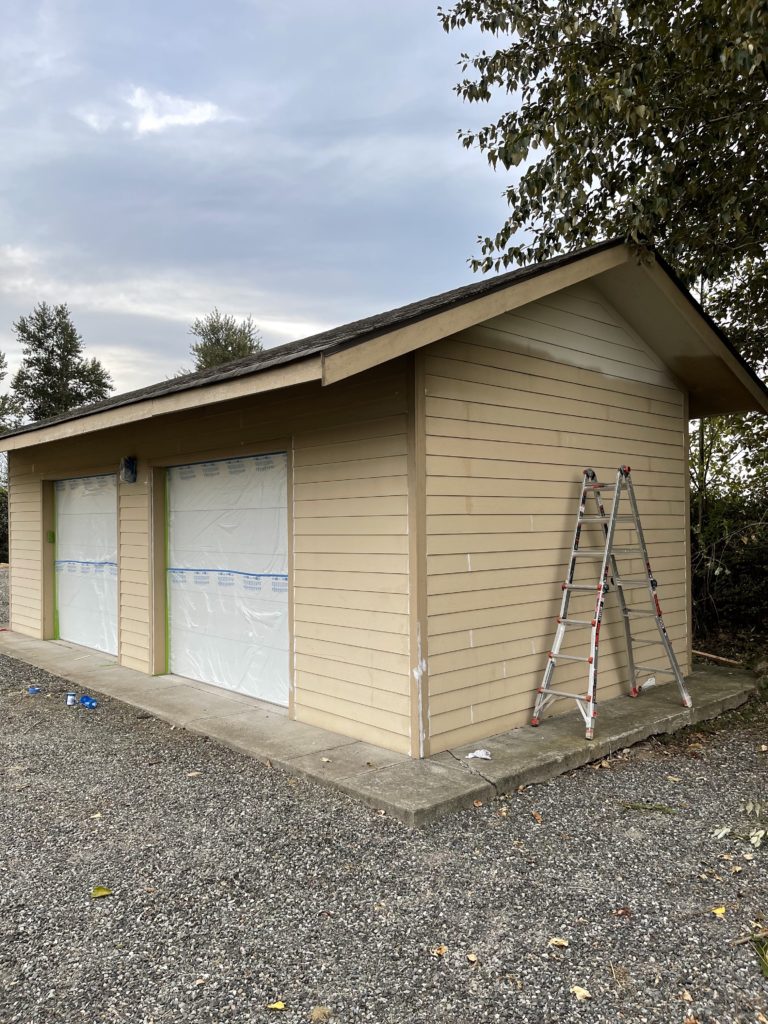 After we prepped and prepped, we went to work! We just used our little Graco Handheld paint sprayer and it did the job!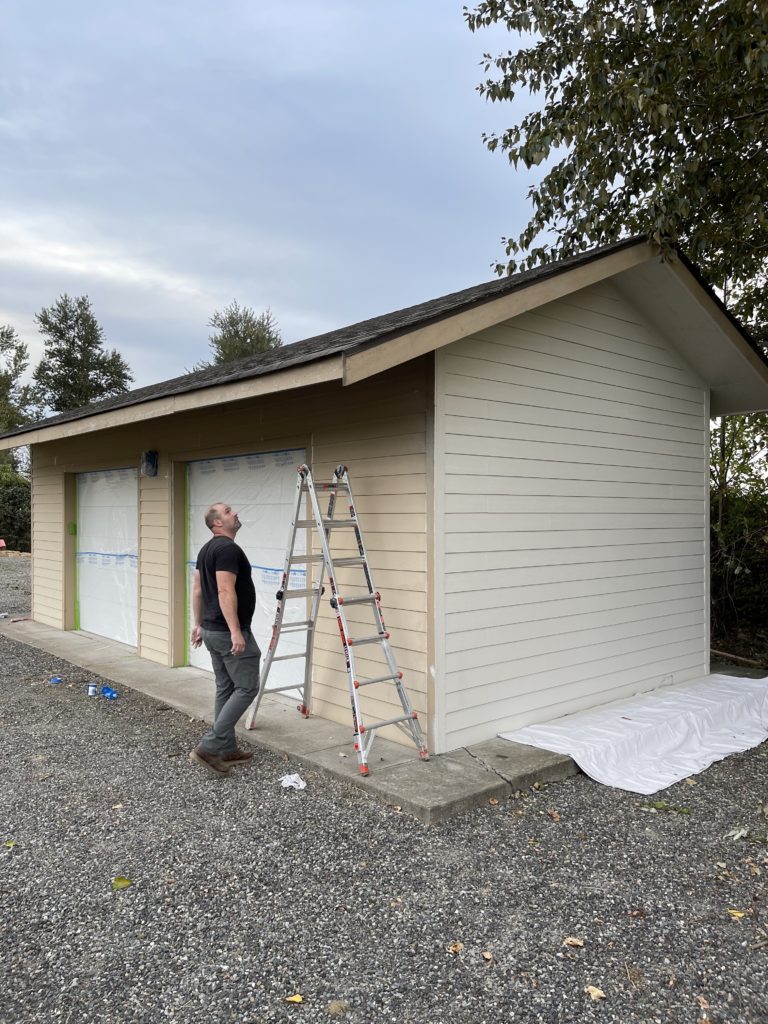 This is the Revere Pewter paint color as its drying – so far we were loving it!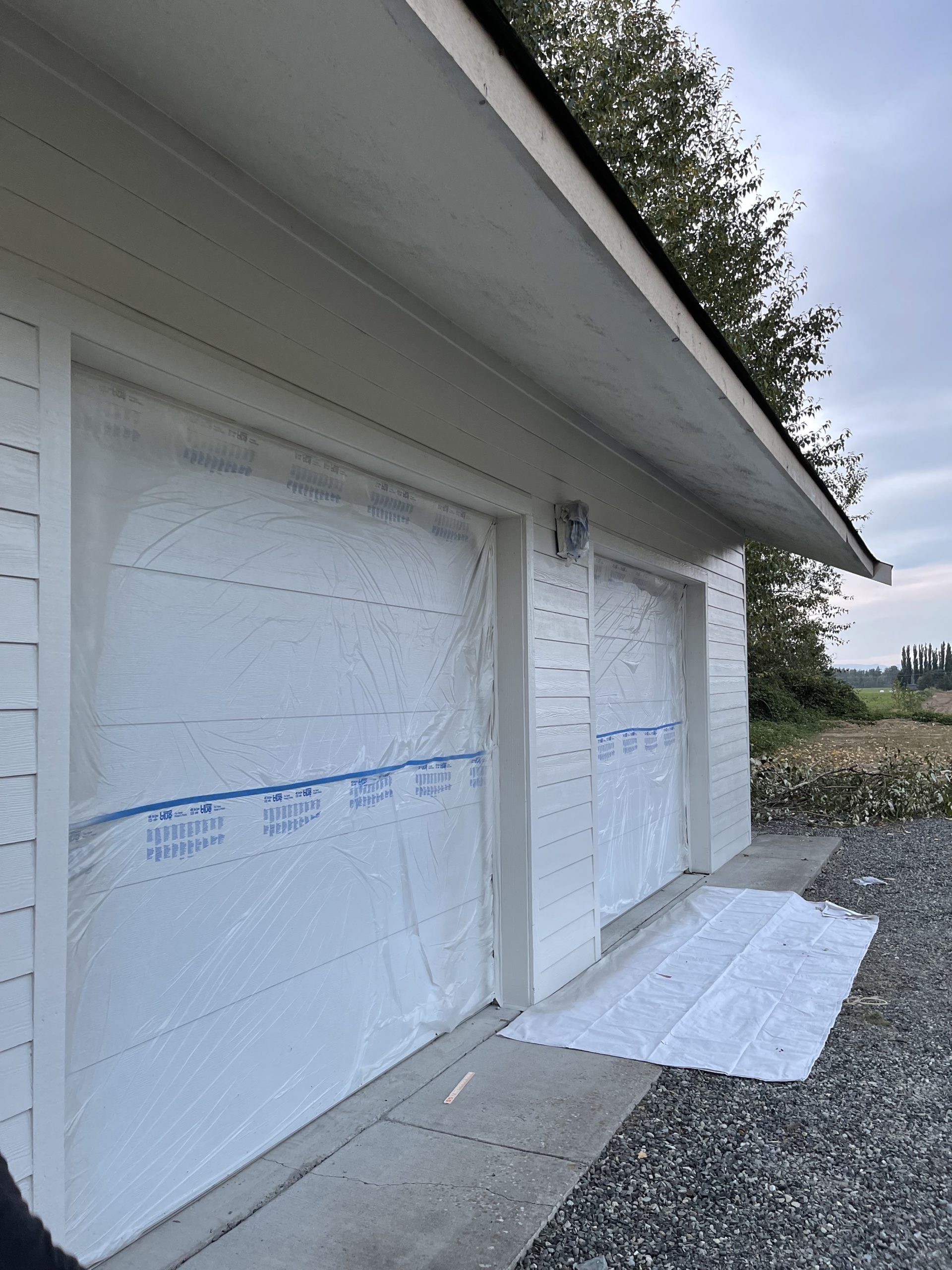 So much better right??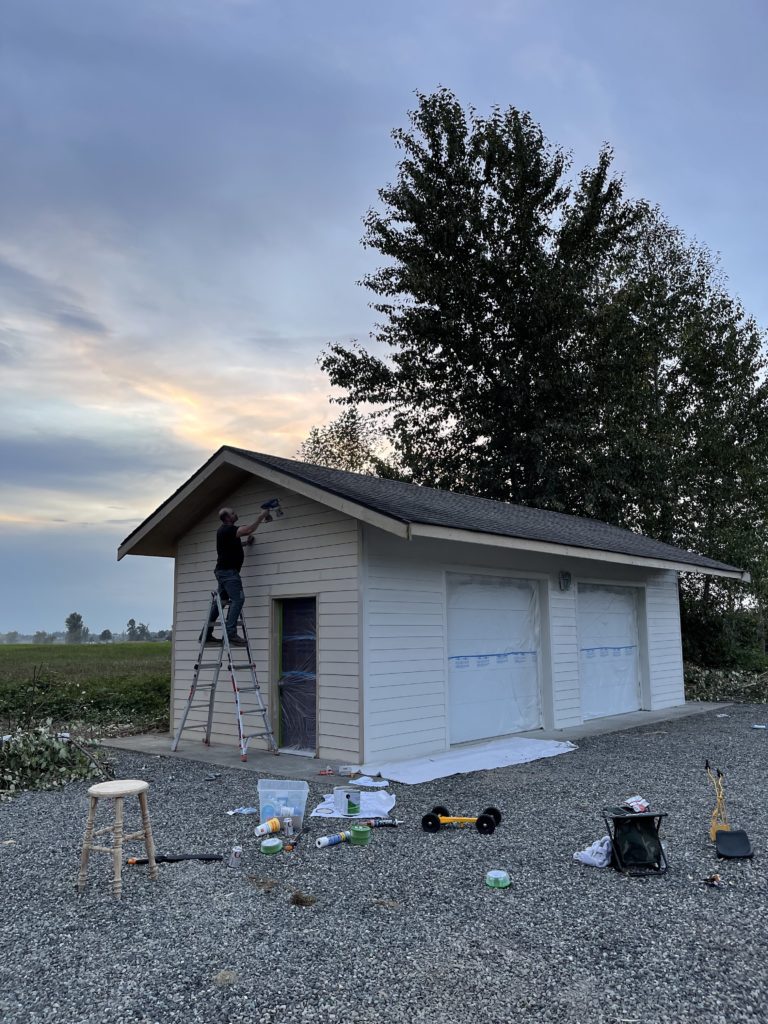 Nothing like painting into the night, but we needed to make our final decision so we can grab paint!
The next morning I walked out and LOVED the color!!! It is just what I wanted and changes through the day!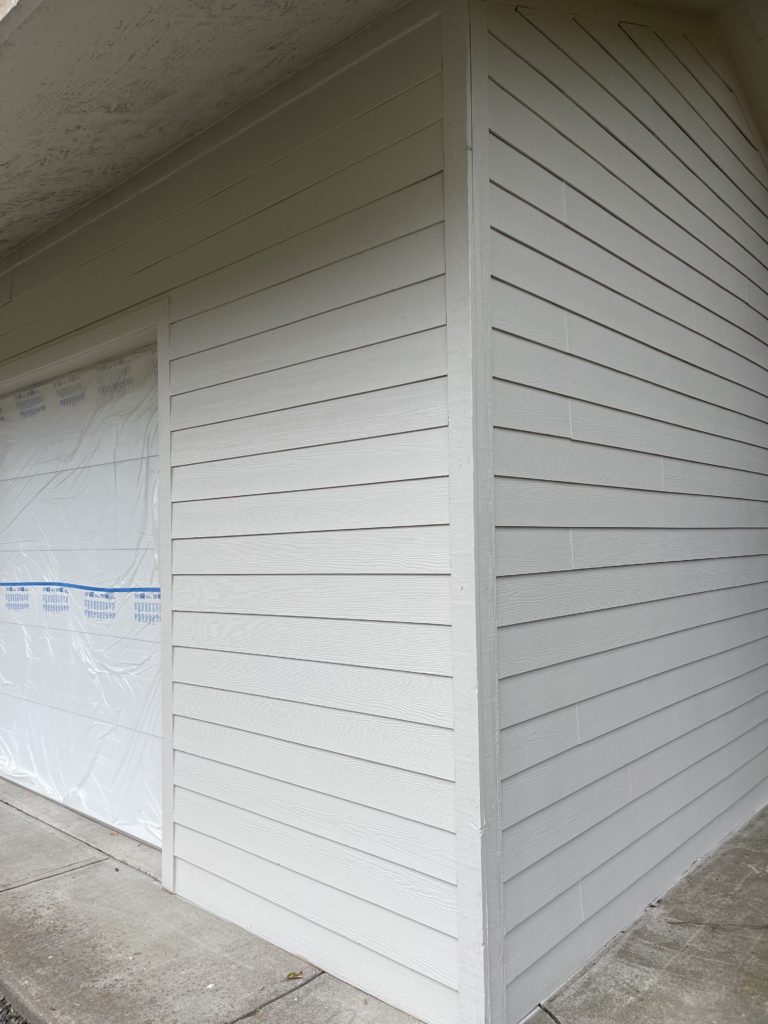 Here is another view up close of the Benjamin Moore Revere Pewter! But, I was so hesitant so I went and got one more sample of another color – remember I said I can paint over right??
I saw the color Benjamin Moore Balboa Mist, and it looked like just a little bit lighter version of the Revere Pewter, so I ran out to get it….
Well we decided it was to light for us and just not the right color – it wasn't even a creamy white more of a bright greyish/white.
Second Image : BM Balboa Mist, BM Revere Pewter, and Behr Off White
The Final Paint Color is : REVERE PEWTER by Benjamin Moore!
It was time to get to work! As much as we loved our handheld Graco Paint Sprayer HERE we did an upgrade to this professional Graco Paint Sprayer HERE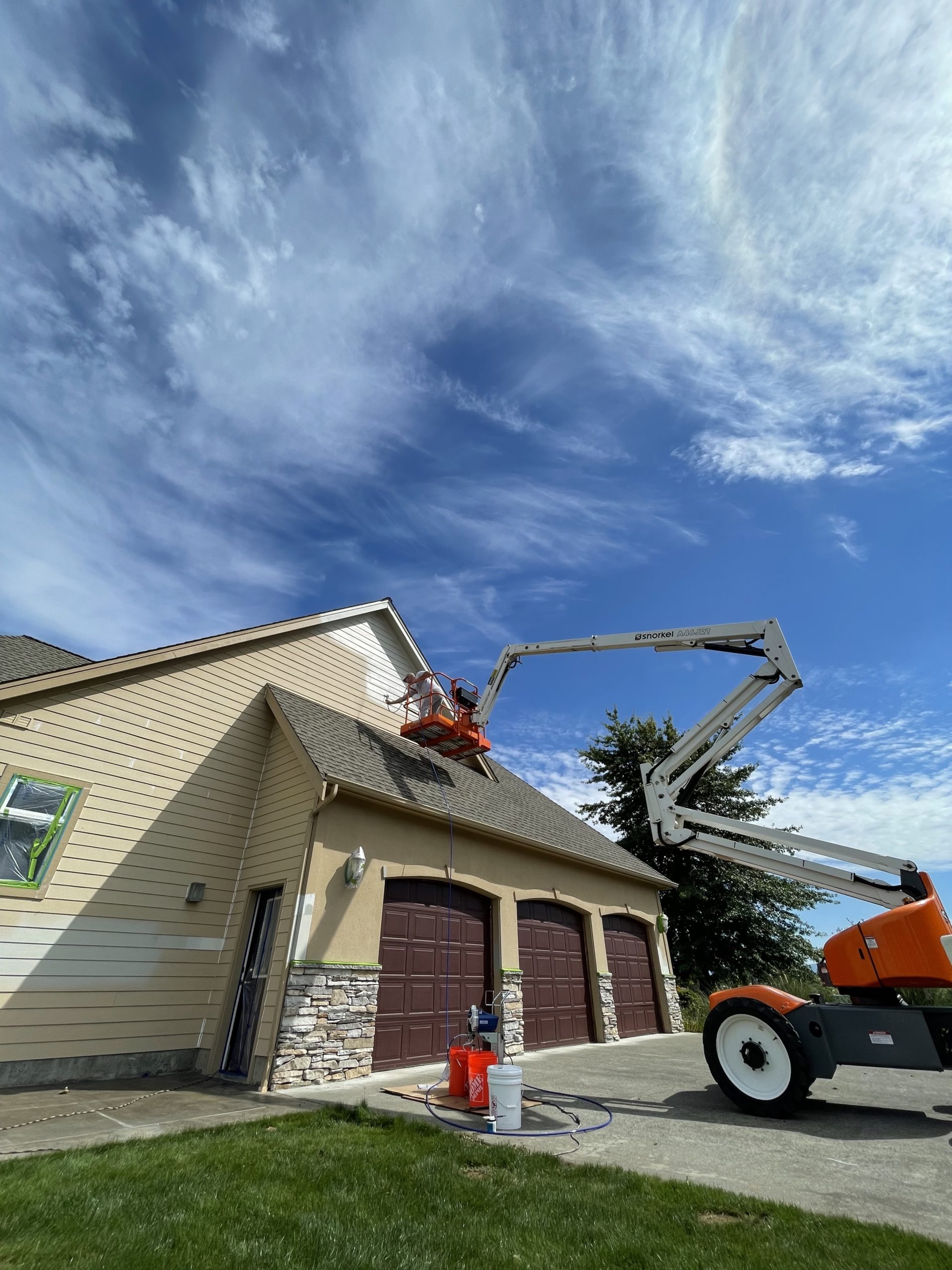 We purchased a 32 foot ladder, and that would even get us high enough with these steep roofs. James wanted to use his truck and put a ladder in it – but I went for the safer option and rented this Boom Lift from a local Tractor Company – Brim Tractor. BEST money spent!!!! It let us get to high spots safely and the whole thing done quickly!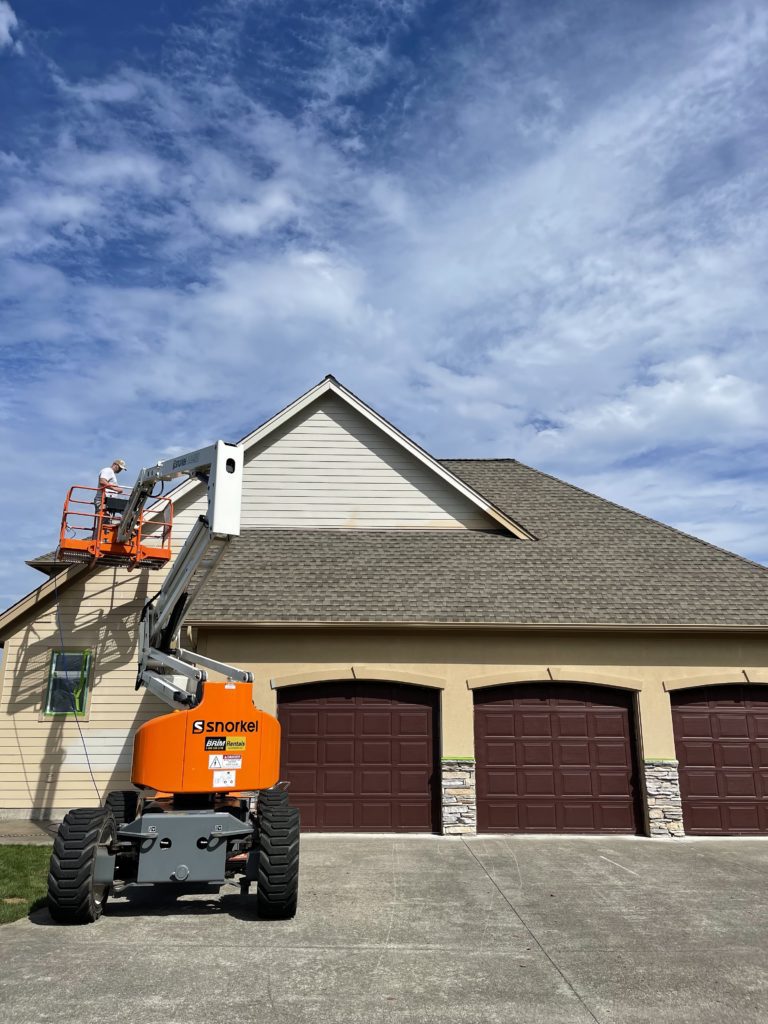 It was so nice not having to move a ladder all around and using this lift to get the Revere Pewter paint color just where we wanted it!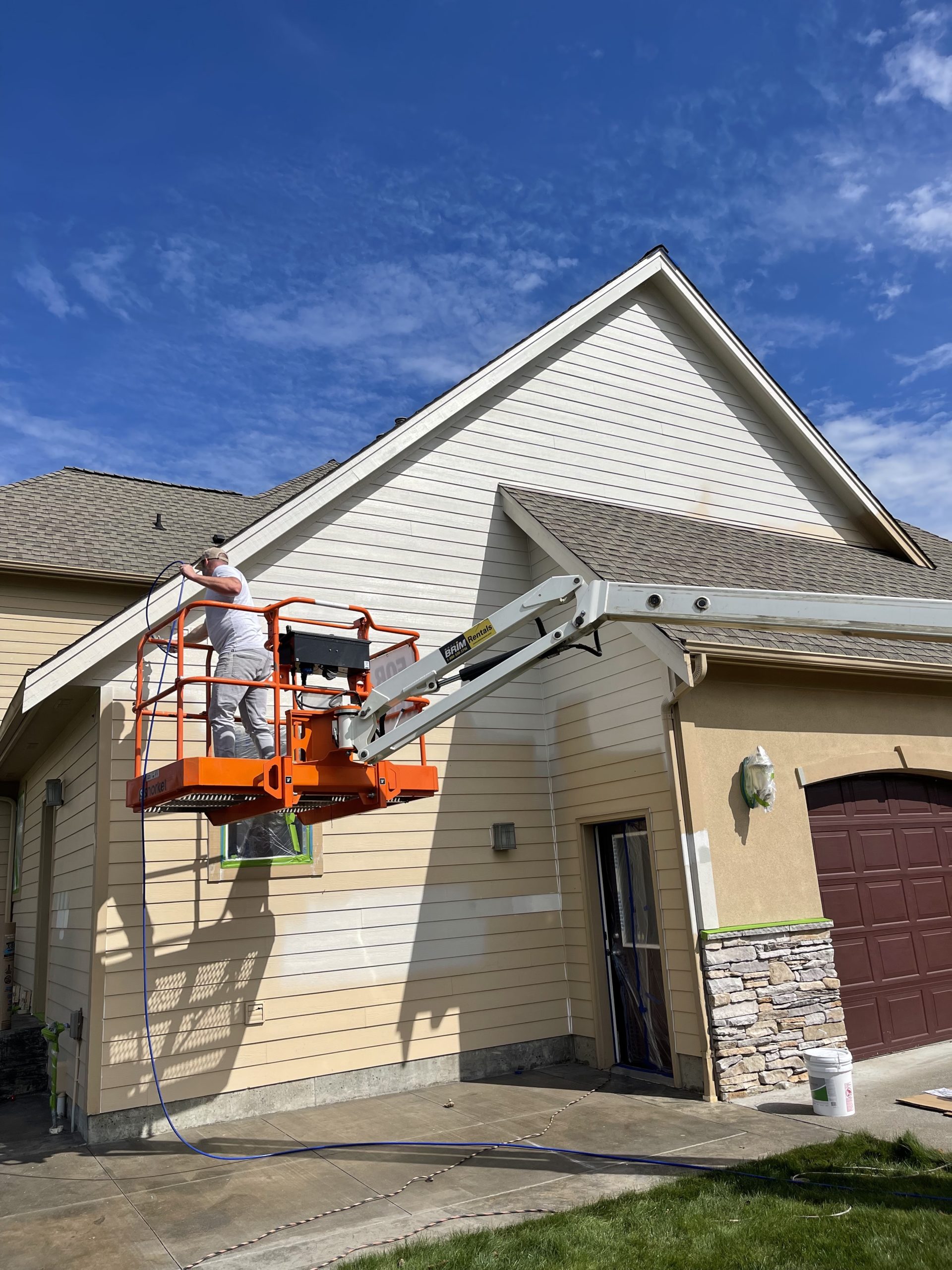 We did decide to do just one color for the trim and house – and we are happy with the decision this Revere Pewter is perfect for it!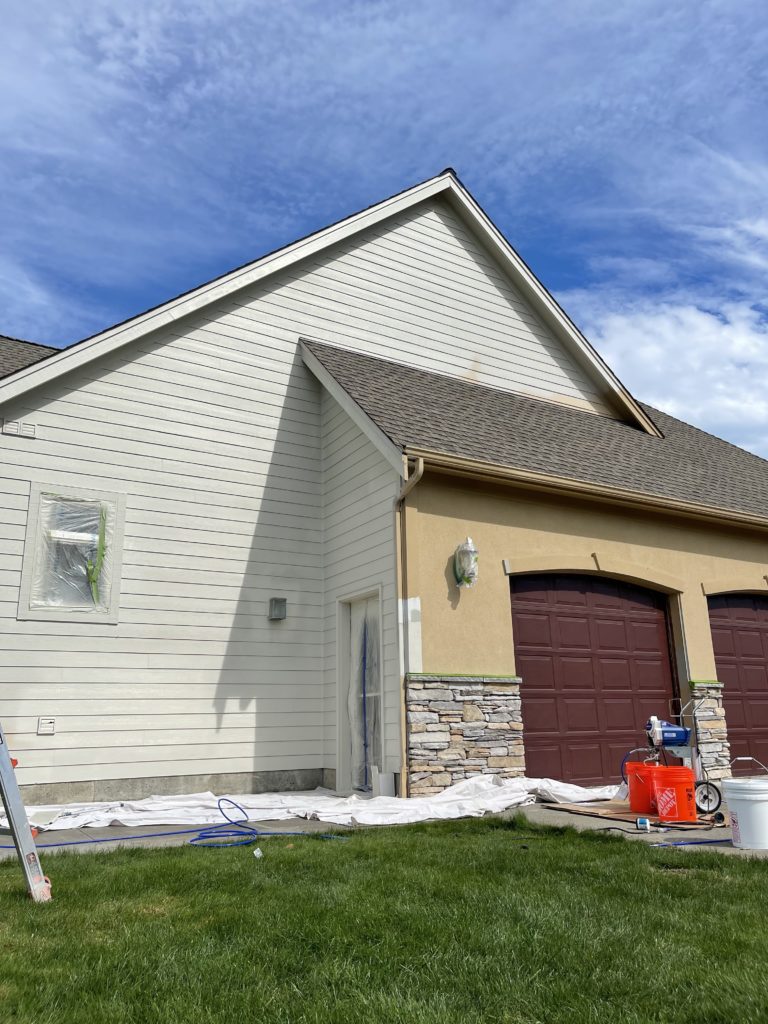 Isn't the power of paint amazing?? Look at this before and after!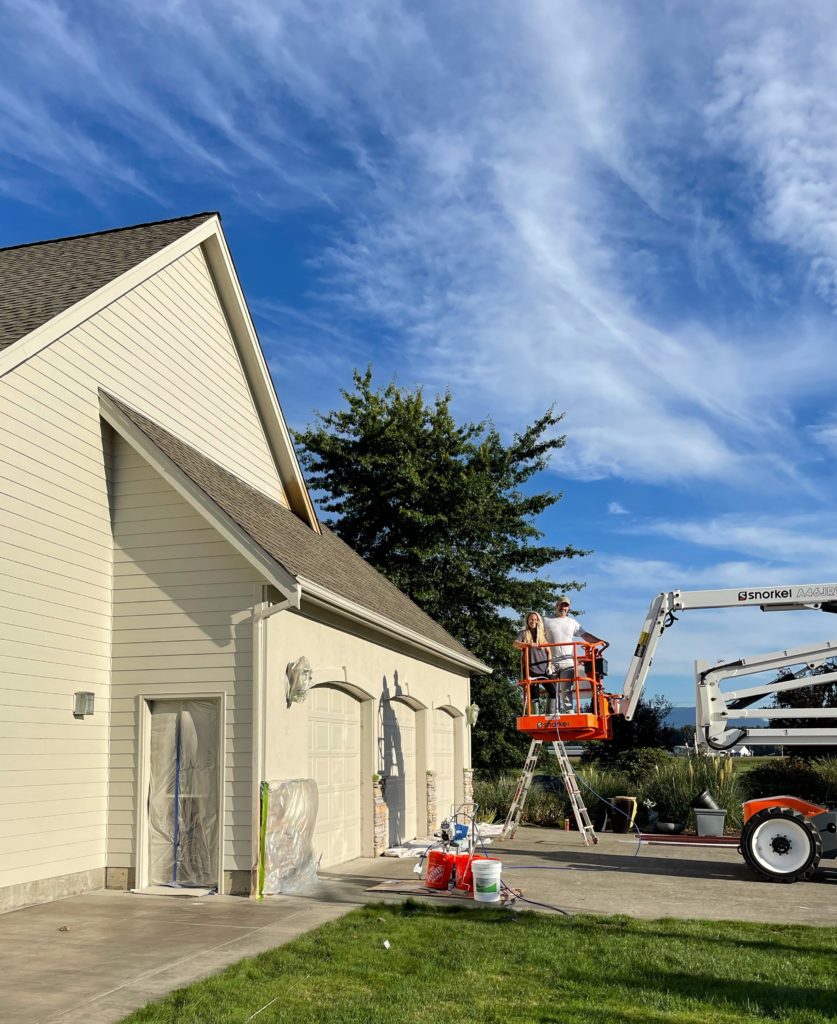 I can't wait to show you more and share all the details!! Let me know any questions over on instagram and below and they will be on the next post! Now you know the color and once you see it all complete if you still aren't convinced it will be sure to!