Painting a hot tub, is that a thing? I did it and I love it! Let me show you how I did and what it's like a year later! Yes, it's really easy!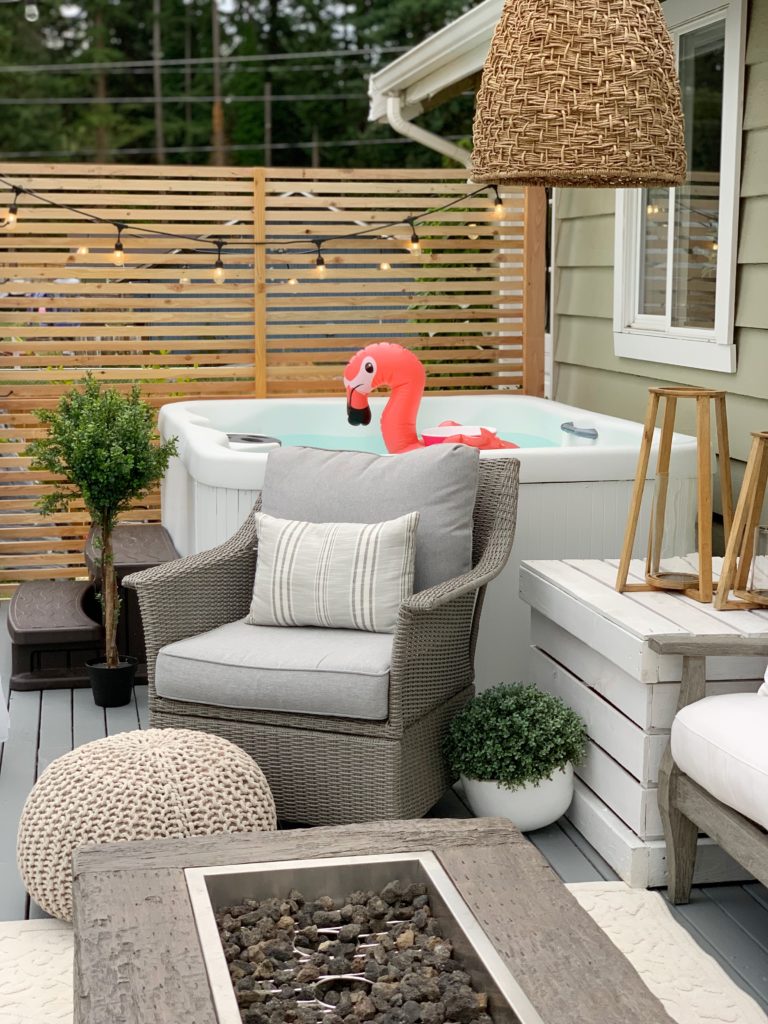 We were working on redoing our entire deck space, and our hot tub stuck out like a sore thumb being dark brown. Its a year later and it has been the best decision ever! Let me show you the process and what you will need!
SUPPLIES:
OUTDOOR WEATHER PROOF PAINT
PAINT BRUSH
HOT TUB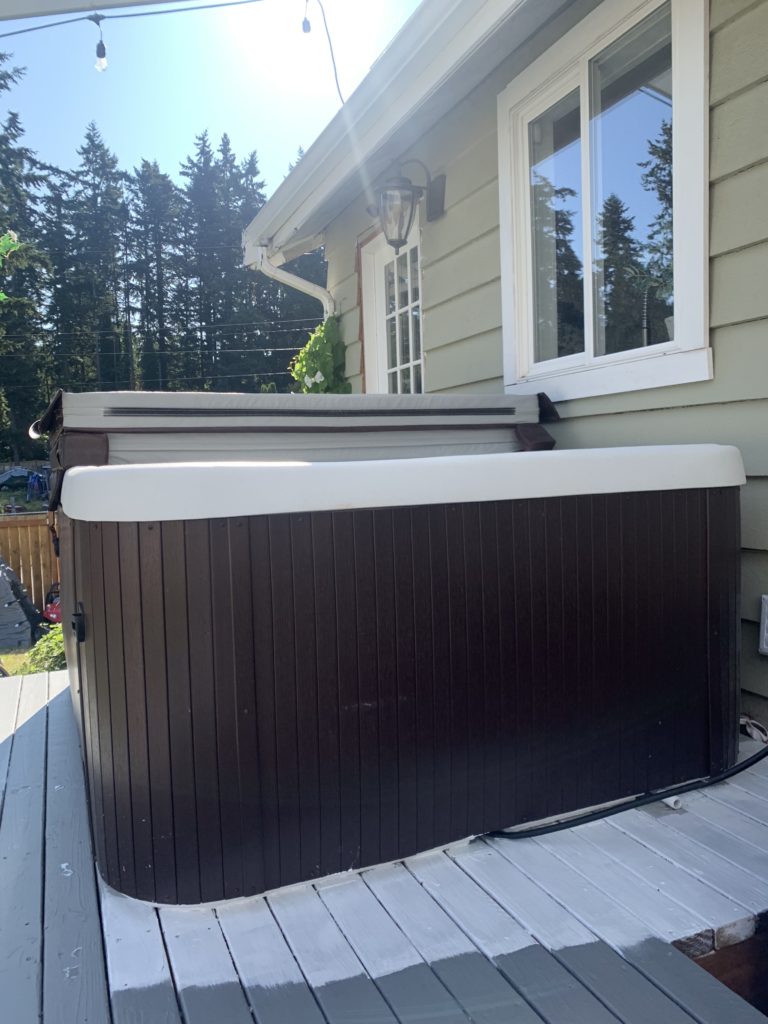 I was in the process of painting my deck, so I didn't worry about any paint getting on the decking. If you are worried put down a drop cloth.
Make sure that your hot tub is clean from all debris. We pressure washed our hot tub right before.
* MAKE SURE TO CHECK WITH THE MANUFACTURER IF YOU ARE WORRIED ABOUT VOIDING ANY WARRANTY.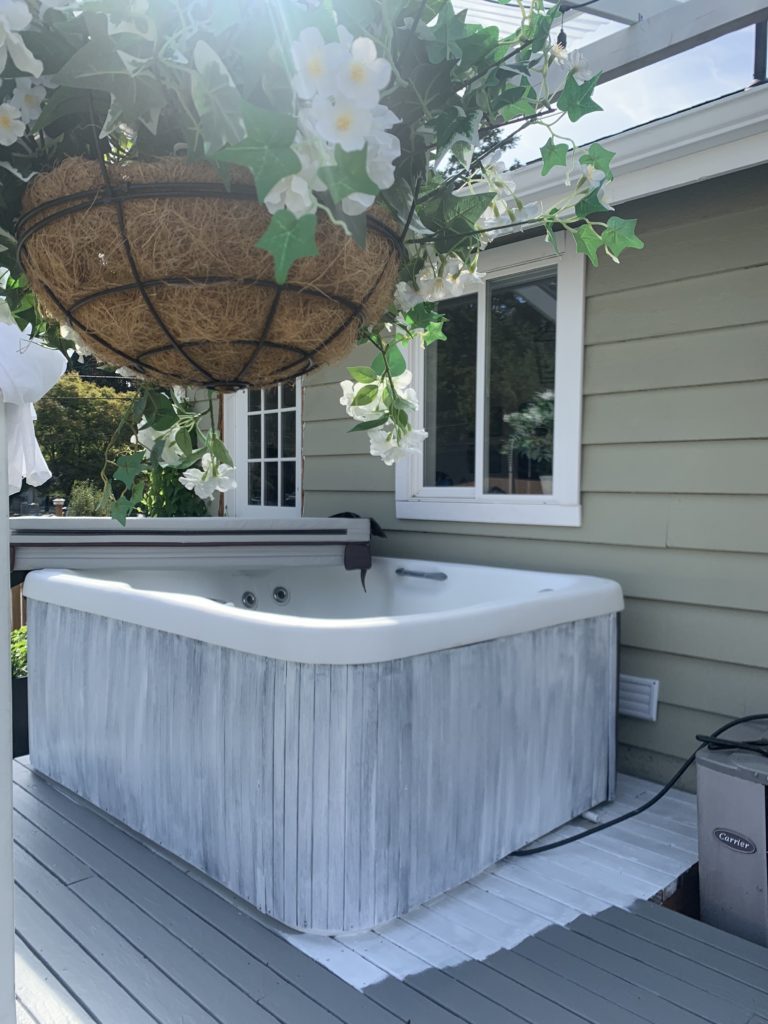 Here it is with one coat.
* INSERT – FREAK OUT MOMENT … WHAT DID I DO?
Yes, I didn't mention to James that I was doing this because, he may have said not to before… but I KNEW how good it would look.
KEEP PAINTING – I promise!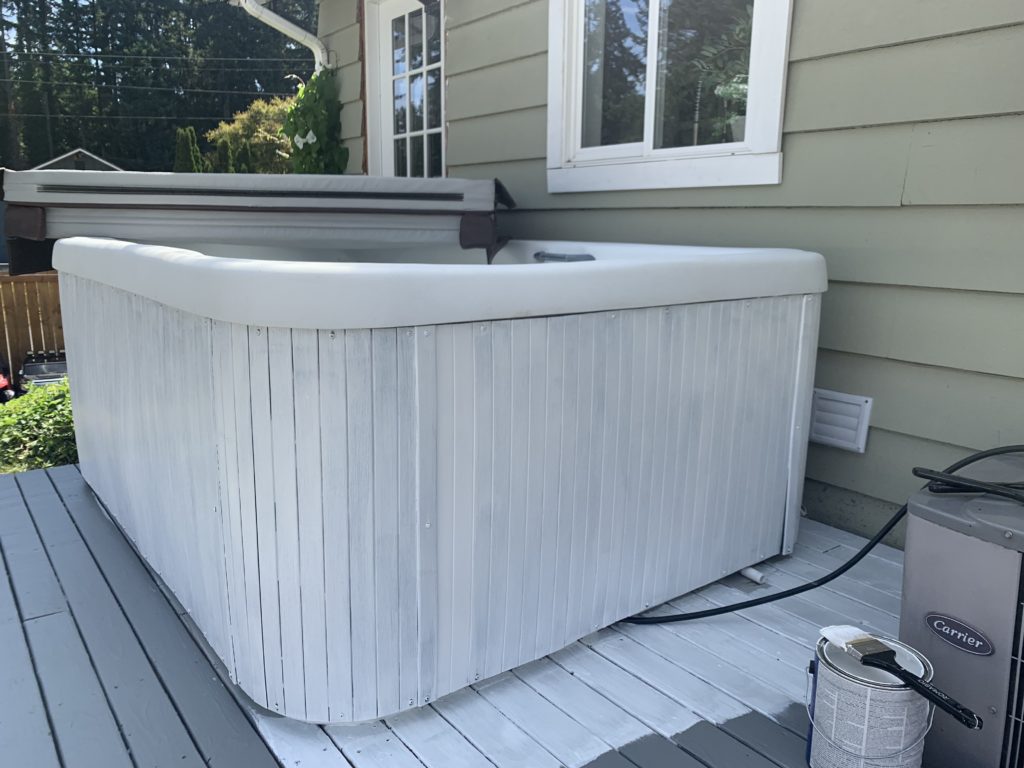 Here we are with the second coat and I calmed down just a bit…it was starting to look better I had hope!
3 COATS IS THE KEY!! LOOK AT THIS BEAUTY!!! I am so happy I kept going! When you are painting yours you will know how many coats to do. I found using the paint brush was better than a roller I did try both.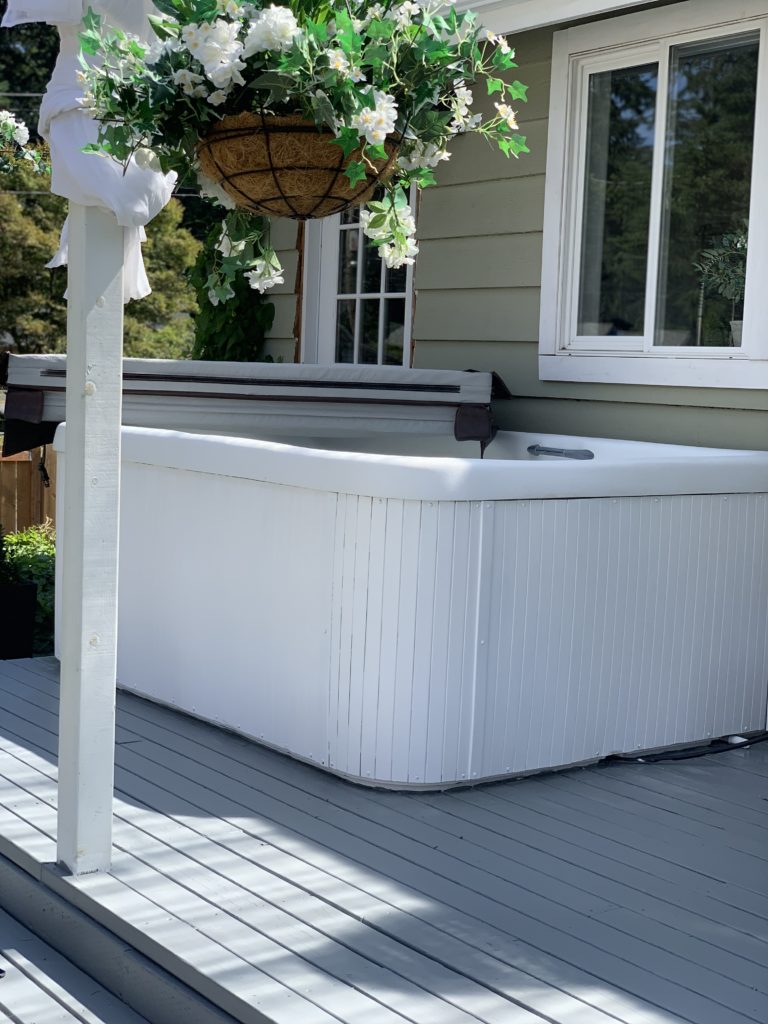 This space is getting better by the moment! Now it was time for James to get home and see what I did!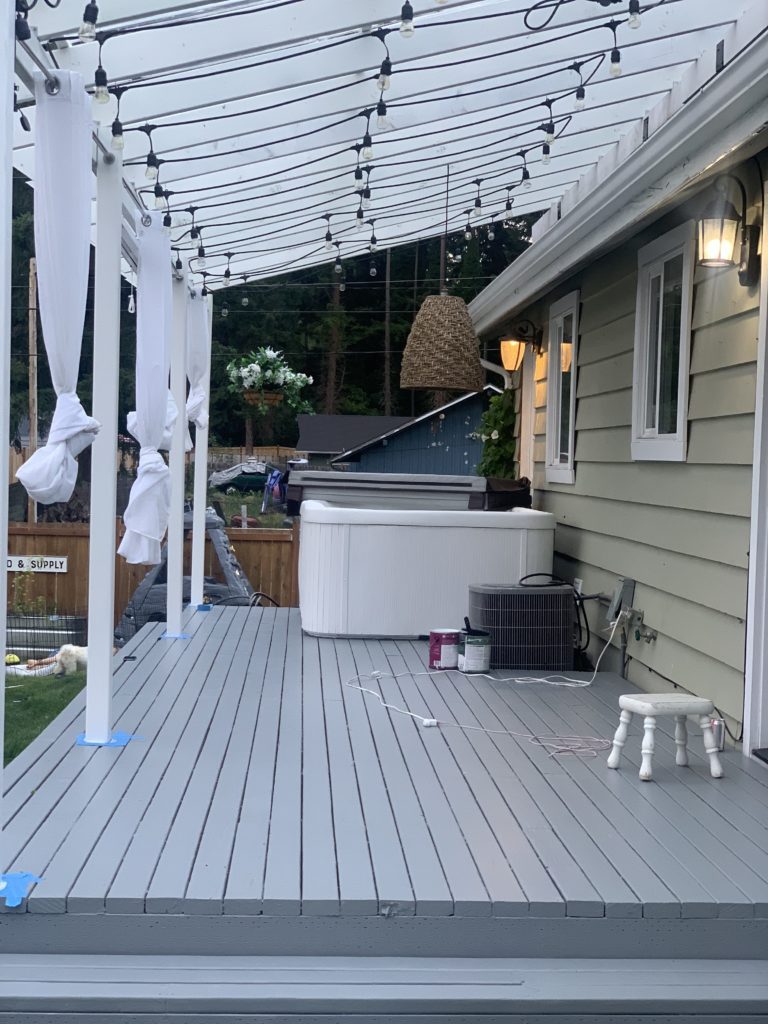 This space has needed a lot of work done, but its getting there! Isn't it amazing what painting the hot tub can do!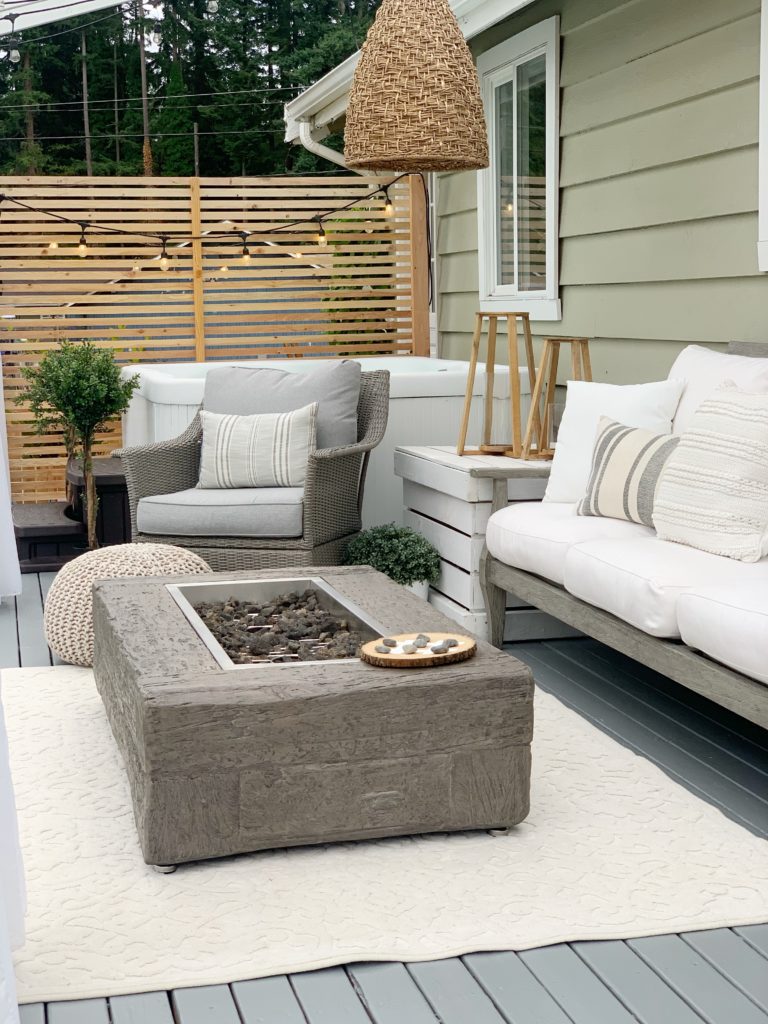 Now for the after!! TADA!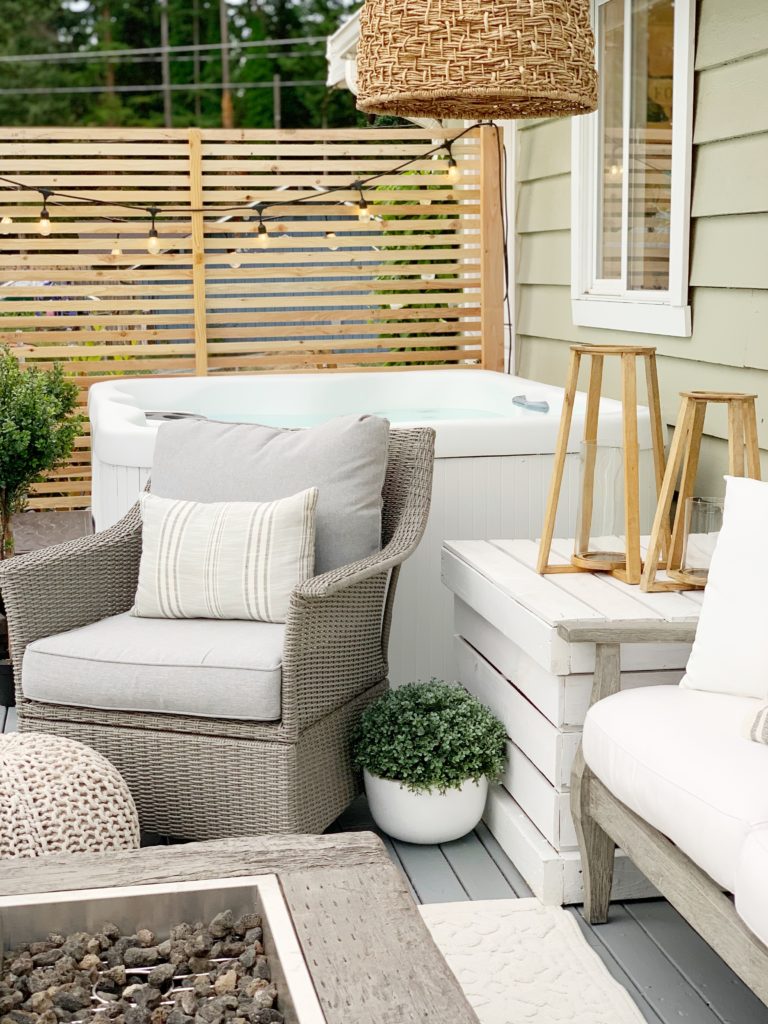 I seriously can't get enough of this space!
I hope you loved seeing how I painted our hot tub and are inspired to do yours! We have had it for a year and not one CHIP! It looks brand new and we get A LOT of use out of it!
TO SHOP THIS SPACE CLICK ON THE PHOTOS BELOW:
PIN THIS IMAGE FOR LATER, AND COME PIN ALONG WITH ME HERE.