The Best Light Grey Paint for Any Room
Are you ready for the best light grey paint that you can use in any room? It's in almost every room in my house!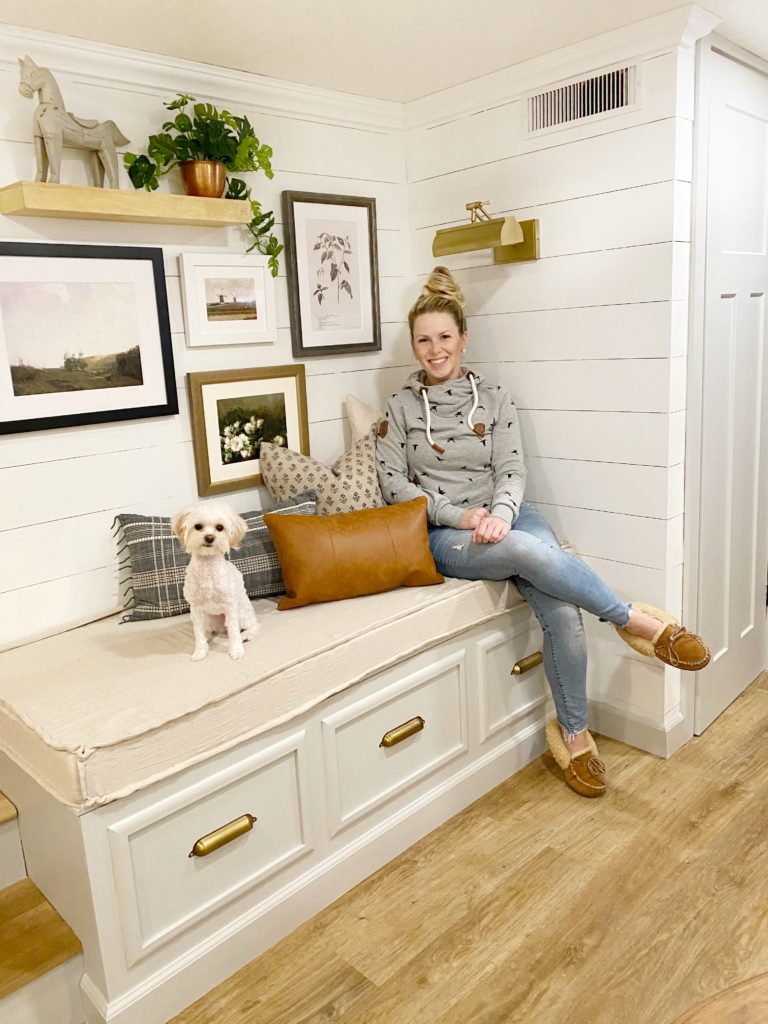 I painted this space white right after we finished it up, and it just needed a little dimension! I didn't want to do something to dark, so I figured the best Light Grey paint I would do! Let's get started!
Ready to finish this space?
First you will need to run to Home Depot and grab some paint!
Supplies :
Behr Dolphin Fin ( I use eggshell or satin)
Roller
Paint Brush – this is the BEST EVER
Tray
Painters Tape
Drop cloth ( if needed – I am messier with one)
Now that you have all the supplies it's time to paint!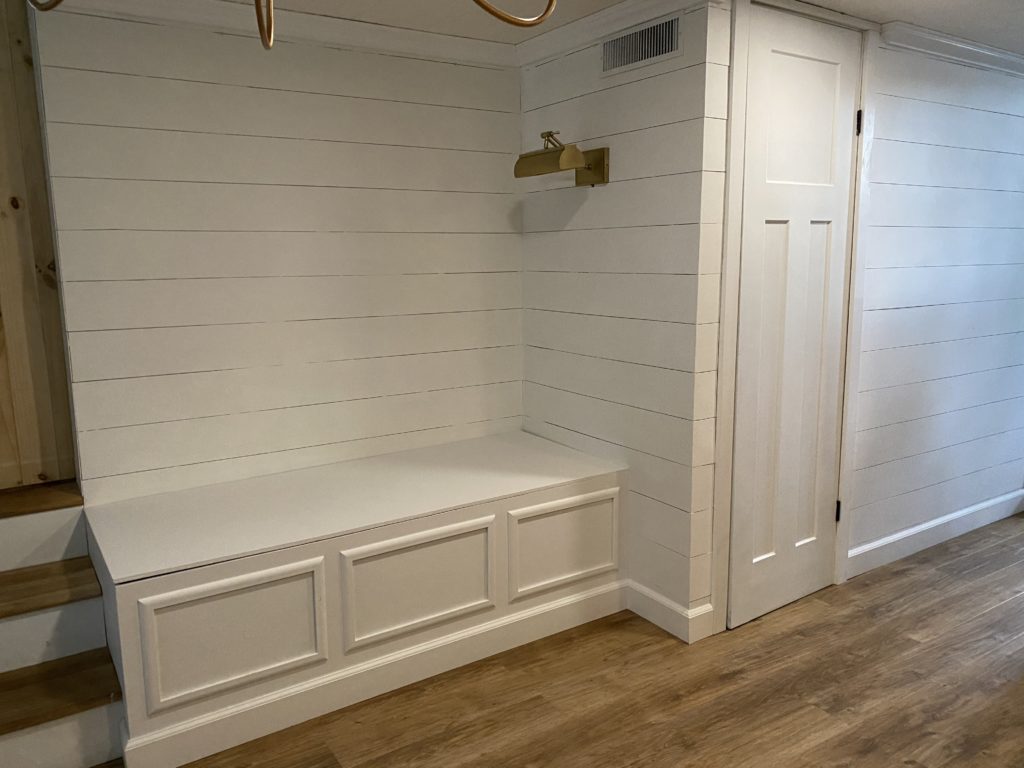 Let's take this plain old white and and transform this space using Behr Dolphin Fin! I do have to say I love white, but this was a little to much! My favorite whites I use are Behr Ultra Pure White and then the color thats a bit warmer is Behr Painters White.
I do have to say, I had a favorite paint Stonington Gray but it had a little more of a blue tint… while beautiful Dolphin Fin is the perfect light warm grey without any blue or purple tints.
I got asked why I use a roller and a brush, it's all preference! If I had the option to spray an area that will always give the best look!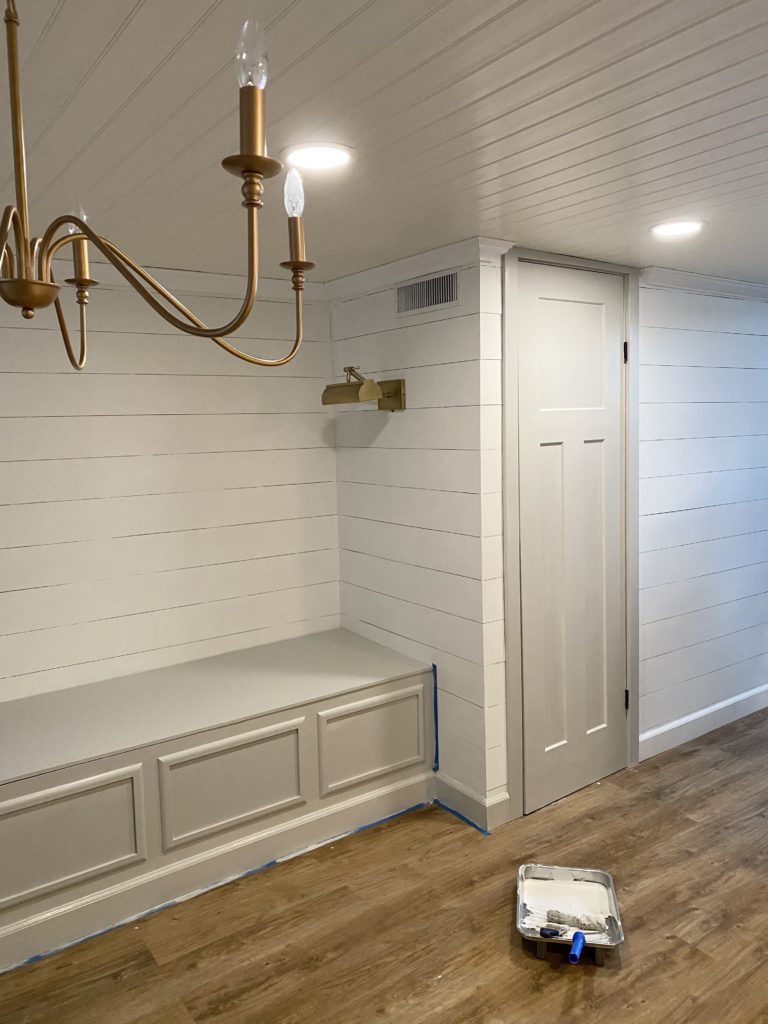 When I started this project I was unsure of how much I would paint, but I decided to do the baseboard through the whole room and the doors. It is the perfect pop of color without being to much.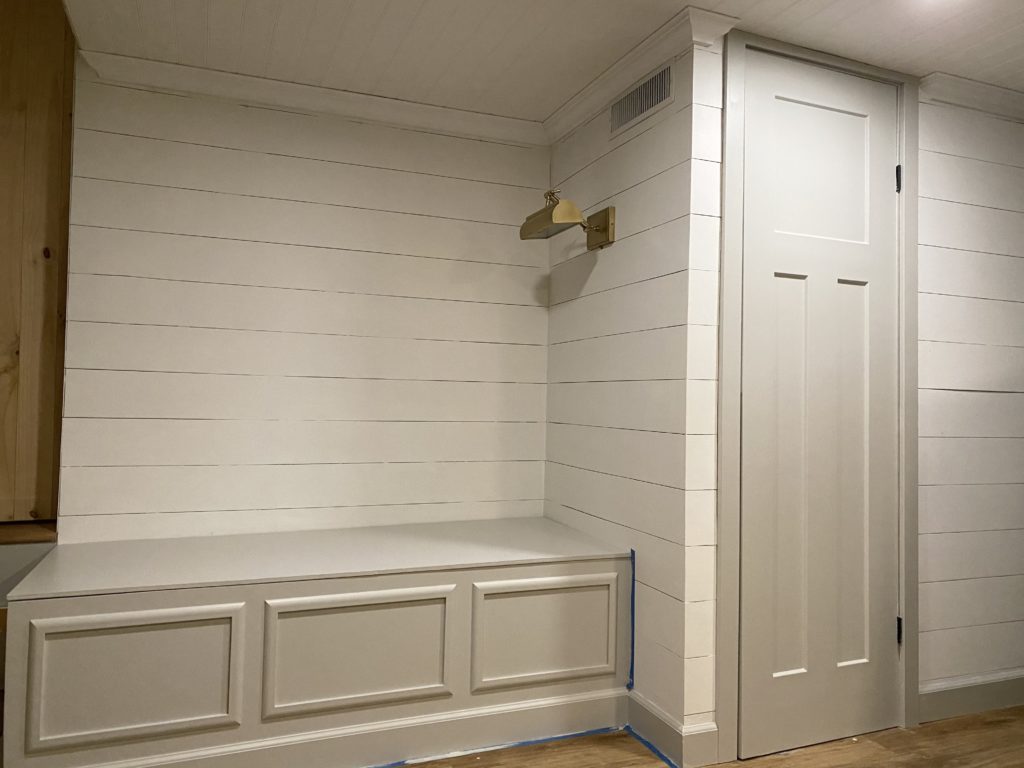 Here you can see it! It is still a little damp – but really I am so excited to work on this space and put it all together! I did decide I will be redoing the bench cushion … so that's to come but for now this will work!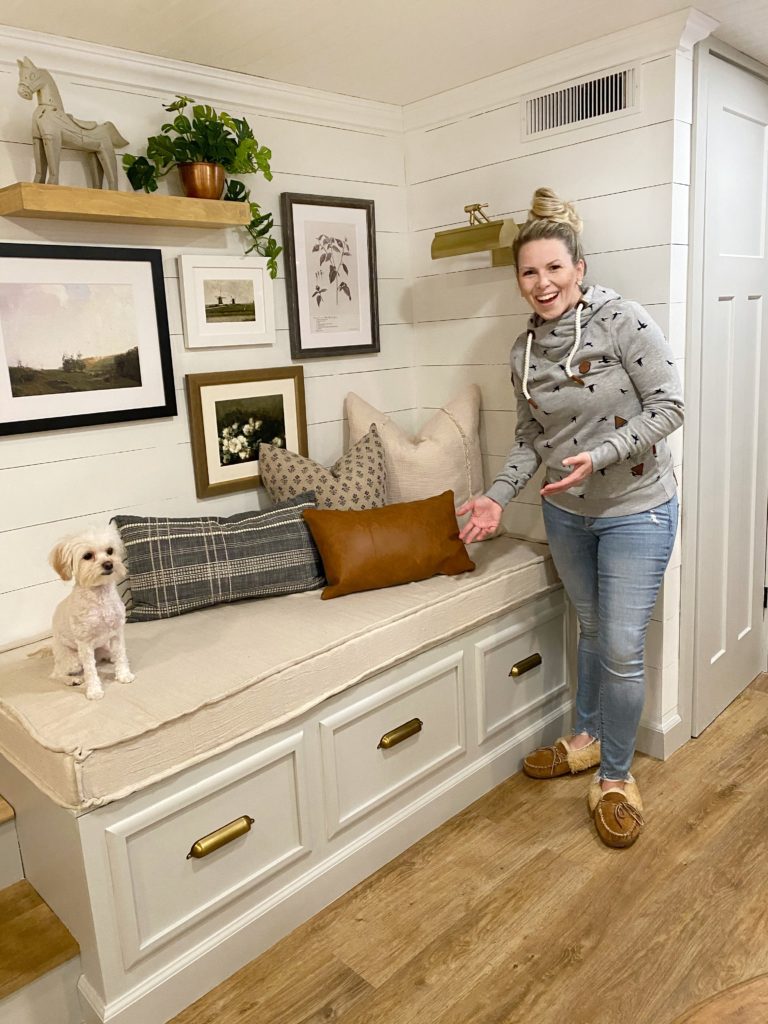 I hope you loved seeing how this space turned out! Did you notice something NEW?? The drawer pulls, you can find them HERE. I will be sharing a step by step soon on how we built this bench and did the whole space. For now, lets look at some more rooms with Dolphin Fin and you can see how it looks in different lights!
CHECK OUT THESE SPACES USING BEHR DOLPHIN FIN :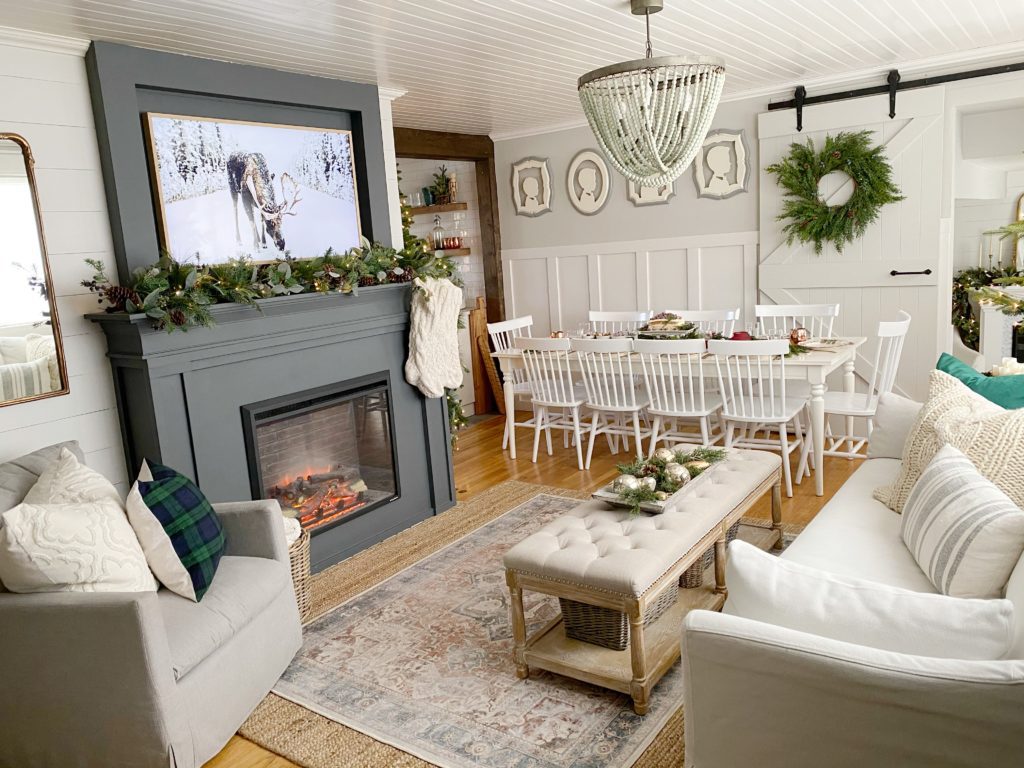 Here is our front room, you can see the door and back wall I used Dolphin fin, it really is the best light grey paint! This room makes everything seem lighter probably because it's bigger so always try it at home! For my fireplace colore check out this post HERE.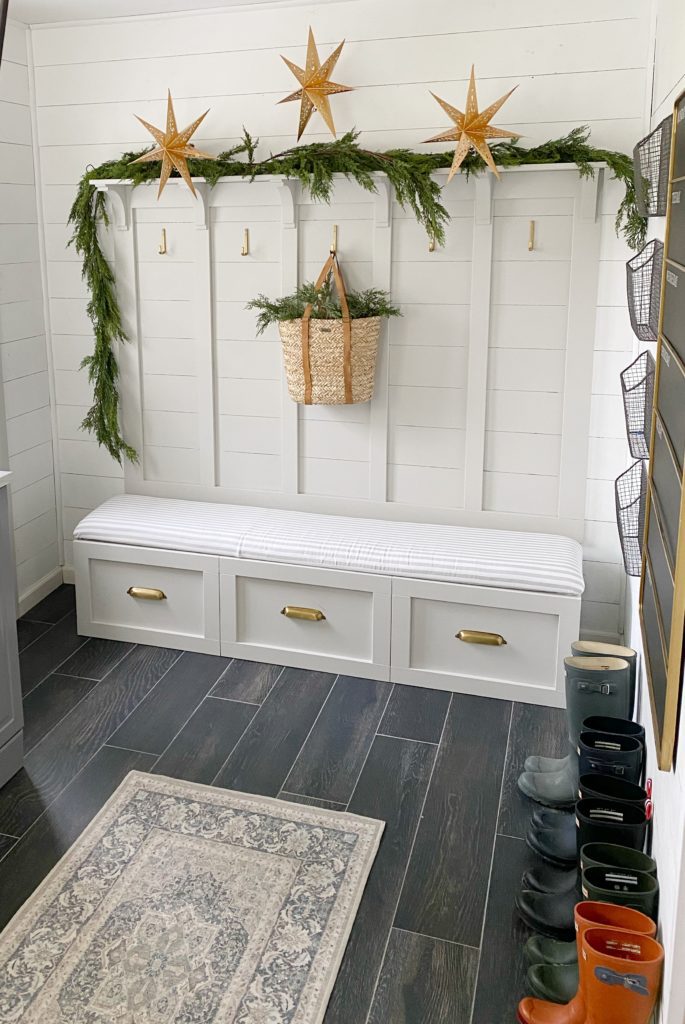 I loved the color so much I used it in my laundry / mudroom too! You can see the handles here too!
In the boys room their bunk and the ceilings are the Dolhin Fin! Have I shared with you how much I love it yet? One last photo :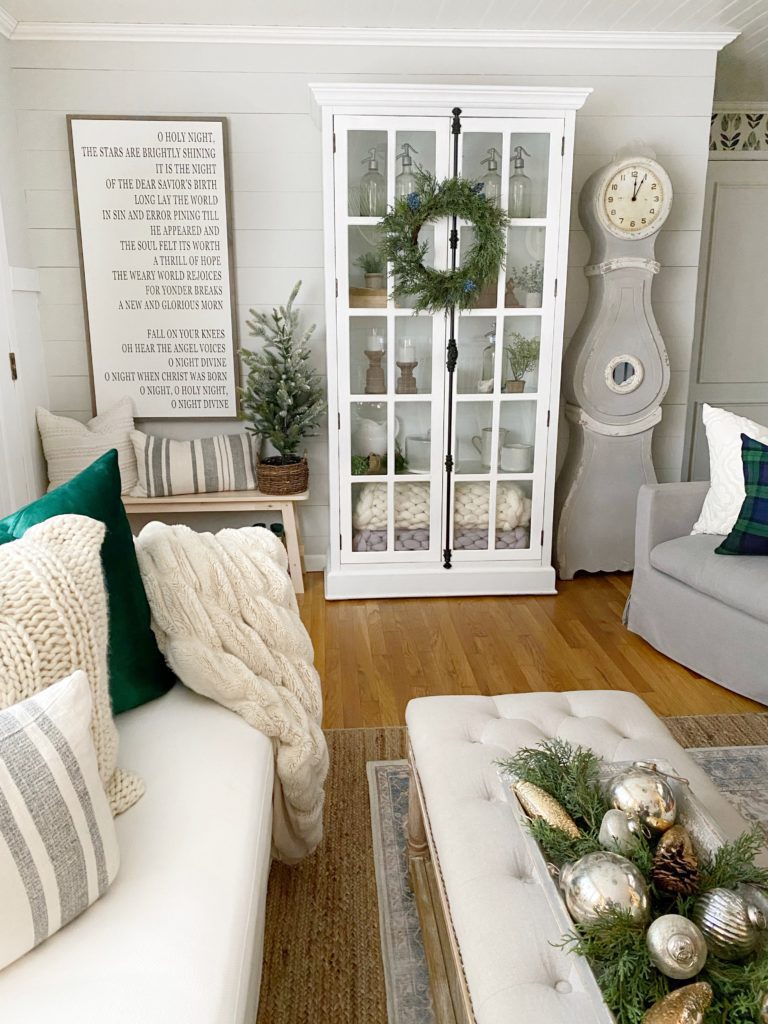 Do you see how I did the shiplap grey here?? I thought it could use a little pop and it ties everything in so well!
Let me know if you have any questions! If you try it make sure to tag me HERE on Instagram, but make sure to PIN it HERE for later!
Sign up for my newsletter HERE so you don't miss out on anything!