Playhouse : How it Held Up + Best Paint
Are you ready to hear how painting the playhouse held up? I will be sharing how it held up and guess what I painted it again with the best paint Rust- Oleum that we got at JOANN! Are you ready to see?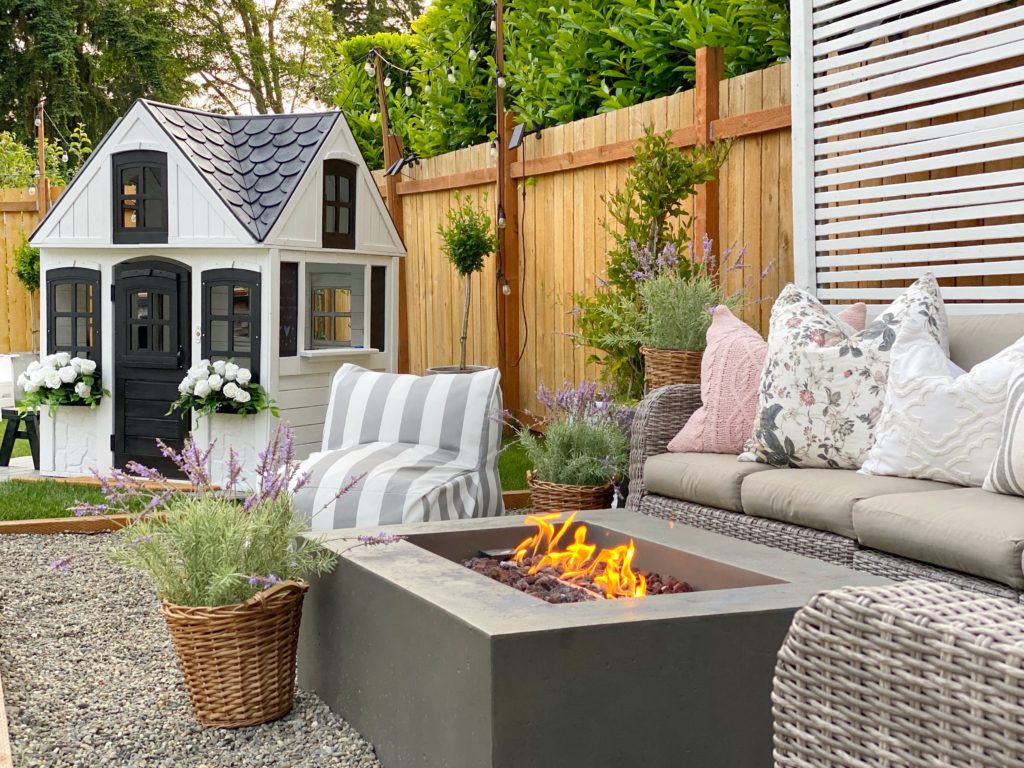 Before we start, let me show you some befores! You can see all the details from the first time HERE.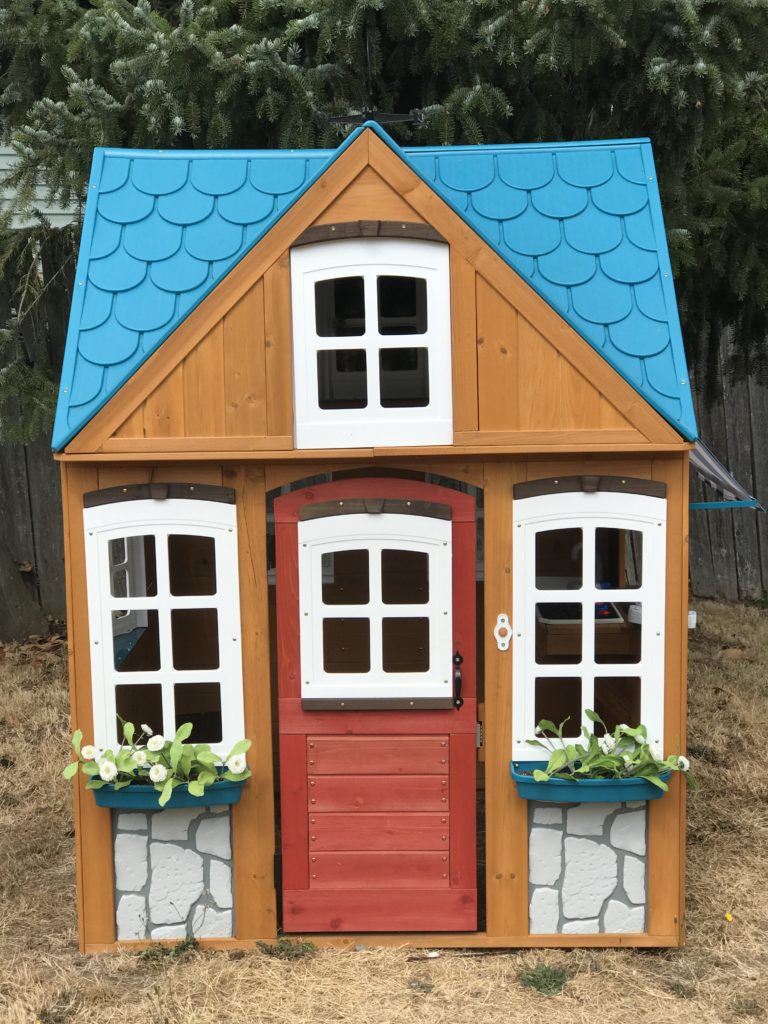 Can you believe the power of paint?? The first time we used Rust-Oleum and it held up so well over the last two years we knew we wanted to use it again. We get TONS of rain being in Seattle, I didn't know how it would hold up and the only thing that can budge it was full force of a pressure washer in one spot – now that amazing!!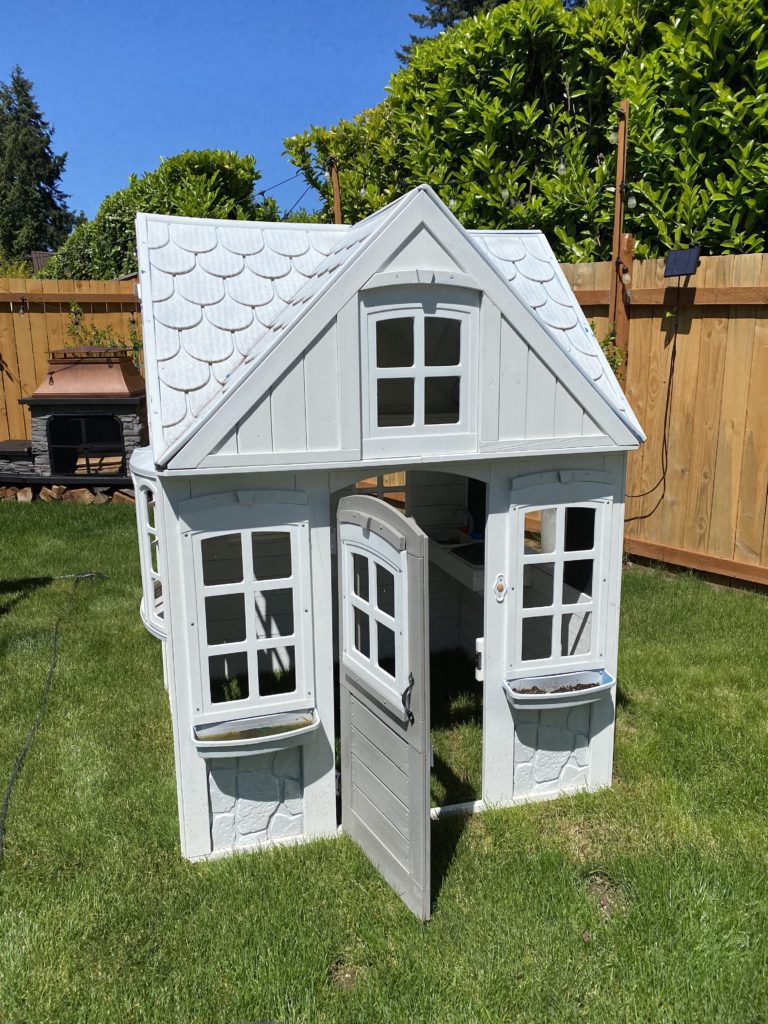 We finally had a break in the rain, and JOANN has the option of curbside pick up so we ordered the Rust-Oleum Painters Touch spray paint online. Now it's time to get started!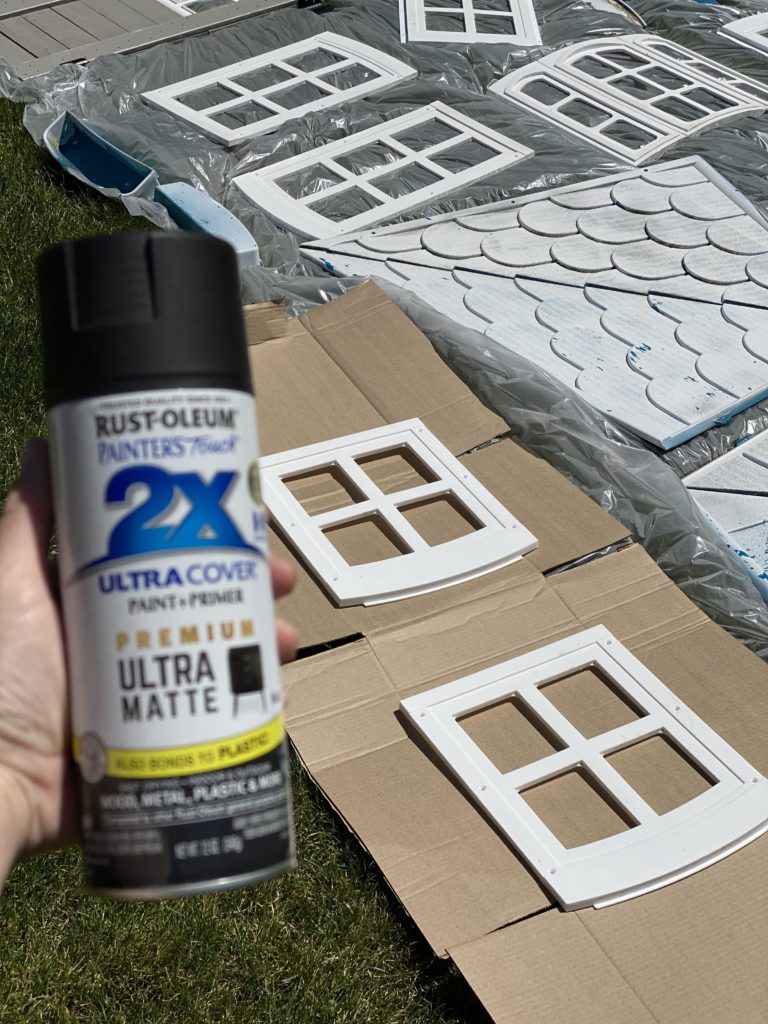 HOW TO RE-PAINT A PLAYHOUSE?
First you will want to make sure that it is all clean, and make sure that if there is any paint chipping that its not ( you can pressure wash/sand lightly.)
Make sure it is all dry from washing it/pressure washing.
The easiest way to get it painted right is take apart anything you can.
Make sure your tempature is what the Rust-Oleum says on your spray paint, and that no rain is coming and get ready to paint.
Time to paint, go slow and don't rush it.
Once you are done painting, let it dry and reapply as needed.
Let it dry some more and then put it back together.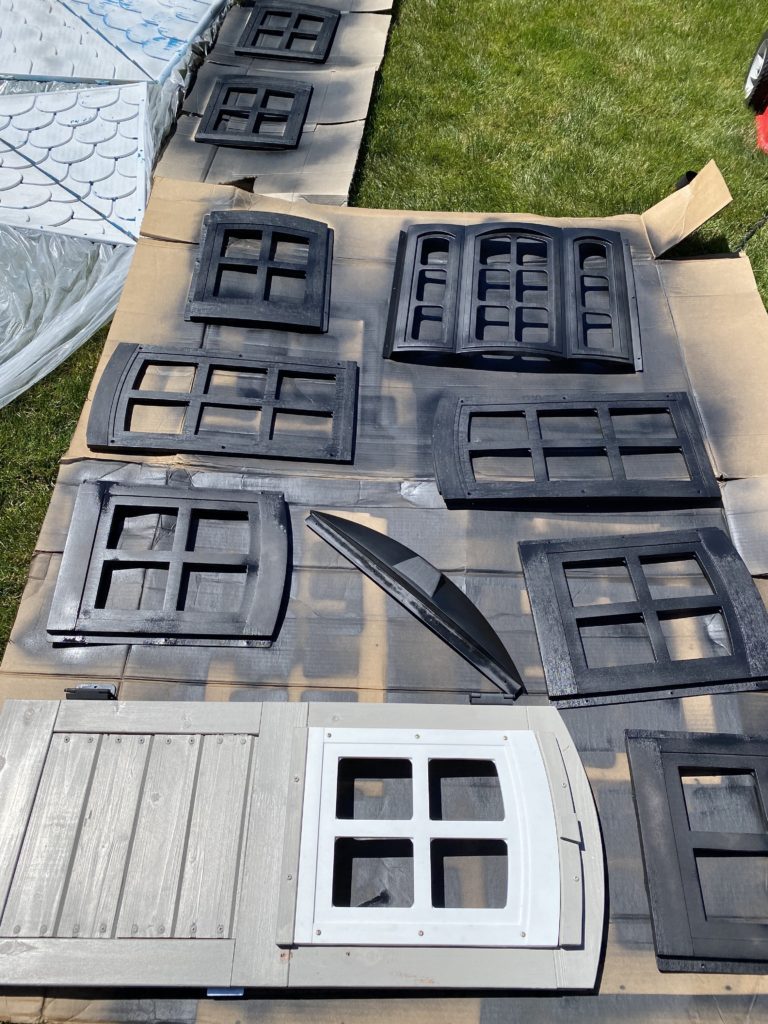 I chose the matte Black Painters Touch Rust-Oleum Painters Touch 2X spray paint so it wouldn't be to shiny. It may not look like much here, but just wait to see the final photos.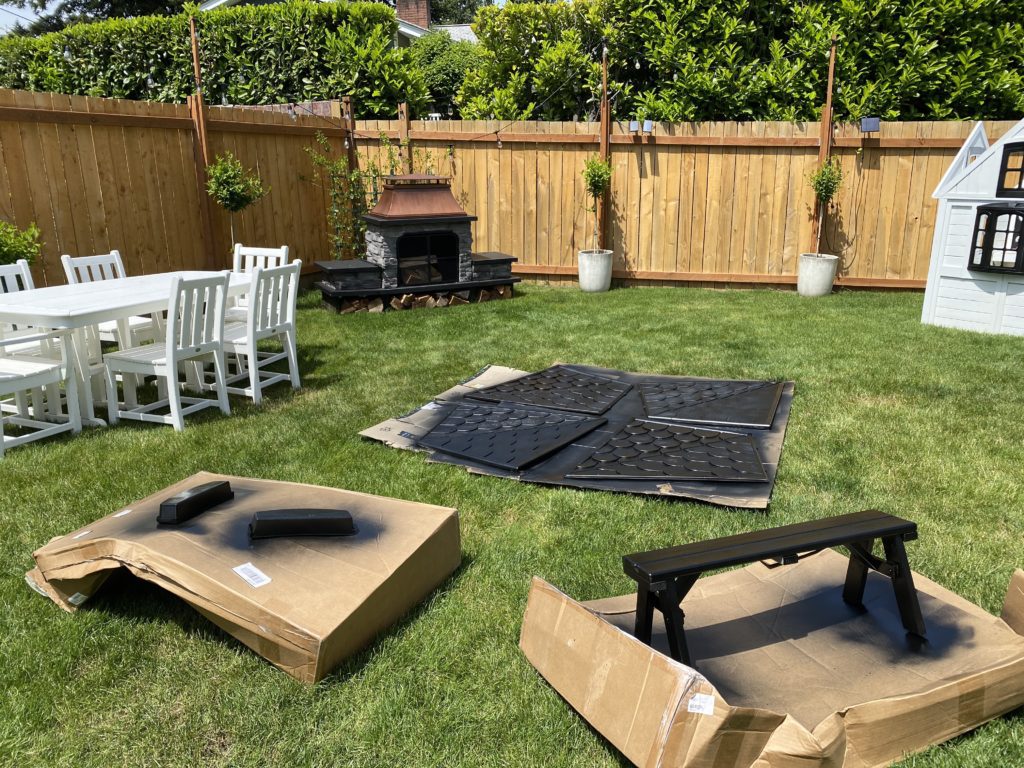 You can see some of the pieces already attached to the house, now it's time for the final pieces!
If you want to see the whole process check out this video!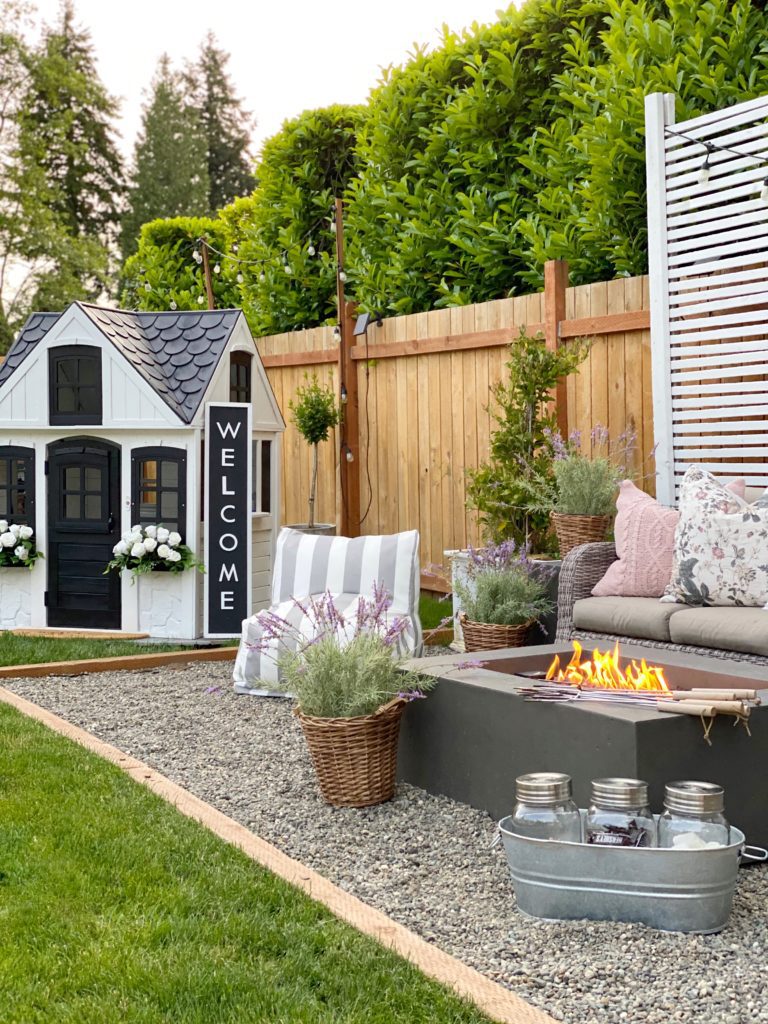 Ok, let me start to share all the details!! I just can't believe how just some Rust-Oleum spray paint can transform something SO much! I will say, I loved it before and now even more! Now, its time for some smore's and for me to show you a little more!
Now lets see some close ups of the playhouse all painted and some of my favorite finds from JOANN!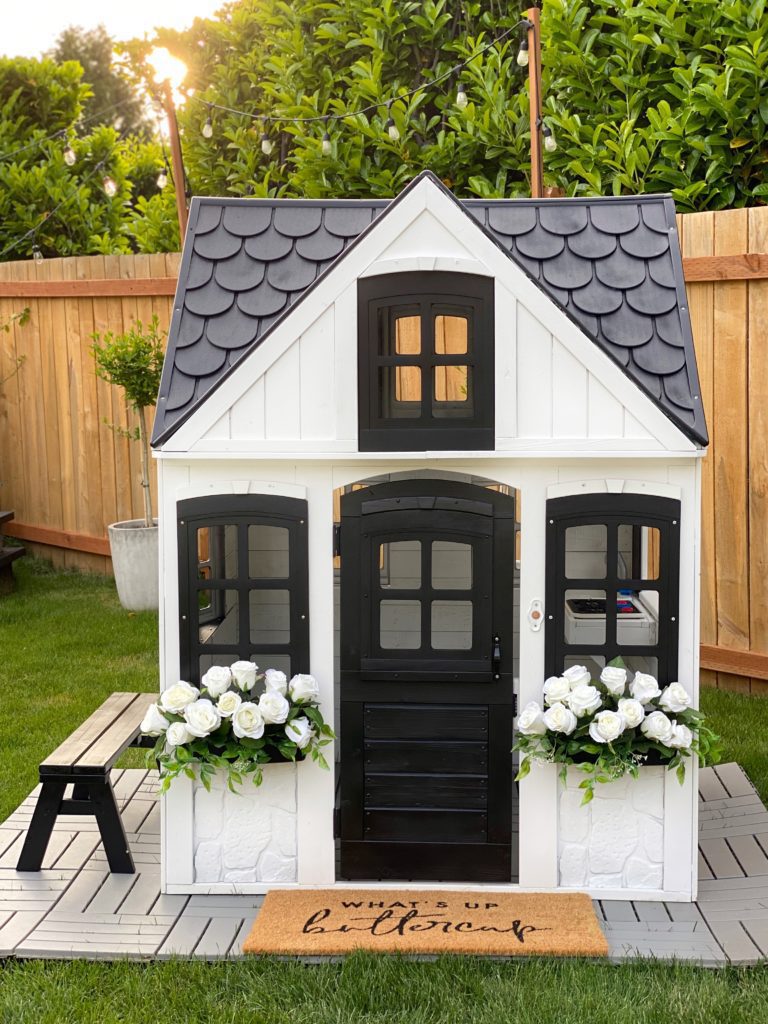 Let's start with this doormat from JOANN! They always have such fun doormats, I think all of the ones I have are from there!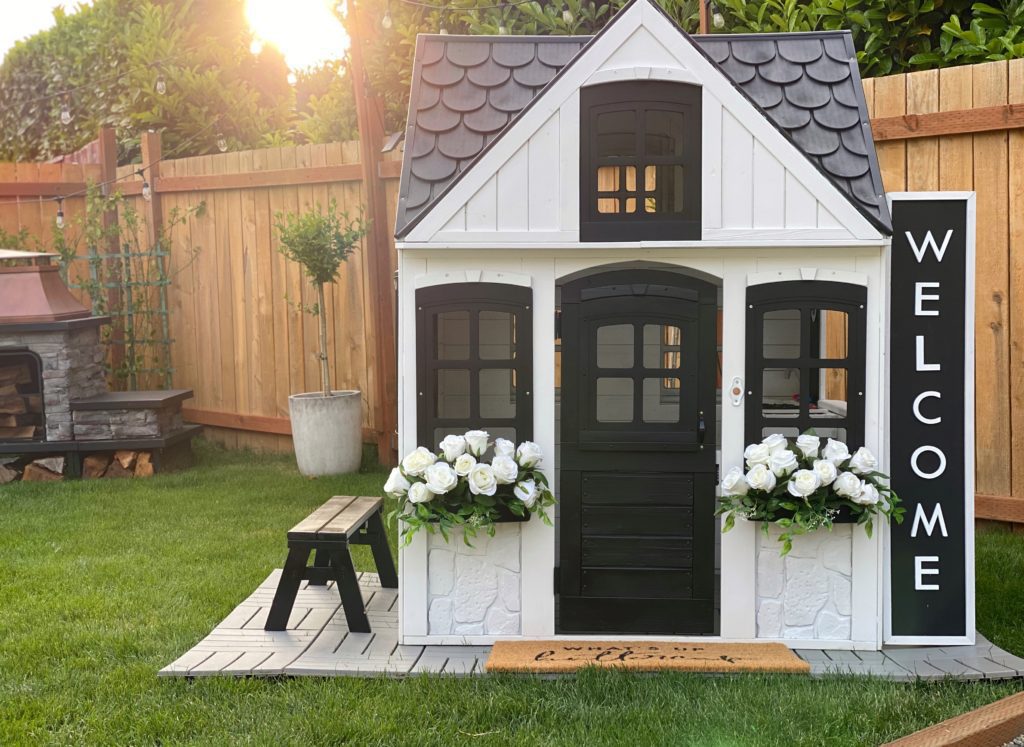 This is one of my favorite photos of the playhouse. The welcome sign is another great find from JOANN, you can find it HERE. The window boxes, I made those all with a form and some faux roses from JOANN. You can see the tutorial HERE.
I hope you enjoyed seeing it, and how the playhouse held up through the years. I just love the power of paint! Rust-Oleum is my go to spray paint, and you can see here how amazing it is!
TO SHOP MY FINDS FROM JOANN CLICK ON THE LINKS BELOW:
Rust-Oleum Painters Touch 2X UltraMatte Black
Rust-Oleum Clear Spray
Welcome Sign
What's Up Buttercup Doormat
Green Foam
Roses
Greenery
PIN THIS IMAGE FOR LATER, AND COME PIN ALONG WITH ME HERE.