Playhouse Makeover: How to Paint a Playhouse
Do you have a playhouse that needs a makeover? I will be sharing how to paint one and what I learned while painting it! Let's get started!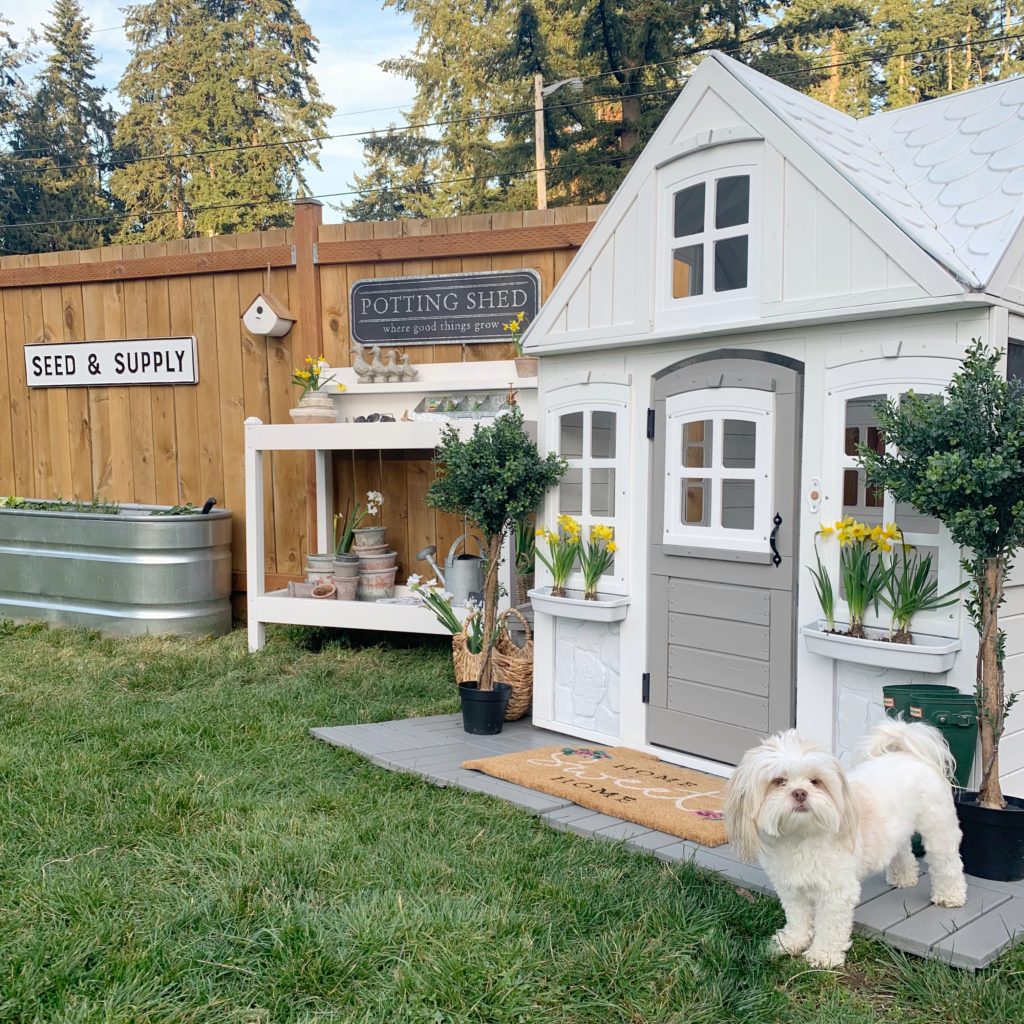 This was a new playhouse that you can find HERE from Kidkraft. You don't have to start with a new one, it can be one that you have or one that you buy used!
*I re-did this in 2018, and will be sharing how I updated it and how it lasted.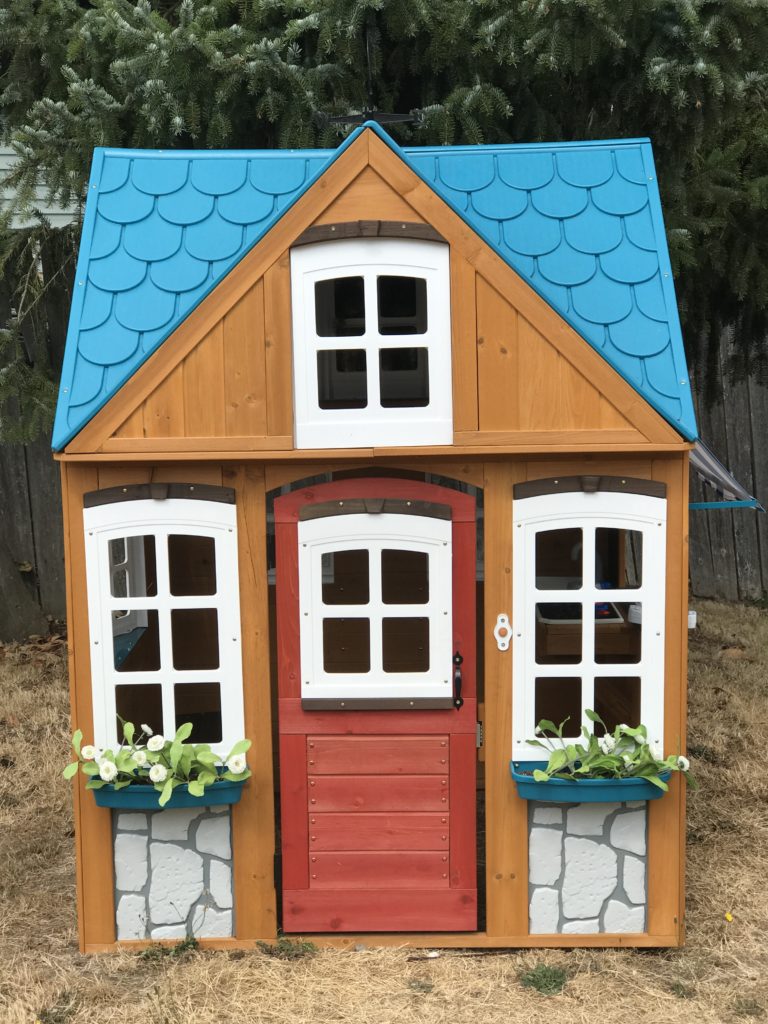 I am not quite sure why they choose these colors, but guess what? Just like your house you can make it your own design just with paint! Now lets paint!
HOW TO PAINT A PLAYHOUSE :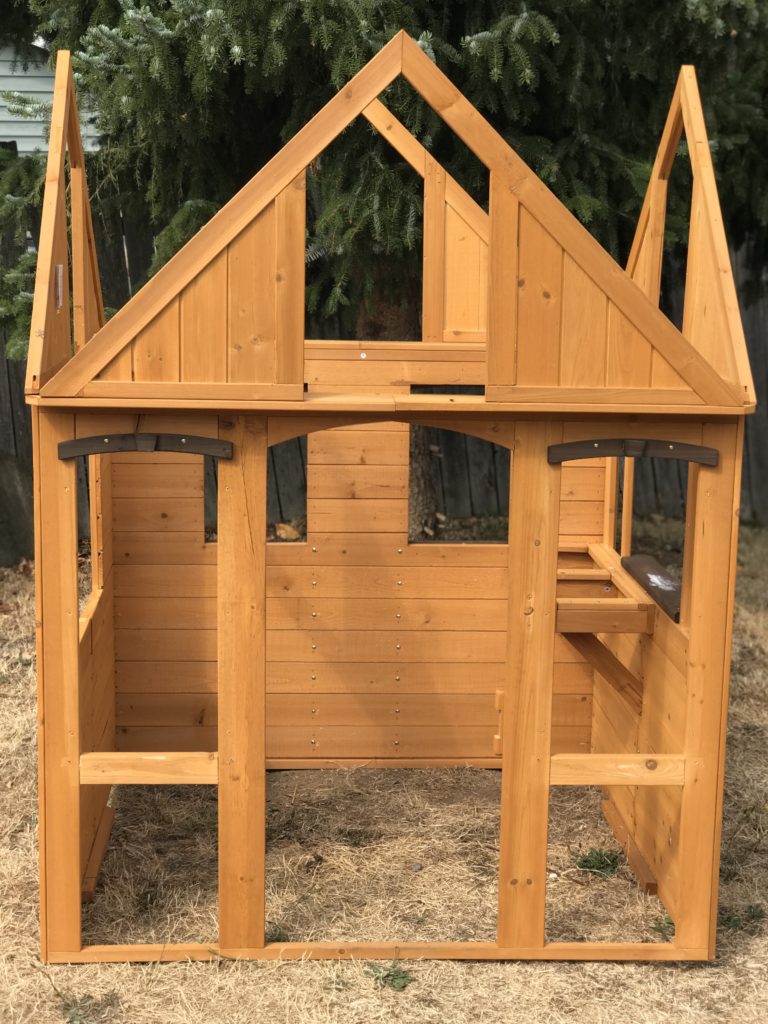 First we took all the plastic off the house.
(If you are buying the house new it would be easy to paint as you put together. )
Then it is time to paint, it really isn't a hard process just takes some time!
You will just need to paint and go over till it's fully covered.
Once I painted all the wood, it was time to paint the plastic parts.
Then we painted the door and bench.
Now it is time to put together! The roof is the hardest part but once it all goes together and you see the transformation its all worth it!
It is time to decorate!
ANSWERING ALL THE QUESTIONS :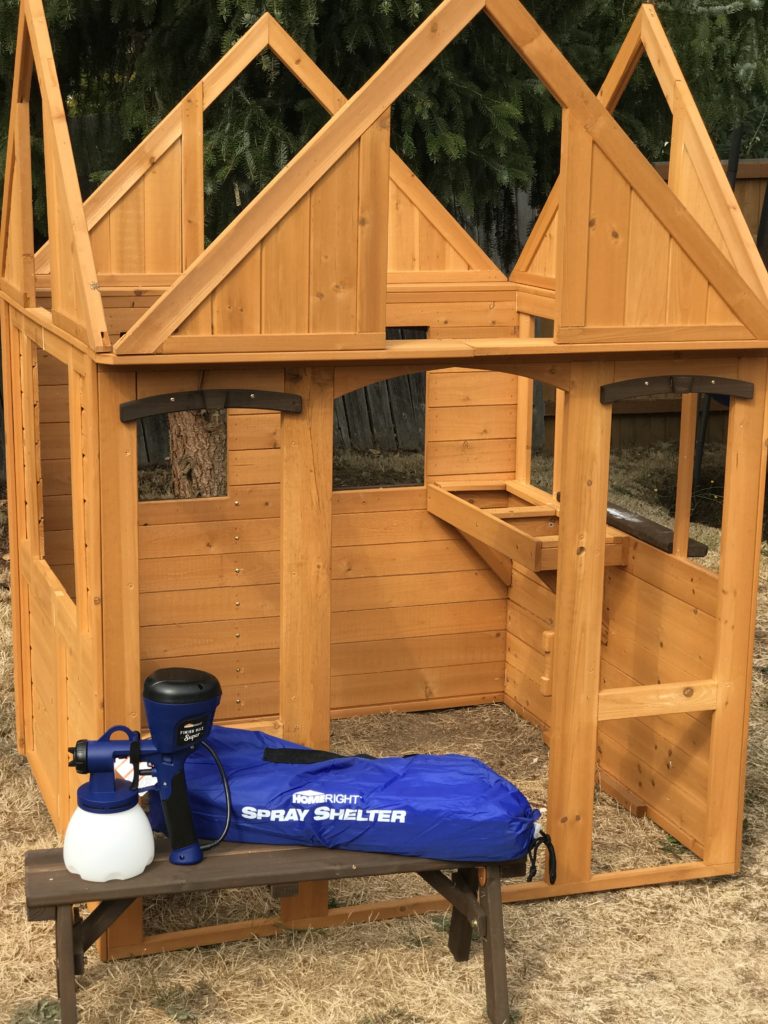 WHAT PAINT DID YOU USE?
We used an outdoor weatherproof paint, you can use any kind. We did Pure white from Sherwin Williams for all the wood. I used this paint sprayer For anything that was plastic we used Rust-Oleum White spray paint. I would use a clear spray over it all – ecsp the plastic you can find it from Rust-Oleum HERE.

DO YOU HAVE TO USE A PAINT SPRAYER OR CAN YOU USE A BRUSH?
You can easily just use a brush – but it will take a lot longer! We had this paint sprayer HERE and it made it go so quickly!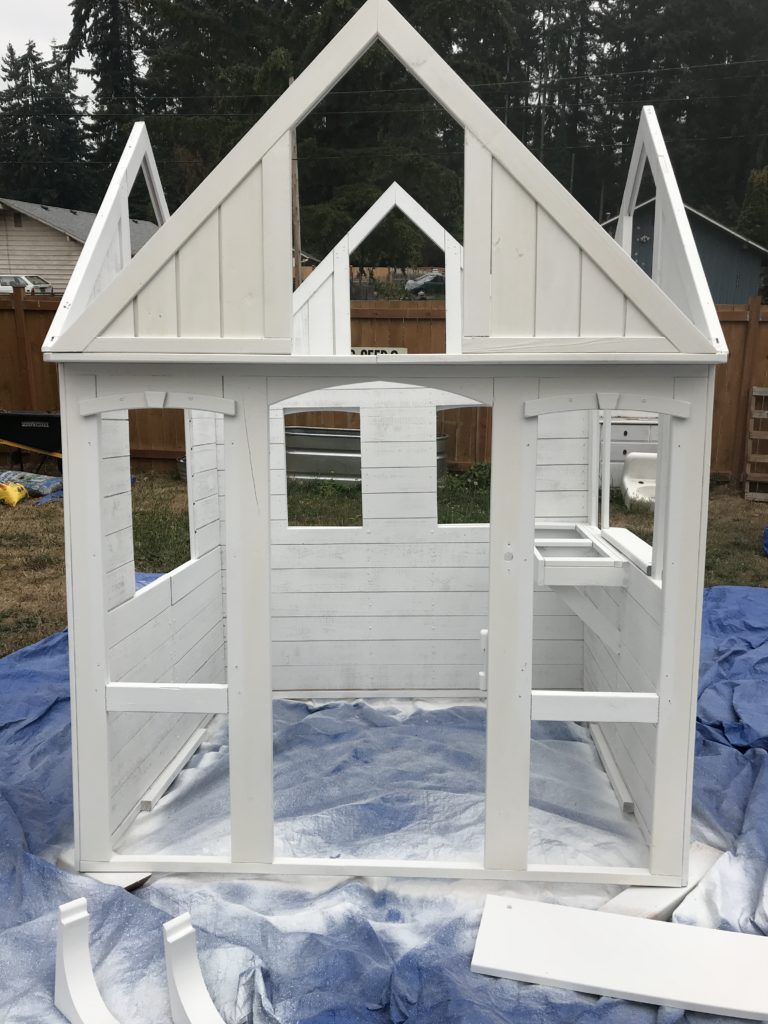 CAN YOU ONLY REDO A WOOD PLAYHOUSE, OR CAN YOU PAINT A PLASTIC ONE?
You would paint it the same way as I painted the plastic on this playhouse. I would use the spray paint, and then use a clear spray on top.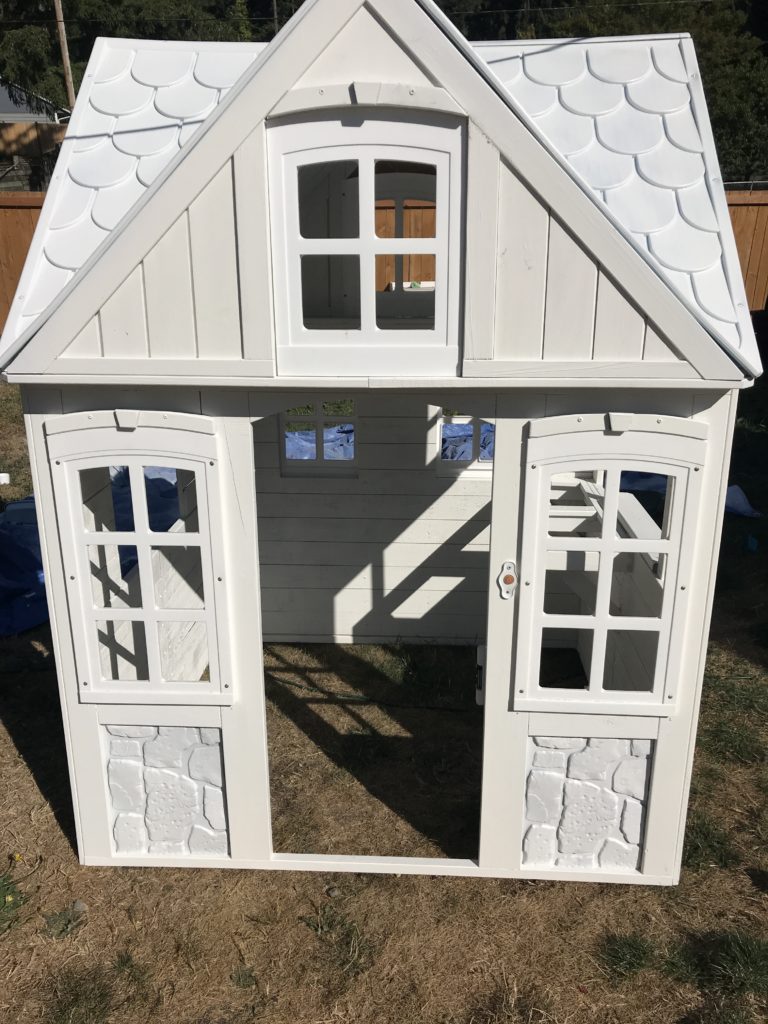 HOW LONG WILL THE PAINT LAST ?
I have painted many things and kept it outside and it will last a long time. The only thing that will get the paint off somewhat is using a pressure washer just in one spot. I will make sure to do an updated post!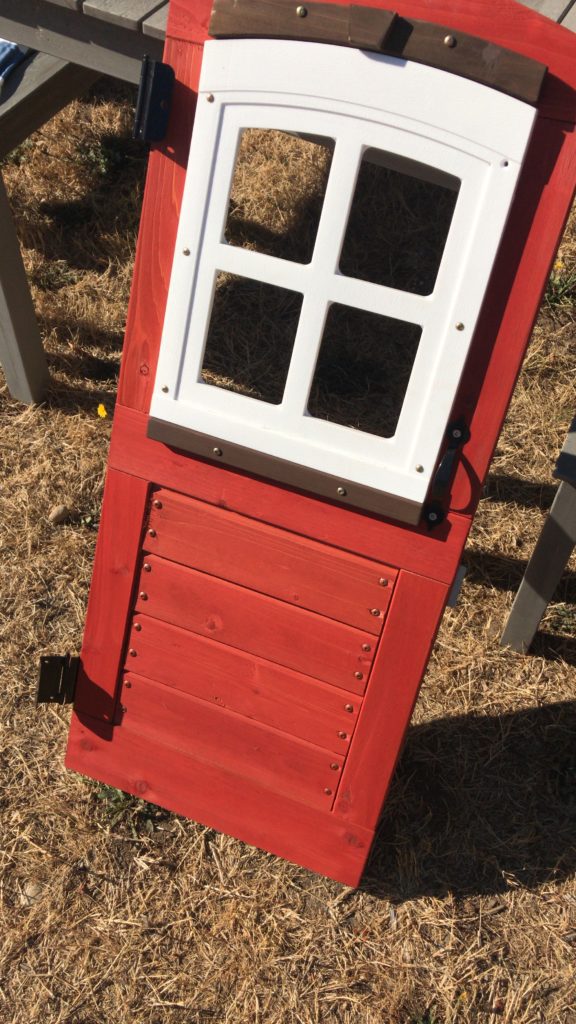 WHERE DO I FIND A PLAYHOUSE AT?
I found these great ones you can purchase, they can be kept as is or you can customize. You can always look to buy used, but they can be hard to find.
CLICK ON EACH PHOTO TO SHOP:
WHAT ACCESSORIES CAN I BUY?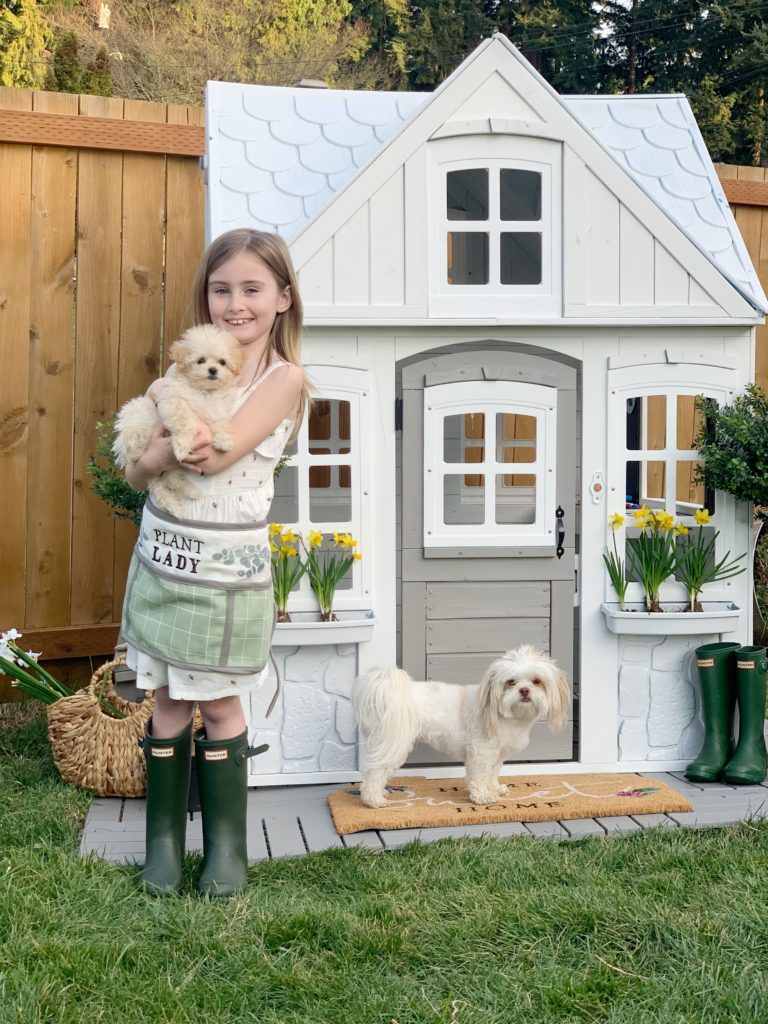 PIN THIS IMAGE FOR LATER, AND COME PIN ALONG WITH ME HERE.