Oktoberfest Charcuterie Board
Oktoberfest Charcuterie Board will be a highlight of your festivities! If you haven't yet celebrated Oktoberfest you will want to add it to your traditions!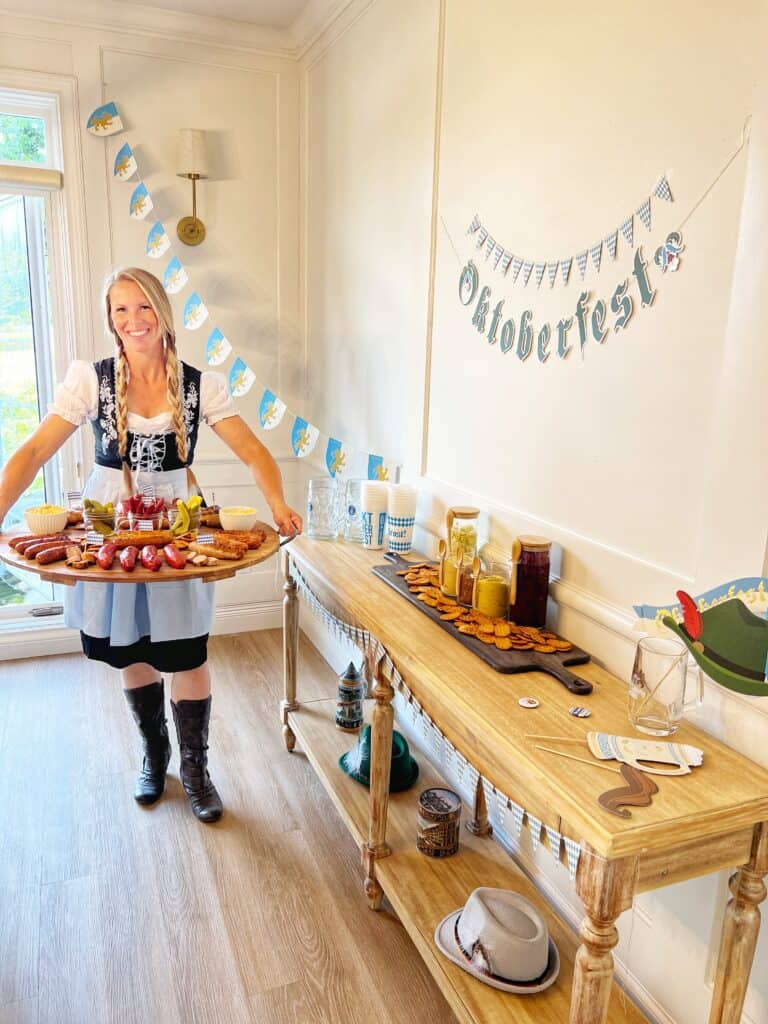 I shared all about our Oktoberfest set up, and while I love the decor the food and games are the best part! Today I will be sharing about some of the food including this yummy pub cheese dip recipe below :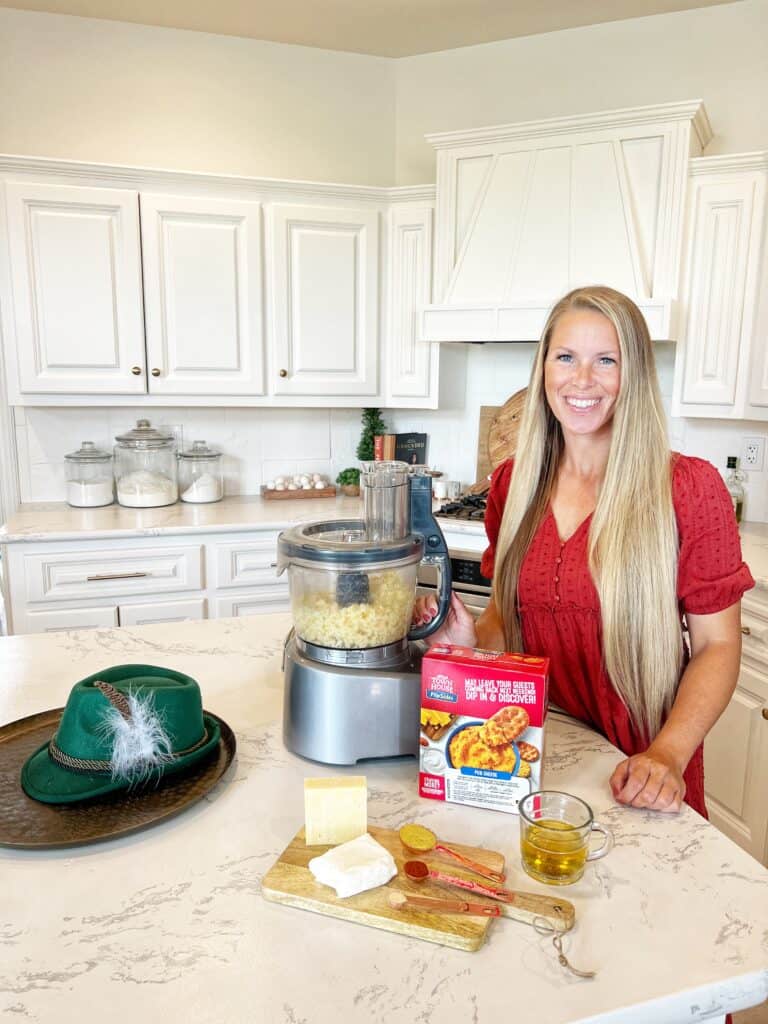 Pub Cheese Dip for your Oktoberfest Celebration
* My Tip – Split this in half unless you are feeding a lot! It is so good but it is a lot of dip when complete – and its not super inexpensive.
Ingredients:
1 pound Irish cheddar cheese, broken into chunks
4 ounces cream cheese
1/2 cup lager beer or non-alcoholic beer
1 tablespoon spicy brown mustard
1 teaspoon paprika
1/4 teaspoon garlic powder
Town House® FlipSides® Original crackers
Directions :
Place cheese in food processor bowl. Cover and pulse until cheese becomes crumbles. Add cream cheese, beer, mustard, paprika and garlic powder. Cover and process until smooth, stopping processor and scraping down sides of bowl as needed.
Serve cheese spread with Town House® FlipSides® Original crackers. (Store any leftover cheese spread, covered, in the refrigerator. Let stand at room temperature for 30 minutes before serving.)
Yield: 3 1/4 cups; 26 servings; (1 serving = 2 tablespoons plus 4 crackers)

Prep time 20 min
You can find this and all the nutritional info on the TownHouse website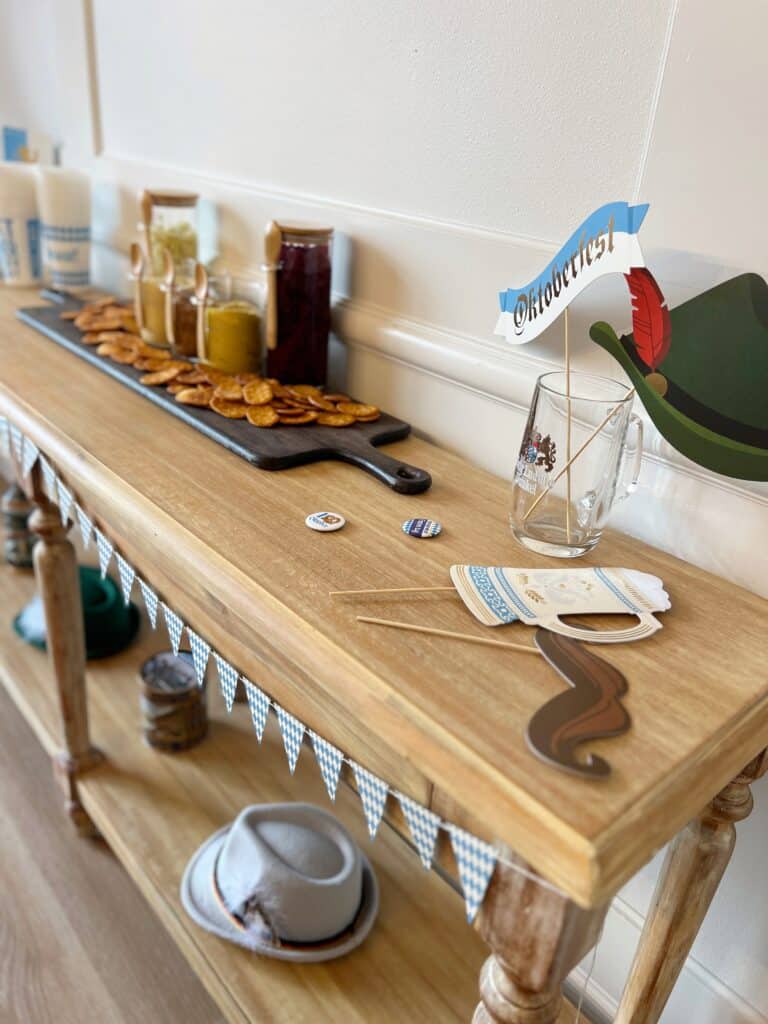 What would Oktoberfest be without pretzels, we grabbed these Townhouse FlipSides and so good! We love to have pretzels for our celebration so check back when we do the official party!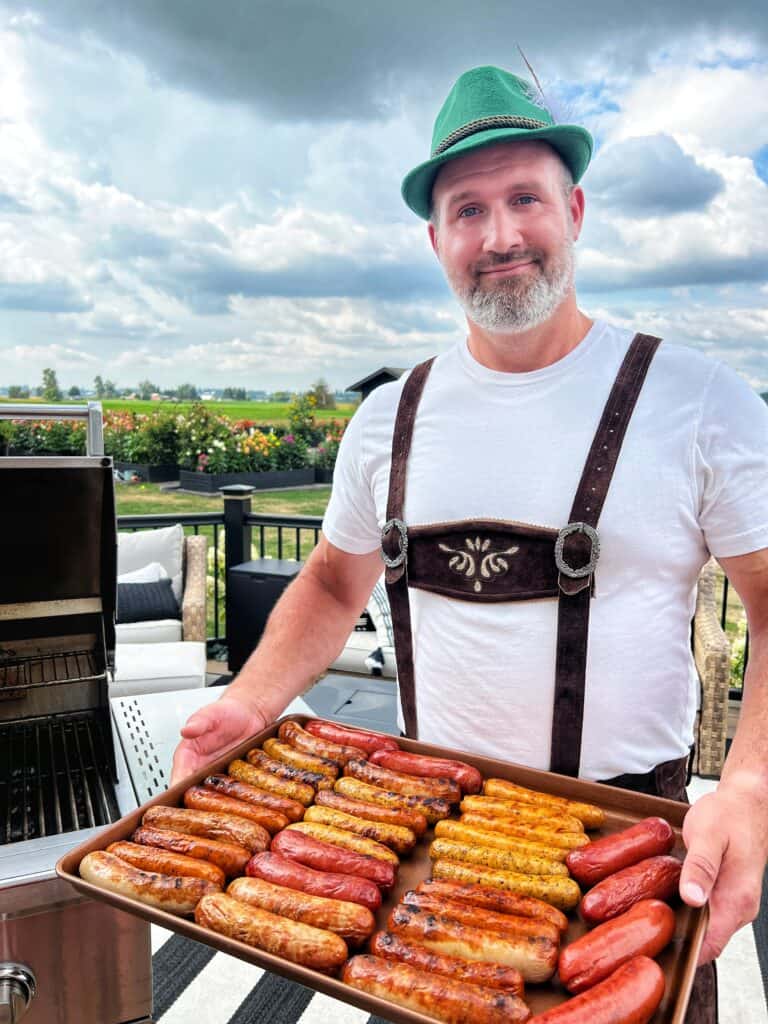 Brats are a must, and James grilled up all the goodness! Time to add to the charcuterie board – Best tip cover with foil!
Now that we have all the cutest decor from My Minds Eye down, lets set up the food!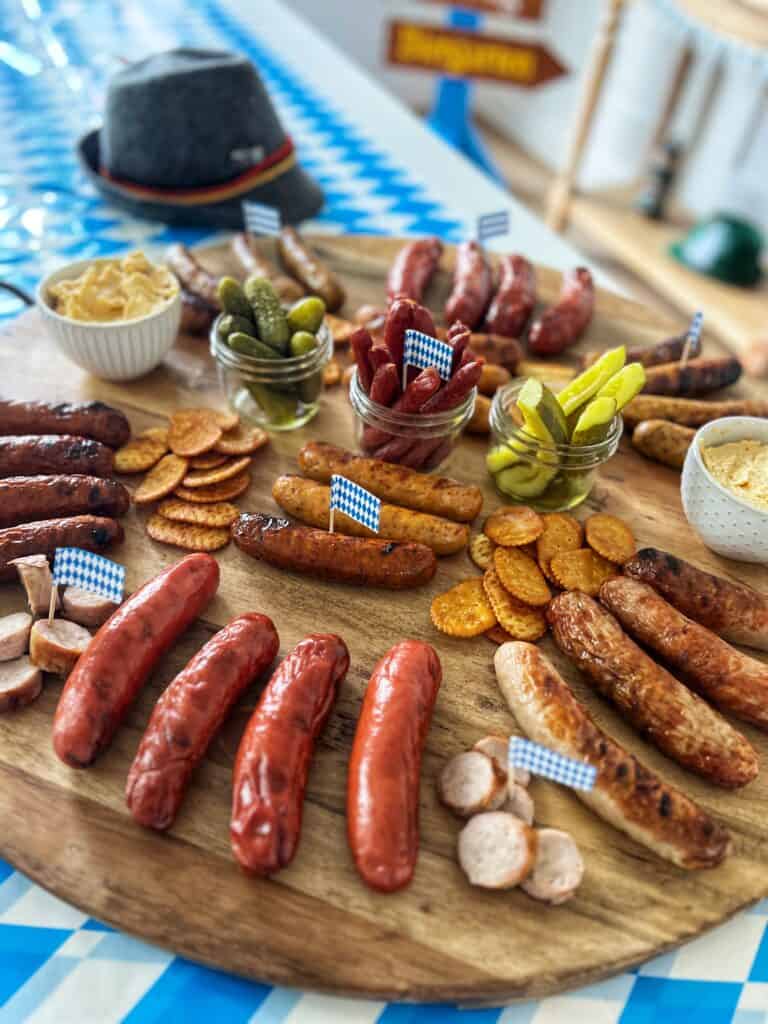 What I used for this Oktoberfest Charcuterie Board :
Sausages
Pickles
Landjaeger
TownHouse FlipSides
Pub Cheese
Picks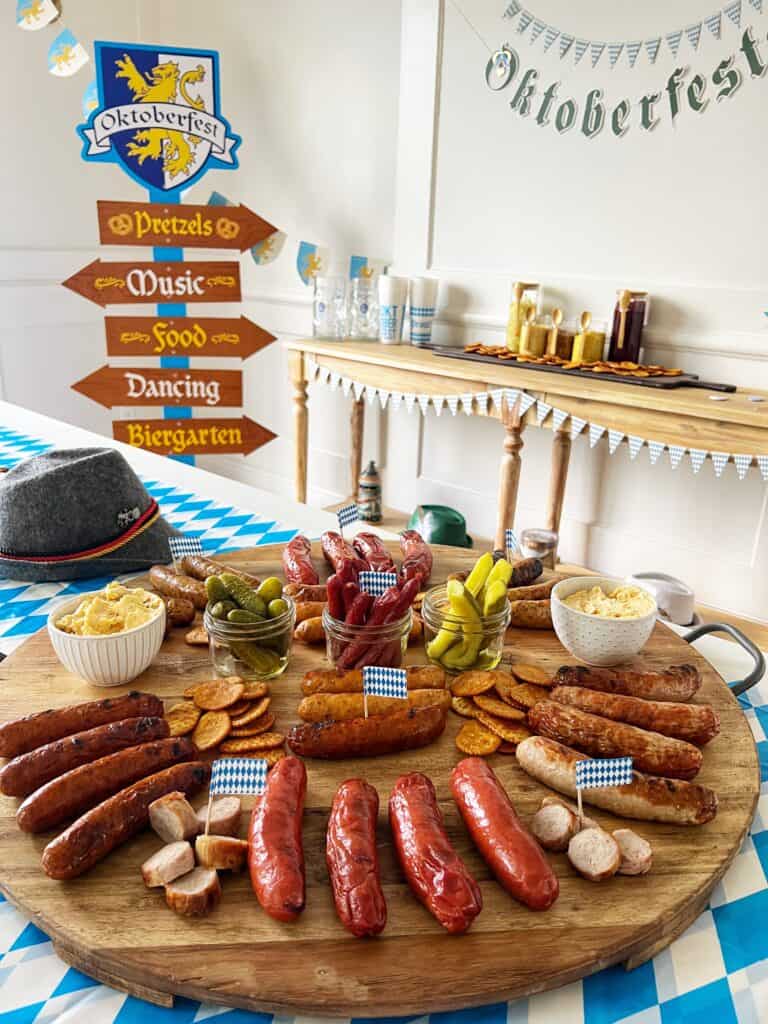 What would you have on your Oktoberfest Charcuterie Tray?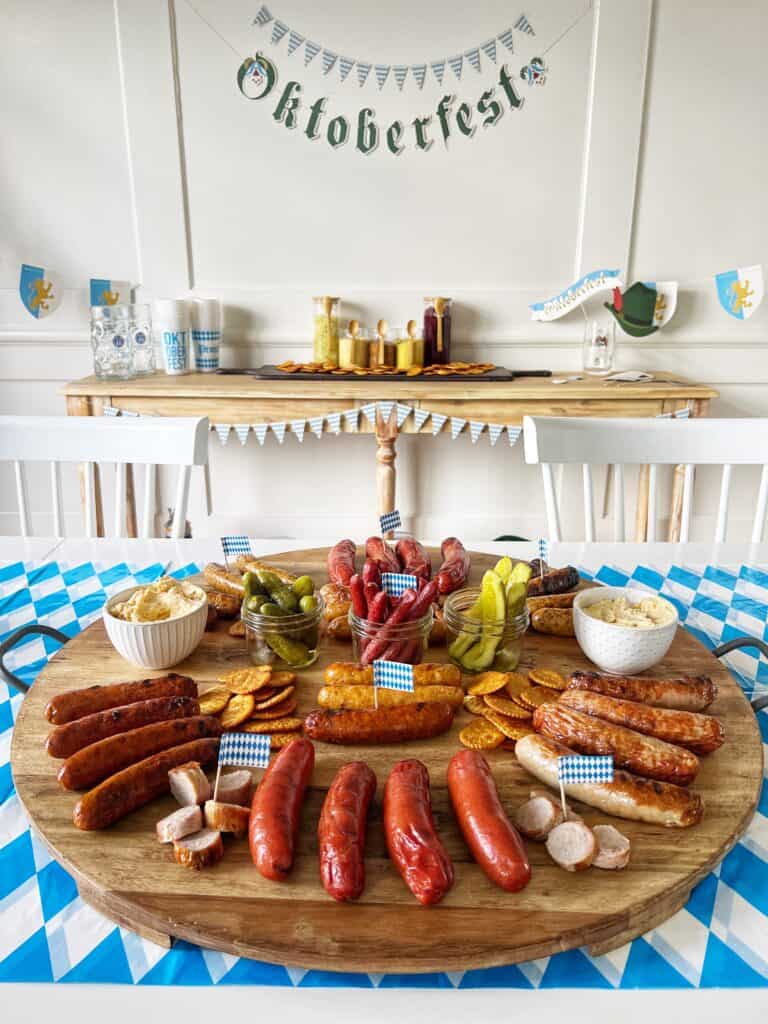 You can't forget the Sauerkraut and Red Cabbage, some things we will add is : authentic German Pretzels, Spätzle, and some more food items!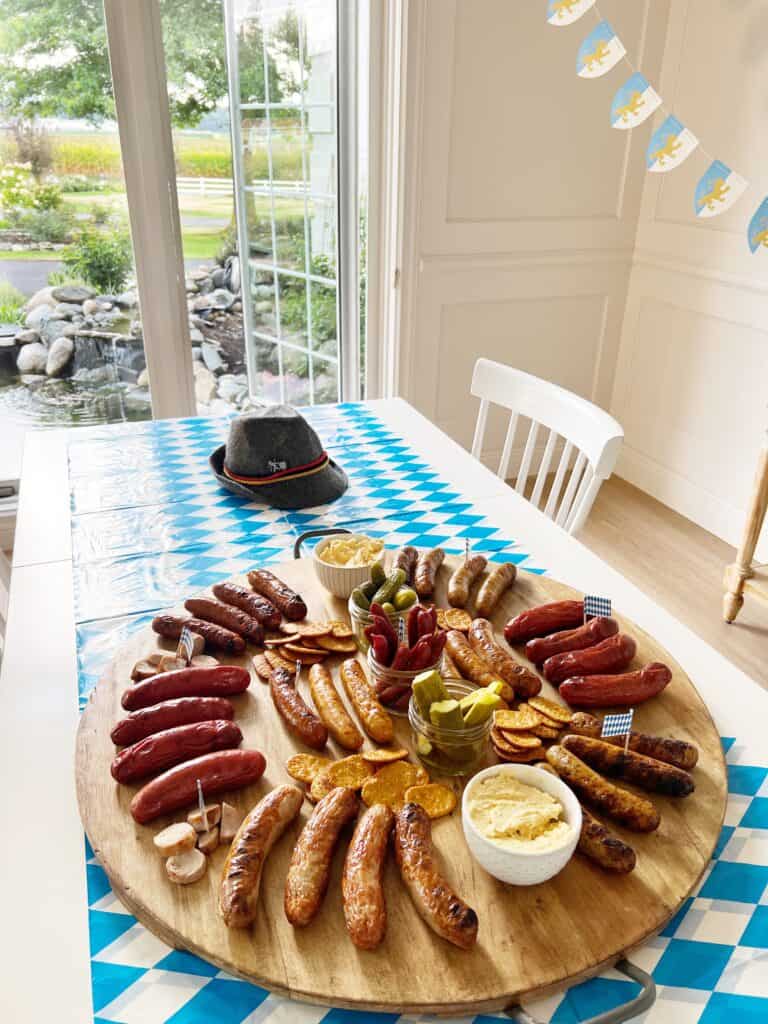 Here is where you can shop for all the things, stay tuned for more fun like all the games and seeing everyones costumes!
SHOP FOR YOUR OKTOBERFEST CHARCUTERIE BOARD AND PARTY:
INVITATION
TOWNHOUSE FLIPSIDES CRACKERS
I USED TWO SETS FOR THE GLASS JARS FOR MUSTARD & SAUERKRAUT SET 1 AND SET 2
LARGE TALL SIGN
LEBKUCHEN HEARTS
MINI TRIANGLE BANNER
OKTOBERFEST BANNER
HATS
GERMAN FLAG
WHITE AND BLUE CUPS
HOFBRAU HAUS STEIN
PINS
DRINDL
LEDERHOSEN
TOOTH PICKS
TABLE CLOTHS
PHOTO PROPS
DOOR BANNER WITH CUT OUTS