Breakfast Charcuterie Board
I love a good charcuterie board, and what better than a breakfast charcuterie board? I will share how to make this and tips to keep it warm!
Is there ever a time where breakfast isn't good? The answer anytime of the day! Every Sunday we do breakfast for dinner, it is one of our favorite traditions! We always use Krusteaz, and our new fave has been their belgian waffle mix!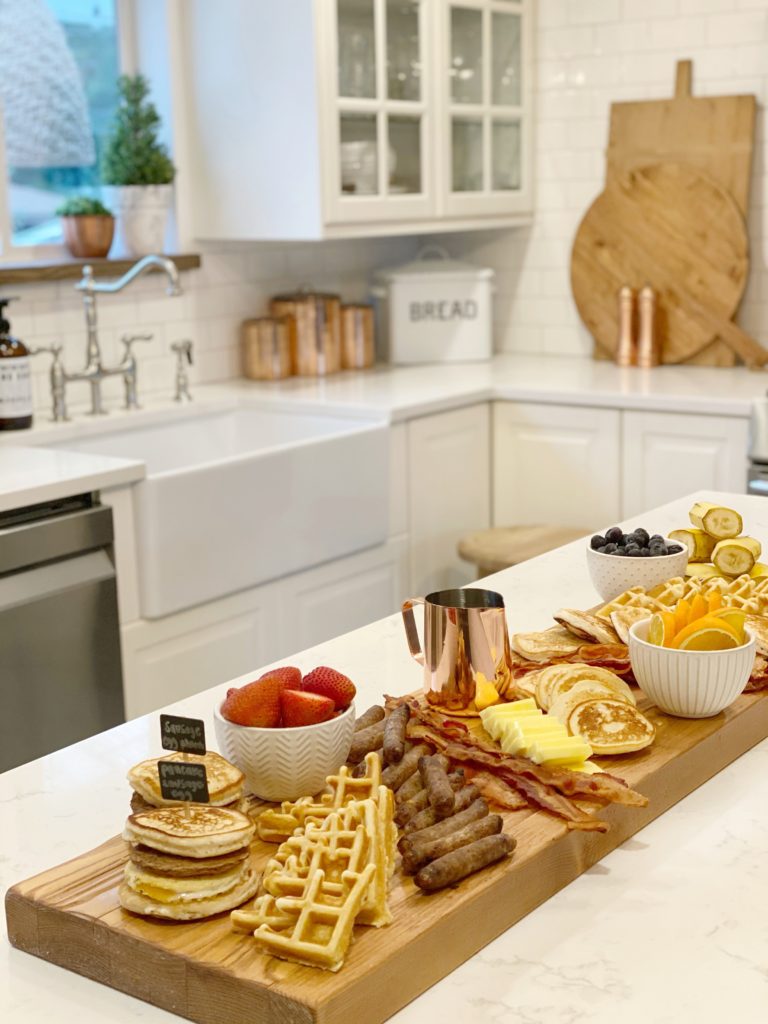 Breakfast Charcuterie Board Tips :
What kind of board do you use for your Charcuterie Board?
I like using this long rectangle one HERE, but a cheaper one HERE.
If you are looking for a round one HERE, but a cheaper one HERE.
What do you put on a Charcuterie Board?
Anything and everything! The ideas are endless
How do you keep a Charcuterie Board fresh?
If cold items, keep them in the fridge till ready to serve.
If hot items, keep them in a warm oven with foil over a pan till ready to serve.

I love the idea of a Charcuterie board but you have to handle everything?
Just as everything, wash hands or wear gloves! You can use tongs or a fork to place each item.
Now that we went over the basics let's get started!
Today I will be sharing how to make a breakfast Charcuterie board, the options are endless with what we put on it!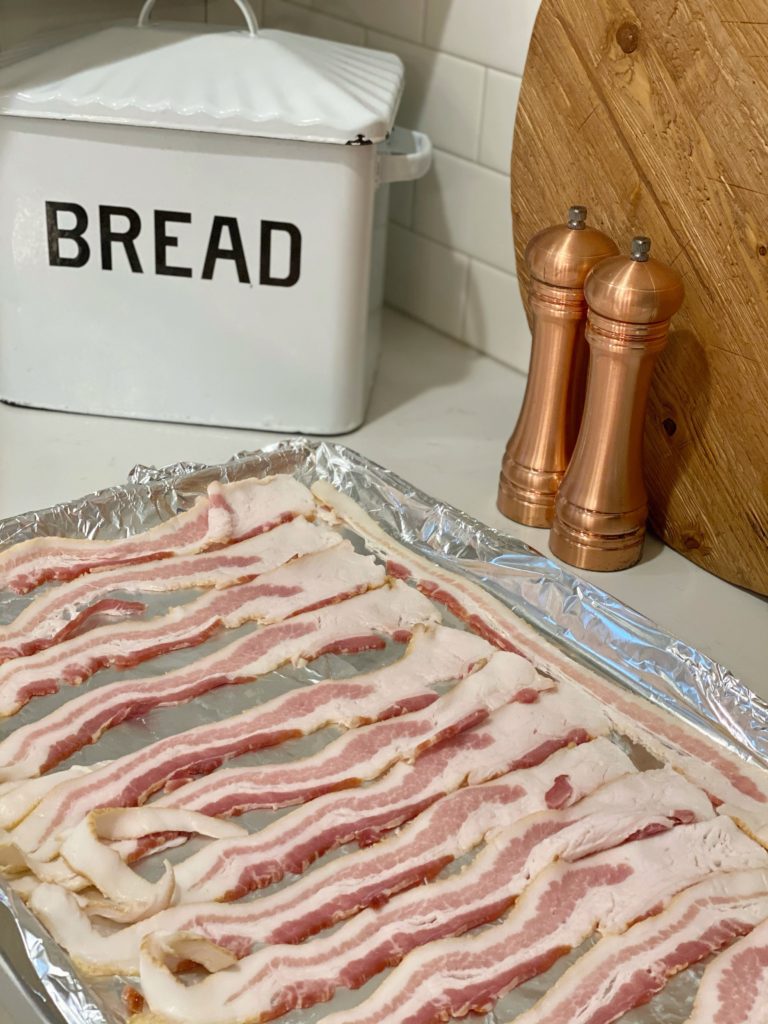 I love making bacon in an air fryer, but it does not give the nice long strips… so in the oven it is!

First make sure to put a piece of foil on your baking sheet, then place your bacon it will shrivel up!
Bake at 400 degrees till the crispiness desired – normally around 12-15 min I start checking. ( Cook time normally 20 depending on oven)

Once it is done make sure to get the extra grease off and pat with a paper towel. Then it's ready to serve!
* I keep my oven warm and if things are not done at the same time I place all the food on a sheet covered with foil.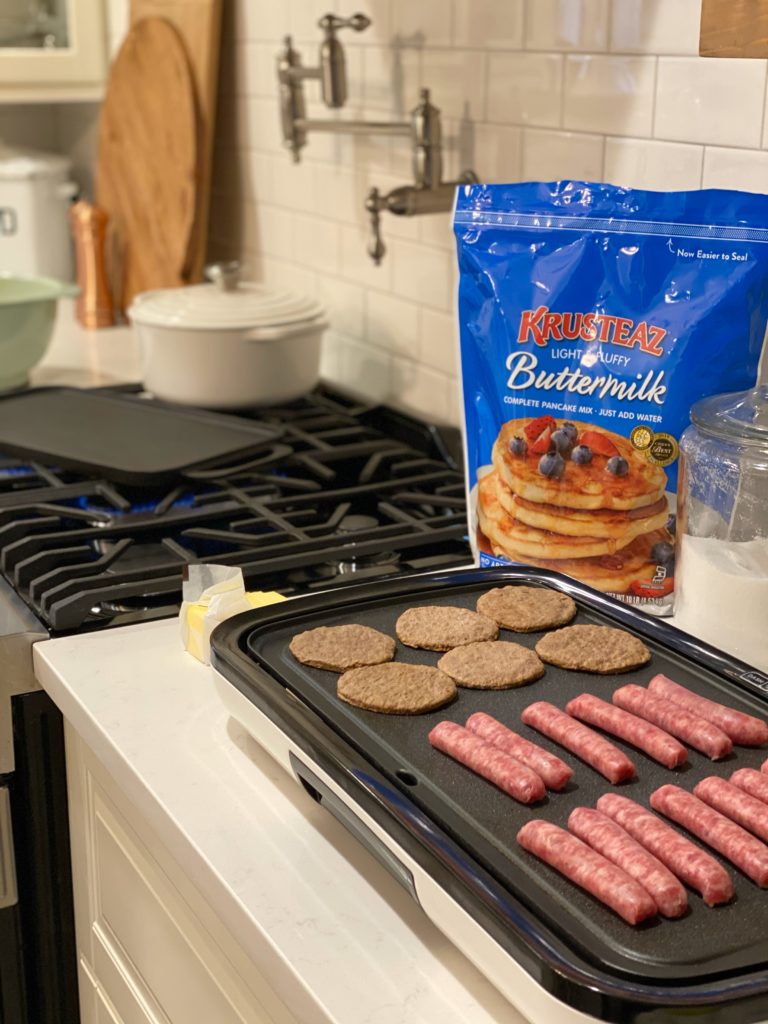 We cook everything at once so it stays warm so have your sausage going either on a griddle or pan!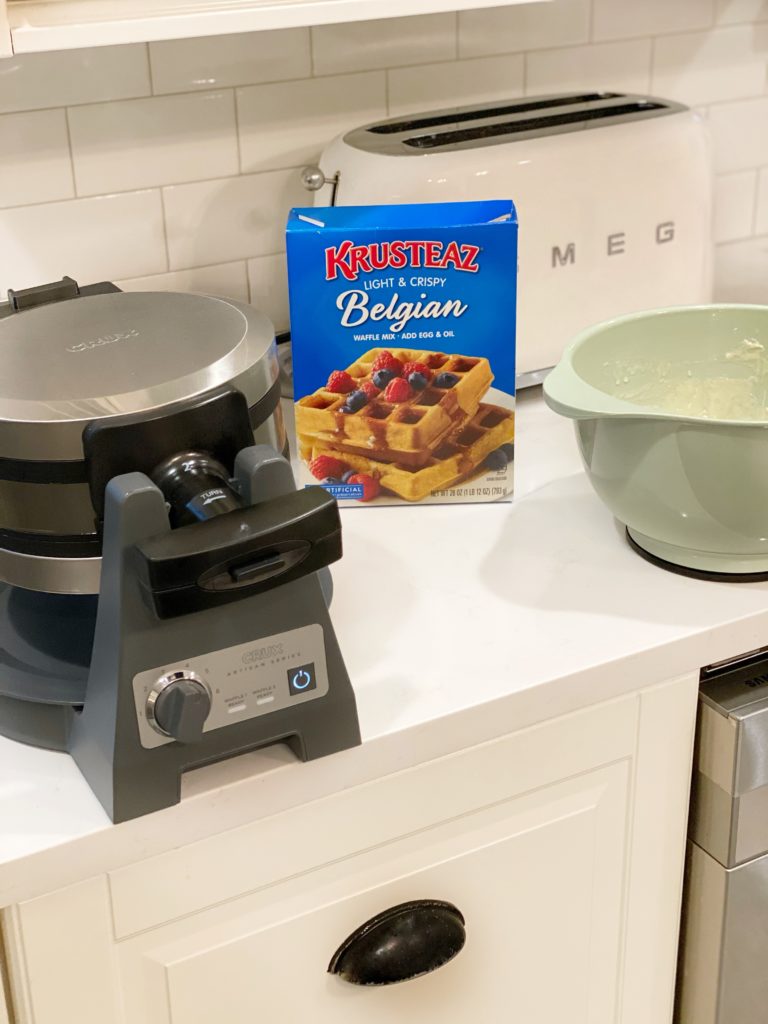 This double sided belgian waffle maker is s DREAM! You can find it HERE and it makes having fresh yummy waffles quick a reality! If you haven't tried the Krusteaz Belgian Waffle mix do yourself a favor and get some HERE.
Here is what it looks like finished, you can watch the step by step video below on how I made it!
I loved having all our favorite breakfast foods but adding some fruits not only for color but to add something fresh and healthy!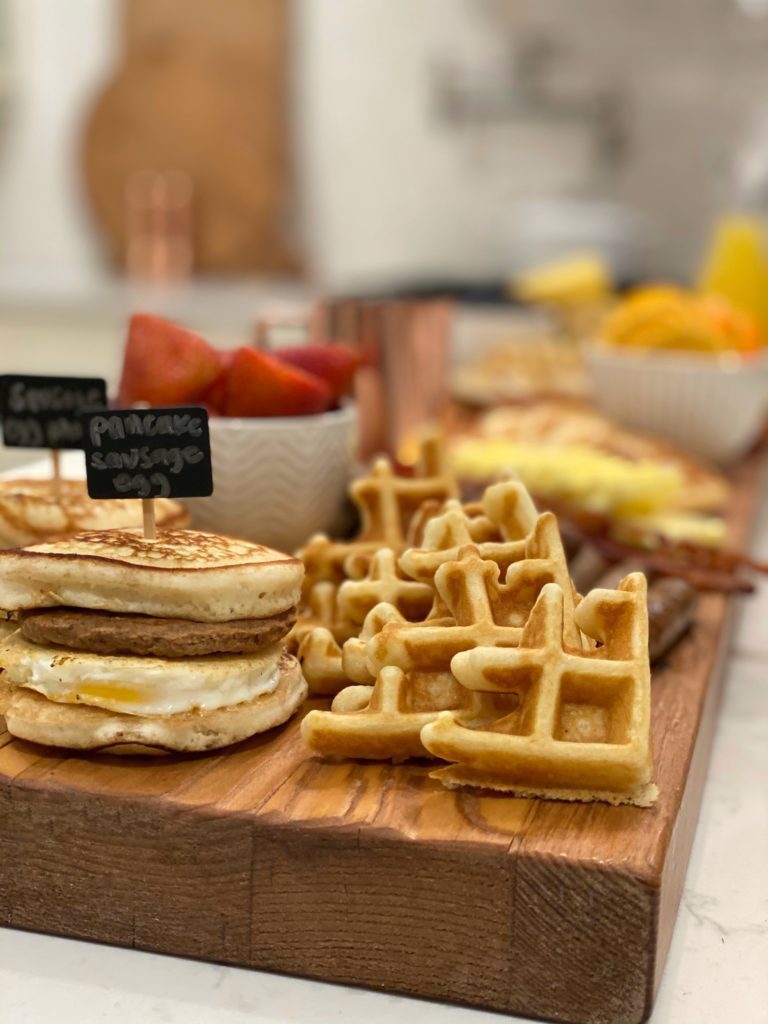 Checkout these little sandwiches, they are made of pancakes eggs and sausage! They are so fun and easy to make! The little tag was the perfect added touch!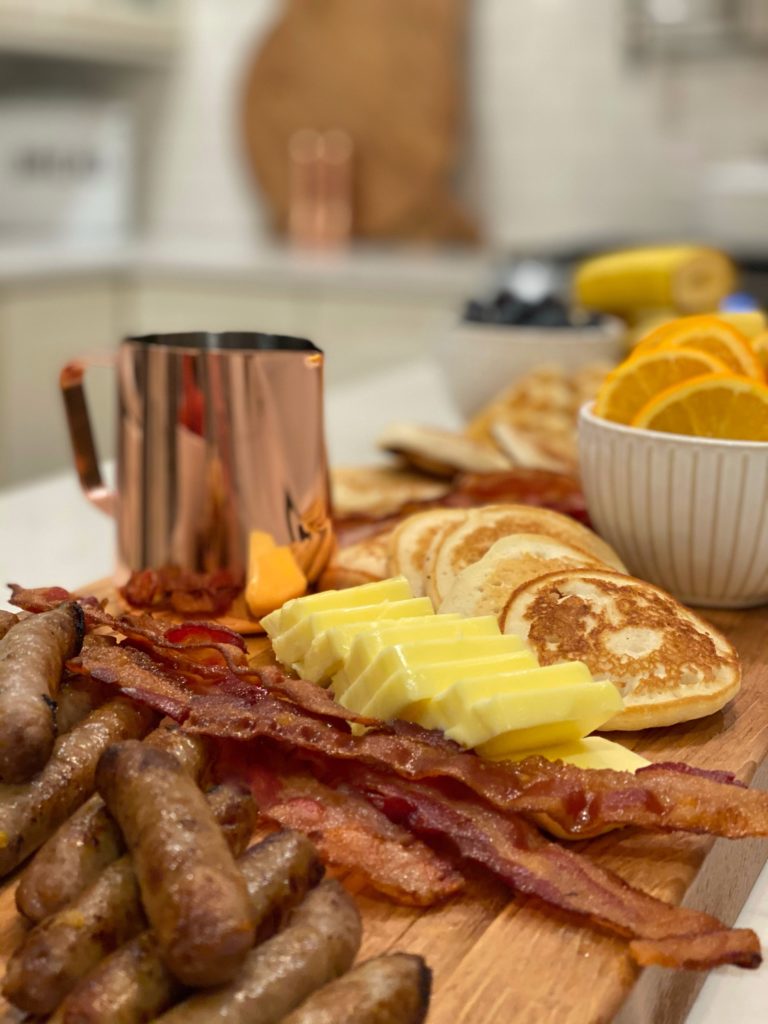 To see how I made this check out this video!
* I washed my hands before making for my family – you can use gloves or tongs for less handling.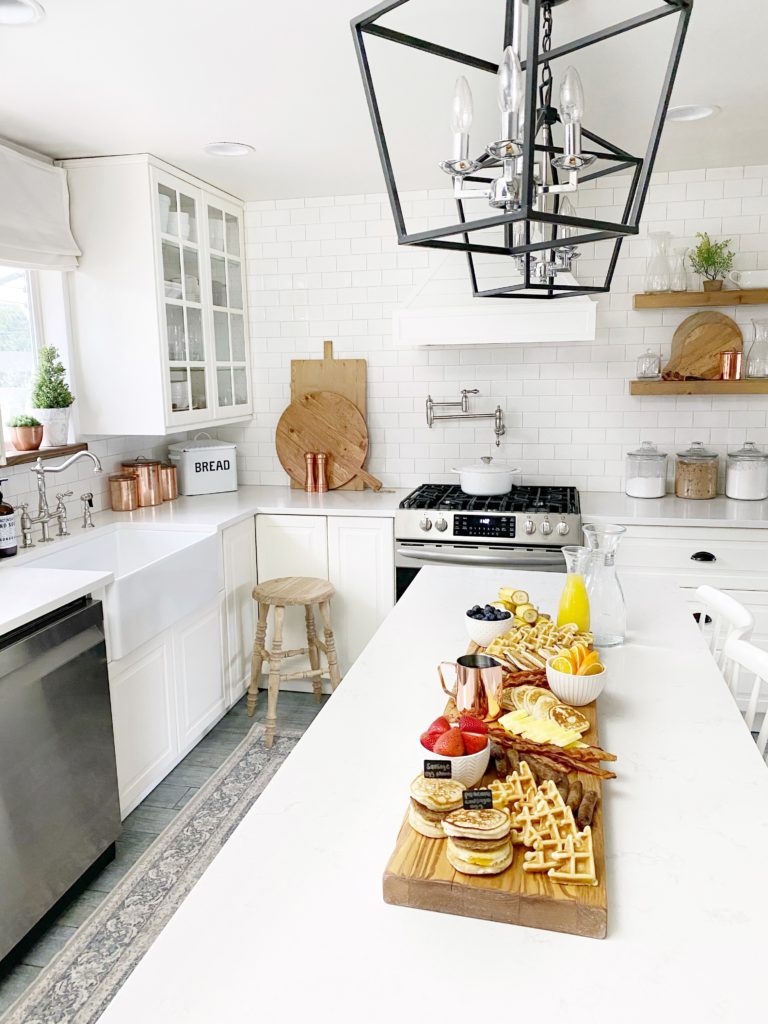 TO SHOP THESE ITEMS, CLICK ON EACH PHOTO.
MORE CHARCUTERIE BOARD IDEAS :