5 Easy Christmas Appetizers + Charcuterie
5 Easy Christmas Appetizers + Charcuterie board – yes please!! You had me at appetizers – keep reading to see how I made them!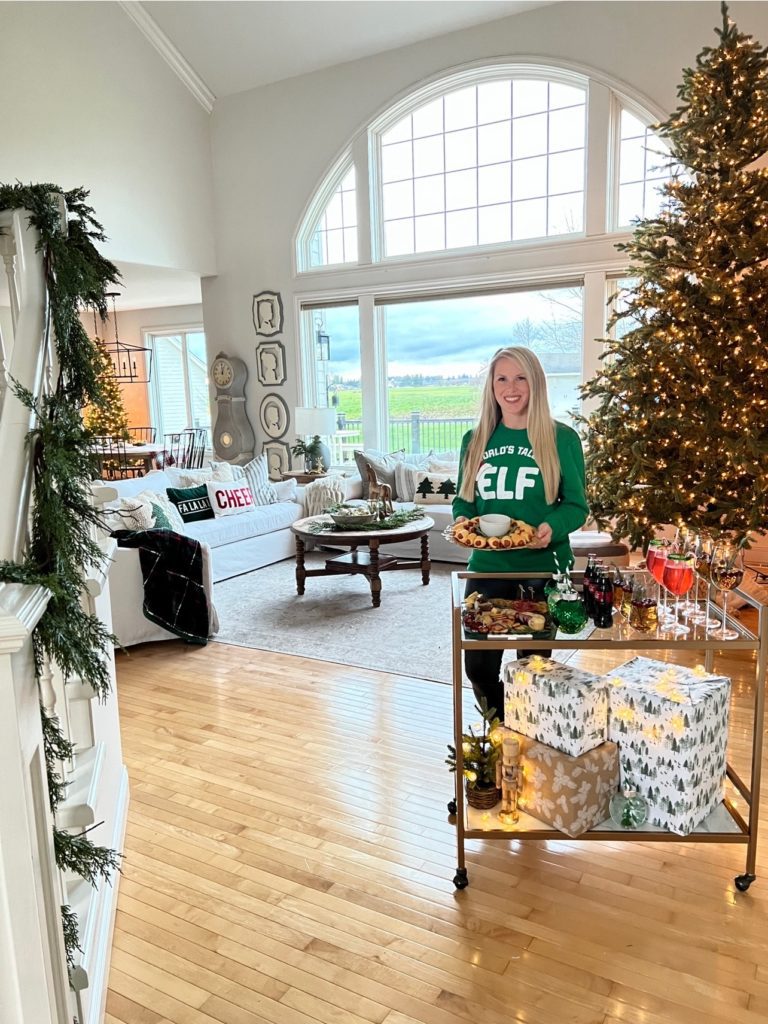 This is my favorite time of year, not only for Christmas but New Years! I thought it would be fun to share some ideas with you that you can use for entertaining for the holidays so you can be prepared – or really just enjoy these at home… I know, I know.. I ate my fair share already who am I kidding…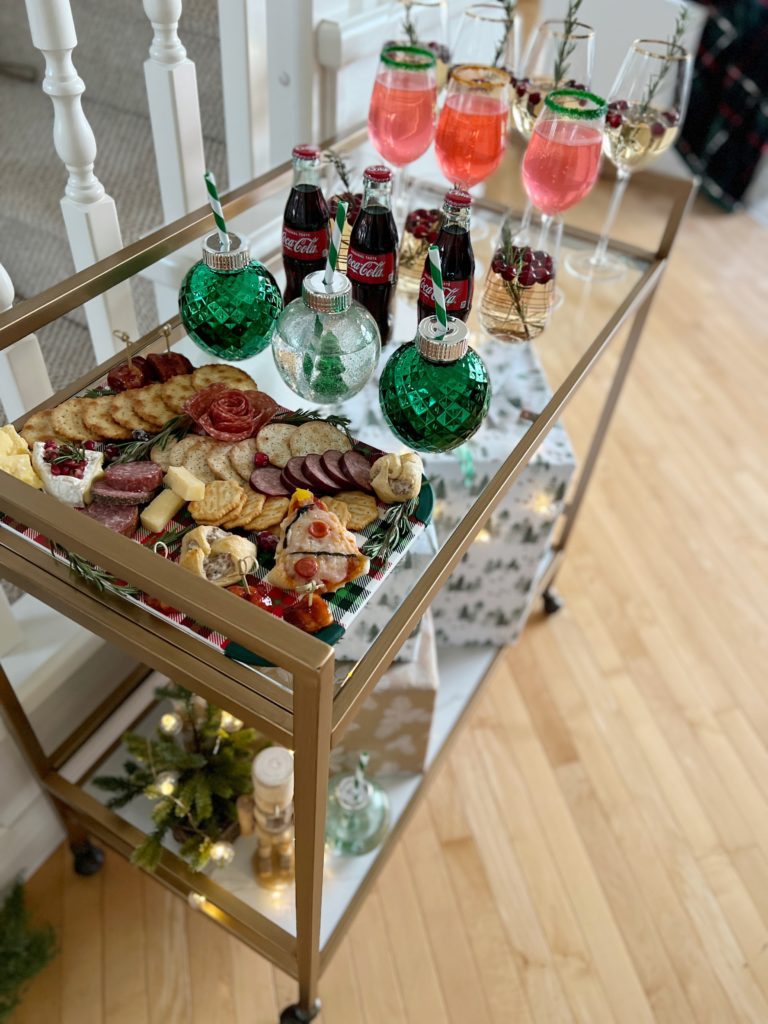 Now let's get ready to party! These fun ornament bottles you can find HERE at Walmart! They come in a bunch of colors, the snow globes are fun too! I made all of the fancy glasses pretty by adding some cranberries and rosemary, inside is just some ginger ale and cranberry ginger ale, but you can always have it not be a mocktail.
I love these gold rim wine glasses HERE, and these shorter glasses HERE. I had some clear wine glasses I got at Walmart, dip the rims into your pop and then dip in sprinkles for a fun add on! Then you can add a candy cane and watch it sizzle!
5 Easy Christmas Appetizers :
Look at this fun spread, it was so fun to make and tasty too -easy appetizers are the best!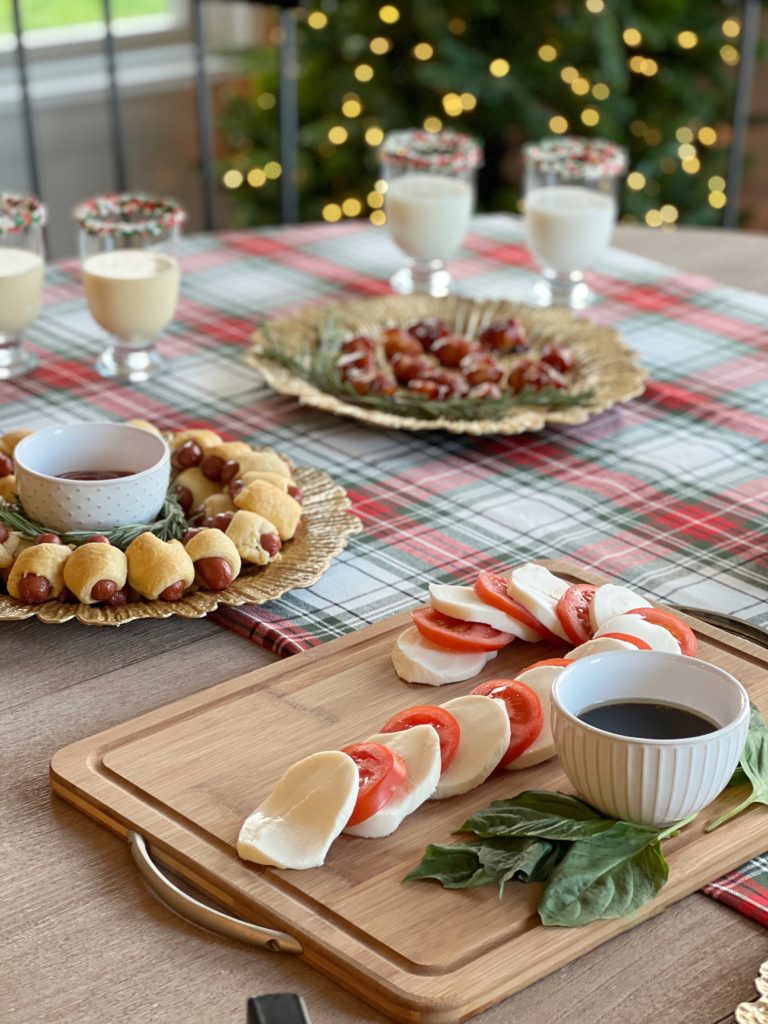 Now that you see each of these how will you even pick what to make? I guess you can make them all!
Christmas Tree Pizza :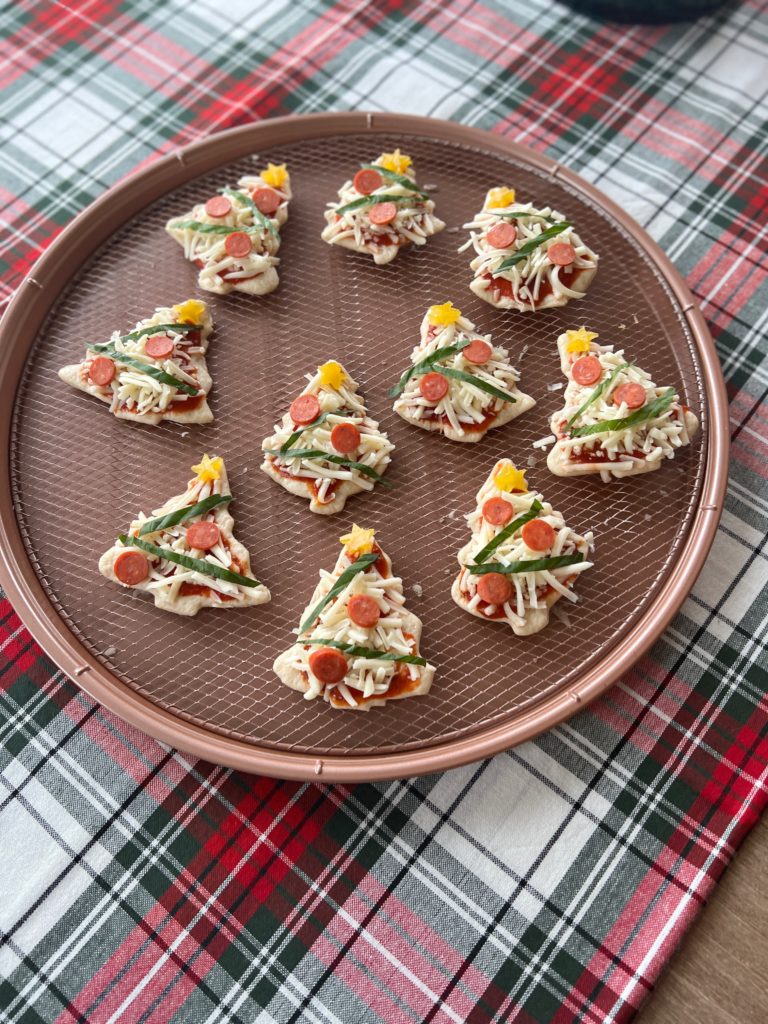 I have to say these were so much fun to make, it is not only great for adults – but such a good idea for kids too! I love with these pizzas that they are so easy and the creativity can come out! I found everything here at Walmart!
What you will need for the Christmas Tree Pizza :
Pizza crust ( I used a thin crust any kind will do)
Yellow Pepper
Basil
Mozzarella Cheese
Mini Pepperoni
Pizza Sauce
Tree Shaped Cookie Cutter
* Really anything you want on yours – be creative!
Directions :

Open your crust, roll it on a flat surface or cutting board. Press your cookie cutter and transfer your tree to your baking sheet. Repeat till complete. Then you will decorate your tree! Put your pizza sauce down then all the toppings. Once you are done bake according to your pizza crusts directions. Once it is baked enjoy!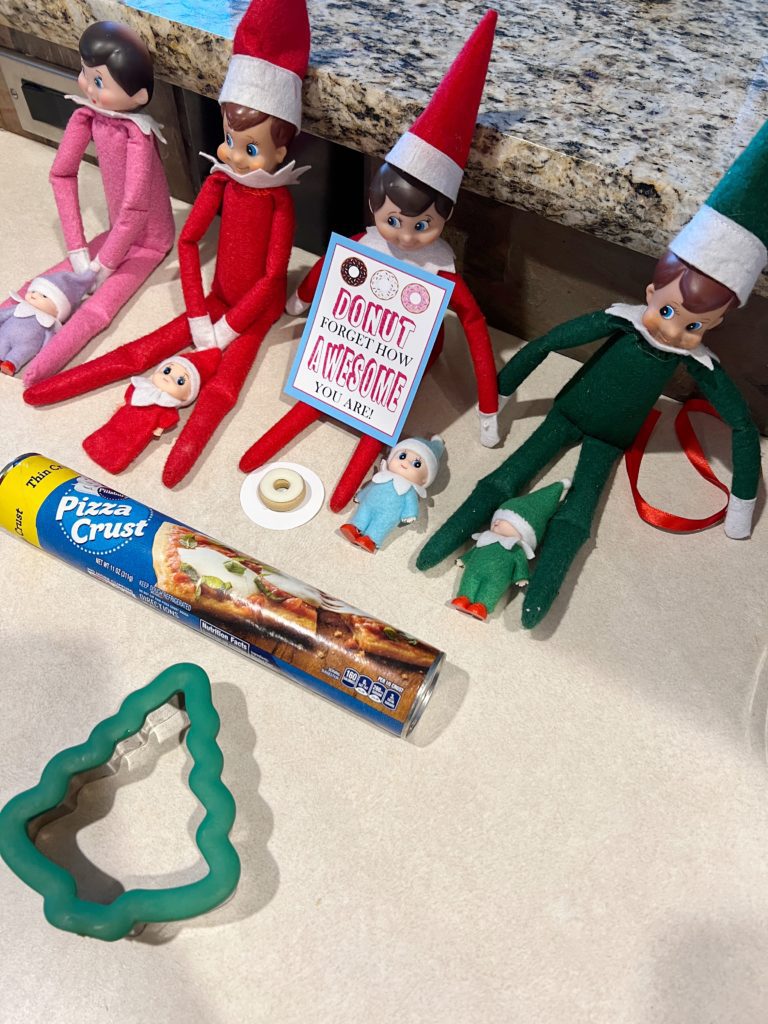 Pigs in a Blanket Wreath :
These have been a staple in my life since I was a little kid, but now I can be fancy – pigs in a blanket wreath!
What you will need for the Pigs in a blanket Christmas Tree Wreath:

Lit'l smokies
Crescent rolls
Ketchup
Rosemary
Directions:
Open the roll of crescents, lay on a flat surface. Cut each triangle into four triangles. You will take your lit'l smokie and lay it on one triangle – roll however you see fit. Keep repeating till the end. Bake according to the package and golden brow. Once cooled you will place on a plate, add your ketchup and rosemary and you are set! Time to enjoy this Christmas appetizer.
Caprese Candy Cane:
Are you looking for a healthier appetizer this one is not only so good but adorable! Easy Christmas Appetizer for the win!
What you will need for the Candy Cane Caprese :
Mozzarella
Tomatoes
Basil
Balsamic Vinaigrette

Directions:
Cut your mozzarella and tomatoes as you see in slices. Next you will start at the top left of the candy cane and begin your placement. I feel silly even giving directions but its that easy! Decorate your board after as you see fit and make sure to add some silverware. Time to enjoy!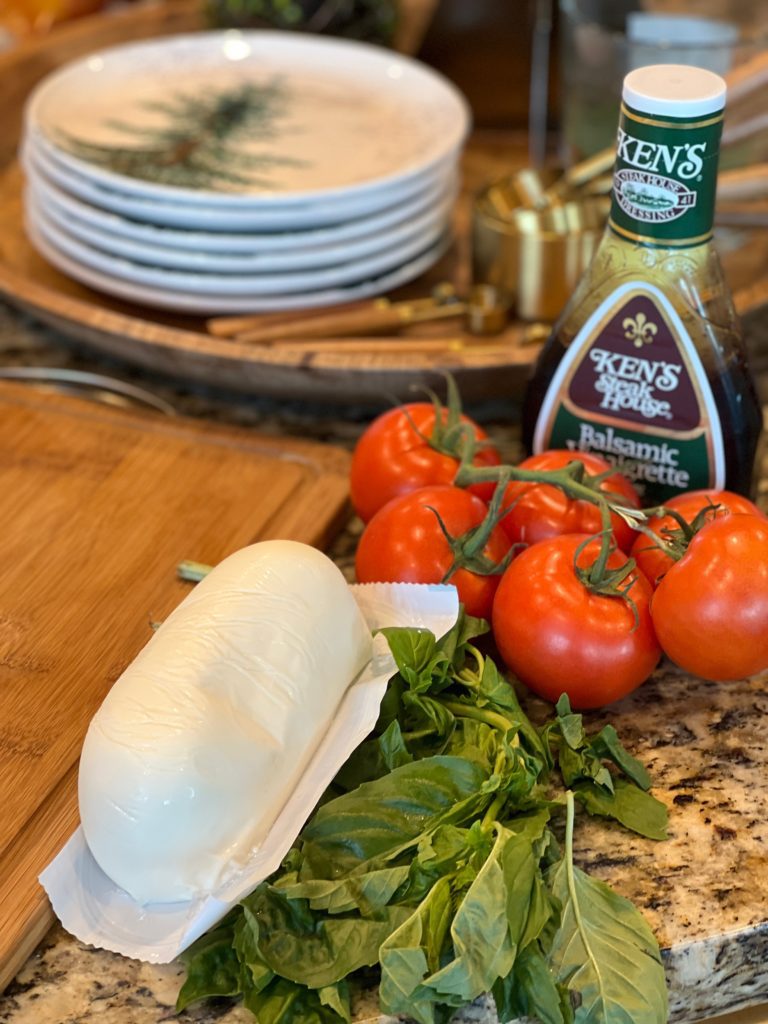 3 ingredient Sausage & Cream Cheese Crescent Puffs:
Ok, with this recipe you can make so many different ways! I love using the maple sausage it gives it such a great flavor – I found mine at Walmart. Ready for this hearty easy Christmas appetizer?


What you will need for the Sausage & Cream Cheese Crescent puffs :

Maple Sausage
Crescent rolls
Cream Cheese

Directions:

You will first start by browning your sausage. When it is complete add your cream cheese in the same pan and stir till it melts. Now its time to go to your crescents, cut each triangle into two. Now you shape as you wish.. keep making till you are done. Bake according to the package. There we have it Easy Christmas Appetizer yes please!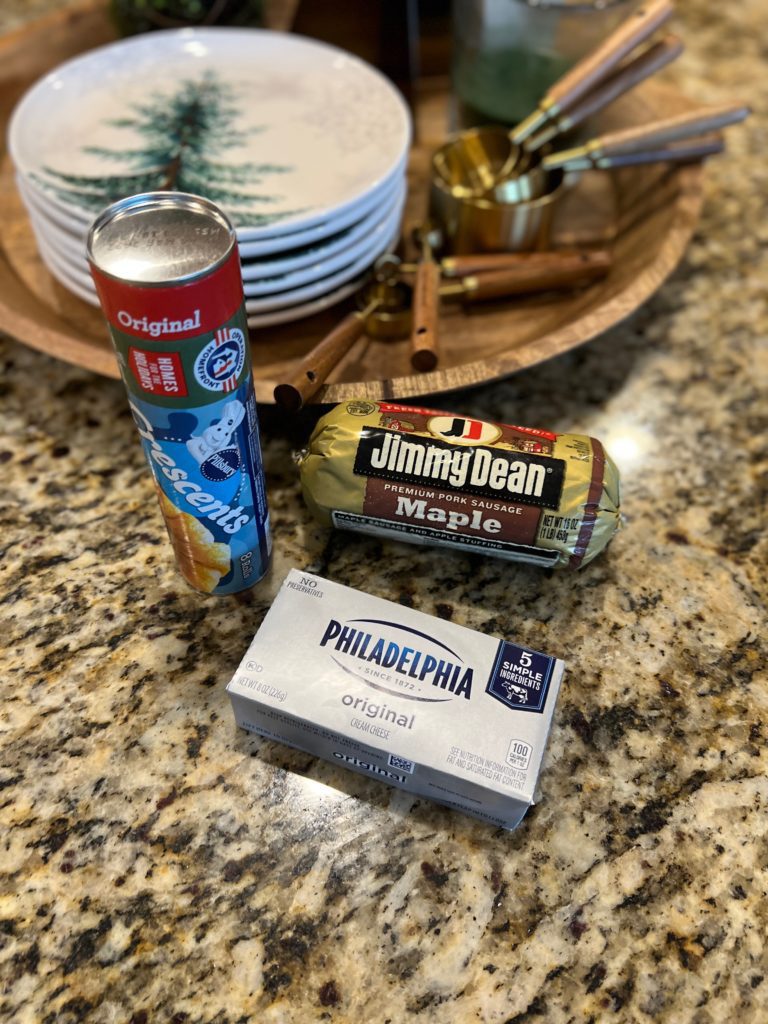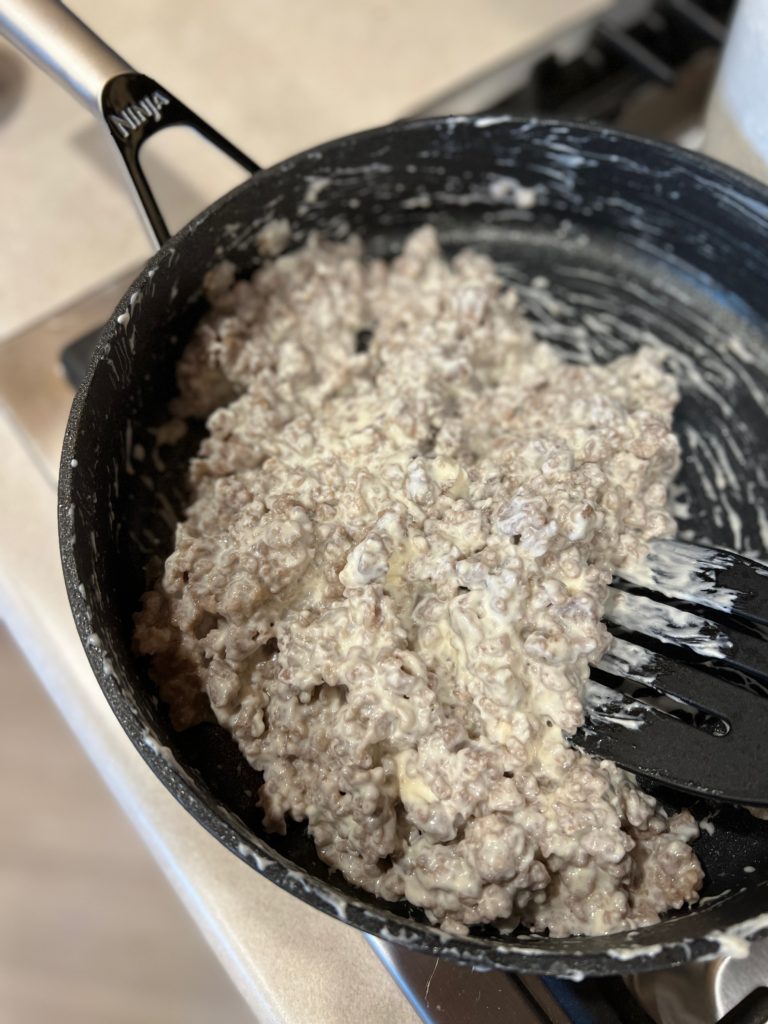 What you will need for the Bacon Covered Water Chestnuts: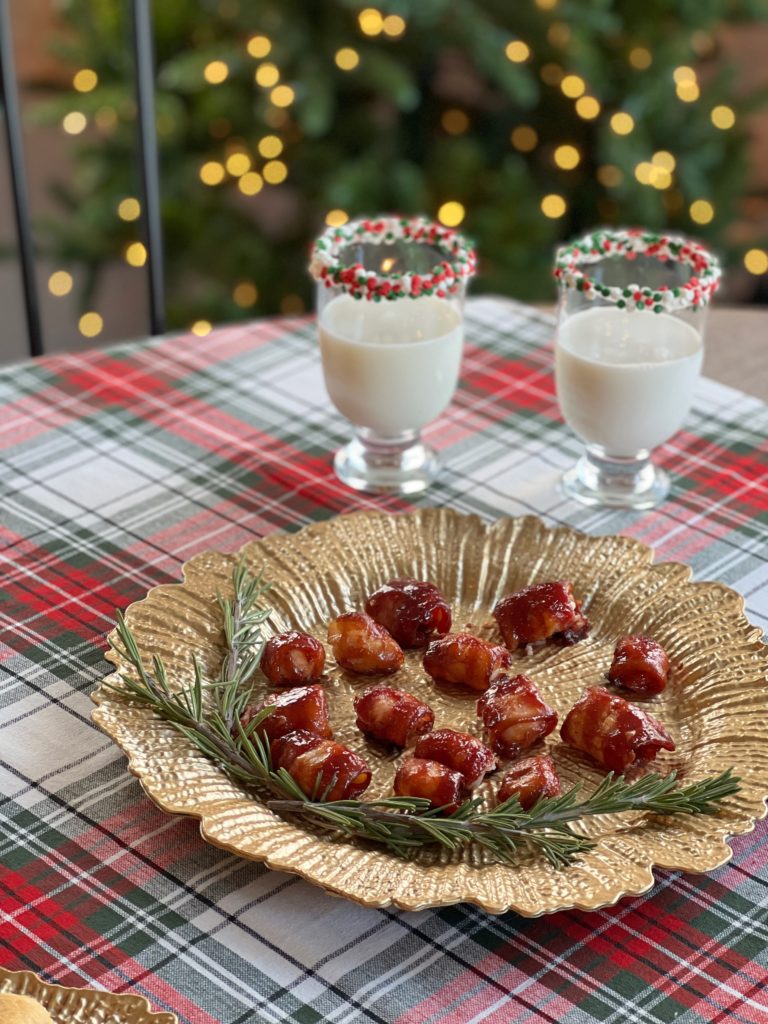 If you have not tried these yet, they may sound weird… BUT so amazing!!! Bacon covered water chestnuts are so good and you will want more… like me as I type! I am doing the easy cheater way and yes I grabbed it all at Walmart!
What you will need for the Bacon covered water chestnuts :
Bacon
BBQ Sauce
Whole water chestnuts ( don't get sliced)
Toothpicks ( don't forget these)
Directions:
Open your water chestnuts, rinse and drain well. Next cut your bacon into 3 slices. Take your water chestnuts and wrap into one piece of bacon -get the toothpicks its a life saver! Bake for 25 minutes at 425 degrees. Get your sauce into a bowl and ready for dipping! Dip each piece into the sauce put back on the sheet and bake for another 25 minutes or till done.

These are so amazing, I hope you love them too!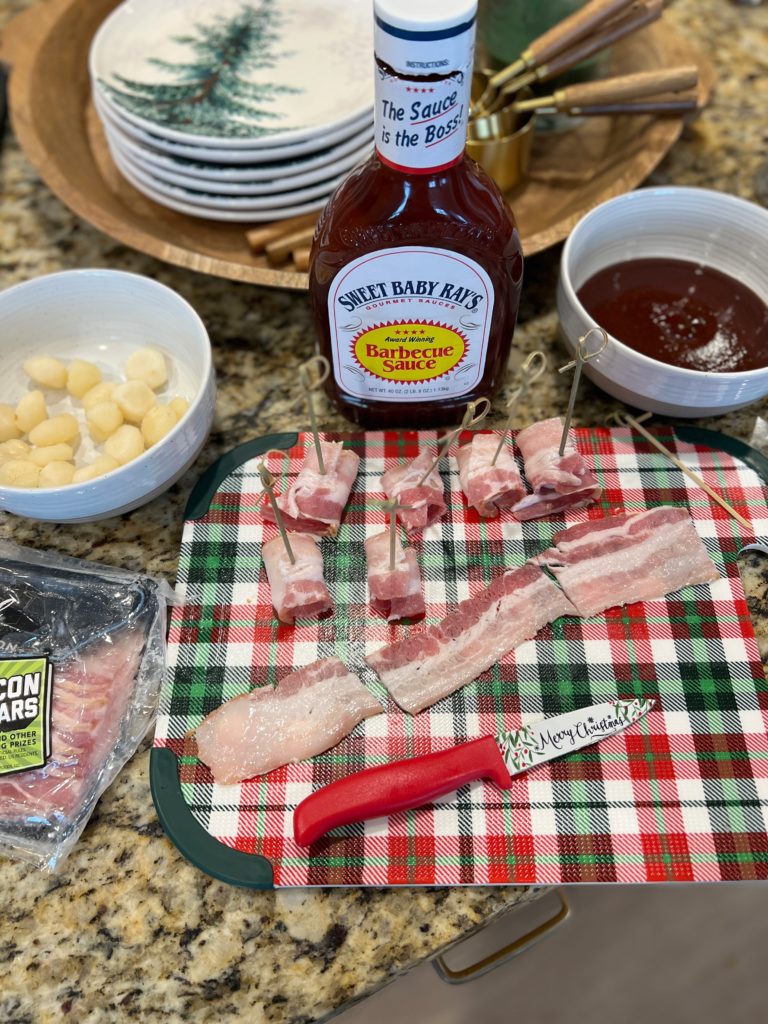 I hope you enjoyed seeing all these easy Christmas appetizers and hopefully it inspired you in some way also! Tag me if you make any of these or get any of the items from Walmart.
A cozy night time view is the best! I can't get enough of these chargers and the tablecloth! Really the light and chairs too – you can shop it all below!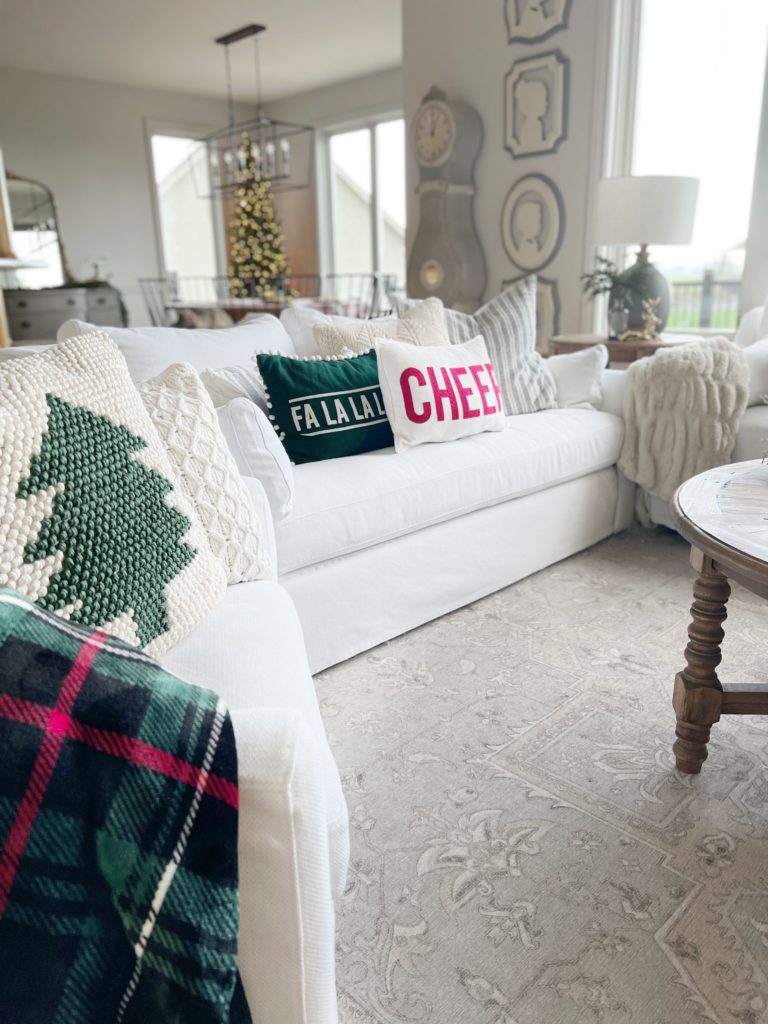 Now I just love this space and how cozy it is, you know Walmart has it all did you know they have these pillows, the bar cart, blanket, and even the side table! I made it super easy for you to shop with me.. just click each image below