How to create an Outdoor Dining Space
Outdoor Dining Space, with no deck or porch? Let me show you how to create your own outdoor dining space with these amazing pieces from BHG Live Better line.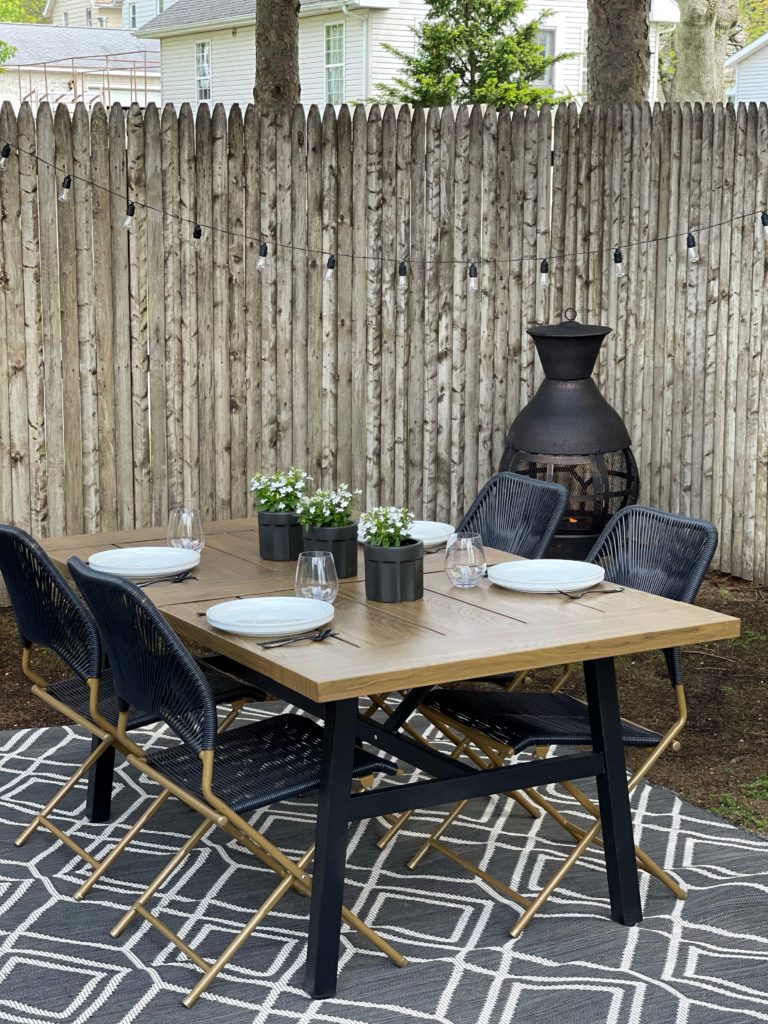 We have been on quite the adventure, and for Mother's Day we got to be at my parents house. I wanted to create a outdoor dining space and gift the pieces to my mom. Of course I went to Walmart.com and found some amazing pieces from the Better Homes and Gardens Live Better line. I will be sharing how I did this and what we did without a deck or porch. I hope this will give you some inspiration and keep reading I will show 3 spaces!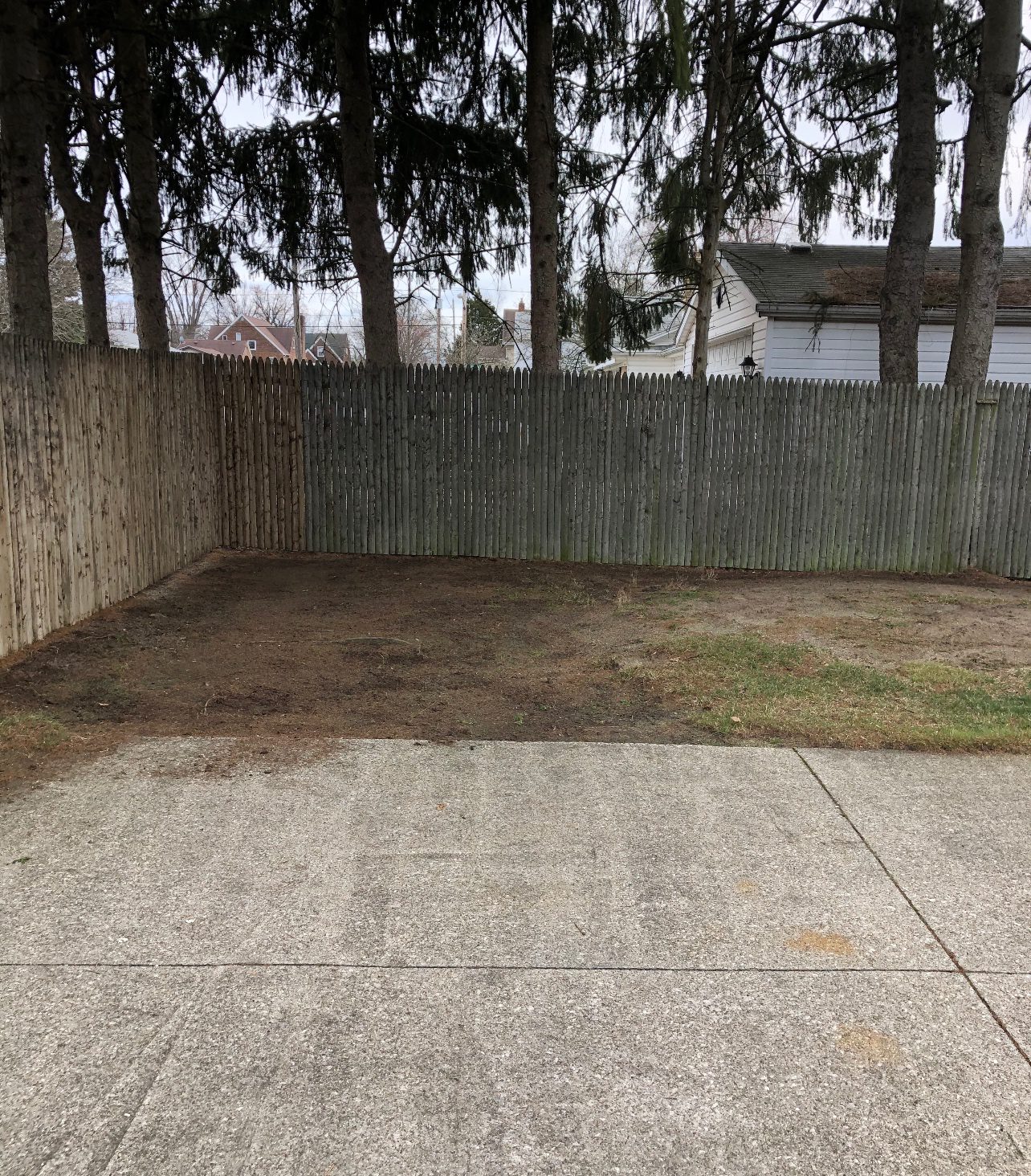 Here is the BEFORE, and the main space we are working with. You will see 3 different spaces today and in a blogpost tomorrow, the night time view of my favorite – along with my smores set up! Ready to see how I transform this space with BHG Live Better items? Best part – NO patio or porch needed!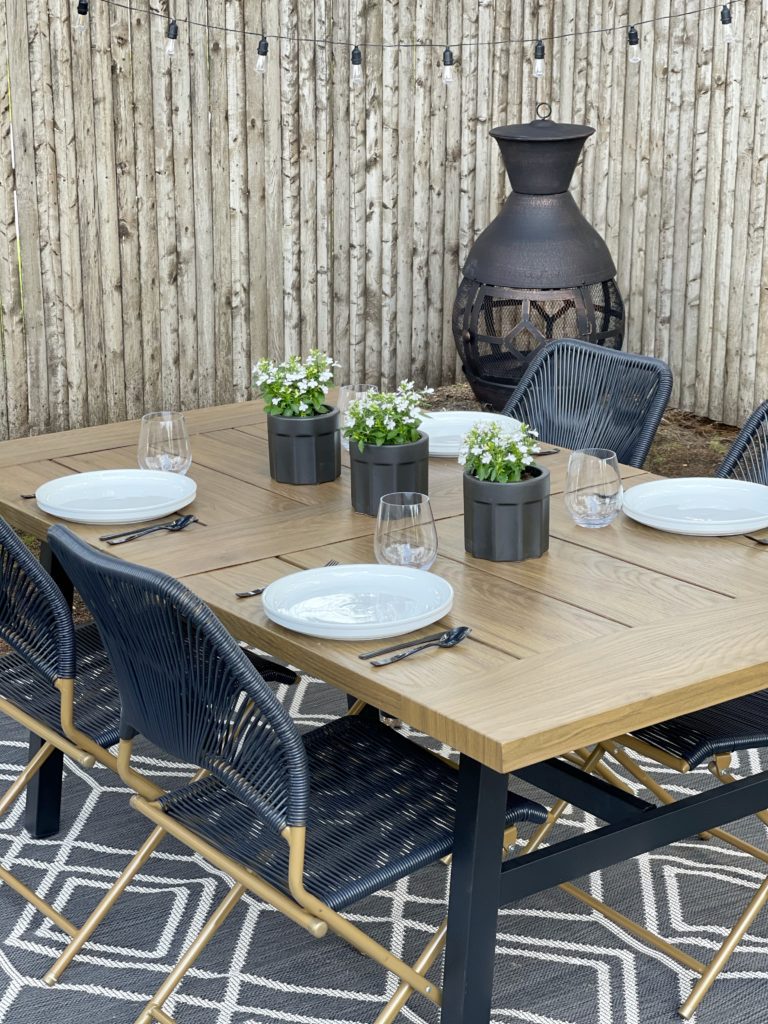 Here is my first space, I love how this corner is so cozy and private. I normally would pick a rug first for the space, but since I was out of town I had to make sure I could get a table delivered. I found this table HERE then went from there.
Did you know you need to buy your porch/patio and outdoor items EARLY? Really if you ever see in stock press that order button! These chairs HERE from the BHG line were on our wishlist but we waited to long to order.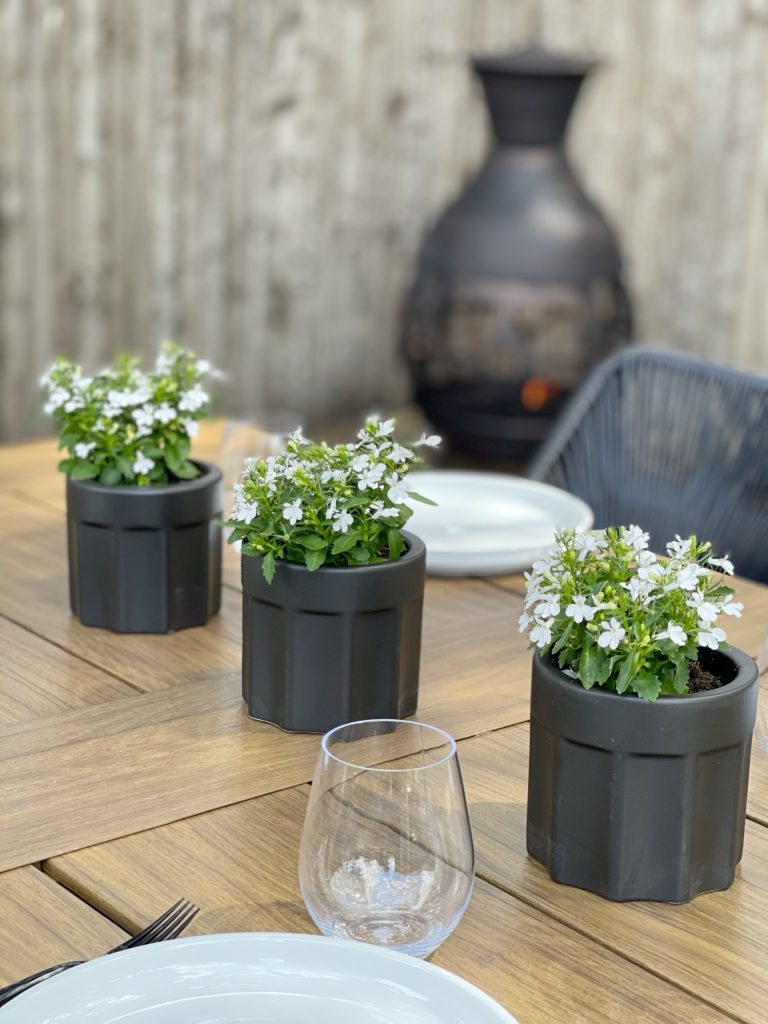 I wanted to do a simple tablescape, and these cute little planters HERE were just right! Did you know the Better Homes & Gardens Live Better line sells live plants, and even soil? That is where we found these flowers!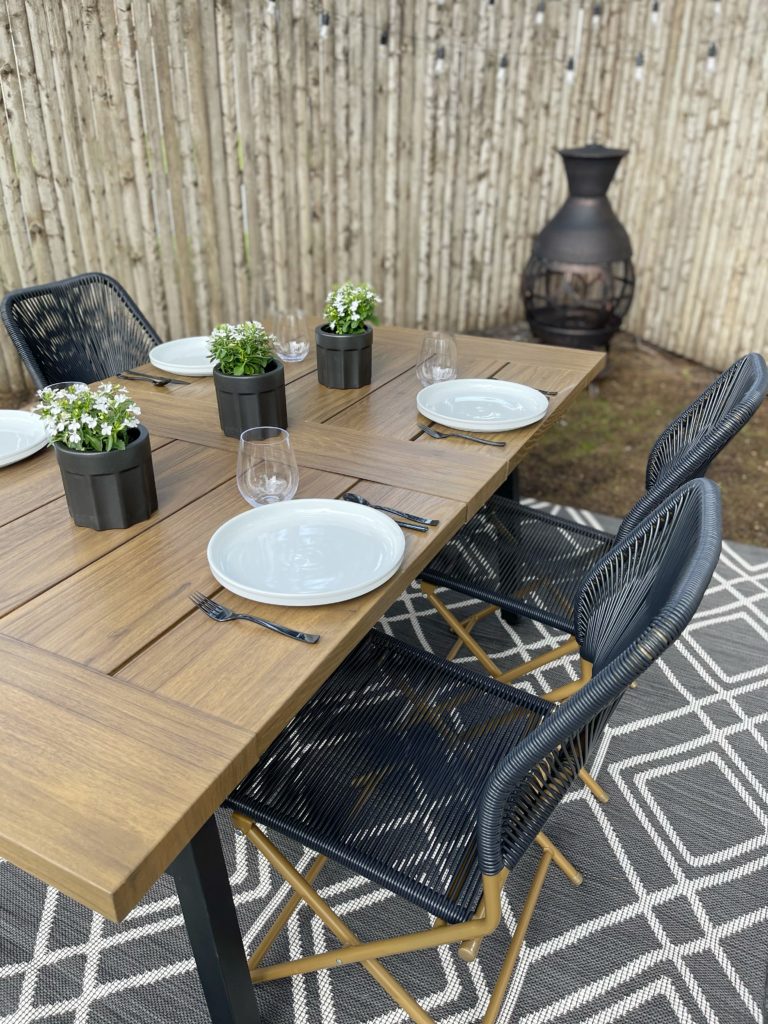 I am going to share more about the chiminea in tomorrow's smore post, but isn't it gorgeous?? The chiminea and solar lights just make this outdoor dining space just perfect!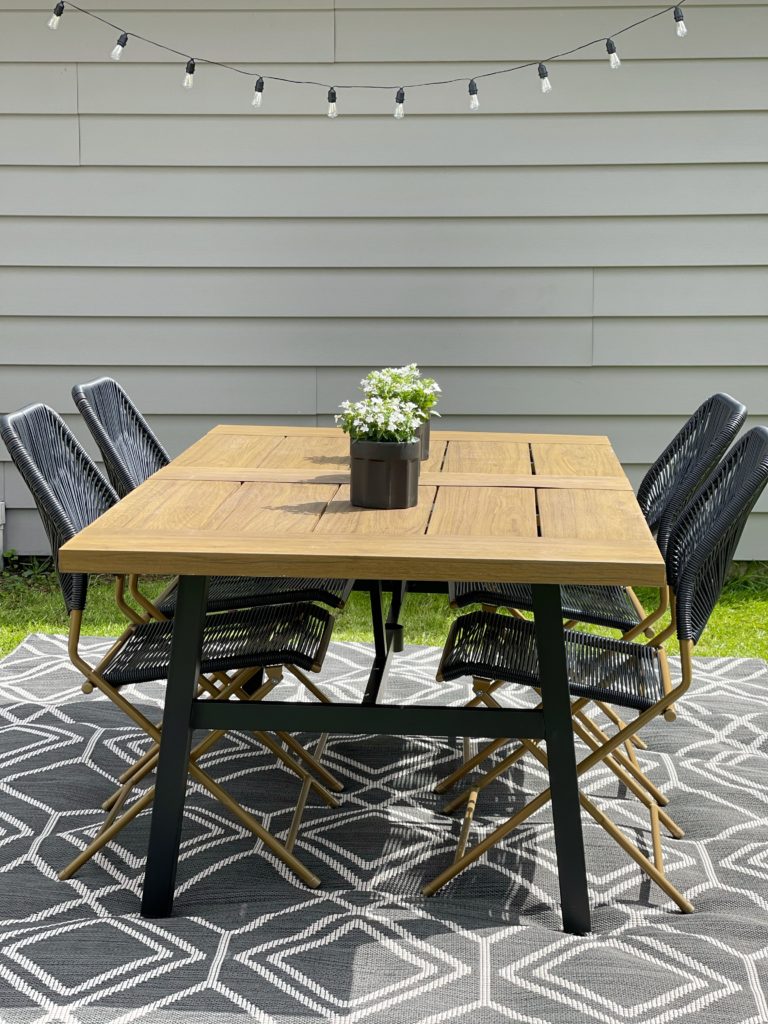 This is the back of the house. I wanted to try the table in a few spaces so my parents could decide what they liked best. I didn't share the one against the garage in my stories, but I did like it too! I love how sturdy this table is! It looks like it has a wood top, but it is all metal! You can find the table HERE.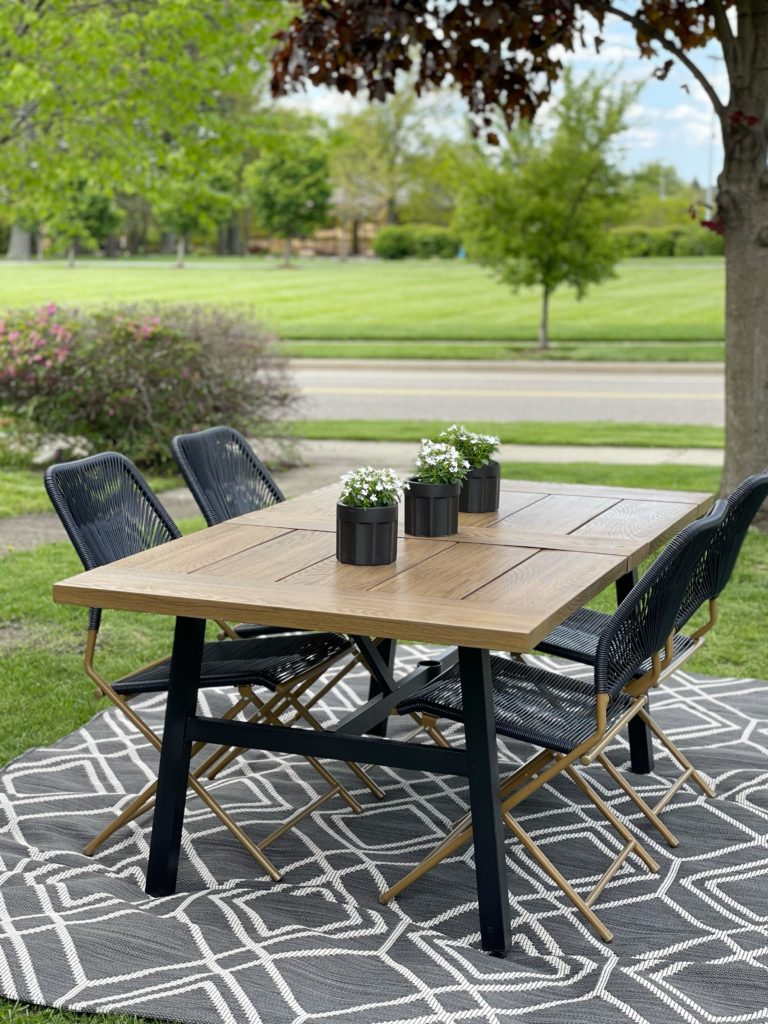 This view is in the front of my parents house, and it is so GORGEOUS… well when cars aren't driving by. I had to share the set up here because of how pretty it is. I love how in each space the rug pops out so much. You can find the BHG Live Better rug HERE, it does look a lot different in person than in the image.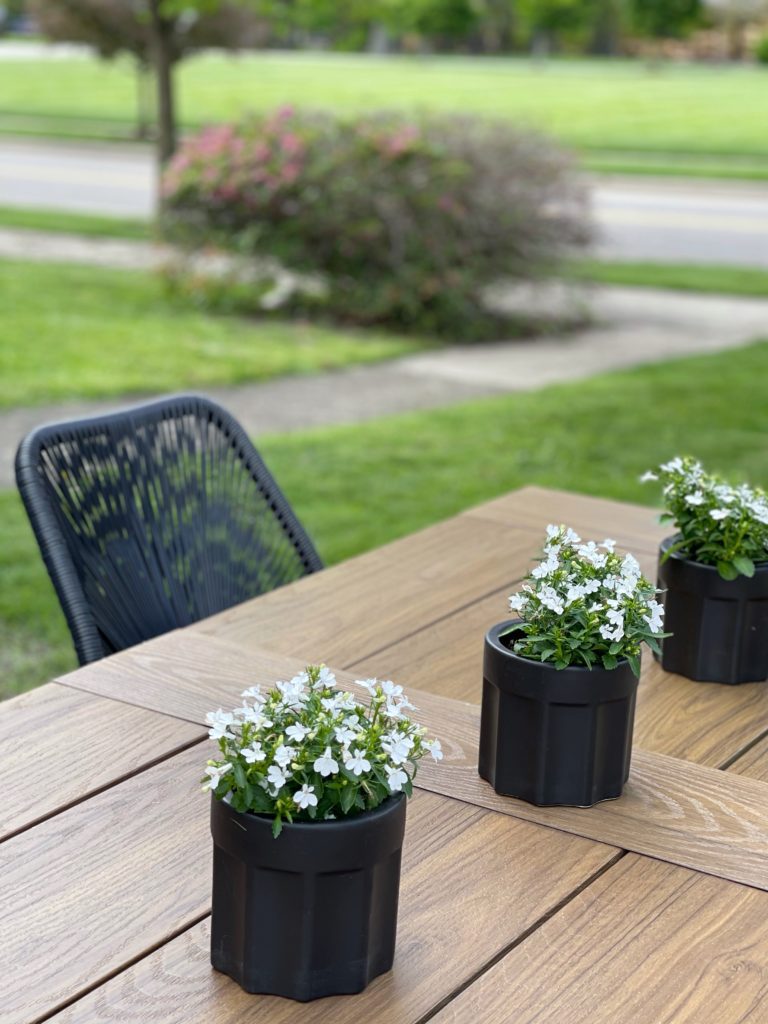 Now that I shared this table in 3 spaces, which is your favorite? I think you may know mine but come back to tomorrow's post to see – plus you won't want to miss out on the smores!
TO SHOP THIS POST TAP THE IMAGES BELOW AND DON'T FORGET TO SEE SOME MORE PROJECTS I DID WITH THE BETTER HOMES & GARDENS LIVE BETTER LINE :

RUG HERE
TABLE HERE
CHIMINEA HERE
FLOWER POTS HERE
SOLAR LIGHTS HERE