Deck Refresh – 5 Ways to Update Your Space
Deck Refresh – 5 Ways to Update Your Space on a budget! Yes I said budget, these pieces are all affordable and look amazing! Let me show you!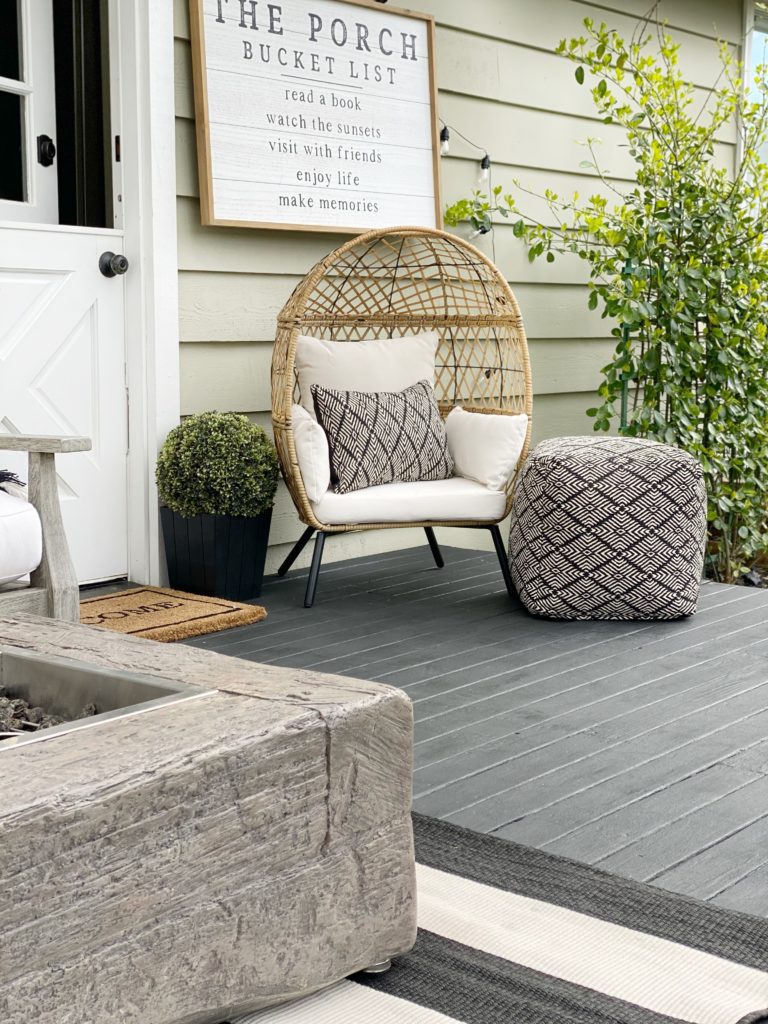 I am so excited to finally share part of our deck with you, I wanted to do a refresh on a budget using my favorite items from the Better Homes & Gardens Live Better line, while still using what we had! Hopefully these ideas inspire you that you can too!
This month with Better Homes & Gardens Live Better, the challenge was to work on our outdoor space and I thought it would be the perfect time to refresh it with some new finds!
Deck Refresh – 5 Ways to Update Your Space on a Budget :
Color Scheme : Make sure you like your color scheme or switch it up! I decided to go out of my comfort zone and do black and white. I am so glad I did because I am in love and wish I did it sooner!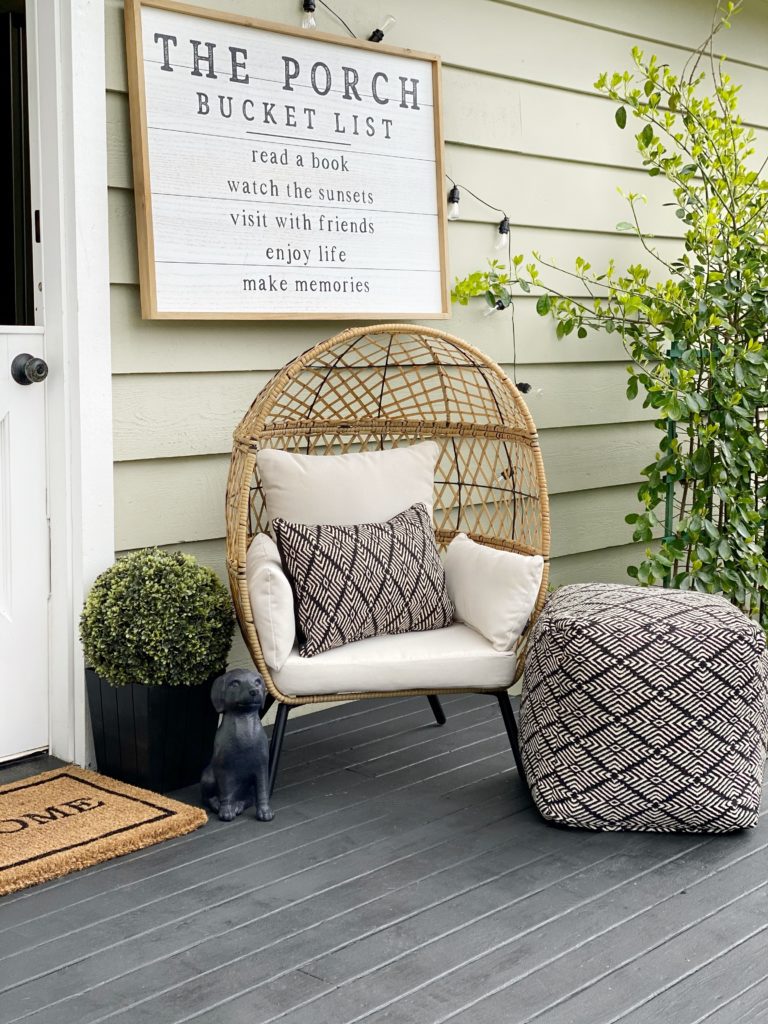 These poufs HERE at Walmart are part of the Better Homes & Garden Live better line and that is what got me started! I love this fun design and it is such a cozy piece to add! Isn't this adorable little black pup so cute! I think its my favorite!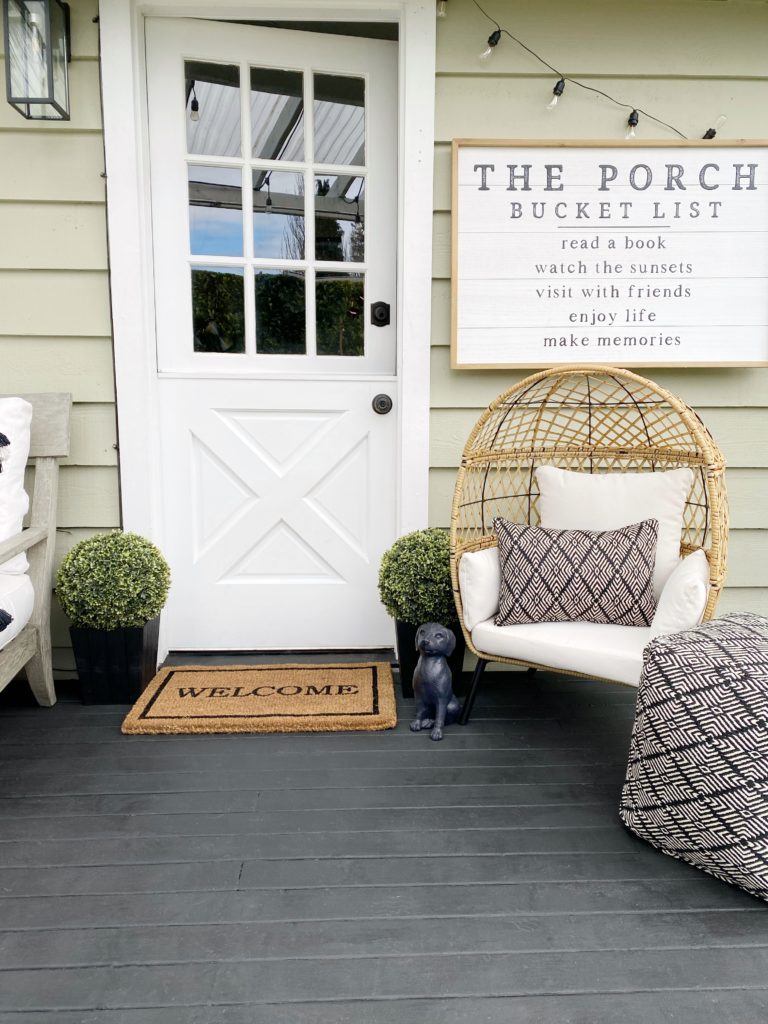 2. Find a focal piece : For our space the kids loved this egg chair! I told myself we could buy a new piece for this space and they make this in two sizes kid and adult.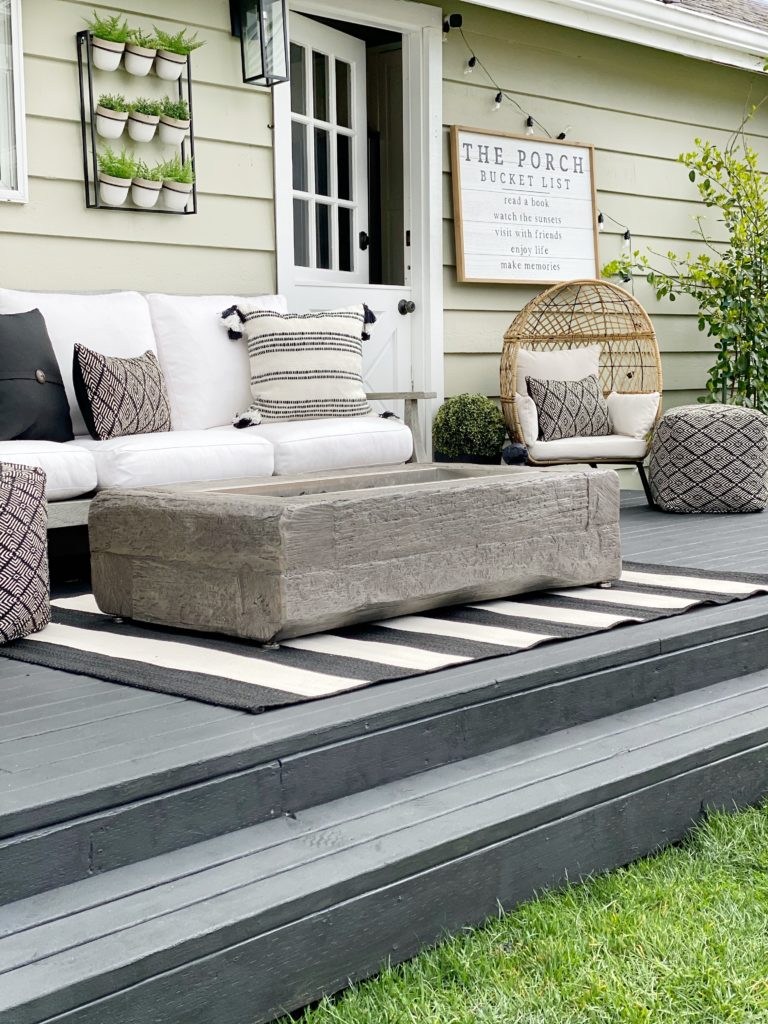 This whole space I just love, but you can see the thing you see first is the cute little chair! It is so comfortable too – and if you have the space the adult size version is amazing too perfect for your deck refresh!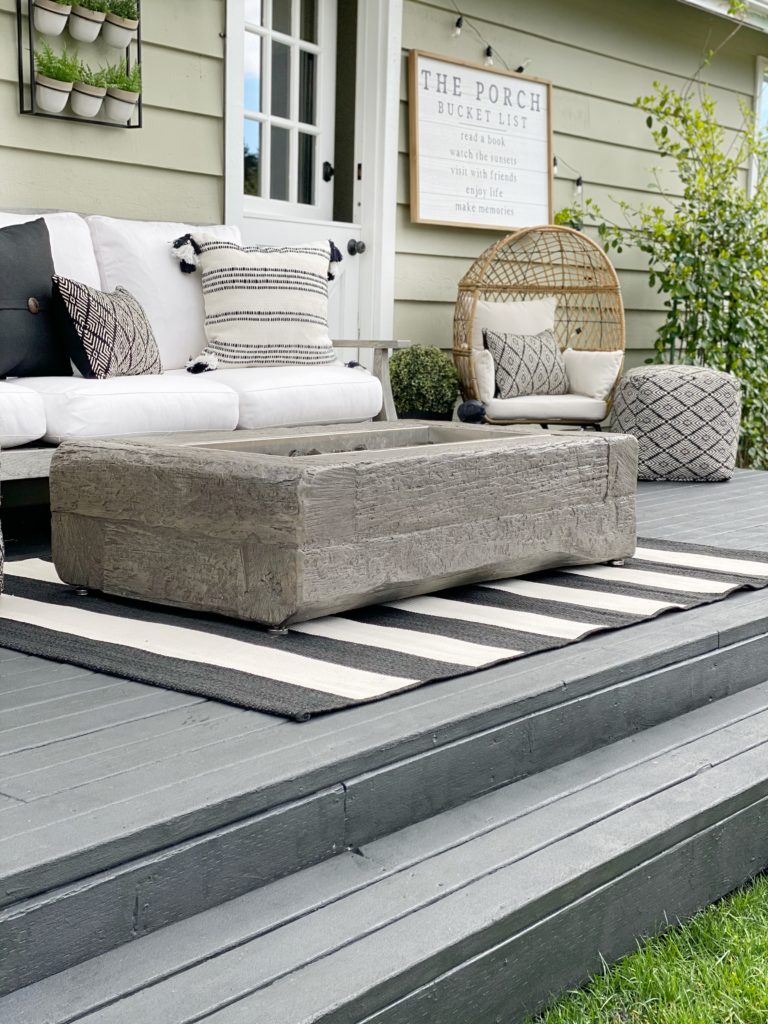 3. Add a New Rug : Adding a new rug can totally change your whole space! I love that this one goes with my color scheme and really ties everything together.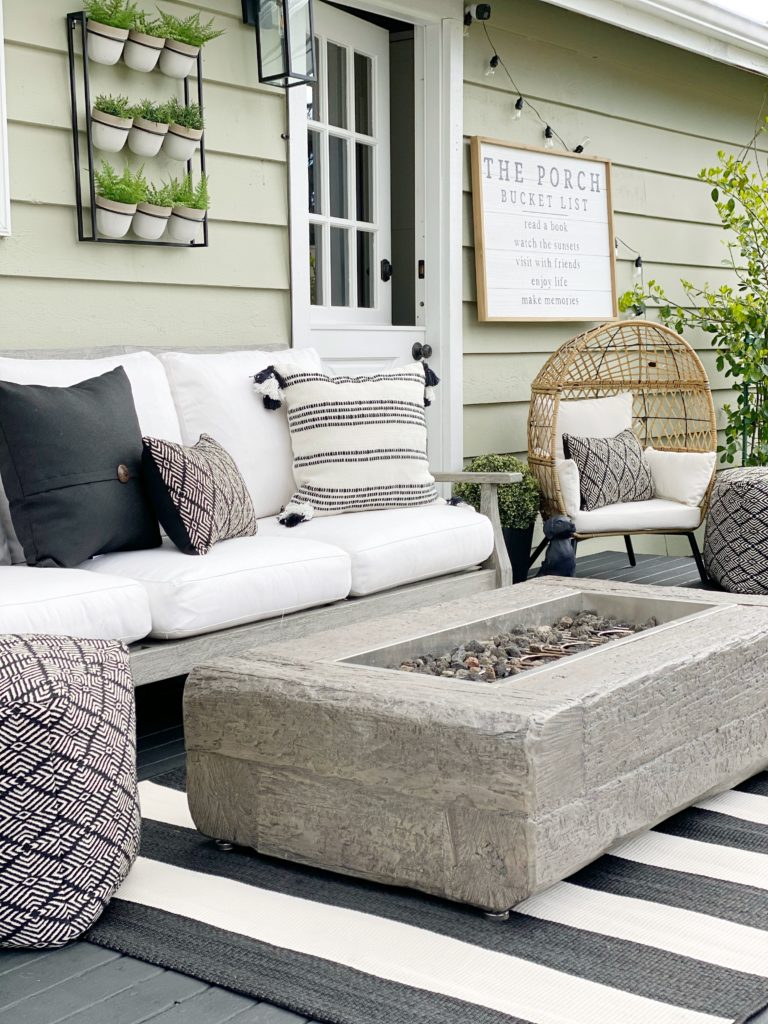 I know, a rug outdoors and white …. but it is meant for outdoors and you can just pressure wash it clean!! If you want you can always add some outdoor scotch guard!
4. Pillows : Pillows are always a good idea! These pillows are outdoor pillows and come in so many fun colors and designs from the Better Homes & Garden Live Better line at Walmart! They will freshen up your space and add the perfect touch!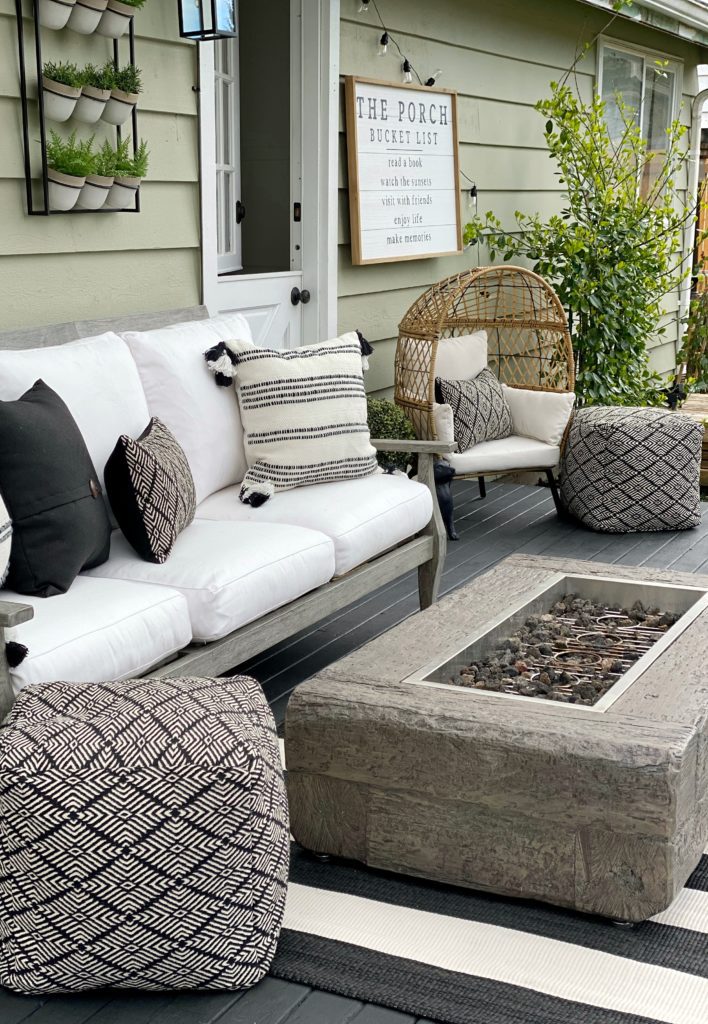 I love that the lumbar pillows are double sided! You can mix and match them and flip them around!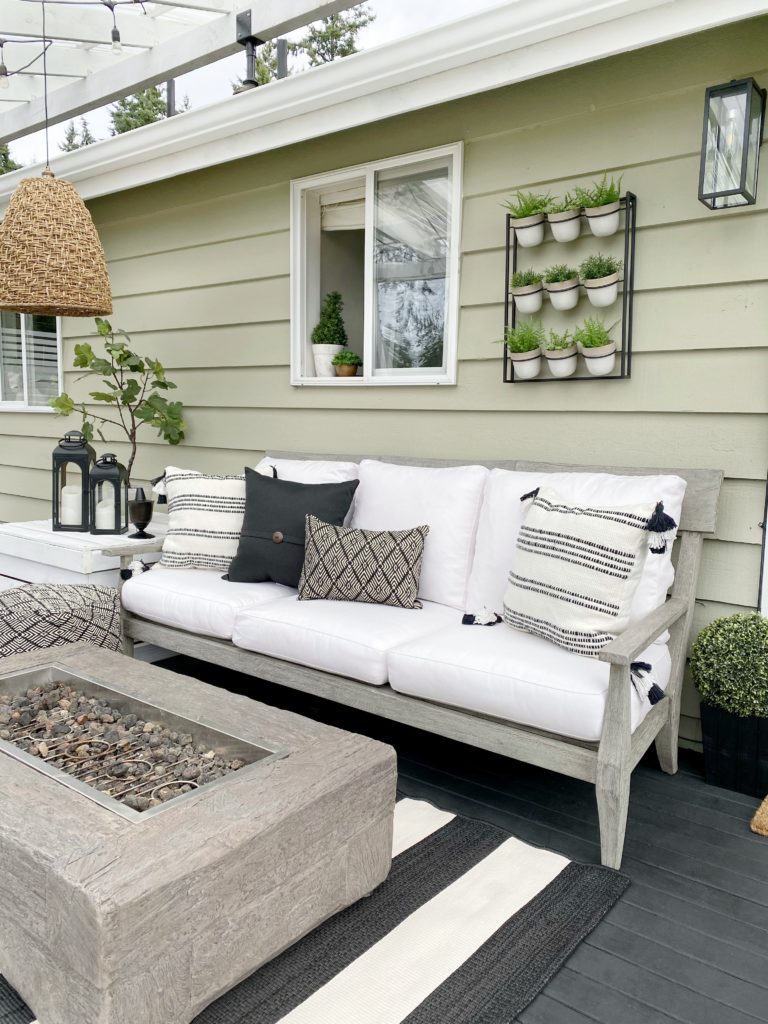 5. Add plants : Adding plants real or faux are always a good idea for your deck refresh! While I love adding real plants, I found these cute little topiaries from the Better Homes & Gardens line HERE they even light up!! I will be adding in some more real in my next deck post so don't worry!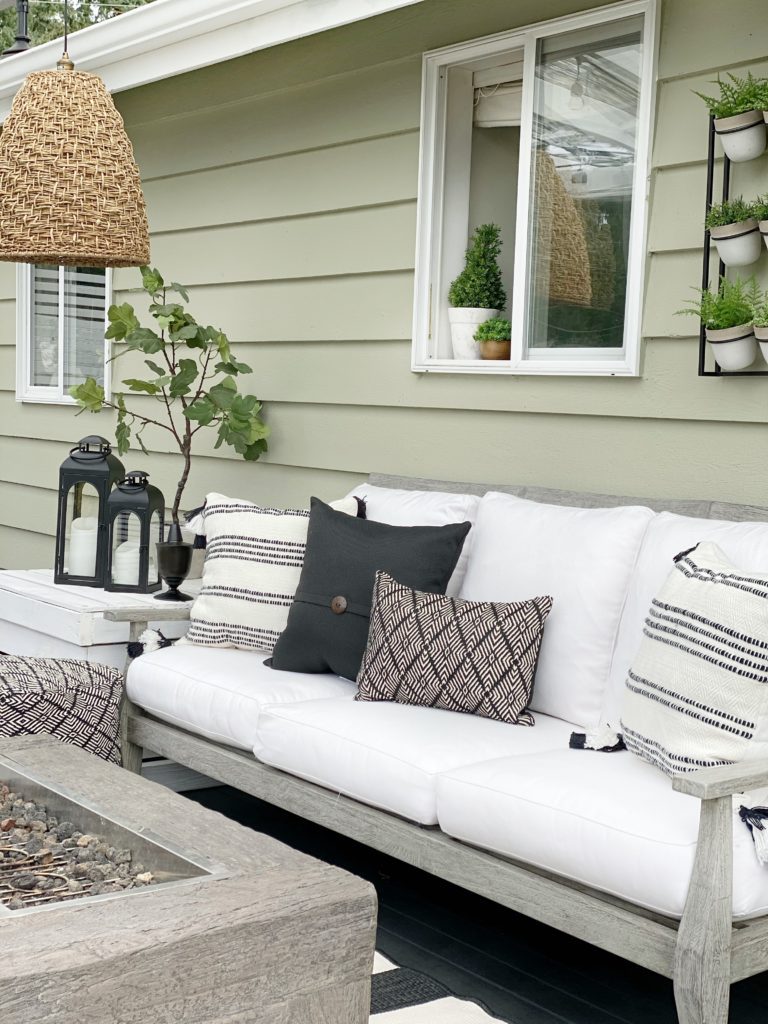 Here you can see some of my other faux plants that I always keep on my deck year round, and with these gorgeous black and white pieces it just helps them pop!
I love the black and white color scheme so much! While I have all the pieces I love so much out here – I still need to finish up my touch up painting and can't wait to show the rest of the deck!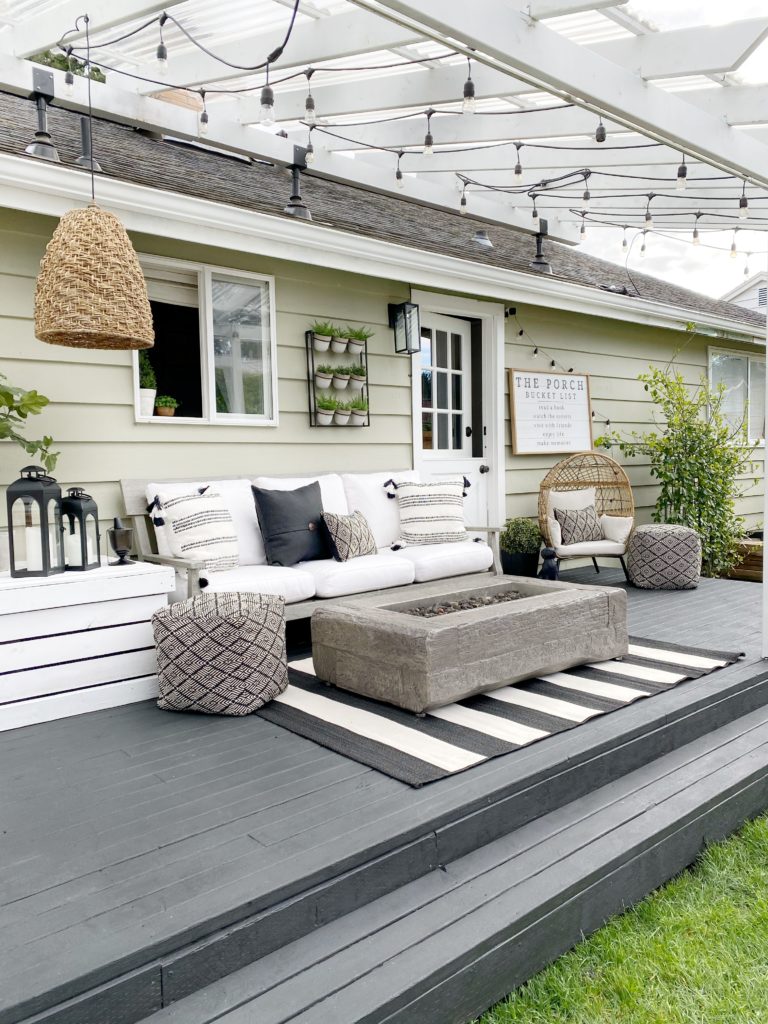 We have been so busy painting I think I just need to relax out here …. the time will come right??
This spot is so cozy, I think I will end up here!
*BONUS*
6. Lighting : Another thing you can add is lighting I love the solar string lights that you can buy from the Better Homes & Gardens Line! It comes with a stake or clip which is brilliant!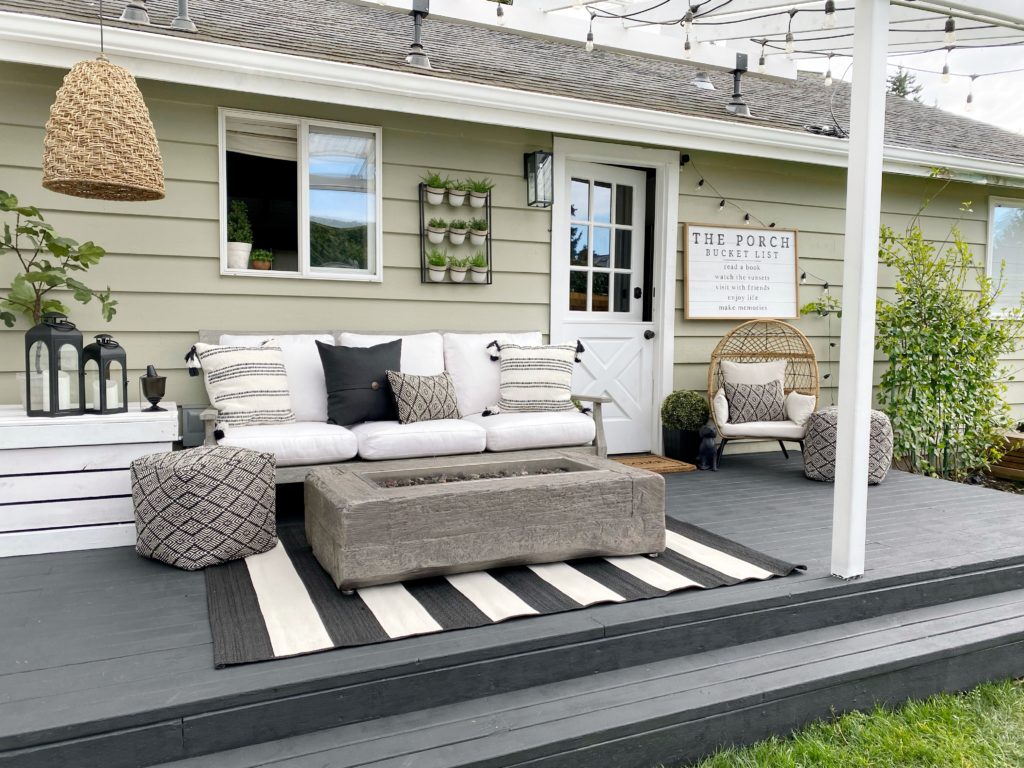 I hope you have enjoyed seeing how this space came together! I have detailed all the pieces below along with some other fun projects I have done for the Better Homes & Gardens Live Better line.
THE ITEMS I USED :
Ibiza Stripe Woven Outdoor Rug, 5 x 7
Ventura Stationary Outdoor Kid's Egg Chair
21″ x 21″, Button Outdoor Toss Pillow, Black
Trophy Table Torch Bronze
Black Garden Sitting Black Dog
Solar Powered 15-Count Edison Bulb
16″ x 16″ x 16″, Diamond Outdoor Pouf
13″ x 19″ Outdoor Woven Toss Pillow
21″ x 21″, Woven Stipe Outdoor Toss Pillow
Metal Candle Holder Lantern, Black, Large
Black Lantern
Flameless LED Pillar Candles
* Similar to mine : Better Homes & Gardens Outdoor Porch Light
FOR MORE AFFORDABLE IDEAS FROM BHG LIVE BETTER :