5 Holiday Tips + Christmas Tablescape
The holidays are here, and going quickly! Today I am going to share with you 5 Holiday Tips and a Christmas Tablescape. Ready for some inspiration?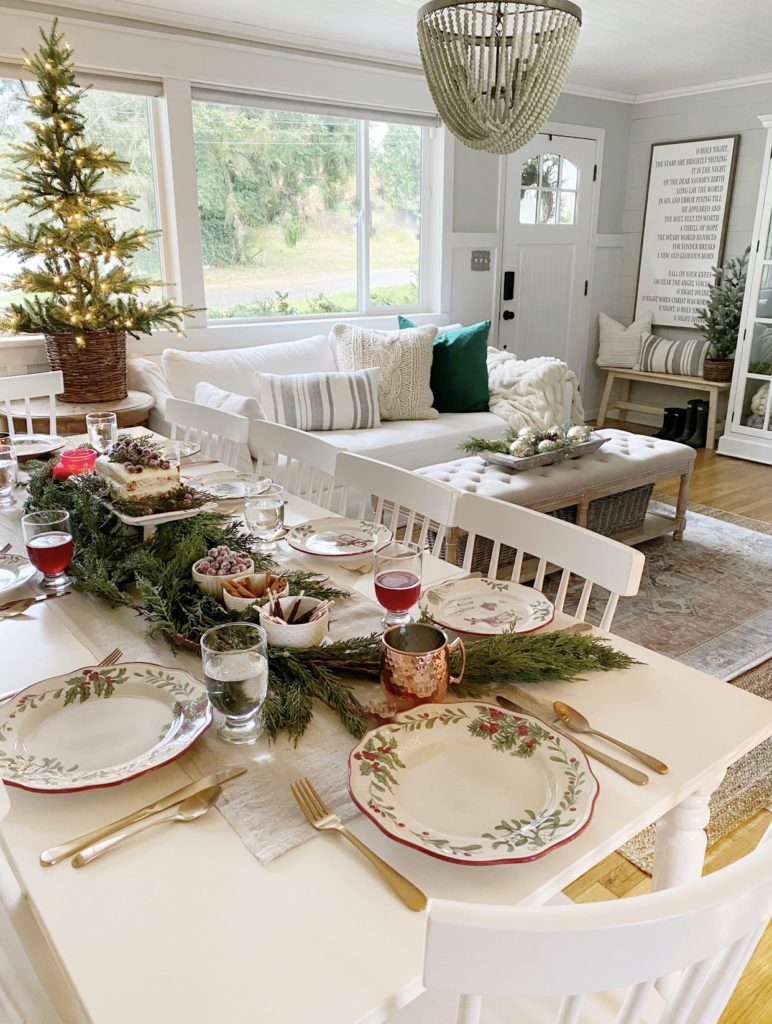 While the holidays are in full swing, it's a little extra crazy here with three boys birthdays all the month before Christmas on top of our many traditions but we will get into those on another post. For the Better Homes & Gardens Live Better challenge this month is to show how we get our home holiday ready and I thought what better than to share what my first Better Homes & Gardens product was years ago.
The photo on the left is one of my favorites using these dishes HERE from the Better Home & Garden Live Better line at Walmart. I was so excited to finally get the whole collection and not just the 4 plates I have held onto for years. Look at the rest of the collection on the right.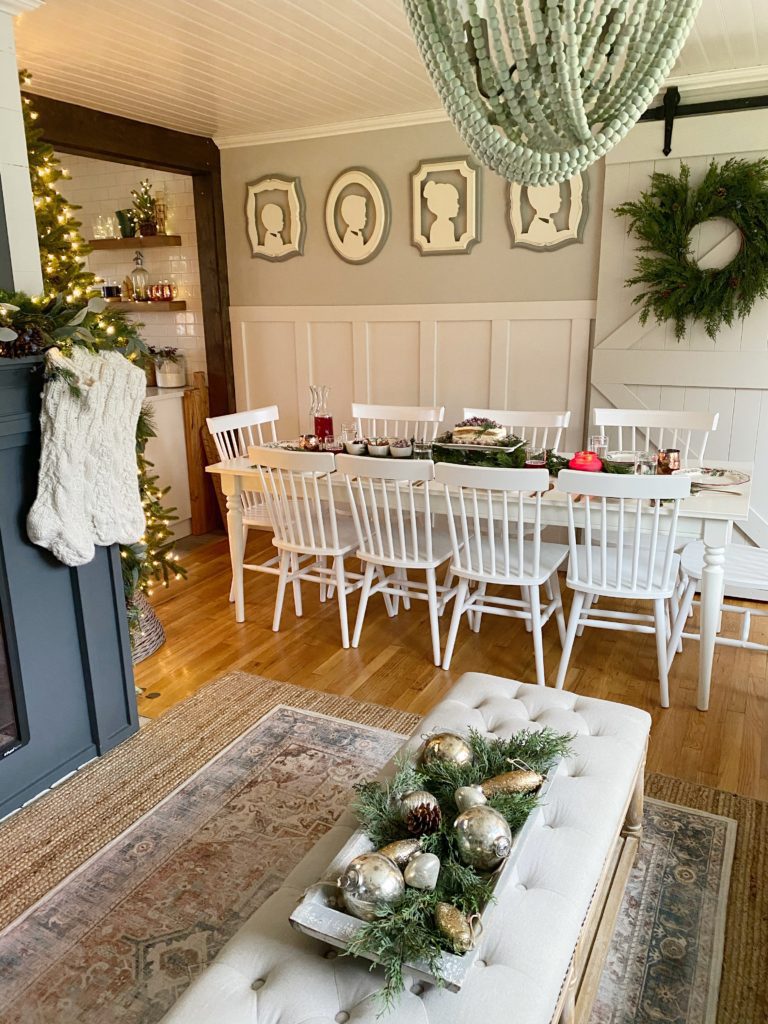 Here is a full view of this space, I just am loving these new white chairs that you can find HERE. I do have to say they are amazing quality and I really love the shape and that I can fit 4 on one side! Now let me show you more of the details of the space and get to those tips!
HOLIDAY TIPS
TIP 1:
When decorating your home for the holidays, take it slow, keep it simple. One thing that helps me is to not get all of it out at once. Start with all the greenery then bring out all the pieces you love. I go through my decor each year and sell/donate what I don't need. As you can see from earlier I love to find classic pieces I will use through the years.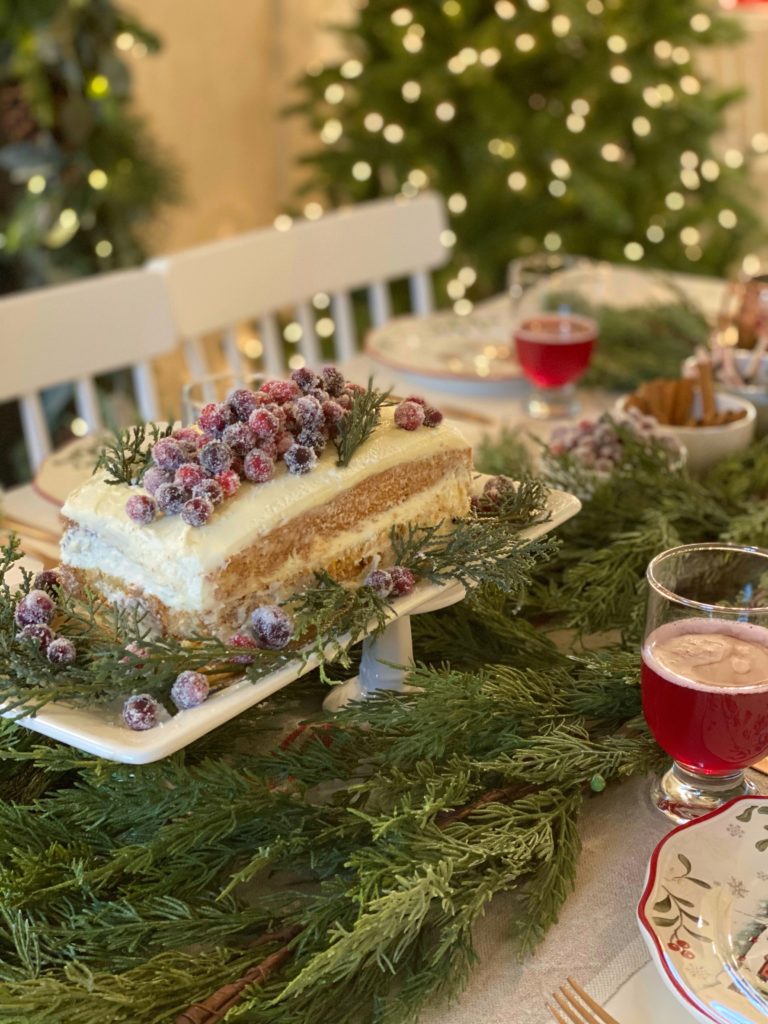 TIP 2:
Don't get to caught up in all the hustle and bustle. Remember to take time to breathe and take it all in. Soak up the moments and create new memories. Through this year we learned a lot and the main thing is not to take things for granted. A BIG thing in our family is traditions and that is one way we are able to sit back and soak it up. Look forward to my blog post on that next.
TIP 3 :
Have some yummy treats on hand! It always makes for a nice movie or cozy night. Something I like to do is not only buy what we eat, but to have extra on hand so we can give to delivery drivers, neighbors or anyone who stops by! I love this chip & dip bowl set, as you can see it can be used for so many things – even think sprinkles and treats!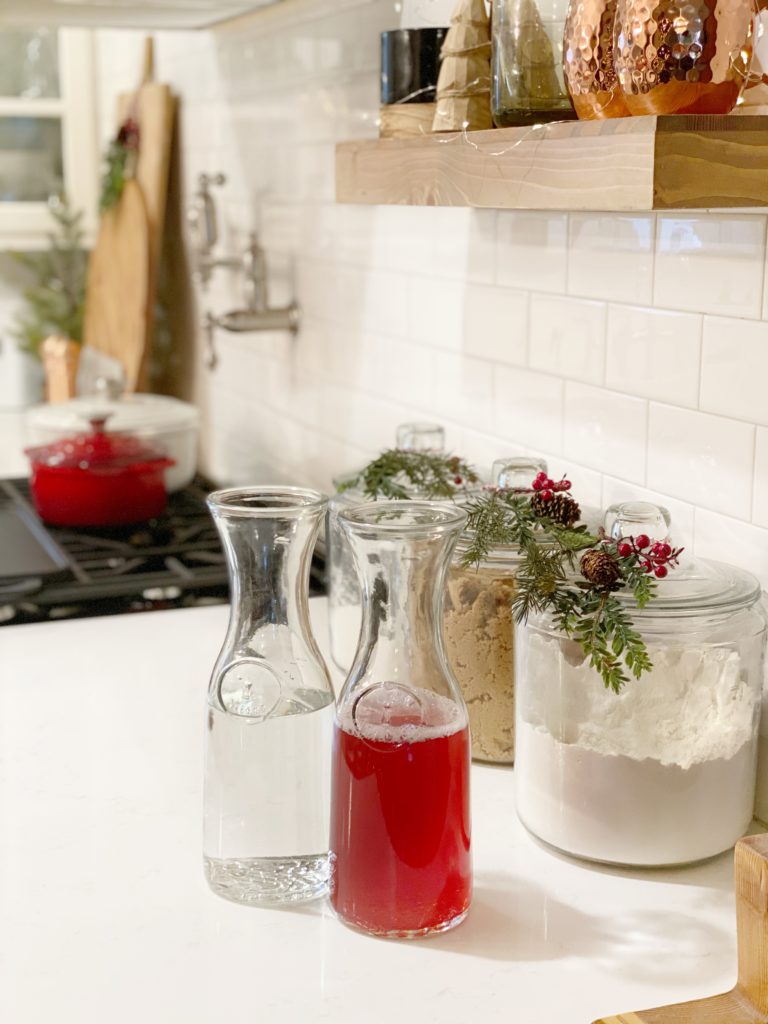 TIP 4 :
Our family is BIG on drinks of any kind! We are finishing up our hot cocoa/cider bar but a fun punch, or sparkling juice is always on the menu and we can't forget water! Don't forget the fun holiday mug or glasses! I love this set HERE.
Tip 5 :
Create a cozy space by adding candles. They not only make your room smell amazing but create a magical night! Another thing to make sure you have a cozy night is adding blankets and pillows. You can find my favorite blankets HERE and Pillows HERE.
Now that I shared some of my holiday tips with you, let me show you into this fun tablescape I made that can be used for the holidays or a Christmas time birthday like us!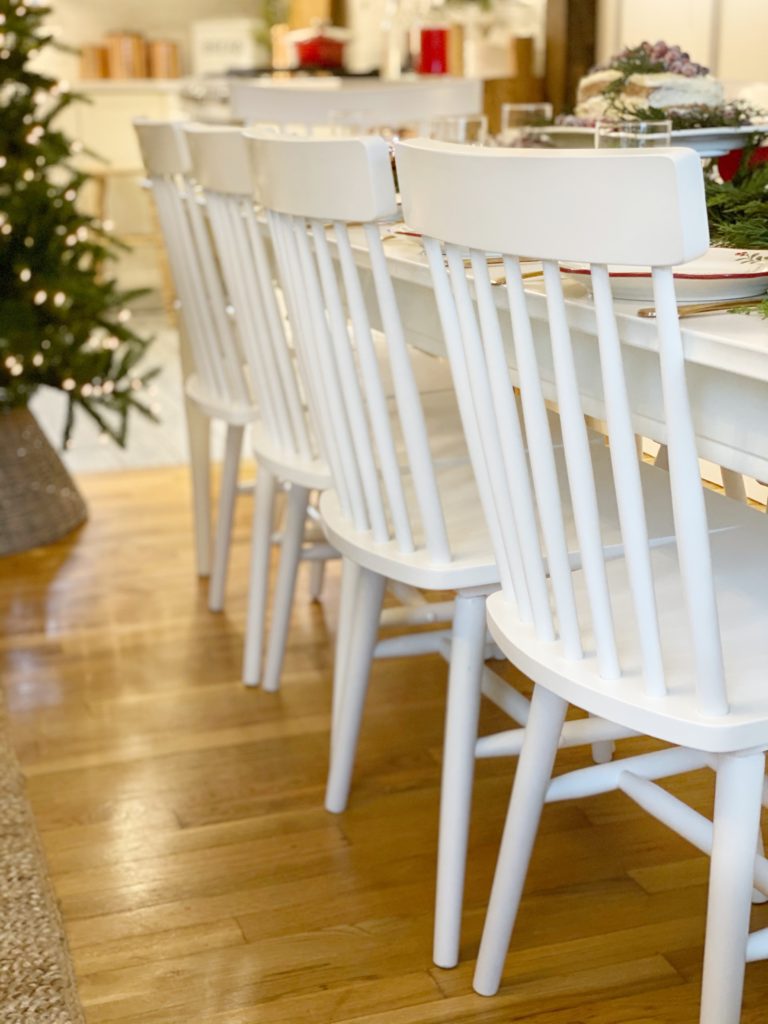 Let's revisit these chairs, the kids were a little excited that they can all fit on one side and with that being said when we can have visitors the more the merrier and we can't wait for that day!
With the tablescape I used the dishes from HERE and did the smaller plates on the kid side and the larger for adults I love that it doesn't look perfect.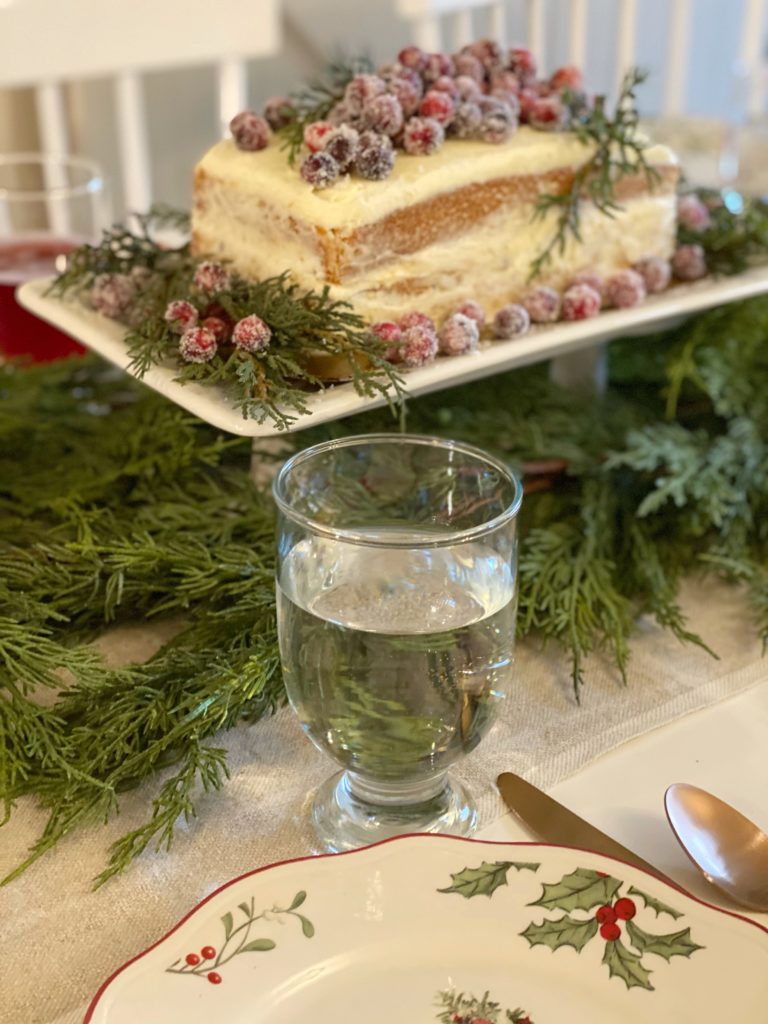 Aren't these glasses just lovely? They even come with these two pitchers as a set, you can find them HERE.
The candles the twinkle of the lights, can't this just be year round? That is what makes this time so magical.
Here is a full view into the kitchen, and it is just one of my favorites even if this space not be practical it works so well for us.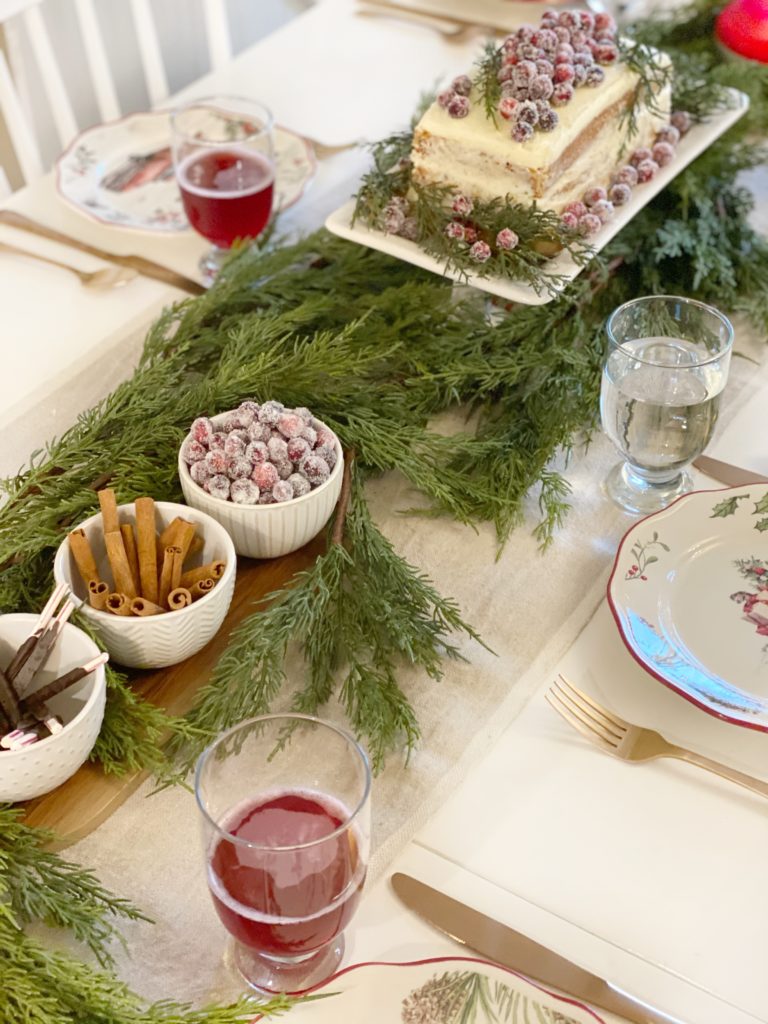 Now we can't forget to go over this GORGEOUS flatware from Better Homes & Gardens live better. You can find it HERE. Now that we are all set, it's time to have a party ( well with 2020 a party of 6) but it will be fun nonetheless. Oliver has been saying how special this is for him so it is already a good day!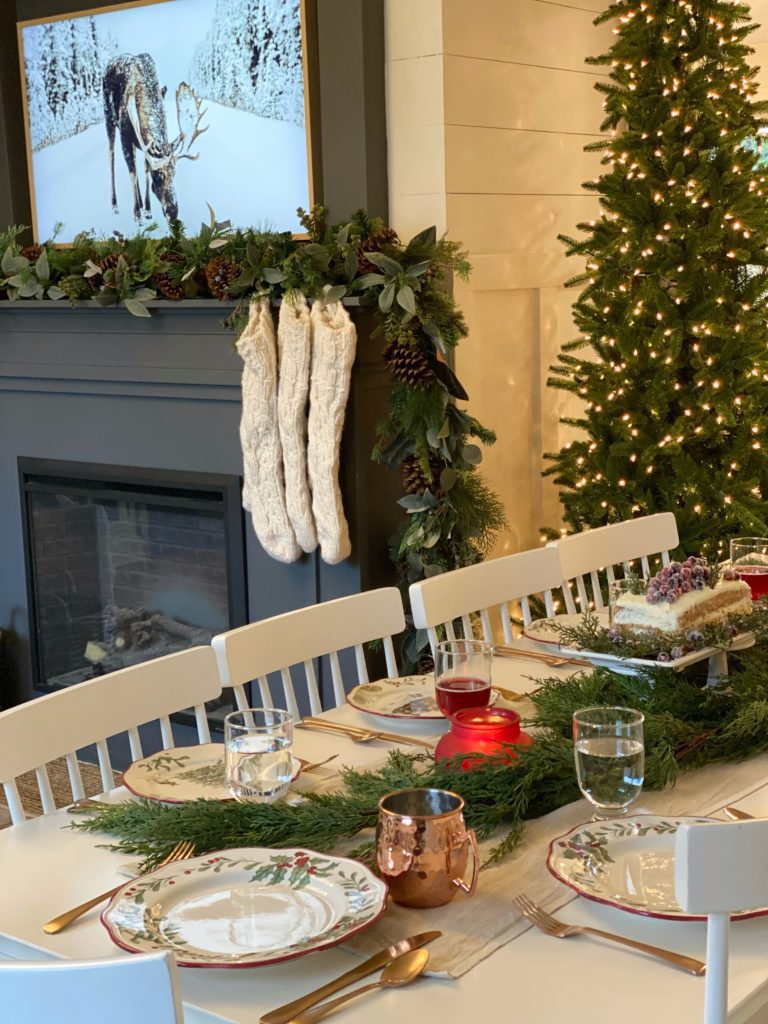 I hope you enjoyed seeing more into our space and learning some holiday tips and tricks along the way! Thank you to Better Homes & Gardens for this amazing partnership and I hope you check out these posts below too if you missed them.
TO SHOP THIS POST CLICK ON EACH IMAGE