Have you wanted to add an outdoor fireplace, but not sure where to start? I am going to be showing you how we added this one and how easy it was!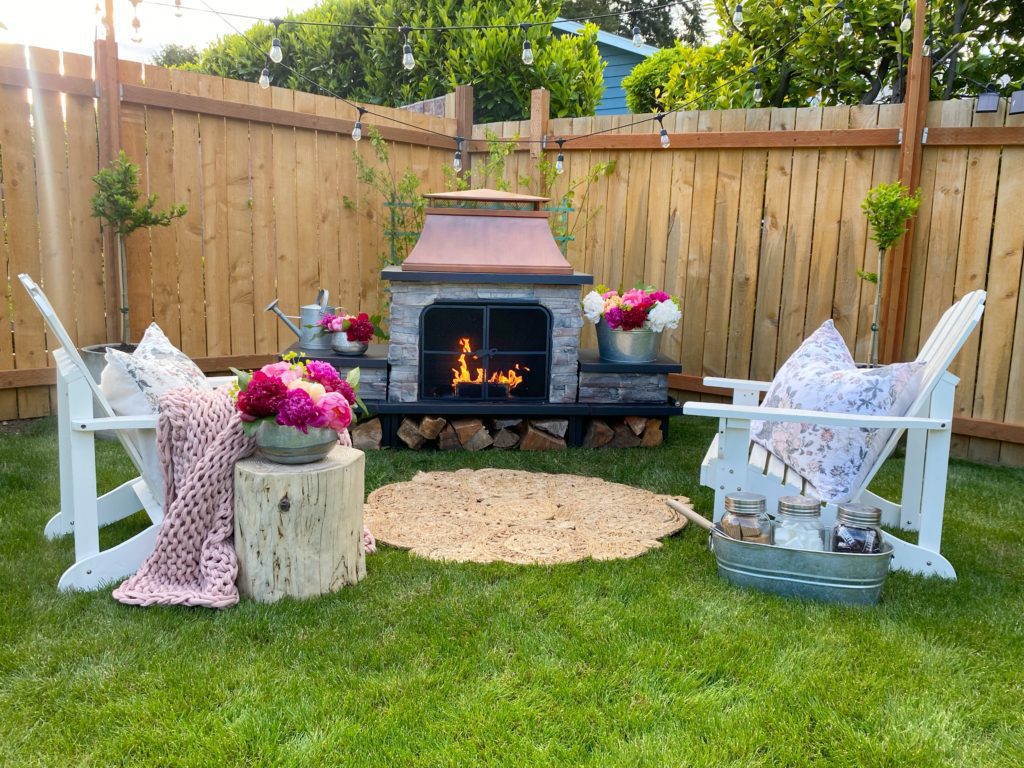 Now that you have seen the after, lets go to the before! Yes I know my plant is dying – and today we will finally plant it and bring it back to life.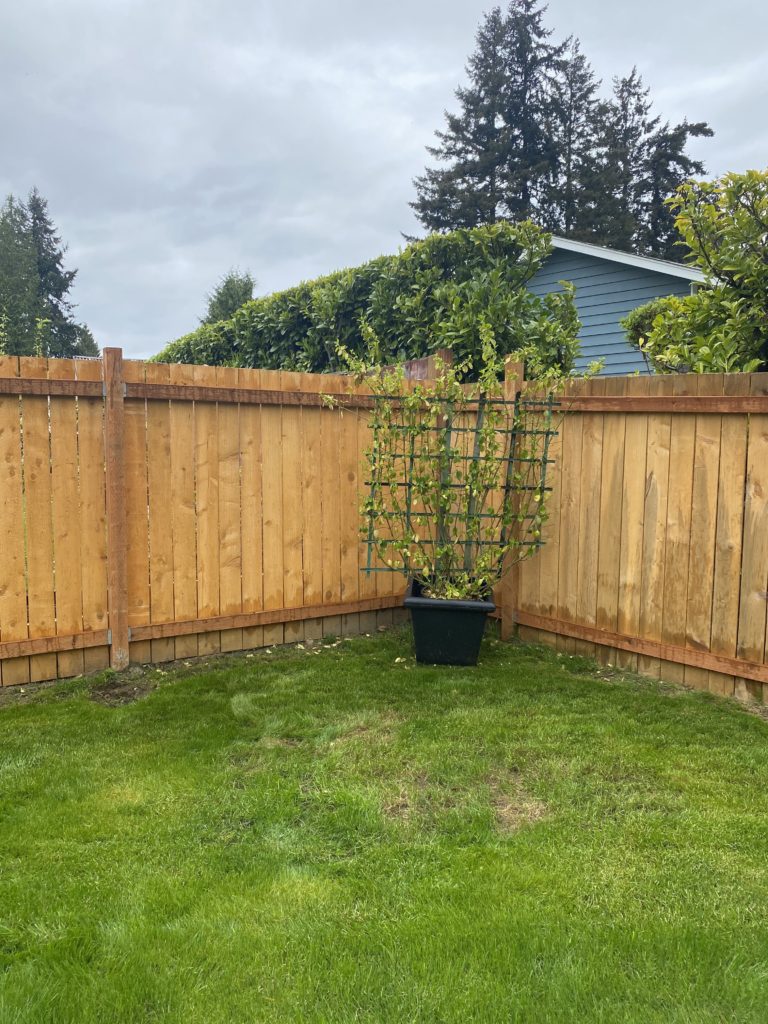 This corner was missing something, and I have always wanted a wood burning outdoor fireplace and we found this one from Sunjoy. It is going to be so perfect! We have some more plans for this space but we are excited to see my vision come to life.
HOW TO INSTALL THIS EASY OUTDOOR FIREPLACE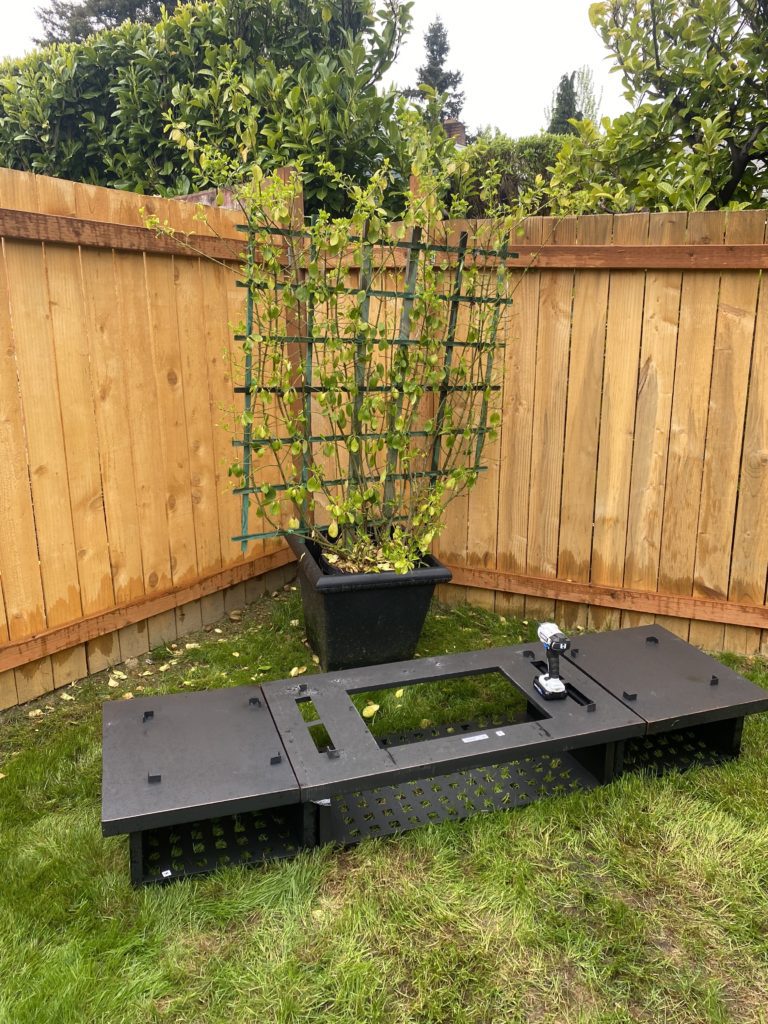 Before we started the install we wanted to see the shape of it, so we could plant out plant so we put the base together and so easy!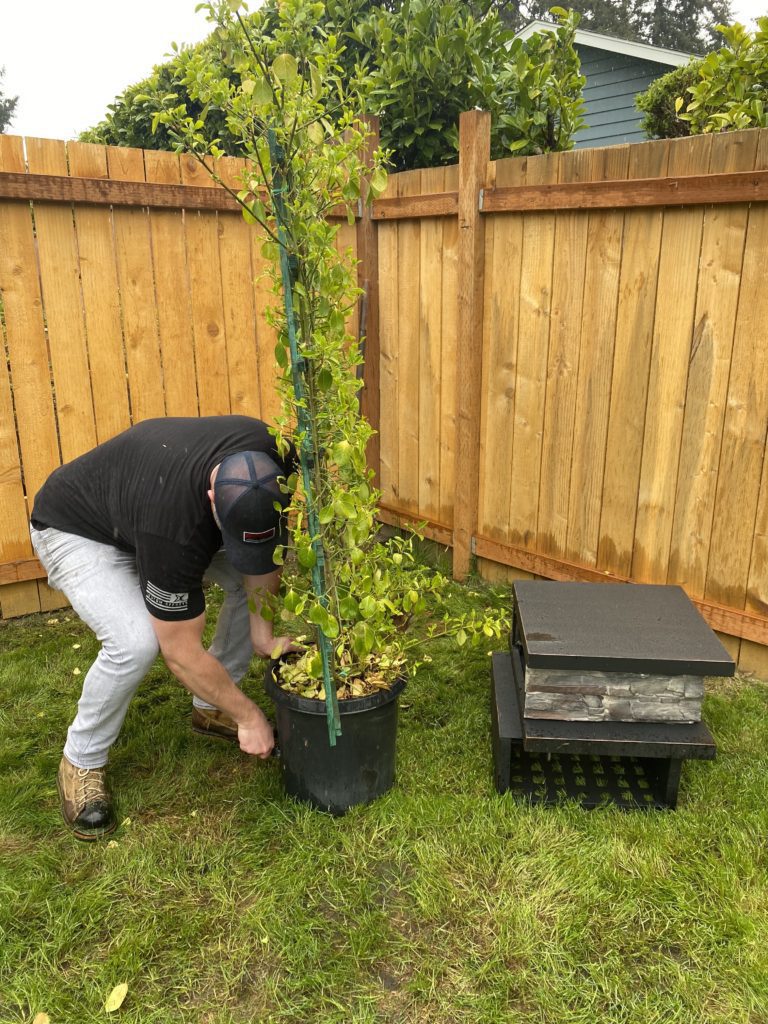 Now it was time to plant our plant, this is called a euonymus kiautschovicus manhattan we found at Home Depot.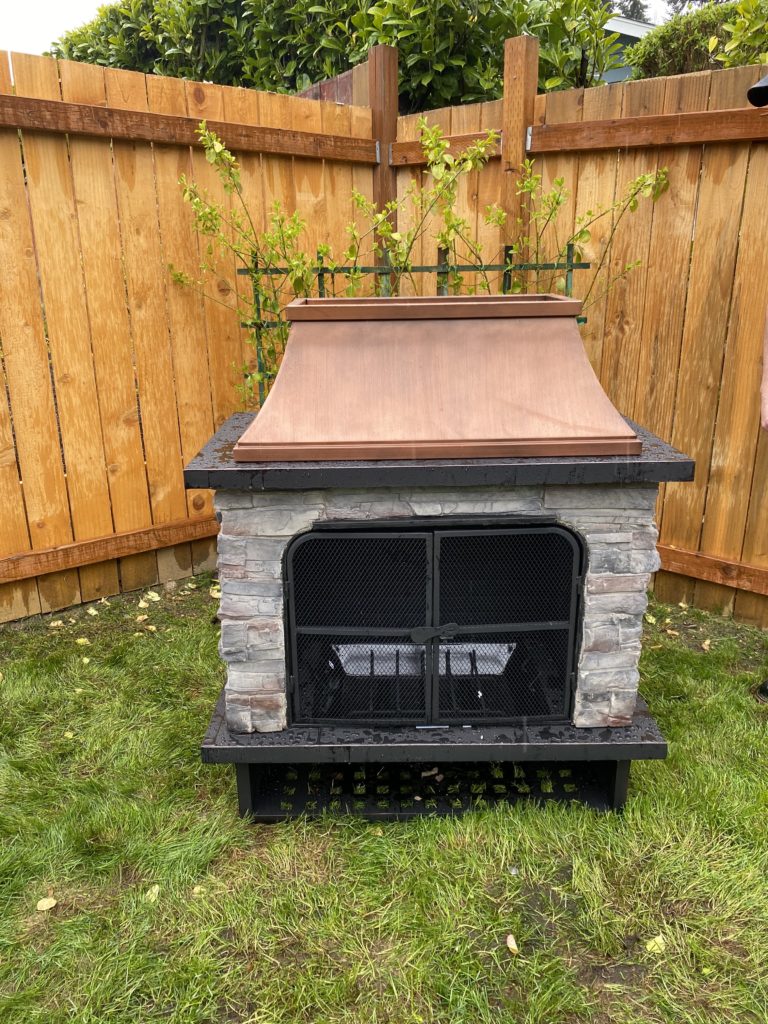 Now its time to put this together, and really it took just minutes! The hardest part was lifting this. I wish I was strong enough to carry it from our front yard to back with James, but we had to recruit a neighbor – it is HEAVY!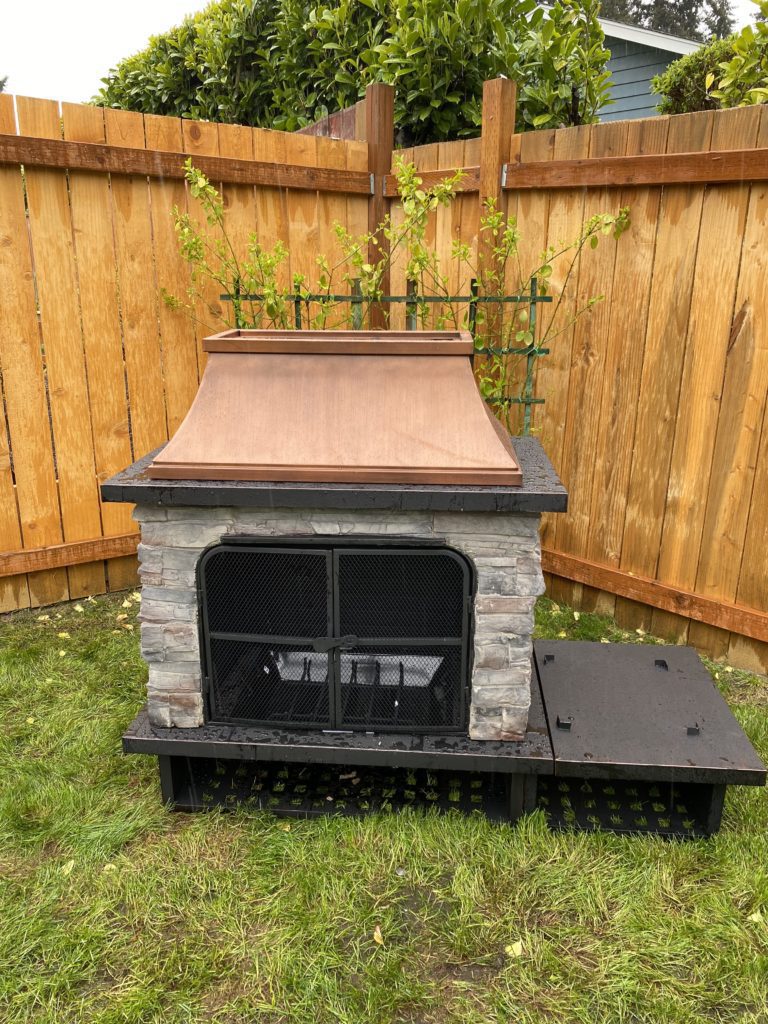 Now that you have the main part put together you attache the sides.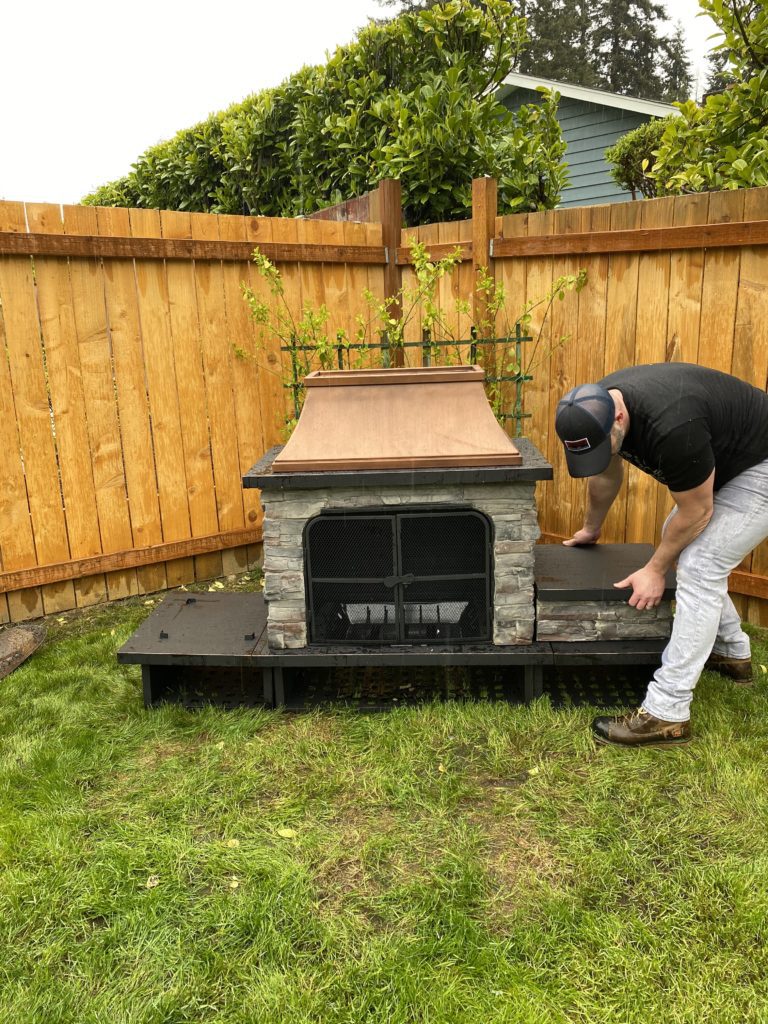 Now is the next piece, and then you will repeat on the other side.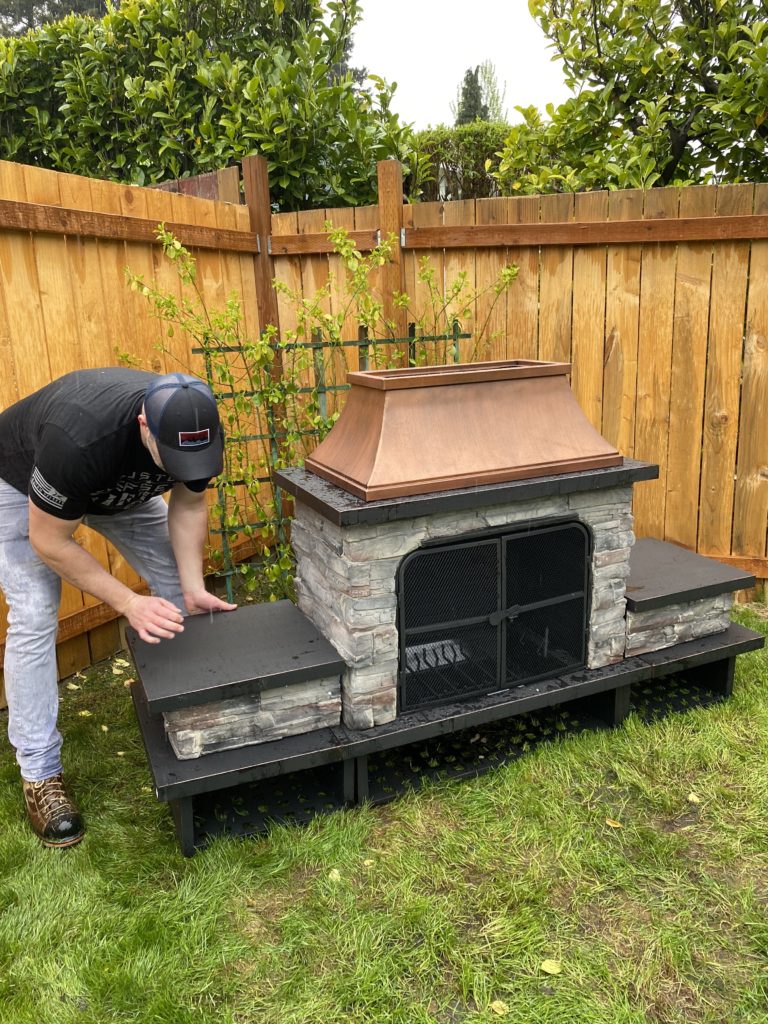 It is seriously that quick to put this outdoor fireplace together! I think the longest part is just moving it from the front yard to back.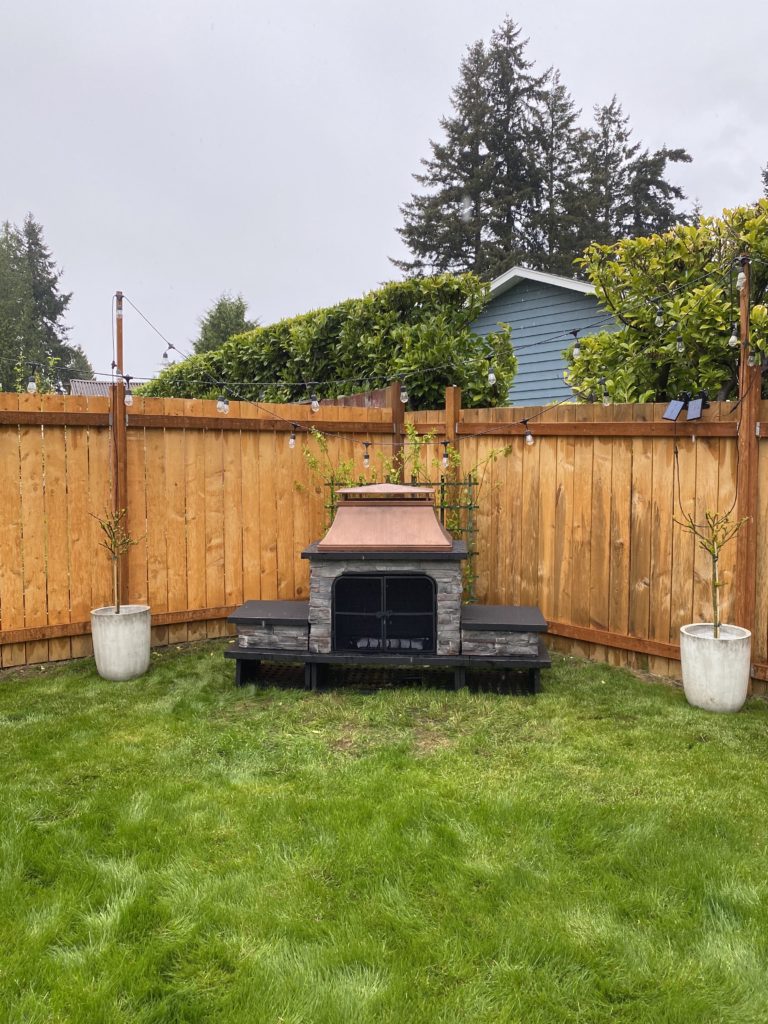 Here it is! Isn't the copper on top of the outdoor wood burning fireplace incredible? I am so excited to make it even prettier!
But first, you may not see it pouring … it was and we got soaked! Now lets dry off and enjoy some s'mores!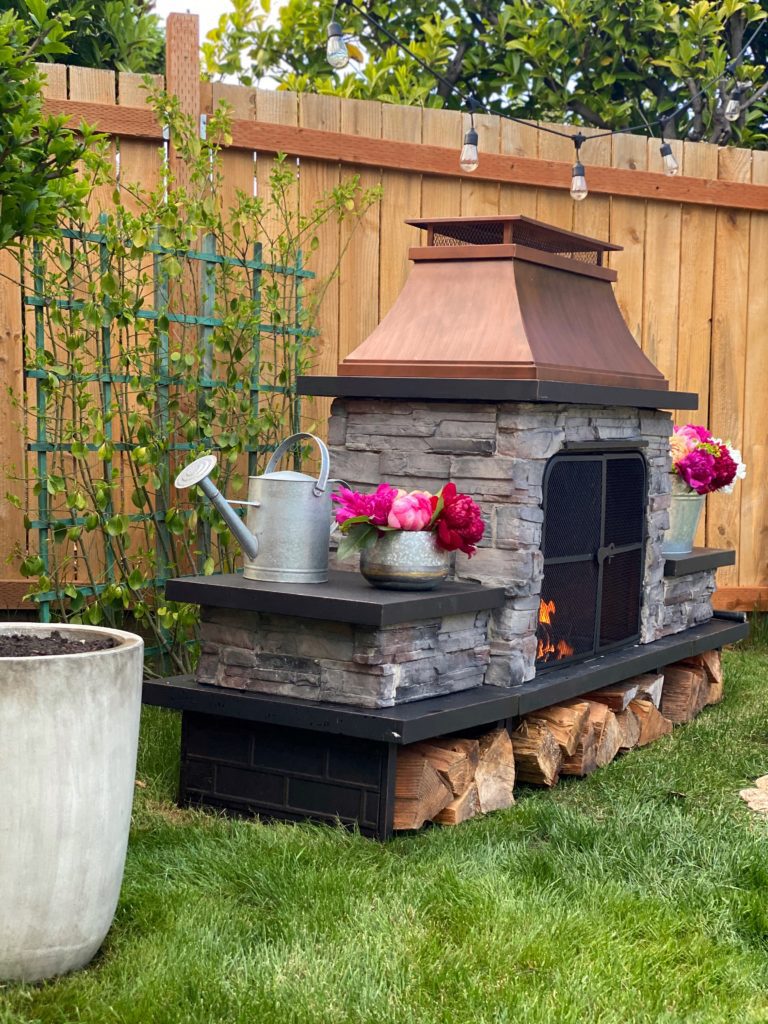 We added some wood ( thank goodness for neighbors who had it handy) and it really completed the space!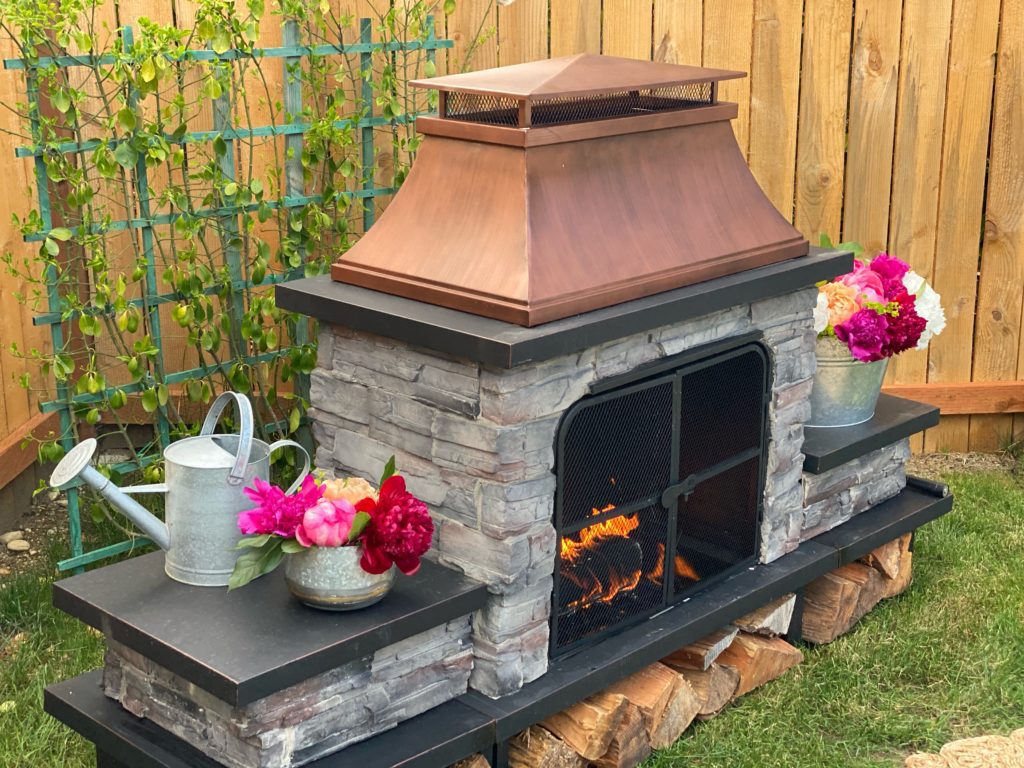 I had some flowers from our flower market, and I thought they needed to make an appearance I was right! The gorgeous colors look so amazing with the copper!
After a long day I am so ready to get cozy here! We love the POLYWOOD Chairs!
I can't get enough of this space!

We love smores and these ball jars are so perfect to hold the contents, I had this container for years you will see it as a planter, for drinks and more!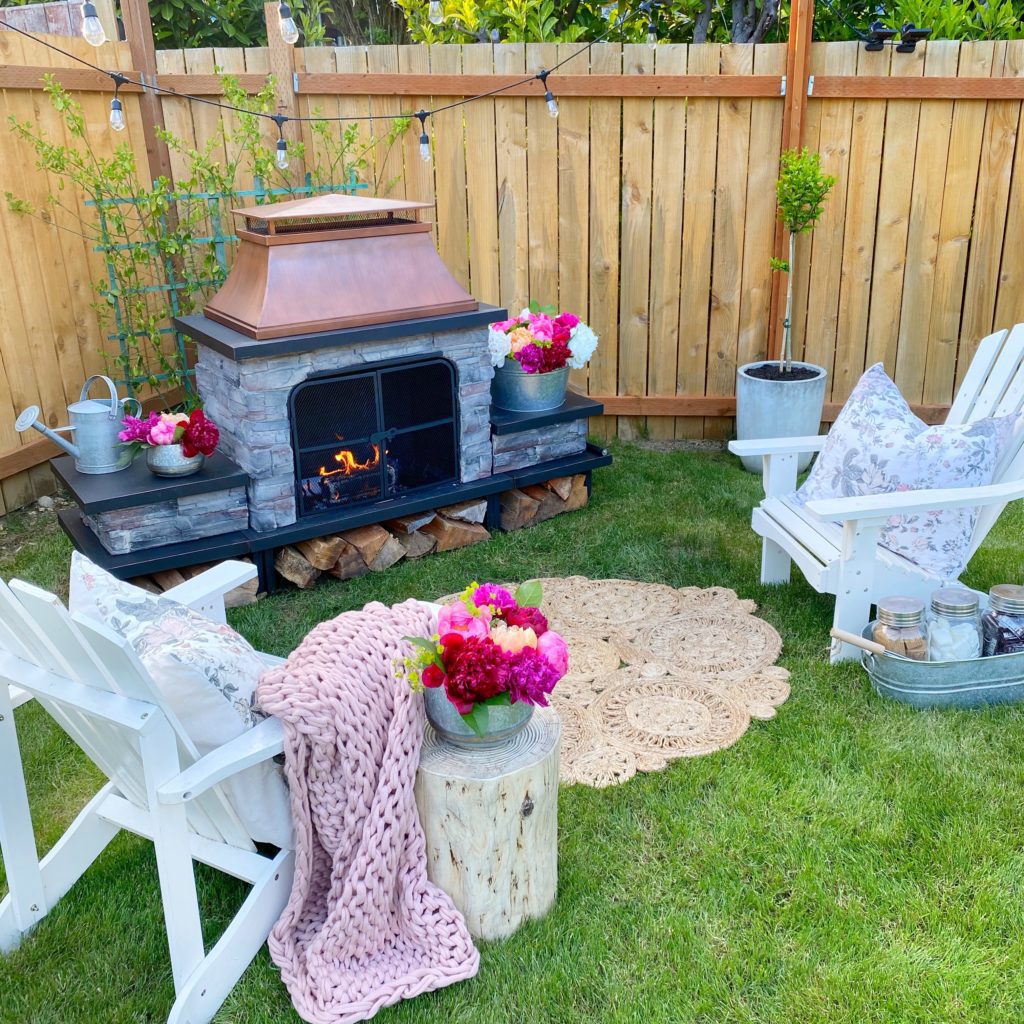 I can imagine this space so many different ways, but for now we are making it cozy and fun!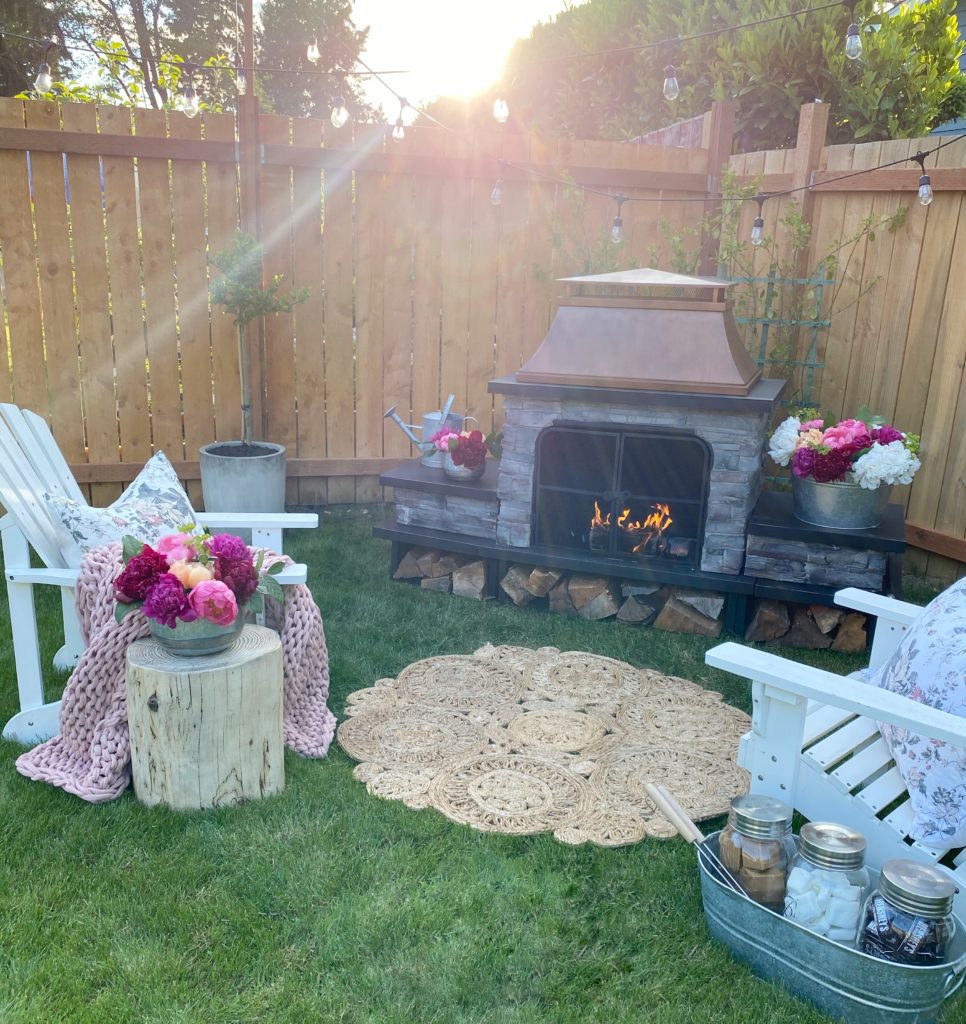 The sun is coming in, the solar lights are about to turn on – I love when it gets even cozier!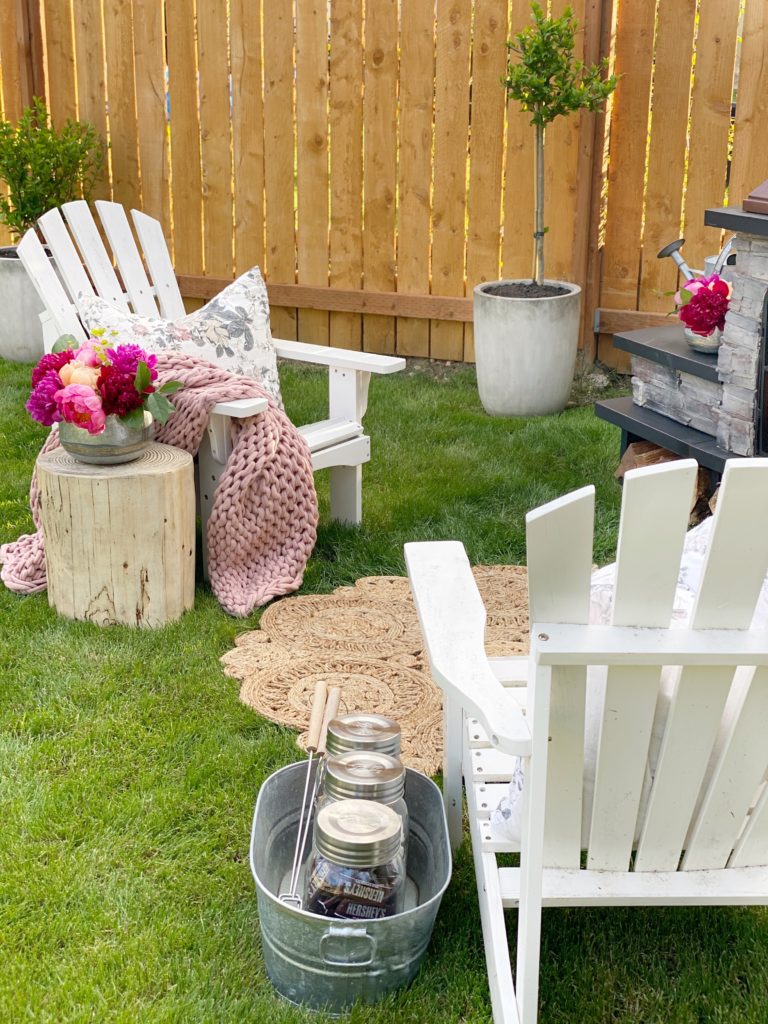 Now its time to sit and relax, is it acceptable to have dessert before dinner?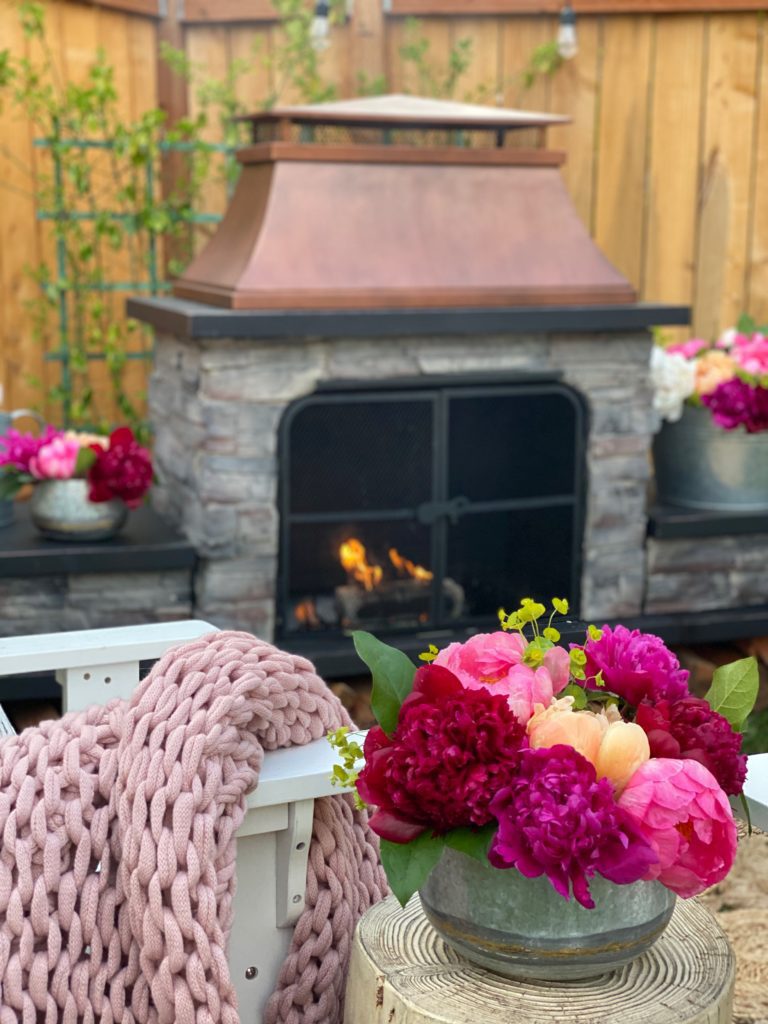 I hope you enjoyed seeing how easy it was to put together the Easy Outdoor Fireplace! I have linked all the sources below, just click on each photo. Let me know if you have any other questions.

HERE IS THE LINK TO THE SUNJOY OUTDOOR FIREPLACE HERE.
PIN THIS IMAGE FOR LATER, AND COME PIN ALONG WITH ME HERE.