New Year – Office Refresh
New Year, Fresh start! We are starting with a little Office Refresh! This space has gotten so much use this past year and I am so glad we turned this closet into an office! Let me show you how we did the refresh + a DIY!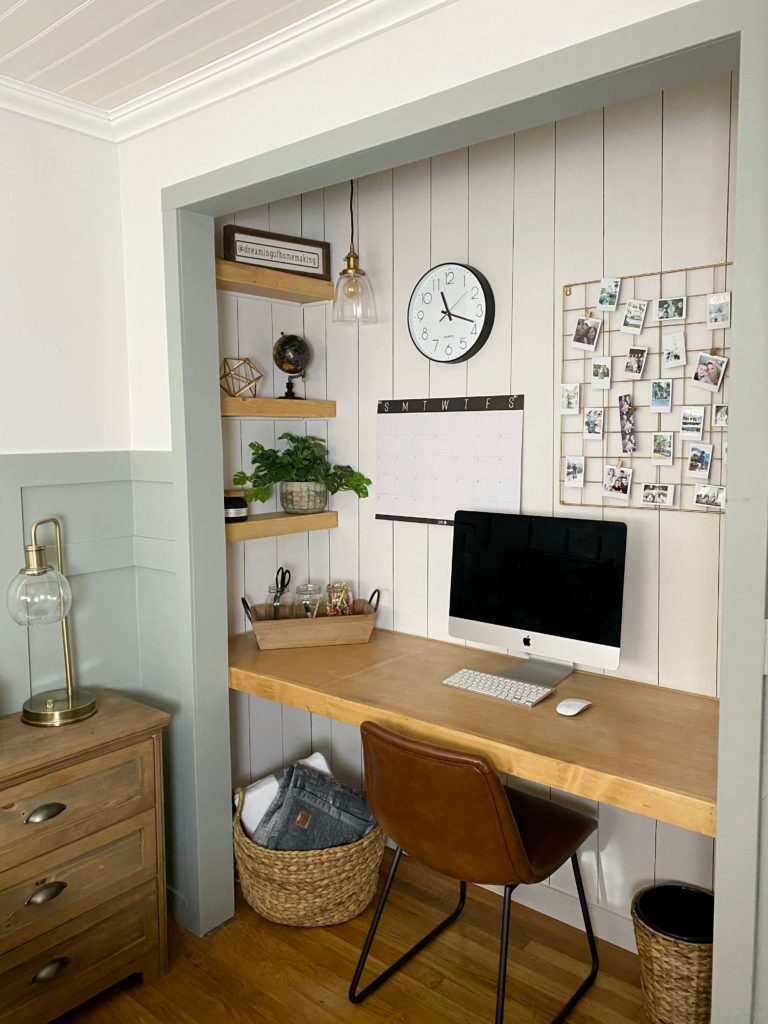 This month I partnered with Better Homes & Gardens BHG Live Better to talk about my new years resolution/goals!
I am constantly setting goals but some new ones I have this year are doing more DIYS that I do on my own and this was the first one of the year – this Sharpie Shiplap!
Another goal I have is to share more on how we make our small house work for us as a family of 6 and how we keep it organized – this office is another one of those ways – I will go more into it and some more goals!
Let me show you more into the space and our favorite items from BHG Live Better!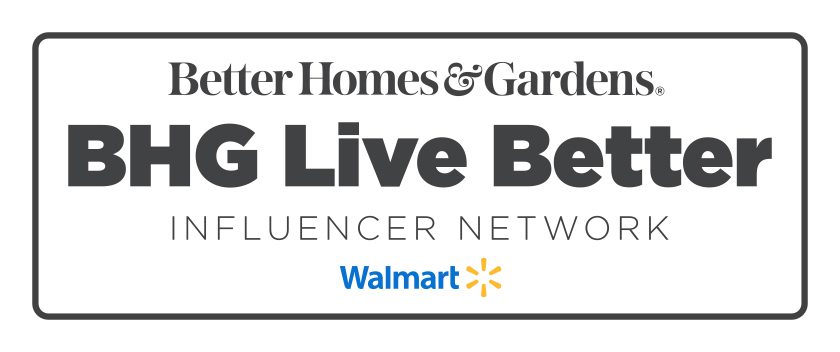 Lets go to where it all started almost a year ago this month! We took the space you see on the left and turned it into the right! Closet – office! Little did we know a few short months this is where James would be working full time! Best decision EVER!!!!!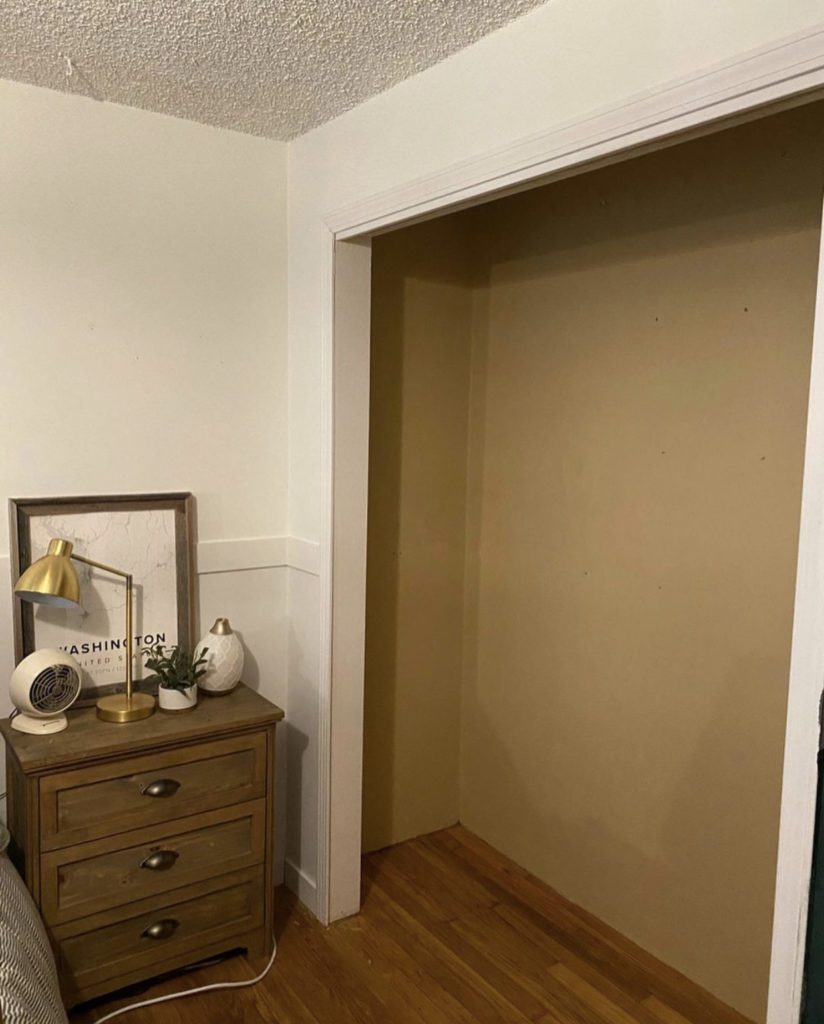 We are so grateful for this space and never would have imagined how much use it was going to get. It was so fun to give it a little office refresh so let me show you more!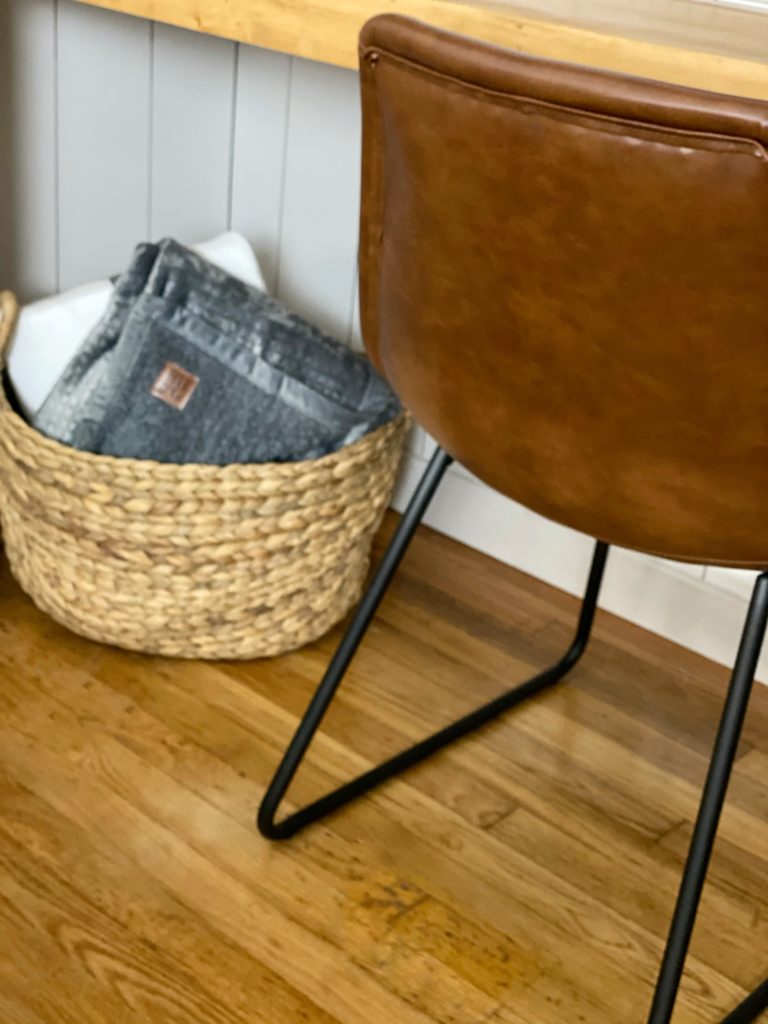 I first started underneath the desk while doing my little DIY! So I figured I might as well show you this first for my office refresh! These seagrass baskets from BHG Live Better are so gorgeous in person! I bought online HERE and they come in a pack of two – because let me tell you that you will want them all over!

I put these throws in them so we have them extra for anytime we get cold – which is all the time for me! You can find them HERE & HERE. Just putting those in a basket made me think how great of a gift they would be too!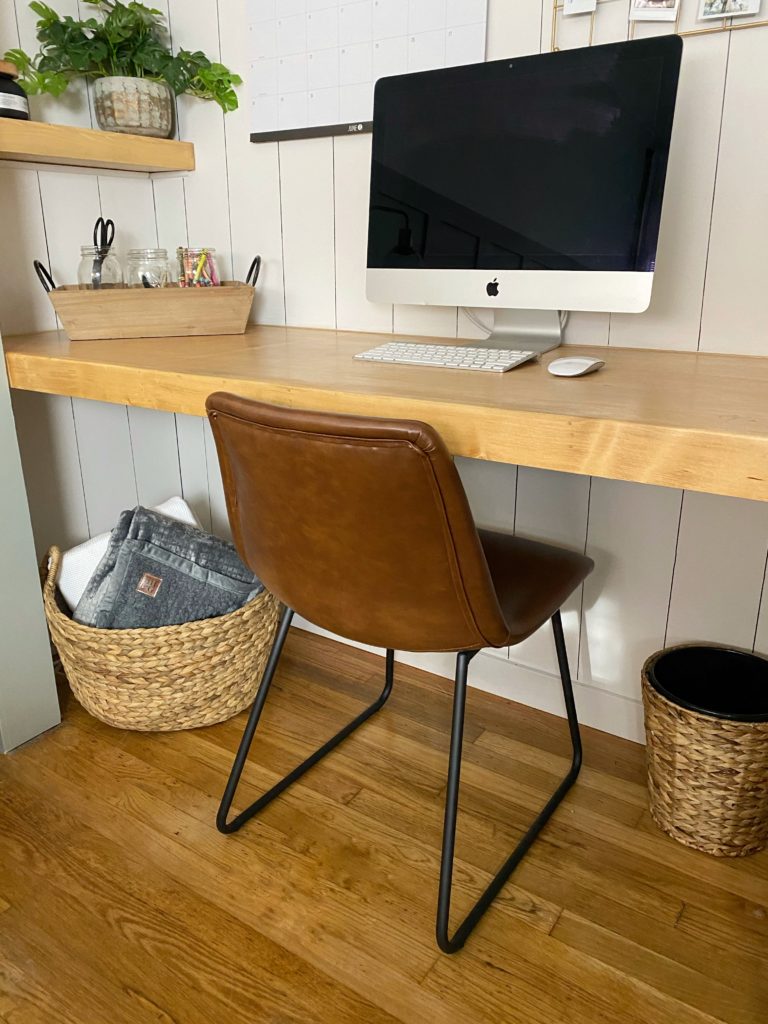 Can you even with this leather chair?? It is AMAZING and just what we needed to give this office a refresh! These chairs are perfect for an office or desk but I can see them at a table too and they come in a two pack HERE.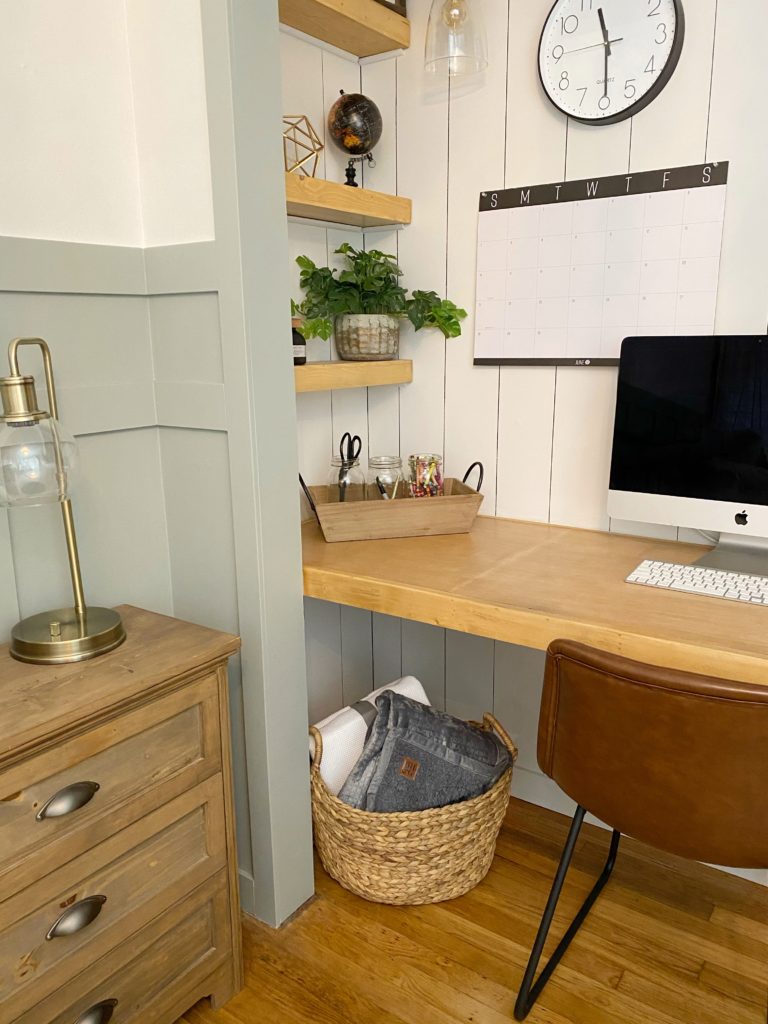 Do you spy the new lamp on my nightstand?? Can I tell you a secret it has a usb holder too! James is so excited to put a lightbulb in it and try it out tonight!!! You can find it HERE from Better Home & Gardens Live Better.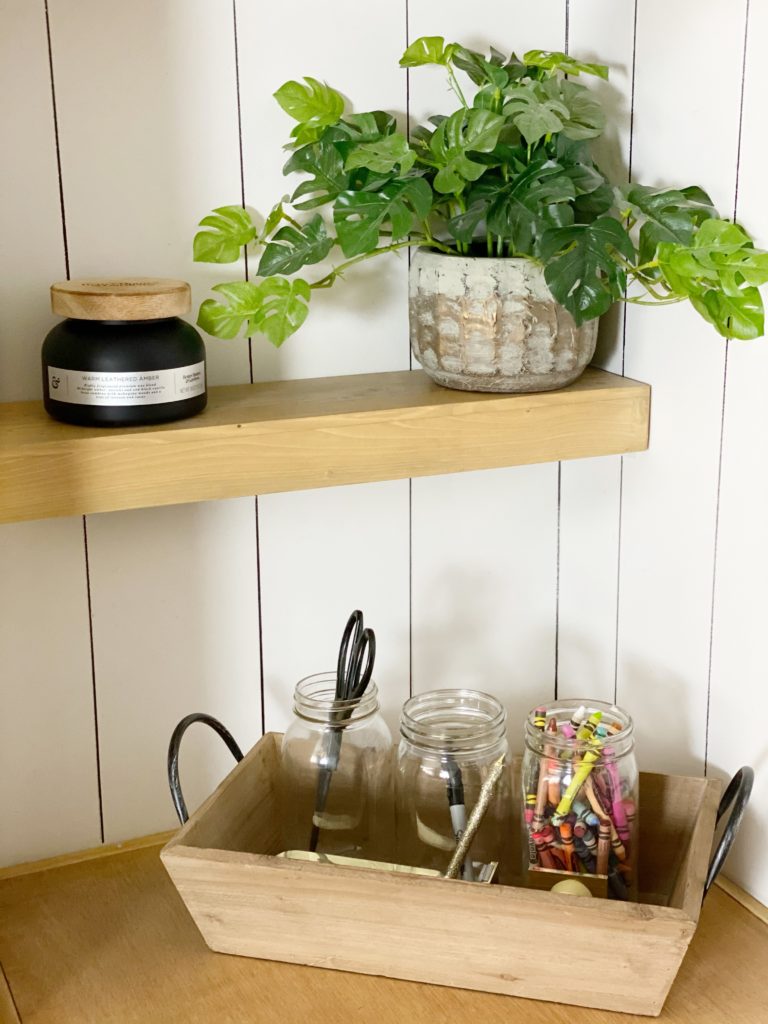 This BHG Live Better Bin can be used anywhere in your home to organize! I thought this was the perfect little spot – I had these jars and added them in and such an easy way to organize and look cute too! Now I need to find all of our pens!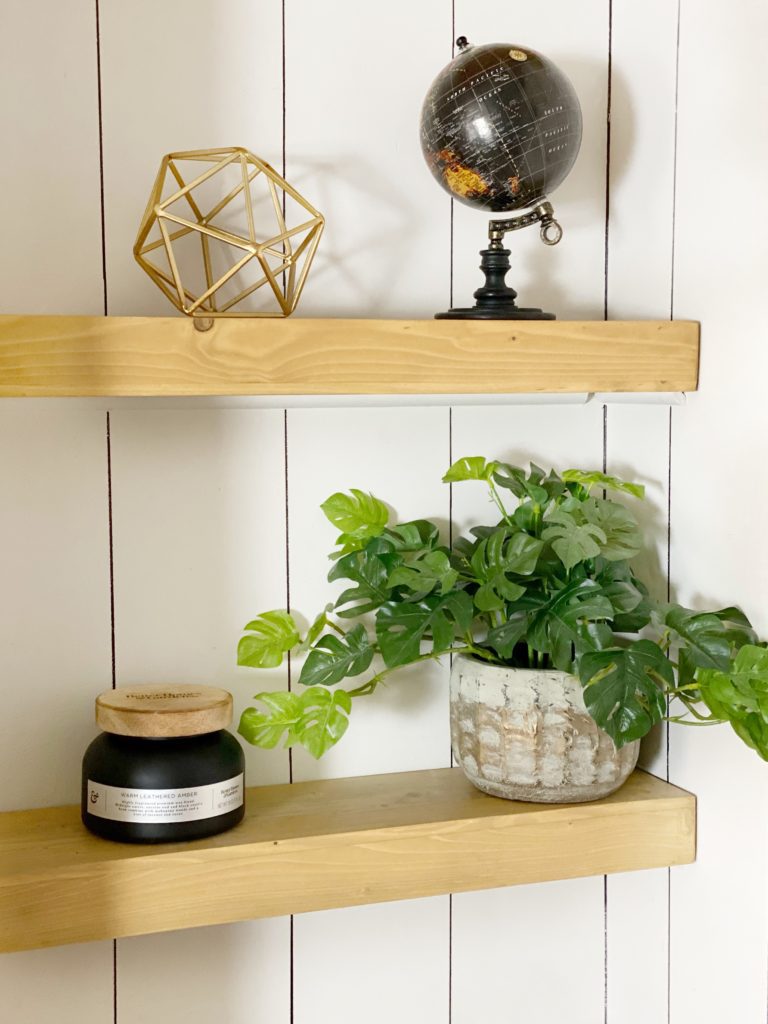 This Warm Leathered Amber candle was a perfect touch for this office refresh especially since James has taken over the office! He loves burning candles or his oils and this one has such a manly smell but in a good way! I love it so much and when I can smell it through the house.
Don't you love the little globe too! It fits these shelves perfectly plus it will come in handy for homeschool!
The little geometric sculpture ties in all the brass just right! You can find it HERE.
I just love how this little space came together and it was so fun finding all these finds at Walmart from the BHG Better Homes & Gardens Live Better Line. You can shop them all below by clicking on each photo.
I will be sharing more of my goals and plans for the New Year along with the step by step on how we did this space.
PIN THIS IMAGE FOR LATER :
FOR MORE FROM BHG LIVE BETTER :