Hello September, Welcome Fall. Are you ready to see some Fall front porch decor inspiration? I know its a little early but I am here to inspire you!
The start of September always seems like a fresh start and new season. The kids are going back to school, the weather changes, the days get shorter even if we want to hang onto summer.
The first Official day of fall isn't till September 21, but I think we can all use some fall goodness before then.
Last month I let you know that I am partnering with Better Homes & Gardens and their line that's sold exclusively at Walmart. I will be sharing my favorite finds, and I know they will be yours too!
For those who are new here, I wanted to talk a little bit about how I got started and how I began this page.
Four years ago, around this time I got done trying out a home decor booth with a friend.
After that at my home I did a little market and it was incredible, but I learned we couldn't do anymore.
I have always loved to decorate my home, and try new trends. Doing DIY projects was not something we were super familiar with but we wanted to learn.
How it began…
I met an amazing lady, and she said for me to start an account on instagram so I did.
I will be honest, I had my blog domain paid for in 2011 after my daughter was born and it was all in timing.
While I have no formal interior design experience, it is just something that I love and have a passion for. I love to be creative and to give others inspiration. I never knew this would be my job and I am so lucky that I have the best job ever!
Now let me give you some inspiration!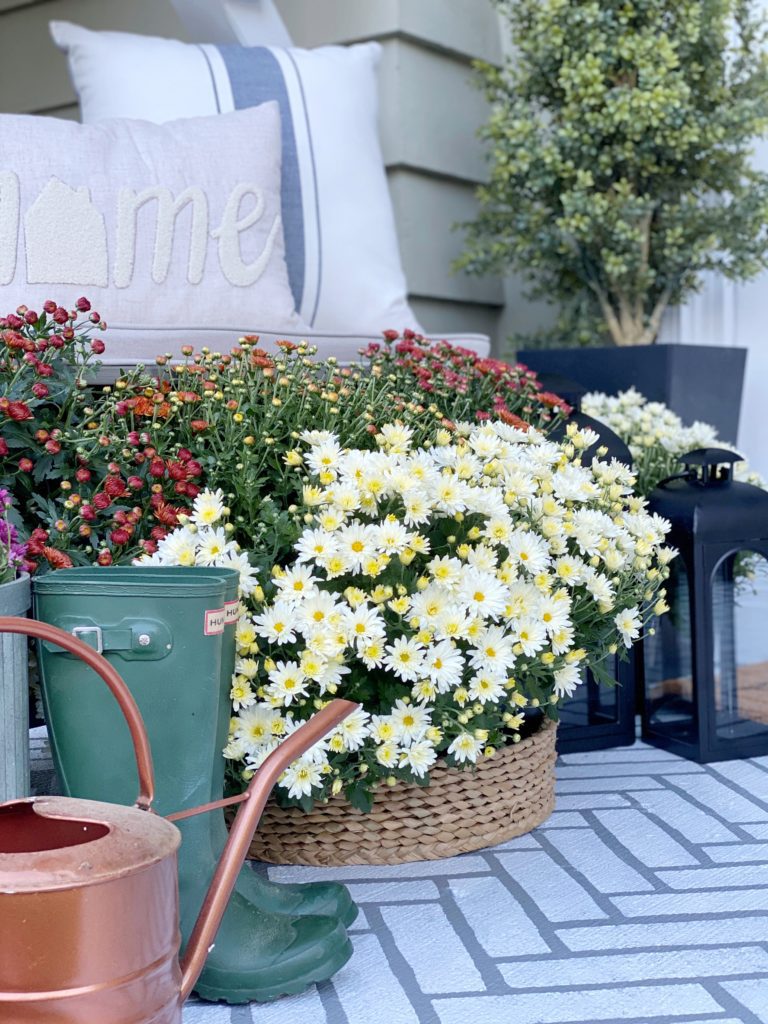 HOW I ADDED FALL TOUCHES TO MY FRONT PORCH
The first thing I did was purchase live mums, and that will set the whole space.
I do have to warn you – they will DIE if you don't water them.. I have learned from many years of experience of not watering each time… Hopefully I can keep these alive till the official start of fall.
Now let's get to what you are all waiting on is the Better Homes & Gardens sources!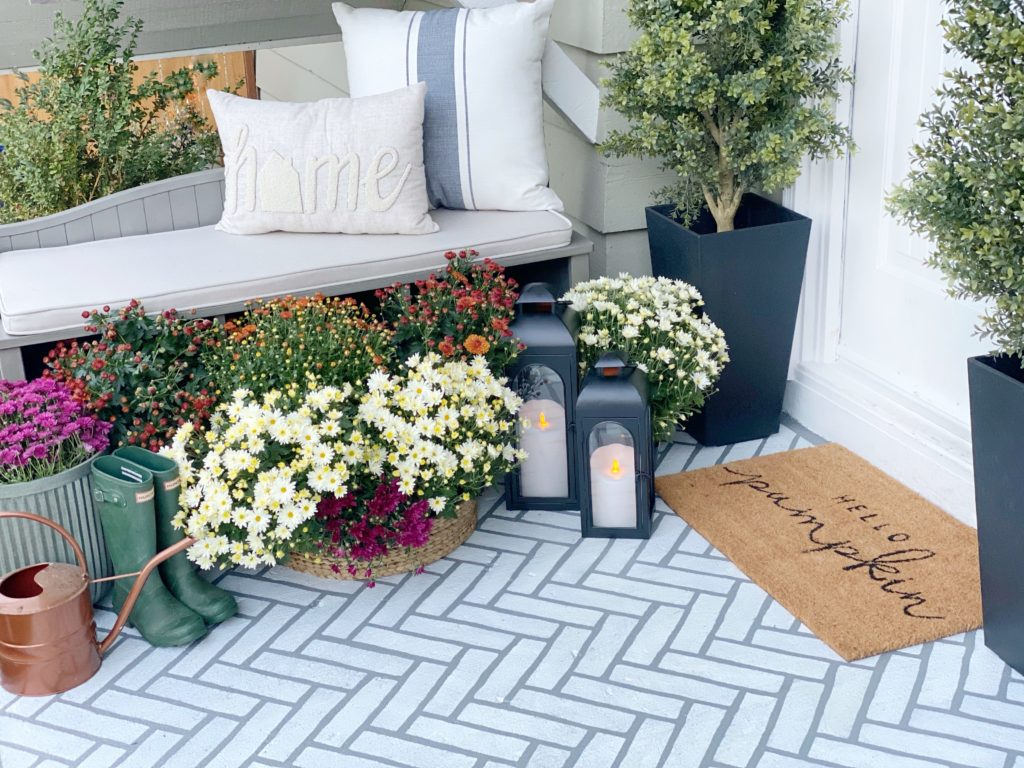 The first thing hiding behind the gorgeous mums is the Better Homes & Gardens Lowell Bench in Gray.
If you purchase this bench it isn't made to be outside. This bench will be covered and I will be adding a poly on top of it so it can withstand any weather. You will see more of it at the fun video at the end!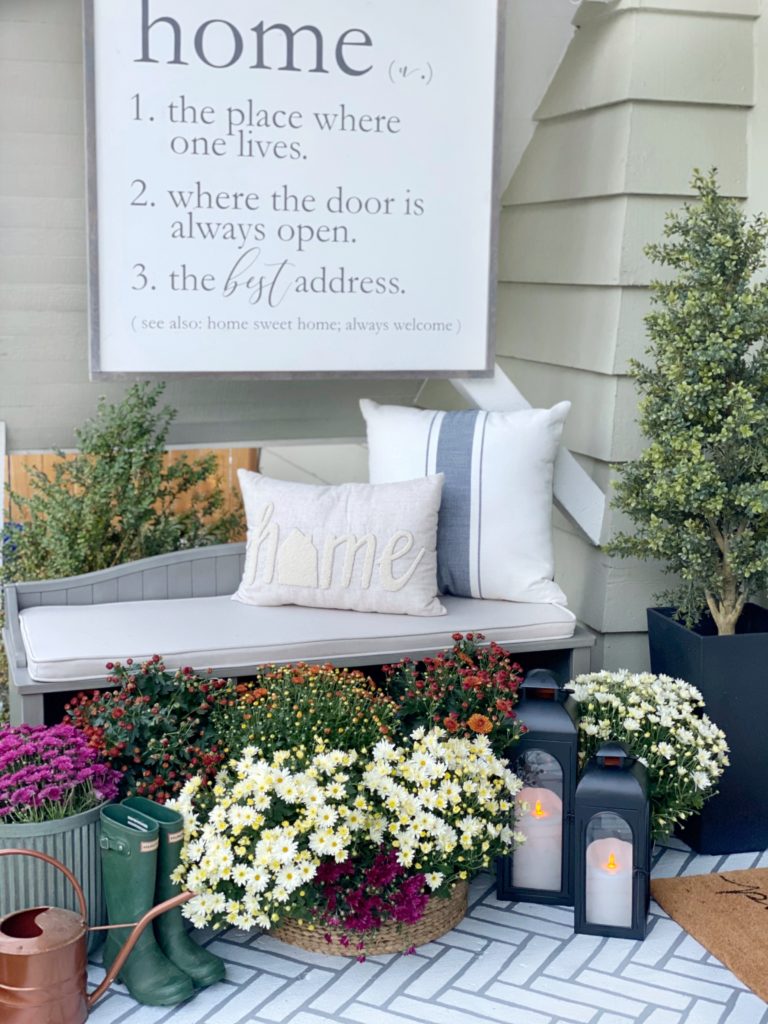 The pillows you may have seen in my mudroom! The blue one is reversible! You can find them HERE at Walmart.
I have wanted some lanterns for my front porch, and these I found at Walmart from the Better Homes & Gardens line.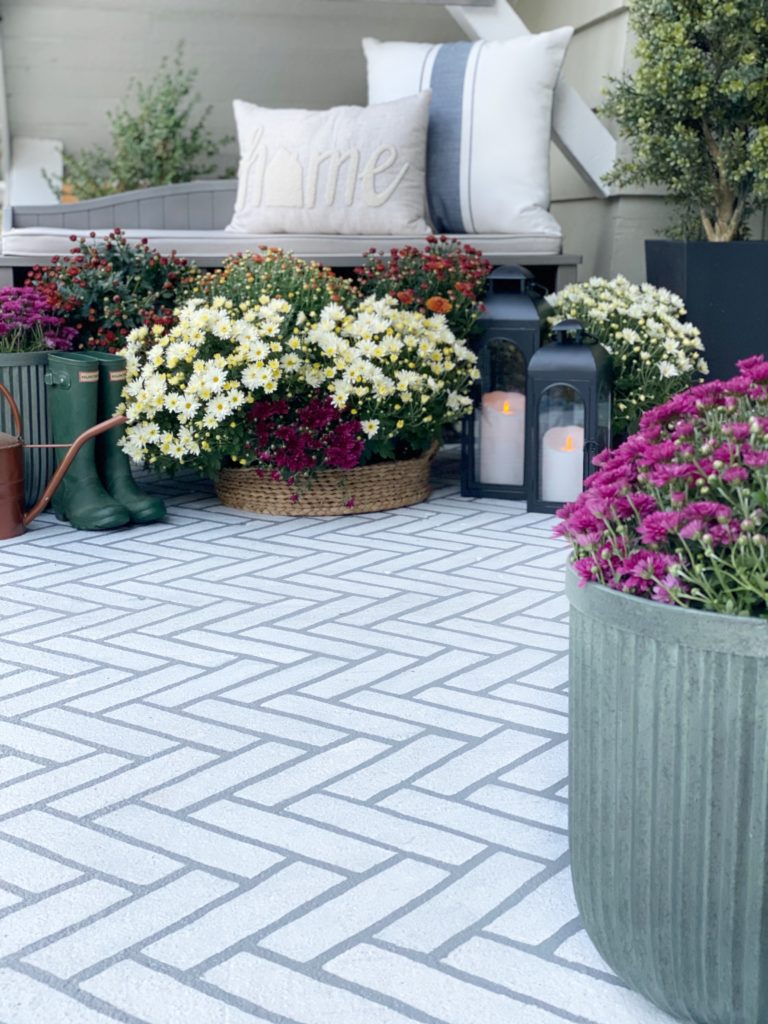 They do have the lantern in a large size you can find HERE.
If you live somewhere where it doesn't get to hot or want to keep the lanterns in doors I bought these candles HERE from the Better Homes & Gardens line.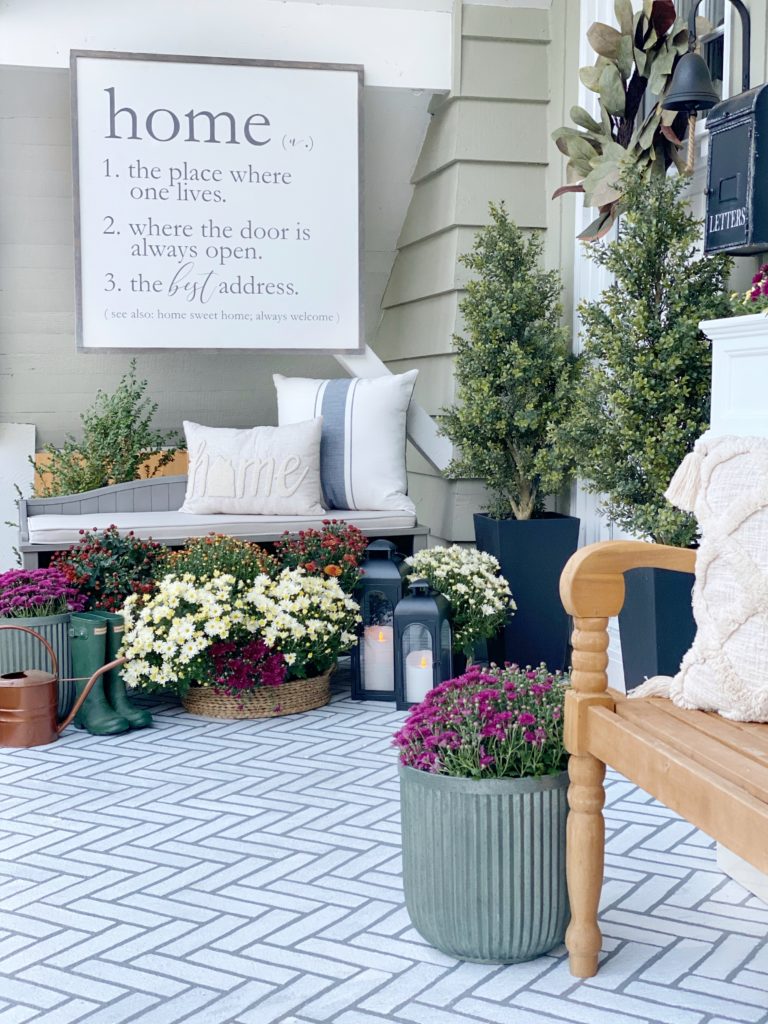 These planters may look like they are heavy galvanized, you would be surprised how lightweight they are. You can find them HERE at Walmart.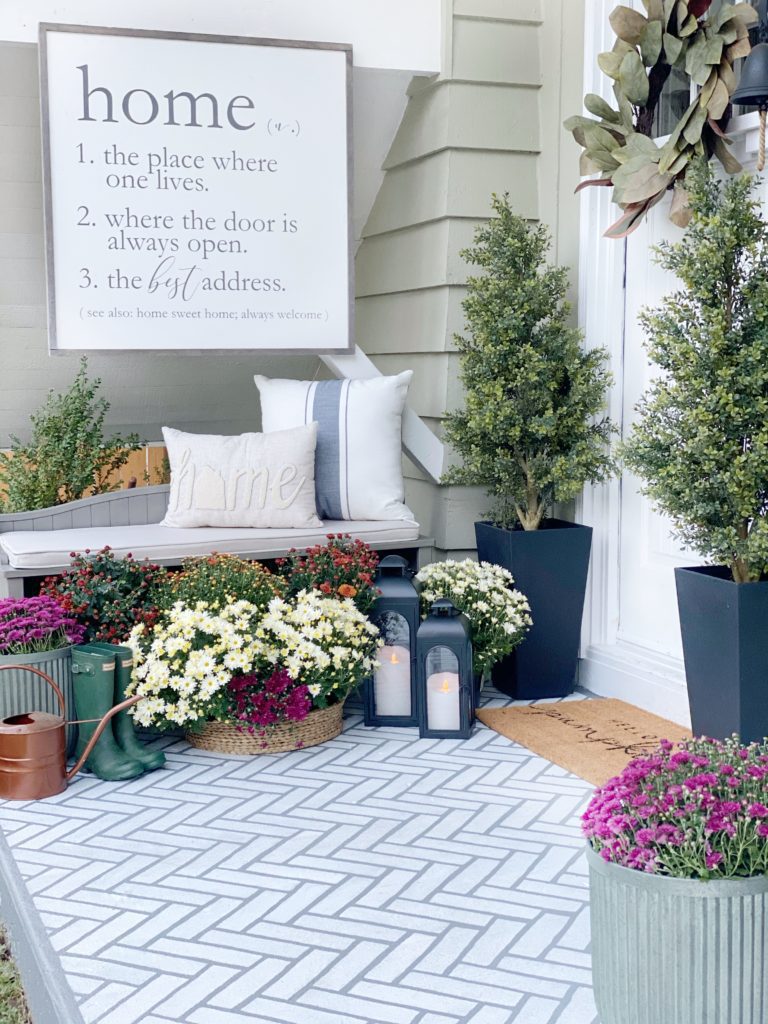 These planters come in two sizes these are the smallest! Aren't they perfect for my fall front porch decor?
If you need a cozy pillow you can find it HERE it is so soft.
I wanted to share a few more photos of this view with all the mums in the window boxes. Hopefully it gets you inspired for fall decor!
I forgot to share this basket the mums are in. You can find it HERE as part of the Better Homes & Gardens line it is actually a tray.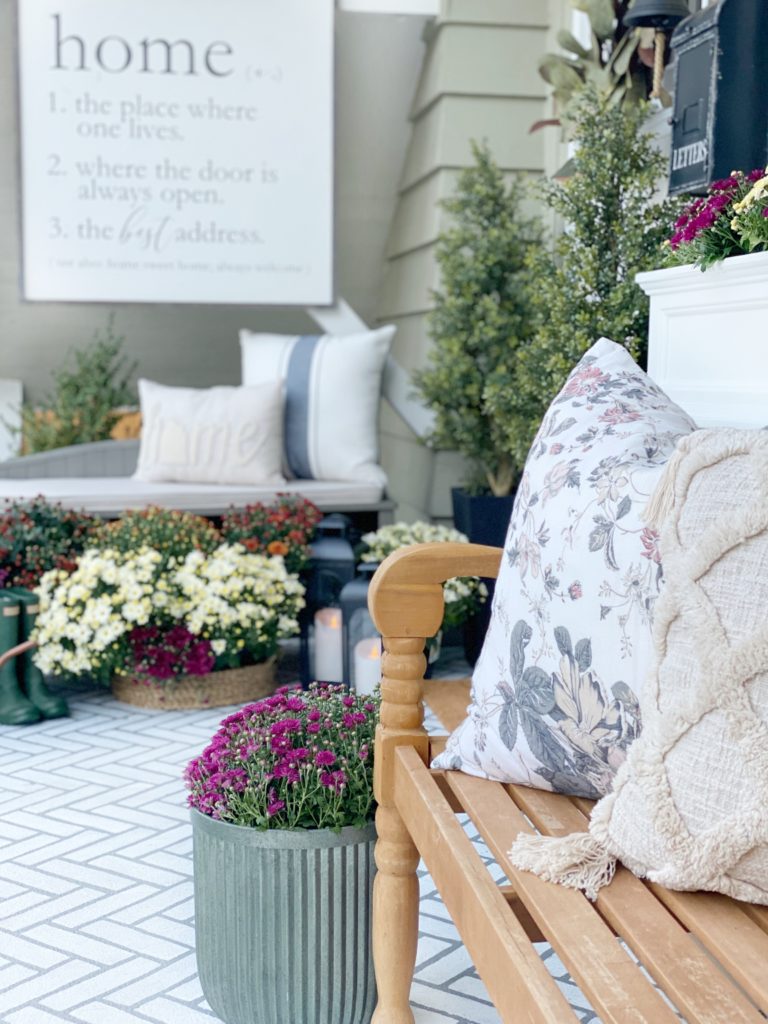 I hope you enjoyed seeing this little tour of my front porch decor. Check out this video below so you can see how I did it and how quick 😉
TO SHOP THESE ITEMS CLICK THE IMAGES BELOW: