Bathroom Refresh on a Budget
Bathroom refresh on a budget, yes please! We needed more space in our tiny bathroom and let me show you what we did! Let's get started!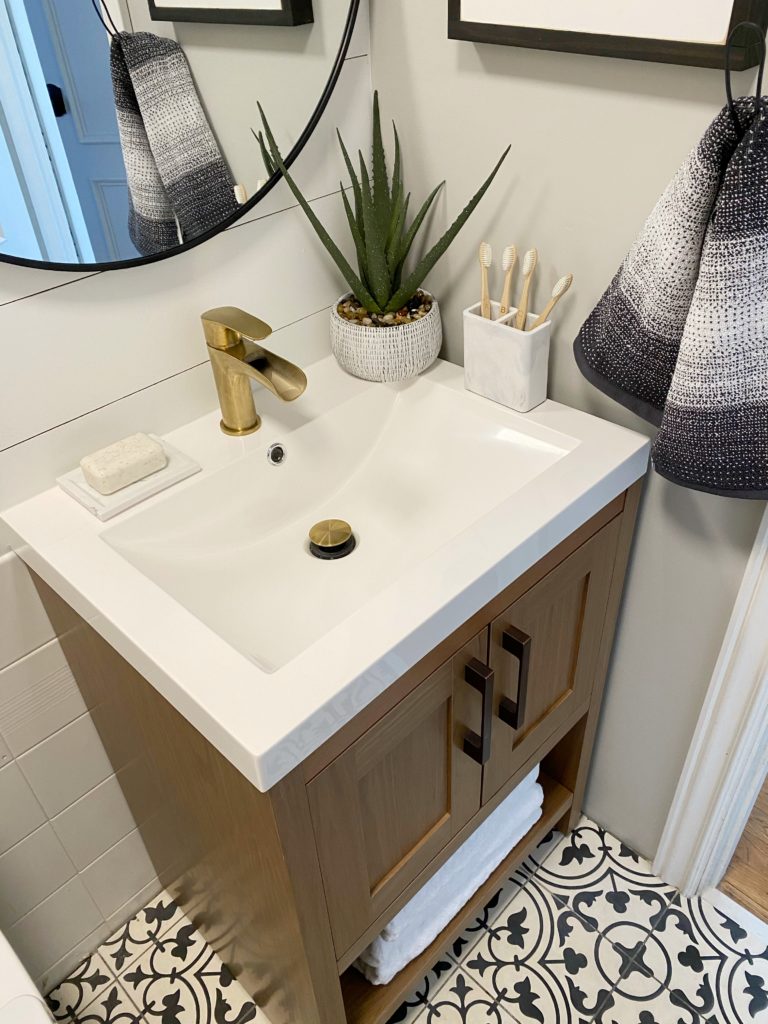 This is the MOST used room in our house – our one and only TINY bathroom for 6 of us! I was so excited to find such amazing products from the Better Homes & Gardens Live Better line and I can't wait to show you what I found!
Bathroom Refresh on a Budget
Here is a little before and after, but it's not the final! The first photo is when we first looked at our house. The second one has come a long way but we made a mistake – TOO BIG of a vanity.
It was time for a little bathroom refresh, and to find the perfect Vanity! That brings me to looking at Walmart and their Better Homes & Gardens line! Did you know they not only have vanities with sinks but faucets and everything else too!
Here is a sneak at the vanity I found HERE from the Better Homes & Gardens line. It took us a little longer than planned to get to this point. First we took out our old sink, fixed our plumbing so we finally can have hot water in the sink! Then we added new electrical!
Time to show you some more!! EEK!! This is so fun!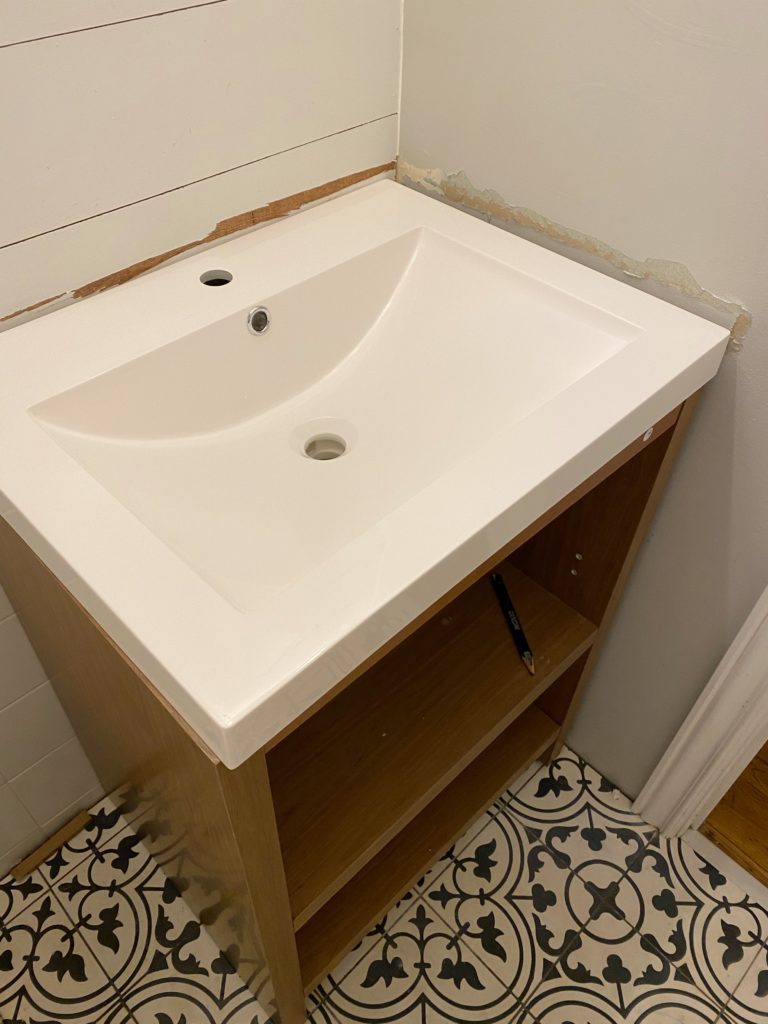 We had a bit of fixing the wall, and repainting but can you even with the sink and the faucet??? The sink comes with the vanity and is $254 what a budget friendly item! The faucet is my fave, it not only looks amazing but is so smooth too!
Let's get some more done and then time to decorate – I know you all are waiting for it!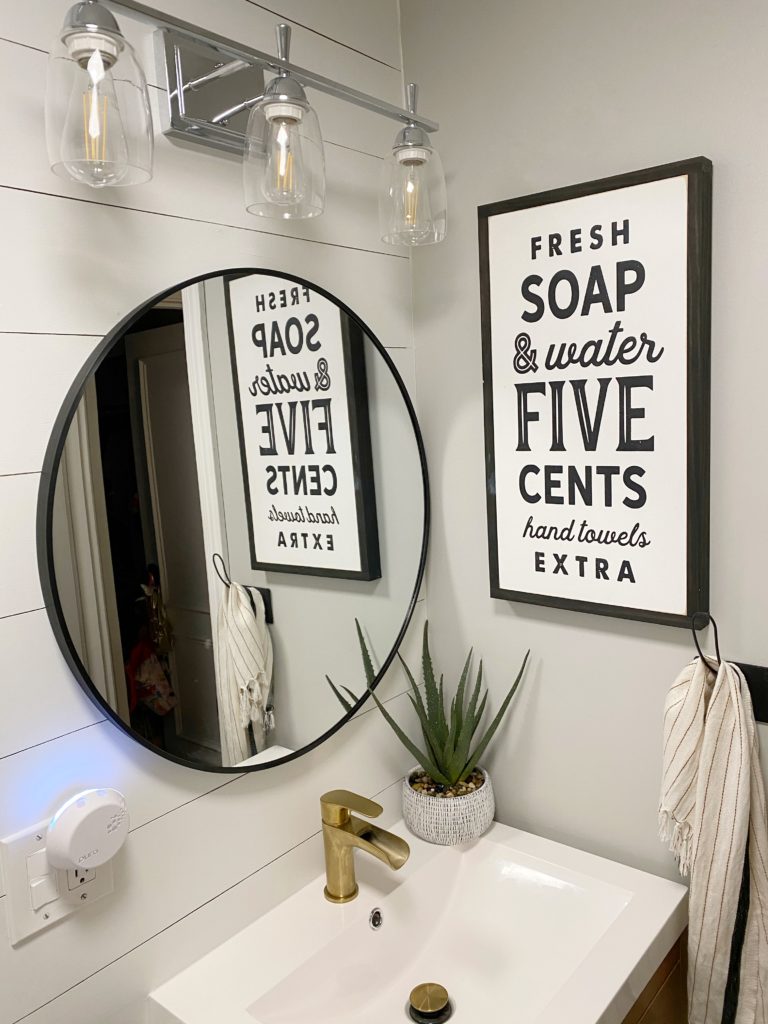 I first decided on these modern lights, but while they are gorgeous they weren't me. Thankfully our local Walmart had the other light available from the BHG Live Better line.
Here is the final light, I just LOVE it!! Honestly it's the perfect color. It does say its oil rubbed bronze but it looks black to me which is my favorite!
TIME TO SHOP!
Here are a few of the items that I picked up that we are loving, you can shop everything if you click on the images below.
Can you tell all the differences here? First we have SO much more room using the vanity you see HERE. I love that I don't have to worry about anyone sitting on the toilet and hitting themselves.
Next I did a little switch on the shower curtain, hooks, and liner! The liner is amazing – it is washable and I already tested it out!
Our lights, you can see I had similar before … tried the modern but loved this sleek look of the Better Homes & Gardens Live Better HERE.
Did you notice our ceiling??? We redid it and it's my fave – even better in person! I will share more on that in a bit!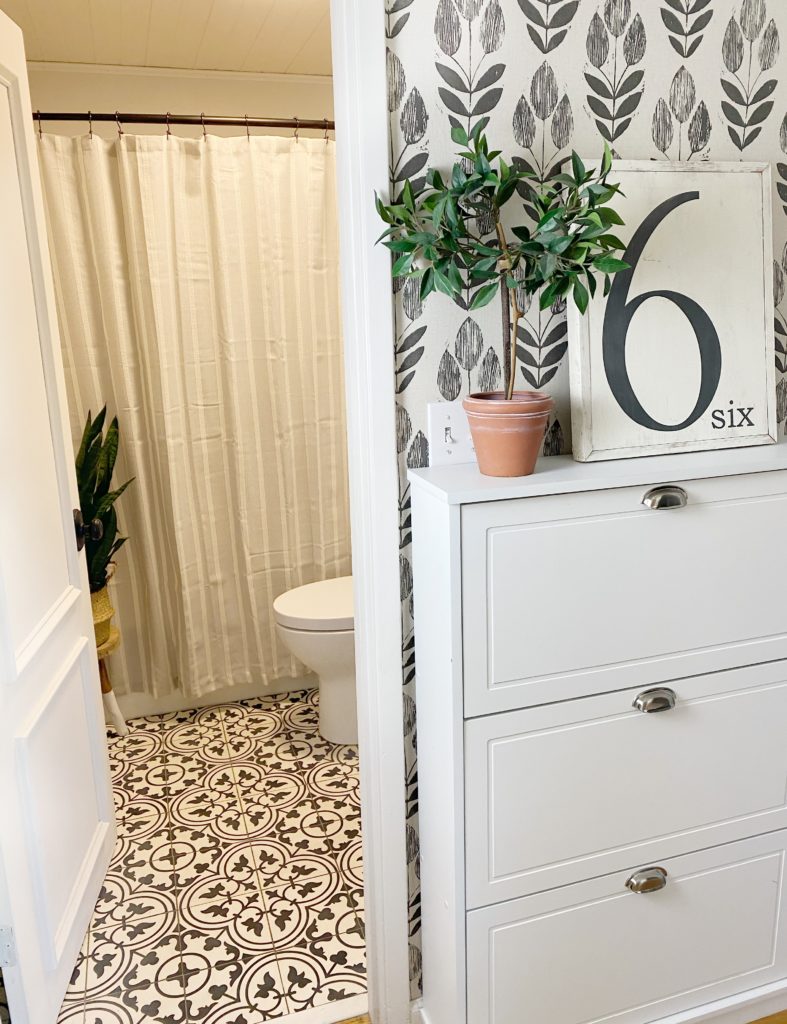 Now that you have seen the outside let me show you in!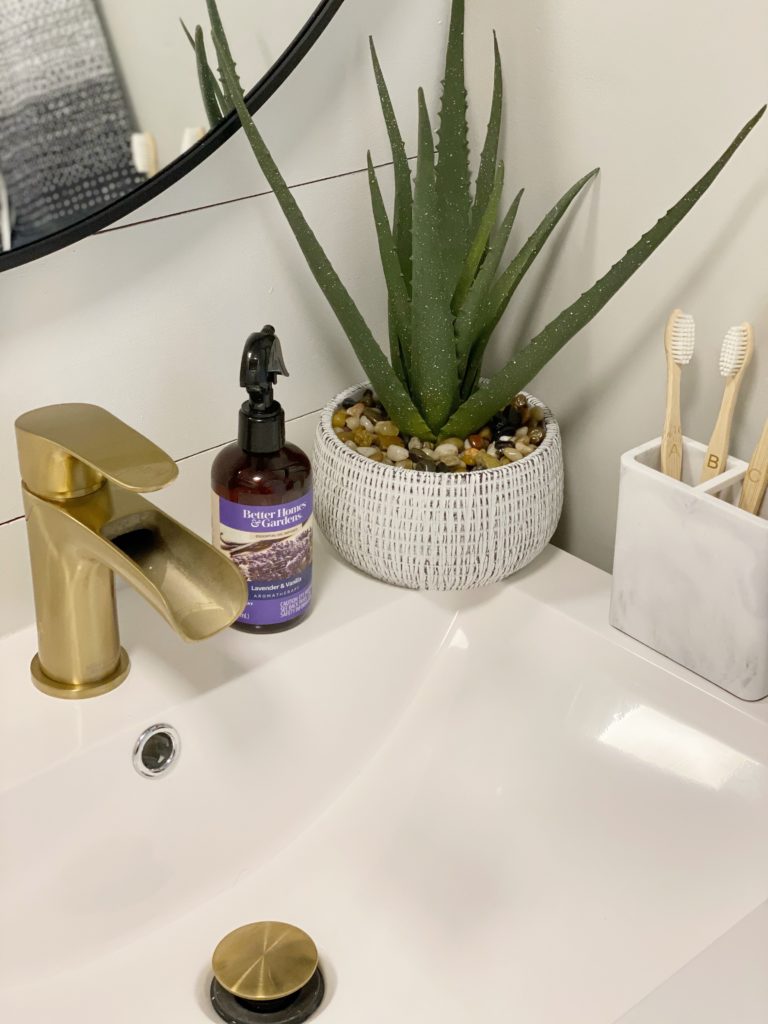 It is all in the details. I know the first thing that stands out to me is the brass faucet. Besides that the faux aloe plant looks so real you want to touch it to see!
This towel is stunning, but also feels so good! You can find it HERE.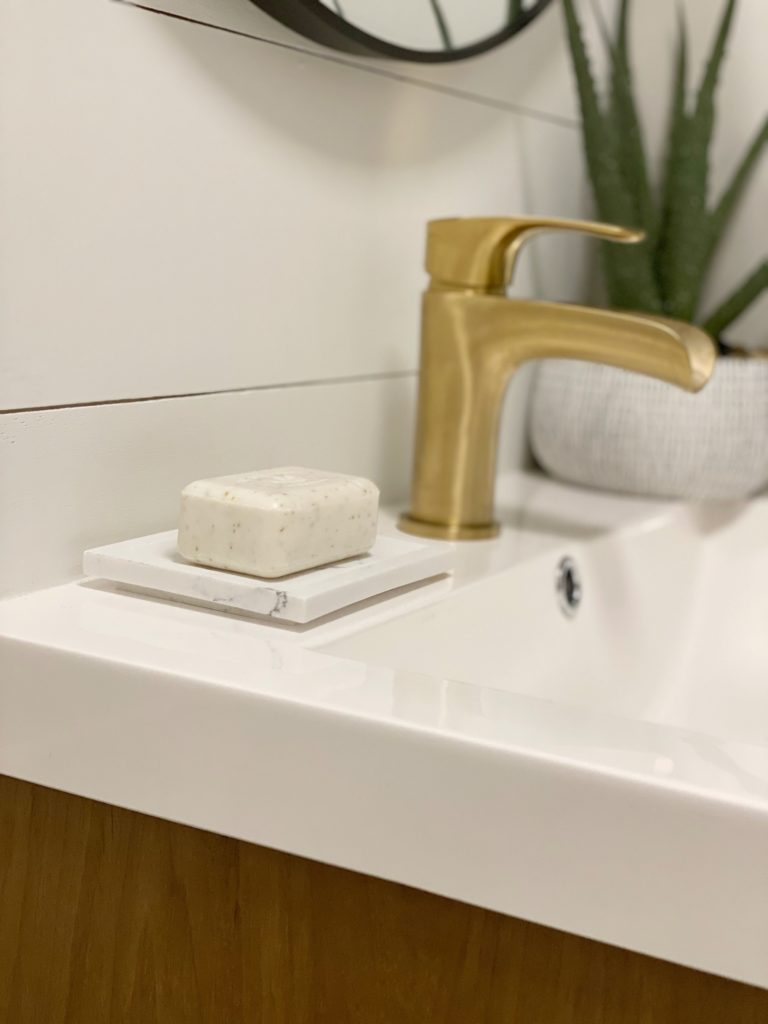 I love this set HERE you can use the pieces in so many ways, and I love the faux marble look.
Every bathroom needs a toilet brush, and why not a pretty one? You can get this Better Homes & Gardens Live Better one HERE.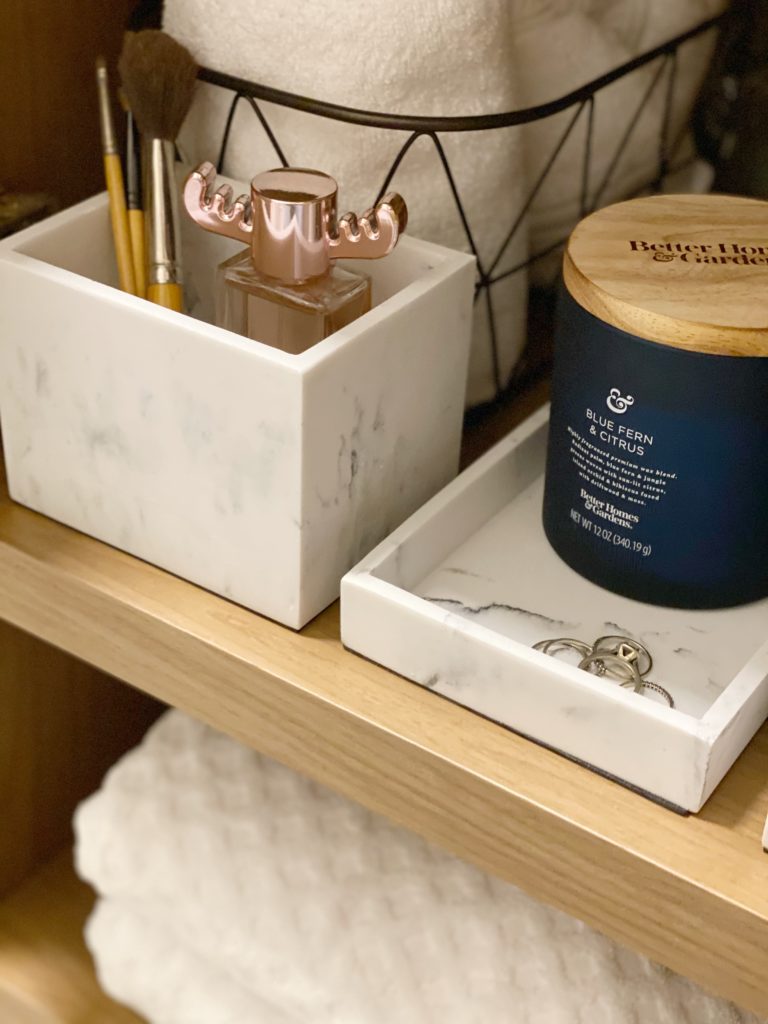 Here is the rest of the faux marble set. Isn't it so pretty?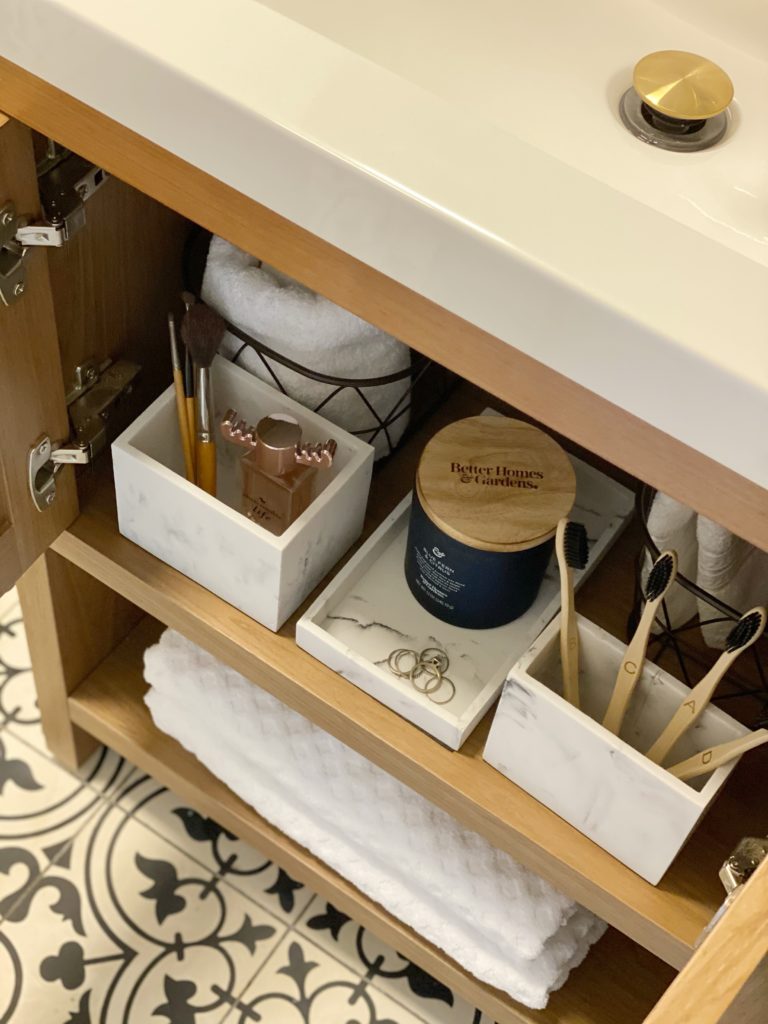 Ps. This Better Homes & Gardens Blue Fern & Citrus candle is incredible!!
Can I tell you how nice it is to get new plush towels?? It has been awhile but I love these so much!
While this bath mat is a bit to big for my room – you NEED it! It comes as a set and the other says spa!
I just love being able to partner with Better Homes & Gardens Live Better to bring you decor ideas on a budget! I hope you enjoyed seeing the details, now let me show you the behind the details.
HOW WE DID OUR SHIPLAP CEILING :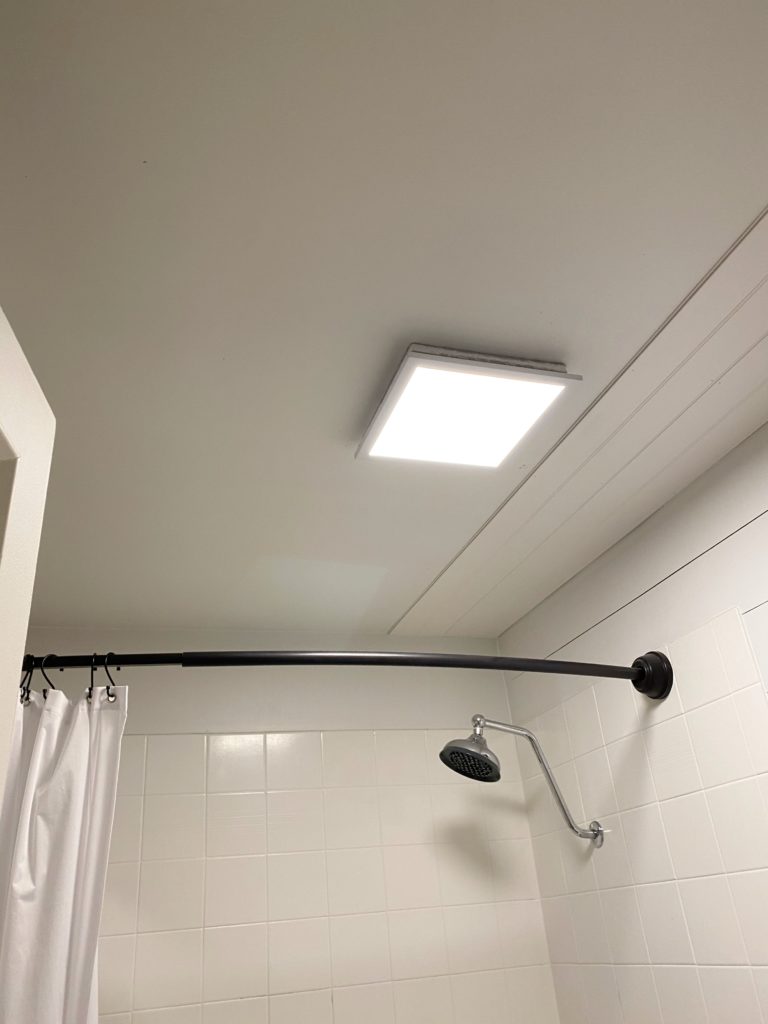 I have a complete blogpost HERE showing the step by step on how we do our shiplap ceilings. It isn't the typical product but we fell in love!
Isn't it amazing the difference it makes doing the shiplap ceiling?? Wait till we put the light back you will be amazed!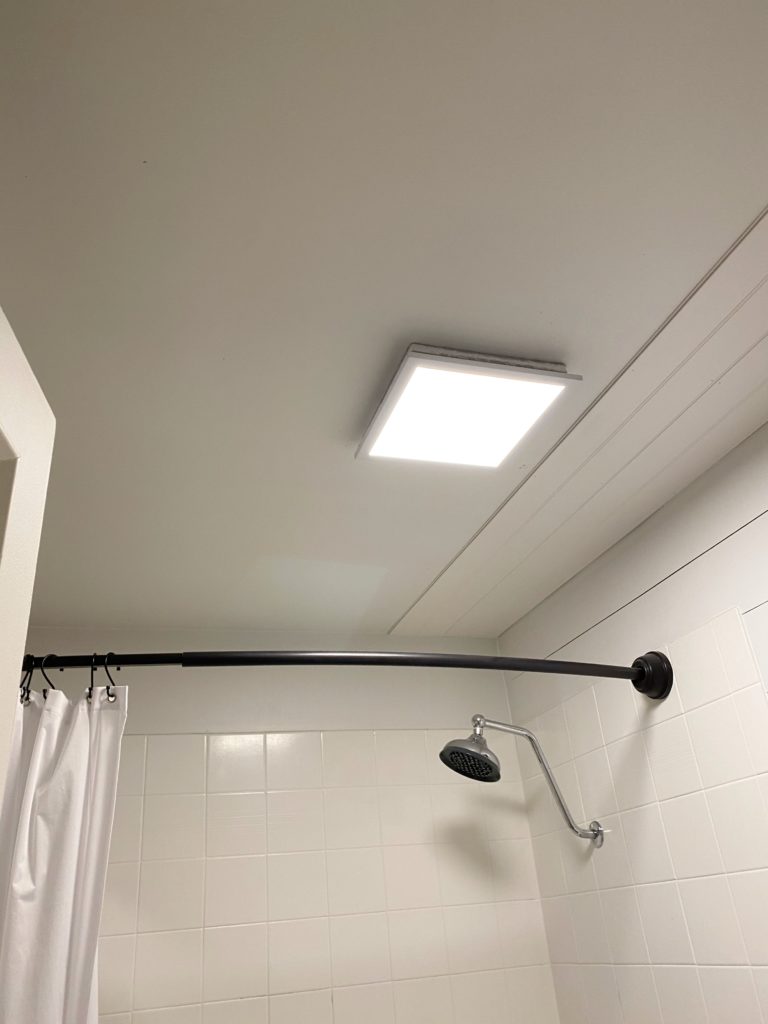 Do you see what I mean?? I would shiplap every ceiling in my house if I can, heck we have been and need to finish up!

Make sure to check out the post HERE to see the step by step and all the details!
TO SEE MORE POSTS LIKE THIS CHECK THESE OUT :