Best Mudroom / Laundry / Entryway Ideas
Today I am going to share with you my best mudroom / laundry / entryway ideas and the products I used to complete it! Ready to be inspired?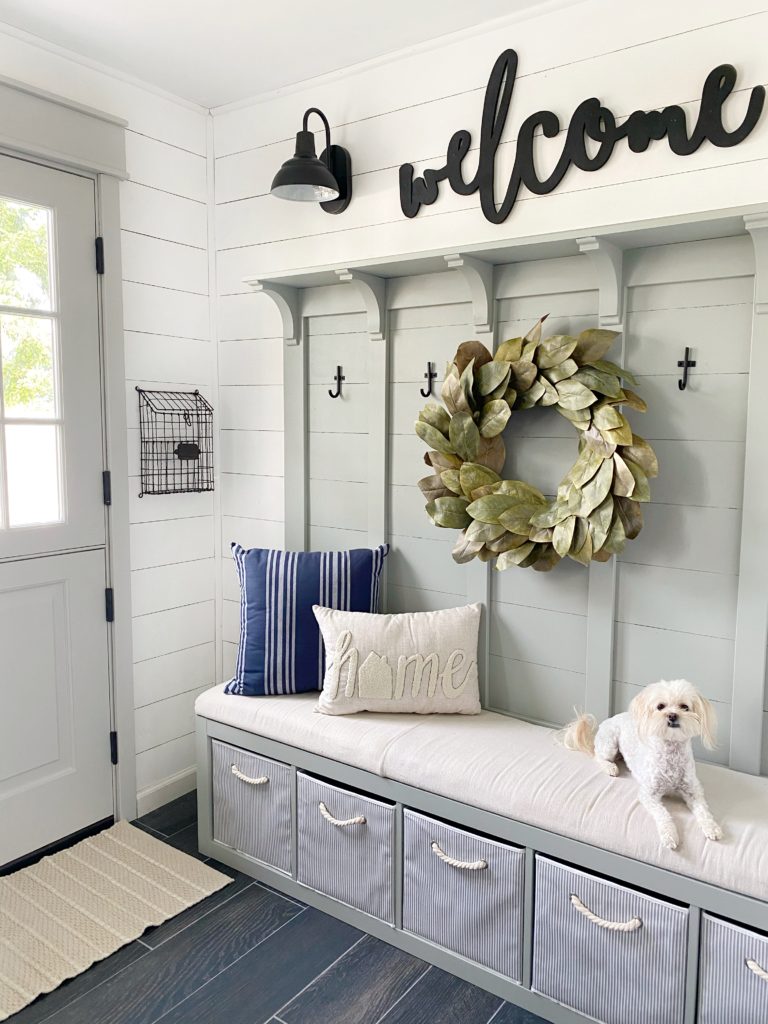 Before I share how I completed this space, and yes you may see it's a BIG change for me. I have some exciting news!!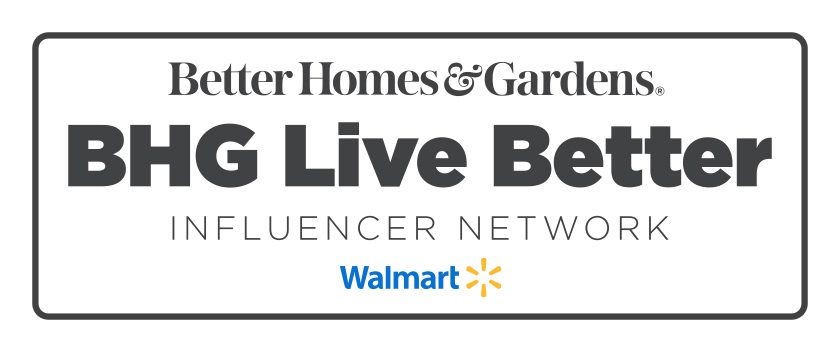 I have been asked to partner with Better Homes & Gardens, on a blog series and I am so excited! You know I love to share ways that you can make your house your home, no matter the size – and this will be such a great way for you to with whatever your budget is! I will be showing you how I use items from the Better Homes & Garden line that you can find online or in store exclusivity at Walmart, and you can decorate along side me! I hope you love all the things I find and are inspired!
Are you ready to see all that I found?
But first, Better Homes & Gardens gave me a challenge and you know it is hard for me to go out of my comfort zone….. I am a white and light grey sorta gal! I had to design something that was out with the old, in with the new! So let's see what I did!!
But first, let's go WAY back to when I first bought our house a little over 10 years ago and along the way!
10 YEAR CHALLENGE :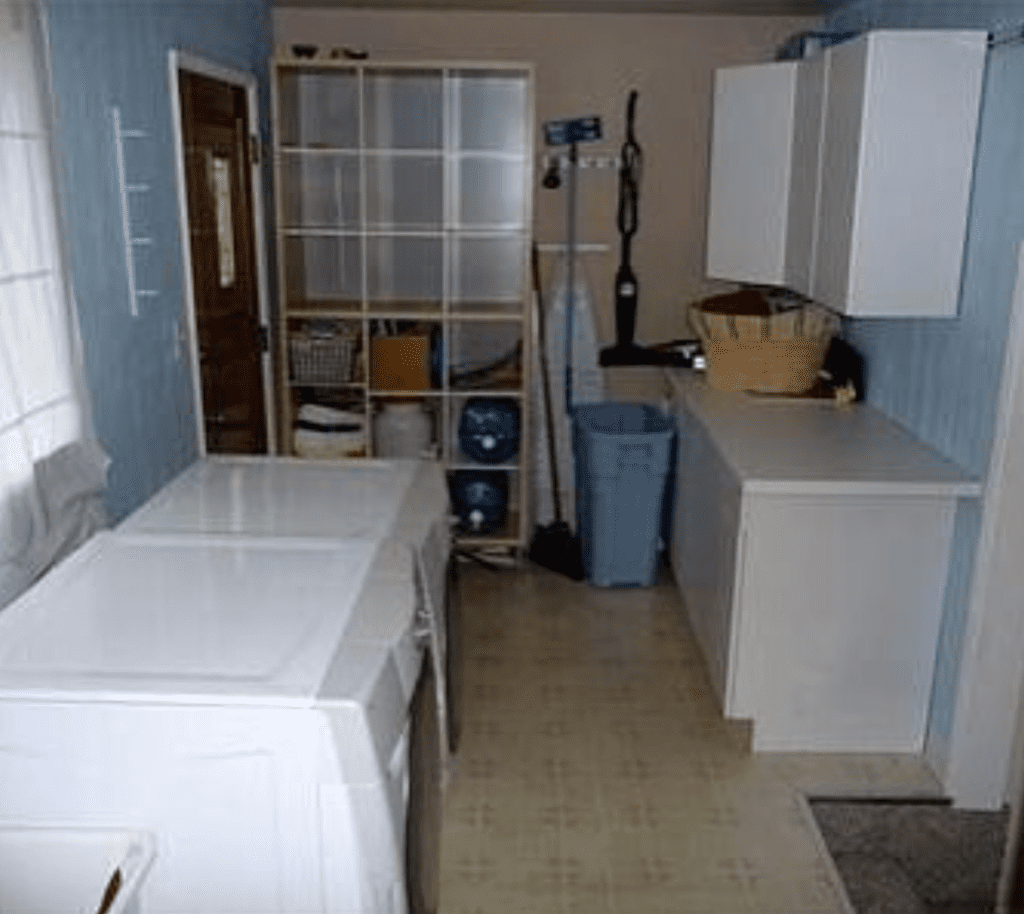 The first photo is the day we bought it. The second photo, you can never say I didn't try color I have done them all. Number 3, is my neutral loving self but we made the space more functional and organized! Its amazing how not only a space can change, but your style now lets go to today!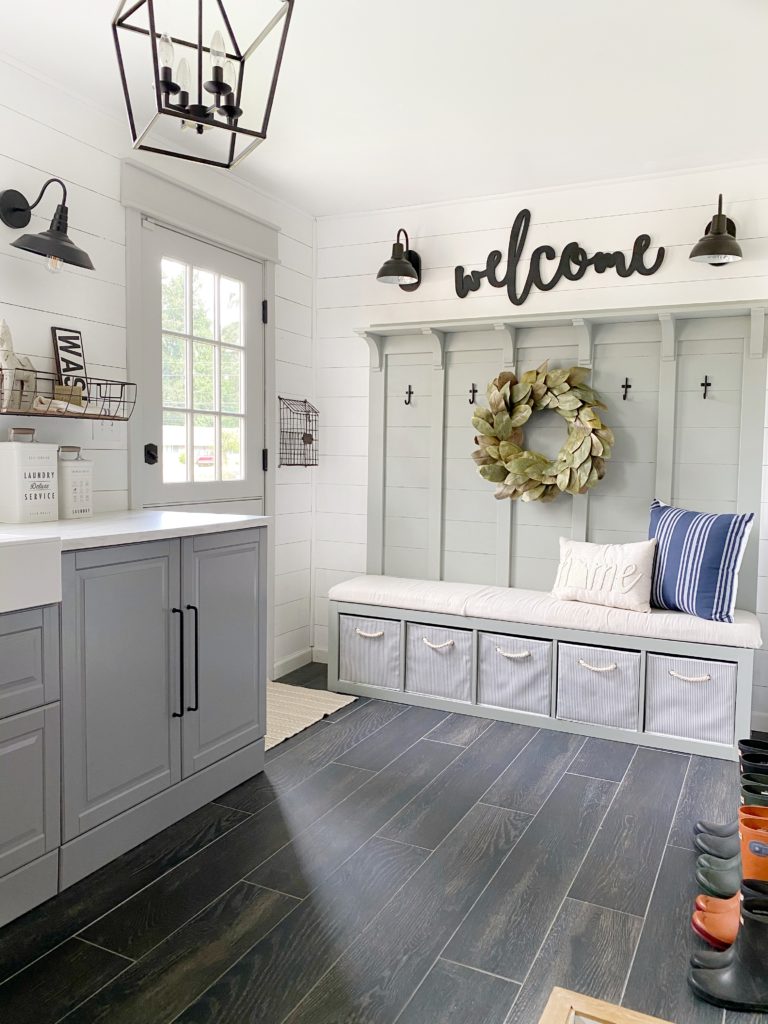 POWER OF PAINT :
It is amazing what you can do to a space to transform it, today I used the power of paint and some amazing accessories! I have a tutorial you can find on my blog how we made this entry way space. You can use this bench here from the Better Homes & Gardens line to recreate it, and keep it white or go out of your comfort zone like me and try some color!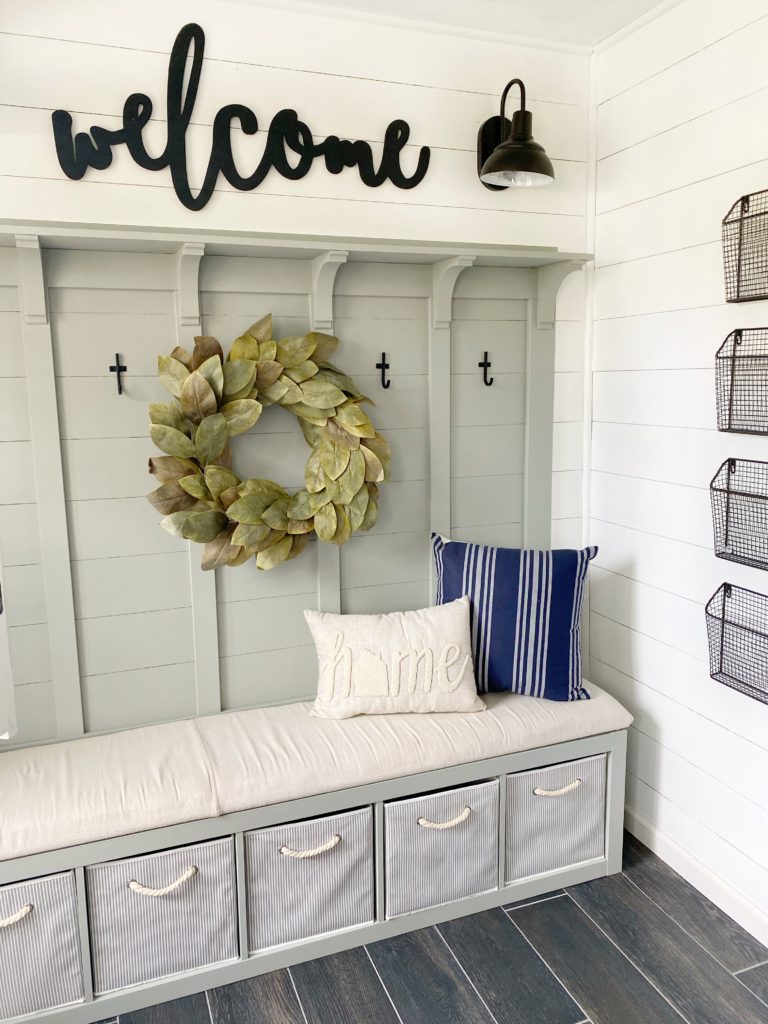 LIGHTING :
I asked in my stories on Instagram if I should add lights above the shelf and the answer was overwhelming YES! I found these lights at Walmart from the Better Homes & Gardens line HERE.
ORGANIZE :
I can't get enough of these bins, the ticking stripe and the rope. You can find them HERE. We love bins, and baskets everywhere so its easy to organize! My kids keep all their shoes in their bins and even the pups have one!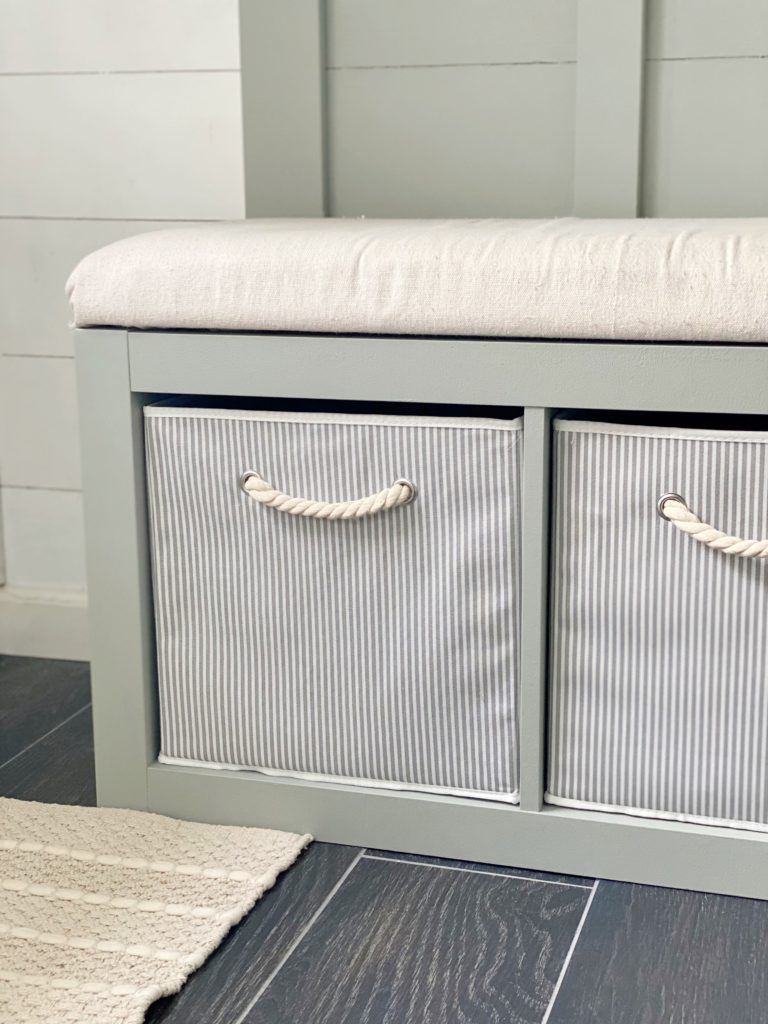 I wanted a neutral entryway mat since I painted the door and entry bench. The Better Homes & Gardens line has so many it was hard to choose, I just loved this texture!

When setting up a mudroom / entryway, make sure you have hooks so your family can hang up jackets and other items. I found these hooks HERE.
STORAGE :
You know I love finding the best ways to store things, and that everything needs to have a spot. If you head into Walmart you will find so many ways you can be more organized especially with the Better Homes & Garden Line. I have never seen cuter laundry holders. I filled the containers on my counter with detergent and dryer sheets, now to plan what will go into the Fresh & Clean caddy.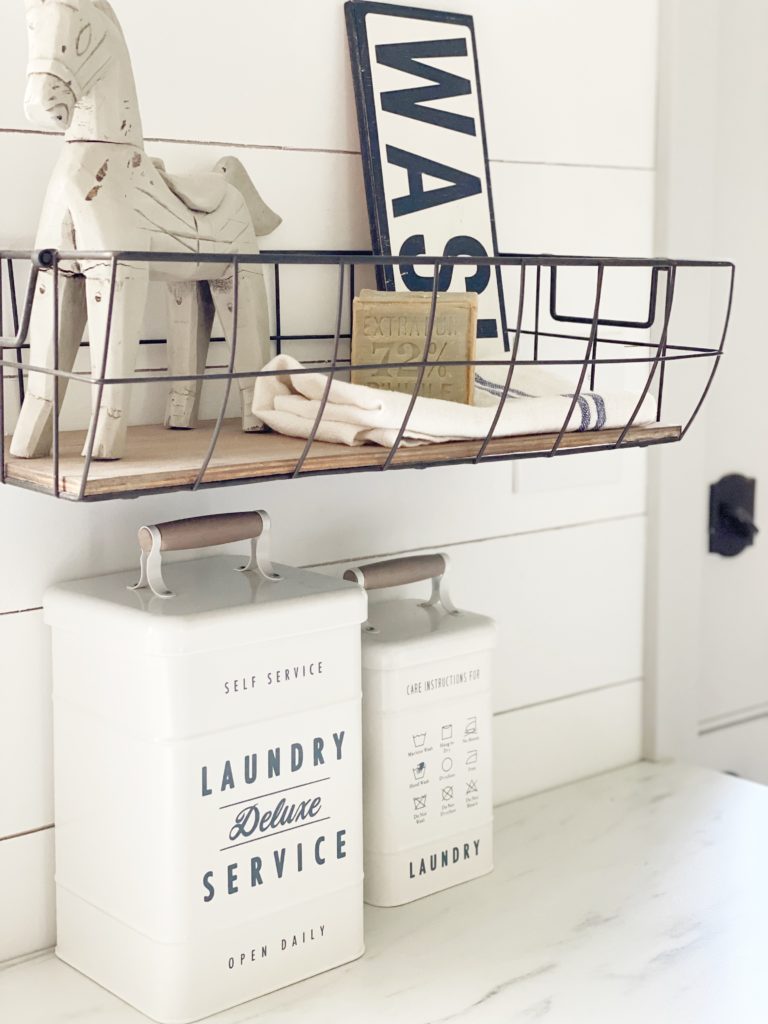 Here is a close up of these bins, aren't they the cutest ever it even comes with a scoop!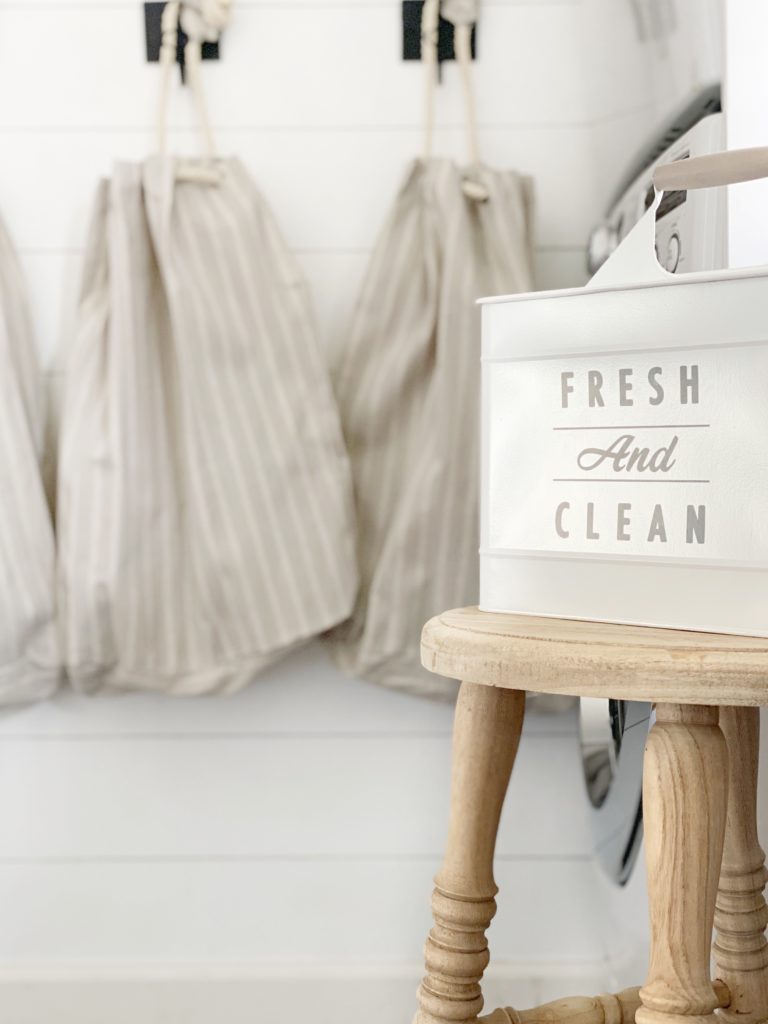 TIPS :
We have gone over all the aspects on how I organize our laundry room, and what items we use. I wanted to recap, but first one more find!
Look at these amazing laundry bags from the Better Homes & Gardens line, that arent only cute but functional! I will be using these to fold up the kids clothes so they can put them away! I have to tell you, these are a must and the price $6.90 for a 2 pack!!!!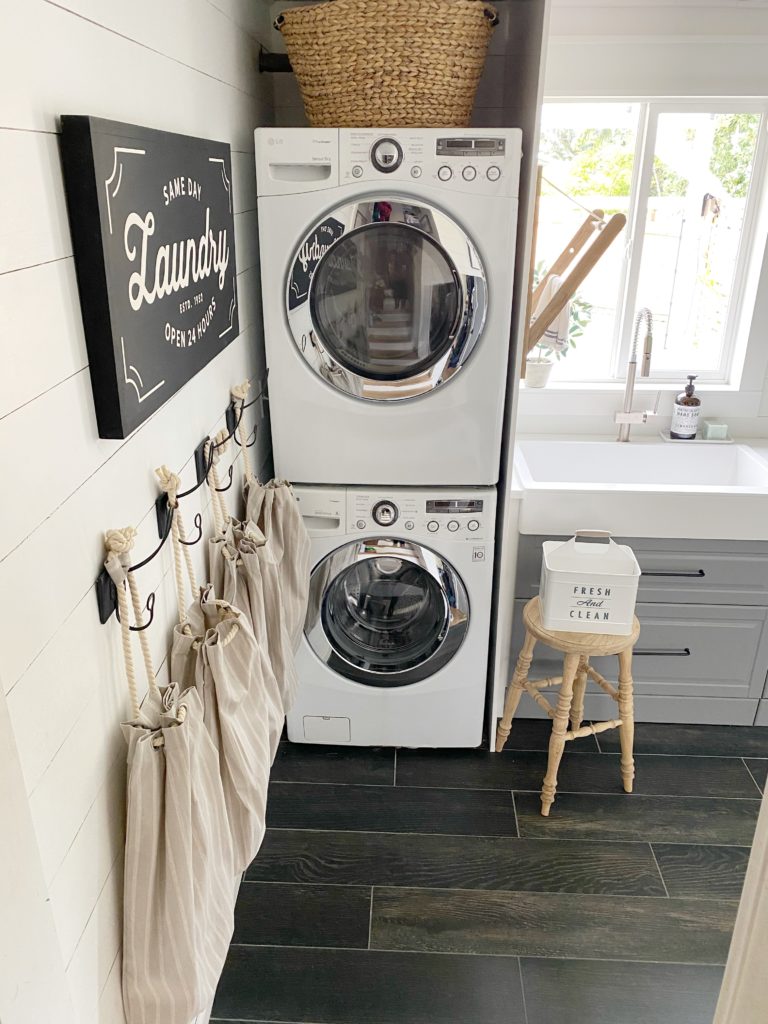 TIPS:
Make sure you have a spot for everything including dirty and clean laundry.
Have storage for your laundry detergent and other items.
If you have a mudroom – have a spot for coats and shoes.
Do laundry everyday – well I wish this wasn't a tip or fact, because it never ends.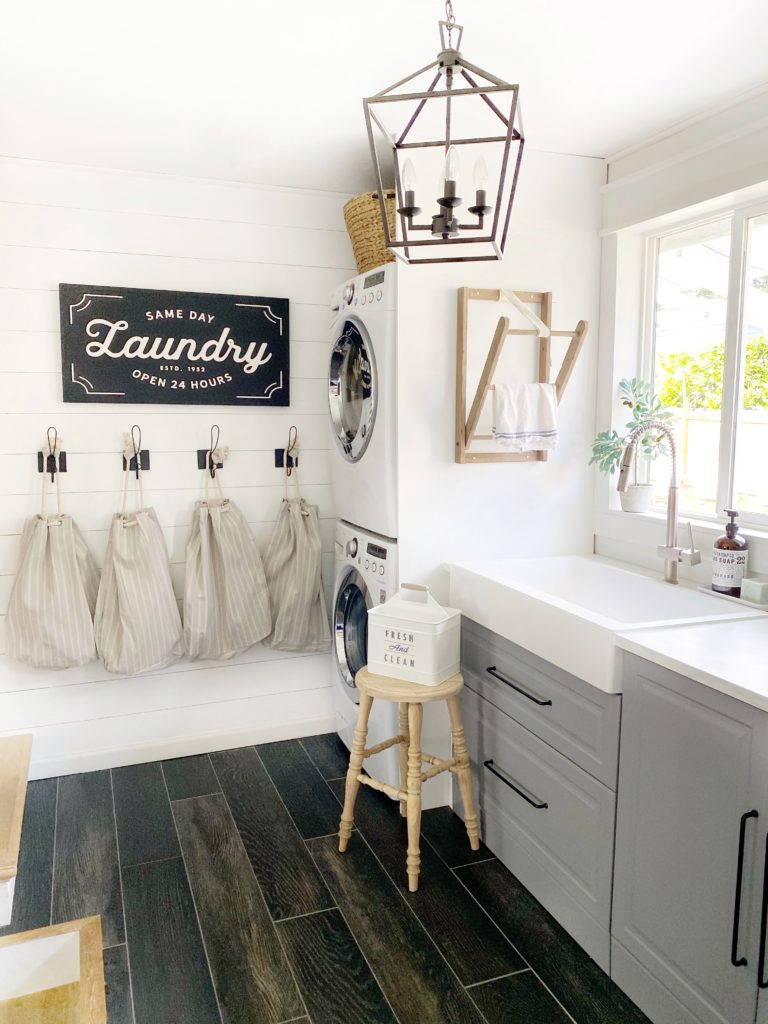 Here is a full view of this side, isn't it crazy what you can do with a space!
Now we can't forget about these pillows! Something neat, I have the welcome sign and the pillow says HOME – Welcome Home. The navy pillow is so amazing it is double sided, I am sure you will see it pop around my house.
SHOP THESE ITEMS :
5 cube storage organizer
Bronze Wall Sconce
Ticking Stripe Bins
Entryway Mat
Fresh & Clean Caddy
Detergent Holder
Small Laundry Holder
Hooks
Laundry Bags
Navy Double Sided Pillow
Home Pillow
Navy Blanket

I hope you enjoyed seeing how this laundry room / mudroom / entryway has evolved over the years along with my style. Thank you Better Homes & Gardens and Walmart for sponsoring this post!