Getting your deck ready for spring
It has been quite the winter around here, soon after I did my post about our winter deck – we got SO much snow! Did I mention we never really get snow, then we got over 2 feet! I thought maybe this time around if I shared us getting our deck ready for spring, that spring would come!
I am joining some friends for a fun Spring Blog Hop, if you are coming over from my friend Lindsay Aratari at Home welcome! I just adore her and everything she does! Make sure to check out my other talented friends at the end of this post along with all the sources.
Are you ready to tour my deck?
We have been loving this space but we are so ready to use it even more when it gets warmer! I am so glad we covered the deck using the Sky Lift Roof Risers and built our covered pergola. I will have more details on that soon, honestly we are trying to perfect it for our weather and when it rains.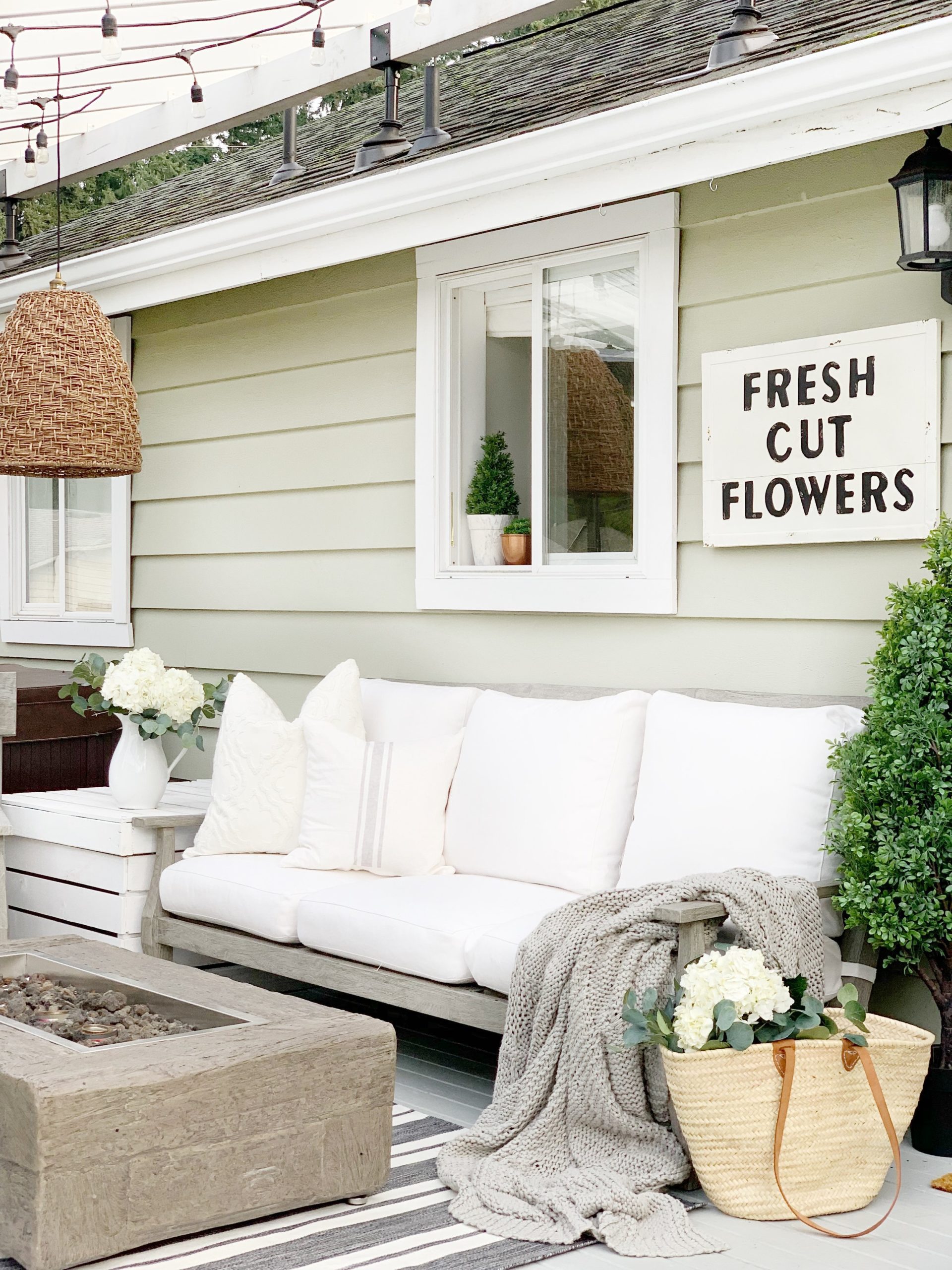 You can see we added the overhead lights, and then the Acala Dome Light from Arhaus.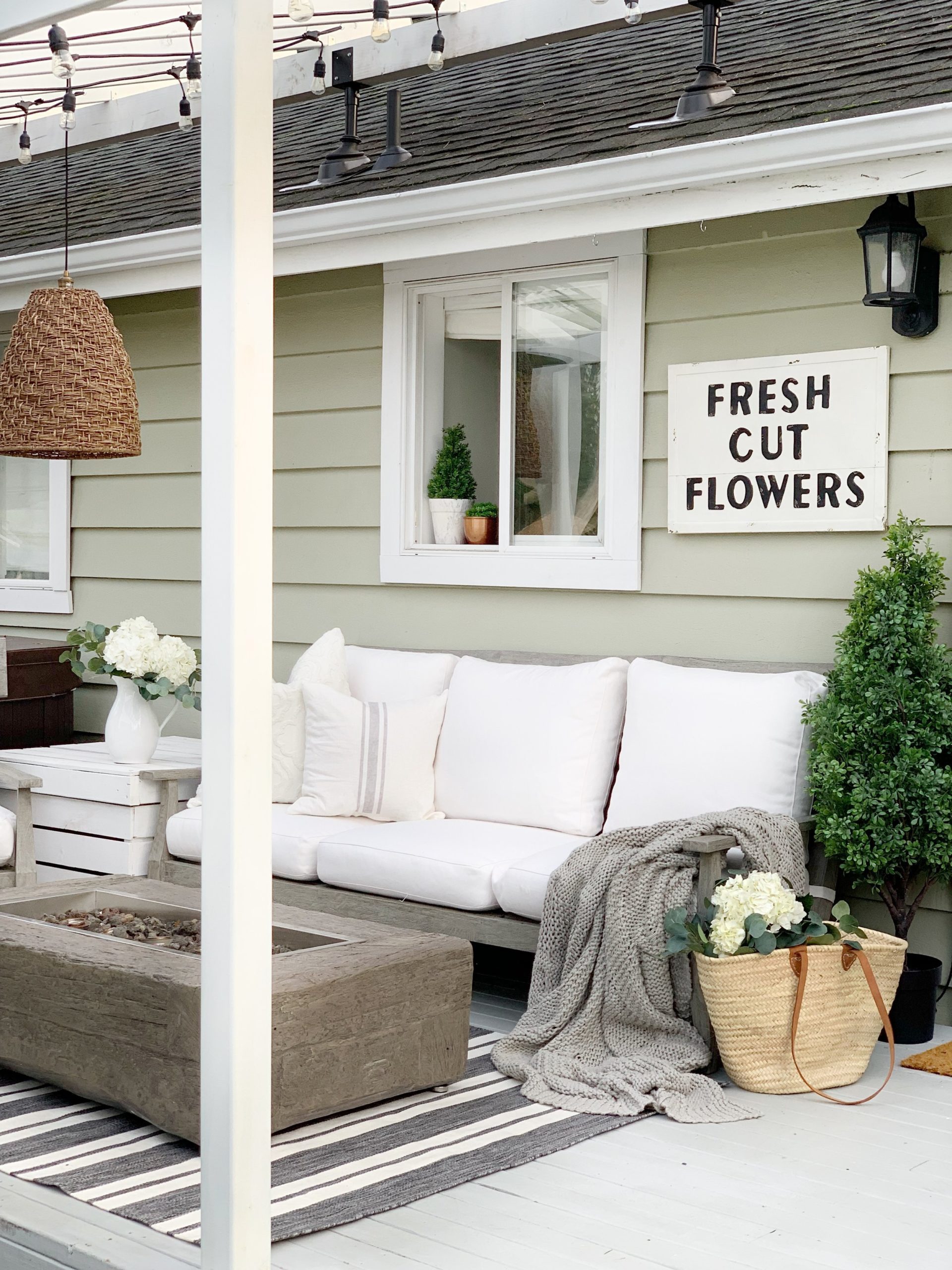 I always get lots of questions on our deck furniture! The firepit, sofa and chair are all from Arhaus as well as the rug. I will link them all at the bottom for you to.
This fresh cut flowers sign is from one of my favorite shops Molly and Kate, if you arent lucky enough to live near you can shop online!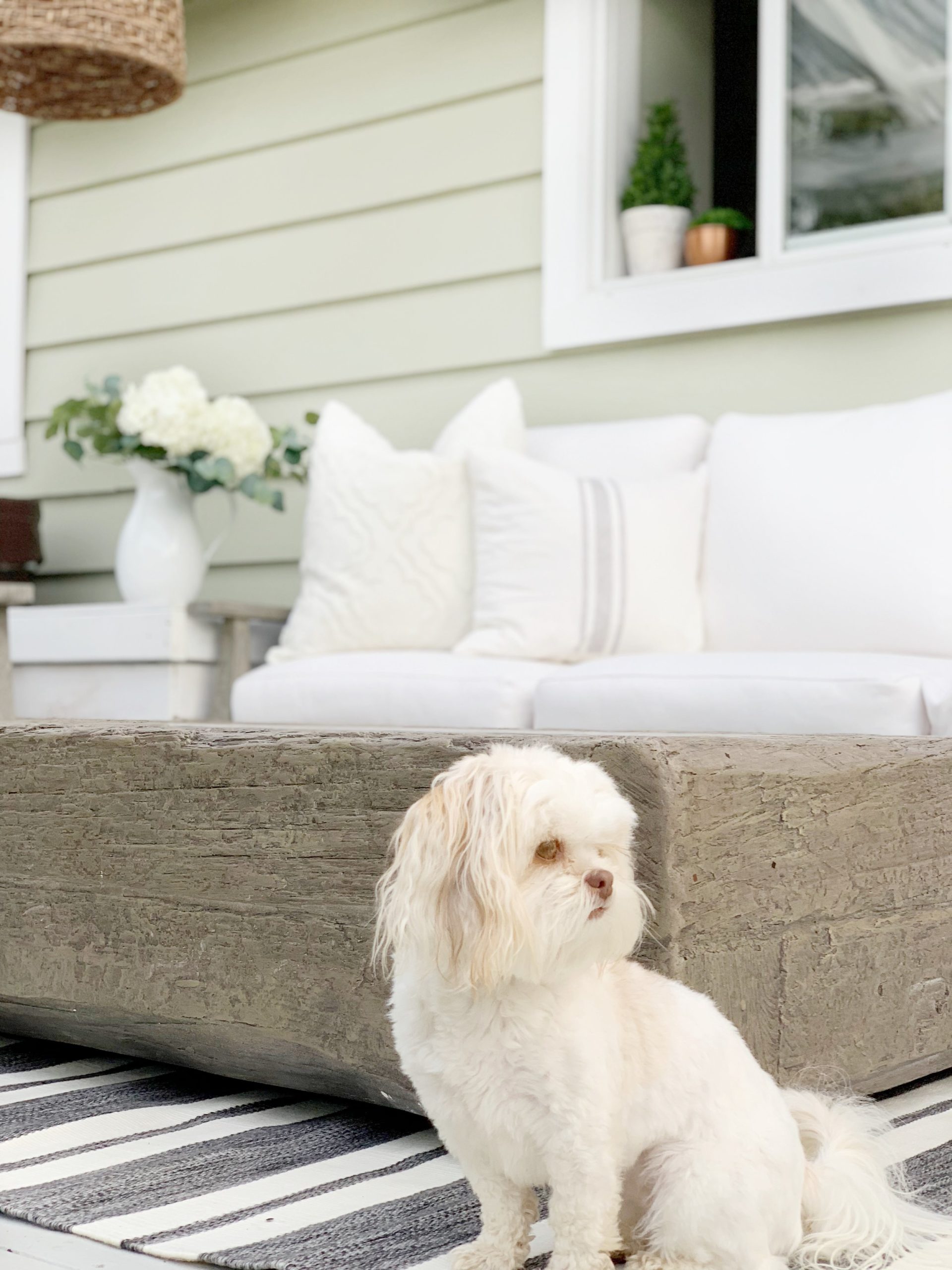 Here is a close up of the firepit, you can use gel fuel cans or put wood logs inside it. We are going to try to do a hack this summer to it and have it use gas – so look forward to that!
I cant get enough of this rug, and love that its so easy to clean because this pup likes to find all the mud!
One of the biggest changes is when we painted our deck, it was an ugly shade of faded orange brown and this light grey from Rustoleum we are so happy with and Rosie approves too!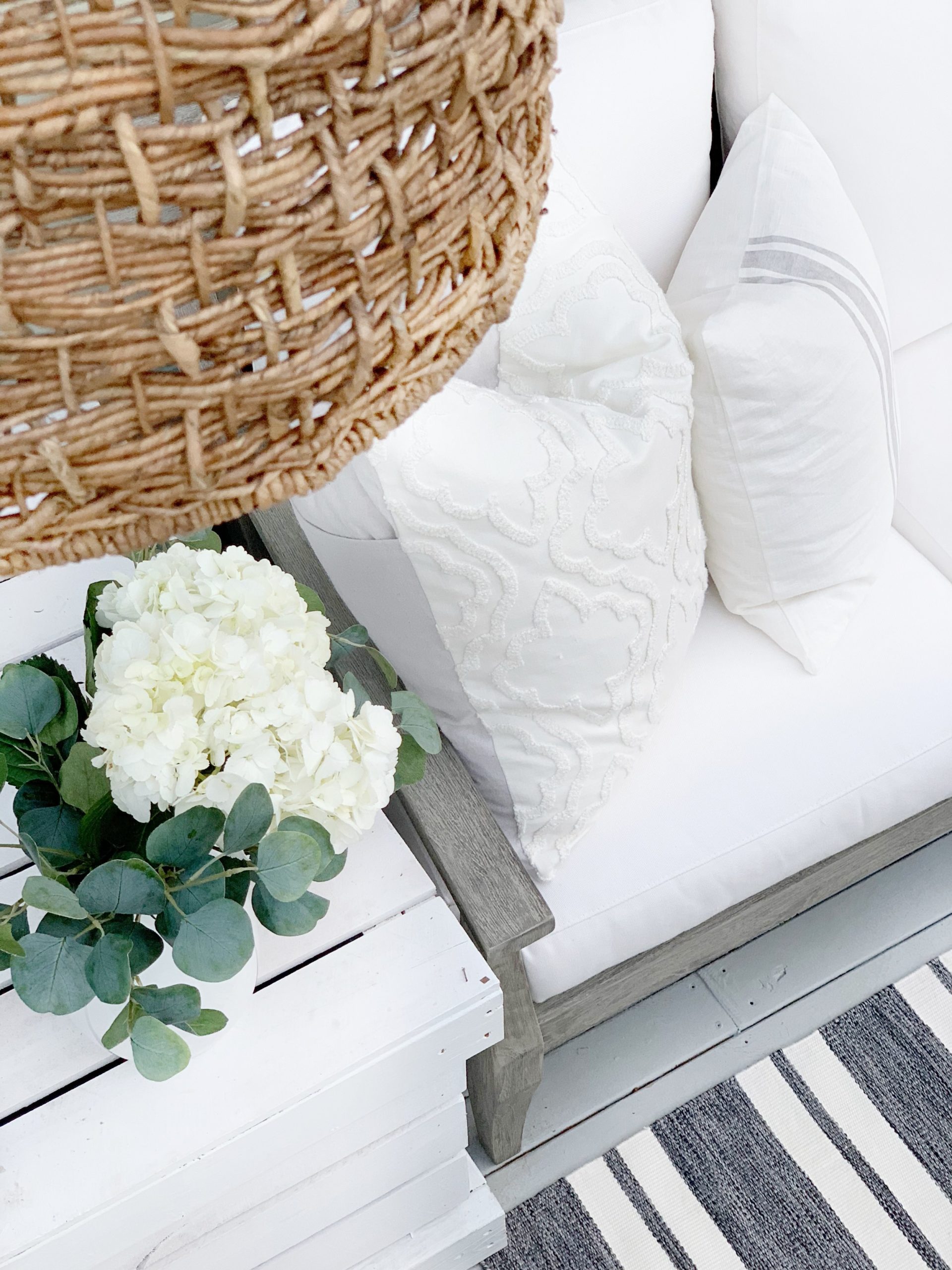 I just love all the textures here, these pillows from With Lavender and Grace are a favorite!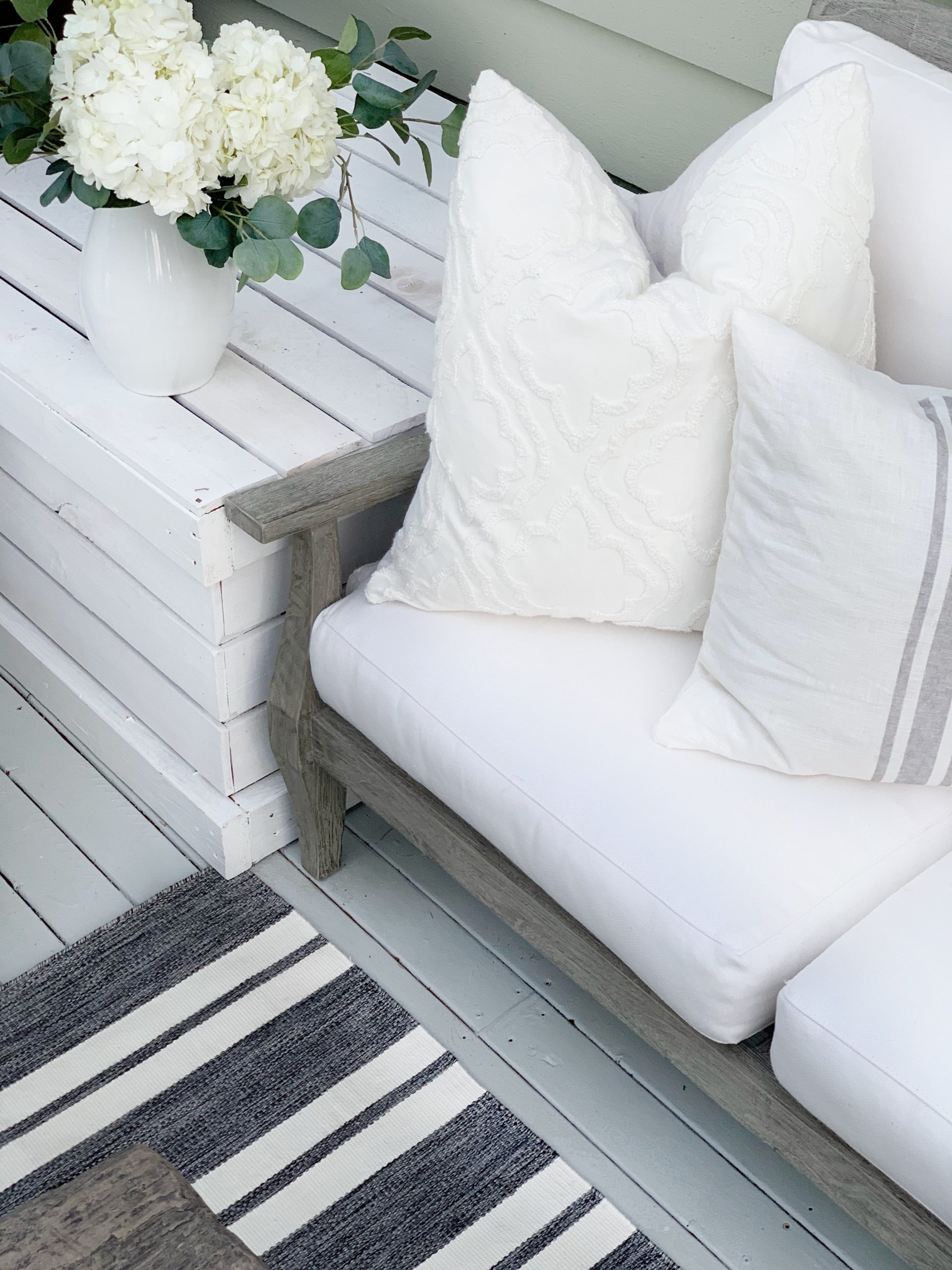 I love making each space cozy in my home, even if its outside.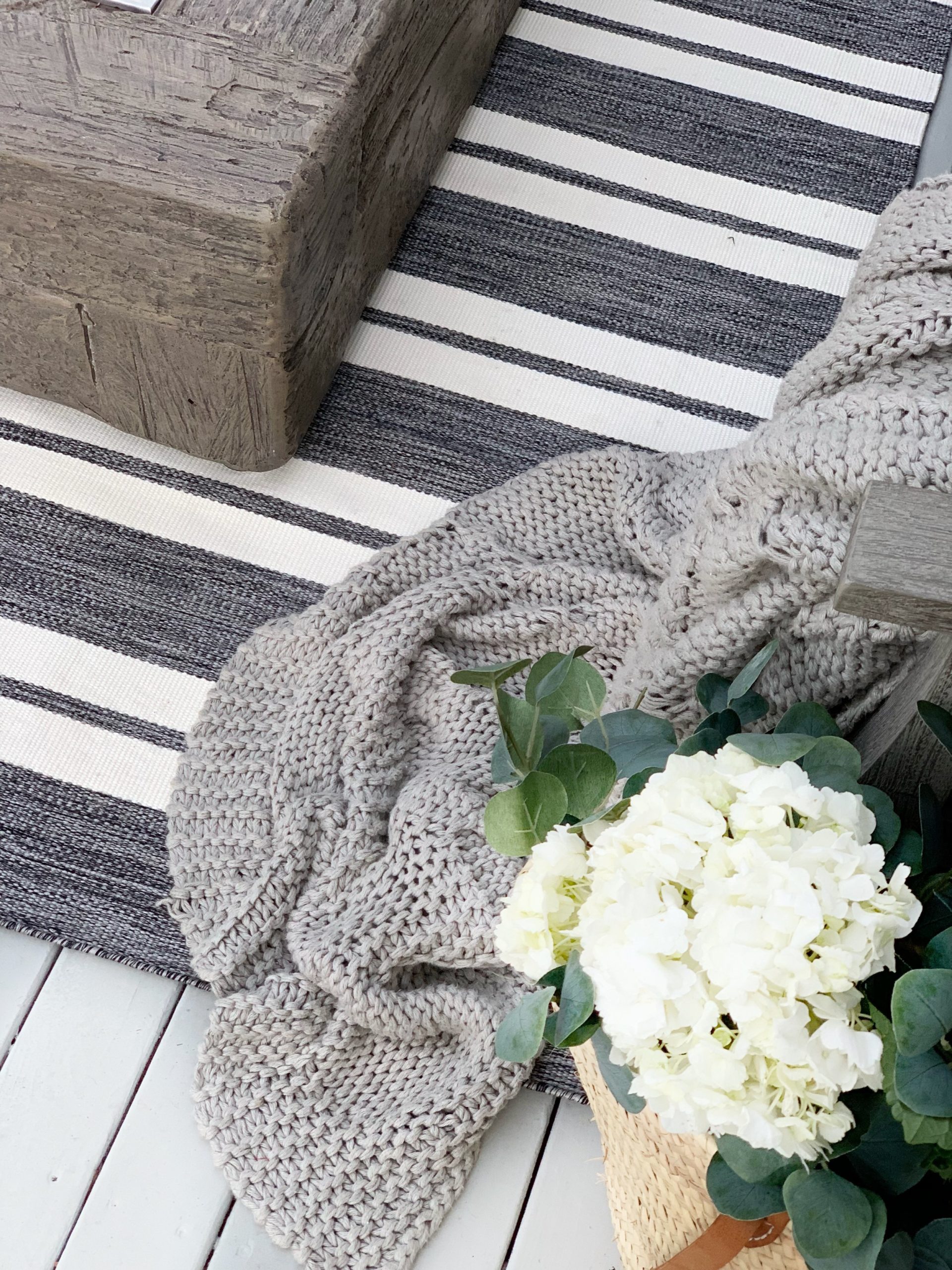 My best tips for making any space cozy are adding blankets and pillows anywhere you can! It makes the spot more inviting!
I hope you enjoyed this tour, I will be sure to share more as it gets warmer! Next dont miss out on seeing my friend Kelly The Tattered Pew her home is stunning and you will just adore her! Also, make sure to check out the other wonderful blogs below too!
Spring Inspiration Blog Hop
A Blue Nest / Crisp Collective / Aratari at Home / Dreaming of Homemaking /

Patina Gray Home & Living / The Tattered Pew / Bless This Nest

Sources :

I have placed all the links below, some are affiliate links thank you for supporting my blog!
You can click on each item.
Fresh Cut Flowers Sign – Molly and Kate
Grey Blanket – Purple Rose Home
Adones Sofa – Arhaus
Adones Chair – Arhaus
Fire Pit – Arhaus
Rug – Arhaus
Light – Arhaus
Damask Pillows – With Lavender and Grace
String Lights Acala Dome Light – Arhaus
Sky Lift Roof Riser Hardware
String Lights