Bathroom Decor on a Budget
Bathroom Decor on a budget – Yes Please! Simple changes that make a BIG difference! Two posts in one!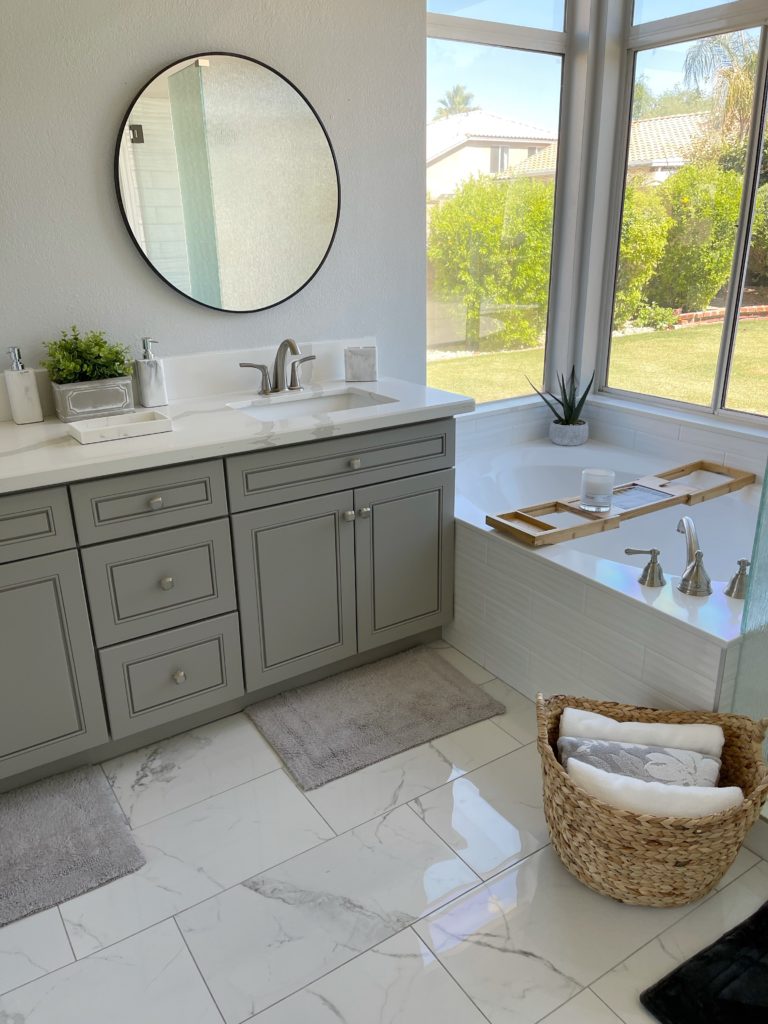 I love partnering with Better Homes & Gardens Live Better Line, this month our challenge was anything we wanted! Being on the road, and coming up with projects to do has actually been so much fun and it's been so great to help others with designing their spaces and on a budget! If you remember last months project I did my parents backyard space HERE. Today we are working on my sister in laws soon to be Airbnb and doing bathroom decor on a budget!
Here is the space we are starting with, and honestly I LOVE this bathroom! It is gorgeous but can use just a little bit of help to create more of a "spa like" atmosphere with a little modern touch!
I LOVE candles, the Better Homes and Garden line has such amazing ones! This Salted Coconut Mahogany candle is so yummy – I got this for her.. but she will be locking it up for when she stays here! I also added the aloe plant in the corner – it added just the pop of color the space needed and fit in so well with her space! The best part is it's faux so no one needs to water it! Best bathroom decor under $20 including the pot is such a great deal – you can get it HERE.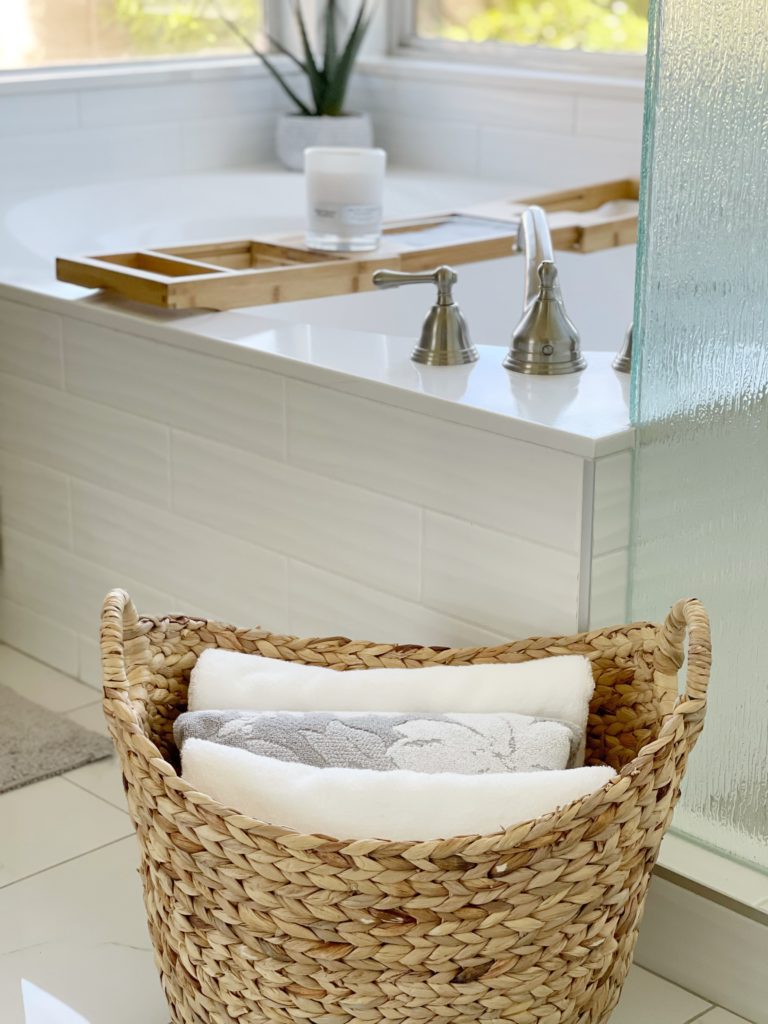 Bathroom Decor :
If you have followed along you will know that I have shared a few of these things in the bathroom before, and really that's because I just love them! This basket HERE is one I will share over and over because the quality, function and look! Throw some towels, magazines, or whatever you think of and it's a perfect fit!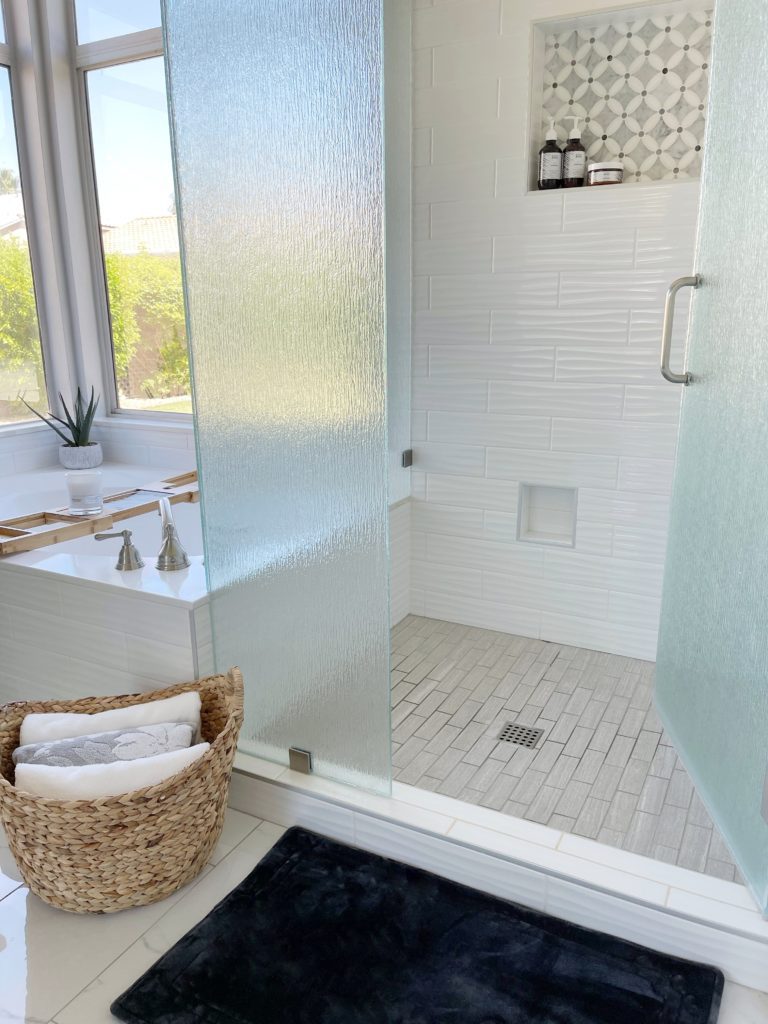 I will say, as GORGEOUS as this tile is …. it is slippery! The bathmats that were in this bathroom before didn't absorb any water… and made it very slippy. This thick & plush charcoal is infused with memory foam – I love that it doesn't move on the ground and the best part it's washable – perfect for washing between guests!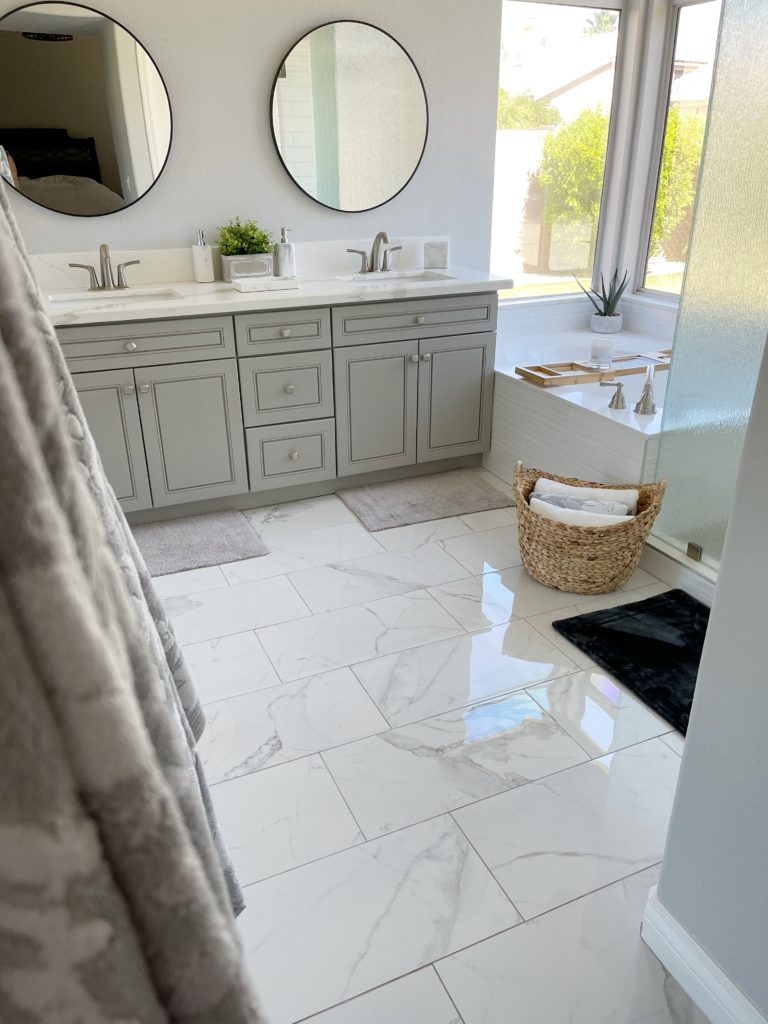 We lightened the rest of the rugs to a light grey mat and it made it instantly feel more spa like. You can find them HERE.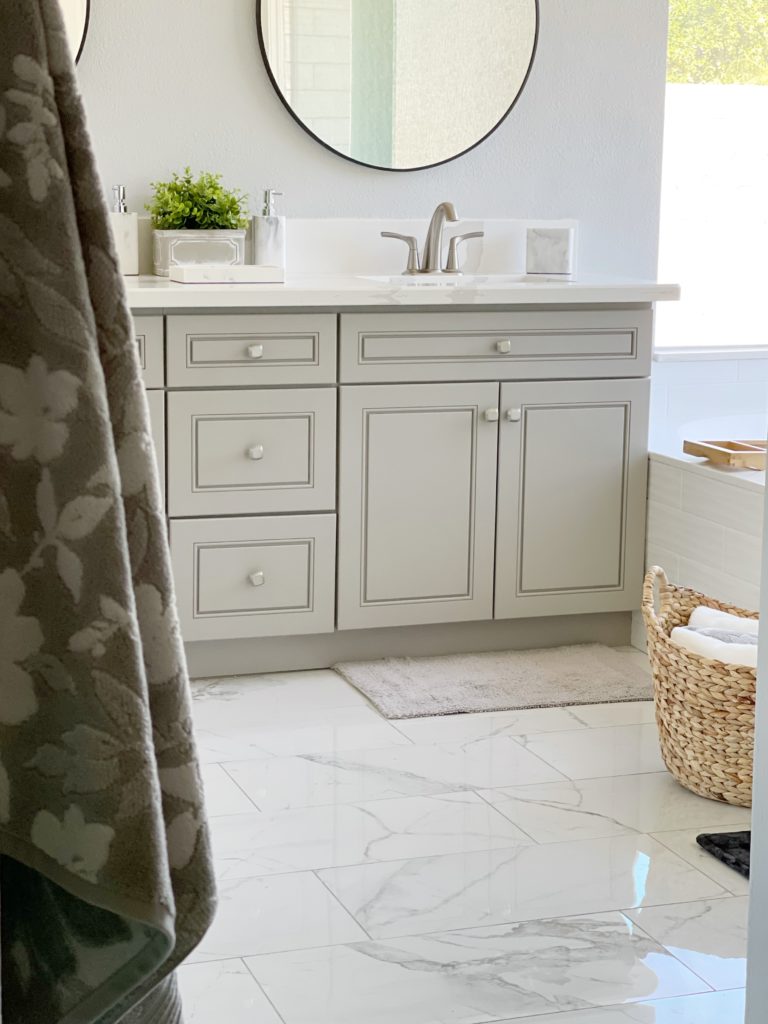 Do you see something NEW in this space that changes the whole look of the room??
The Mirrors!!! These I had in our old house and I loved them so much – honestly.. whatever house we get next you will probably find them there too! You can find them HERE they are great for not only bathroom decor but in any room!
I will say, even while being able to do this space on a budget – there was one big change that we wanted to make but we will wait till later. We would love to add these lights HERE!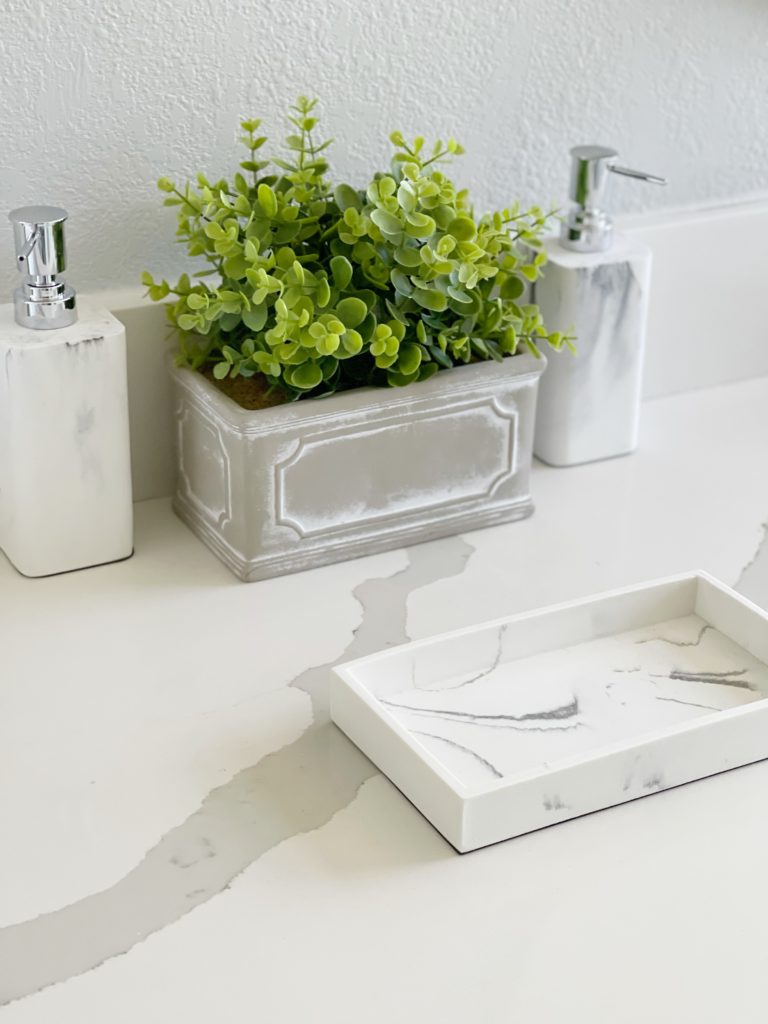 Adding simple accessories that not only add function, but beauty to your bathroom decor. These marble look soap dispensers and tray are so elegant and finish the space! Another faux plant for the win!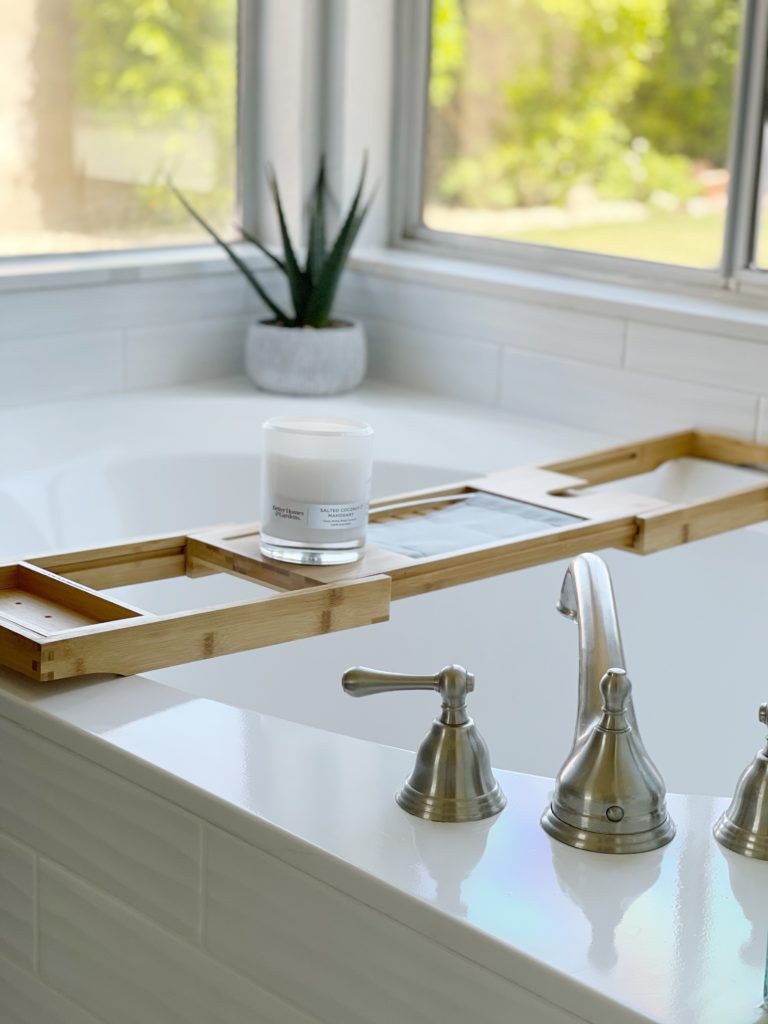 Don't you feel like you are at the spa walking into this bathroom? Now I am ready for a bath!
But first, don't forget to organize those drawers! The Better Homes and Garden line has so many ways to organize – we didn't need to do a lot here since its an airbnb but this little organizer helped a ton!
One thing we wanted to make sure we had for the Airbnb is good towels, if you haven't tried the BHG Live Better lines towels they are amazing! We got some simple white ones along with these gorgeous floral.
I hope you got some inspiration from seeing how we did the Airbnb's Bathroom Decor on a Budget! It was so fun to do and I can't wait to do our next home!
More Better Home & Garden Live Better Faves :