How to Make Easy Mini Pumpkin Pie
Are you ready for an Easy Mini Pumpkin pie that is so easy and so delicious too, even those who don't like pumpkin will want to try!
Are you DROOLING already? I am! Along with this recipe, I have joined 16 other bloggers and we are all sharing our pumpkin recipes so make sure to scroll to the end!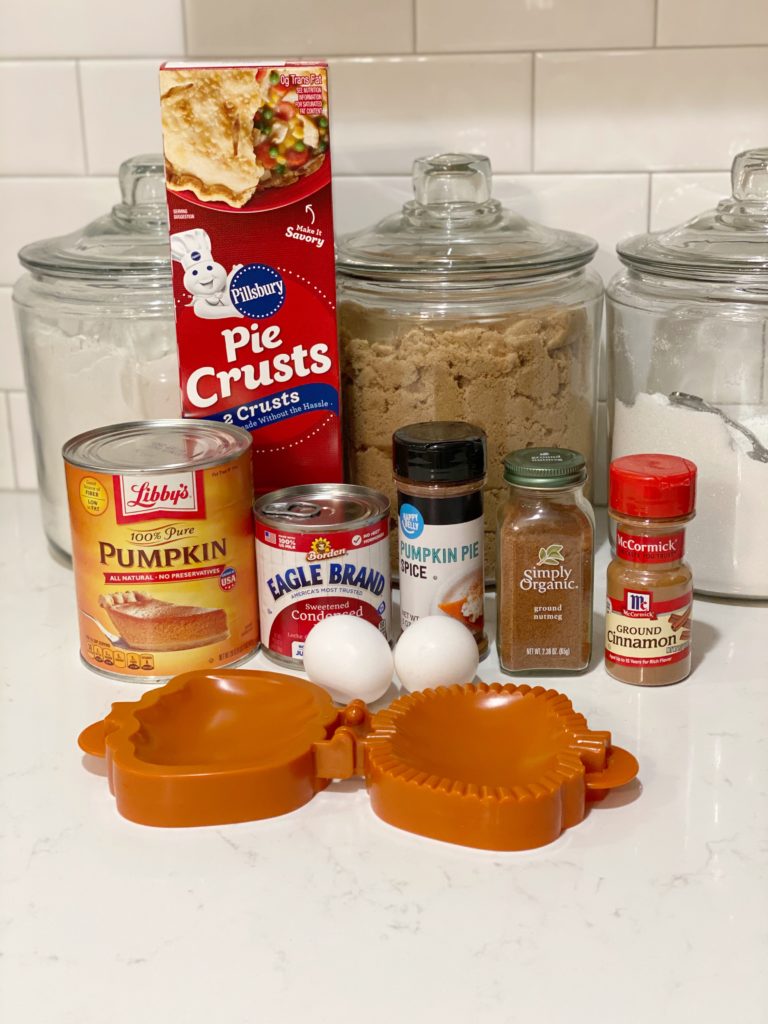 HOW TO MAKE EASY PUMPKIN PIES:
First Make sure you have some pumpkin! Now lets get started.
What you need :
Refrigerated Pie Crust ( You can use more or homemade)
1 – 15oz can of Pumpkin Puree
1 – 14 oz can of sweetened condensed milk
2 eggs
1 tsp cinnamon
1 tsp nutmeg
1 tsp pumpkin pie spice
1/2 tsp salt
Whip Cream to top it off at the end!
READY TO BAKE?
You will need to first preheat your oven to 425*F
Take your pie crust out of your fridge
Mix your ingredients ( everything but whip cream)
* YOU CAN PUT THE PIE FILLING IN THE FRIDGE TO THICKEN IF NEEDED.
Now you will get your pie crust, and your mini pan, or cutter,
Assemble your pie as you wish
Now you will bake at 425* for 10 min, I like to check around 6-8
That's ALL!

* MAKE SURE TO PIN AND SAVE THE RECIPE CARD BELOW WITH ALL THE DETAILS.
Now you can whisk away, let me tell you what smells soooo good!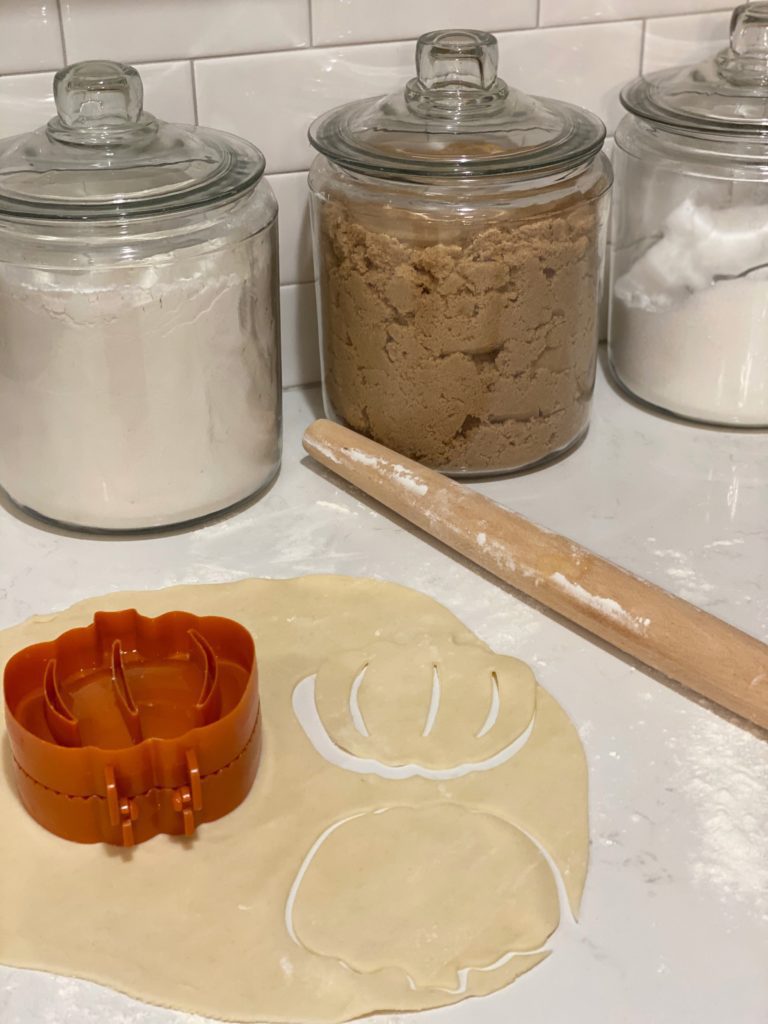 I found this cute Pumpkin pie cutter at Williams and Sonoma probably 9 years ago.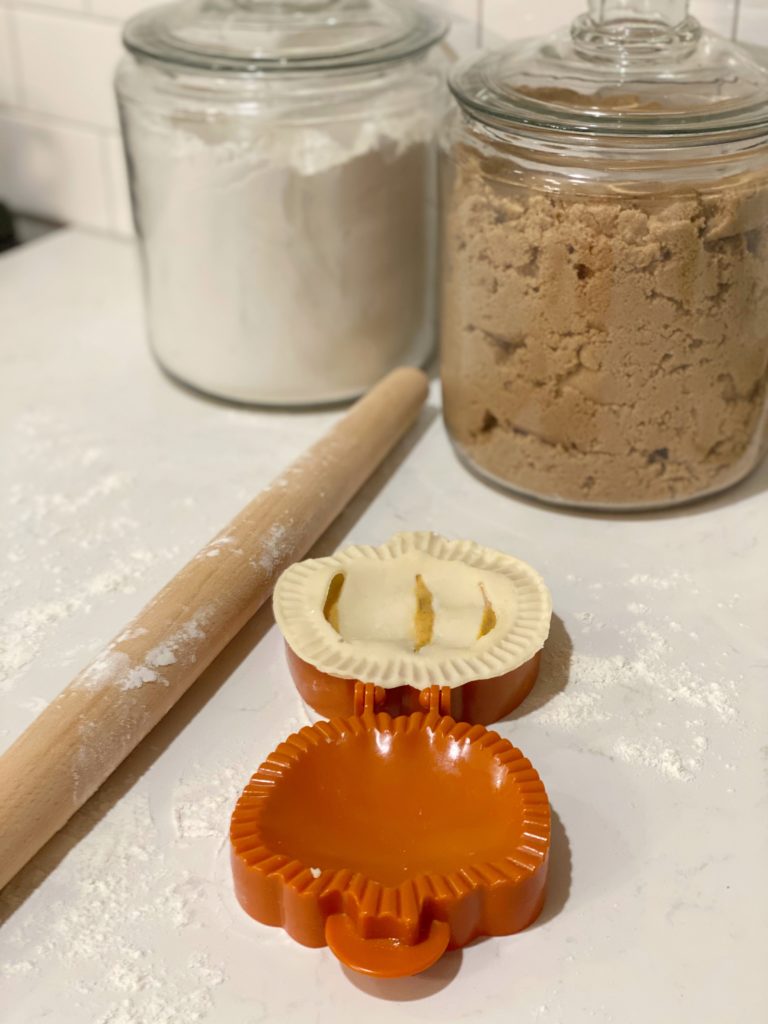 For baking this rolling pin HERE is the best I ever found!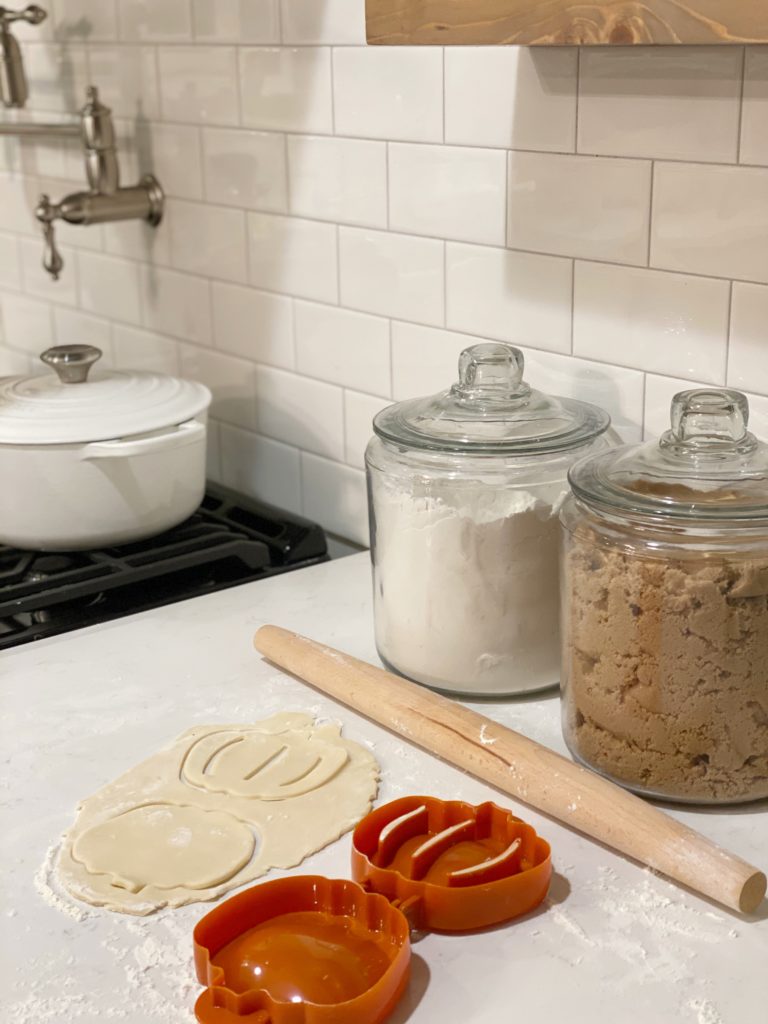 Ok, can you even with how cute these are!
Now that you are done making them its time to enjoy! Get the Whip ready!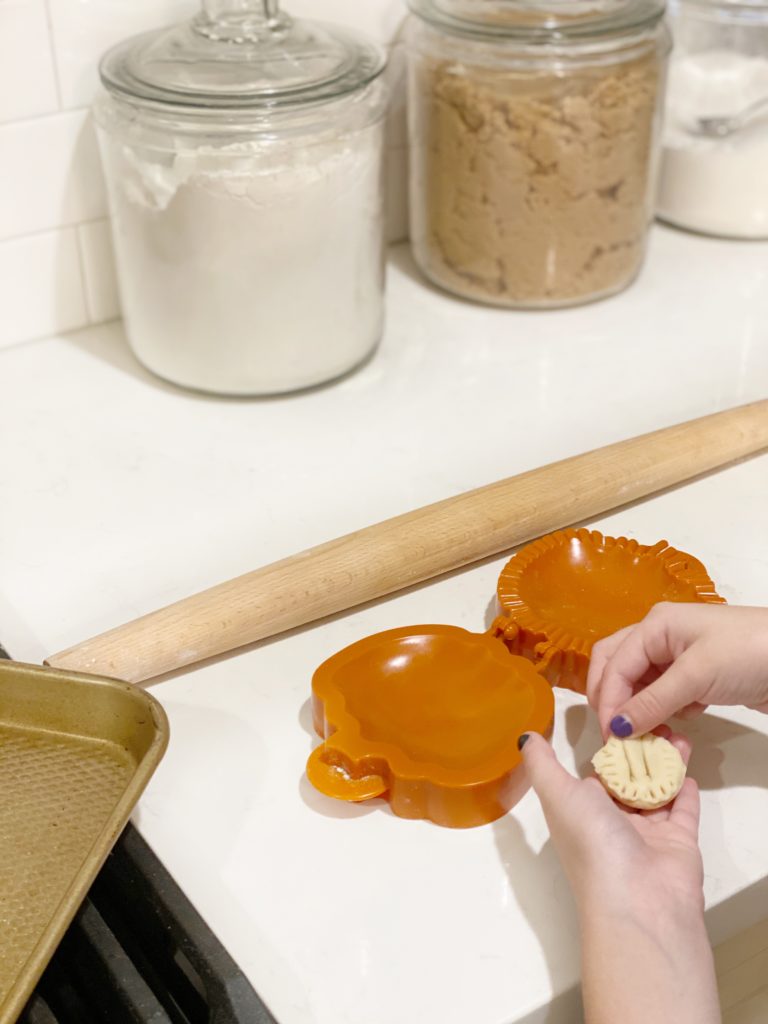 While I was finishing up my pies, Zoe took the leftovers and made the worlds cutest mini pumpkin pies!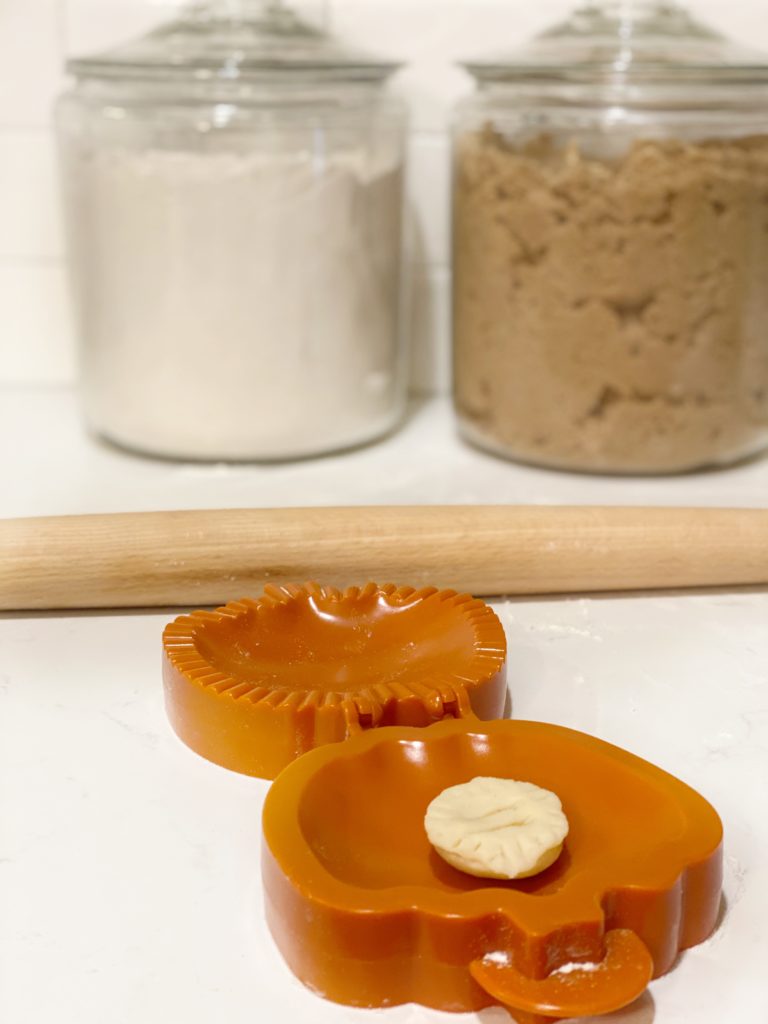 All the detail and thought into each of these, so creative and special .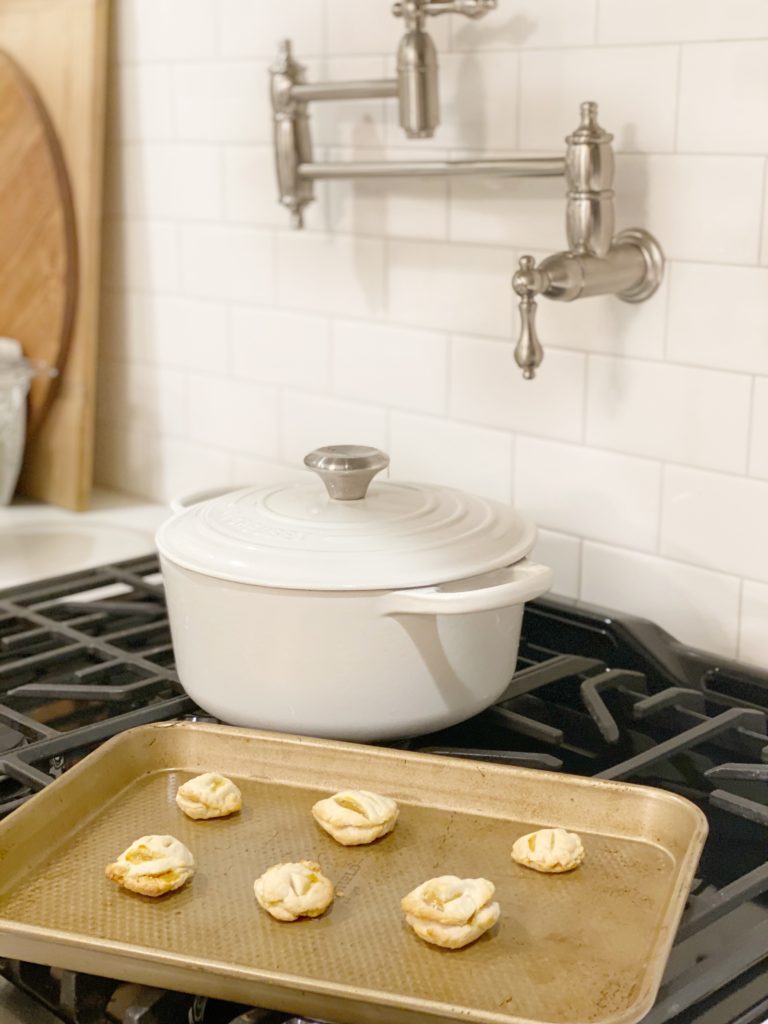 If you look closer you can even see the detail on the edges.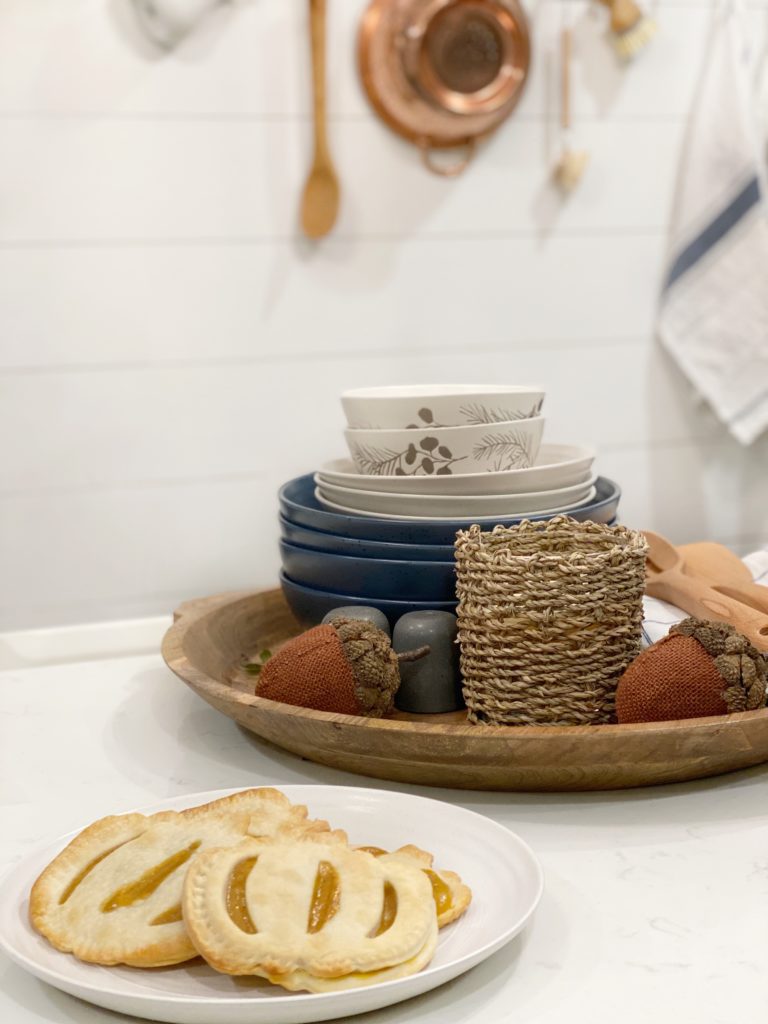 I hope you enjoyed seeing how we make Easy Mini Pumpkin Pies. Now are you ready for more inspo?? Check out these posts below for more!
17 Sweet Pumpkin Recipes

Pumpkin Banana Bread or Pumpkin Apple Bread? – My 100 Year Old Home
Spiced Pumpkin Cake with Espresso Frosting – Finding Lovely
Creamy Pumpkin Spice Latte – Satori Design For Living
Pumpkin Pie Muffins – Lemon Grove Lane

Pumpkin Muffins with My Secret Crumb Topping– Happy Happy Nester
Easy Pumpkin Roll Recipe – Jennifer Maune
Pumpkin Pecan Cobbler – Sincerely, Marie Designs
Pumpkin Pie Bars – My Sweet Savannah

One Bowl Pumpkin Olive Oil Cake – Modern Glam
Copycat Starbucks Keto Pumpkin Cream Cheese Muffins – The Happy Housie
Dairy Free Pumpkin Ice-Cream – Zevy Joy
Pumpkin Pastry Twists – Paint Me Pink

Low Carb Keto Caramel Pumpkin Cheesecakes – Tatertots & Jello
Pumpkin Madeleines – Most Lovely Things
Baked Pumpkin Cake Donuts – Inspiration For Moms
Easy Mini Pumpkin Pie – Dreaming of Homemaking
Pumpkin Cinnamon Rolls – Twelve on Main
TO SHOP THIS POST CLICK
ON ANY IMAGE BELOW: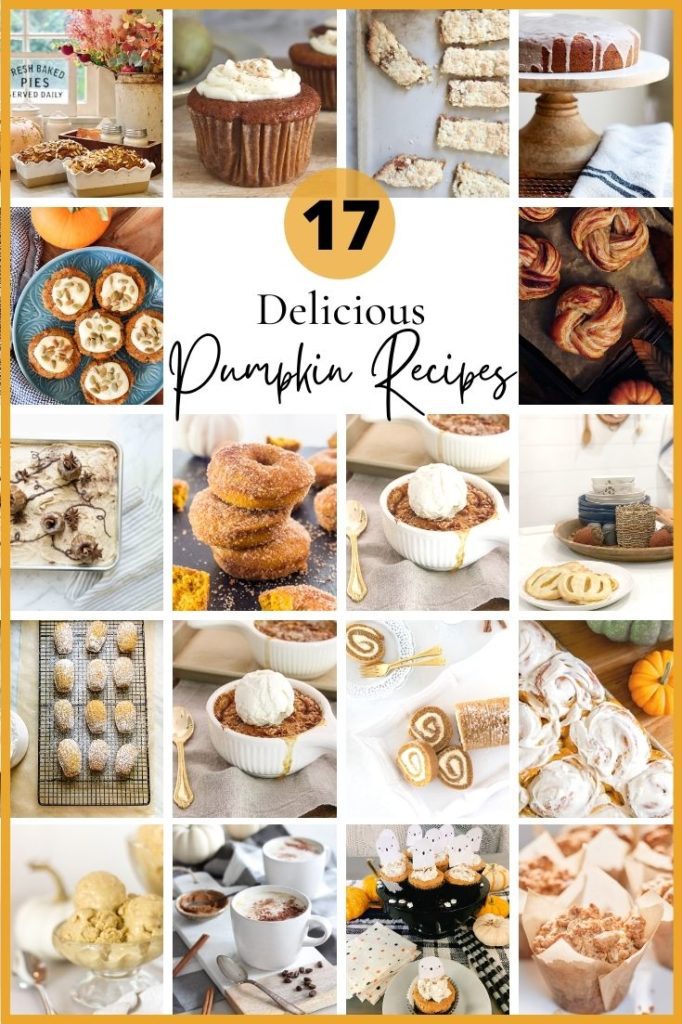 Easy Mini Pumpkin Pie
This is the best easy mini pumpkin pie! Even my kids and husband who are not fan of pumpkins love it!
Cook Time
10 minutes
8 seconds
Total Time
20 minutes
8 seconds
Ingredients
1 - Refrigerated Pie Crust Pack -    I used two and had more filling left!
 1- 15 ounce can of pumpkin
1 - 14 ounce sweetened condensed milk
1 Teaspoon Cinnamon
1/2 teaspoon nutmeg
1/2 reaspoon salt
1 teaspoon pumpkin pie spice
Whip Cream / Cool Whip for after
Instructions
Make sure your oven is preheated to 425.
Take out your pie crust from the fridge.
Mix pumpkin, eggs, condensed milk, eggs, cinnamon, nutmeg, salt, pumpkin pie spice together.
Once you mix, its time to start on the mini pumpkin pies.
Get your cutter/pan and press and get your shape.
Lay down flour in your workspace and lets begin!
Use your cutter and get your shape. Then fill with the pie filling.
Get your baking sheet out, and set your pies down.
Bake at 425 for 10 min, but check a few minutes before.
Once complete, remove and let them cool. Then DON'T forget the whip!

* Once you are done eating your pie, you can refrigerate any left overs for a few days and freeze up to a month!