Simple Fall Living Room Decor
Our family room has been through so many seasons, and what I mean is that it has been fun to see where we started and how far its came. Just last year I partnered with Bed Bath & Beyond, and I am so grateful to partner with them again for this space! If you check out the other blog post you can see it has come a long way… but lets look where we started then I will be showing you our Simple Fall Living Room Decor.
This is where we started the day we looked at our home, the first day we tore out this carpet and replaced it with a new one… since then we switched to a vinyl plank which we love! I will be honest, this room has always been a hard one for me, it used to be a garage, and has always felt like one… we did two big changes this year to it by moving a door, and now to taking out a window! Keep reading to see and for all the sources check out the end.
I really should title this post my favorite finds from Bed Bath & Beyond, since this whole room is filled with them! My newest ones are, let me start with the coffee table since its the first thing you see! Yes, I am adding color I know you all are shocked! I am loving it, but I kept the new Olivia Slip covered sofa neutral, it isn't a white but more of an off white and it is just perfect!
This coffee table fits the space just perfectly! My kids all love these floor pillows, and the pups too! I found this basket in store at Bed Bath & Beyond and filled it with some of my favorite things including this horse.
It is amazing what just changing out some carpet and paint could do for a space, and then adding your personal touch with furniture and pieces make it feel like home.
Here is an up close view of the table and floor pillows, you can even see the details of the rug.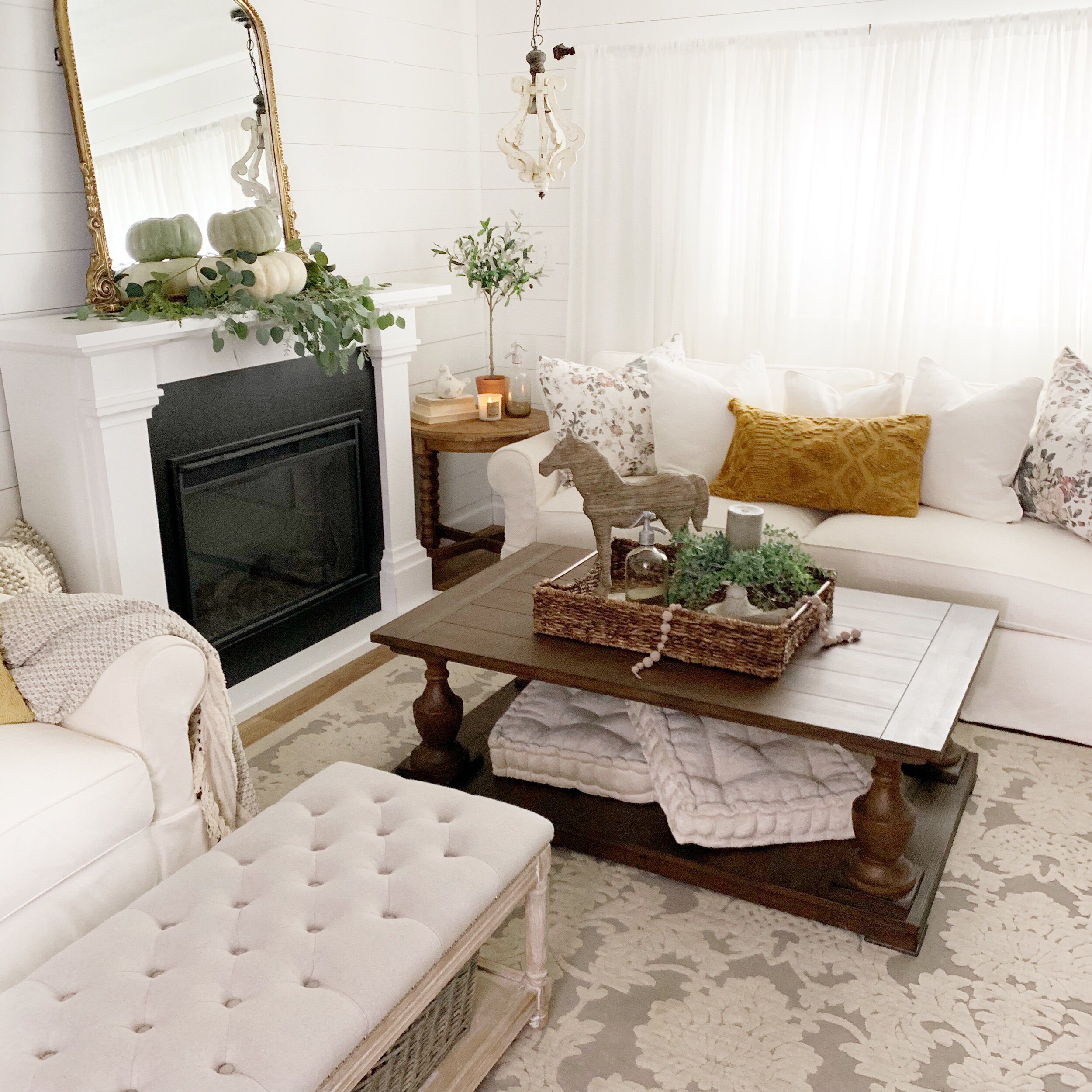 This rug, its one that I always come back to. It is so cozy and adds the right texture to any space.
I love burning candles, it makes the room feel so cozy and of course smells amazing the Bee & Willow ones are always so good!
I just realized I didn't turn on the fireplace for any of these photos, and that just means I need to take more because honestly its one of my favorite things about this room.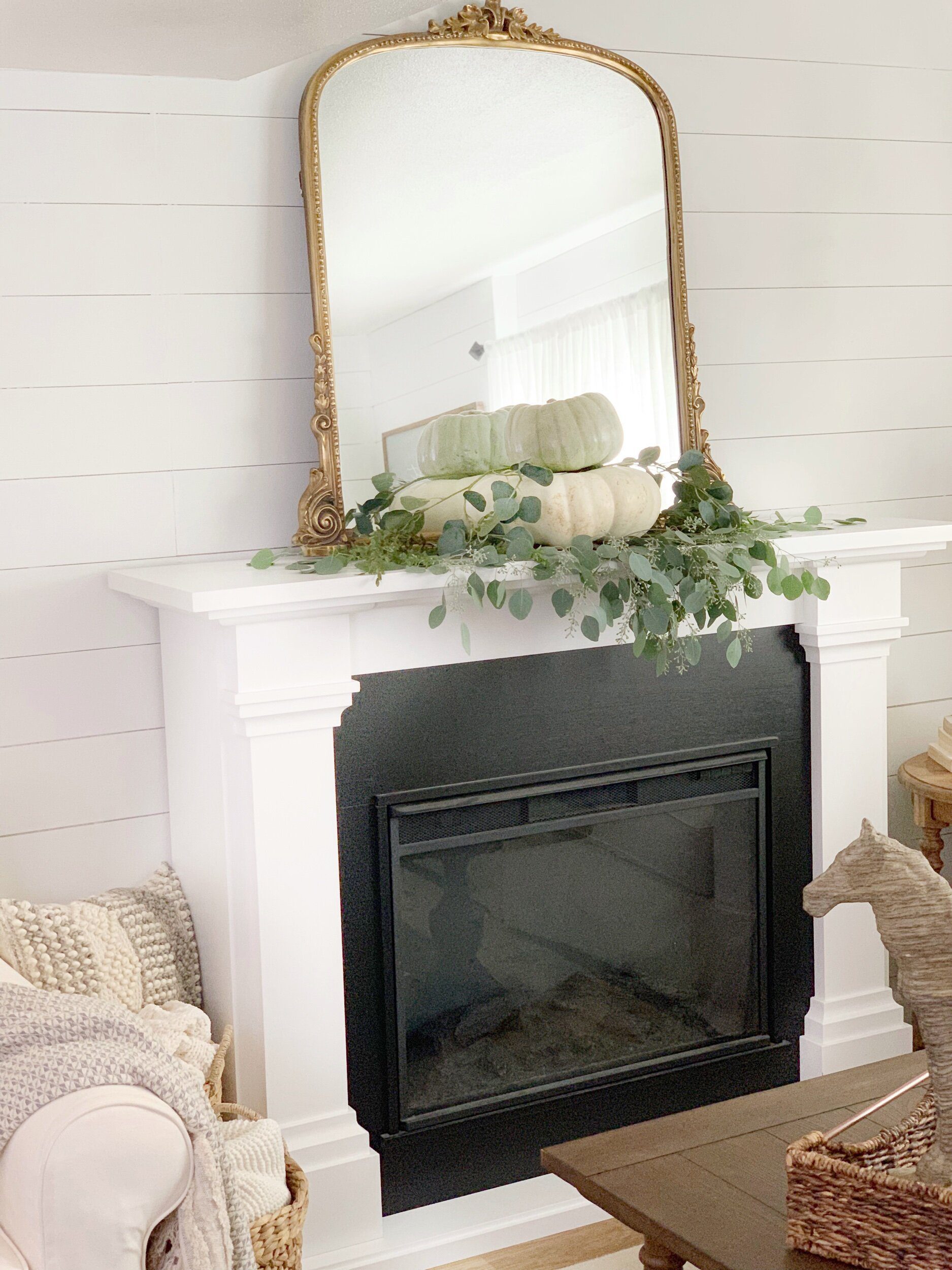 I wanted simple fall decor, so just added some real pumpkins and fresh eucalyptus.
I just love how cozy this room is, and while I was putting it together all I could think of was where the Christmas tree is going to go! Do you do that too? I cant wait to show you!
I couldn't find this tray online, but they had it in my store and it is huge! I might go back and get another so I can put both under the table for a change.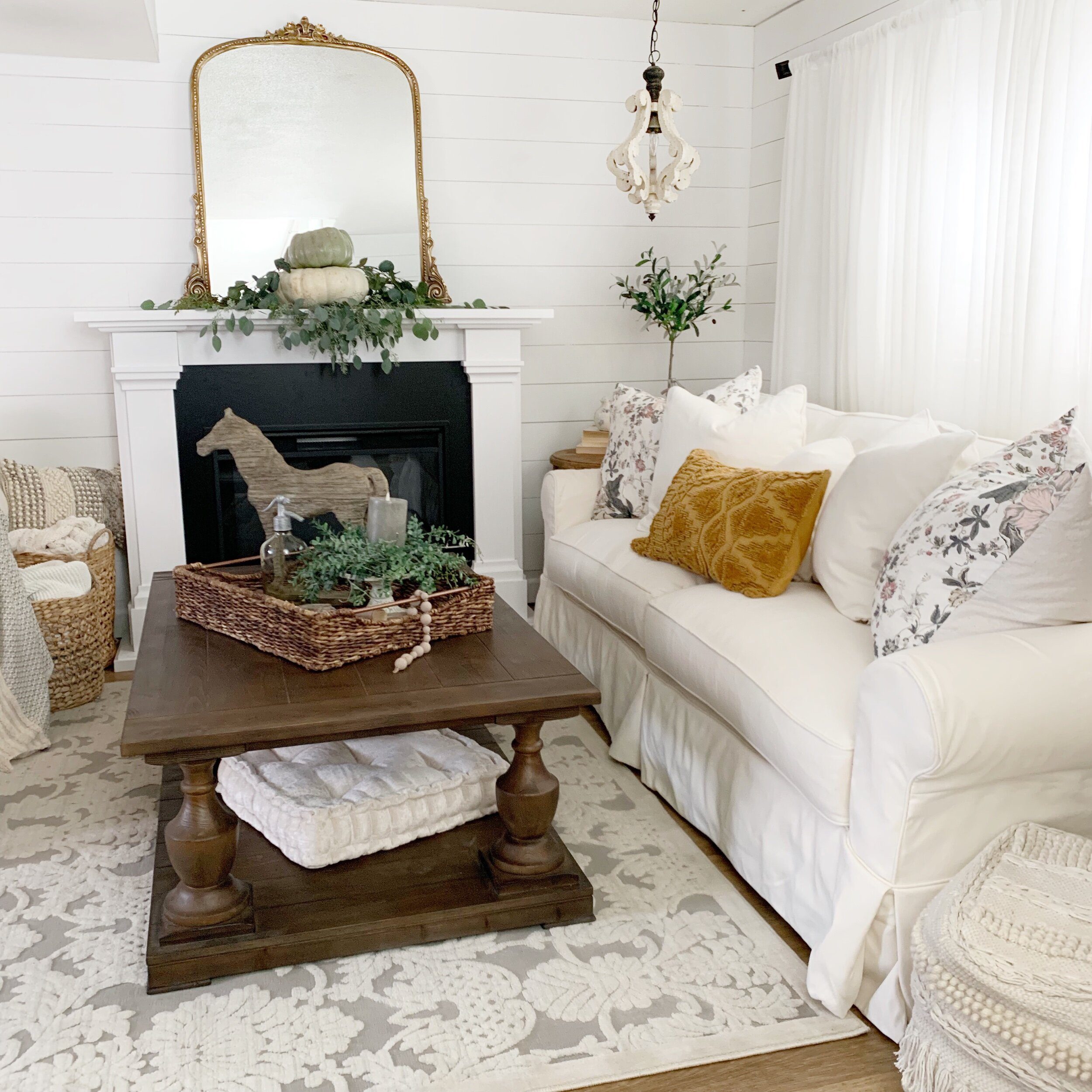 This Olivia Sofa is not only gorgeous but so comfortable. When choosing a sofa I make sure it has slip covers for easy clean up, this one is down filled so you can imagine how cozy!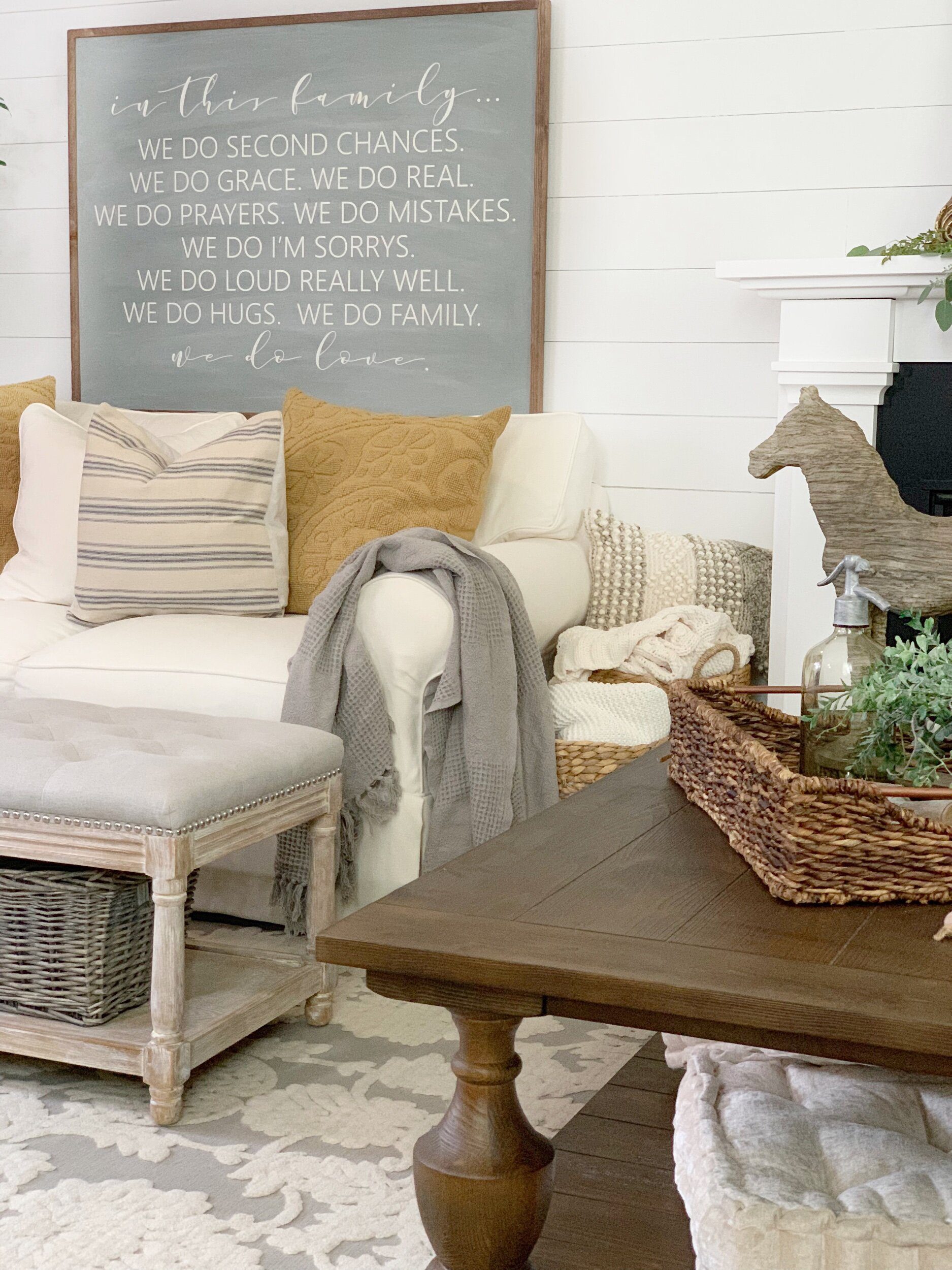 I love adding lots of textures, in pillows and blankets it helps make your space feel cozy!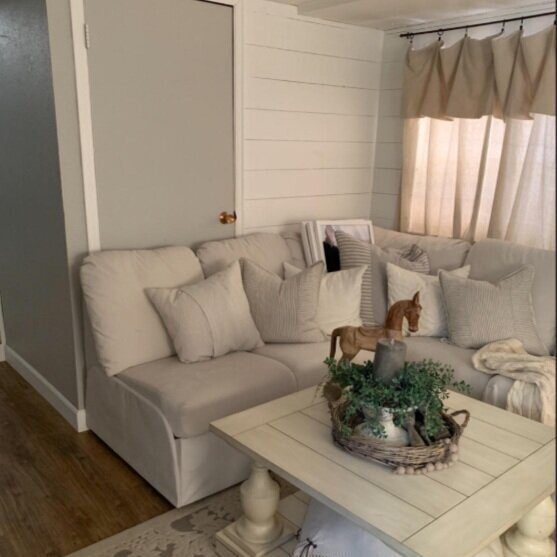 Here is another before and after for you! The photo on the right was earlier this year, we moved this door and what a difference it made. I was hoping it would make this room complete but one more project needed to be done – and covering the small awkward window was it! Isn't it crazy what a difference it made? It makes the room seem so much bigger!
Here we are back to the cozy textures and my favorite seagrass baskets! I filled them with the Bee & Willow throws, and the Magnolia pillow.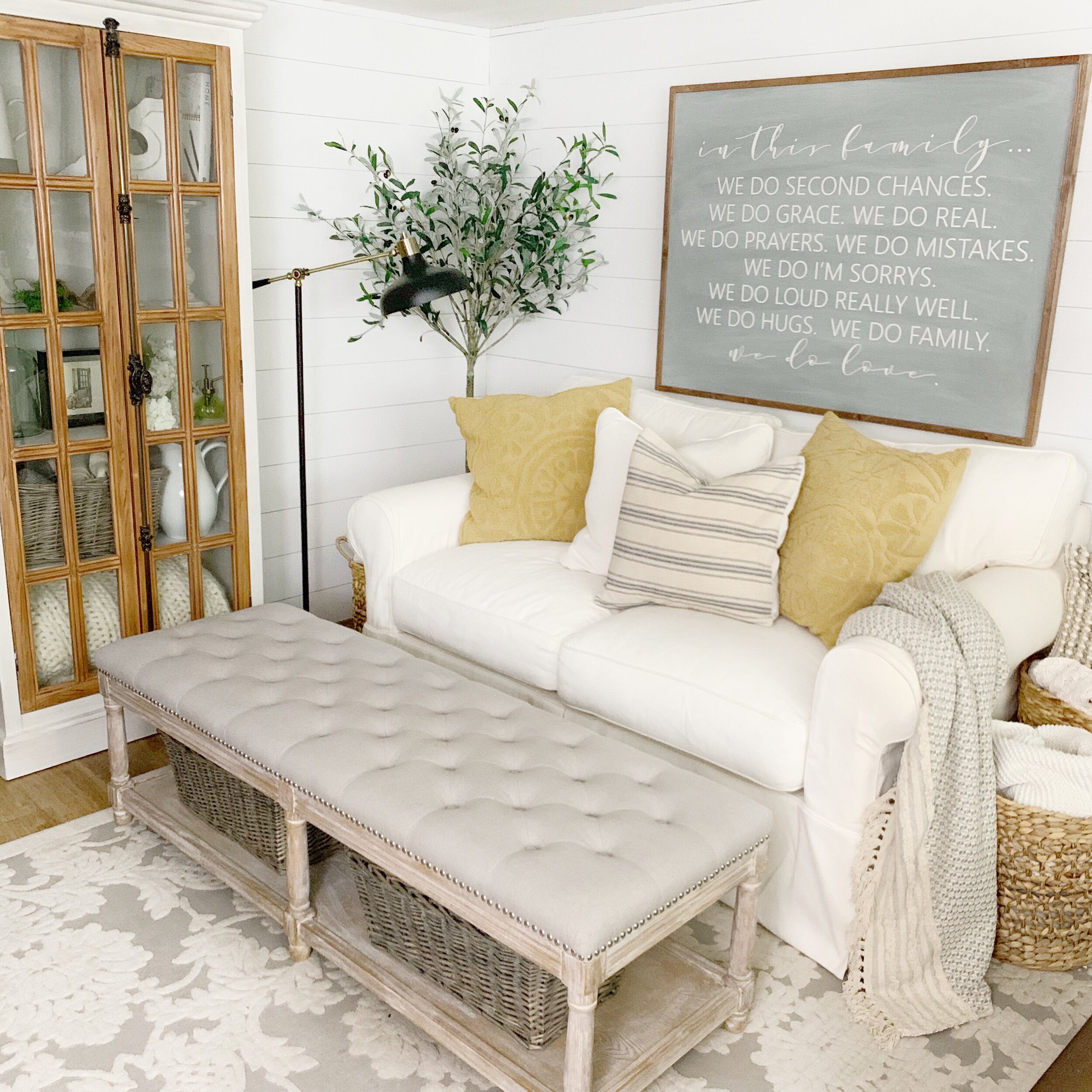 This is the Olivia Love seat, and just like the sofa it is so incredible! Honestly I wish they sold slip covers for it, because they have this gorgeous blue set that I loved! I have shared so many of my favorite pieces, and I have linked them below for you. I hope you love seeing before and afters, I have lots more coming for you along with how we transformed our spaces.
Sources :
I have placed all the links below, you can click on each item.
Olivia Sofa
Olivia Love Seat
Bee & Willow Cable Knit Throw
Floor Pillow
Magnolia Home Mackie Throw
Magnolia Home Joslin Pillow
Horse Figurine
Sea Grass Basket Set
Nourison Graphic Illusions Rug
Rectangle Table
Fireplace
Rose Garden Curtains
Cabinet
Bench
Baskets
Side Table
Thank you Bed Bath & Beyond!