Fall Decor Ideas – Bed Bath & Beyond
Happy First Day of Fall! Ready to be inspired? I am going to share with you some fall decor ideas and my favorite finds from Bed Bath & Beyond.
*THIS IS A SPONSORED POST WITH BED BATH & BEYOND, ALL THOUGHTS AND OPINIONS ARE MY OWN. THANK YOU BED BATH & BEYOND FOR SPONSORING THIS.
Can you believe it's the first day of fall? I am starting it off right with a cup of warm cider with whip cream! Currently I have some chili cooking in my all-clad crockpot, some bread in my dutch oven and waiting for my kids to wake up so we can have some waffles!
That is the way to celebrate the first day of fall right?
Something really fun today I am sharing all my favorite fall decor finds from Bed Bath & Beyond! If you have followed along for awhile you know that it is one of my favorite stores because it always makes it so easy to feel at home and today I will be showing you even more why!
This year I have really wanted to make sure when decorating to do more simple, but use items that have a purpose at the same time. You can see that I added pops of colors by using the dishes from the Bee & Willow line.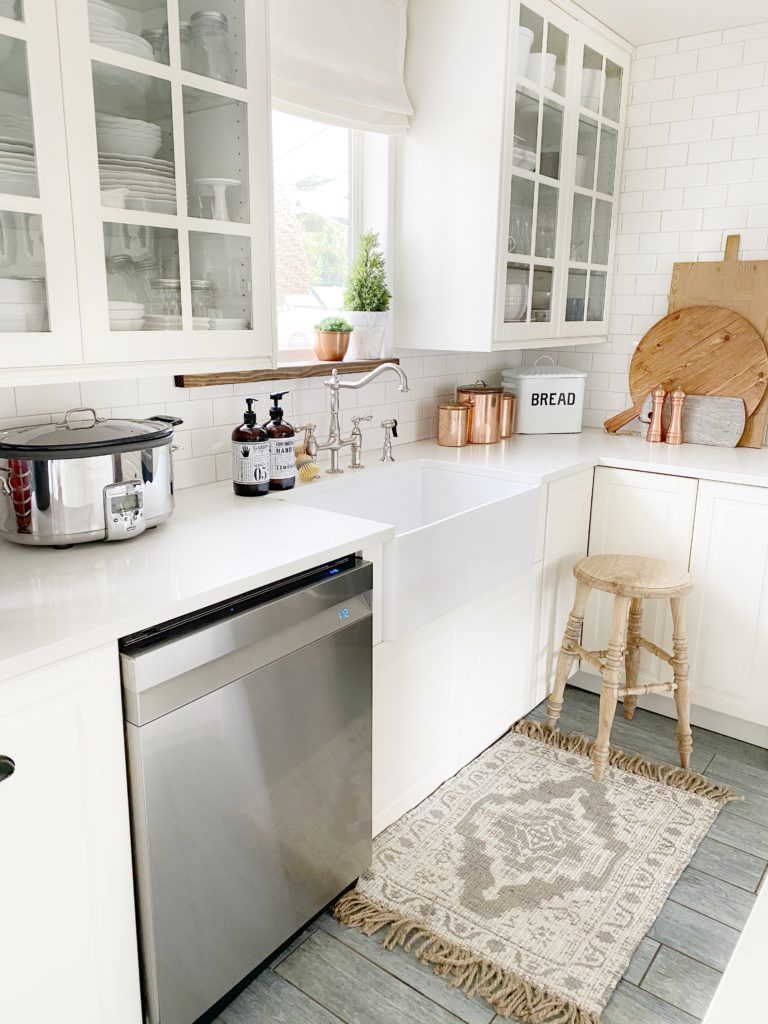 All- Clad not only makes amazing pots and pans, but this crockpot is amazing! I will be sharing my favorite chili recipe soon!
Apples always remind me of fall, one of my favorite memories is going to the apple orchard every time the leaves started to change.

I found this amazing fruit bowl from Bed Bath & Beyond, it has a beautiful wood bottom and I love that you can see through it.
Let's go more into detail of the centerpiece in a bit, but switch focus to the peg rail wall.
I love THESE romantic blue glasses I have them in clear and they are perfect for any occasion.
This Grey pumpkin is one that can take you into Thanksgiving, it would be perfect even on a table.
This wall was always a hard space since it is so narrow in front of it. This peg rail wall with shelf on top was the perfect fit!

It goes along with my theme of using items that are purposeful. I added some towels that are the Artisanal Kitchen Supply and the aprons are too just the right touch if fall decor.
Typically I am not one who goes for orange wreaths, but this one just spoke to me and I love the warmth and dimension of it. You can find it HERE.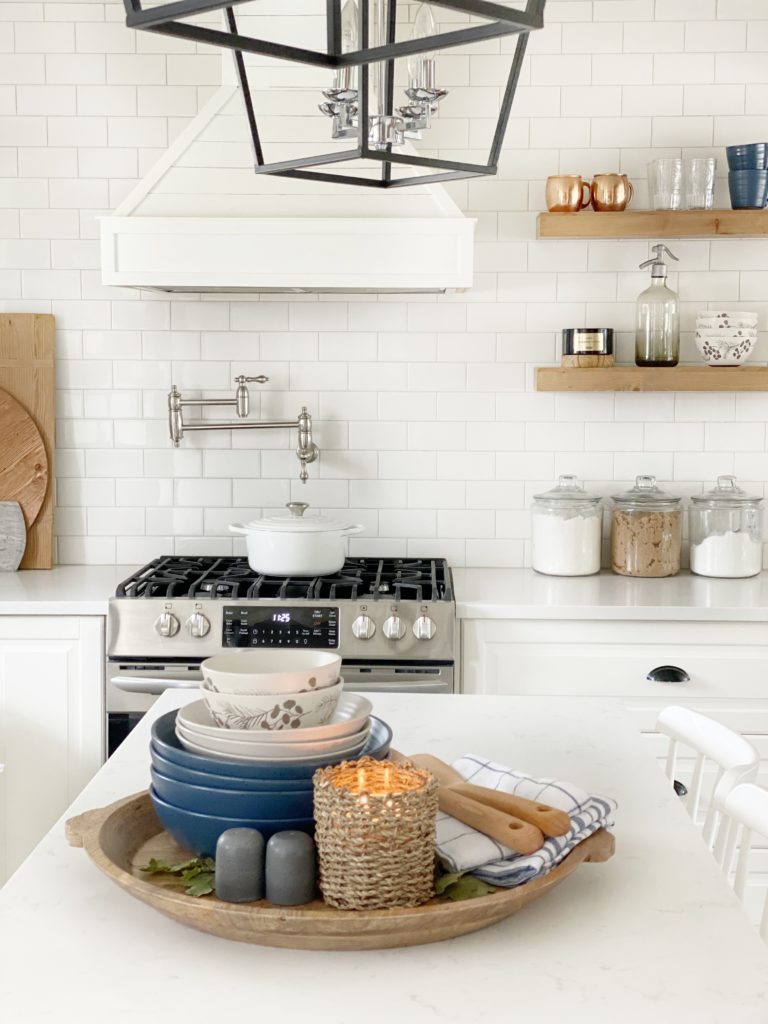 Now let's talk about this centerpiece on my island.
My kids love to grab bowls, so what better than to have them out easy! They love the big blue ones from the Bee & Willow line do you know how much cereal they can hold – A LOT!
These candles are amazing!! I not only love the scents, the actual sea grass basket is a fave!! You may see a few more in my photos as you scroll down.
I added some leaves for a fall touch – see simple can be beautiful!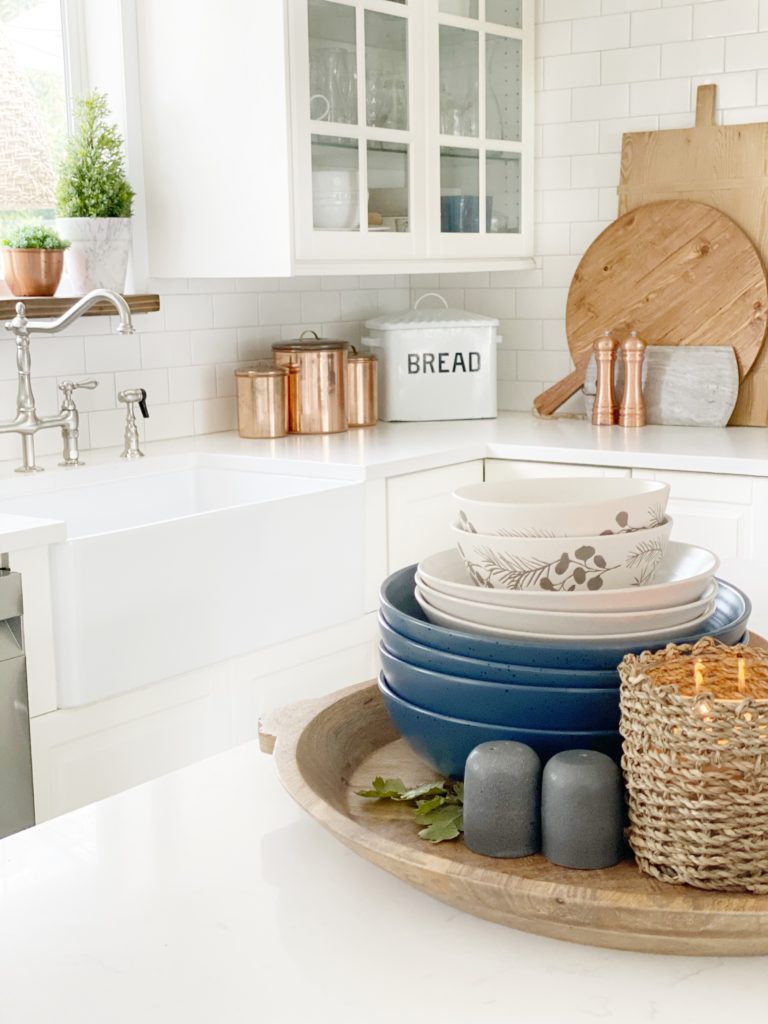 Can you get enough of these cute salt & pepper shakers? These are part of the artisanal kitchen supply from Bed Bath & Beyond.
I picked up this sink mat when I ran into Bed Bath & Beyond it is the perfect thickness and it will make sure my sink does not get marks.
Have you made dutch oven bread? It is the best and so is this matte black dutch oven you can find HERE.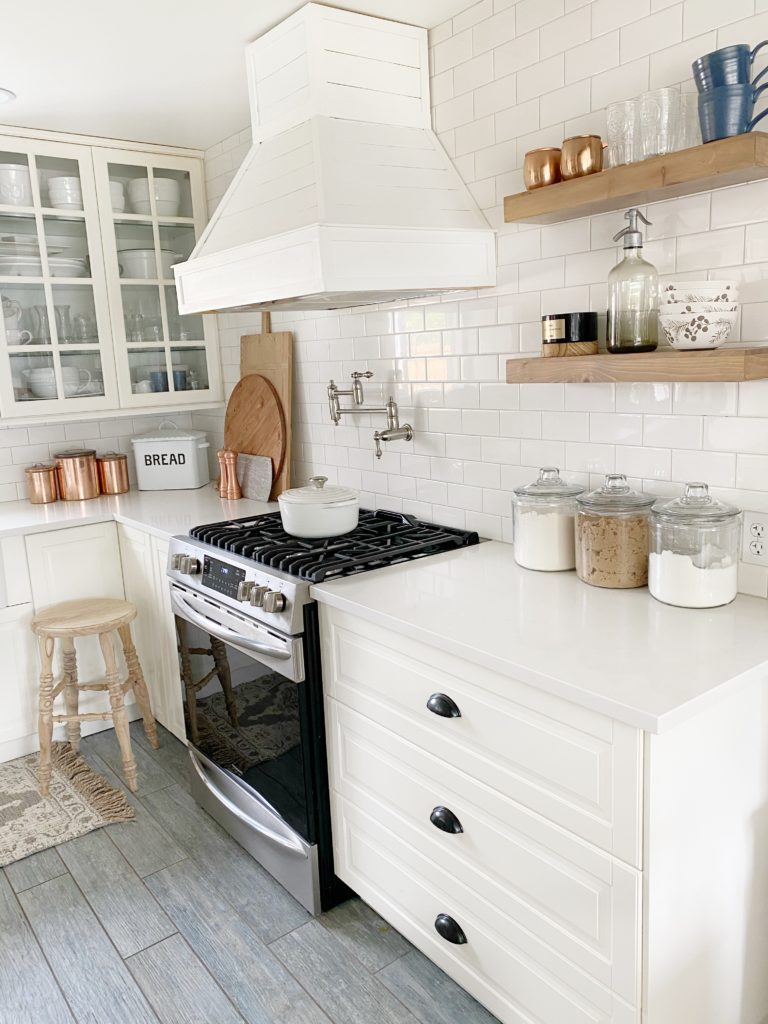 The copper canisters are finally back in stock at Bed Bath & Beyond, click HERE for the link.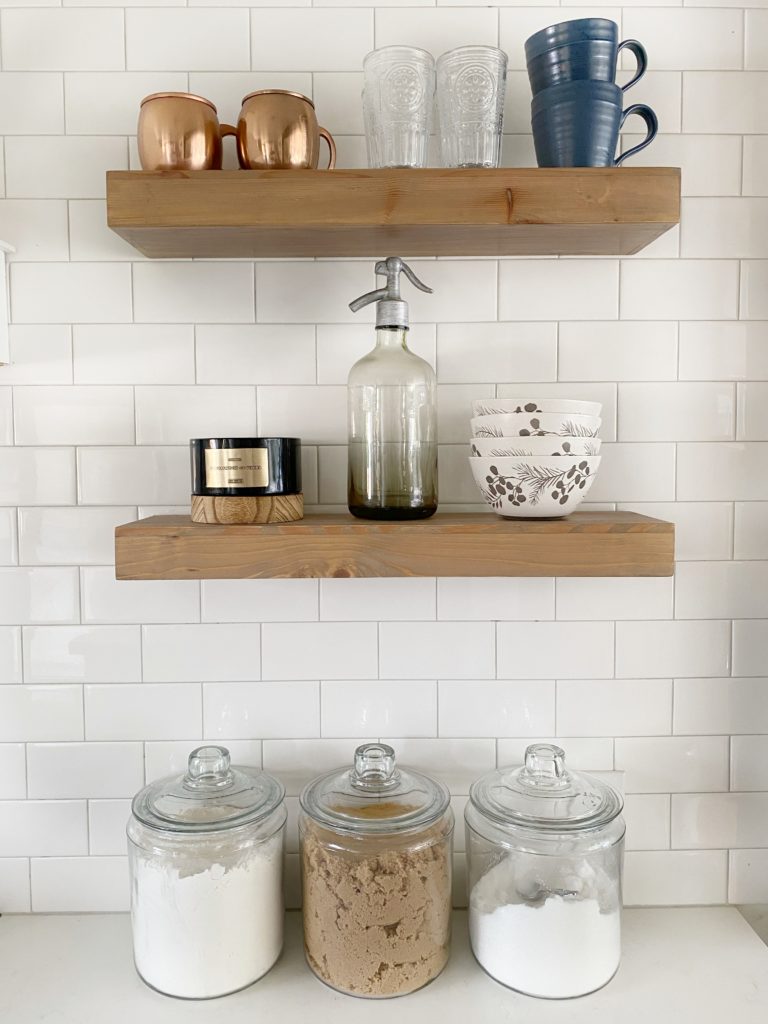 I styled my shelves using all things I use, but then added a pop of color for fall. I love the bowls and the leaves on them.
Ok, you know I don't drink coffee but, we have a keurig! I can't even tell you how much we use it this time of year. We love hot cocoa and apple cider.

In my Bed Bath & Beyond store, my best kept secret is all the fun "food" finds I find like these cookies – SO GOOD!

We even found these mini syrups to add to our hot cocoa!
Did I mention how cute this little Bee & Willow Cane storage cabinet is! I have some cookbooks and extra place settings in it and its perfect for our keurig!
While we haven't been gathering with friends we have been enjoying our meals together here as a family. I love all the pieces I find at Bed Bath & Beyond and treasure them. Each piece I find and bring home will now tell a story.
For a fun touch of fall decor I added some pinecones! It would be fun to turn these into little place cards if you have guests.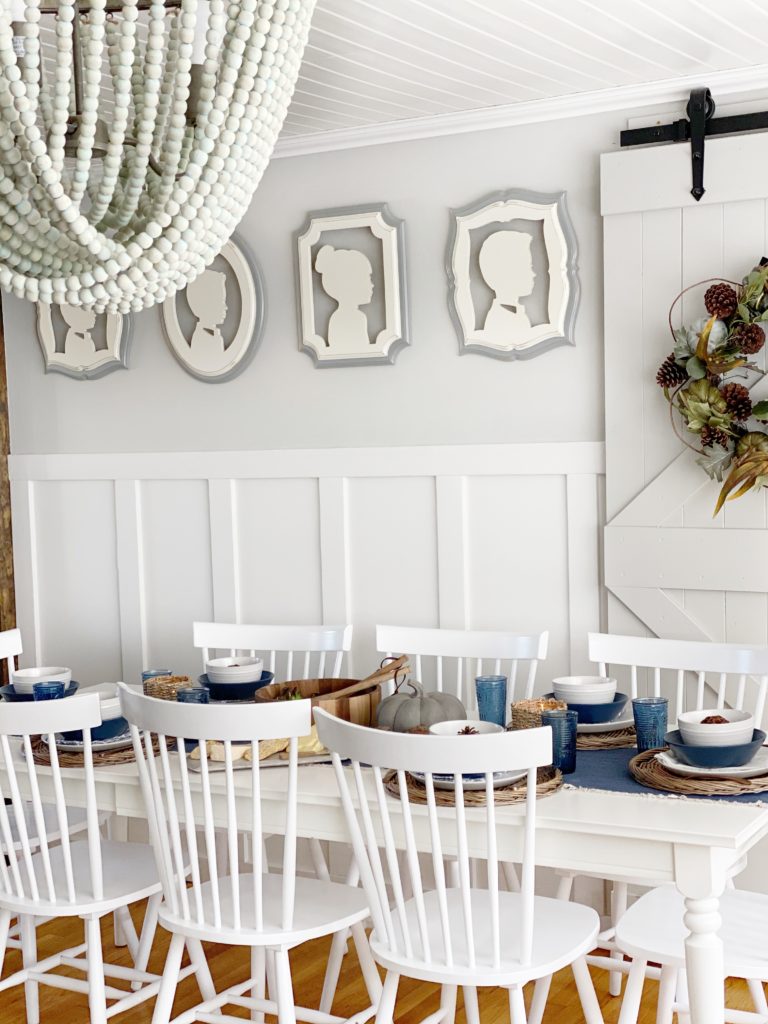 Not only are all the items on the table from Bed Bath & Beyond but these chairs are too!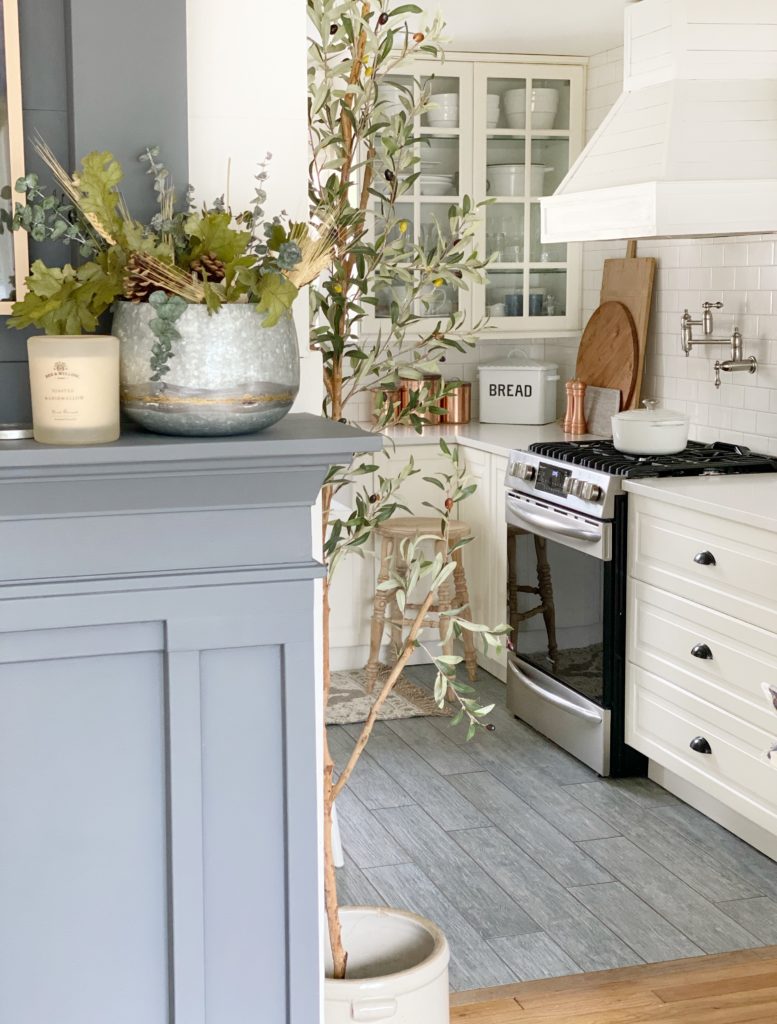 I hope you enjoyed seeing our fall decor and how we decorate the simple way, using items that are practical and beautiful. I love going to Bed Bath & Beyond to find pieces that not only allow beauty but function.
On each photo below just click on each photo to shop. If you are ordering online make sure to check out their curbside pick up! I was able to try the service and it makes shopping so easy!

Stay tuned to see more of my dining space and the recipes I used today.