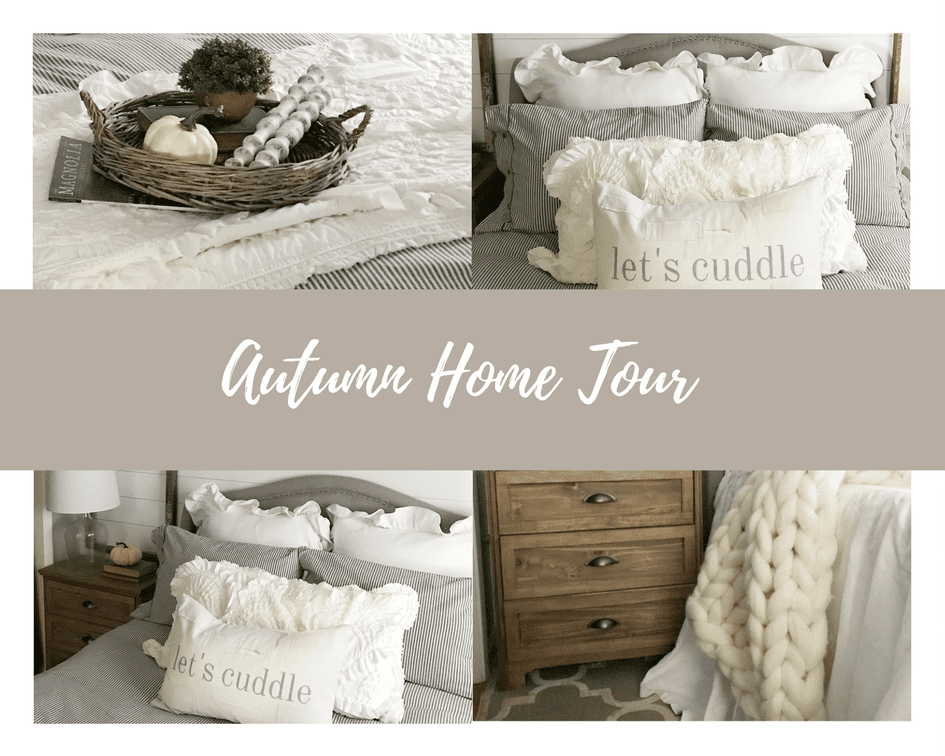 I love being able to give a glimpse into each room in our house, and today you will see our bedroom all ready for fall! While this room maybe one of the smallest in our home it is surely the coziest and filled with so much love. You will see the pretty photos, and while it may look that way for part of the day… you will typically find 4 kids and a dog , playing, watching a movie, or hiding under the covers.
Today I am joining up with a group of talented bloggers, so make sure to check out there feeds at the bottom of this page!If you are visiting from The Inspired Accountant Welcome!!
Now for a peek into our room, and really if you stand in the doorway… you see it all because it is little <3
I love the simple touches of fall, that can make a room fit in the season but not be to much. I will be sharing all the details of each photo and where the items are from so you can recreate in your own home.
The sign in this room is so fitting, because living in a small home you really appreciate the closeness – even though somedays I am sure we would like more room… and one day we probably will have more and then miss it! Between You and Me Signs does such a great job at her signs and each one has such a great meaning.
What you don't see in this corner, is that this is my husbands desk where he works from at home once a week. I have tried to give him a bigger space with more room but he likes his little cozy corner ( well when its not filled with pumpkins)
I just love the bedding in here, I wanted to mix feminine and masculine and I think I found a good mix! This "lets cuddle" pillow is from With Lavender and Grace they are the softest pillows ever and I love the little patches! The ruffle pillow behind is from Anthropologie and was a splurge for me, but with giftcards from my birthday and a coupon the bedding was a must! ( It does say dry clean only, but I have found a way around that… because with 4 kids and a pup you know it doesn't always stay white!) The ticking bedding is from Ikea, and well it was inexpensive for bedding and adds the perfect depth! And last but not least the Sarah Bedding from Purple Rose Home , you can see the wonderful ruffle euro shams and then when I show the full bed you can see the bedding underneath and the beautiful ruffles that go to the floor.
One thing I wanted when we redid our room, was for it to be able to change by season. I think when I design a space I think of what the area can be like for Christmas and go from there. I wanted this room to be able to do that, so this shelf was the perfect addition. I will have a tutorial up soon for the shelf, but for now you can see it decorated for fall! It is so nice at night to have the candles on ( battery operated of course) and see the glow and the setting it makes!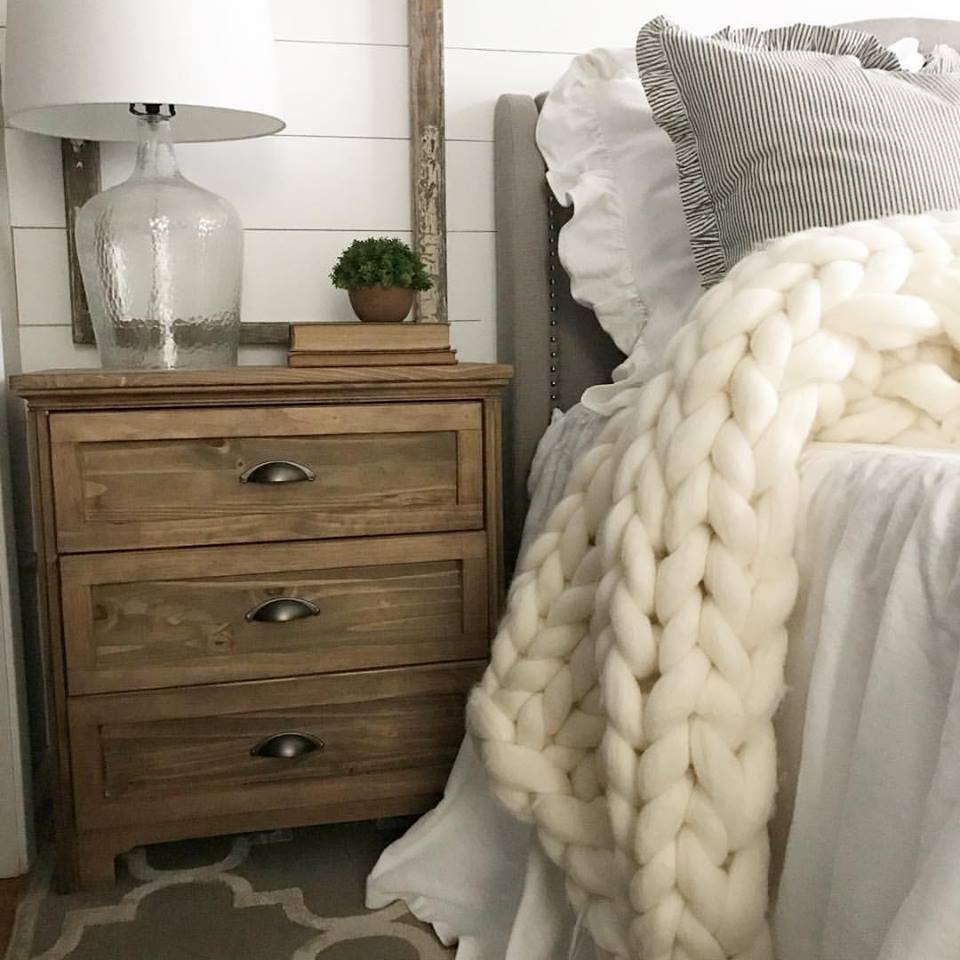 Now what would fall be without a chunky cozy knit blanket, you can purchase them from Artizen Home and you will be happy you did! If you missed my DIY on this Ikea Rast Hack just check under my DIY section!
I hope you enjoyed this tour, I will be sharing some more soon and end the season with a round up of my tours!
I am going to go curl up in my bed with some hot cocoa and check out these other wonderful tours listed below, first up is my friend Carrie with A Carried Affair Blog!
Thanks for visiting!