Mason Jar Berry Trifle with Pancakes
Mason Jar Berry Trifle with Pancakes is a fun new way to make our favorite Fourth of July tradition! These are so good and pretty too!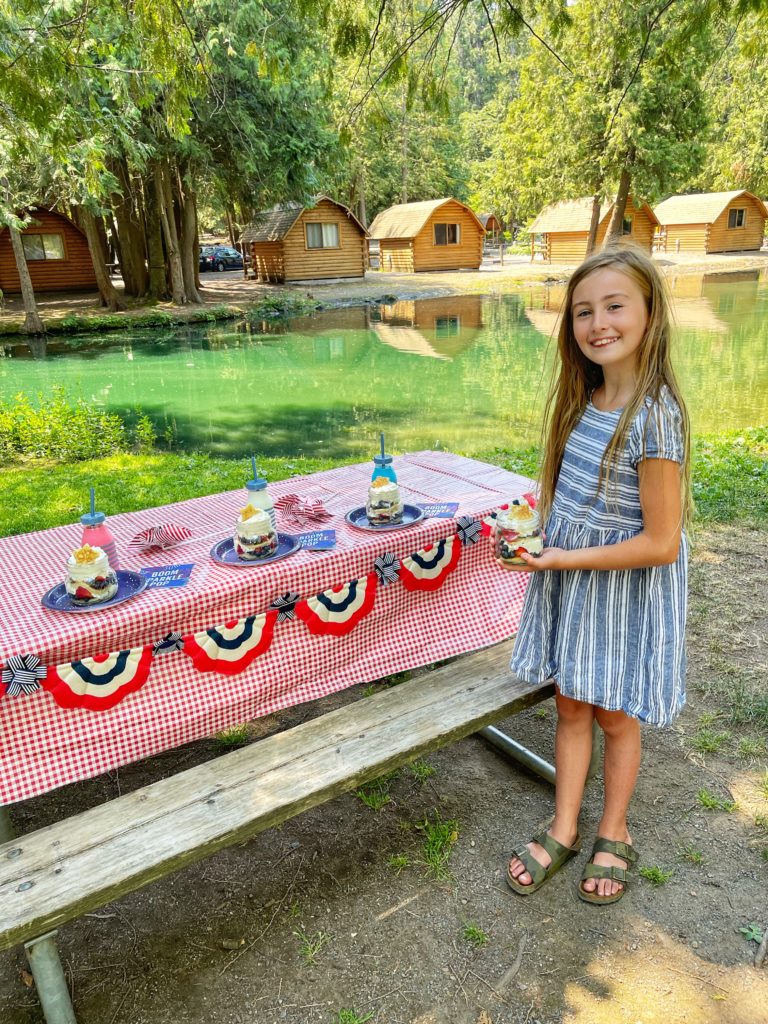 This year is a bit different for us, and the kids were worried we wouldn't do our normal Fourth of July tradition making our mason jar berry trifles with red white & blue milk. I am glad we remembered in time that our stuff was in storage – so we grabbed all the goodies and got to work – this year with a twist pancakes from Krusteaz!
What you will need for Mason Jar Berry Trifle with Pancakes :
Jars
Krusteaz Pancake Mix
Strawberries
Blueberries
Whip Cream

* Optional cookie cutter for fun top!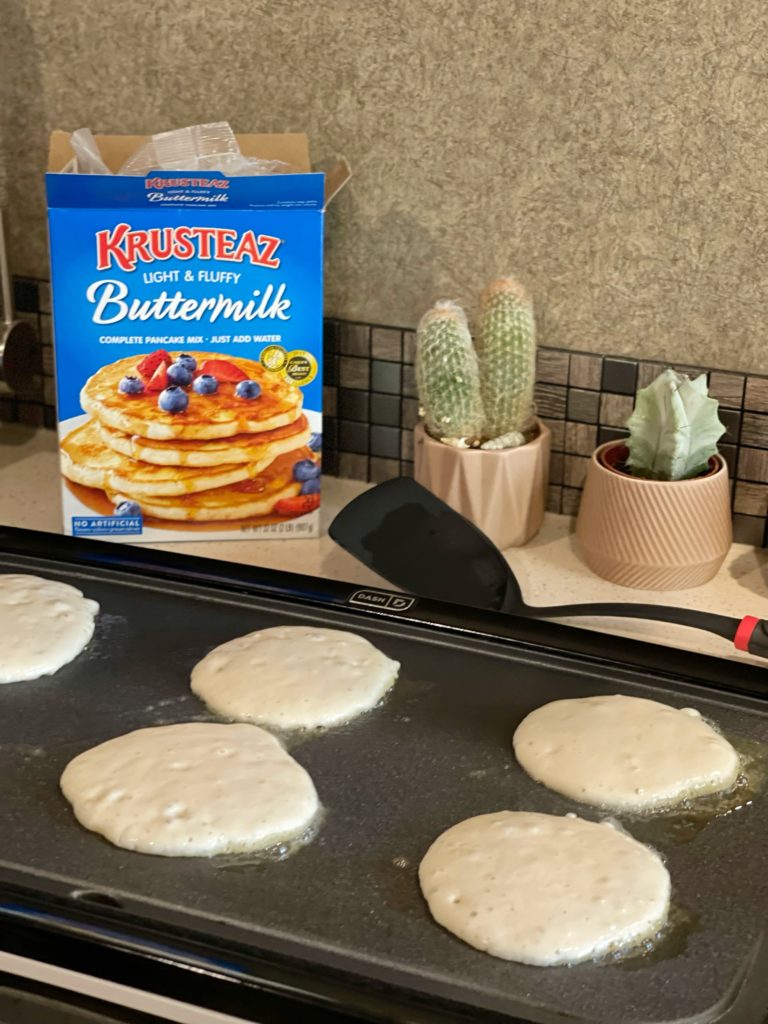 First you will mix your pancake mix, the easy thing with Krusteaz just two ingredients! Our secret for the perfect golden and tasty pancake is putting butter on the griddle each time!
Do you see that golden color, well they taste even better than they look!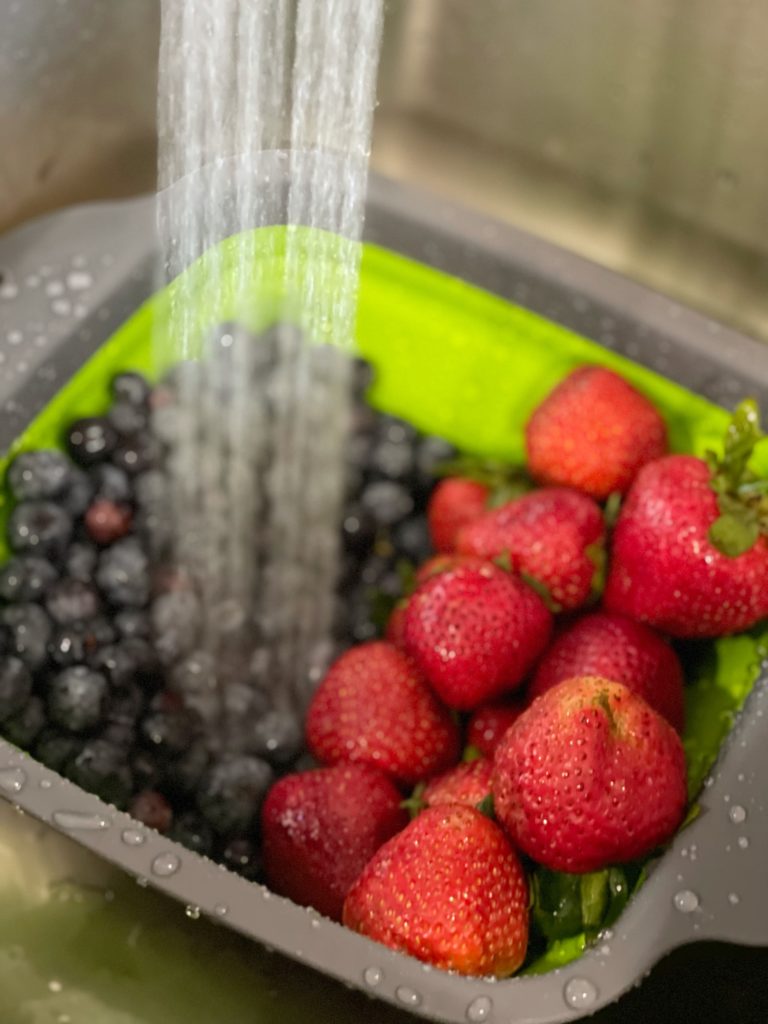 While you are making your pancakes you can prep your berries! I always rinse, then time to cut the strawberries!
My kids have been getting red white and blue milk every Fourth of July since they were little, we realized we didn't have our normal milk bottles but these will do!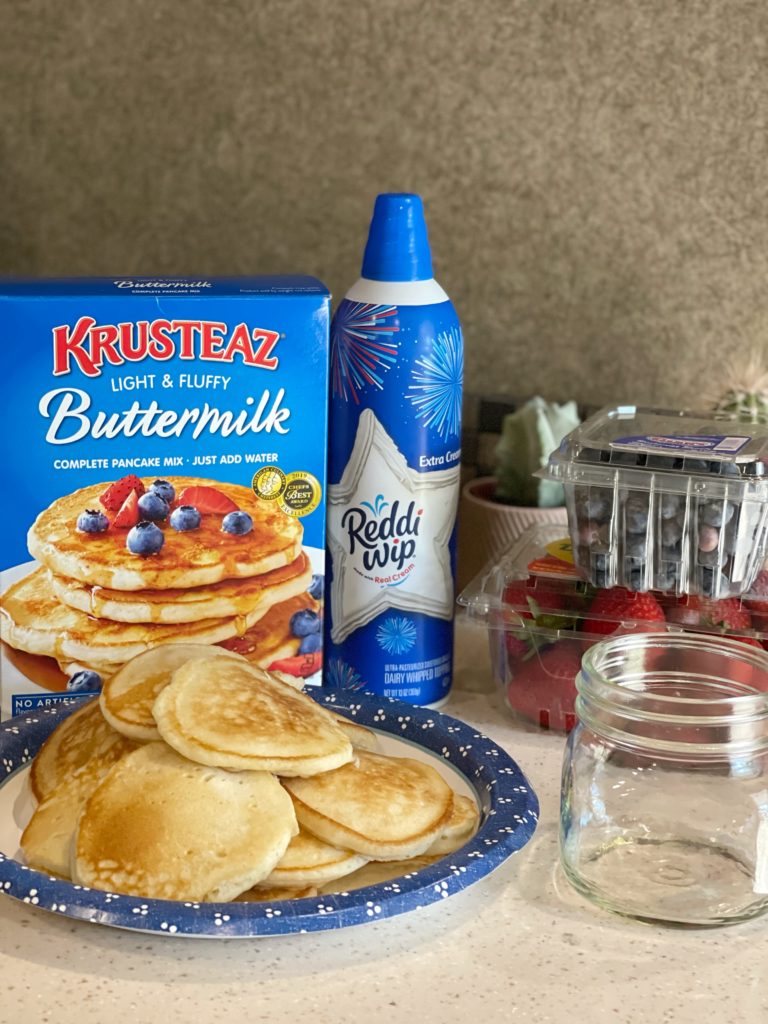 Now it is time to assemble the mason jar berry trifles! For your pancakes they don't need to be warm for this. Yuo can however make them warm – but the whip cream will melt quickly.
Place your pancake in the mason jar.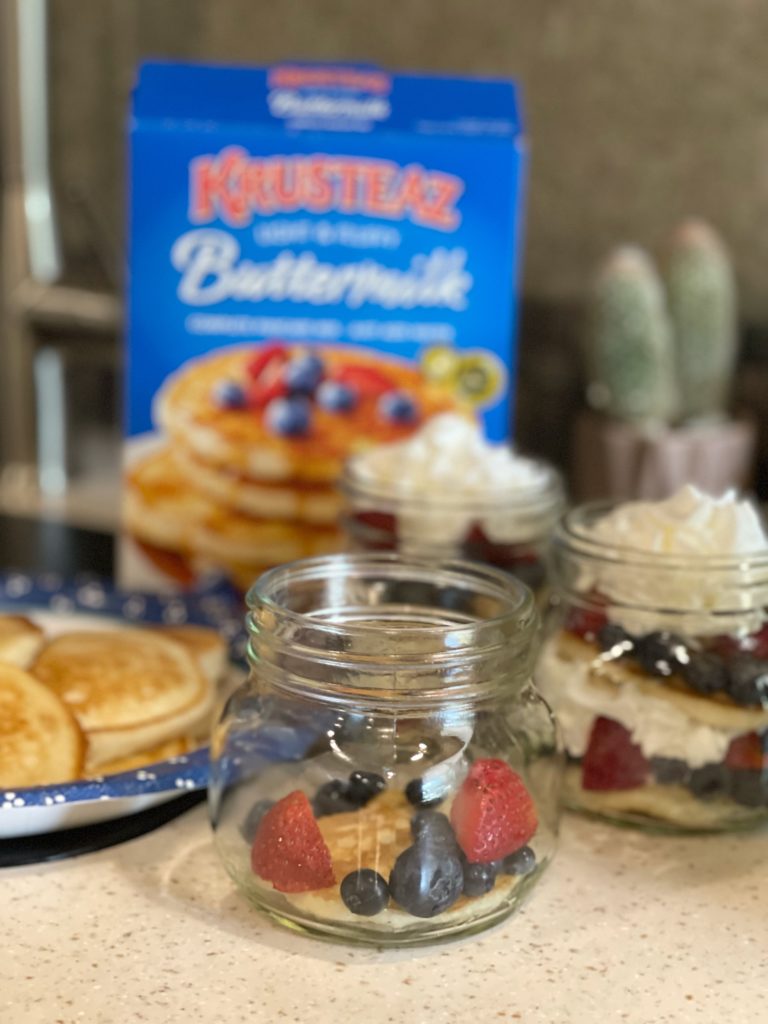 2. It is time to place the berries!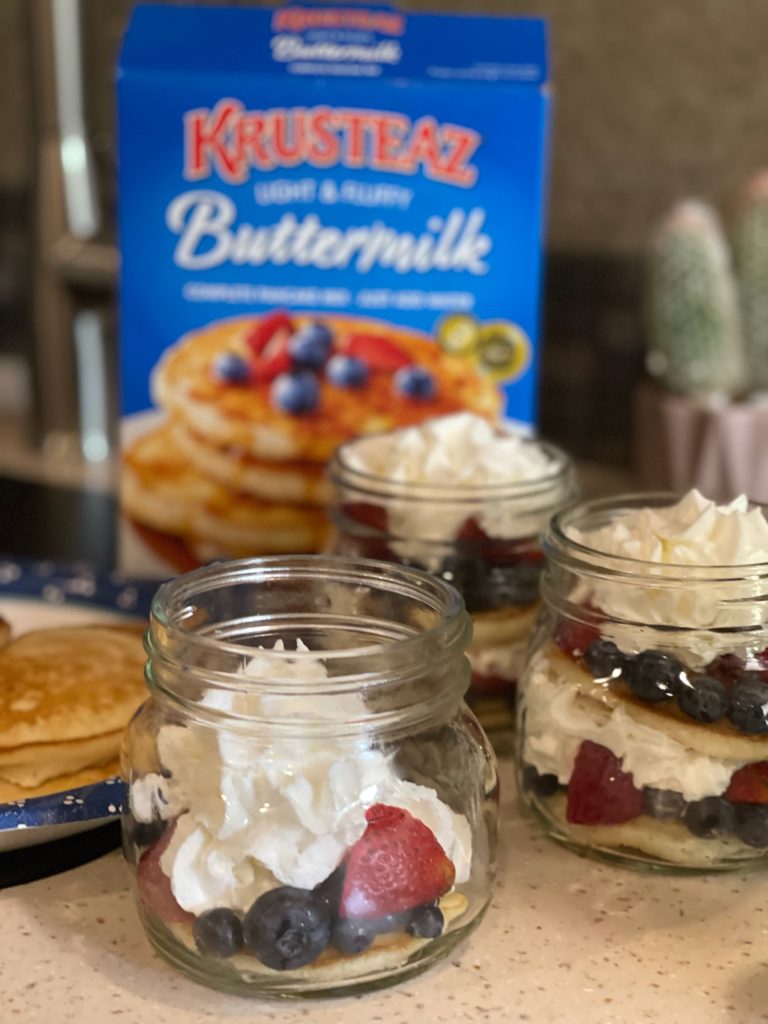 3. It is time for the whip cream.
After you are done with this layer keep repeating till you fill the mason jar.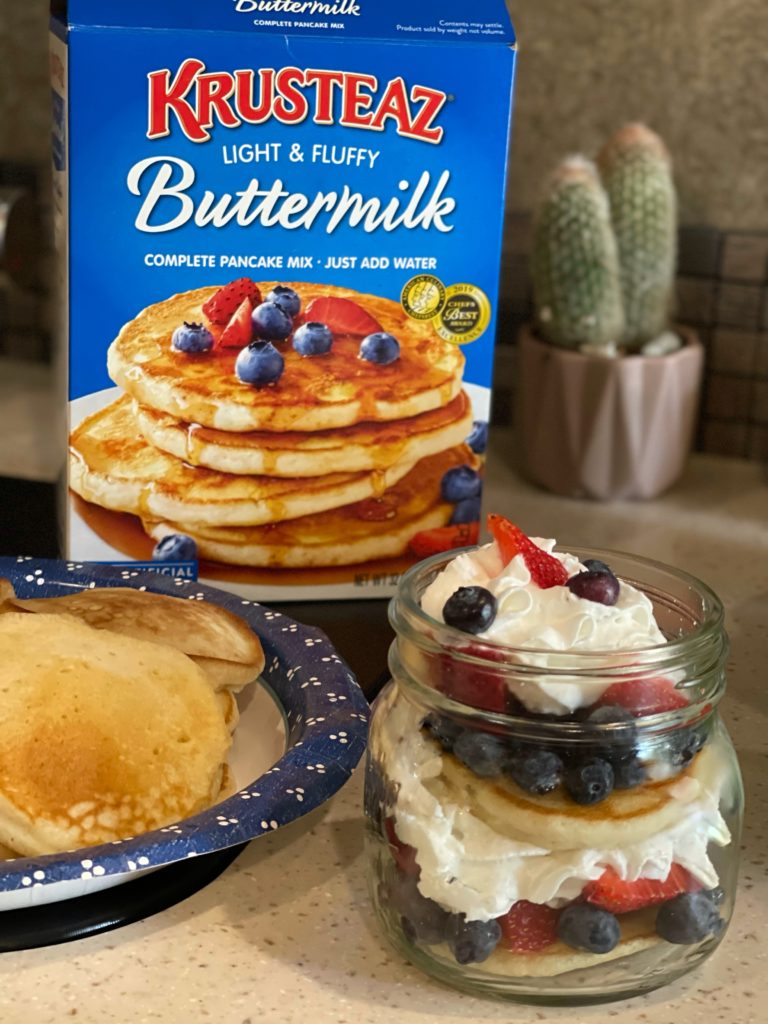 Here it is complete! Normally I would add a cute ribbon but for this year living in a camper this will do!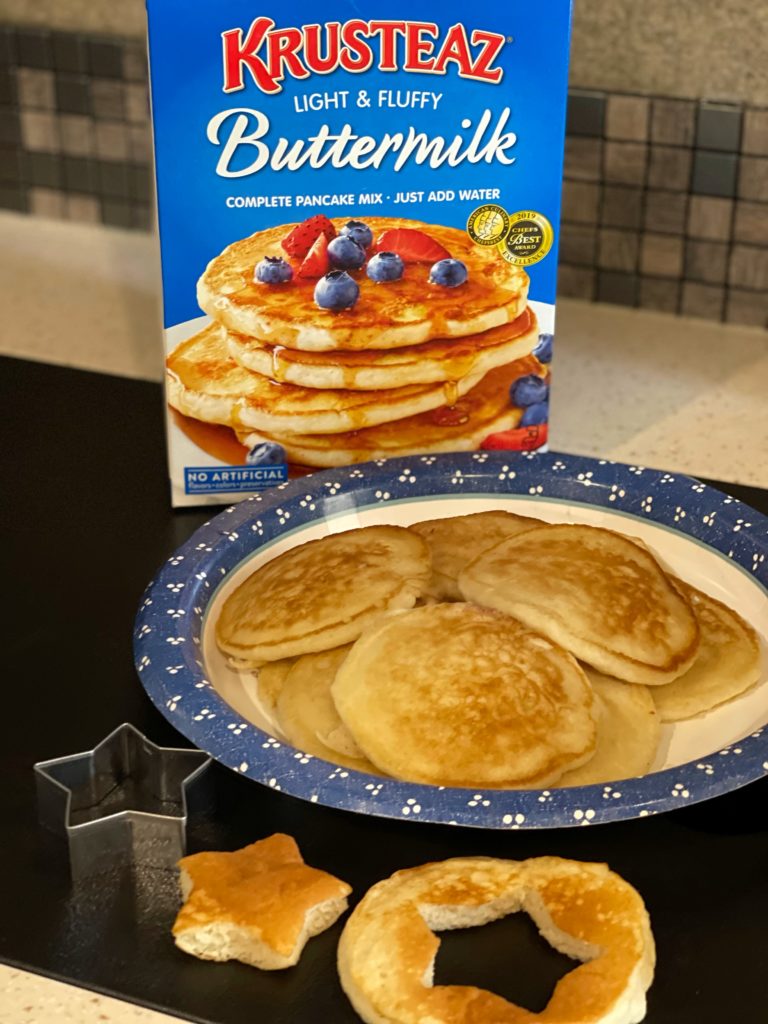 I thought it would be fun to add some stars to the top you can do any shape, but since the Fourth of July I thought this was perfect. So grateful my new friend let me borrow hers – since ours are in storage.. all the things you don't think of.
For being in our Home away from Home, I think we did pretty well. I am sure that even with things being different the kids will always remember this Fourth of July!
I hope you enjoyed seeing how we made this fun Mason Jar berry trifle, and if you look below you can see other recipes that are similar!