Holiday Dining – Simple Christmas
Holiday Dining with Bed Bath and Beyond. I am going for the simple Christmas look that can be use for not only Christmas but Winter.
To Shop this Post :
White Christmas Tree Village – HERE
Champagne Colored Flatware – HERE
Fireplace – HERE
Ornaments – HERE
Ivory throw blanket – HERE
Grey throw blanket – HERE
Round Grey Basket – HERE
White Deer – HERE
Tree Skirt – HERE
Mini Wreaths – HERE
ScentSicles – HERE
Gold Candles for Tree – HERE
White & Gold Ornaments – HERE
Gold Candle Holders – HERE
Ornament Hooks – HERE
Grey Fringe Napkins – HERE
Tapered Candles – HERE
Gold Glasses – HERE
Green Plates – HERE
Stone Vase – HERE
Tall Stone Vase – HERE
Gold Charger Plates – HERE
9 Foot Christmas Tree – HERE
7.5 Christmas Tree – HERE
White Dinner Set – HERE
Curio Cabinet – HERE
White Chairs – HERE

Some other items I grabbed :
Large Serving Tray – HERE
Round Serving Tray – HERE
Gingerbread Village Kit – HERE
Gingerbread Sleigh Kit – HERE
Disney Ornament 2021 – HERE
Green Christmas Tree Platter – HERE
White Christmas Tree Platter – HERE

I have been so lucky to partner with Bed Bath & Beyond over the years and I love to share what I find and also unique finds. I think so many just think of finding kitchen organizing items, towels and other home goods… but not only do they have that but amazing decor like everything you see here including everything you need for holiday dining and a simple but beautiful Christmas.
Holiday Dining – Yes please! I have to tell you about these chargers they are such an amazing price and so GORGEOUS! You can find them HERE. The glasses I love that you can use them for not only the holidays but for all the special occasions – we will be using them for New Years for sure!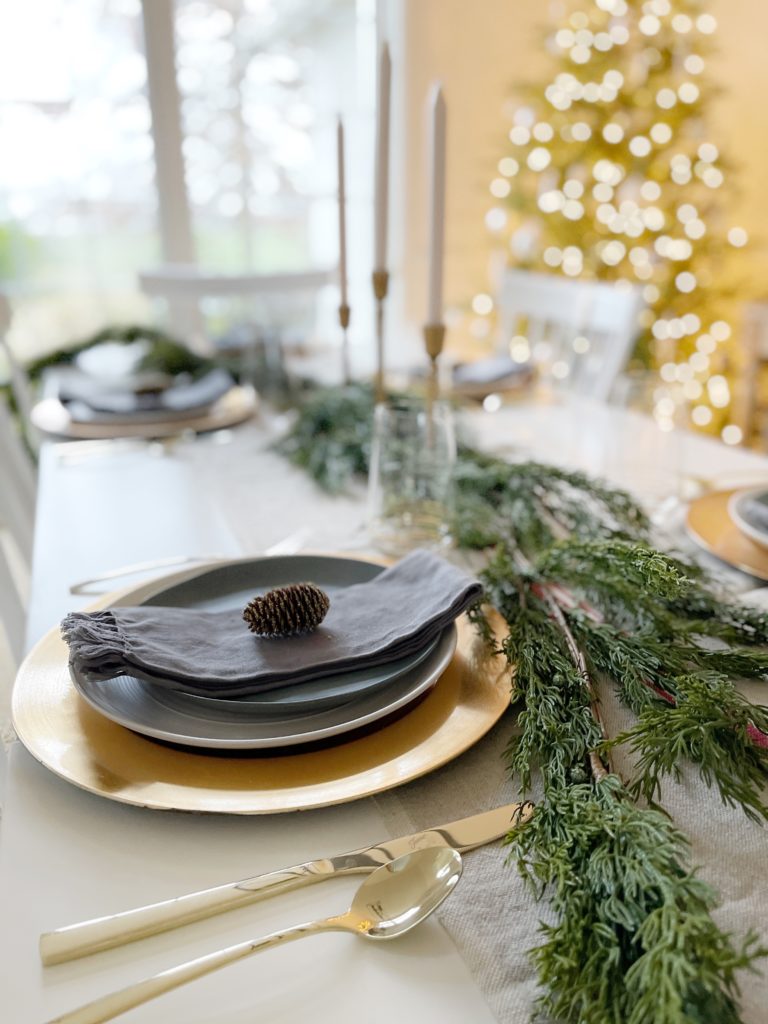 The flatware is this gorgeous champagne color and I think it is so pretty you can find it HERE it goes so well with the place settings.
I shared that Bed Bath & Beyond not only had amazing everyday needs but decor! You can see this adorable Christmas village it not only comes with the tea lights but with trees too ( not pictured).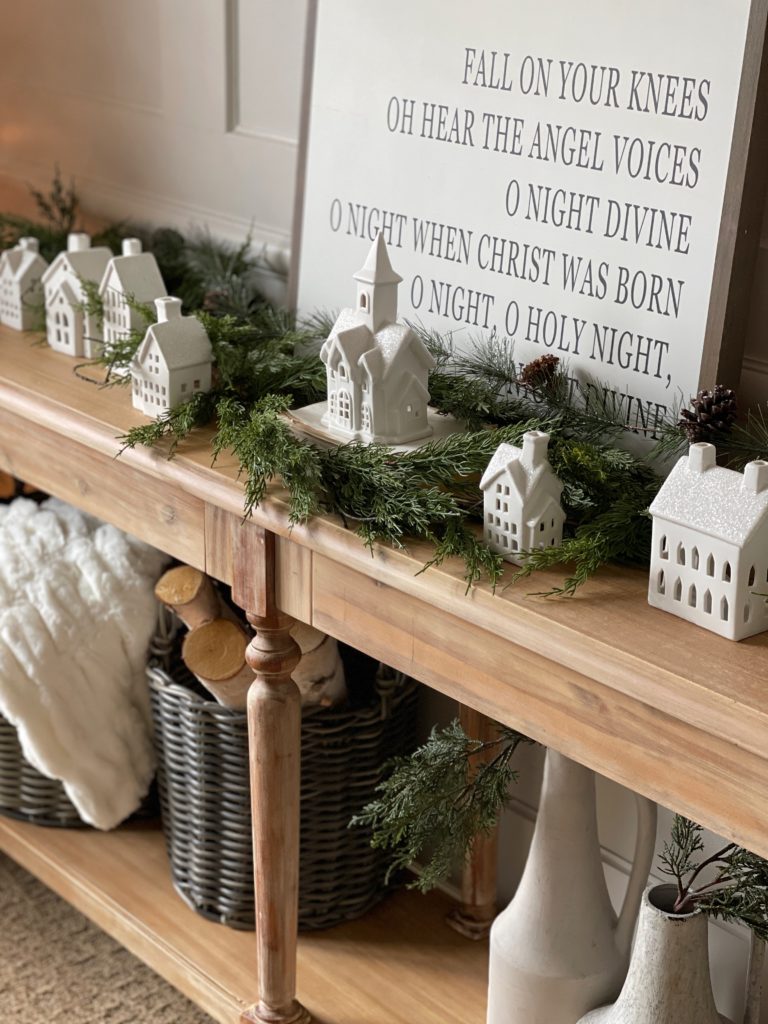 These vases are one of my fave finds – They are so affordable and I can see them even painted black!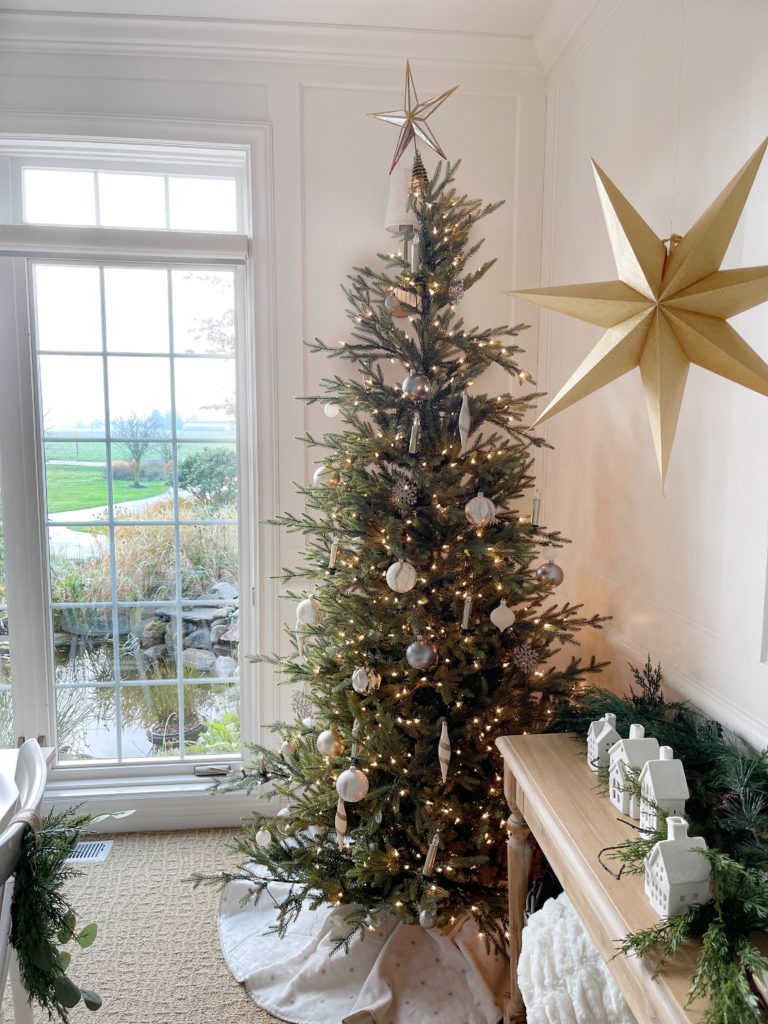 This Christmas tree is a fave – I bought it last year and it hit our ceilings in our last house… I was worried it wouldn't work here but its perfect! All the ornaments, the candles and even the tree skirt you can find at Bed Bath & Beyond.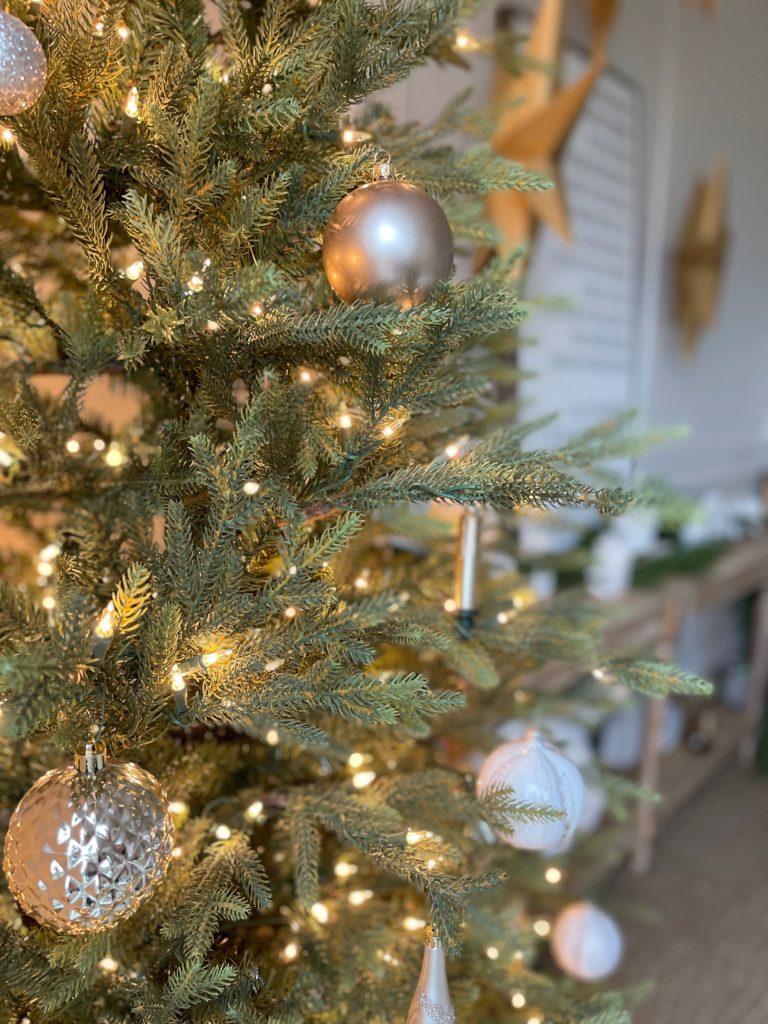 This simple Christmas is just what the space needs I love that it is so cozy!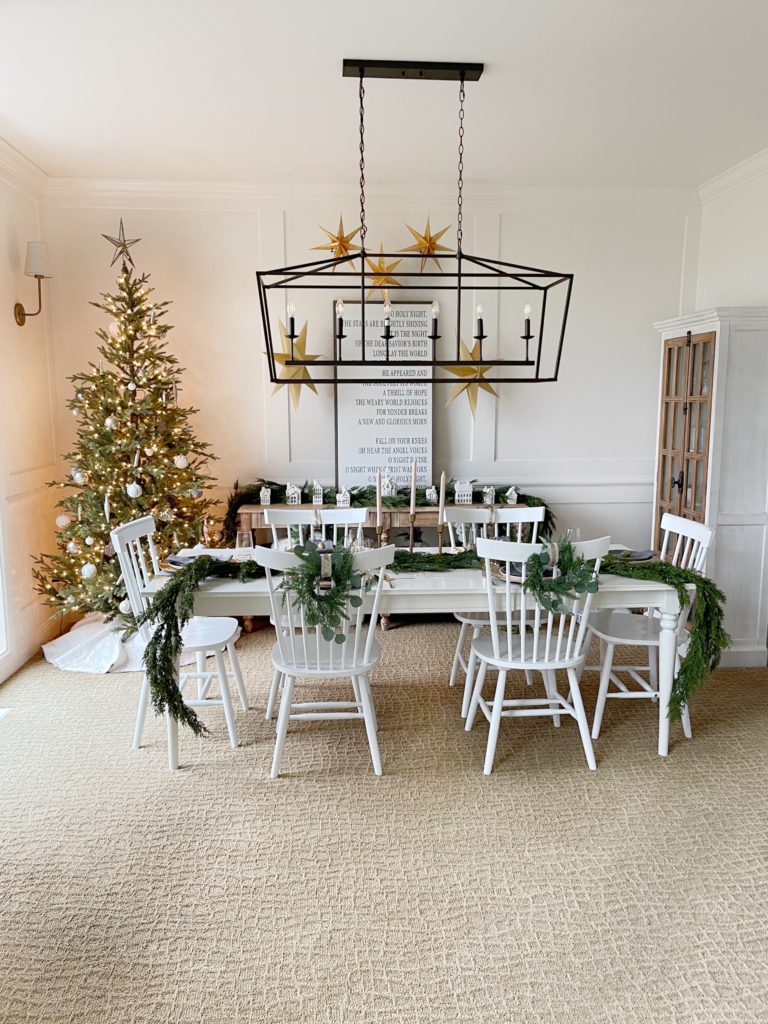 I hope this gave you some inspiration for this holiday season wether you are doing holiday dining or a simple Christmas.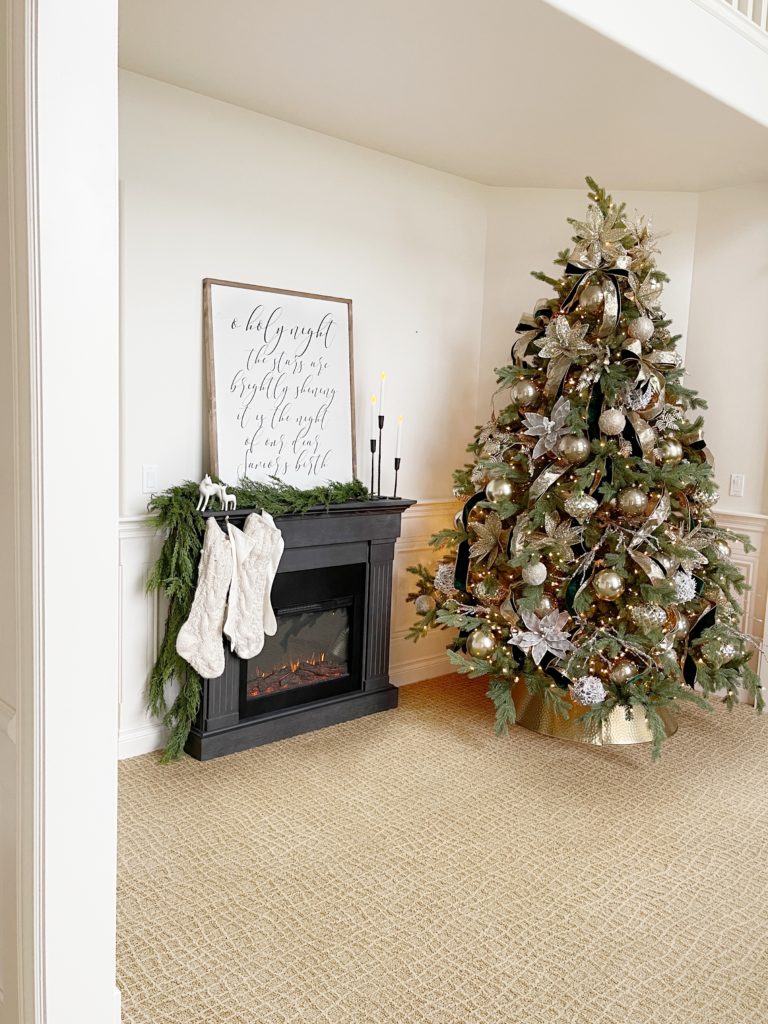 Remember when I told you I love to find those different finds at Bed Bath & Beyond – well our last house we had an amazing fireplace from there and now we have a new one! This might end up in our room but we love it so much!!!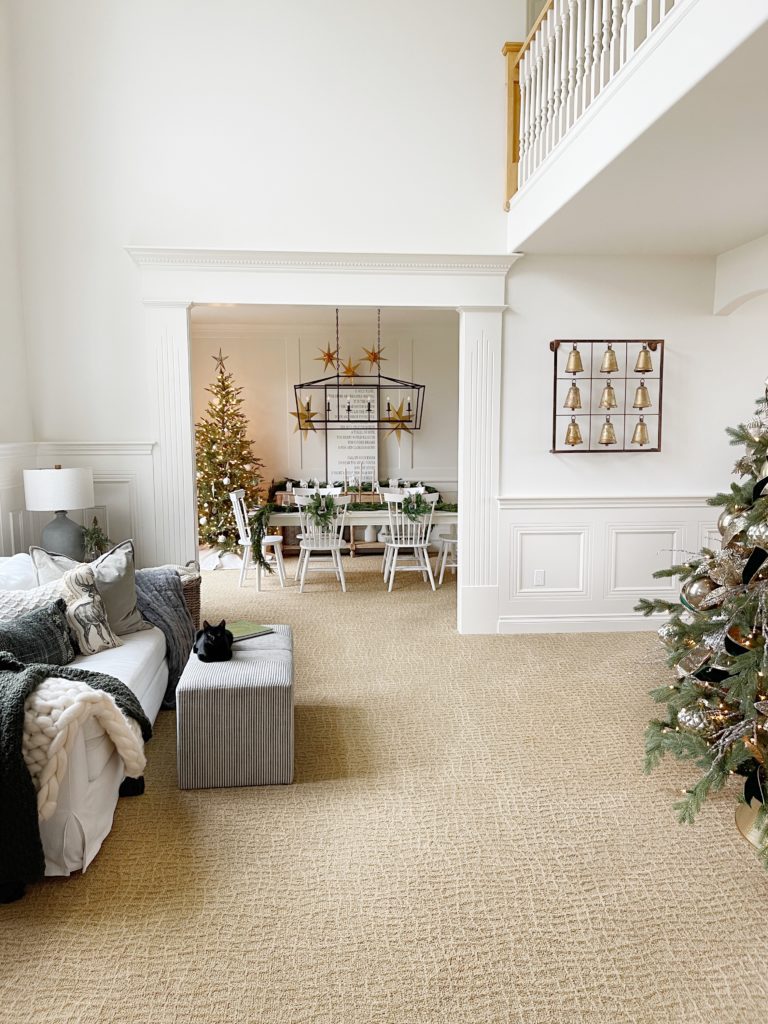 Make sure to check out all the sources and let me know if you have any other questions! This was so fun to put together and I hope you leave inspired!