Laundry Room Reveal with Elkay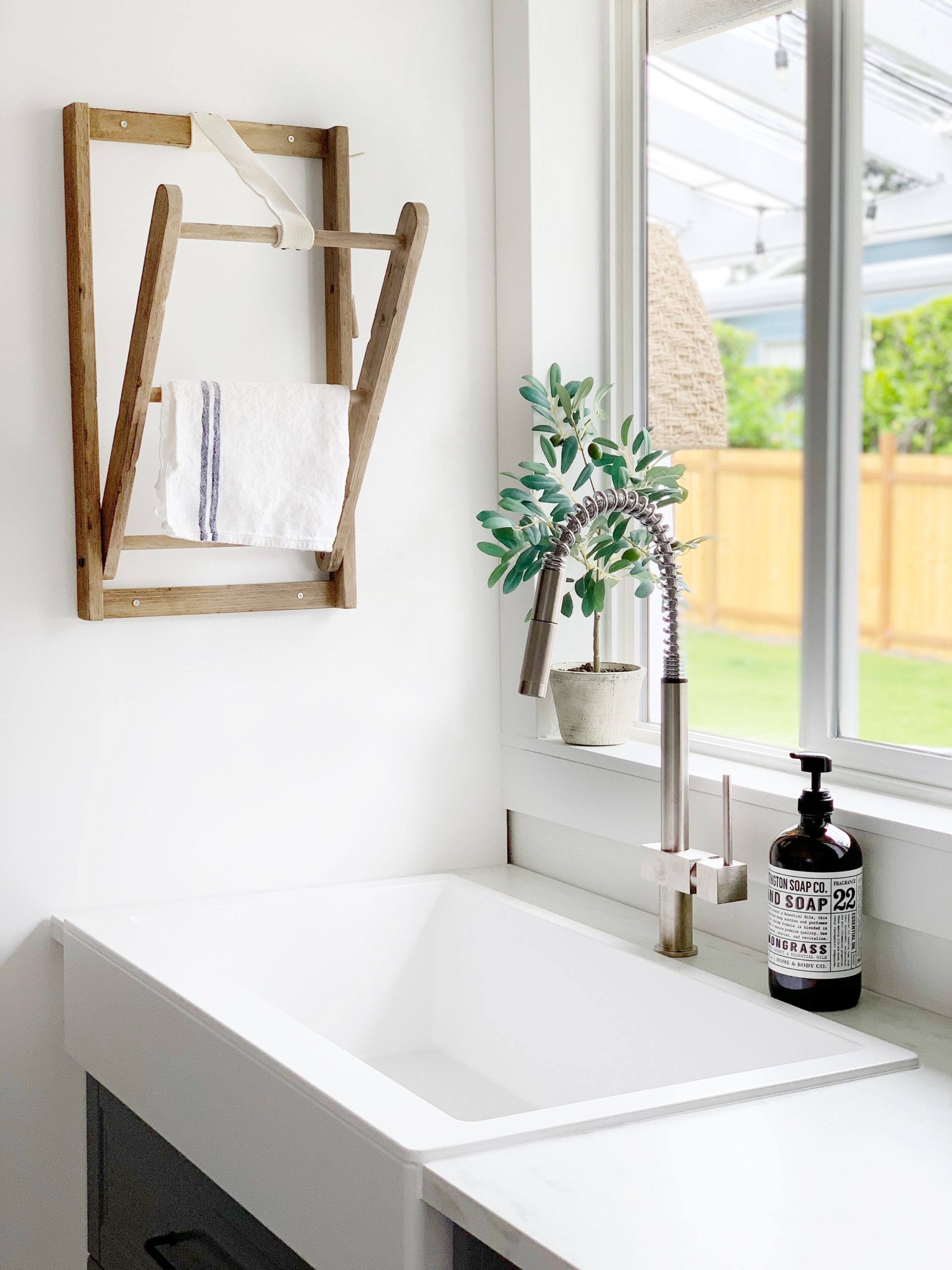 The day everyone has been waiting for : LAUNDRY ROOM REVEAL DAY! What started as an idea when I found this amazing Quartz Sink from Elkay turned into my laundry room dreams! We had a functioning laundry room, but it wasn't making me happy. When I go into a room in my home I want to just feel at peace and know that I love it. We made a list of the projects we wanted to complete this year and I knew this was a must, so I drew this little sketch and then we started planning. Today I am going to show you the before and afters of this space. Look forward to another blogpost sharing how we did it all and the full budget!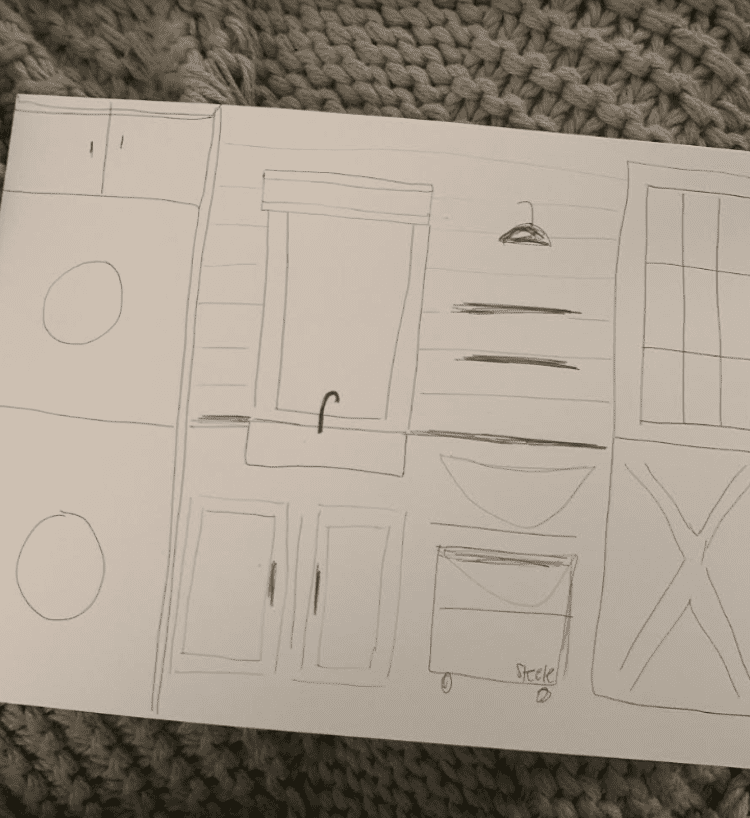 It may not look exactly like this, but pretty darn close… I will go into detail on why we decided to switch it up but, first let's look at where this laundry room started and what it has went through!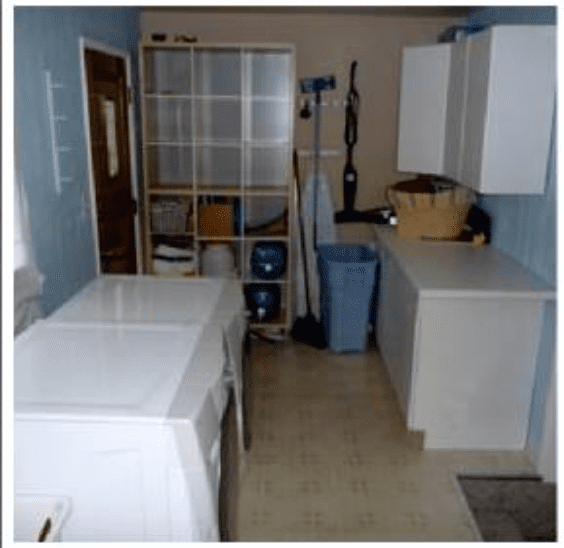 This is where we started 10 years ago when we bought the house.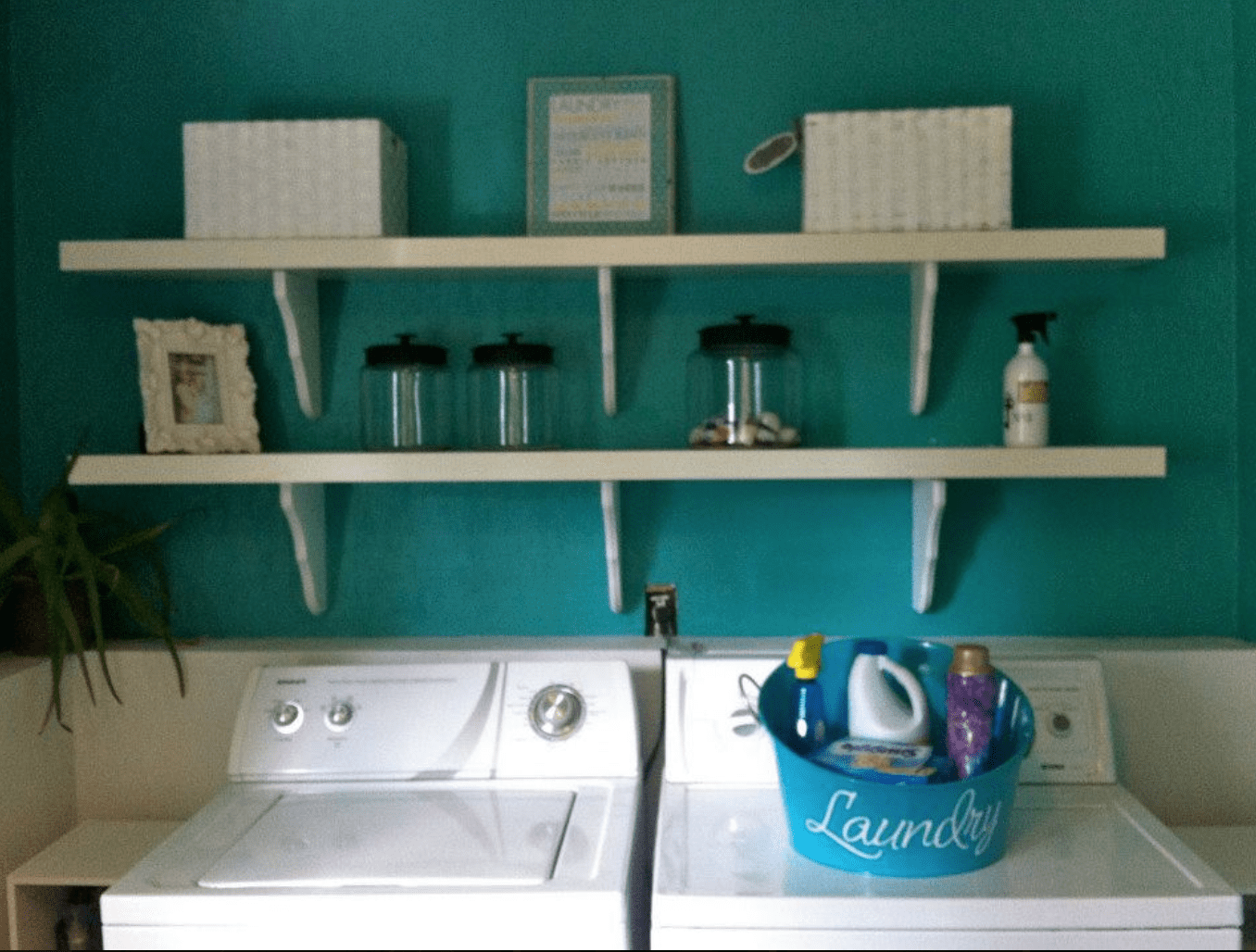 Soon after we moved in, we took out the door, moved the plumbing ( which ended up being a nightmare, but we don't need to go into that). Then made the space more open.
Years went on… we changed the space… put up a wall … moved the plumbing… brought back the door and now we are at where we started our latest remodel, pictured below.
This laundry room space was SO functional, and I honestly was a bit scared to lose that. However, while the look would be great for a larger space, wasn't working in this room. The built in took up so much room, looking from the outside in you would see the washer/dryer in the window, and that drove me crazy.
Directly in front of this view is our living room, and all you would see is curtains… which is better than seeing a washer and dryer, but it just didn't feel like a separate space. That is where my grand idea came of redoing the laundry room. I had a few friends stack their washer and dryer and then I thought why didn't I do that? Seriously best decision EVER! We have had them stacked about a month now, and we LOVE it!
Now are you ready to see all the after photos?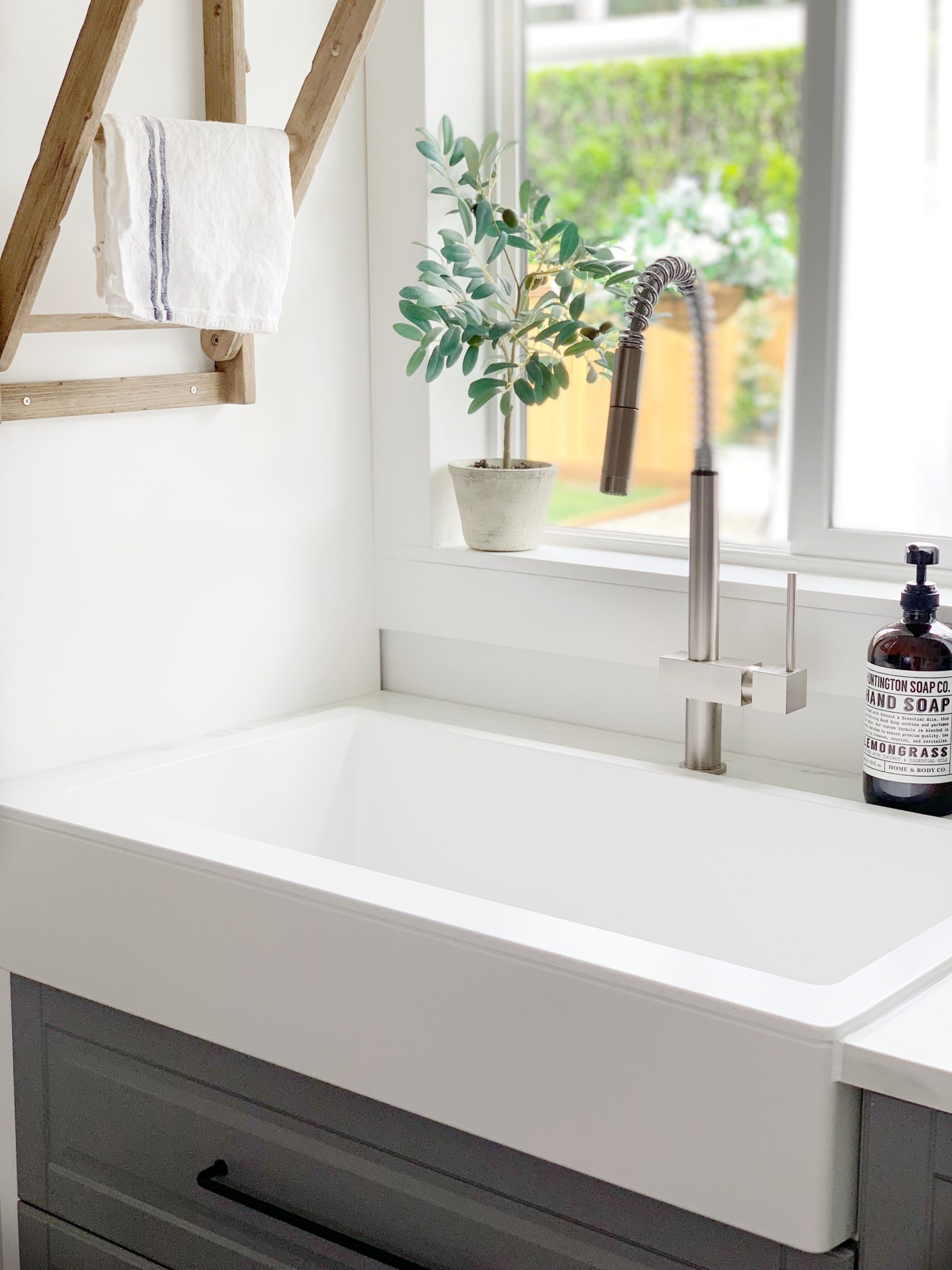 Let's start off with this gorgeous Elkay Sink! I chose it not only because of the looks, but it is so durable and has the Perfect Drain, which means the drain is flush with the rest of the sink, so it doesn't get gross like most other sink drains! I wish you could come on over and see it in person, it's incredible and seriously the feel of the material is amazing! I also love the farmhouse apron.
We chose this Elkay Avado Single Hole Kitchen Faucet and are so happy with it! I love the look – it's modern but fits this space so well, and did I mention it is so easy to use?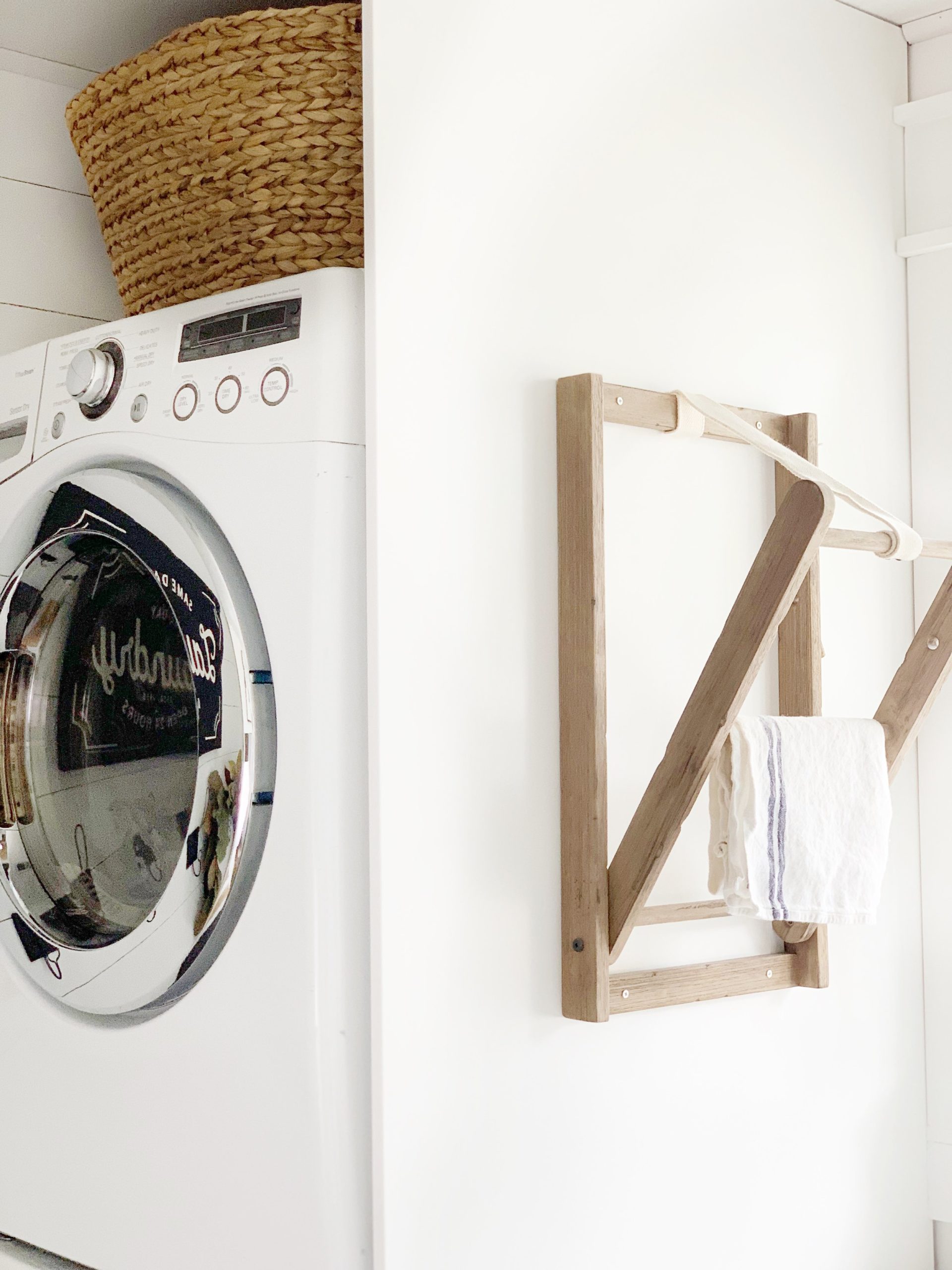 When I was planning for a laundry room remodel, I found this little drying rack and knew I had to find a spot for it, and this big blank space was perfect. What better than to let wet towels and clothing drip in the Elkay farmhouse sink?
Stacking the washer and dryer was so easy to do! I know some people dislike front loaders, but we have had these for close to 5 years and have never had a problem … I told James that maybe we do laundry so much we never have to worry about them smelling?
When I shared my stories, everyone's biggest concern was if I would be able to reach the top. Being 5'4, I have no issues reaching up, and really for as much as I love them, I would use a stool if I needed to!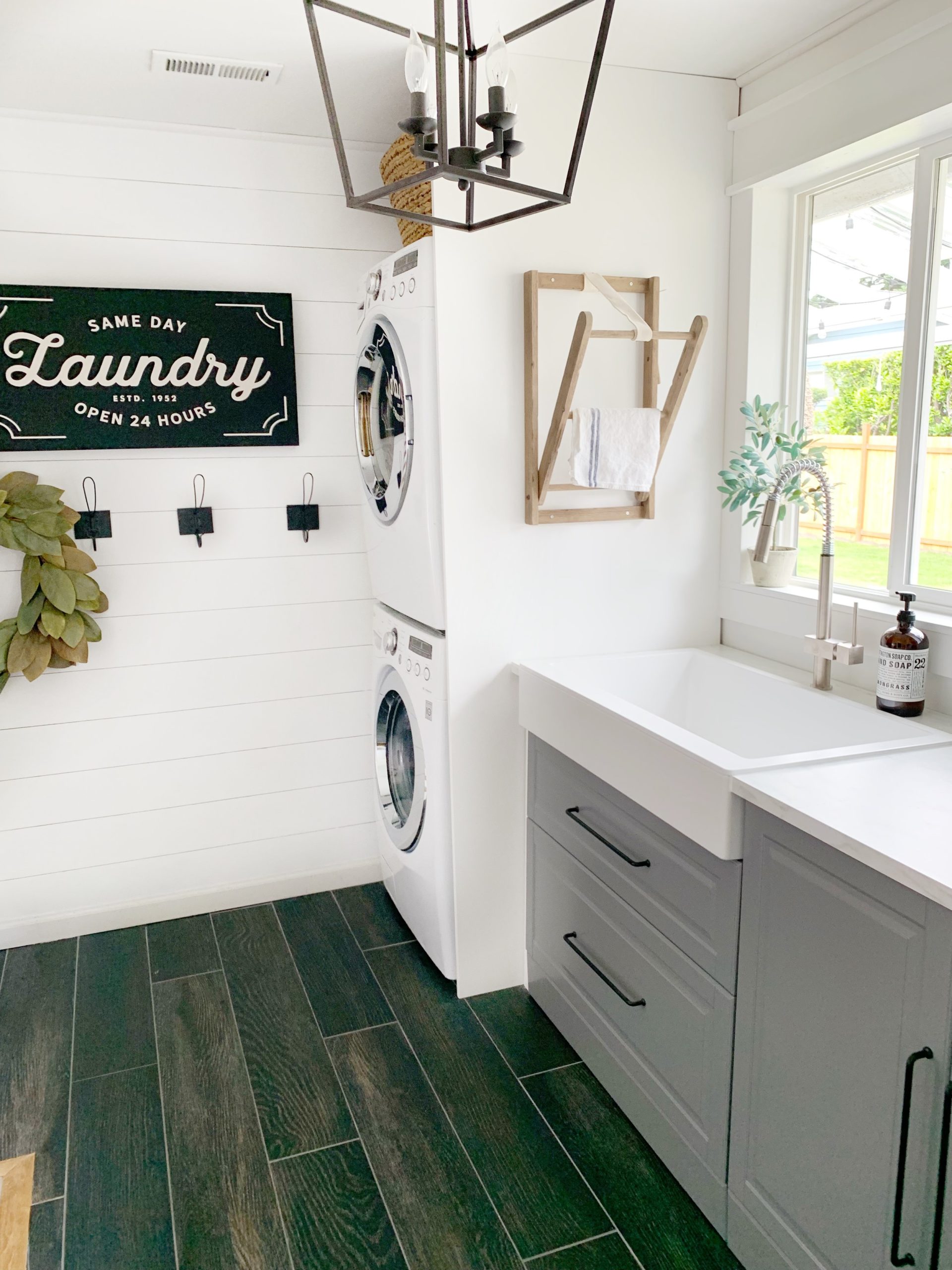 I am sure loving all the natural light that comes in now that the window isn't blocked off. It drove me crazy looking on the outside in seeing a huge washer and dryer back before, so this is a treat!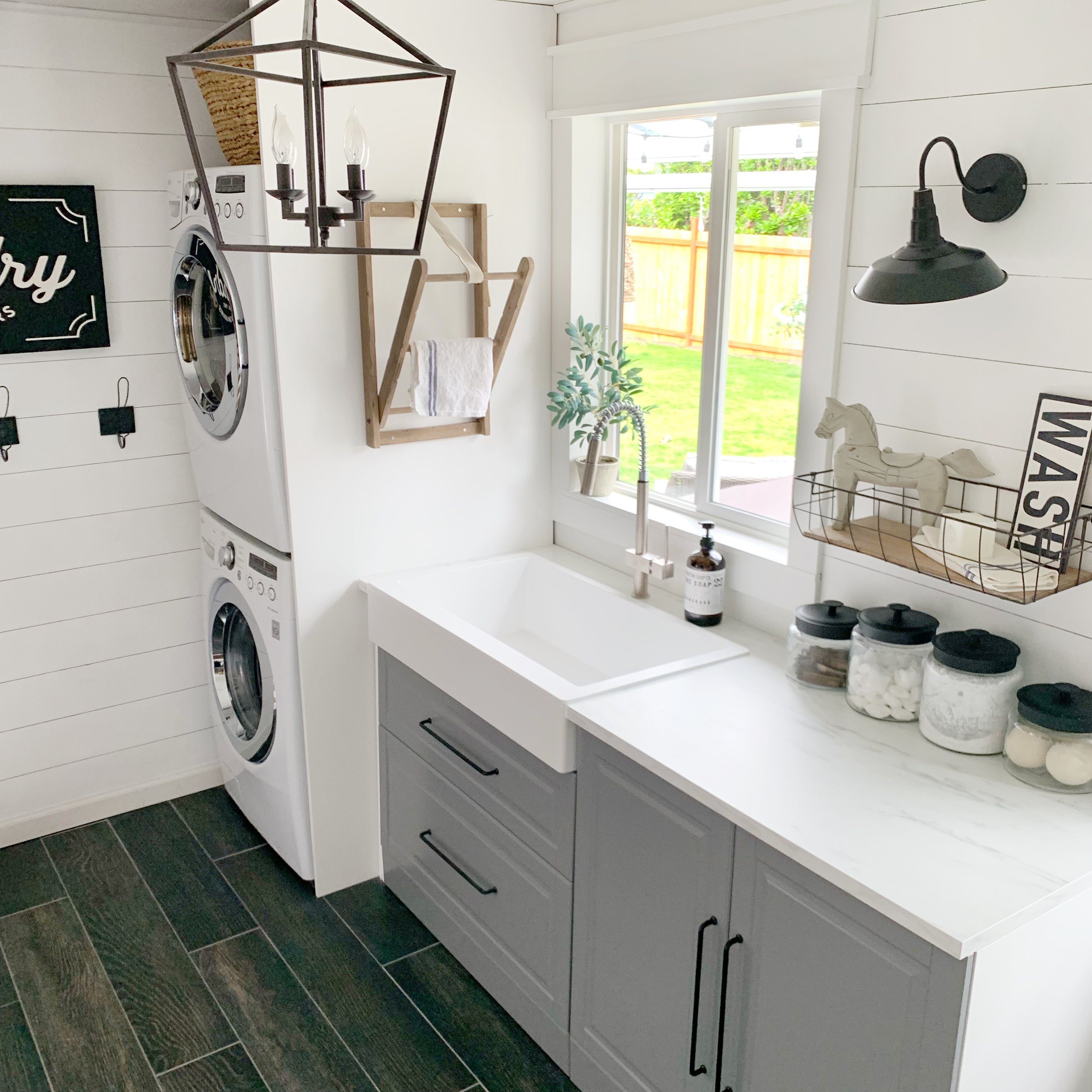 For decor, I didn't really switch up what I had because it was all things I loved and used.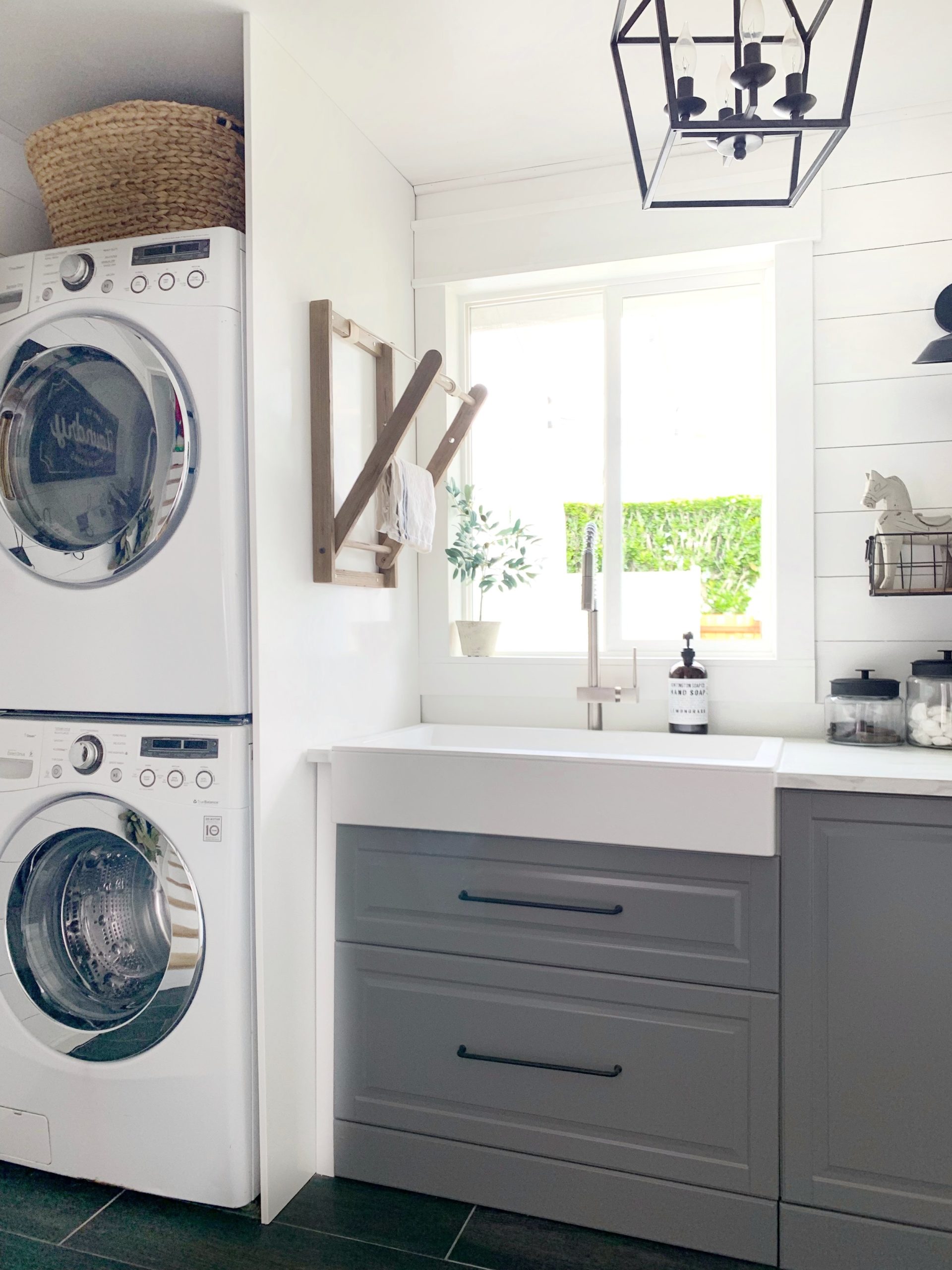 Isn't this Elkay sink just gorgeous? I love seeing this view from my sofa downstairs. Now it's time to get some fresh flowers for this room!
I probably should have filled these jars for photos, but real life here… we use our laundry room literally daily and I don't think I can ever keep up!
This sink has already been in use more times than I can count giving our little pups baths… they sure love to find mud anyway they can!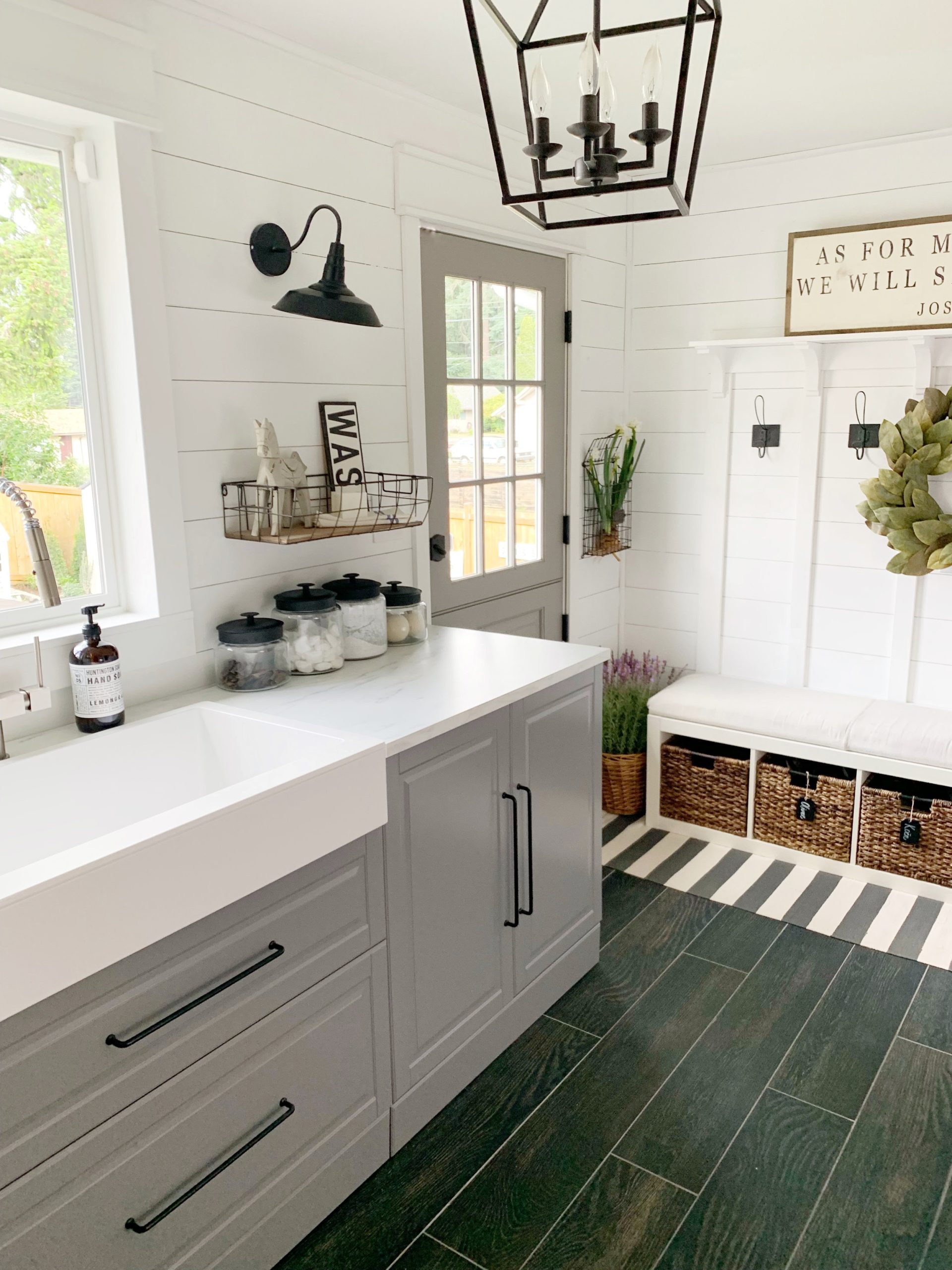 Now let's see a little more of the whole space!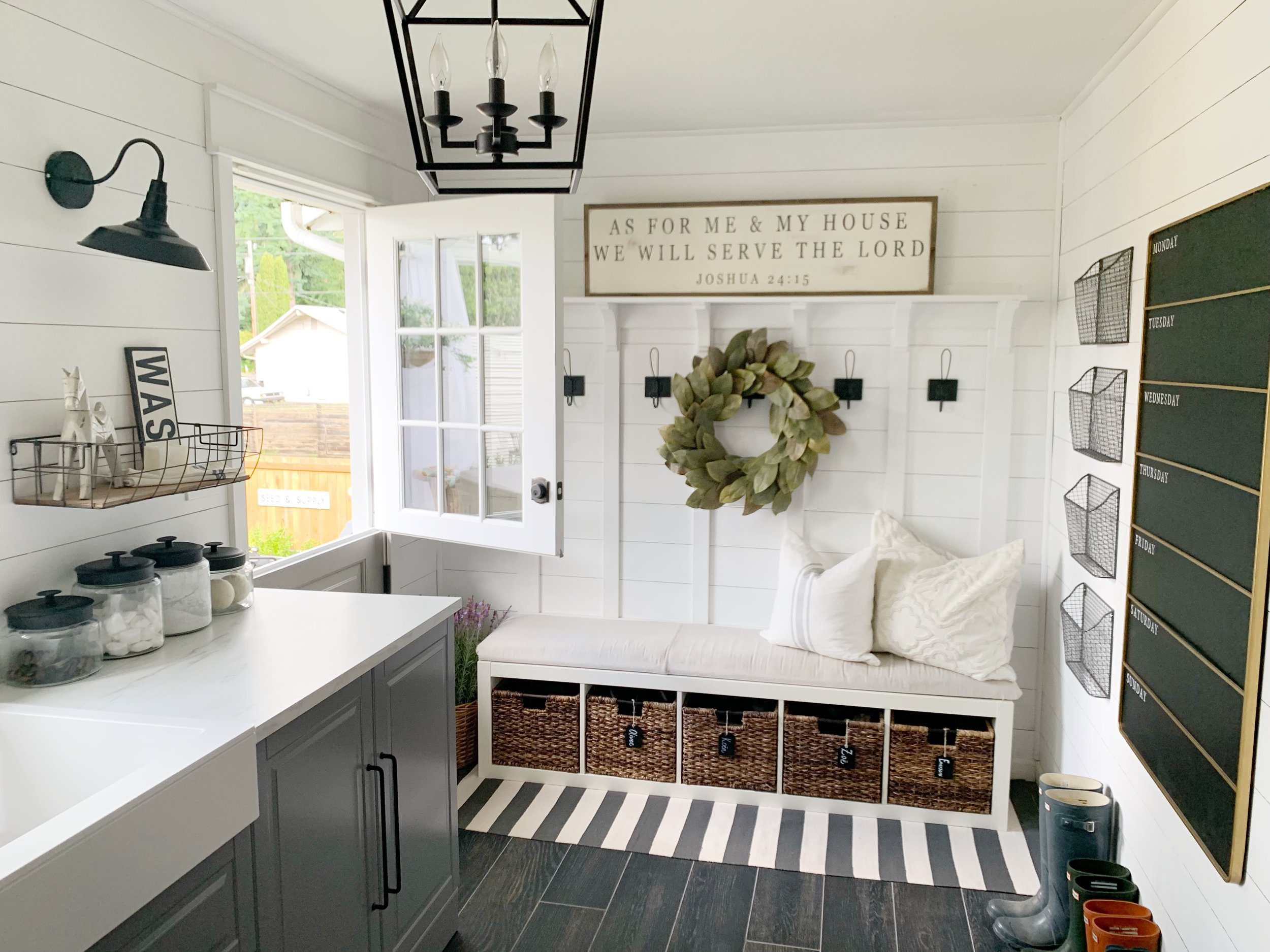 This view is a "Pinch me" moment every time I walk in. I never thought all of this was possible and now it's a dream come true! I love having the Dutch door open so we can enjoy the breeze and fresh air.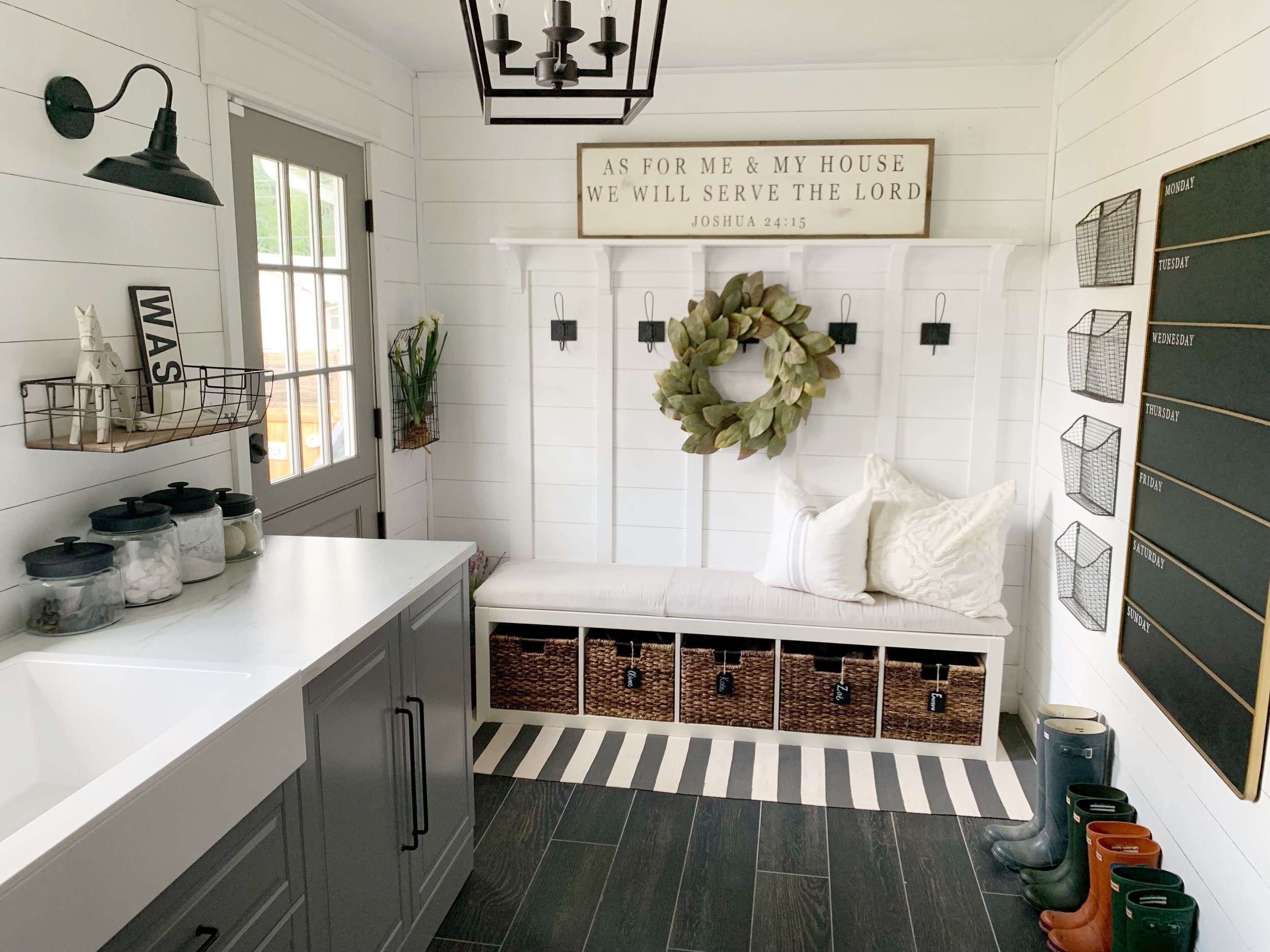 When my kids are home you will see the real – life view with their backpacks on the hooks… and during the school year the baskets are full of all their artwork and homework.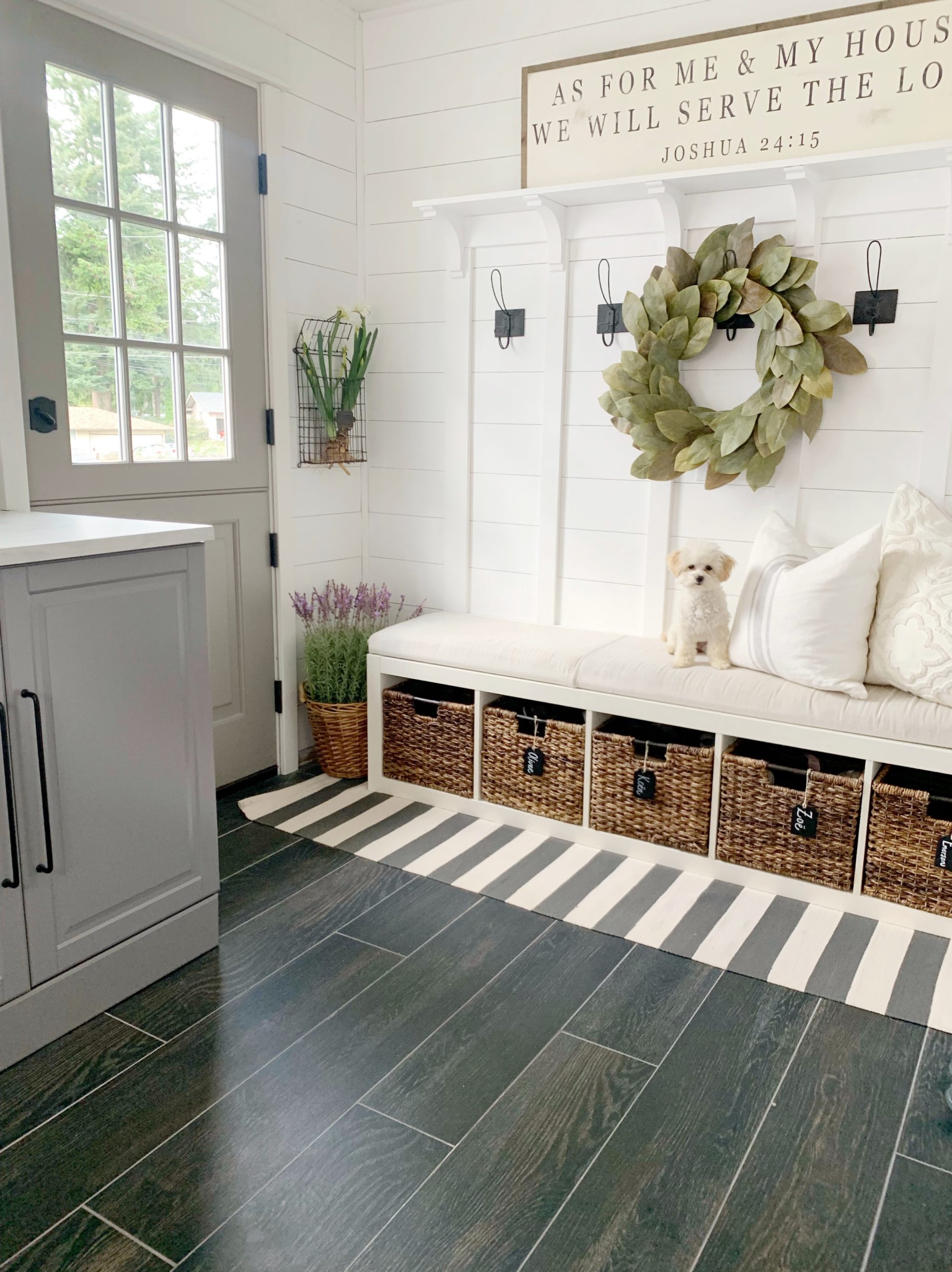 Daisy loves this space, too. She is even starting to like her baths in here.
Daisy has become quite the little poser, she wanted to show you this space before she fell asleep!
Here is a close – up of this view, it's time to put our summer schedule up!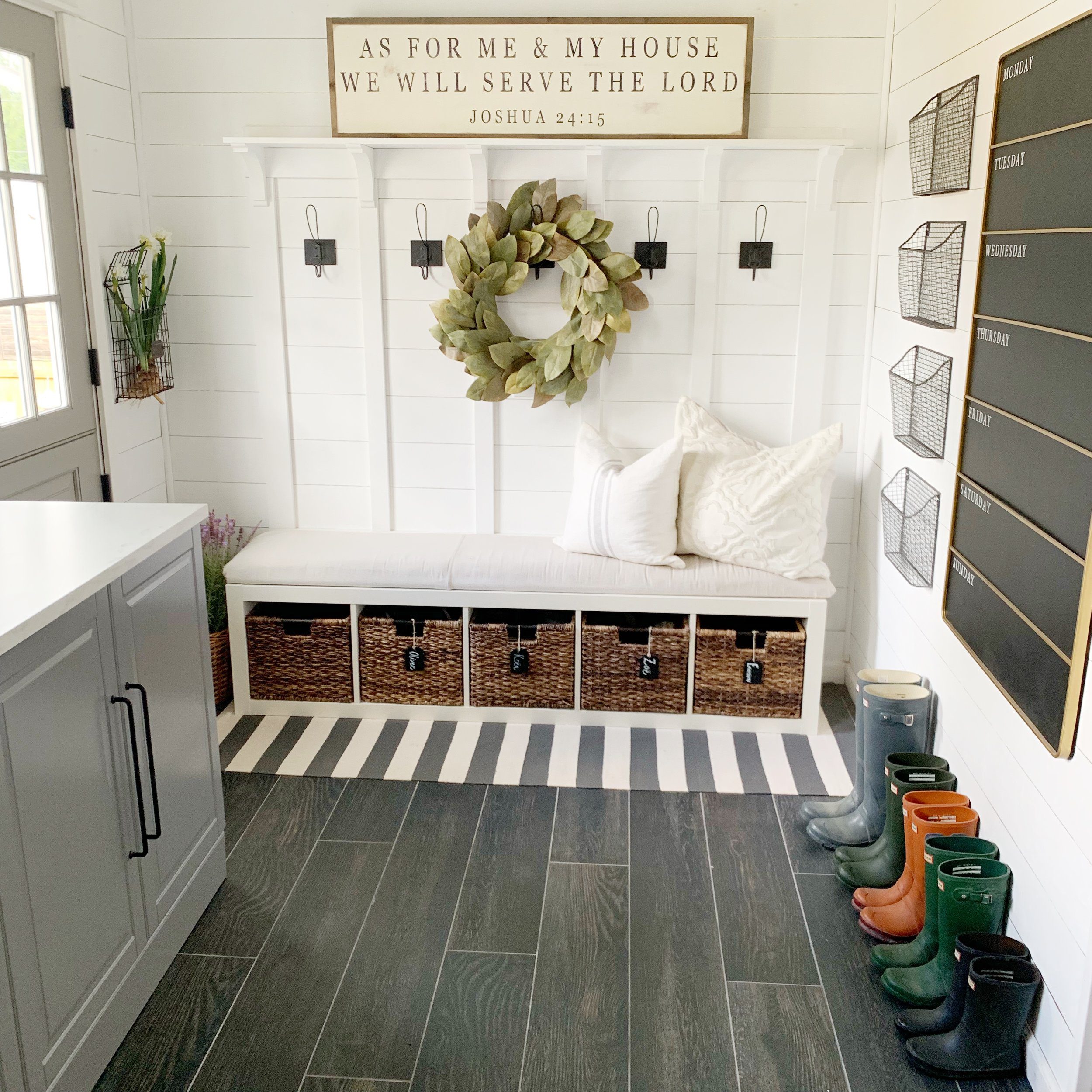 When I first started this project, I knew I would love the design and as I told you earlier I was concerned over the function. Let me tell you it is so much more functional now and I can fit everything I had in here and more! Plus, I have the huge Elkay sink that is amazing for dog baths and so much more.
I hope you enjoyed seeing our laundry room reveal. I am so grateful to be able to work with Elkay, I knew once I saw their sinks that I needed one in my home and they are even better in person, plus they have so many to choose from! The faucet I chose is just one of many, and they have great drinking solutions too! Check out Elkay's ezH2O® Liv its the first built-in filtered water dispenser engineered for the home, and would be perfect for a mudroom or kitchen!