Harrison Watersports + Activities – Harrison Hot Springs , BC
If you are looking for something fun to do, with the most amazing views – Harrison Watersports in Harrison Hot Springs , BC! You will have a blast and enjoy every second – even the ride .. let me share more!
Now this may look like just a big inflatable on water, but it is the most amazing obstacle course that not only the kids will love – it will make you feel like a kid again … ask me how or keep reading to see!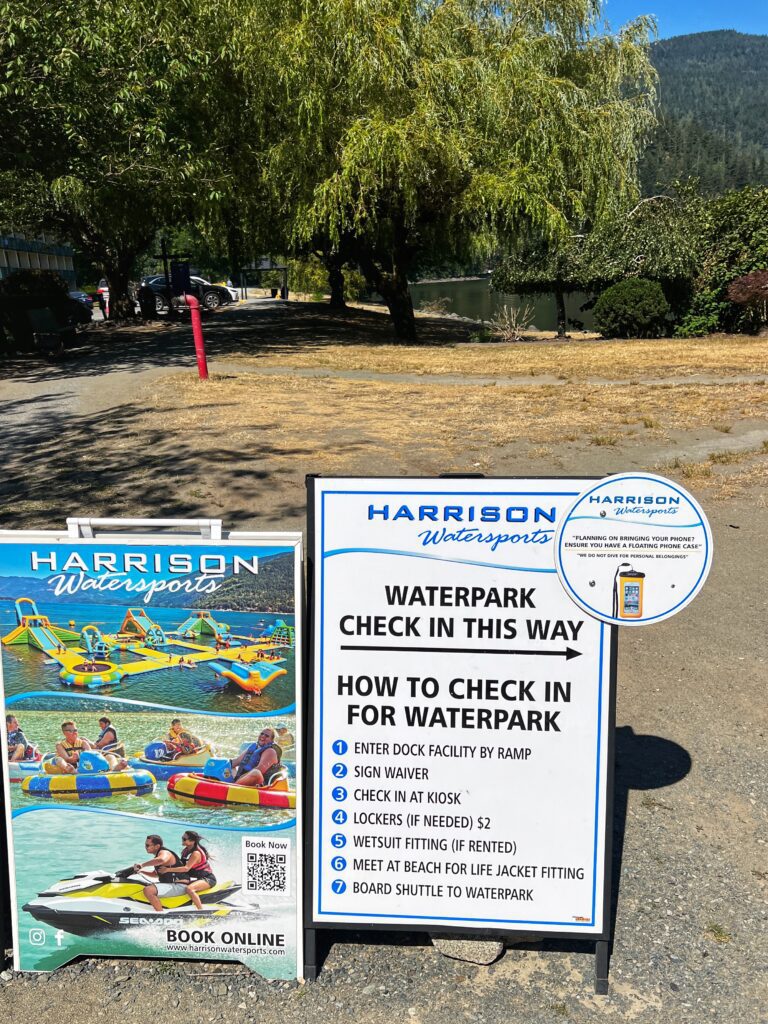 Finding Harrison Watersports was easy! Parking for us on a Friday during a festival wasn't bad, but I can imagine it could be so make sure to get there with plenty of time. You will see these signs on the beach and they make it all so easy! I am sharing my tips below, but really they tell you everything too!
TIPS :

1. Buy your ticket online ahead of time.
2. Do your waiver online.
3. Get there an hour early, with time to park too!
4. Go to the bathroom before you get there, there is public bathroom on the beach or you can try the hotel.
5. Bring or rent a wetsuit
6. Bring a few $2 Toonie for a locker
7. Go pro would be fun if you have, I am brining next time!
8. Bring a waterproof phone/camera case – or buy one there for your phone.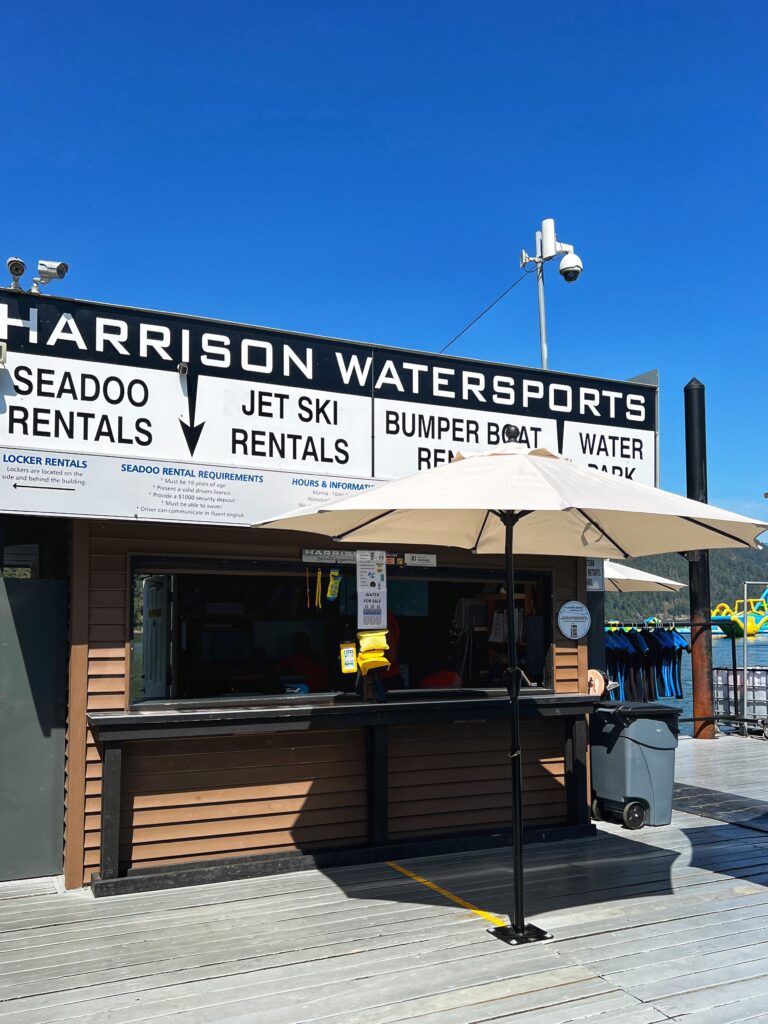 Once you cross over the deck, you will wait in line to check in or purchase your ticket. You will get stamps saying what you are doing and getting! Next if you got a wetsuit its time to get yours on! We got two lockers – I highly suggest for all your items so don't forget $! They did sell a floatable/waterproof camera case and it was perfect and even took all these photos along with some great videos! This did take some time to wait, get suits and everyone settled.. so get there the hour early and like I shared above go to the bathroom first!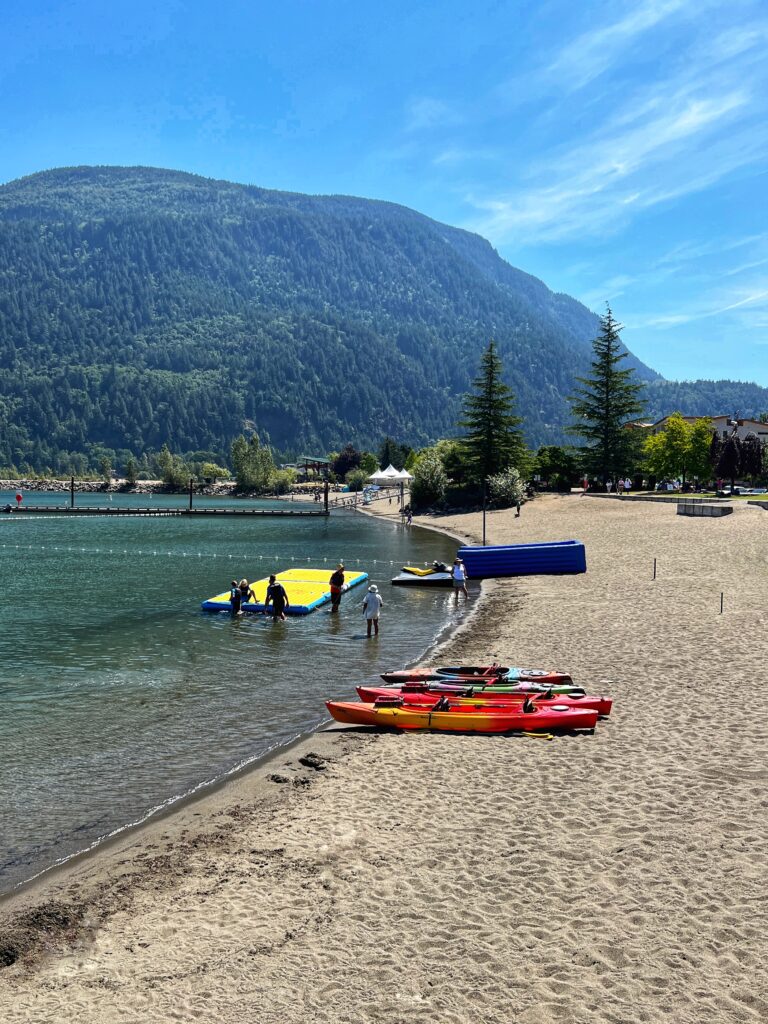 Now we walked to the beach to get life jackets, and for our fun little ride to the Harrison Watersports!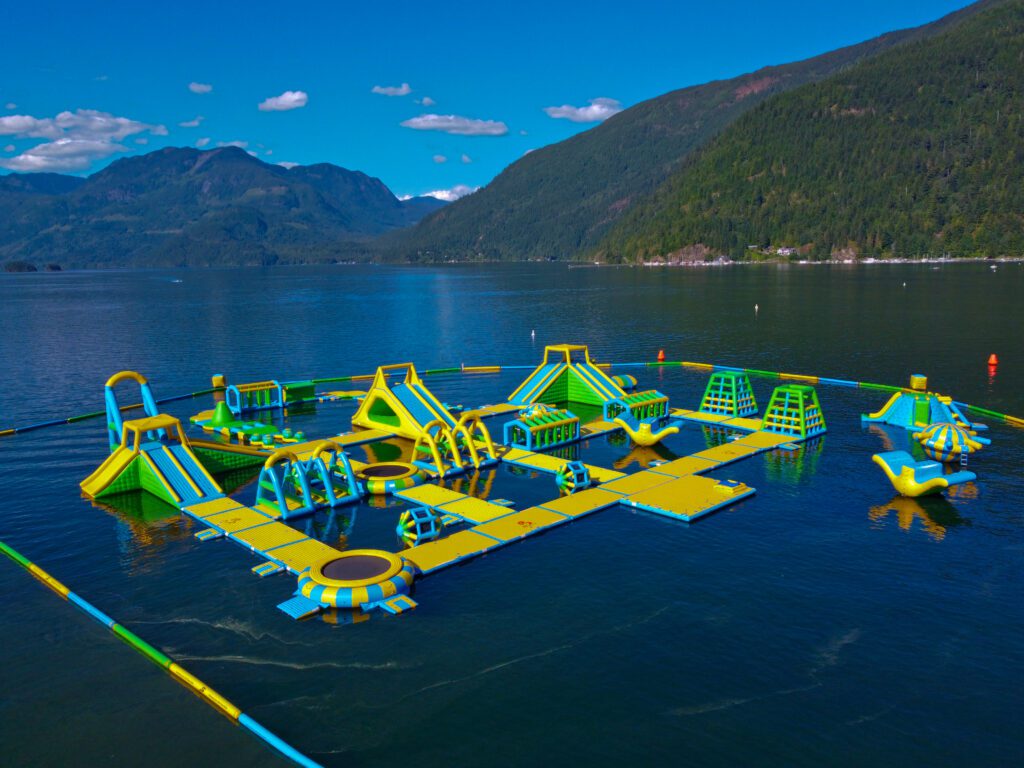 We are ready for our adventure, look at this place! AMAZING!
Now will the adults or kids have more fun?? Maybe everyone just so much… lets see!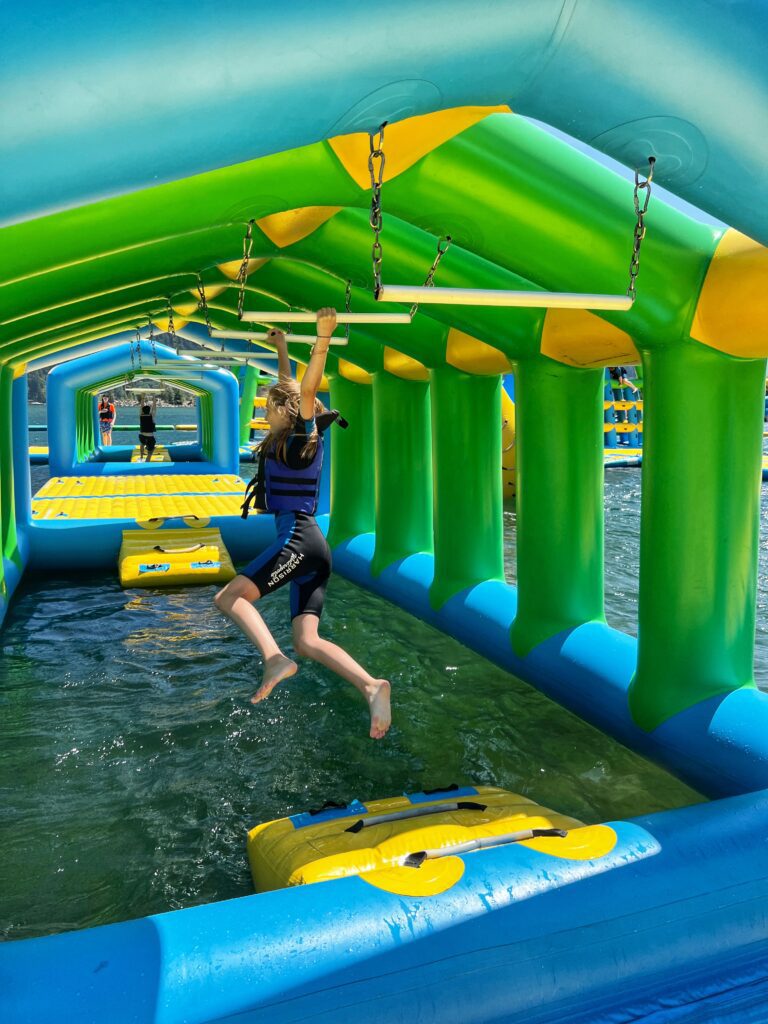 I don't think I know what I was getting myself into … but I think I surprised my kids by going on things they weren't sure about.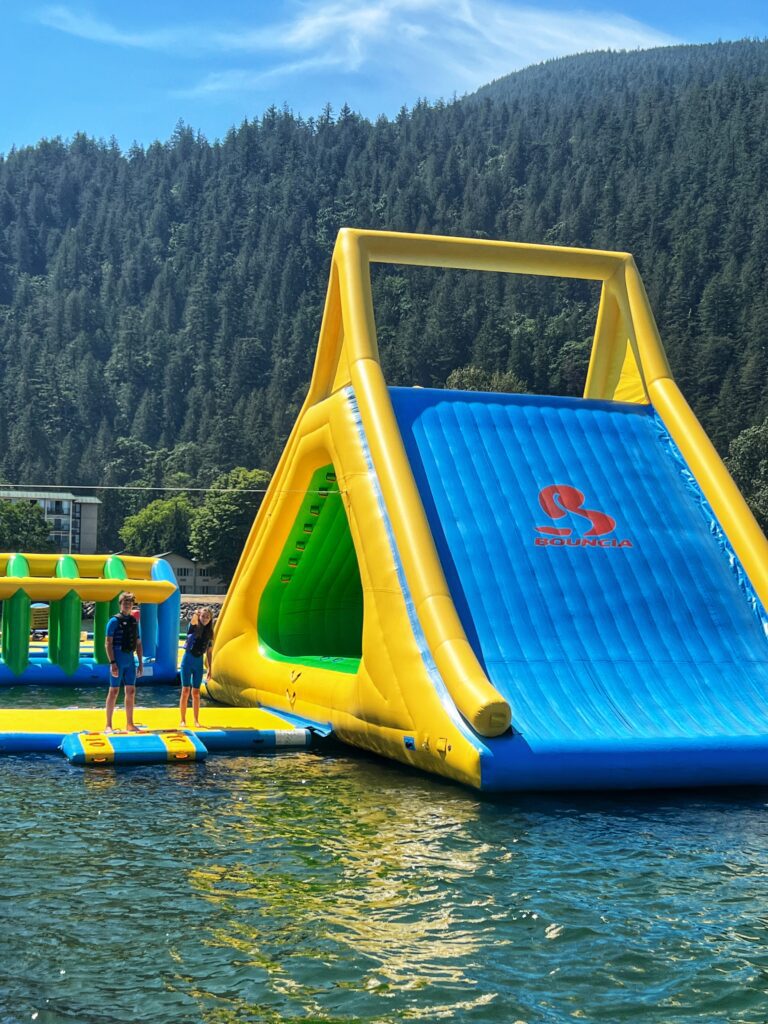 All I thought about while being on this giant obstacle course was the show WIPEOUT .. thankfully I didn't have to wipe out.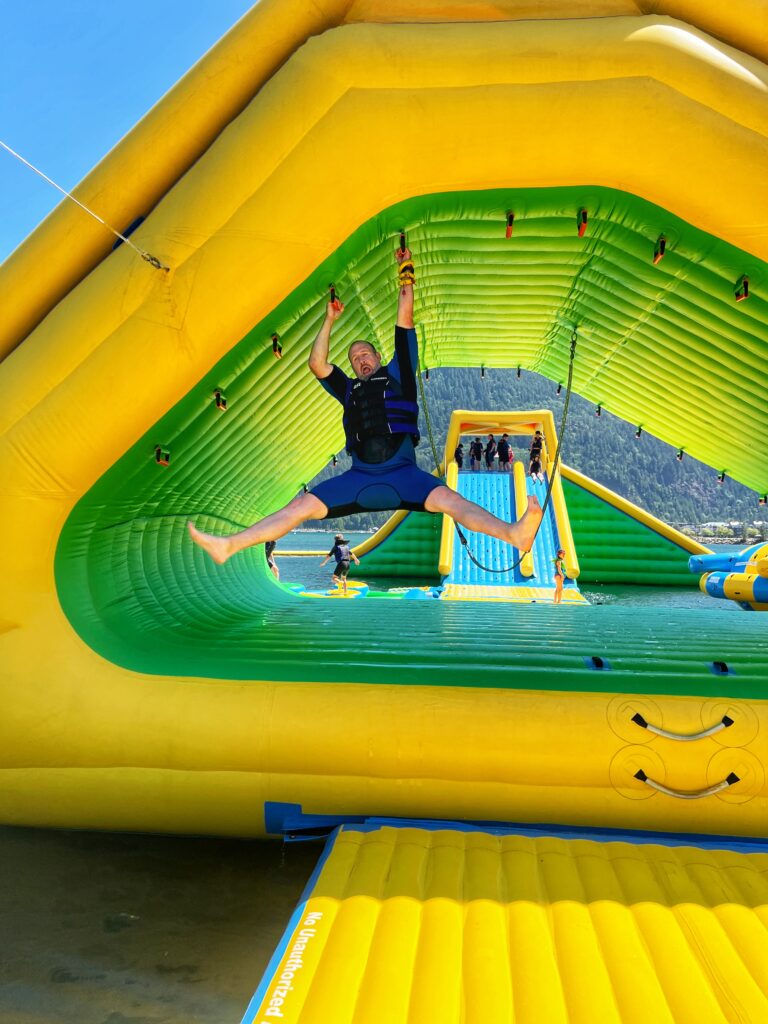 James wasn't having any fun at all… JK He literally had the best time… not only with our kids but other kids too … keep watching for the video at the end and you will see!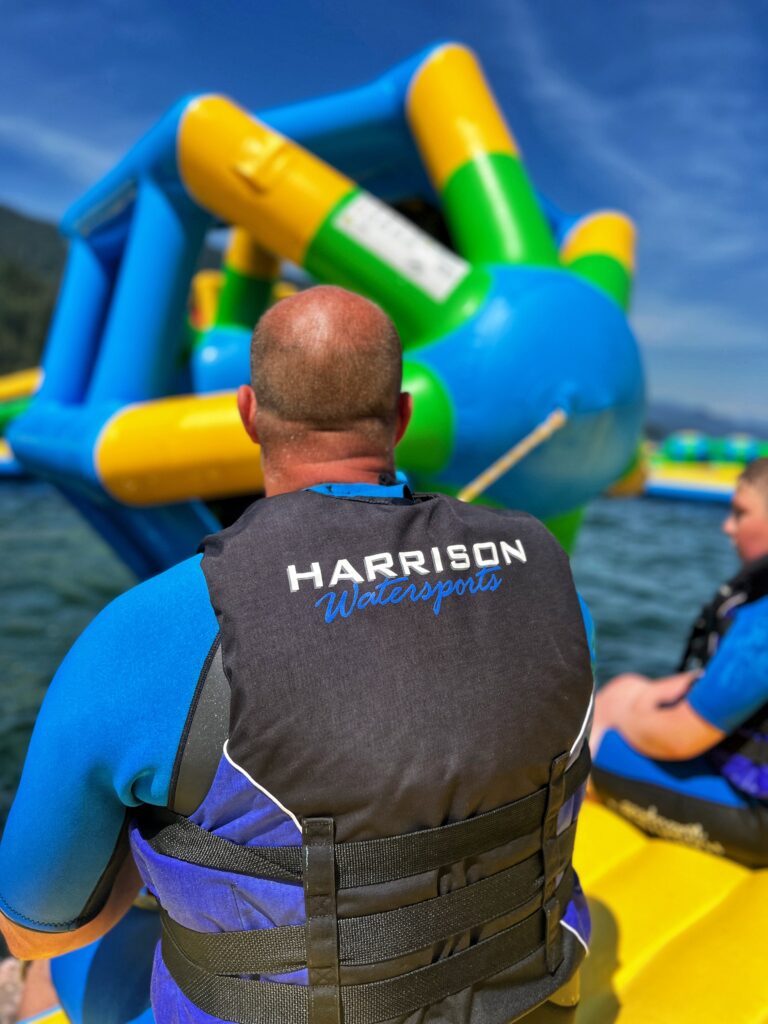 Seriously Harrison Hot Springs is so beautiful! The water was cold but really so refreshing and the kids said they could do without the wet suits… but really I think they were fooled by having them on – so make sure to get!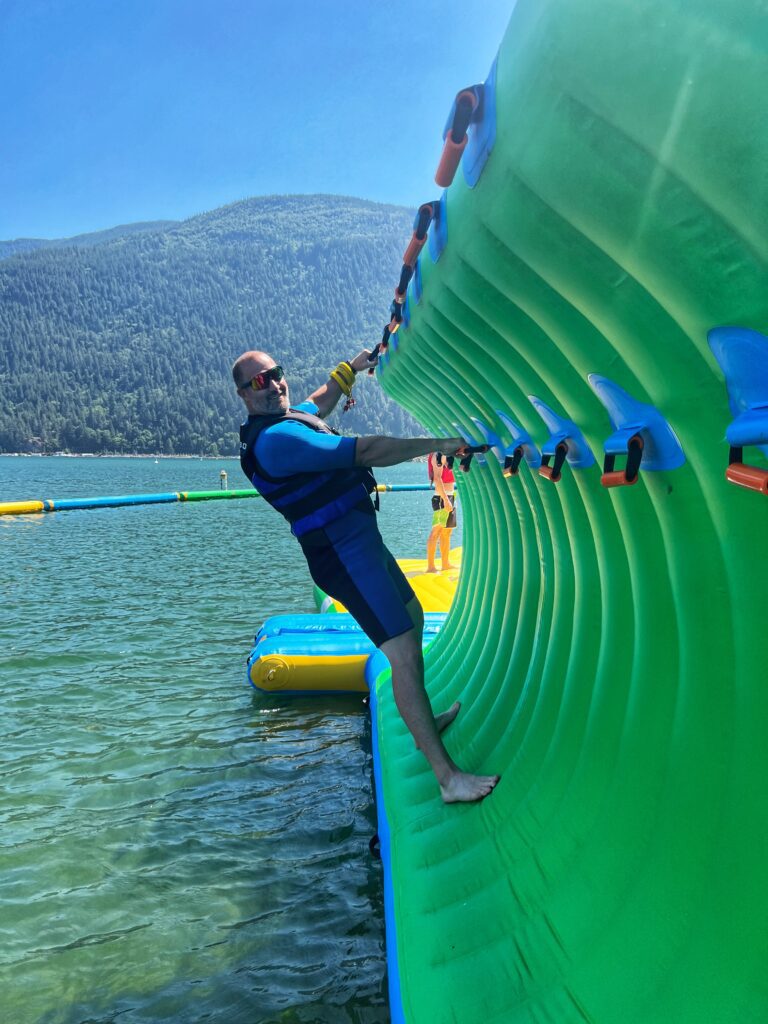 Just remember no fun at all … look at that smile it says it all! We seriously all had the best time and can't wait to go back! Why can't it be open all year? Since it isn't make sure to get your tickets!!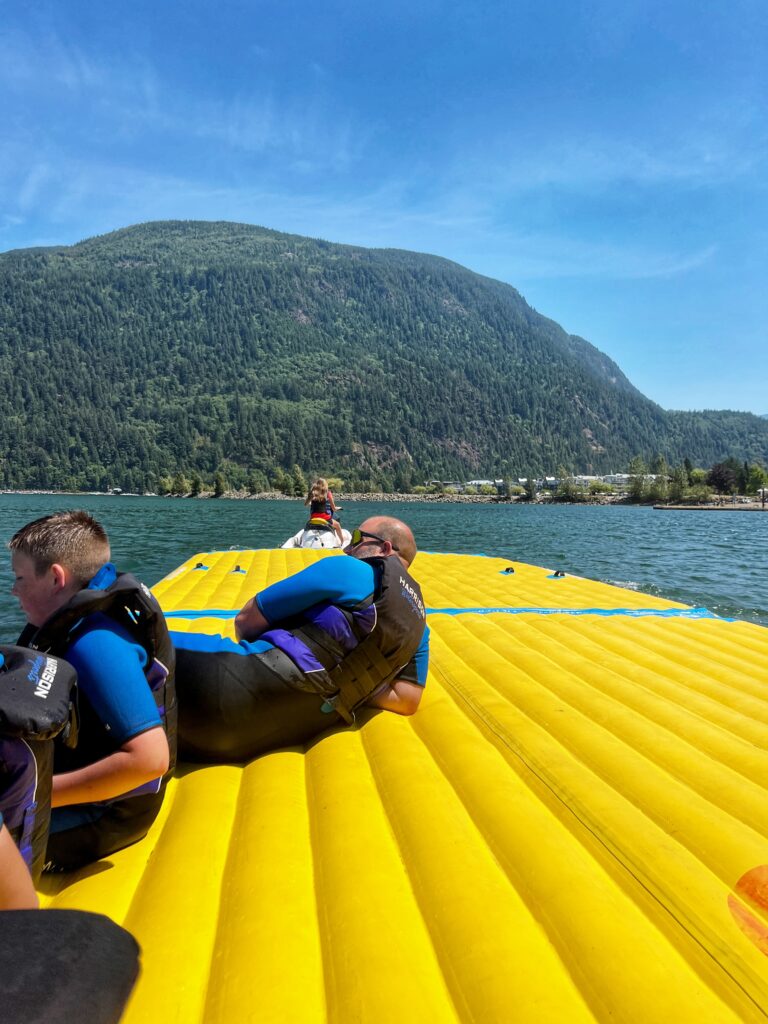 These giant floats attached to a jet ski were so fun, they take you to and from the Harrison Watersports to the beach! We said they should just have this as an activity and take you around Harrison Lake!
MORE TO DO AT HARRISON WATERSPORTS:
We rented jet skis!! James and I haven't been on since we got married and we figured since it was 15 years we should do it again! The kids loved it and I would recommend to anyone, it was easier to use than I would have guessed and so fun!
TIPS FOR JET SKIING AT HARRISON WATERSPORTS:
1. Book ahead of time, but you can get lucky and get a walk-in – we did!
2.For Jet Ski rentals : They do require you to put a large deposit on a credit/debit card for damages – so make sure to have that with you.. credit is always best but I did our debit card and it was back to us the next day.
3. When doing the Jet Ski if you get two, if you want to go faster you need to be further apart.

The kids loved their first experience on the Jet ski's and what amazing views!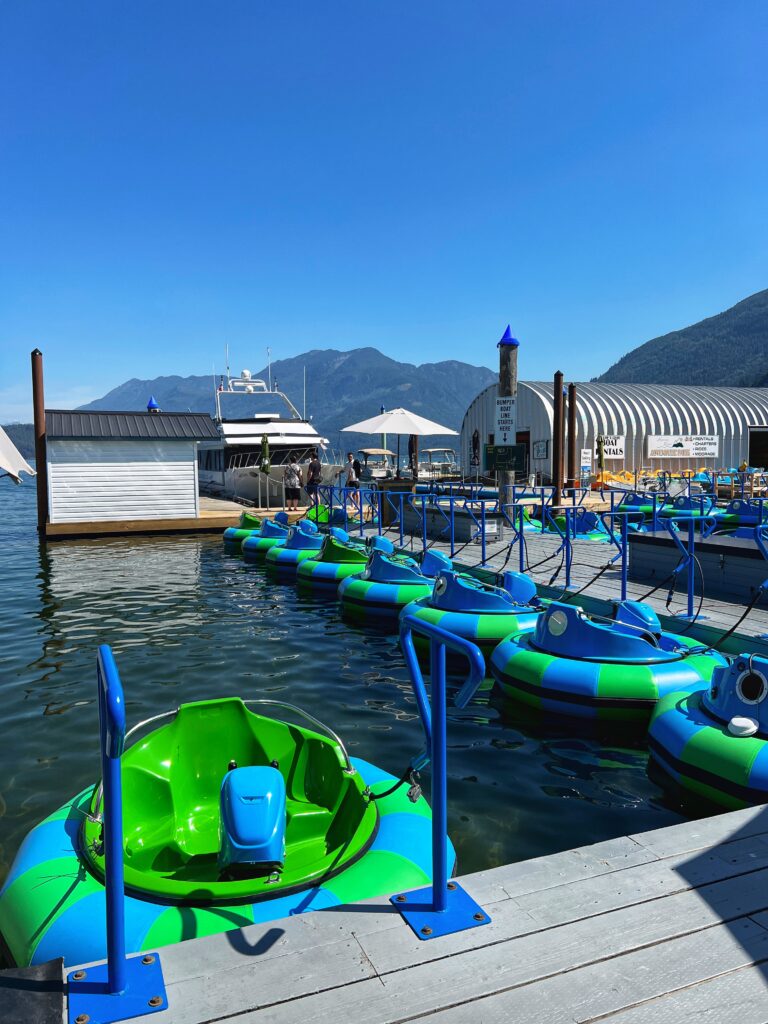 They have these awesome bumper boats, we didn't get the chance to do them but next time its on the list! So many people were on them and it looked so fun… but we were hungry and really wanted another reason to come back soon!

Check out this video too :