Christmas Decorating Ideas
Christmas decorating ideas along with a house tour! This year I had a late start, but we did what we could and soaked up the coziness!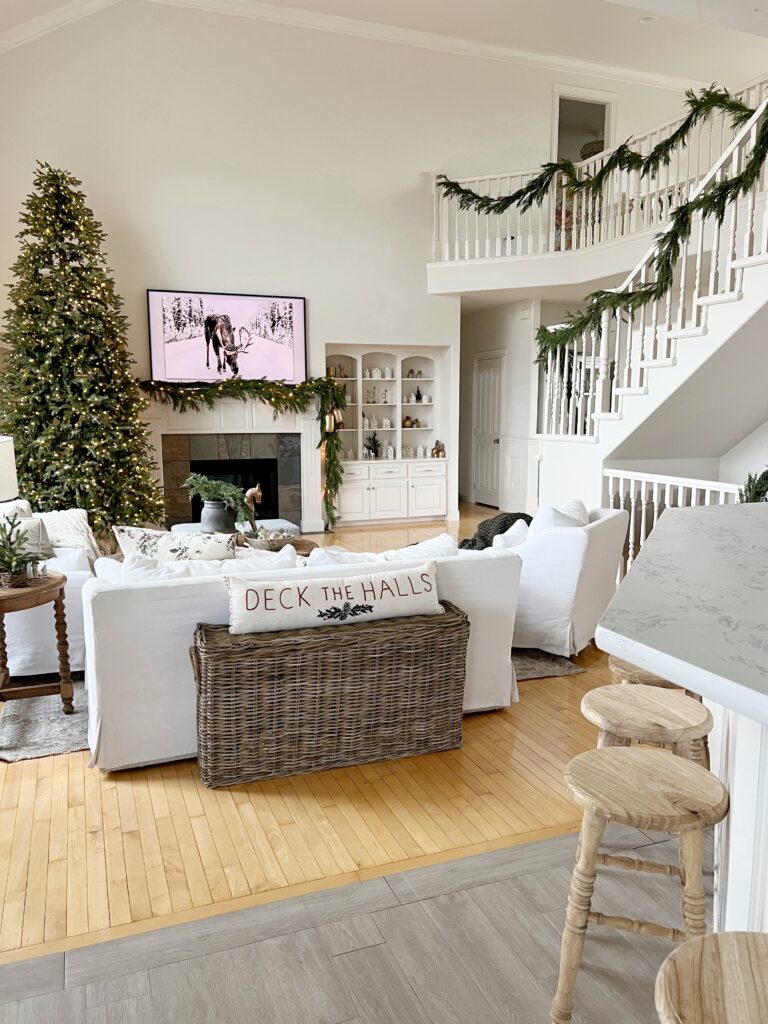 Living Room:
Here is a view of our living room, you can see our new counters and cabinets! We planned to do our fireplace this year, but honestly we need to wait to do the big project till we do all of these rooms since the flooring and windows will all change.. so we will wait maybe I will paint the fireplace and do some easy changes for now?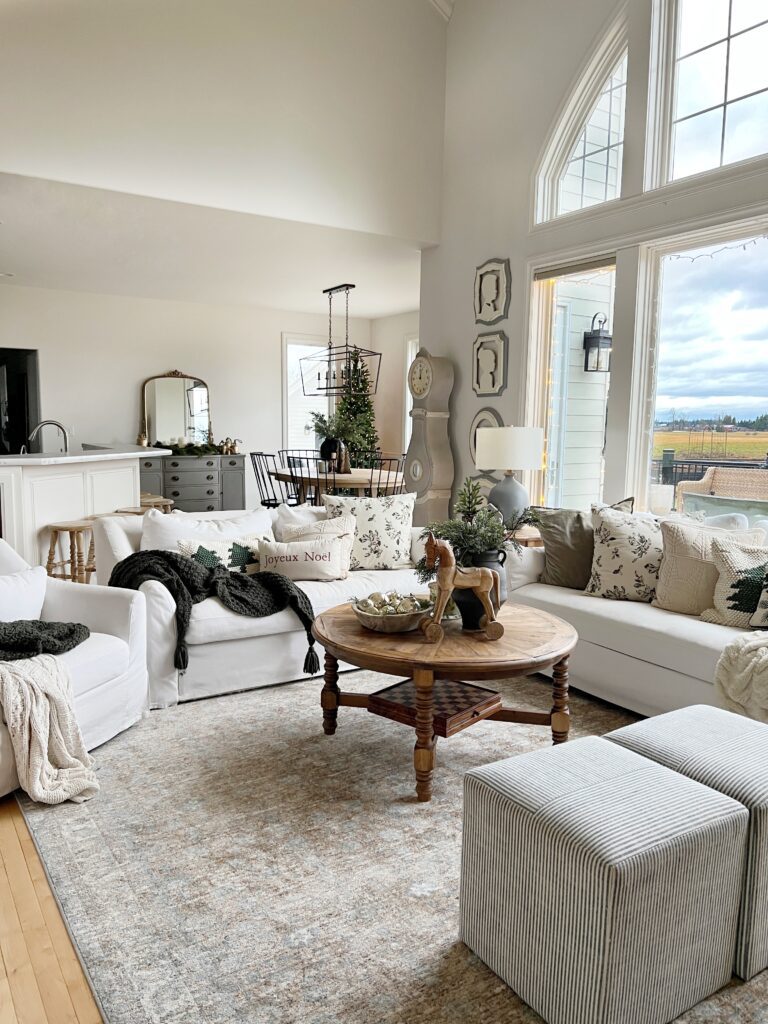 I need to share a before and after of this view! It is cozy and simple and just what we needed for Christmas along with some twinkle lights.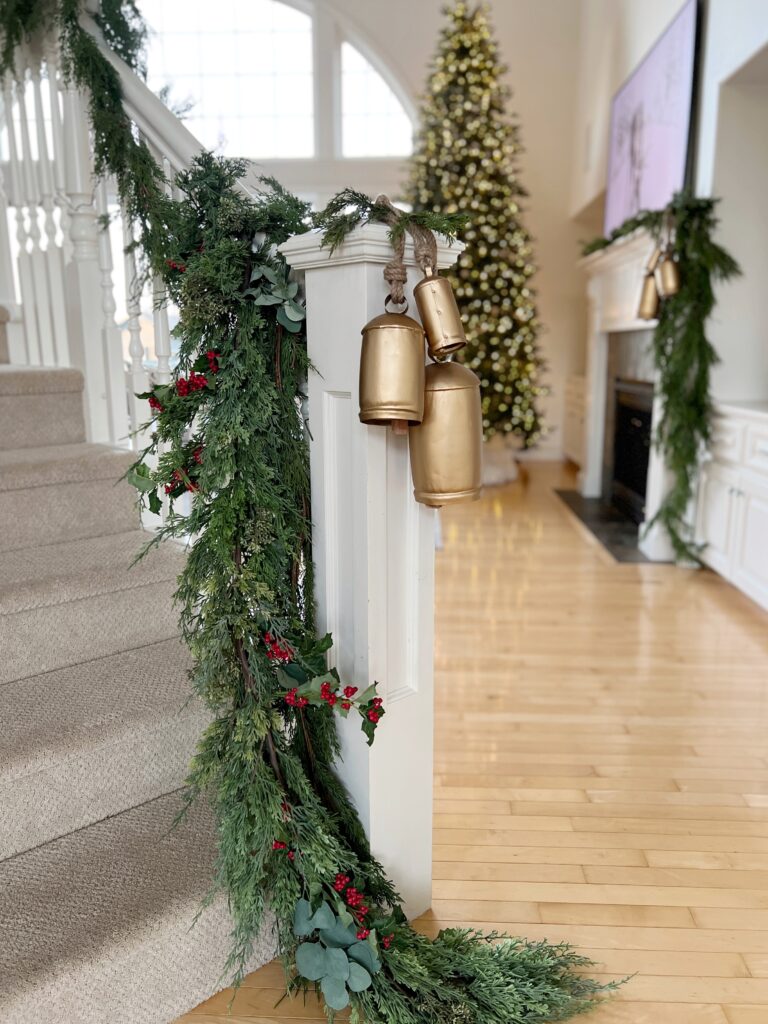 Gold bells, yes please! These are perfect for Christmas and winter decor! Purple Rose Home always has beautiful bells!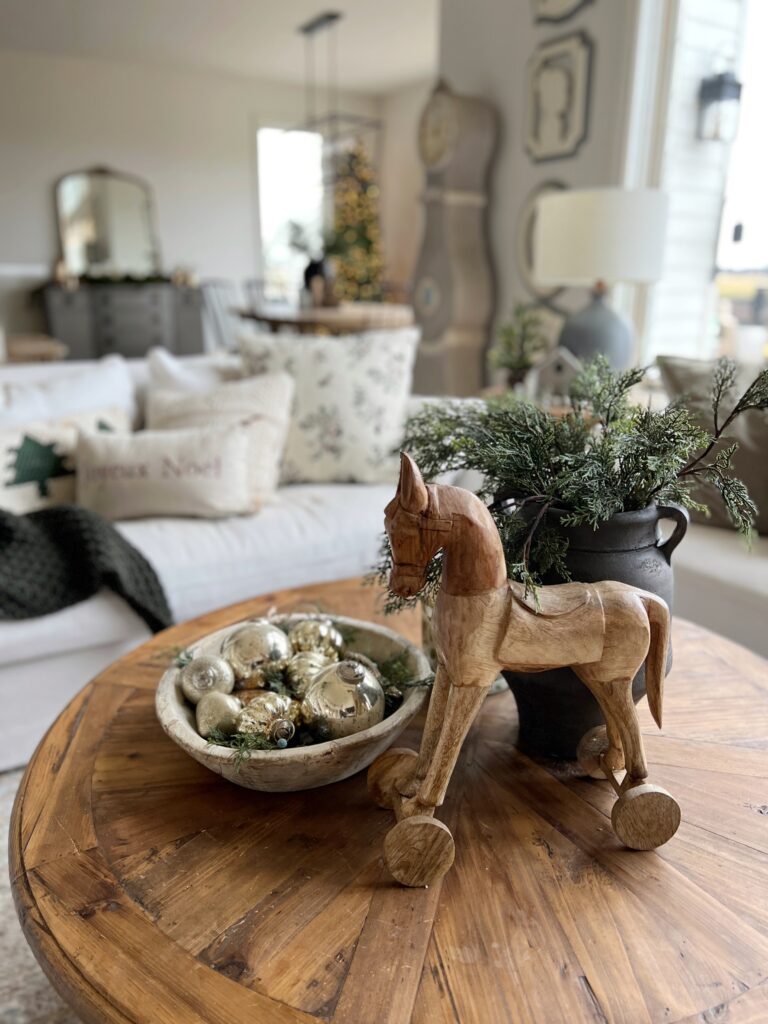 It is no secret I love lots of pillows, and cozy blankets! Add some ornaments in a dough bowl and easy Christmas Decorating!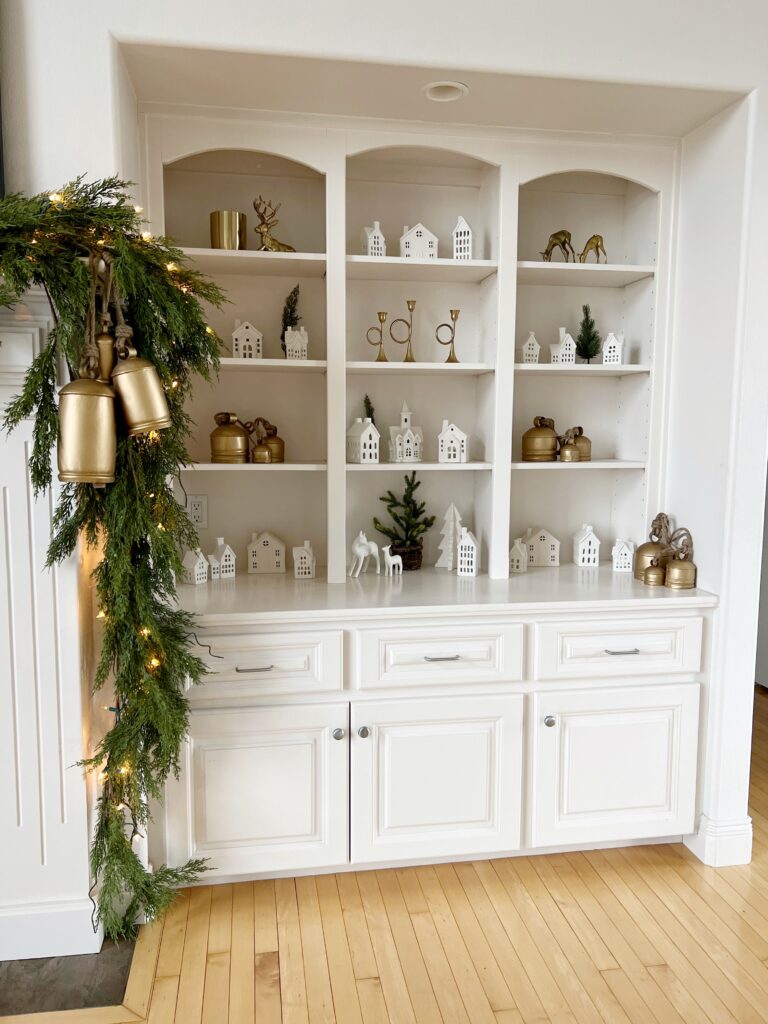 These shelves, they are a love hate but lately I have been loving them! These houses are so simple yet beautiful and at night the little tea lights glow.
Dining Rooms: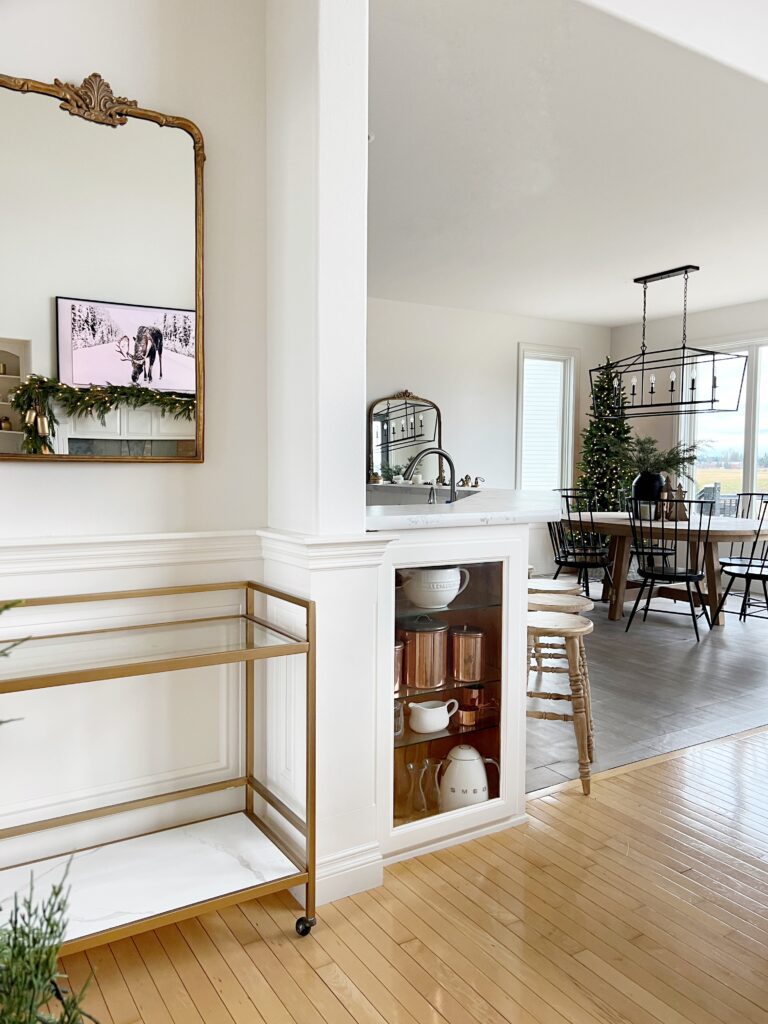 Little nooks can be hard, I added this bar cart that we use for all different occasions the marble and glass are so gorgeous!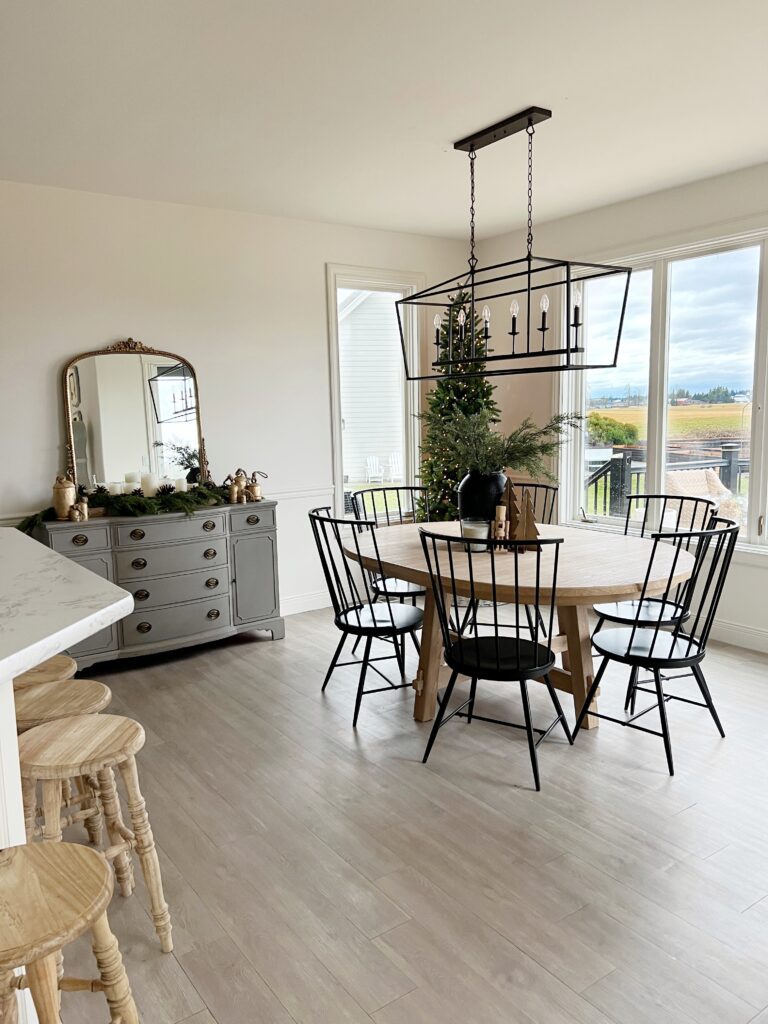 Our dining room has come along way, but still so much to change.. one day! For now we enjoy the twinkle lights, greenery and bells!
If you remember my decor closet, I try not to buy a lot new each year and use what I have these pieces are all just that. Christmas Decorating doesn't always have to be new things it can be what you have, and always grab some greenery outside and pinecones! Did you know most stores like Home Depot have free pine tree clippings at Christmas time?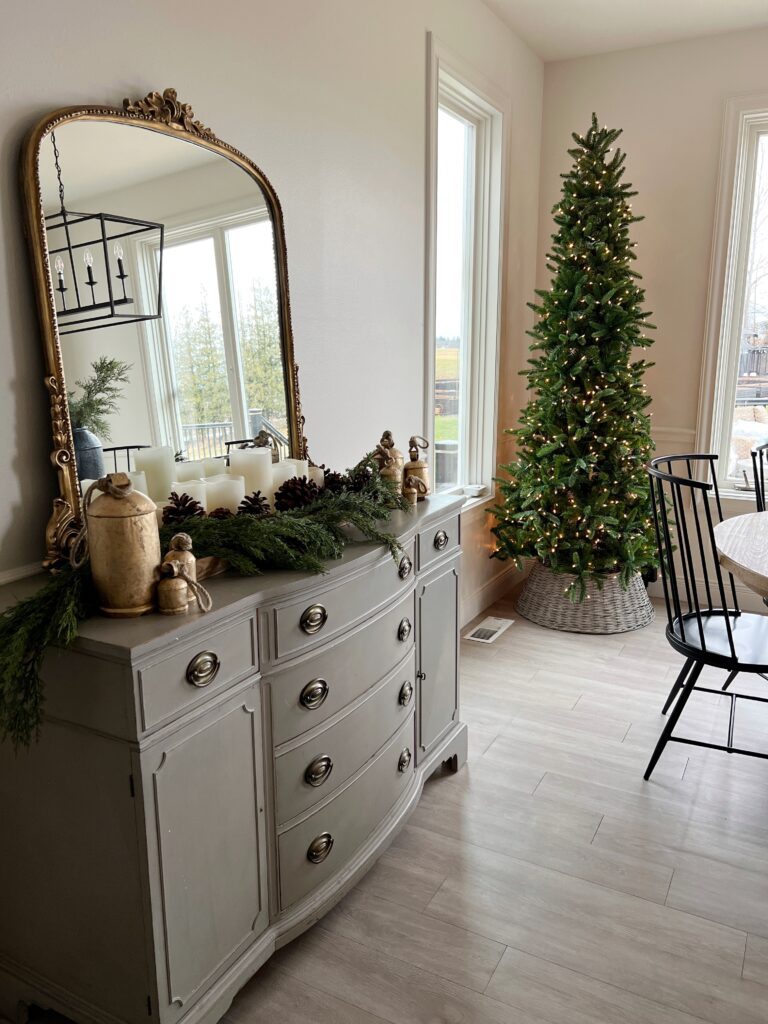 Do you see what I mean about the bells? Simple and beautiful.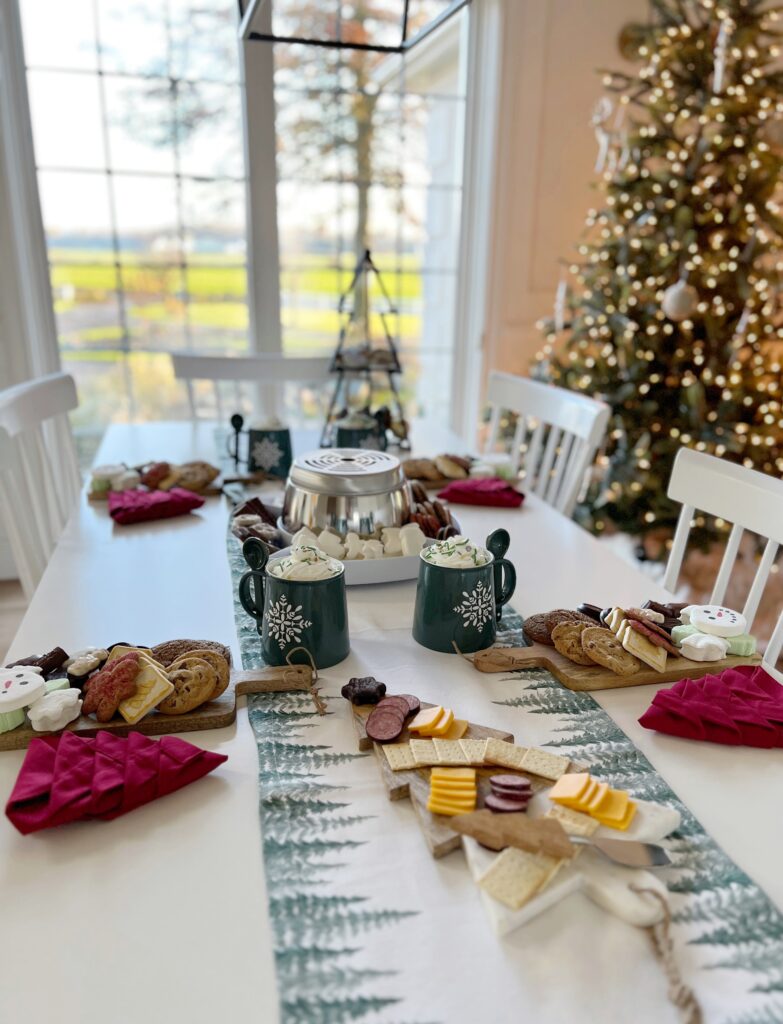 This little s'more's charcuterie party was so fun to put together! I love all the decor and excited to use it again next year! Big things planned!
Kitchen: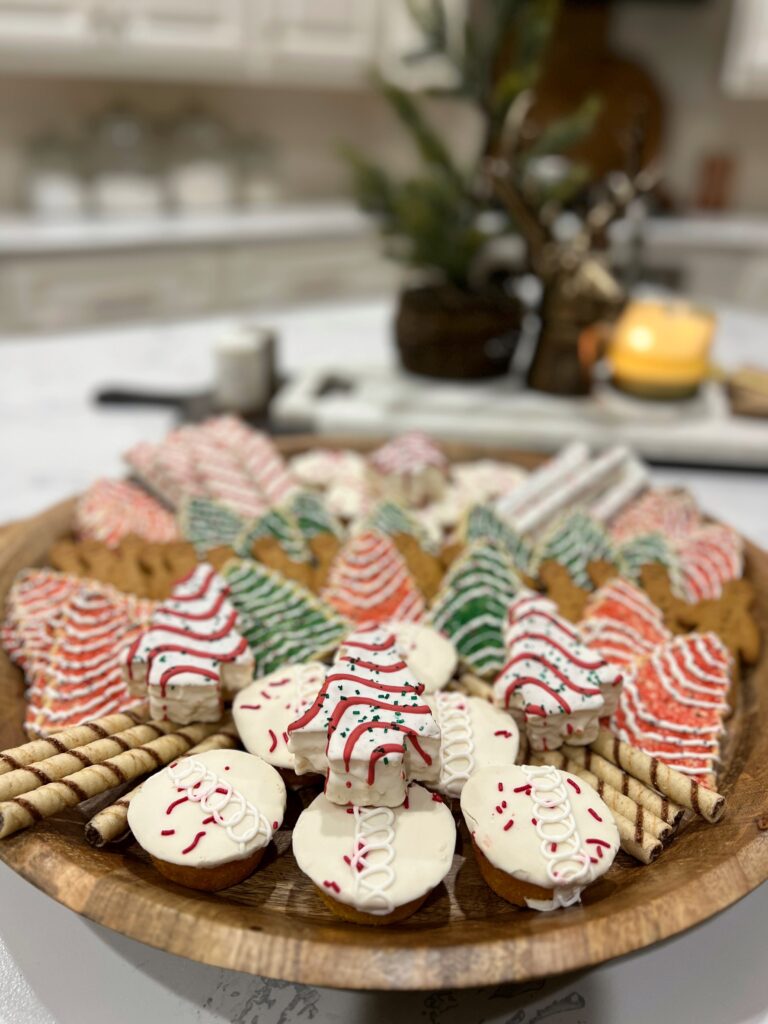 I had to add a little Christmas Charcuterie in our newly painted kitchen if you are here for a sneak peek of the kitchen here you go – I am LOVING it!
I forgot to take a picture this year of the garland from above, this was last year and this year it was just as pretty!
Front Room: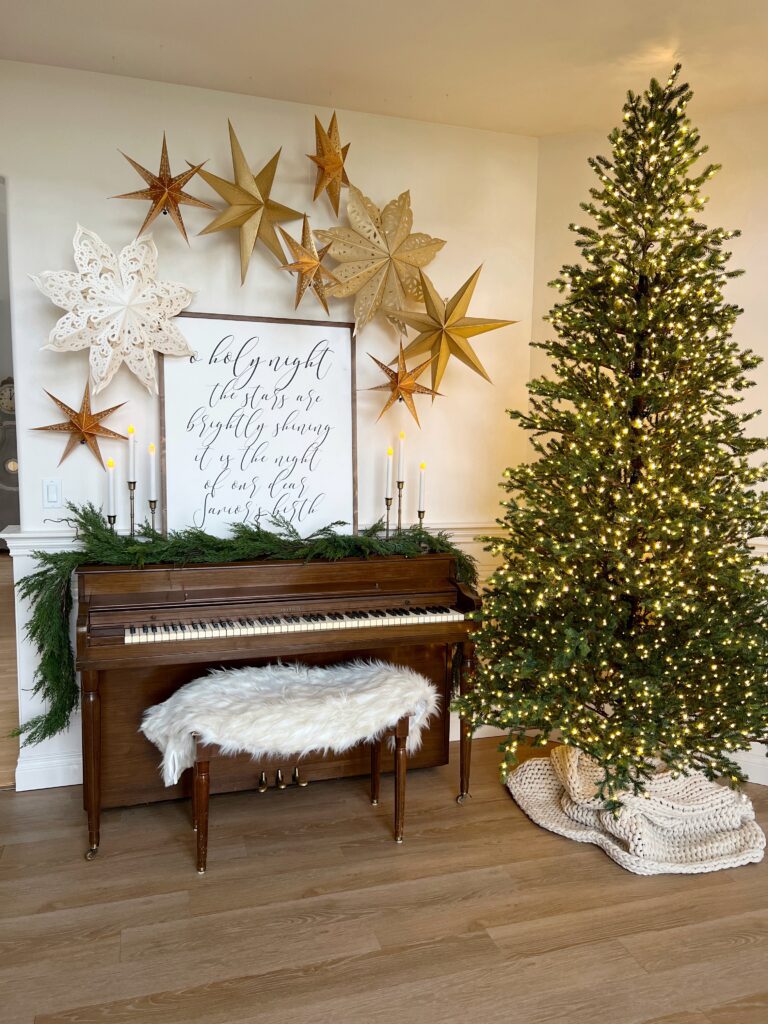 Our piano, it has brought us so much JOY. I have loved listening to all the Christmas music, while James maybe done listening to Carol of the Bell's it is always a favorite!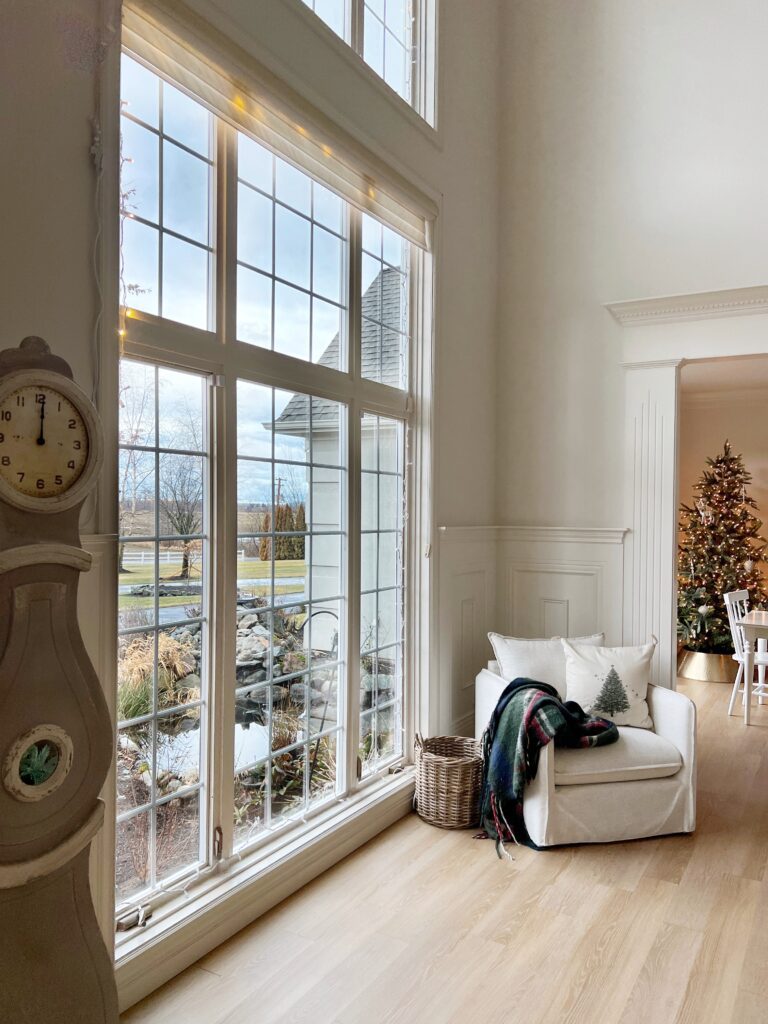 I can never get enough of these windows – they sold me on the house we can't wait to add some more one day!
Christmas Decorating – Bedrooms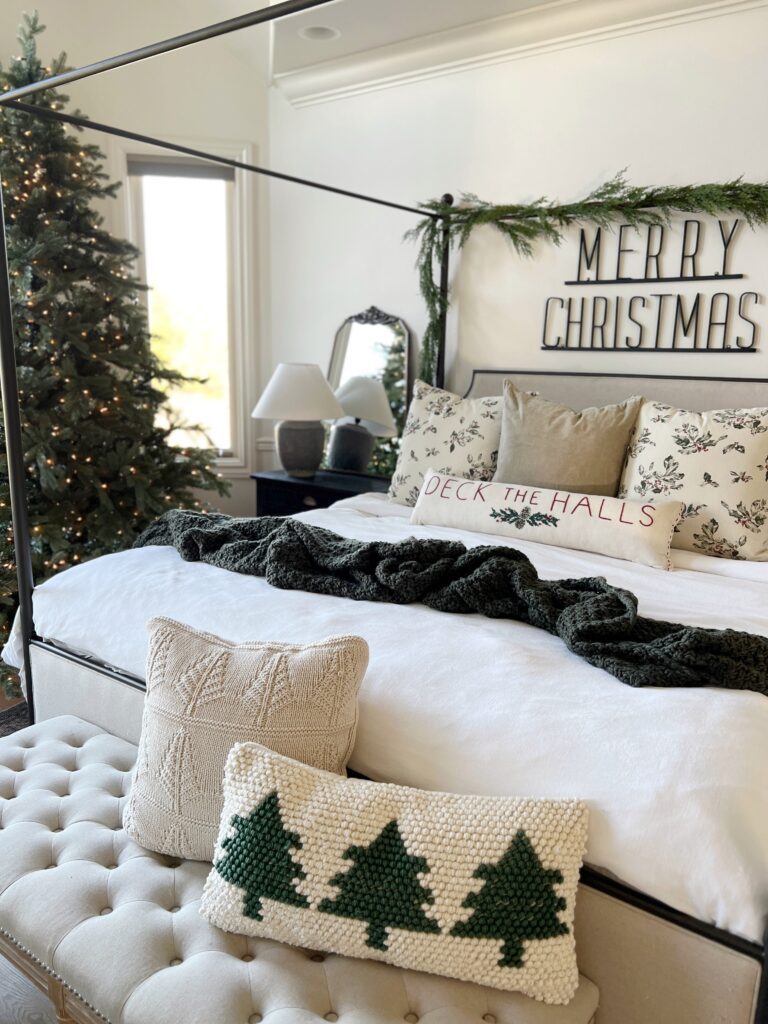 Our cozy neutral bedroom, simple and perfect! I loved that it wasn't too much and practical. Just add some pillows, sign, and well a tree always is special.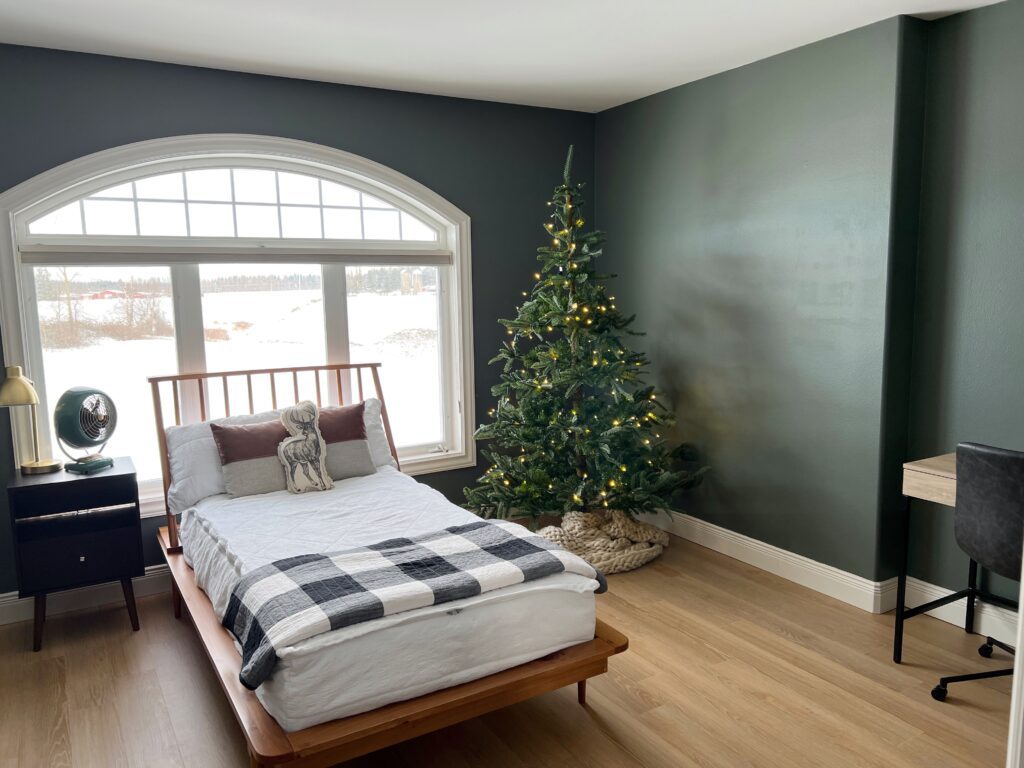 Emersons room we finished earlier in the year and the new floors and green paint are a perfect pair! Simple Christmas decorating in bedrooms is the way to go, just add a tree or twinkle lights and you are set!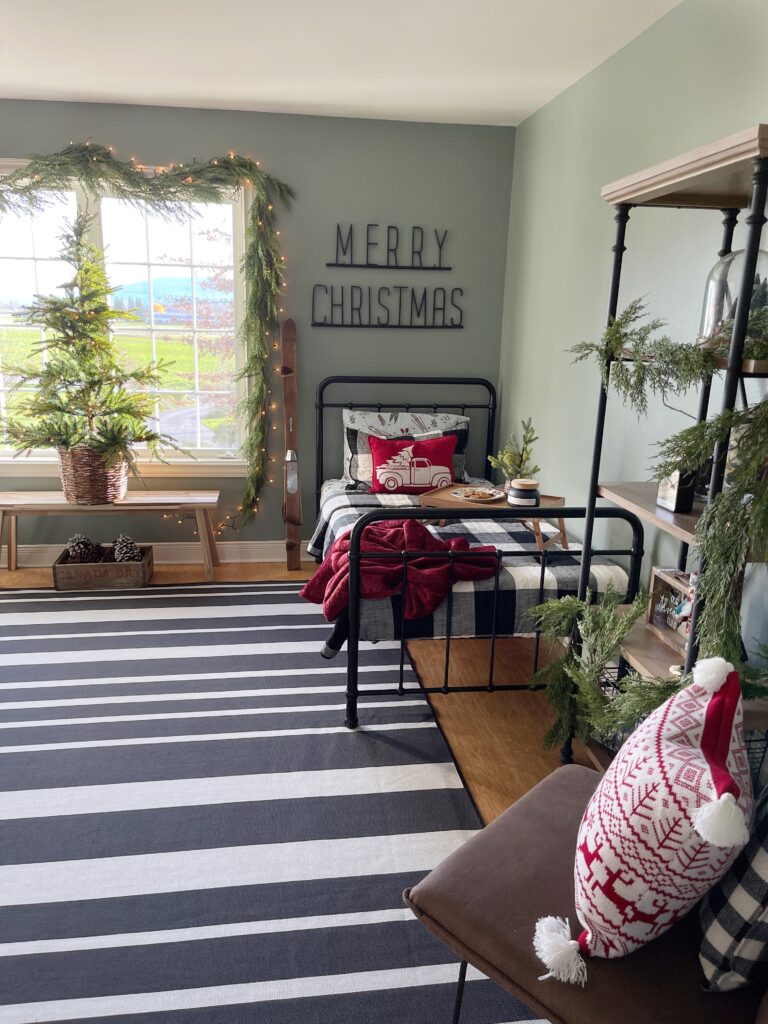 Green is the theme for the kids rooms, we planned to change this one but life doesn't always go as planned. Maybe this new year?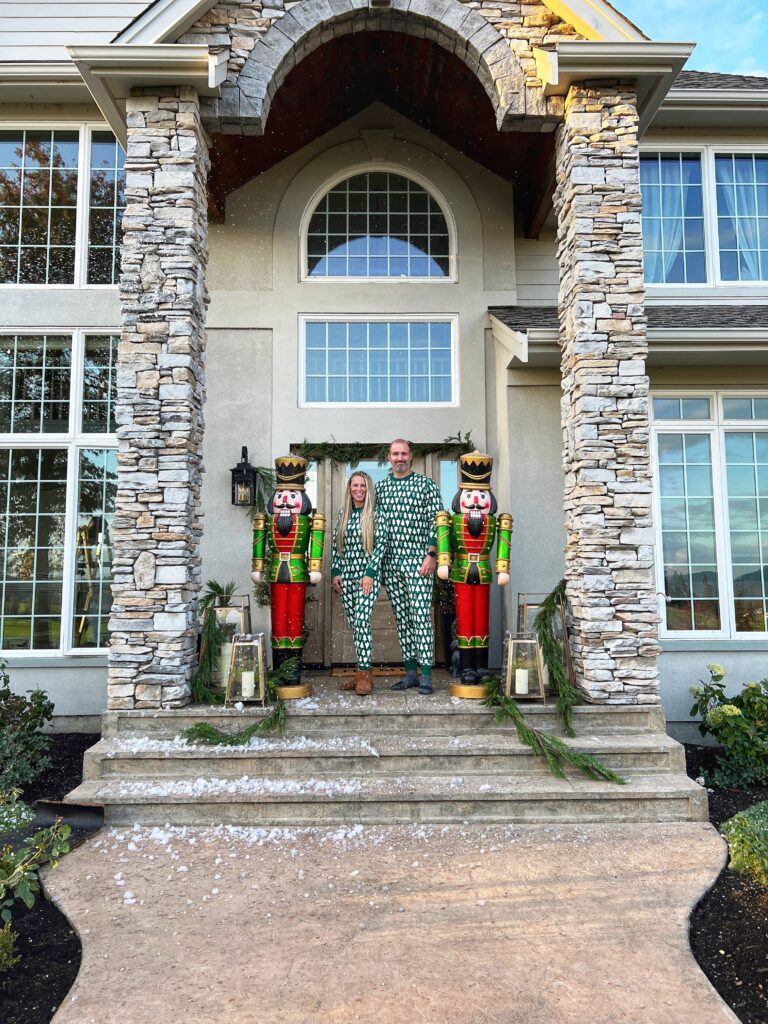 I hope you enjoyed seeing how our home was decorated for the Christmas season, while we didn't get everything done as planned what was most important was the time we spent with family and friends.. so just remember do what you can and if it's not all you dreamed of its ok!