New Years Eve Decor Ideas
Ready to Kick off another year – New Years Eve Decor Ideas! Here are some ideas on how to decorate for New Years along with where to buy my favorite items from!
We know how to party, and I am talking about the confetti poppers and balloons! We do make a fun charcuterie and have a ball playing games all night long! New Years Eve is one of my favorite holidays and we love being able to host!
Balloons & confetti are just the start of decor for New Years Eve! All you really need is a banner, some hats and fun things to wear! We love being able to have props for photos and well disco balls are always fun!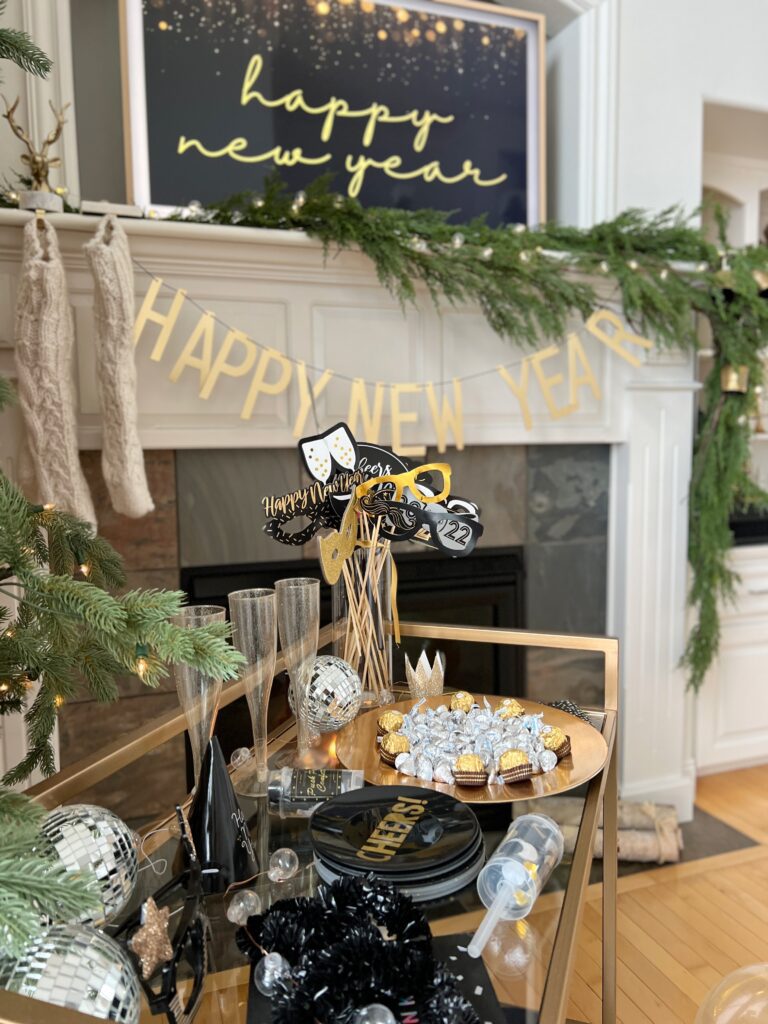 A good bar cart is always a must – and this we use year round! I love the marble bottom and pretty glass top!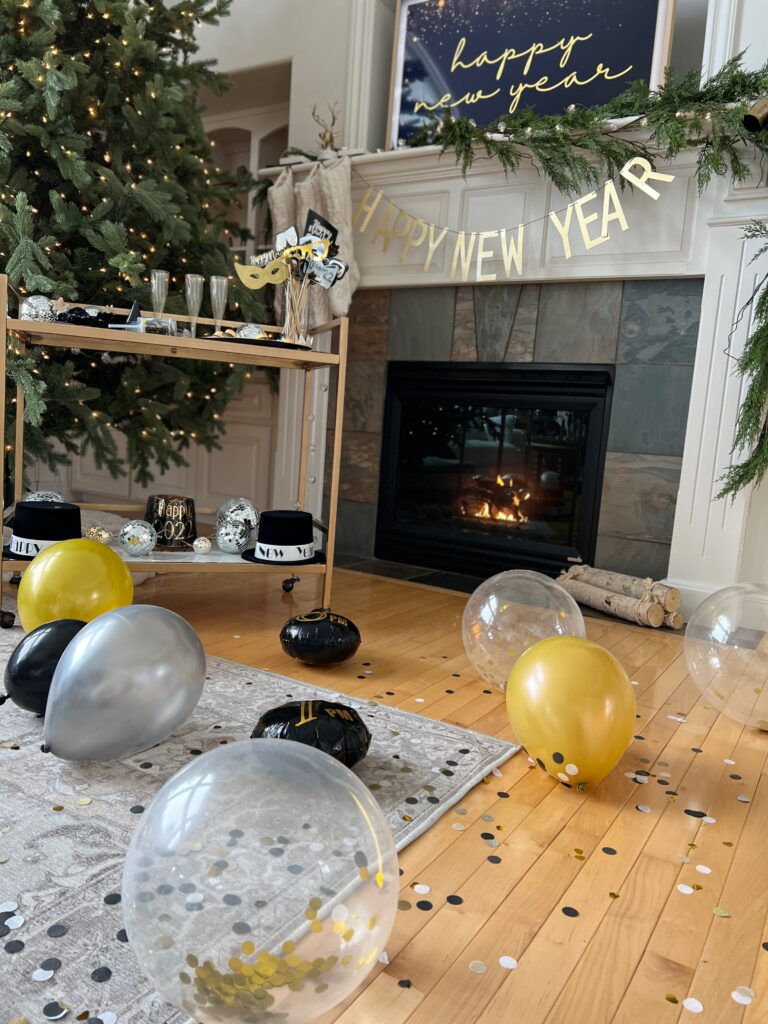 Did you notice the tv art work? Such an easy way to make a statement and so inexpensive too!
Grab some gold and silver candies and then get some fun drinks along with decor and your bar cart is set!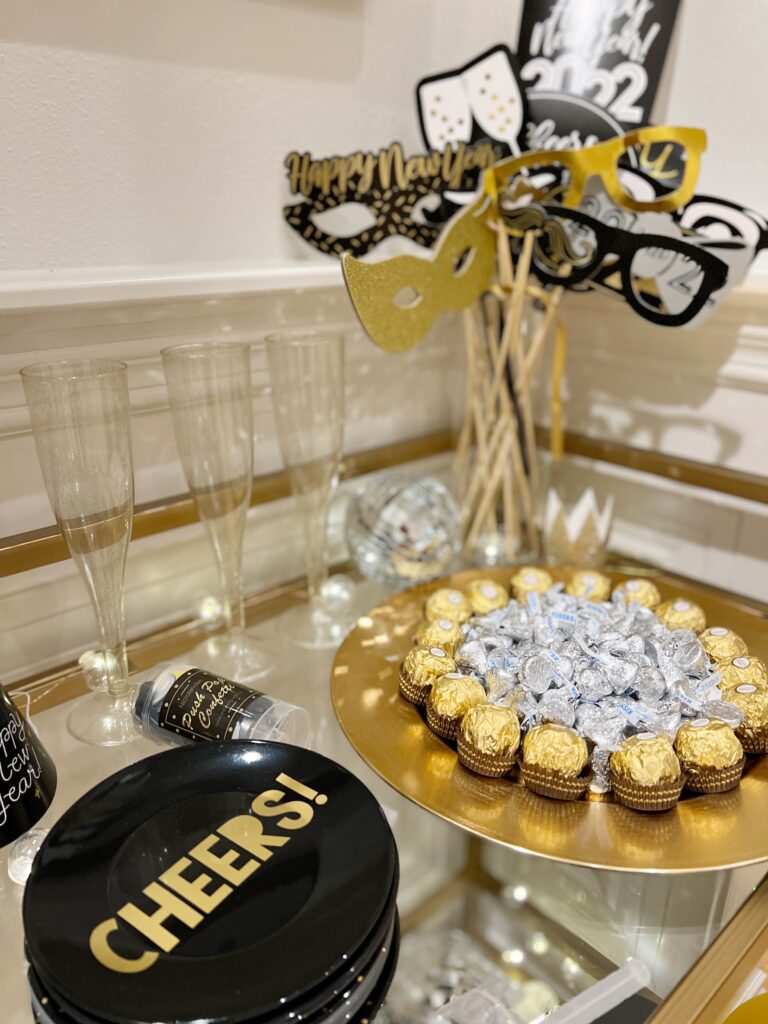 We can't forget about the balloon wall! But let's do a game too!
It looked like we already partied hard, but it wasn't until the Saran Wrap Game did we!
Saran Wrap Game:
What you will need :
Saran Wrap – the more rolls the BIGGER the ball! ( at least 5 big rolls or get the costco size!)
Prizes of any kind ( all depends on age)
Money
Oven Mits
Scissors
2 dice

HOW TO WRAP :
Make sure when you are wrapping that it is NOT one continuous line. Wrap it tight, and make sure to cut off ends, twist it, whatever you got to do to make it tricky! If any holes keep filling and it will end up a ball even with odd shape things. Wrap and wrap till you are done.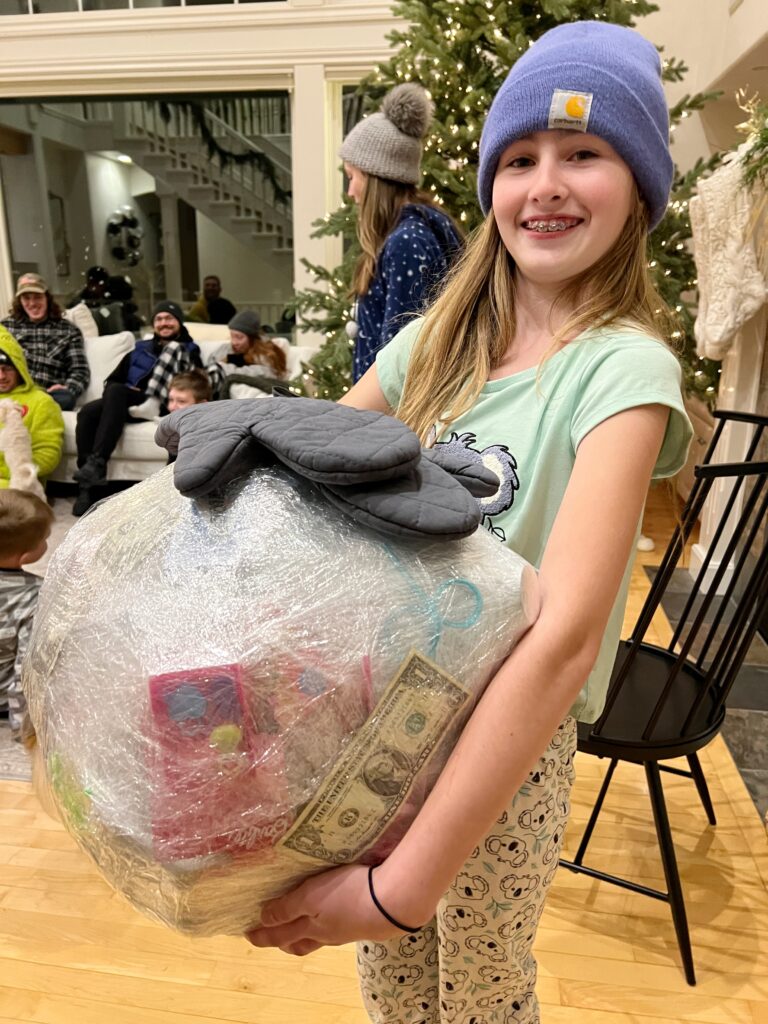 HOW TO PLAY :
Pick a person to start, then they need to wear oven mitts. The person next to them on the left will start rolling dice. As soon as they get doubles – they yell doubles and take the ball. Whatever the person that had the mitts on unrolls gets to keep those prizes that fall out. You keep doing this round and round till it ends.

* To make it harder you can have rules where they can't rip and have to use just the end – we don't do that because we make it tricky already.

Have fun, and be ready to play year after year!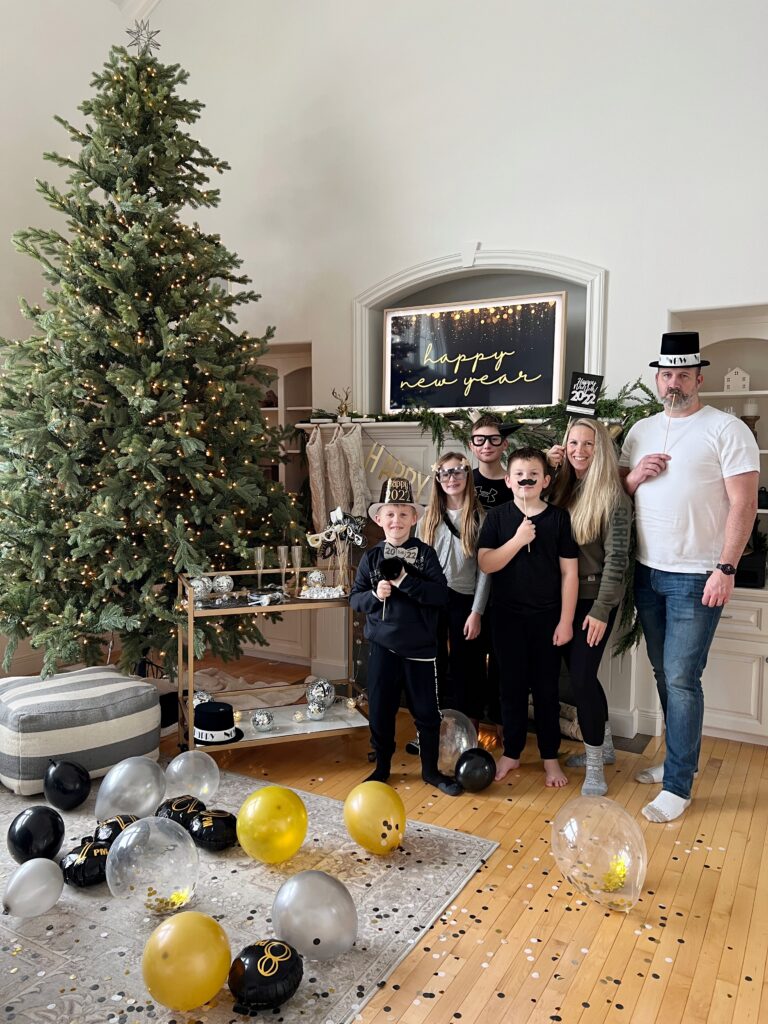 As another year passes, we are so grateful for all that we have been given. I love to look at a new start and am always setting goals. Do you do resolutions or just continually set goals?
To Shop this post :
Necklaces
Bingo
Gold Glitter Champagne Flutes
Gold Confetti Push Pops
Black & Gold Plates
Balloon Arch – Black and Gold
New Years Earrings
Banner with accessories
Extra Large New Year Banner
Countdown Gift Bags
Disco Balls
Strobe Light Disco Ball
Countdown Balloons
10 piece New Years Balloons