Deck Decorating – Spring Refresh
Deck Decorating – It is spring and we are ready for a refresh! I am dreaming of summer days but will take the sunshine and glimpses we can right now! Let's get this deck ready and before everything sells out!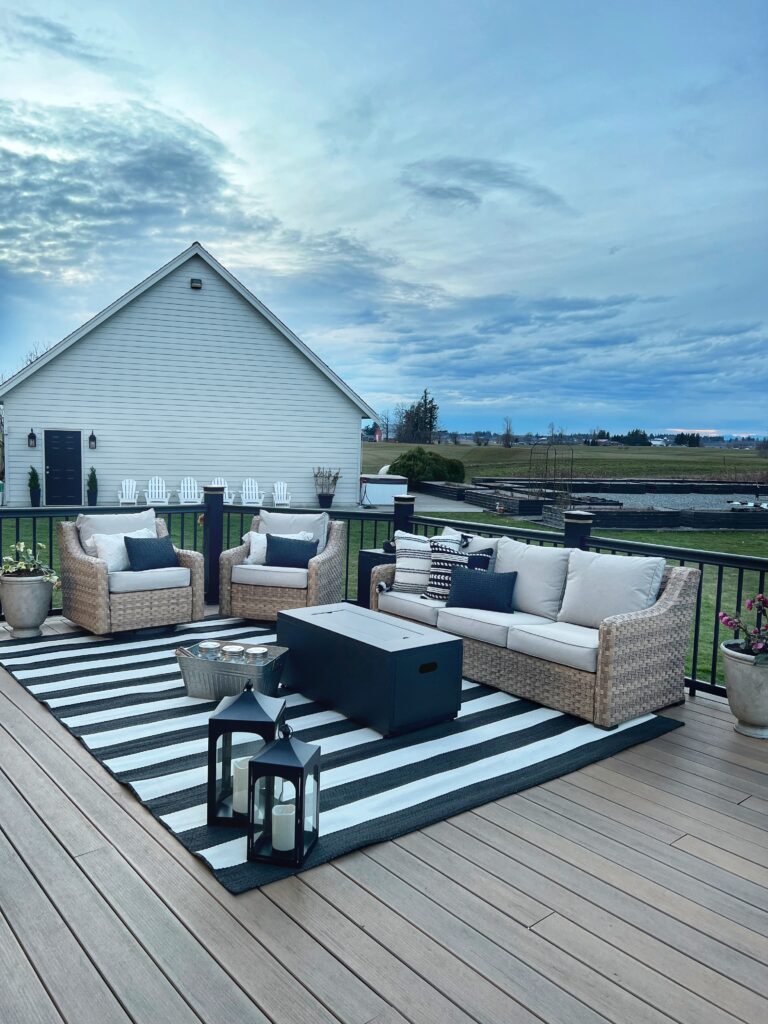 Here you can see it all ready for spring, but let's see where we started! I will be sharing all the links and details so you can transform your deck too!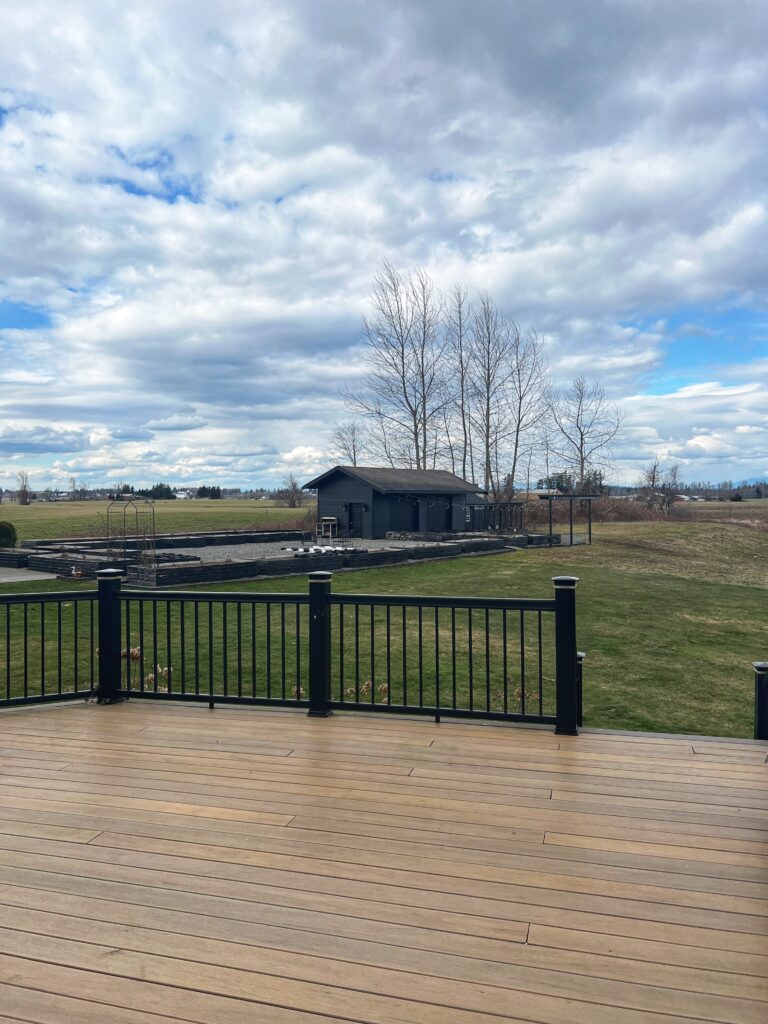 We have a large deck, and it's hard to get it in one photo so here is two little parts.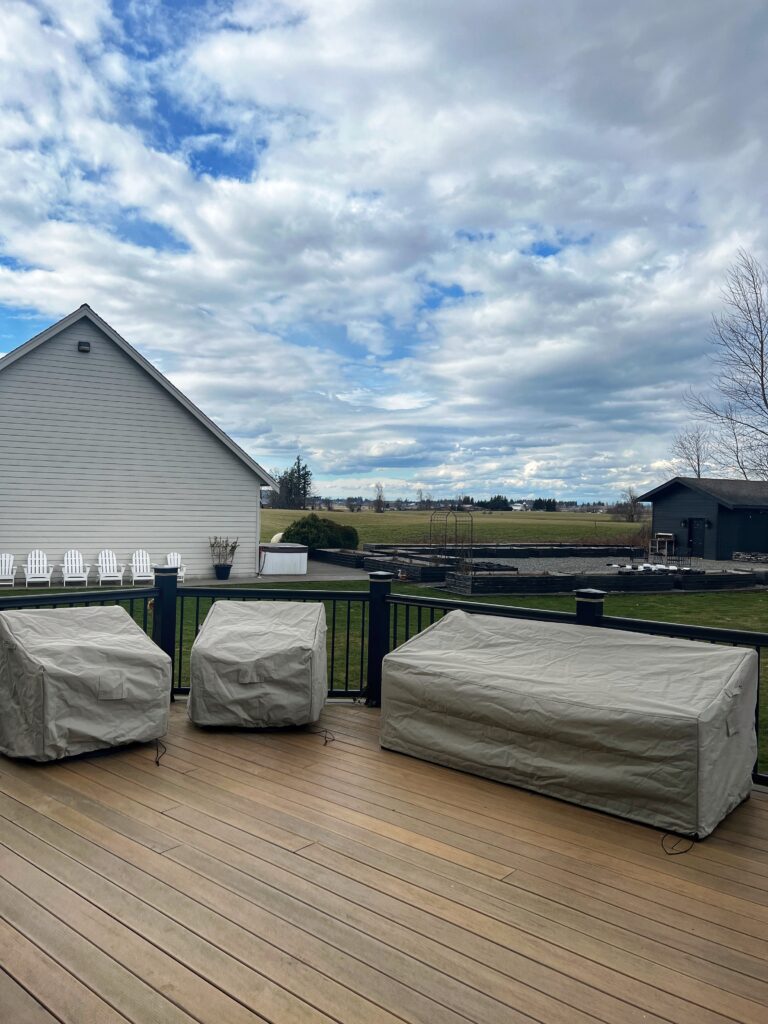 We started out with this 5 piece conversation piece from the Better Homes and Gardens line at Walmart. It comes with covers which is a game changer – we can keep it covered all year, even have the pillows under so we don't have to store somewhere else! I added a stripe rug and I will keep it out all season, you can power wash as needed on a low setting.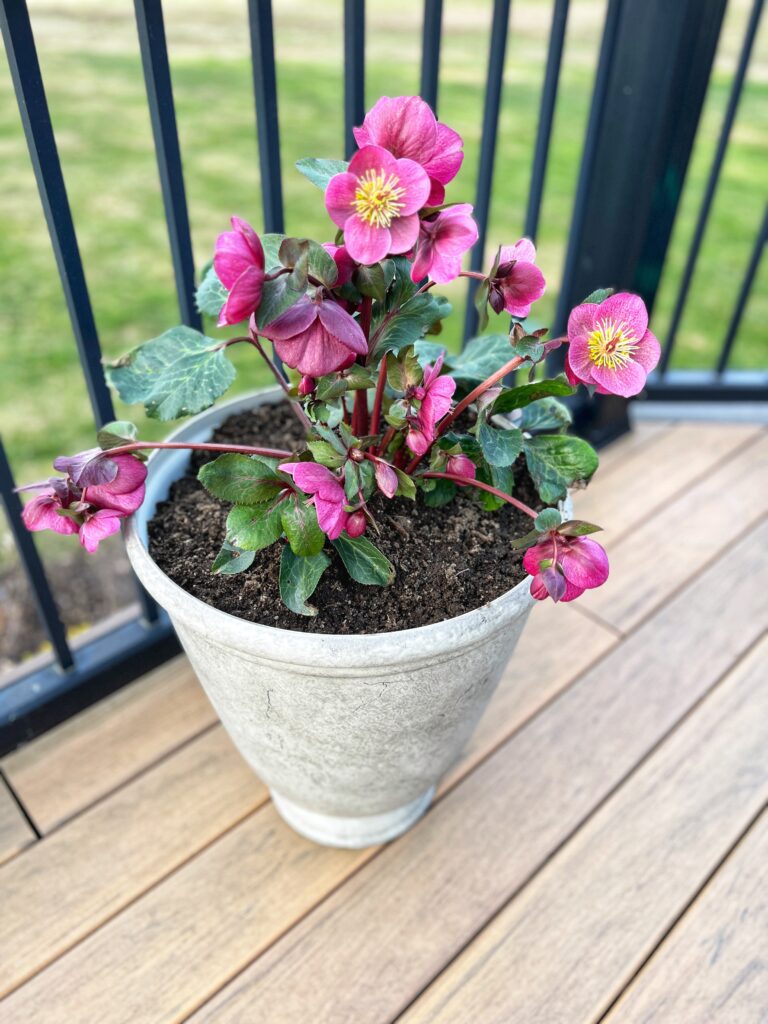 These planters while they look like GORGEOUS expensive cement, they are not and light weight – until you add dirt and don't worry they wont move but wont be heavy like cement! I added some hellebores so we can enjoy for spring!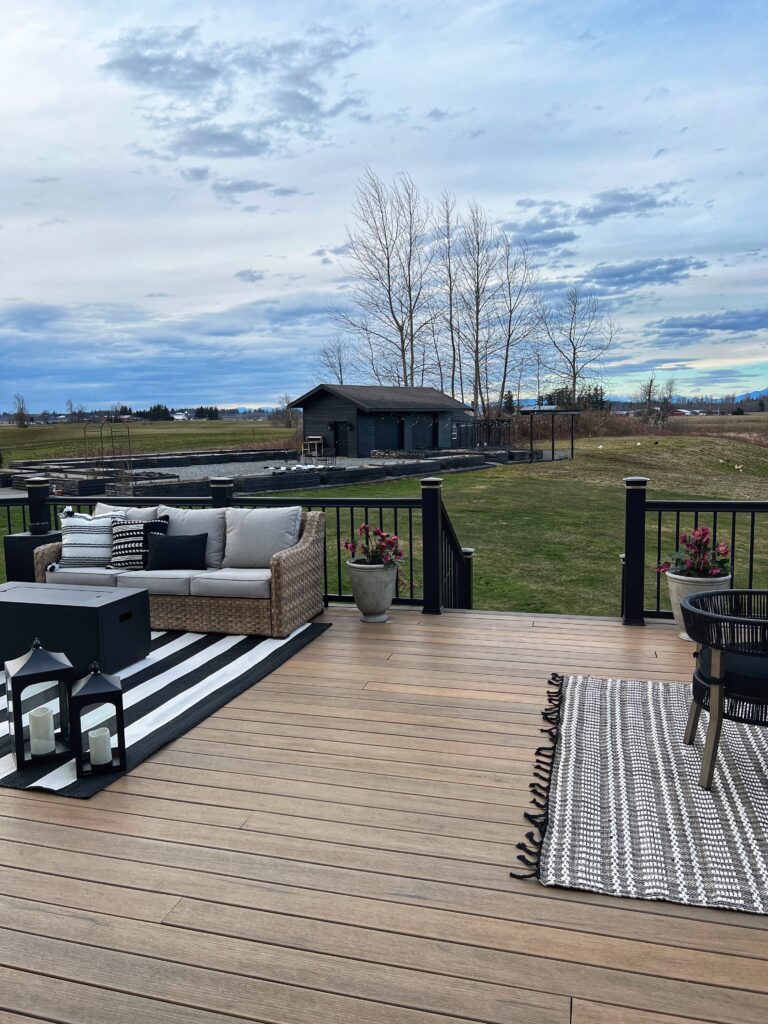 Next we added another rug, I love how they look so nice next to each other but don't take away. I didn't want to be matchy matchy. I feel like if you are looking for an outdoor rug to hide dirt the one on the right is the way to go.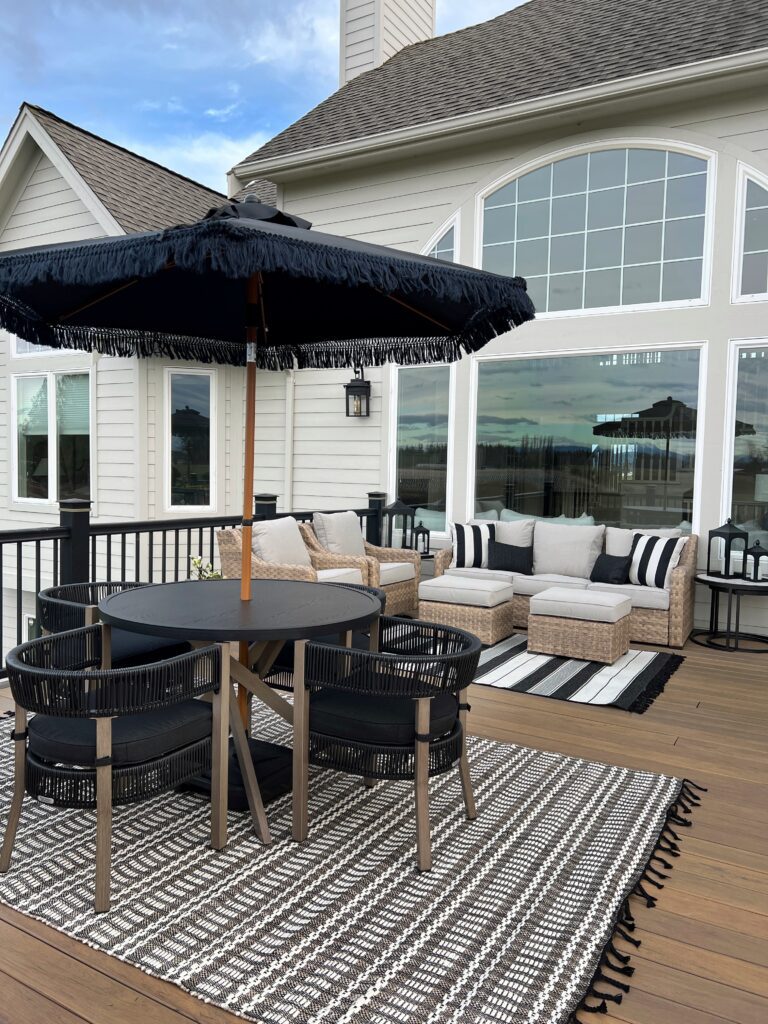 I loved this Tarren dining set from the Better Homes & Gardens line at Walmart, and I wanted to order before it sold out. The umbrella is a perfect touch! We have so much seating on our deck I thought it was the perfect little table to add.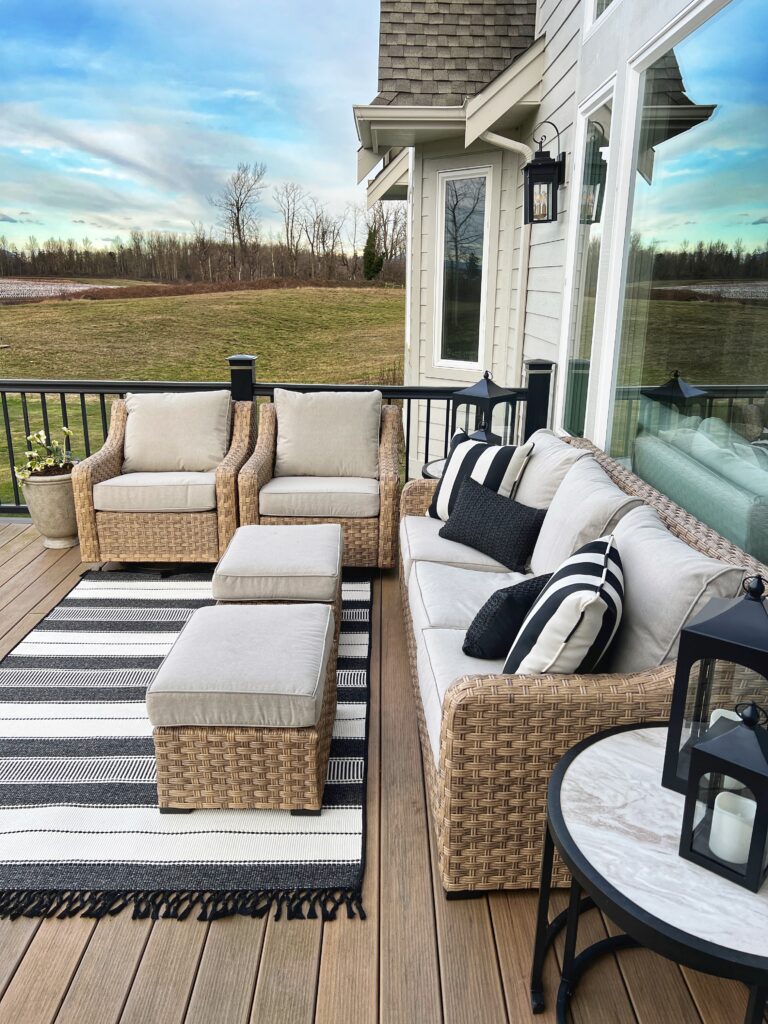 We loved our 5 piece conversation set so much we added another this year to complete our deck! It comes with the two nesting tables, two gliders and big sofa! The ottomans are sold separately and sell out fast but linking them for you!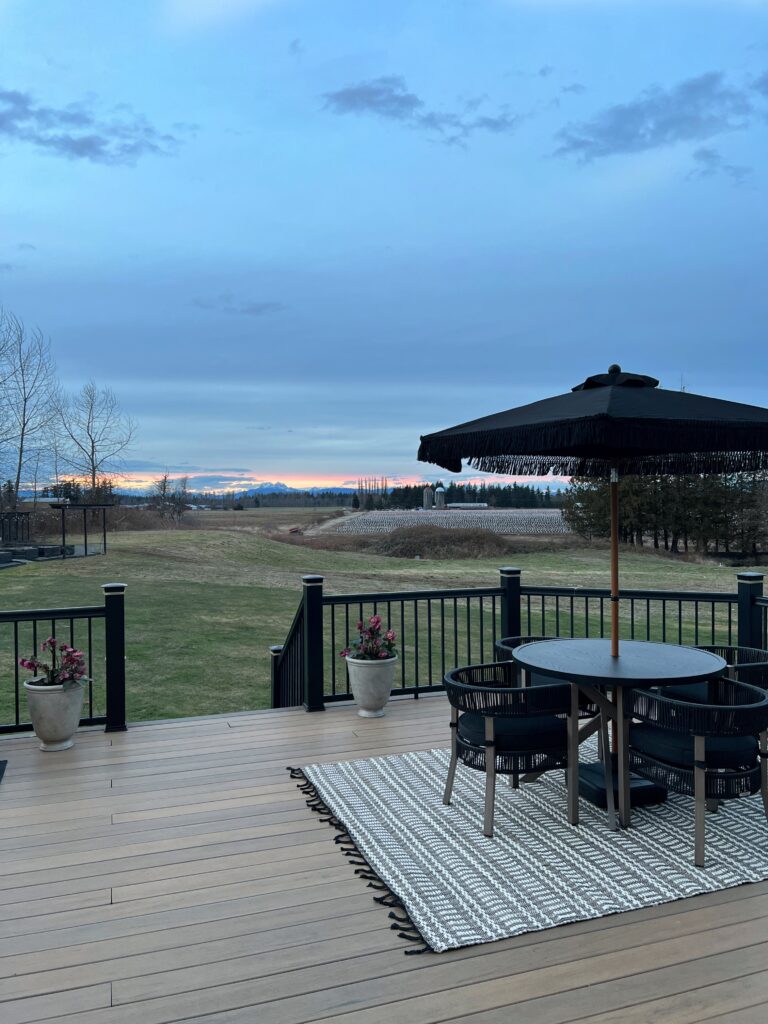 We got a glimpse into a pretty sunset, can you see the mountains in the back? We are officially ready for spring and just in time for this week! Next the flowers will all start to bloom!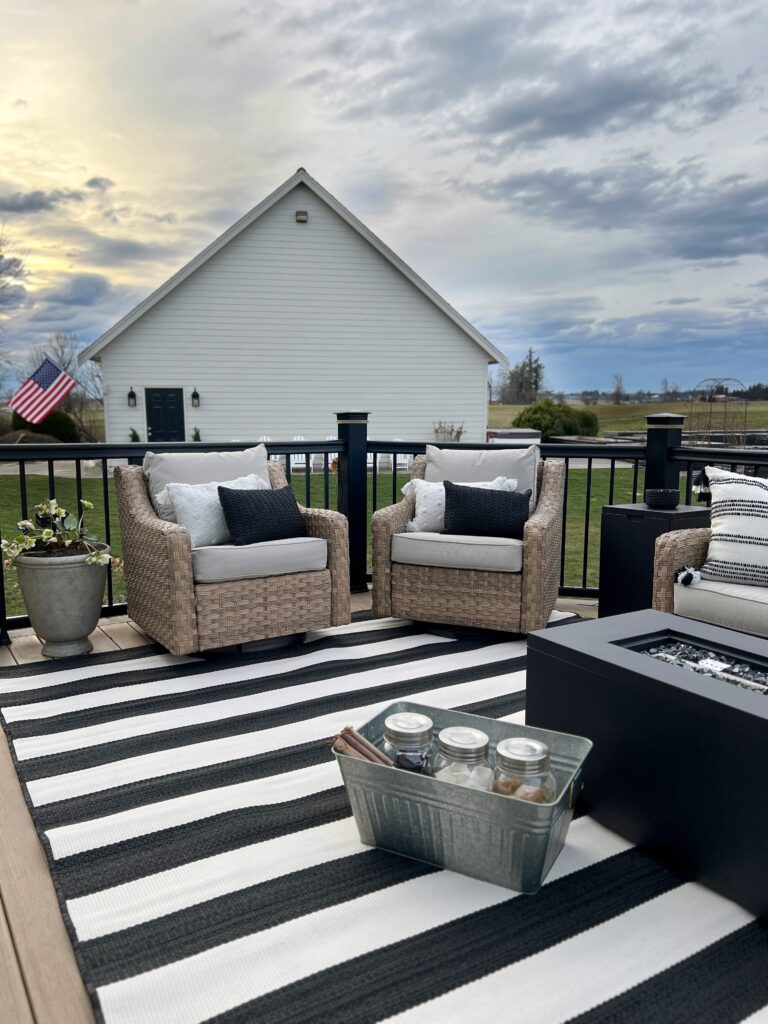 S'mores bucket yes please! We love this galvanized bucket we used it last year to hold ice cream in this post, and hold flowers in this post! Today all the goodness for a great night!
I love how this all came together and adding the pillows were the perfect touch! You can use the links below to get the exact ones! This fireplace is so sleek and nice, it even comes with a cover to protect it from elements and a propane tank holder that doubles as a table!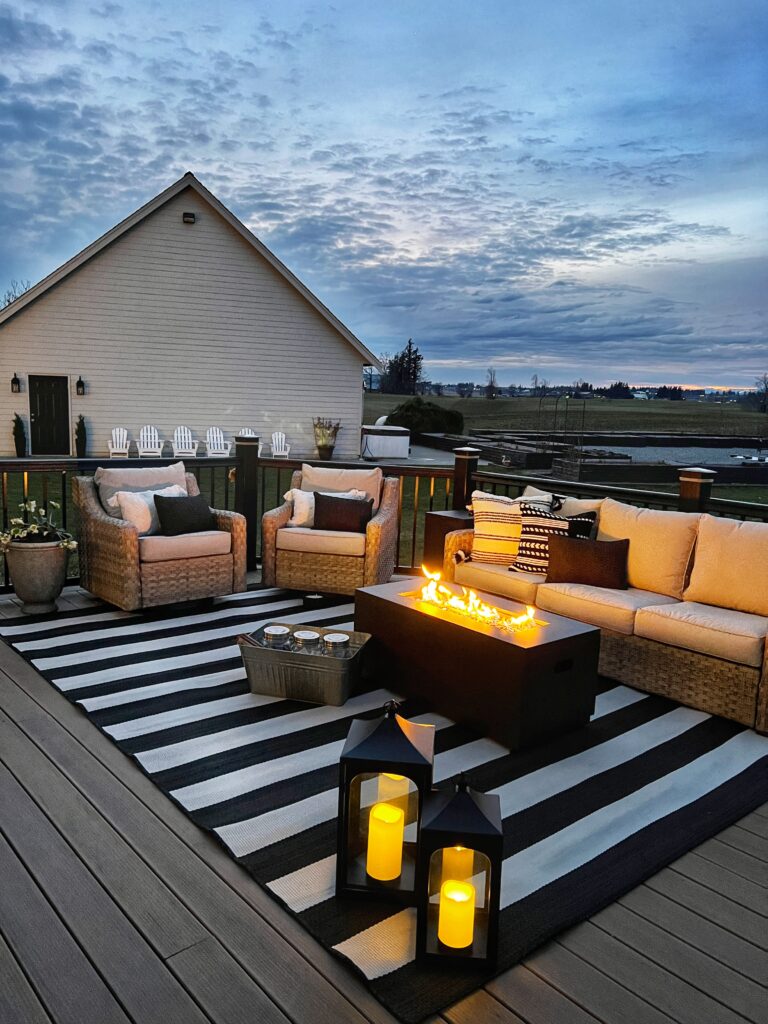 We added some lanterns and these we have loved, they come with the candles and you can have them on a timer for the same time every night!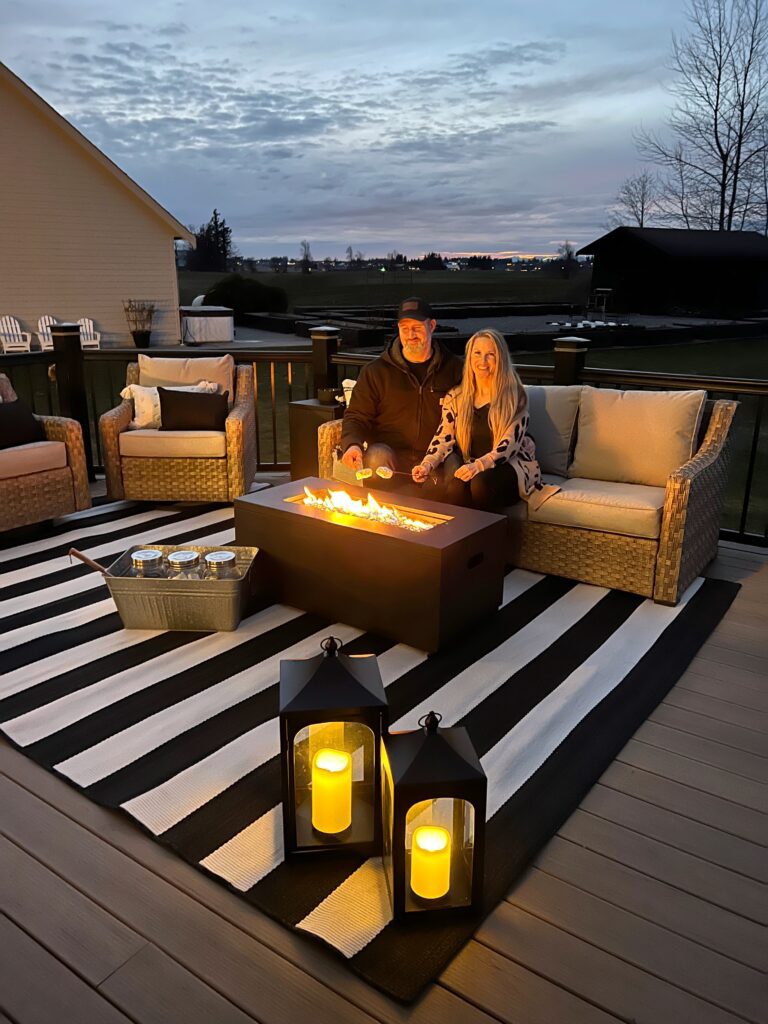 We got to enjoy some S'mores then the kids got to right after when they saw us out here! Come back soon to see this space as it changes with all the flowers in bloom! We also have some big projects coming out here so it will be fun to see!
To Shop this post :
5 piece outdoor conversation set
Dining Set
Fringe Umbrella
Black Firepit
Ottomans
Faux Cement Planter
Lanterns with Candle ( Small, Medium, Large)
Black and white stripe rug ( Under fire pit)
Earth Tone rug ( Under table)
Citronella Candle
Galvanized Tub ( S'more's)
White Puff Pillow
Black & White Stripe pillow
Stripe Pillow Black & White Fringe
Black Rectangle Pillow