Why we got rid of our closet and went with an Ikea PAX Wardrobe System
I get asked this every time I show my room, where is your closet? Why are you not using it? What are you using? I will be answering all your questions here, sharing all about the Ikea PAX!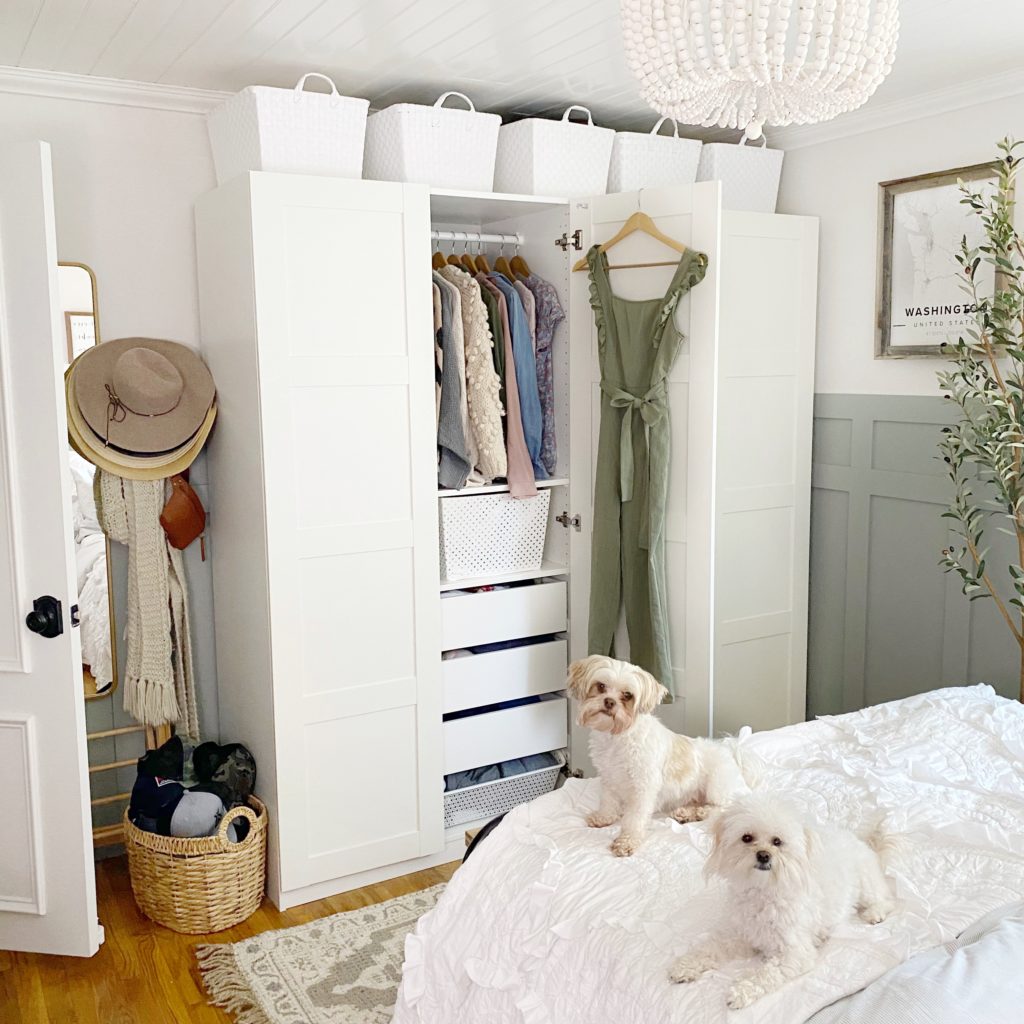 DO YOU EVER WONDER HOW PEOPLE ORGANIZE THEIR CLOTHES? LET ME SHOW YOU WHATS IN OUR DRAWERS!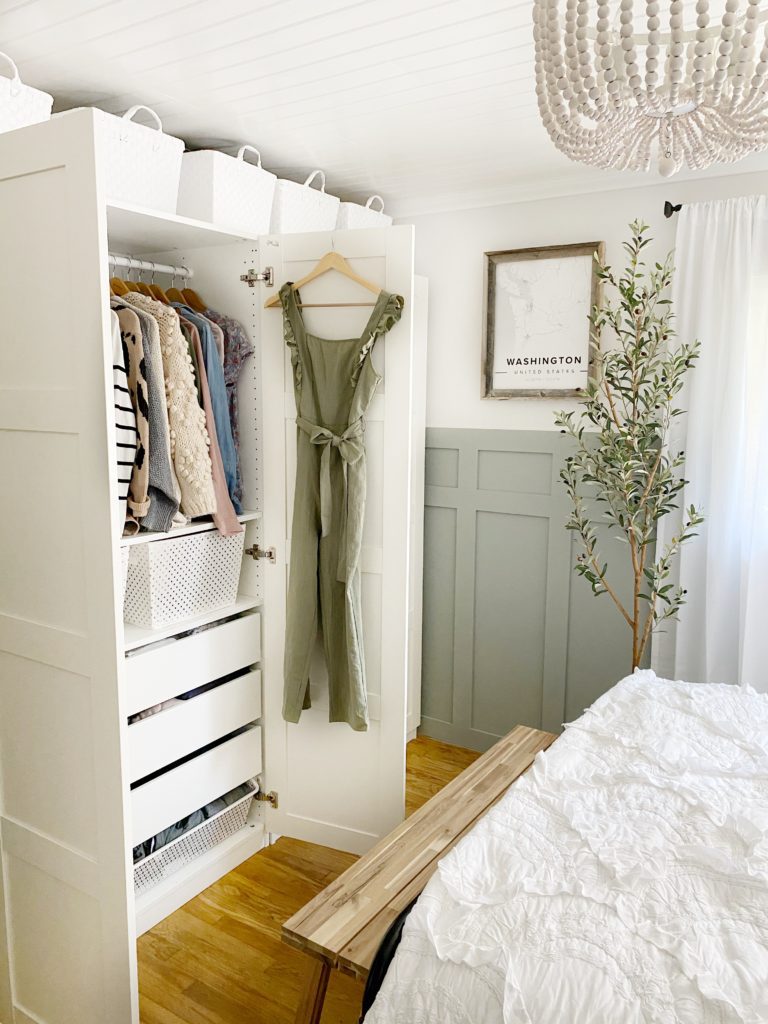 WHY DID WE CHOOSE THE IKEA PAX INSTEAD OF OUR CLOSET?
We purchased the Ikea Pax for our boys shared closet, since we turned there closet into four bunk beds and we fell in LOVE with how much space it gave us and how organized we could be. You can see inside their closet HERE.
We have switched our bedroom many times, and we could never get it just right until we added the PAX! Now we have an office that we love, and a closet that fits everything and more!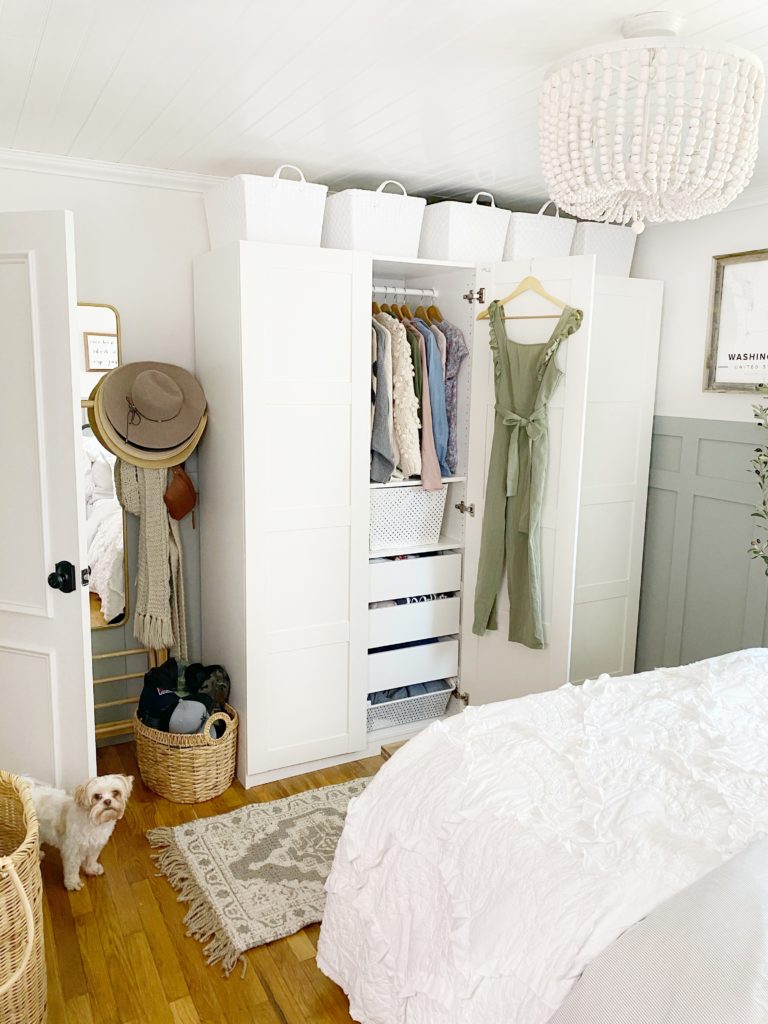 HOW MUCH DID THIS COST?
This Pax is actually two. There are so many ways to design one, and the options are endless! You can make it as inexpensive as you need by even just have the PAX without doors! For the two Ikea PAX systems it was $770 +tax for both.
WHAT DID YOU ORDER TO MAKE IT LIKE THIS?
6 – KOMPLEMENT DRAWER Article # 902.463.52 $40 each
2 – KOMPLEMENT SHELF Article # 702.779.57 $15 each
2 – PAX WARDROBE Article # 202.145.66 $95 each
2 – KOMPLEMENT RACK Article # 302.568.91 $10 each
4 – BERGSBO DOOR Article # 202.074.10 $50 each
2 – KOMPLEMENT PULL OUT Article # 302.632.45 $5 each
2 – KOMPLEMENT METAL BASKET Article # 602.573.23 $40 each

WHAT SIZE PAX CLOSET IS THIS?
Our ceilings are short, so we had to go with the 79 1/8 size, I sure wish we could have gone with the taller one if you have the space go for it!! We just put THESE baskets on top of ours for more storage.
IS THE PAX WARDROBE EASY TO ASSEMBLE?
I put them together myself, if that tells you how easy it is – and I dislike putting any furniture together.
DOES THE CLOSET HOLD A LOT?
Why yes it does! Let me show you inside!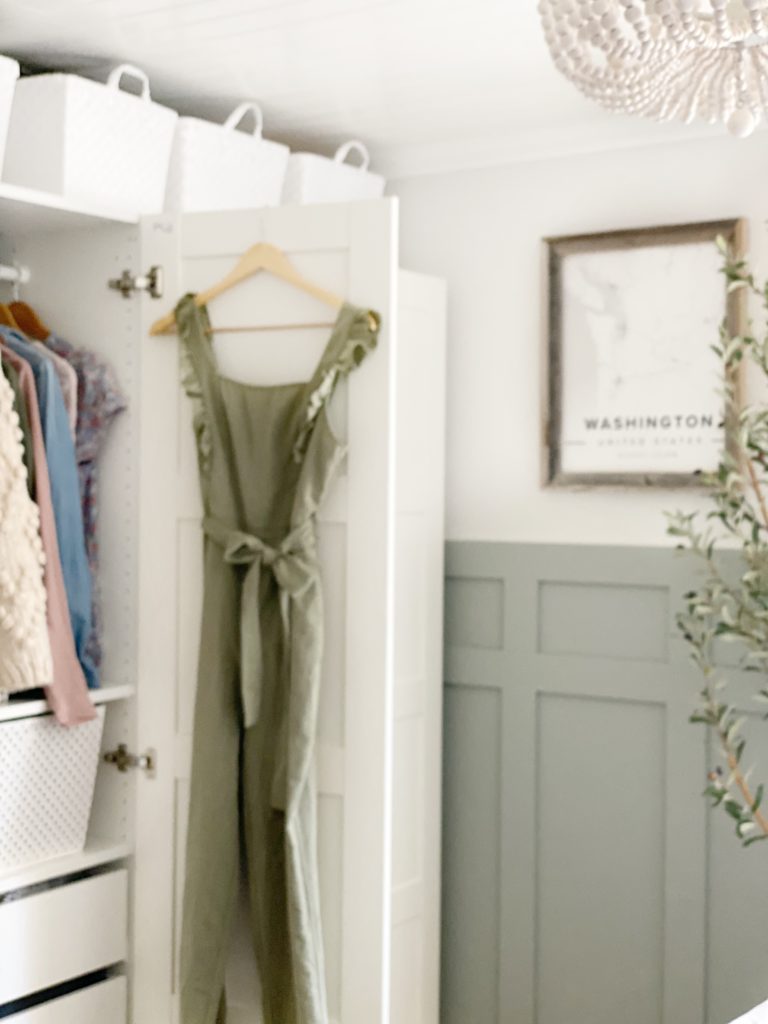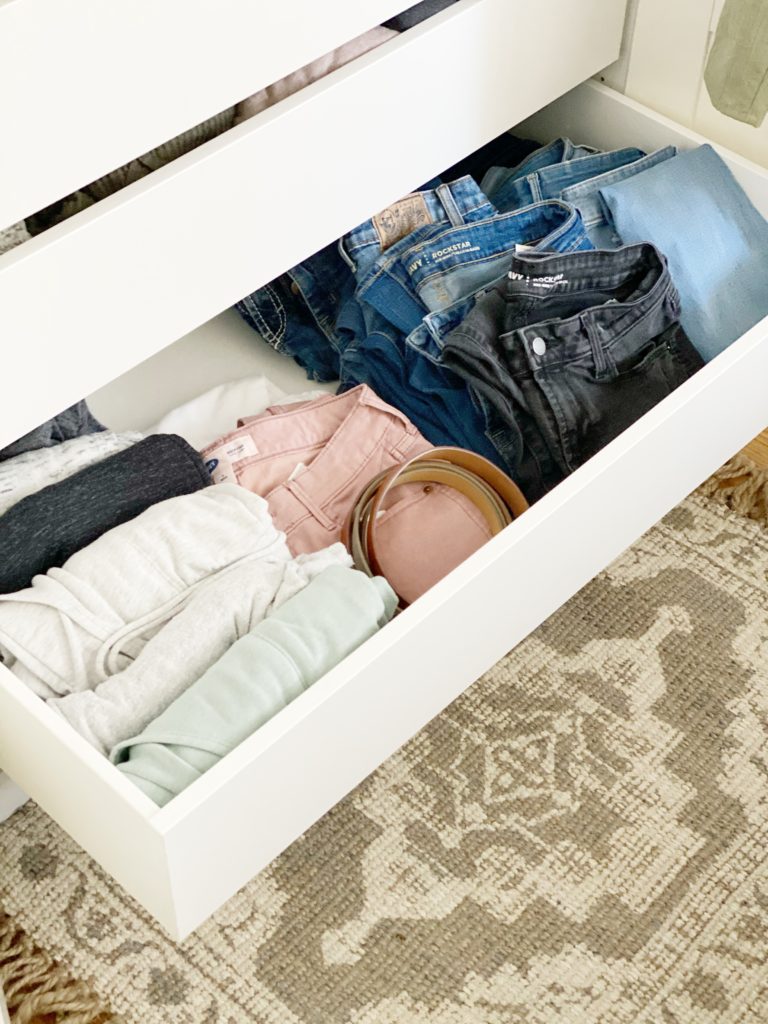 Now let me show you inside James closet!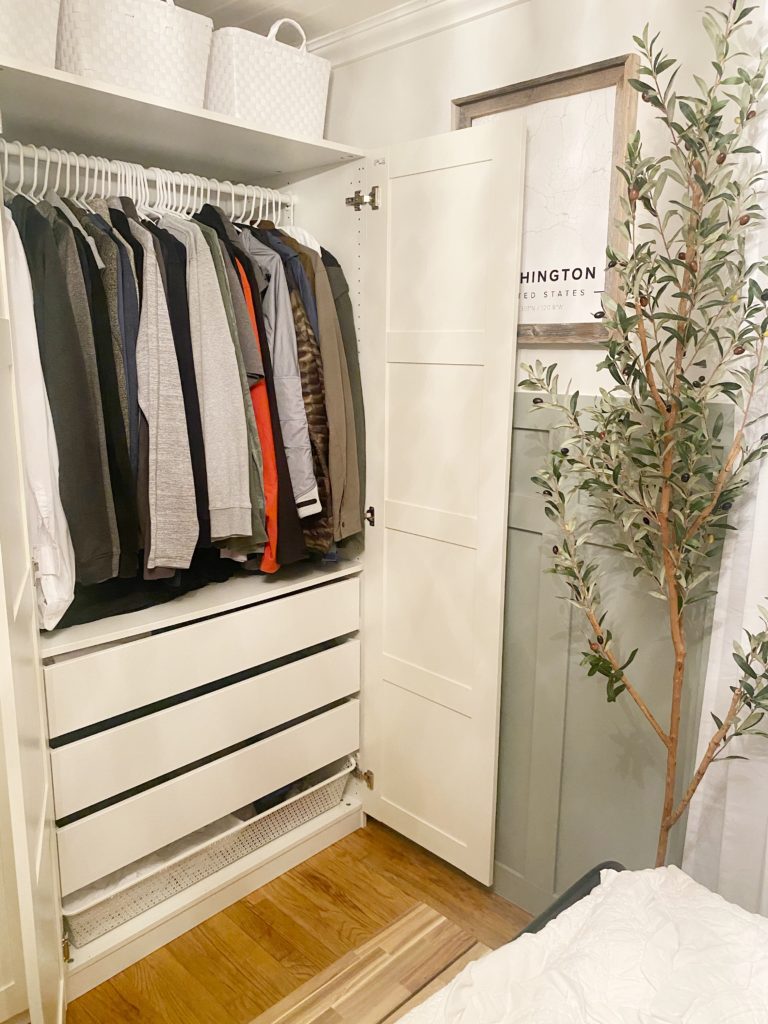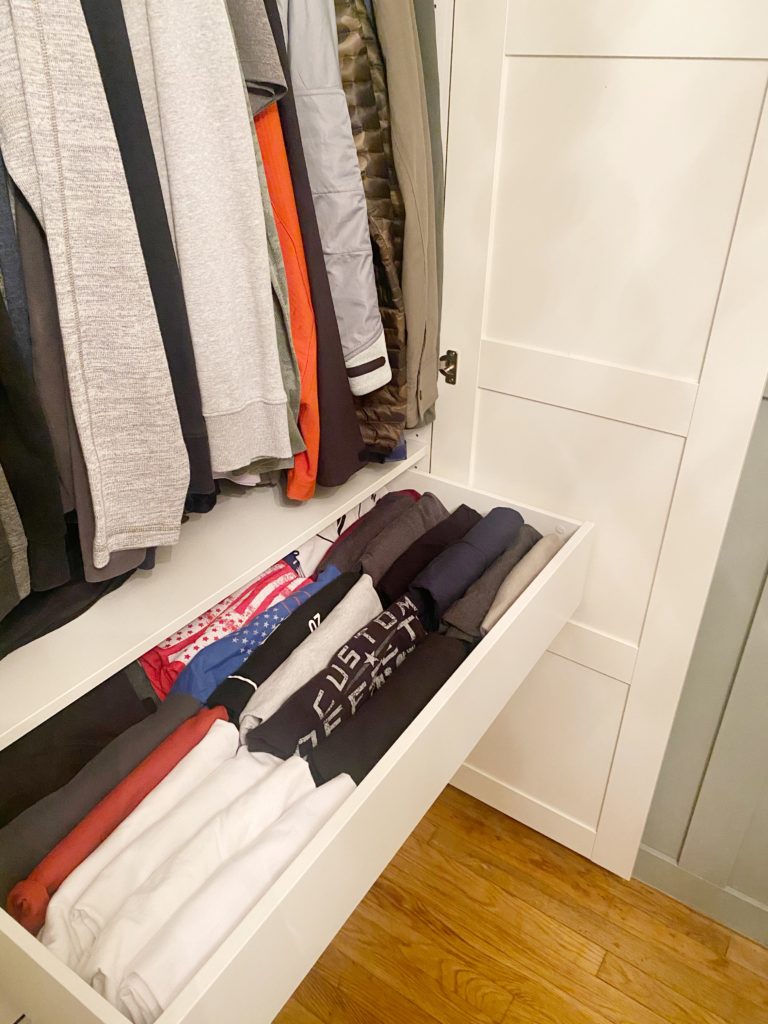 It is crazy how much this PAX closet holds, and how organized it is! We are able to see all our clothes and actually get to them now.
PIN THIS IMAGE FOR LATER, AND COME PIN ALONG WITH ME HERE.