Small Space Living : Pantry Organization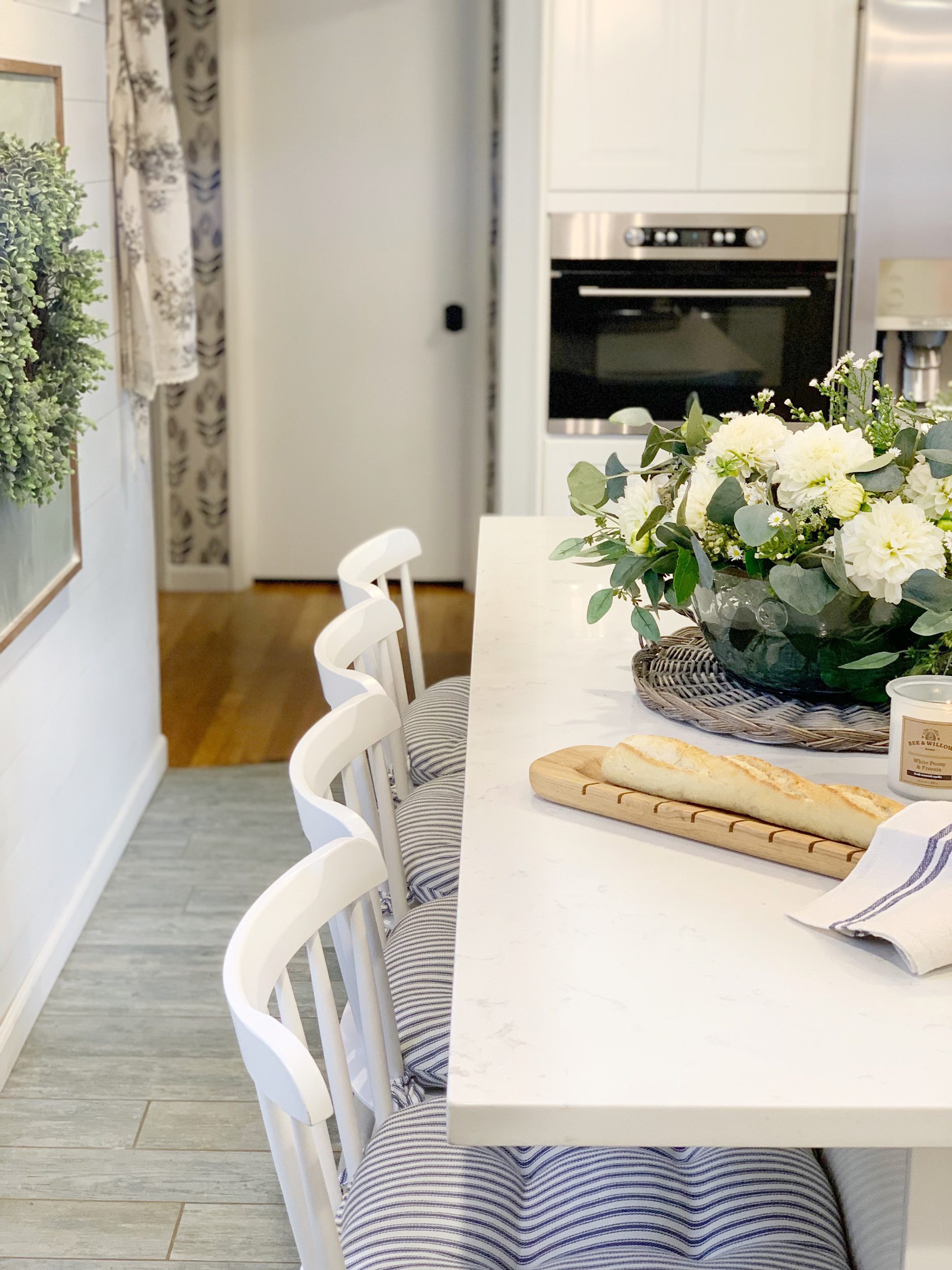 I am so excited to share with you how we finished our pantry organization! Last year we worked on the other side of it, our "baking pantry" with Bed Bath & Beyond, and this time we are working on it with them again too! I was so happy with how well it has held up and loved all the products we chose, so I thought it was a perfect fit! Honestly, it's not some grand big pantry but its quite the upgrade of what we had before and we make use of every inch! I hope this will give you some inspiration and ideas of what you can do in your space.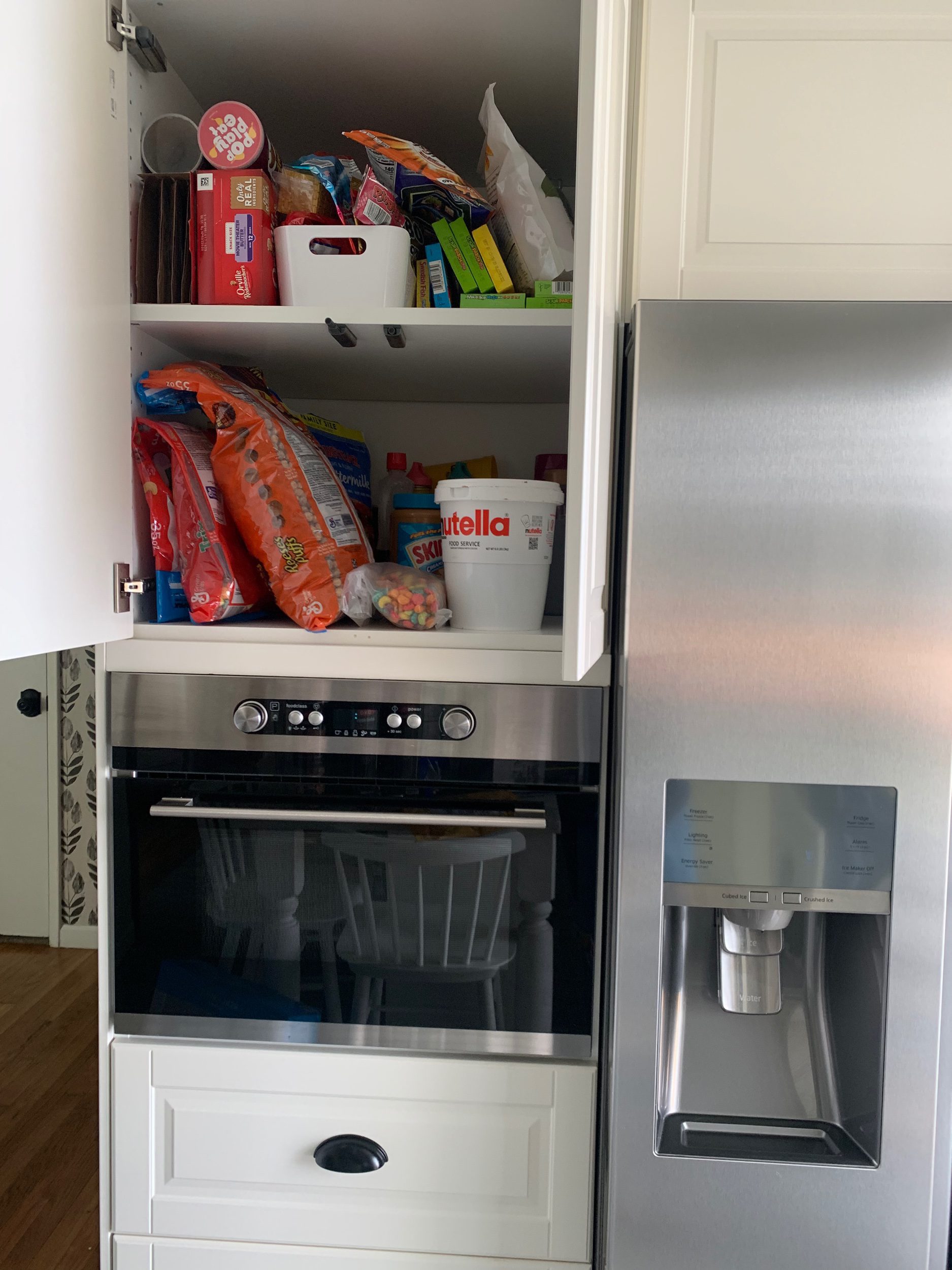 We all love to see before's and this is what this corner has looked like for years, honestly most of the time more of a mess! The pantry is quite deep and so much gets lost in it. I planned to go a different direction on this but so happy with how it turned out! Now lets go into the details!
I went into Bed Bath & Beyond for some of the .ORG mesh containers for our candy, and then found this amazing Real Simple sliding cabinet organizer! They have a few different sizes, but this one was the right fit – honestly I want more! It was so easy to install and slides so well! It holds a ton of weight too! I loved using the OXO containers on our last space, naturally I had to get these Cereal containers! I got the biggest size and they hold the huge box of cereal! My kids love them so much!
These mesh .ORG bins are the best and the perfect spot to put the kids movie candy in!
Before we go into the baking pantry let me talk about these gorgeous Bee & Willow chair pads I found at Bed Bath & Beyond! I am sure you have heard me rave about this new line of theirs but I honestly love it!
I am not sure I should wander through Bed Bath & Beyond, because I always find the best finds! This time I found all these OXO accessories! You can see the letters on each one and it tells you what one it goes on! You just slide them on the underneath of the lids – brilliant!! With the Date Dial I don't have to write the expiration dates on each one! These scoops I love and now I don't have to leave my normal measuring cups in them! Did you see the brown sugar saver – no more hard brown sugar! Last but not least the labels, everyone loves a good one!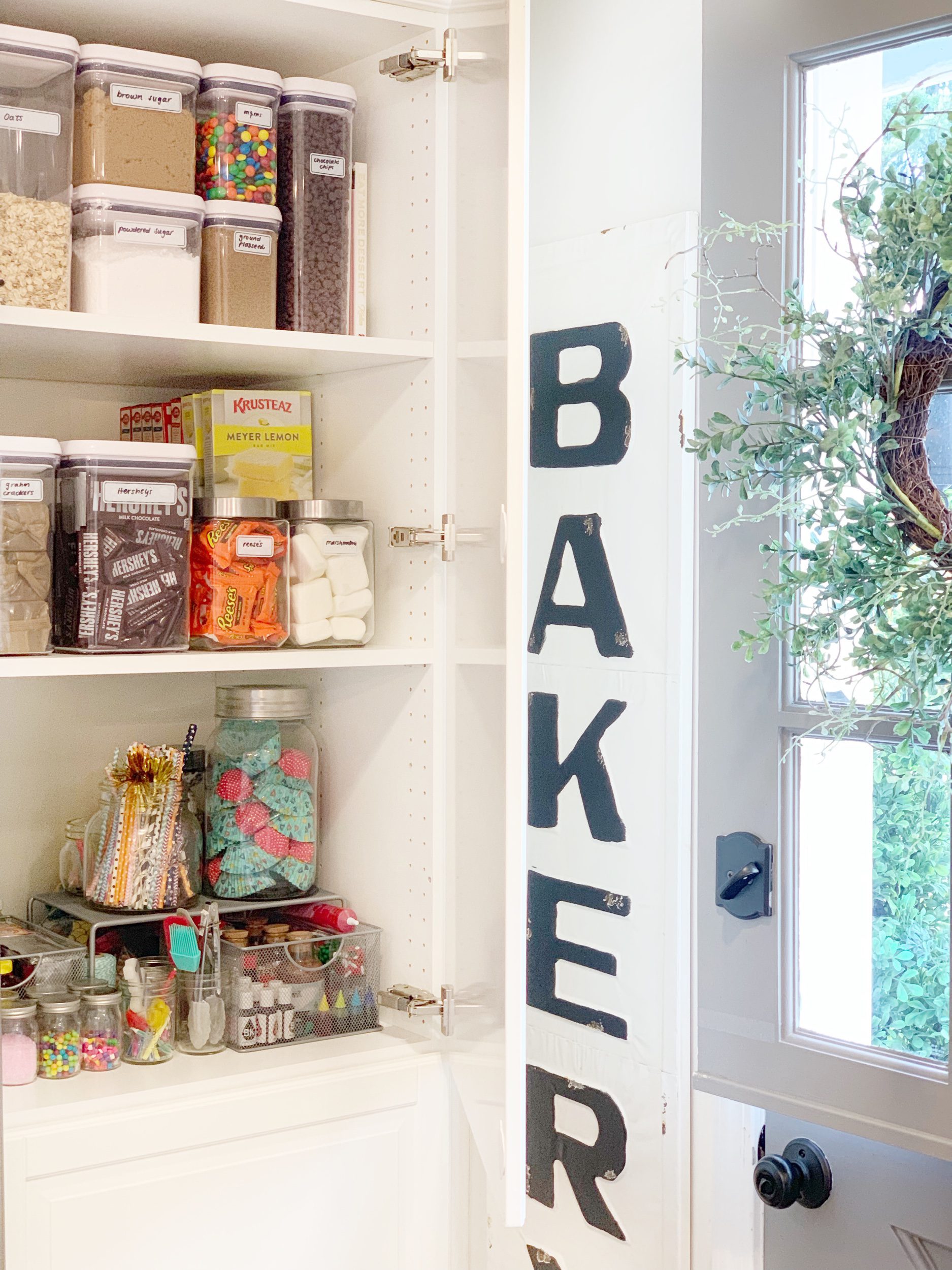 If you saw my old blog post, it really has all pretty much stayed the same! It was fun to add some labels this time.
Now here is the full view of our "Pantry" If you want to see inside all the cupboards and more into detail don't miss this post on my whole kitchen. Now I am going to enjoy some of this bread and use my cutting board that I found at Bed Bath & Beyond.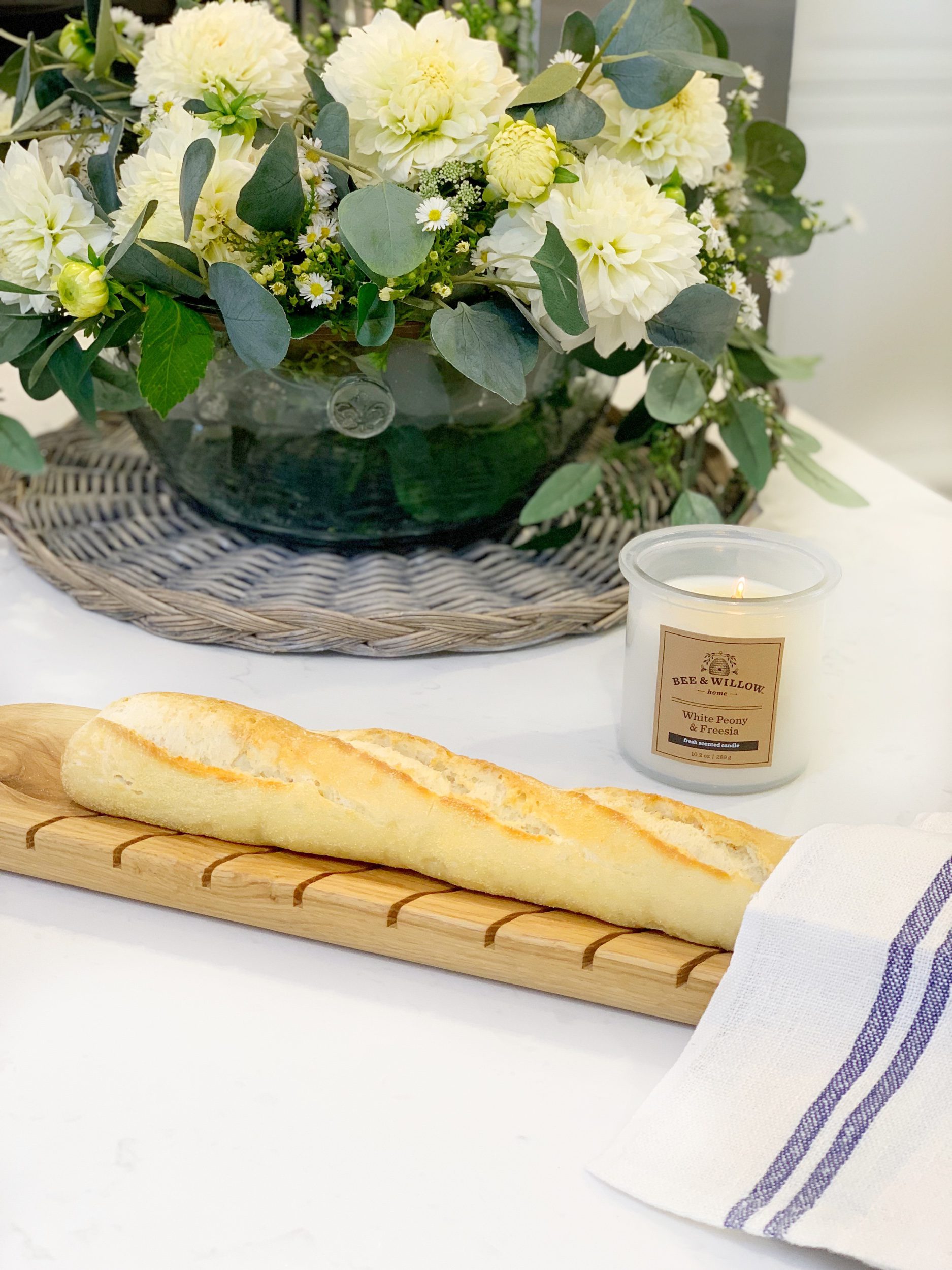 I hope you enjoyed seeing how I organized our pantry, and that it gave you some inspiration wether yours is big or small! Always let me know if you have any questions below!
Sources :

I have placed all the links below, some are affiliate links thank you for supporting my blog!
You can click on each item.
Etuhome Bowl
Baguette Cutting Board
Bee and Willow Chair Cushion
Bee and Willow Candle
Bee and Willow Apron
Sliding Cabinet Organizer
OXO Pop Cereal Dispenser
OXO Labels
OXO Containers
OXO brown sugar freshener
OXO date
.ORG Cabinet Shelves
.ORG Pantry Organizer