You know as parents we normally tend to do things for us last, including making our bedroom a "retreat" or someplace we enjoy being in.
When we moved into our home we had the biggest room which is now our boys room/playroom, then we got a smaller one!.A few years later my daughter had to have a gigantic American Girl doll house, yes it is taller and bigger than me – so that led to us getting our teeny bedroom which I can't say my husband was jumping up and down for.
We moved our queen size bed and desk in the room and realized that was all we had room for, not a space for a dresser or even a night stand! The room stayed this way for awhile, but then of course me and my brilliant ideas…. I sold my beloved desk and then a room makeover was starting! ( This was while we were in the middle of redoing every other room in the house for my "deadline" which I will get more into that later that is a whole other post!)
Here is what we transformed our "dark hole" into! I was going for simple and romantic and I feel like we accomplished just that!
In our room we did a lot of DIY's and I will be doing a three part series on that next! The shiplap was first on the list, and it has become a trend throughout our home. The nightstand/dresser is an Ikea Rast and we did a hack on it, we couldn't be happier with how it turned out! We found the perfect stain from Old Barn Milk Paint for it and used it on both pieces in our room. The hanging shelf/ chandelier above our bed was just as I imagined, I love that we can change it through the different seasons!
The jute rug is from Target, and while I love it my husband wanted something else… so on the hunt for the perfect fit! ( This one is great since it has backing on it, it doesn't shed!)
Our bedspread is from Purple Rose Home it is called the Sarah Bedspread. I love how flowy and romantic it is and gives the perfect touch! They have other colors also if white isn't your thing! The ruffled bedding you see is from anthropologie and just as soft as ever!
Here is another view with some more bedding I like to layer on!
I love the dimension this Ikea Duvet gives, it makes our room have a touch of masculine in the romantic setting… Plus I like to be warm at night so added bonus!
The I love us Pillow is from Porter Lane Home, it comes with and without ruffles.
The Lamp and shade is from Target and the frame on the wall is an antique find.
Our room is so tiny, you can run into the bed as you walk in… don't worry we are pro's and have managed to find our way through small spaces. I am showing you the other side of the room with an amazing sign from one of my favorite sign makers Between You and Me Signs!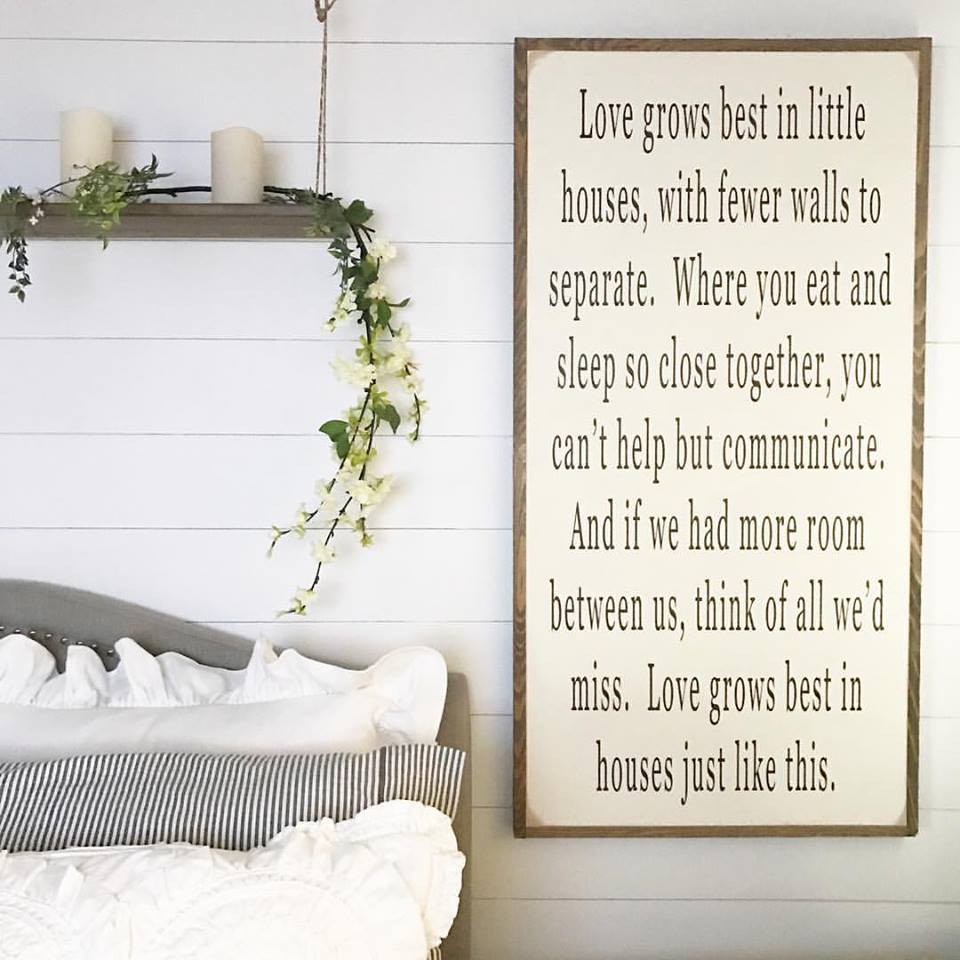 This sign is just fitting for our little home, because our love really grows best in houses just like this <3
Now to see the before… because thats what we all have waited for!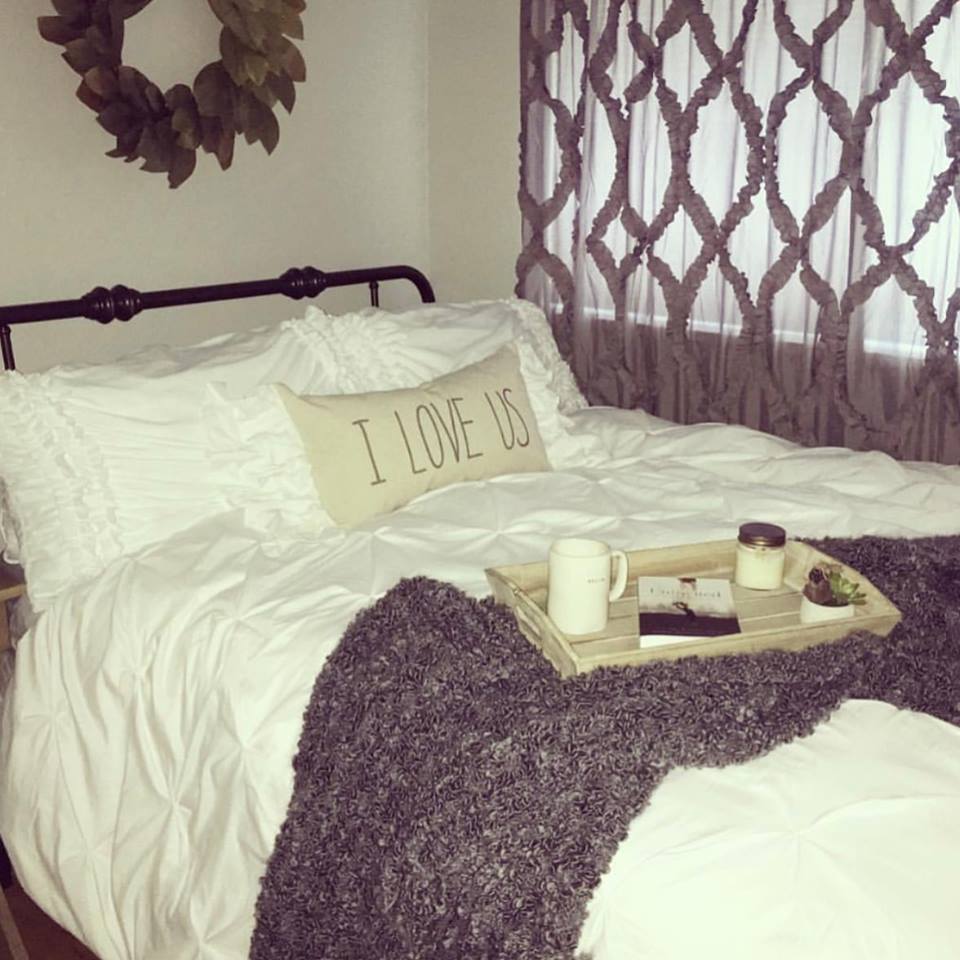 While this doesn't seem like a horrible before, this was the extent to our bedroom, we just had a huge desk and it was so dark! I love what just a little shiplap, paint and design can do to a space!
Hope you loved seeing a peek into our home, feel free to ask me questions!
xoxo Sarah