Fourth of July Outdoor Party
Fourth of July Outdoor Party ideas, yes please! I would say the Fourth is one of my favorite holidays going off all the bins of decor I have! We are all ready and so excited for it!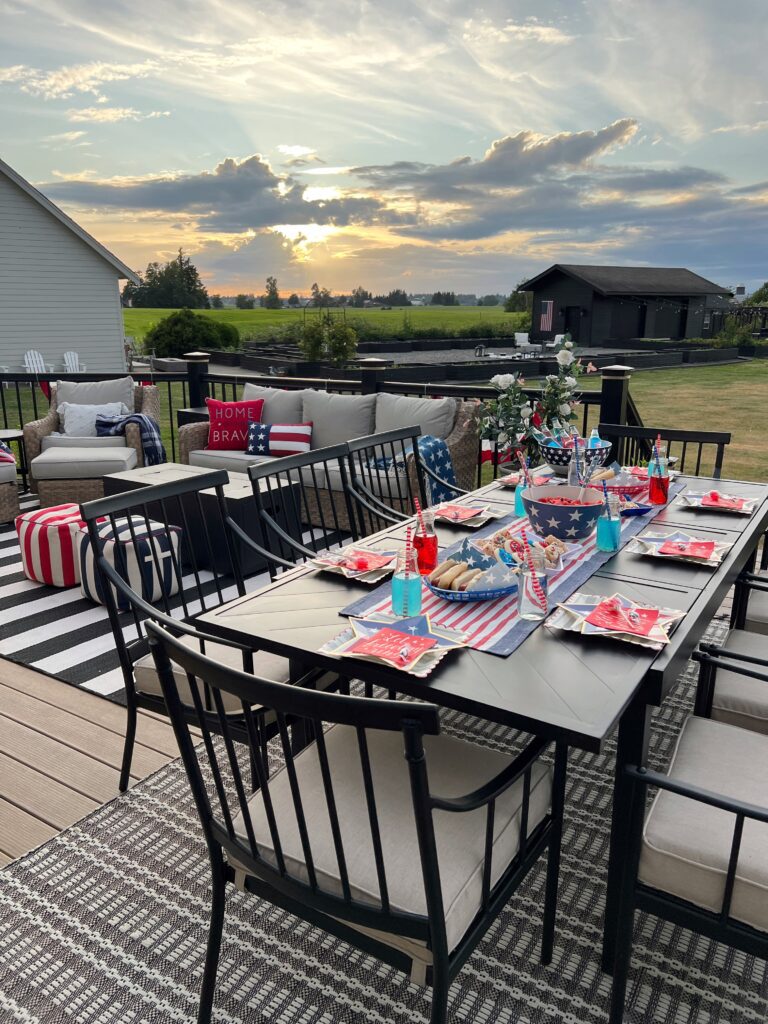 Fourth of July, we love the patriotism, fireworks, and of course food! Here are some fun Red, White, & Blue Ideas! All of the cute dishes are from My Minds Eye and you can see everything linked below too!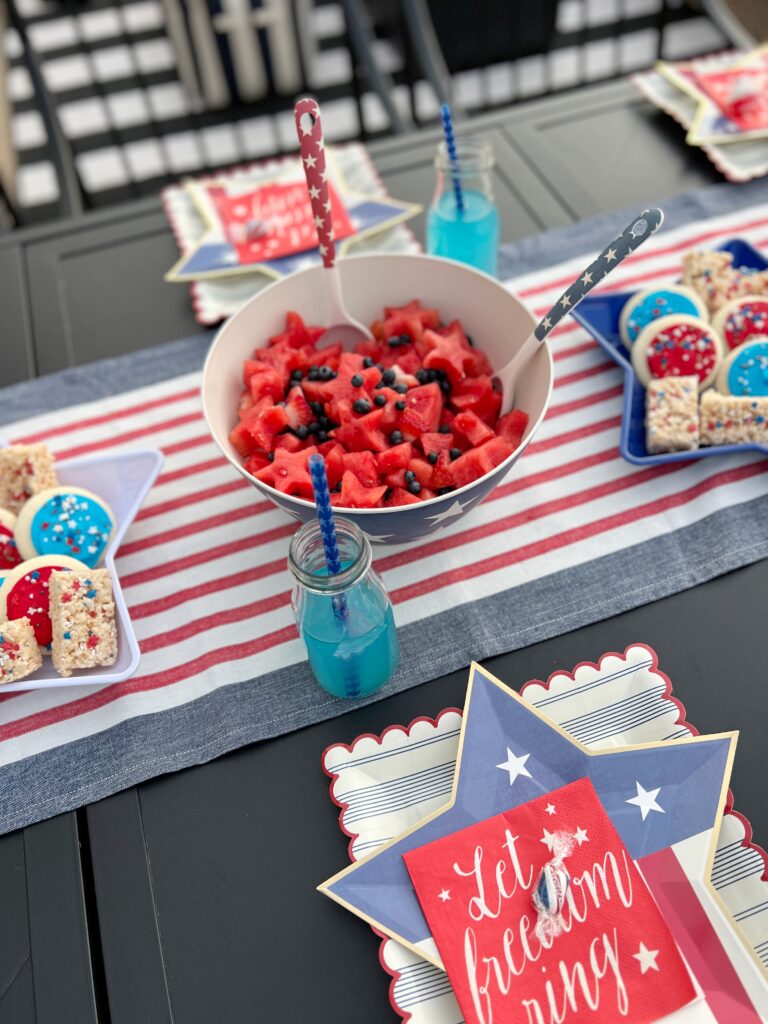 Red and Blue fruit salad – strawberries, blueberries and some star shaped watermelon! Hot dogs are a must, and fun drinks are always a blast!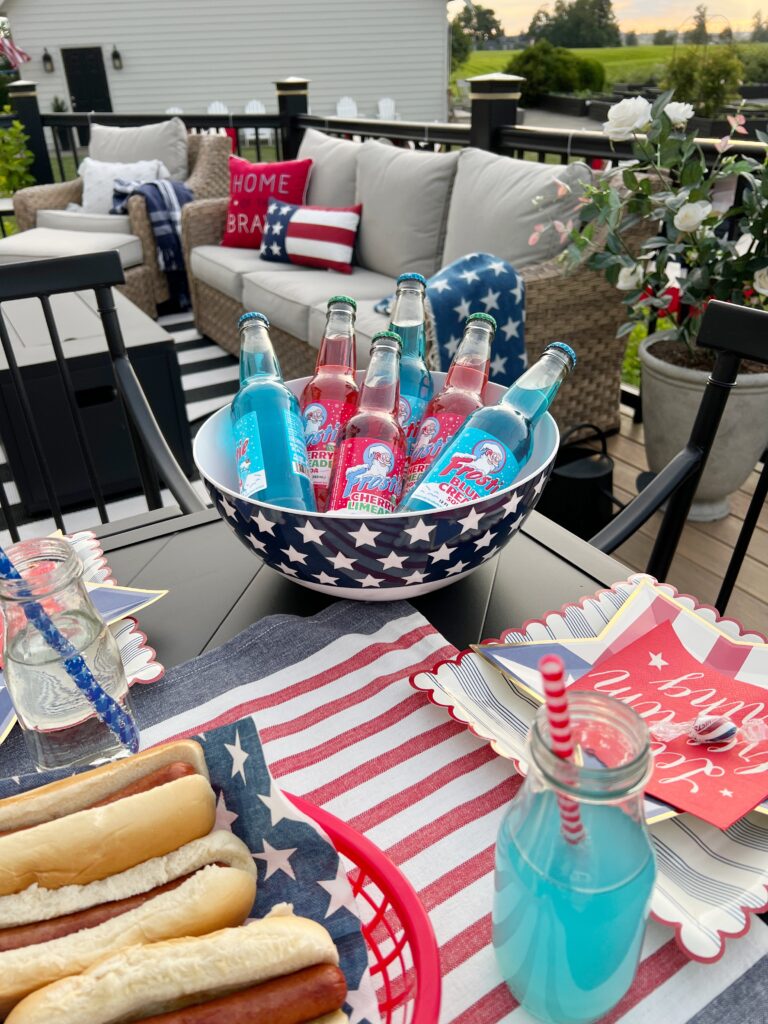 The kids love to get these Frosti drinks for special occasions, and red and blue sodas are so fun!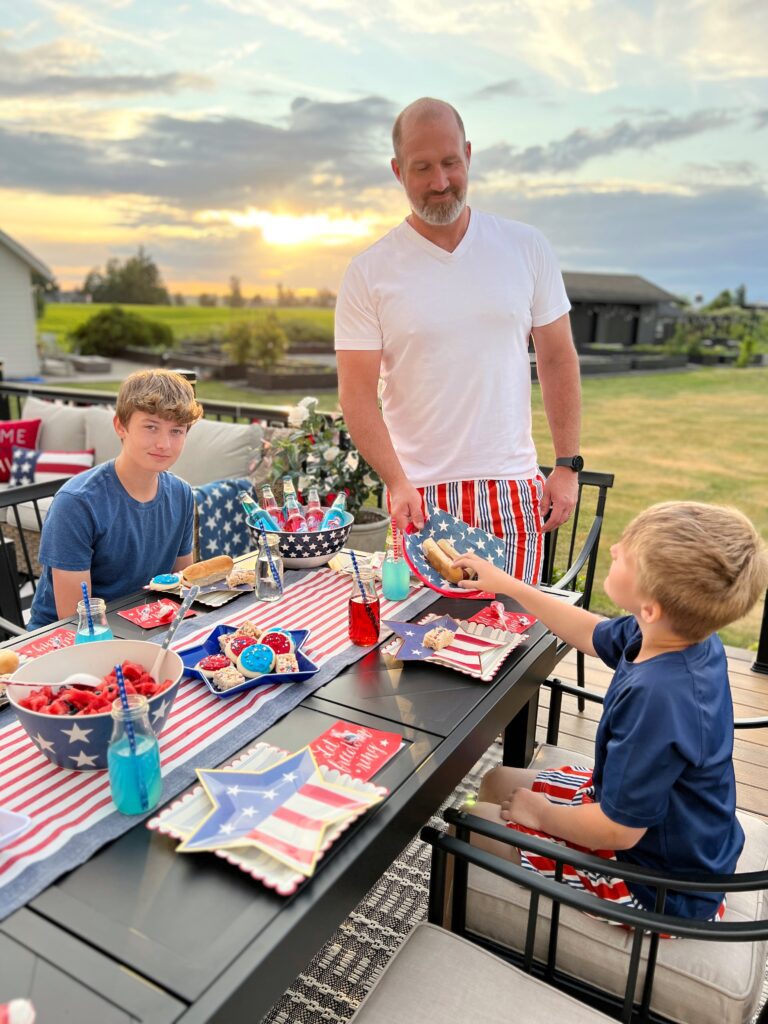 We had to match our patriotic Fourth of July outdoor party theme with our matching swimwear from Hanna Andersson! They have something for the whole family, from babies to adult! You can check out the whole collection on their site!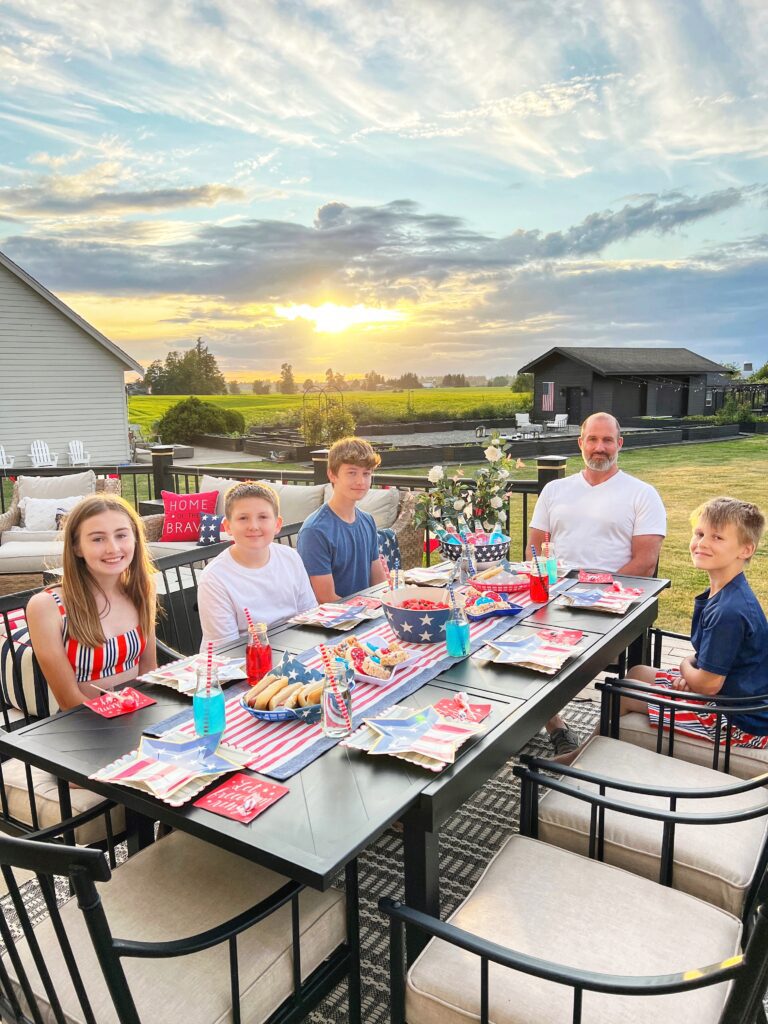 We have been moving around the tables, and this one is fun for a party it is extendable – more guests the merrier!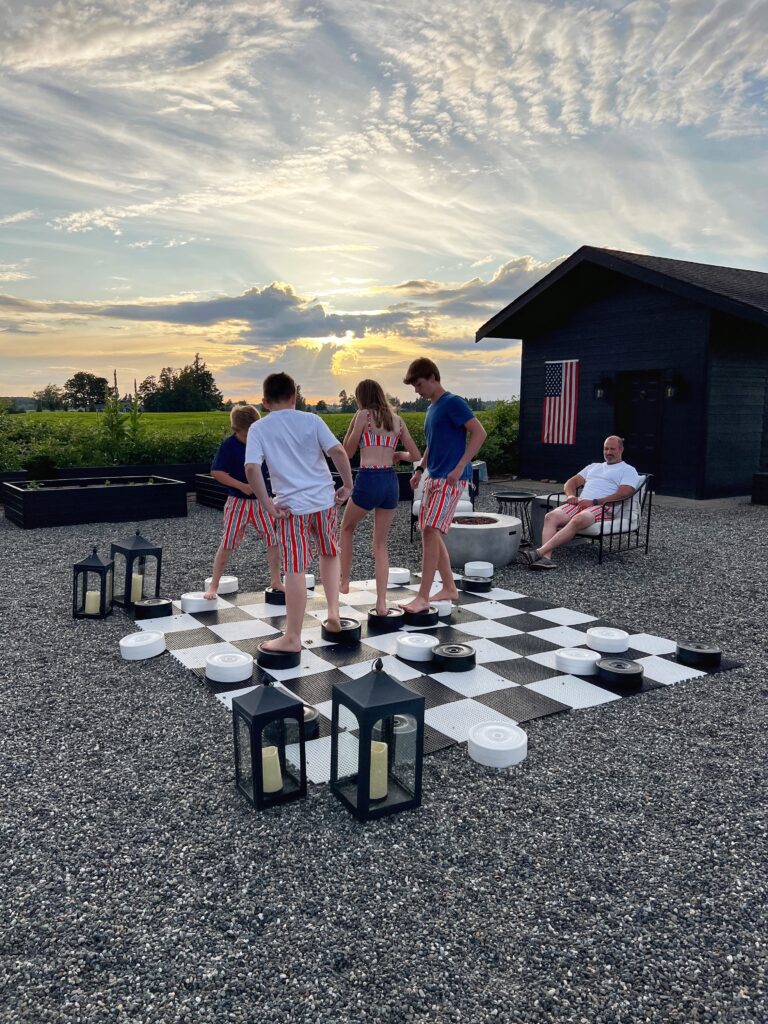 This oversize checkers are so fun, the board does come separately but we have used them for years and always make a great addition to our Fourth of July celebration! The kids have a fun game they made up, really we need to add the chess pieces!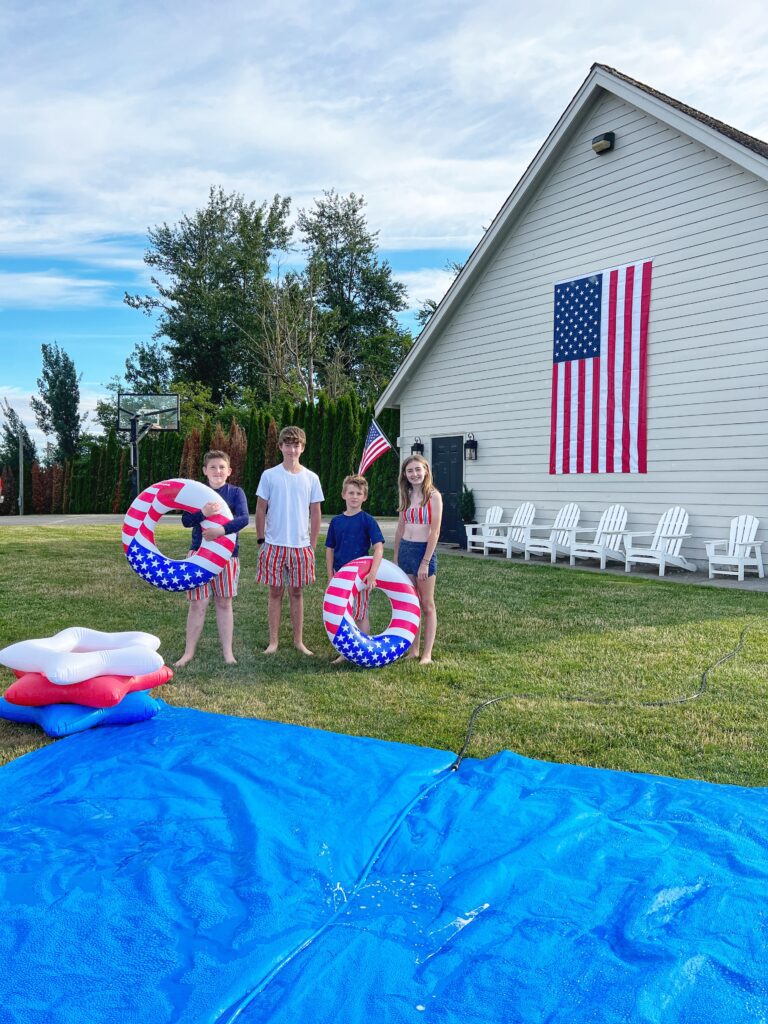 Slip n slide time, and this one is amazing with being 75 ft long! Our swim from Hanna Andersson goes perfectly with our Fourth of July Outdoor Party theme! These floats are just the icing on the cake!
The parents had to have some fun too – and yes all matching swim! PS I am in love with the womens suit – I got size medium top and bottom and they are the perfect coverage! Zoe is wearing an XS.
Yes the kids couldn't miss the chance to hop in. Emerson served them some fun drinks too!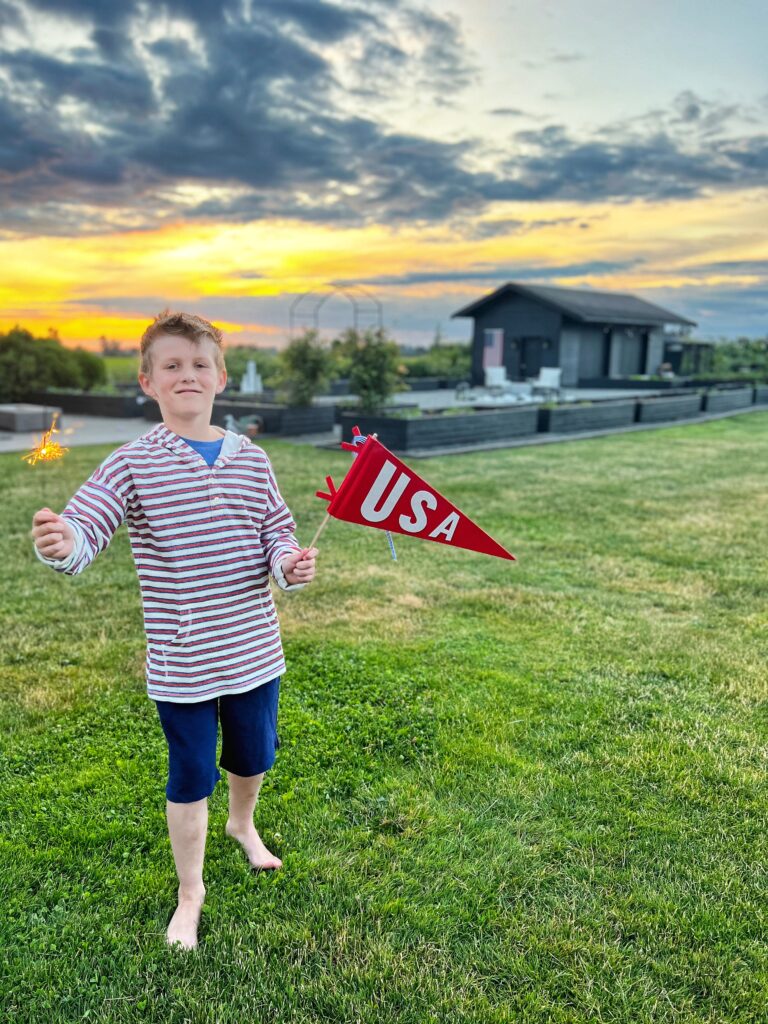 What would Fourth of July celebrations be without sparklers and fireworks? Yes even if its a bit early we sure had fun! You can shop these cute Hanna outfits below!
The end to the perfect night, now the kids are very excited for the Fourth of July Outdoor Party!


Fourth of July Outdoor Party Must Haves :
Hanna Andersson Family Swim
Hanna Andersson Boys Stripe pullover & Navy Shorts
Hanna Andersson Womens PJs
Table & Chairs
Let Freedom Ring Napkin
Star Plate
Red White & Blue Stripe Plate
Reusable Straws
Star Bowl
Patriotic serve ware
USA pendant
Fun drink cup with bowl
Frosti Drinks
American Flag LARGE
American flag pole
Slip N Slide
White Adirondack Chairs
Star Floats Red, white, and blue
Flag floats
Checker Board
Checkers
Deck

For more Fourth of July Inspo :