I wanted to share a recap of our Fourth of July, it's one of our favorite holidays and it's so fun to be able to look back! I have been asked by so many to share the sources and figured it would be easiest to share here! You can check out how we spend our morning HERE.
I love being able to decorate our home inside and out, we keep it simple but patriotic! First we start by hanging a flag for Memorial day and it stays up till we put our wreath out for Christmas.
This summer we added our new front door from Simpson Door Company and painted our front porch. We also got these new adirondack chairs from Joss & Main here , the pillows you can find here to! The sign is from Oh Sweet Skye and all the plants and planters Ikea!
On the Fourth, the day starts at our families house and at night we come here to enjoy a night in! We play games, eat, do fireworks and watch them, then end the night with movies on our DIY movie screen!
Yes we have a heater in July, we sure need it in Seattle! It has sure been a crazy spring and summer and this will come in handy all year! We love to sit out here and do movie nights so it is perfect when it cools down – I want to try to convince James to bring it in our camper I wonder how that will work! You can find the heater here from Joss and Main.
I love how this space has come together, its hard to imagine not having the deck we just built last year and hopefully this summer a full pergola!
Something that has helped transform this space is the Adones Sofa and chair from Arhaus. It not only is beautiful but so cozy and easy to keep clean! I get a lot of questions on the fire pit and its from ARHAUS also. You have the option to put wood or gel in it, we use the gel cans.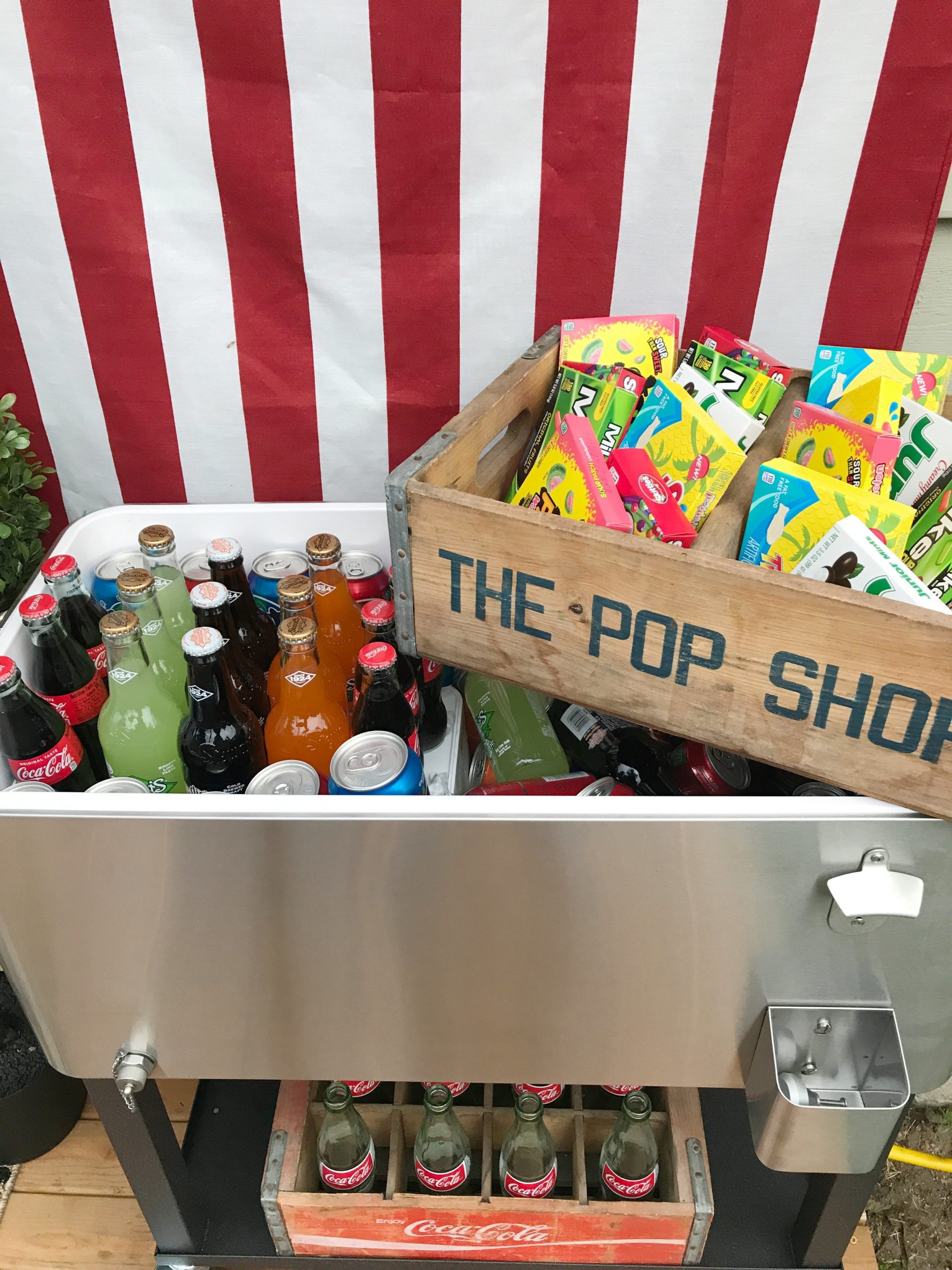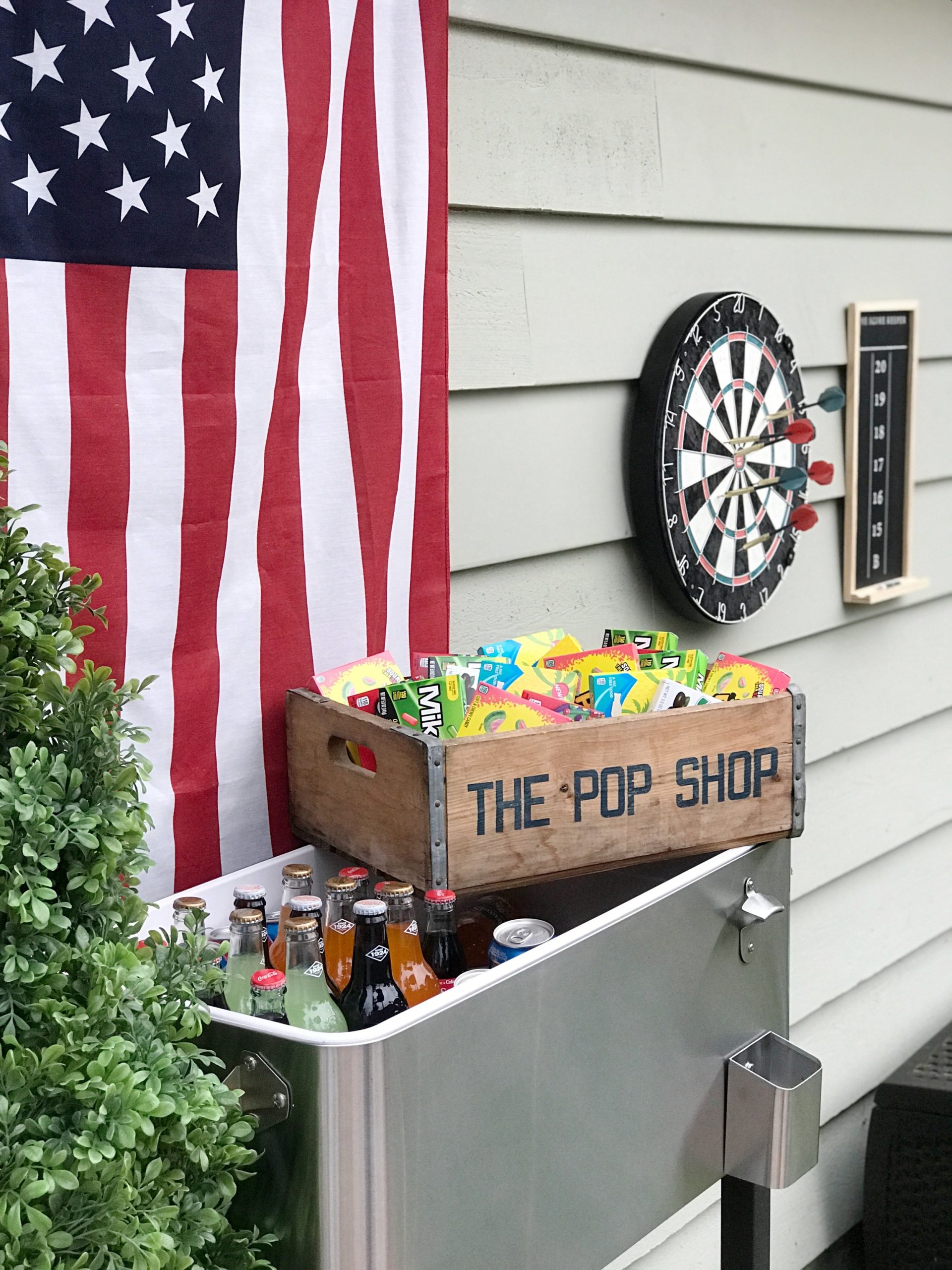 I think my kids favorite parts of our Fourth of July was the "Pop Shop" and the endless supply of candy and pop!
I had a fun poll on my instagram what do you call it? POP, Soda, Coke.
Did you see the Dart Board from the Magnolia line, it was a must for Fathers Day I love that its good for indoor and out. If we get any holes good thing its easy to patch up!
The cooler has been on my list forever and we found it here at Joss and Main, the pop bottle opener was a hit!
Rosie always likes to sneak in the photos, you can see she has been having some fun rolling in the dirt!
Below you can see our new patio lights from BrightTech, its amazing how they can make a space so magical!
Here is a sneak peek at our DIY movie screen, we will be showing how we made it soon! Now that I am sharing this I am ready to get cozy on our outdoor sofa and have a movie night!
The kids love to decorate and here is how the kids decked out their Kidkraft Playhouse for the Fourth of July! Do you spy Rosie with her little hat on, she may have snuck a popsicle too!
I would love to hear how you celebrate the Fourth of July, is it one of your favorite holidays to?
SOURCES :
Arhaus : Adones Sofa , Adones Chair, Fire pit
Simpson Door Company: Front Door
Joss and Main :
Adirondrik Chairs here
Pillows
here
Propane Heater here
Cooler
here
Oh Sweet Skye : Front porch sign, Fourth of July sign here
KidKraft : Seaside Cottage Playhouse here
Lights : BrightTech
here