How to Cover a Pergola – Clear Roof Panels
Are you wondering how to cover your pergola, but don't want it to feel dark and enclosed. We covered ours using clear roof panels and so happy we did! I will share with you what we used and how its held up over 2 years!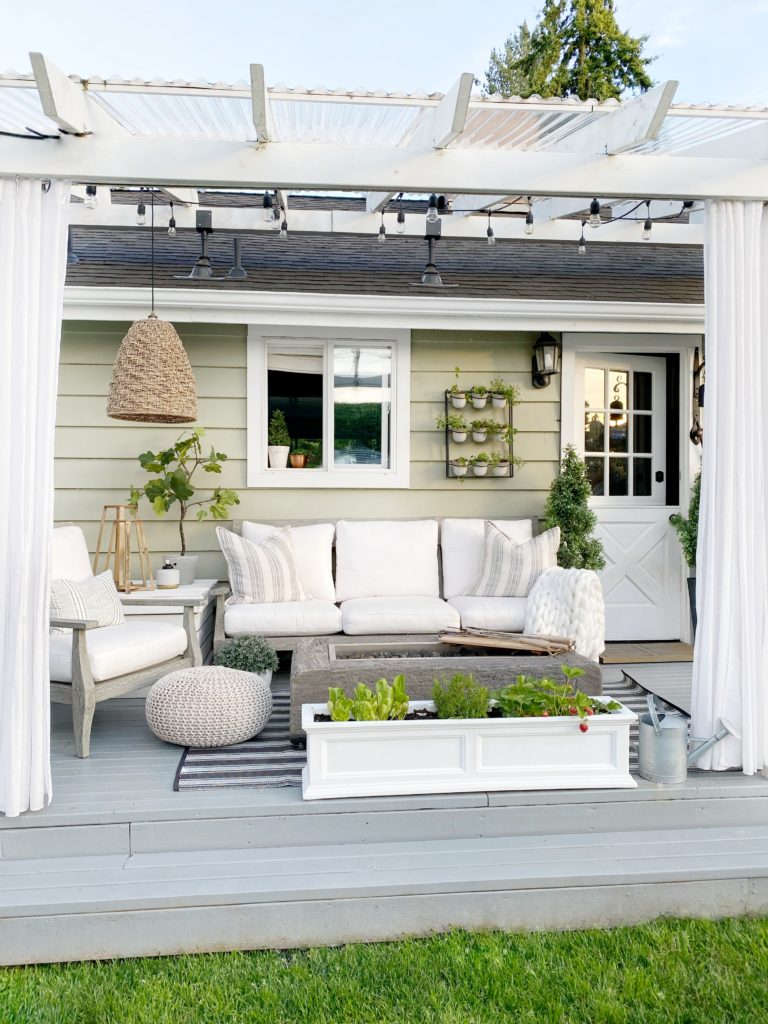 If you are thinking about adding a roof to your pergola, but there are different options and you don't know what to choose. I will tell you that we are SO happy with using the polycarbonate clear roofing panels. Today I am sharing what we used and answering all the questions I get including how they last after years of use!
I won't be doing a step by step tutorial, because we did it so quickly and in the dark. It's really that EASY! Let me show you all the details though!
WHAT SUPPLIES ARE NEEDED:
*First you must have your pergola built, and figure out the size of covered area you are doing then buy accordingly.
* POLYCARBONATE CLEAR ROOFING PANELS
* WOOD SOLID ROOF PANEL CLOSURE STRIP
* TUFTEX WHITE GALVANIZED SELF-DRILLING ROOFING SCREWS
* SAW
* DRILL
* PAINT AND SUPPLIES IF YOU NEED TO PAINT.
Since our pergola was white, we painted all the closure strips to match.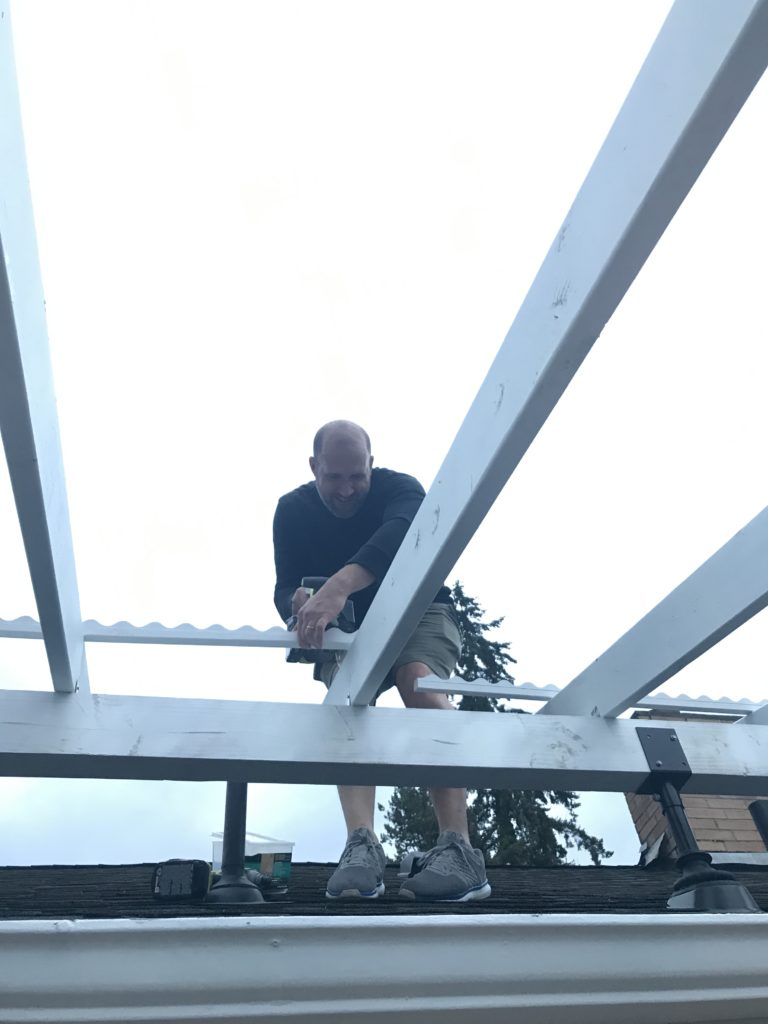 Now it is time to install. Looking back, we wish we did more closure strips to help with the corrugated panels longevity.
Installing the panels – it was so hard to decide how long to do them in the front. You can see here the three different lengths.
We went with the first one, honestly for looks. It probably wasn't the best option for all the rain we have and if we did the longer it would be less rain on the deck front. I do have to say I still don't regret it.
Now the install, make sure to predrill each hole before using the screws. Make sure to get it right the first time so you don't have any unwanted holes. You DO need to overlap so take that into account.
DO THE POLYCARBONATE CLEAR ROOFING PANELS TAKE A LOT OF UPKEEP?
You can see in these photos that they are still clear from debris. They do have a little we need to clean off, but this is from 2 years of not cleaning them.
CAN YOU STILL SEE LIGHT THROUGH THE CLEAR PANELS?
They let in a lot of light, that is why we went with these and so happy we did!
IS THE DECK PROTECTED FROM RAIN/SNOW WITH THE COVERED PERGOLA?
For the most part it does. We don't bring in any of our furniture or cushions. I talked above about having the polycarbonate panels stick out more and the front of the deck would be protected more – so it depends on that. Really our deck stays protected year round with just a little rain on the edges.
WHEN IT RAINS DOES IT MAKE A LOT OF NOISE?
It really isn't super loud, I actually love the sound of it. The only time it is a little louder is when it hails.
WILL THE POLYCARBONATE ROOFING TURN YELLOW?
When the polycarbonate is attacked by the UV, it can turn yellow. We don't have enough sun here and haven't had that happen. I do have friends who live with a lot of sun and they haven't experienced that either.
IS THE POLYCARBONATE ROOFING EXPENSIVE?
It's not the cheapest project, but it's worth it!!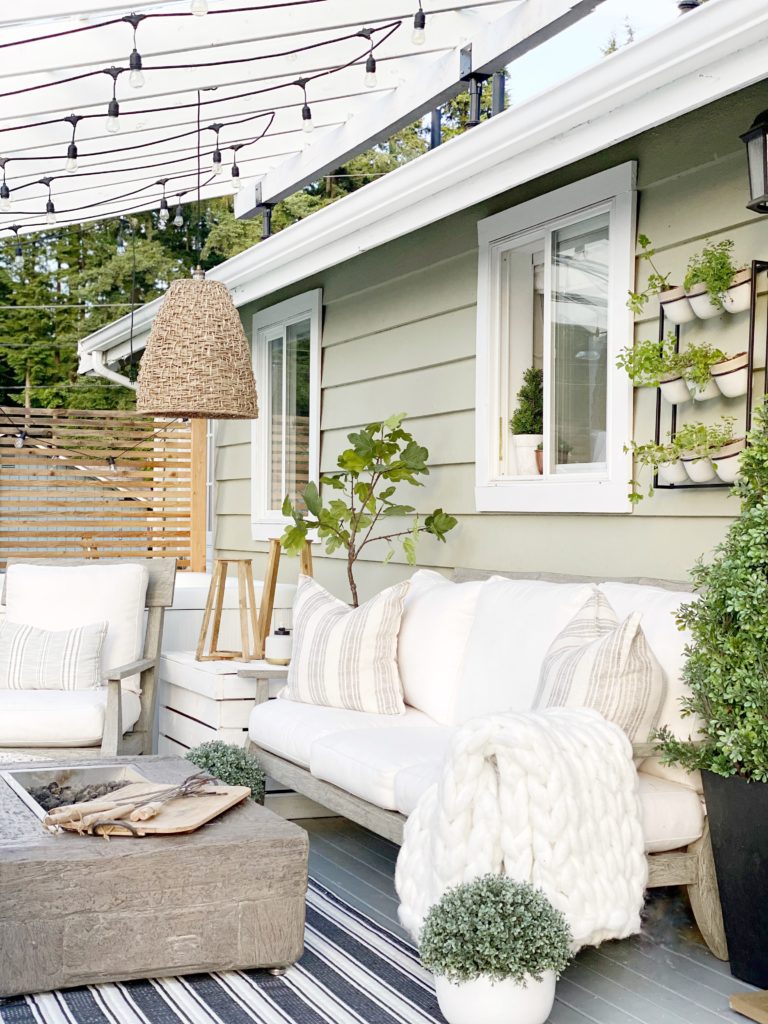 Hopefully I answered all your questions on installing and the upkeep of the polycarbonate roofing panels! If you have any more questions just let me know.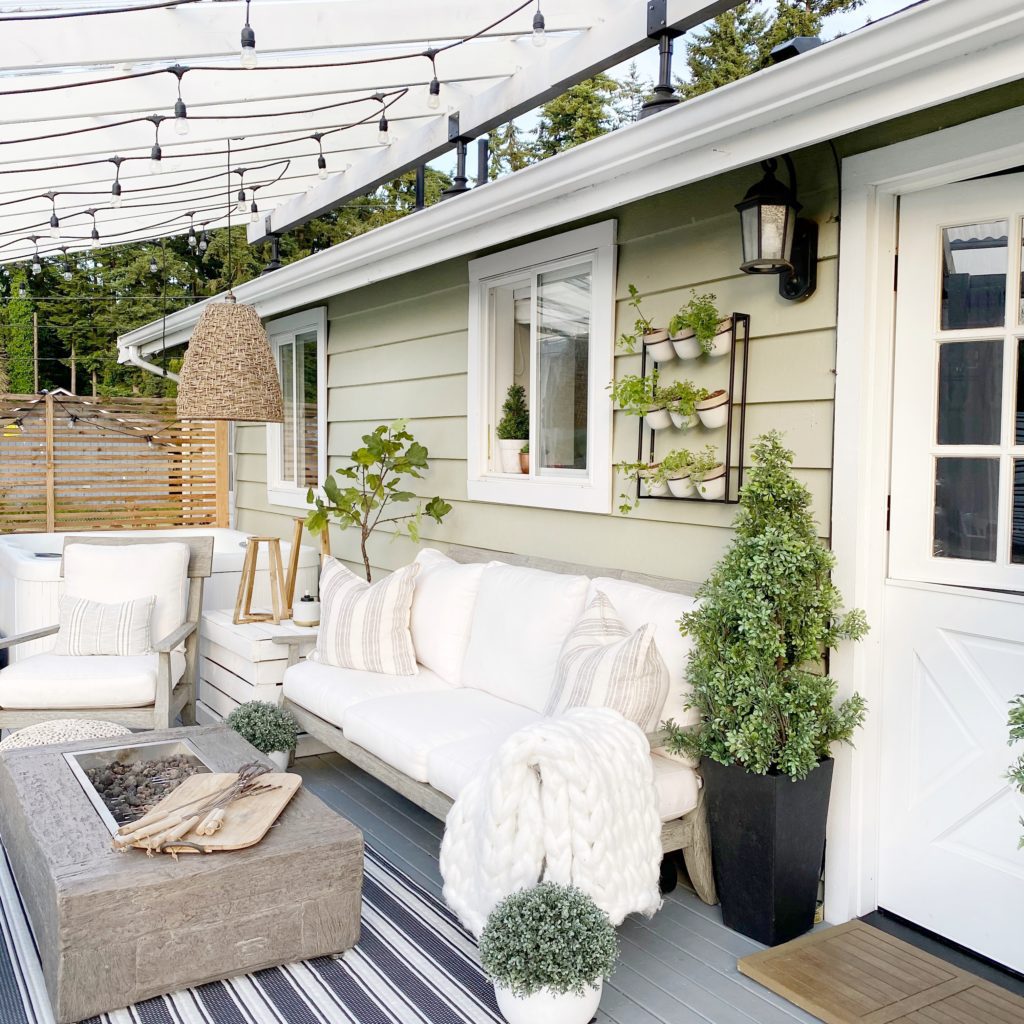 I love that we can keep all this furniture and cushions out year round, and it's given us an additional place to escape to.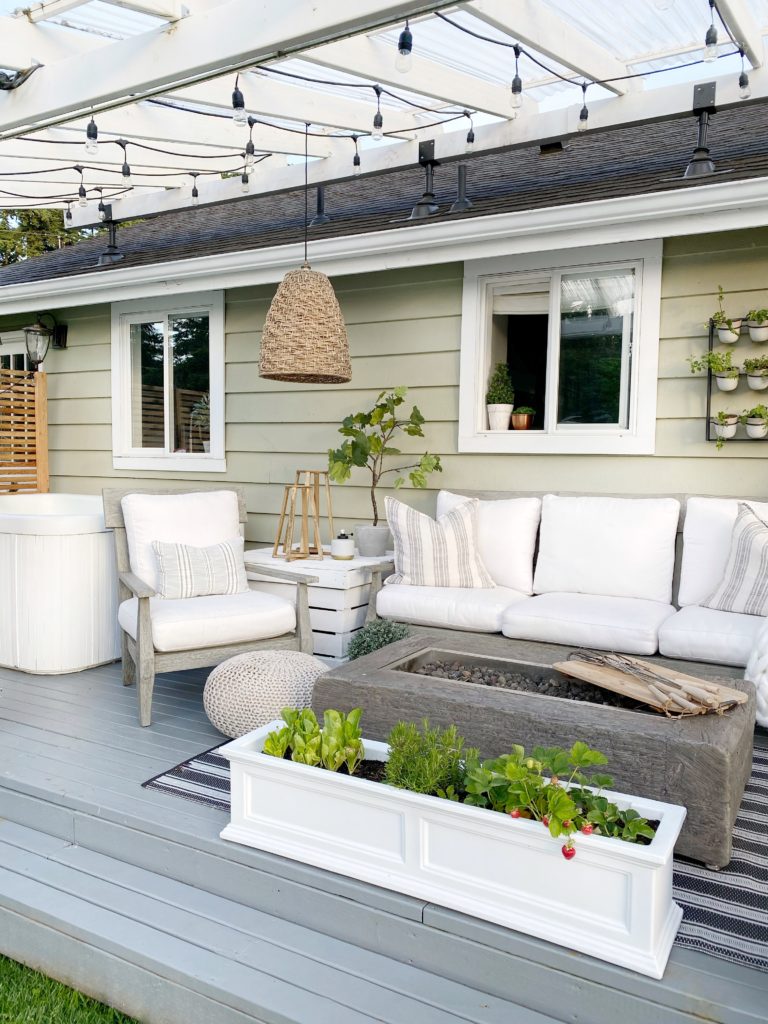 You can see here how much light it gets in, and how even after two years of not cleaning it – it is still crystal clear! We love it and hopefully if you decide to do it you will too!
If you are wondering how we did the rest of this space including our lifted pergola check out the posts below!
PIN THIS IMAGE FOR LATER, AND COME PIN ALONG WITH ME HERE.