Our DIY Pop Up Camper Remodel was an amazing one! It's time for an upgrade, but time to share all about it and our adventures along the way!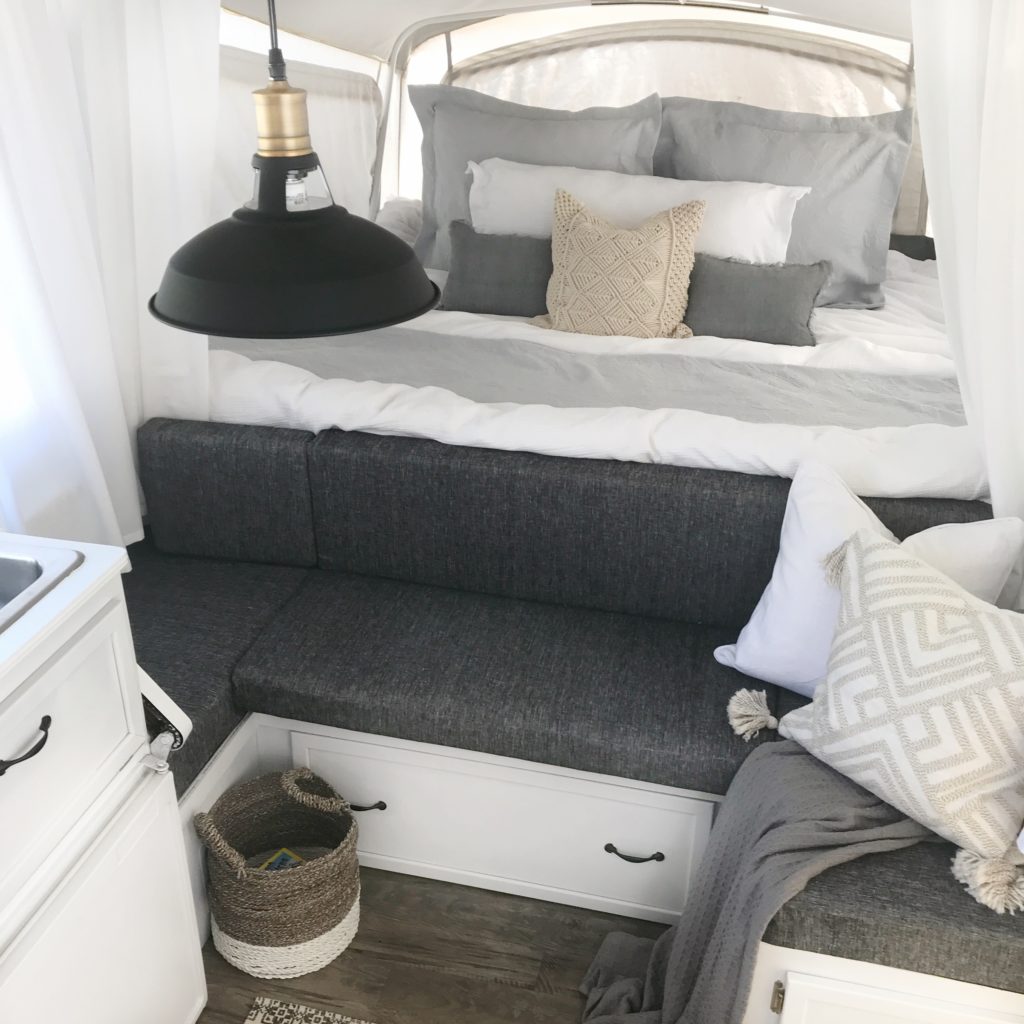 I will have to say, this camper when we first got it… we never planned on it. But like most things in life, the things unplanned are the best adventures and we are ready for our next!
It is time for an upgrade, but I thought I would share some more about this camper and go over questions that I always get. Keep reading to see more about the transformation and the adventures we took along the way. Stay tuned to see what we get next!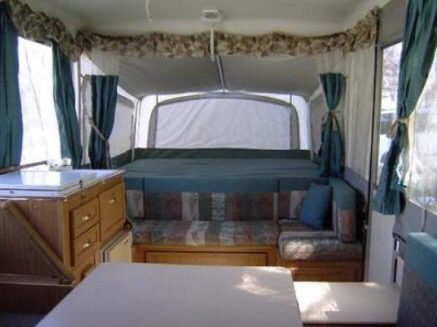 Here is where we started with this lovely beauty. This camper was for my nephew and James was redoing it for my sister in law. We loved it so much we said if she ever sold it we would want it….. now keep reading.
POP UP CAMPER Q&A
Is a pop up camper hard to set up?
It isn't hard. It is easier with 2 people. They have made these little things so easy to work and it's so neat to watch!
Does it have a heater?
Most do and they work amazing we have camped in the snow and kept toasty!
Can you camp in the rain?
You can camp in the rain, if it does get wet it needs to be all the way dried up before you store. Always a good idea to have a tarp handy.
Can you store stuff in a pop up?
We fill it up when going camping – think tables, bikes, all our stuff, grill the list goes on! It stores a lot!
Does it have a bathroom or shower?
Ours does not have a bathroom, and just some newer models have showers.
Does it fit your whole family?
We are a family of 6, and James and I slept on the smaller bed. the kids all laid on the bigger one! It was cozy but now that they are getting older its time to upgrade.. honestly we still can make it work if needed.
Should I get a new or used pop up?
Honestly for me I wouldn't buy a new pop up. I would find a good used one or one that is used that you can redo. It is a good intro to camping then you can decide what's next.
Is the pop up private?
Well, it isn't a hard surface but we felt like it was good – a step up from a tent and we added curtains so an extra layer.
Can I pull a camper in my car?
We have a Ford f150 and suburban and it pulled great – I would always check with what your vehicle says it can pull and then do LESS!
Is a pop up good for a beginner?
Great for a beginner – then you can decide what is best for your needs from there!
IS A POP UP FOR YOU??
Do you want to upgrade from tent camping but not ready to commit to a trailer/fifth wheel/rv?
Do you want an affordable camper?

Limited on space for a camper?
Need something easy to tow?
IF YOU ANSWERED YES TO ALL THESE I THINK YOU KNOW YOU WANT A POP UP!
NOW FOR SOME OF THE CONS OF A POP UP:
Thin walls
Noise
Climate Control
Small Space
Possible no bathroom
* A little extra care – like never store wet

THESE THINGS WERE NEVER AN ISSUE FOR US, AND WE WOULD RECOMMEND OVER AND OVER AGAIN.

TO SHOP OUR FAVE CAMPING ITEMS TAP ON EACH IMAGE:
NOW FOR SOME MORE ABOUT THIS POP UP CAMPER REMODEL :
Here is how it turned out, naturally it isn't so fancy when we take it on the road but even not all done up its still so beautiful!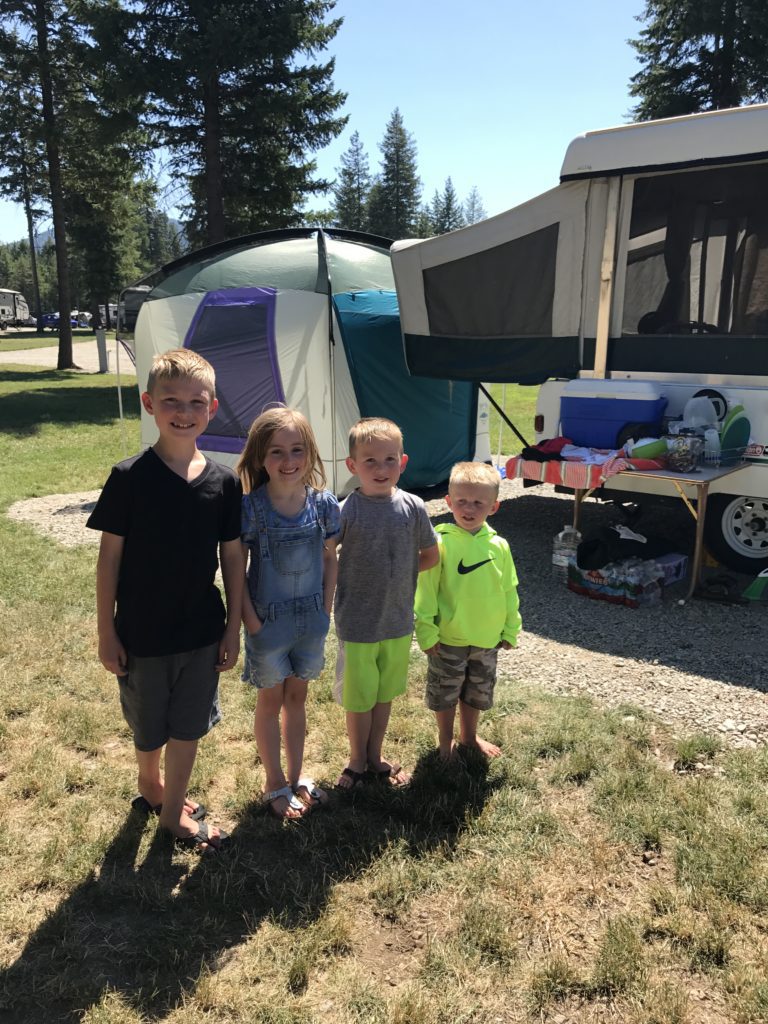 Now this was our first unofficial camping trip, only two of the kids actually slept in it. We went to Ravenwood RV resort with my sister in law and two kids and it was their first time heading out in their new pop up. We drove all the way back home to Washington.. then a day later they realized that pulling the camper was to much for their vehicle. They left it at Cabelas in Idaho and we drove back and got it. Then it officially became ours – WE BOUGHT A POP UP!
We went on our first adventure soon after, and that led us to the KOA in Port Angeles it was such an adventure we knew we were in love. If you haven't gone to a KOA it's the most amazing thing with kids and will forever be our favorite!
A month later we went with friends to Deception Pass State Park and it was a different experience but just as amazing!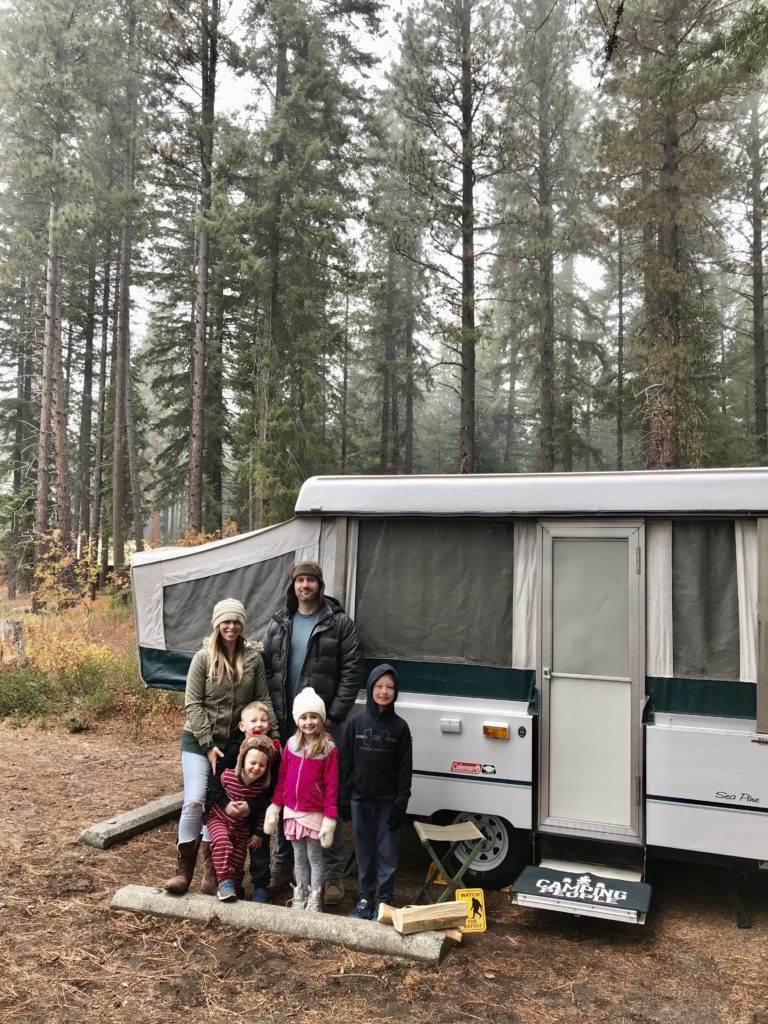 We braved it in October and went to Lake Wenatchee State park, it ended up snowing but this little pop up kept us warm and toasty!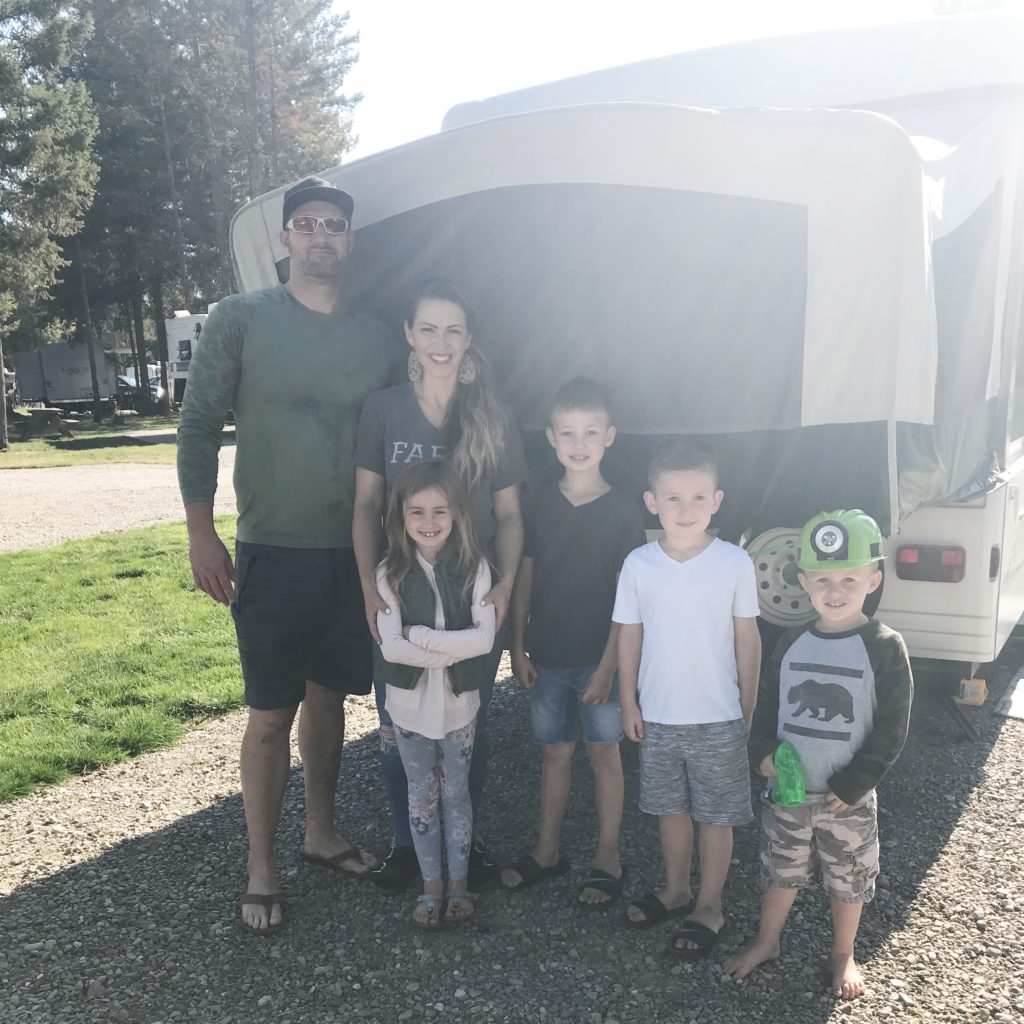 We love going to Silverwood, so back to Ravenwood RV park. It is such a great little campsite next to silverwood – as long as you don't mind the no bathrooms ( they have a port o potty) But they have a pool and are inexpensive and nice grounds!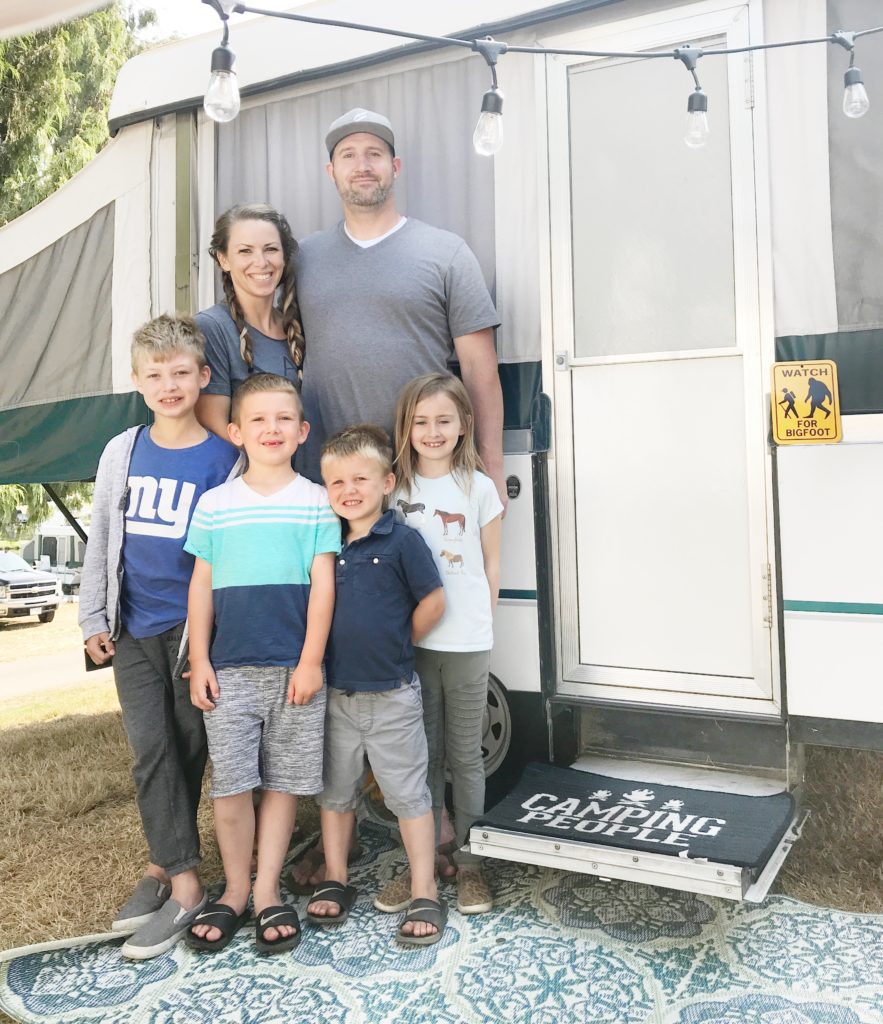 We knew we LOVED KOA's, but I will remember this magical time where we fell in love with the LYNDEN KOA. This place will always hold such a special place in our heart… many adventures are still to be had.
Here we are back a month later at the Lynden KOA and more fun was had… is it possible to be even more amazing than the last? I think this KOA deserves a post all on its own – that is to come!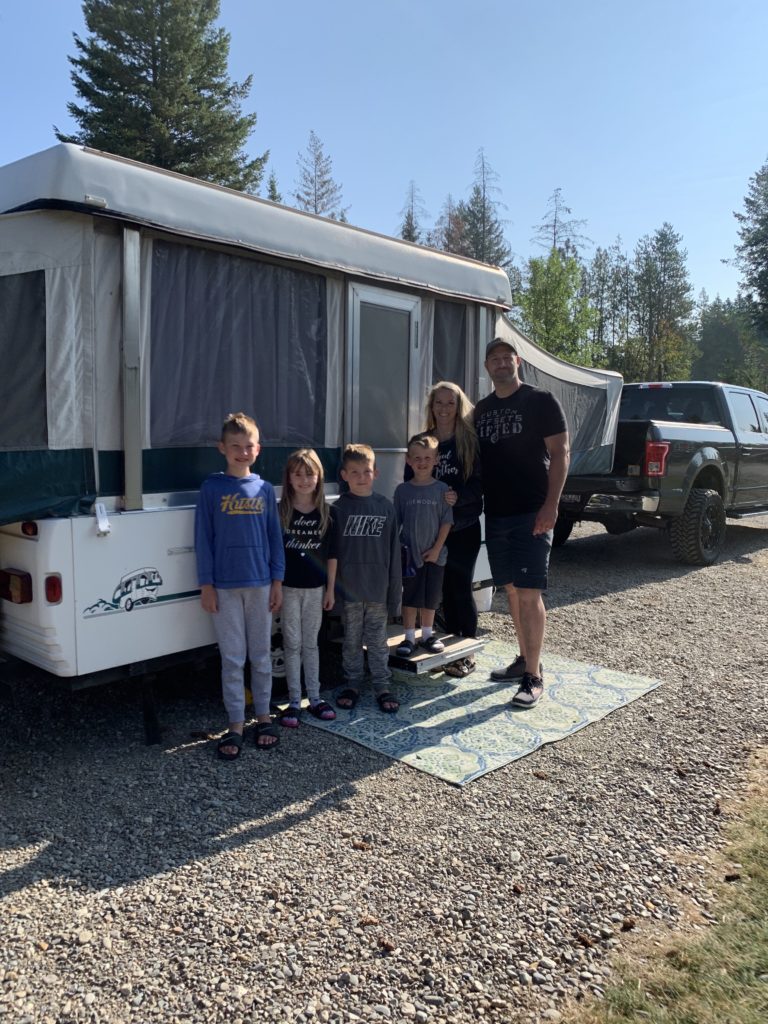 It was time to go back to Silverwood and our fave Ravenwood resort! Really if you are heading that way make sure to check it out – they do book up!
We couldn't pass up Labor day at the Lynden KOA it was so much fun and little did we know what the next year would bring.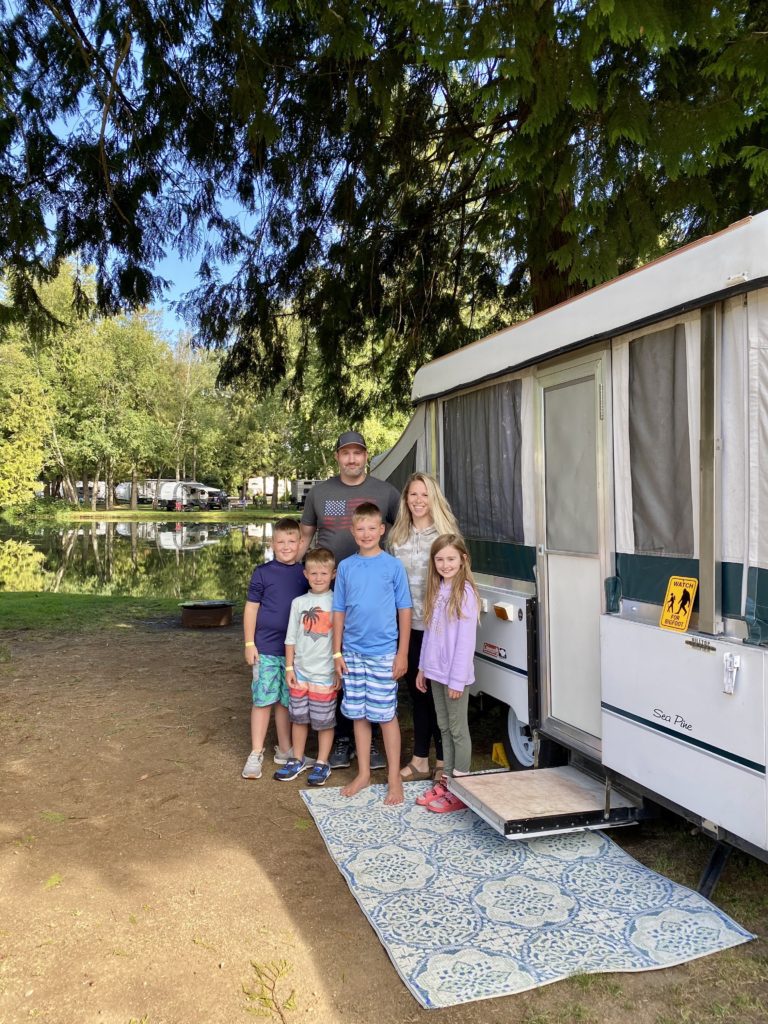 2020 was a rough year, but to feel a bit of normal we headed to our favorite place the Lynden KOA and boy did it feel good. This was actually our second trip here – the first was with my parents and niece and we did tents and the cabin a month earlier.
We ended our 2020 camping adventure with a fun surprise for the kids! We told them we were going for the weekend, and we ended up there for 10 days! James went back home for 5 days to work, so I got to enjoy special time that I will always cherish. ( I may have cooked more than I ever do and all on a grill haha!) It was an adventure and they had friends come and visit and we made friends along the way. Only next time we need to do longer.
Little did we know this would be the last trip in this little camper. It has treated us well.
Onto the next family.
xoxo The Wagners
I HOPE YOU ENJOYED THE Q&A AND THE POP UP CAMPER REMODEL IF YOU HAVE ANY QUESTIONS LET ME KNOW BELOW
PIN THIS IMAGE FOR LATER :