The day you have been waiting for, the pop up camper reveal! Before I show you all the "pretty" photos I wanted to share with you what it looked like before! It's come along way, and of course with a story, so let's begin!
When James started out remodeling this camper it was for his sister, I remember the day she signed a piece of paper saying I had full control over design. She really did let me have full control from the floor up, the only thing … she was doing it for her son so white cushions were out of the question. She gave me some choices and this grey is what we picked, and honestly I can't be happier to this day because – with this camper it's meant for camping not just pretty photos. Ok before I go on and on, the camper didn't work for them – it's a funny story for another day but we BOUGHT it!!
We got to enjoy this camper last summer and the memories it has brought has been so amazing, my kids would choose it over anything!
I spent some time adding my "touch" with some amazing bedding and pillows from The Company Store. I love how it makes this space feel like home.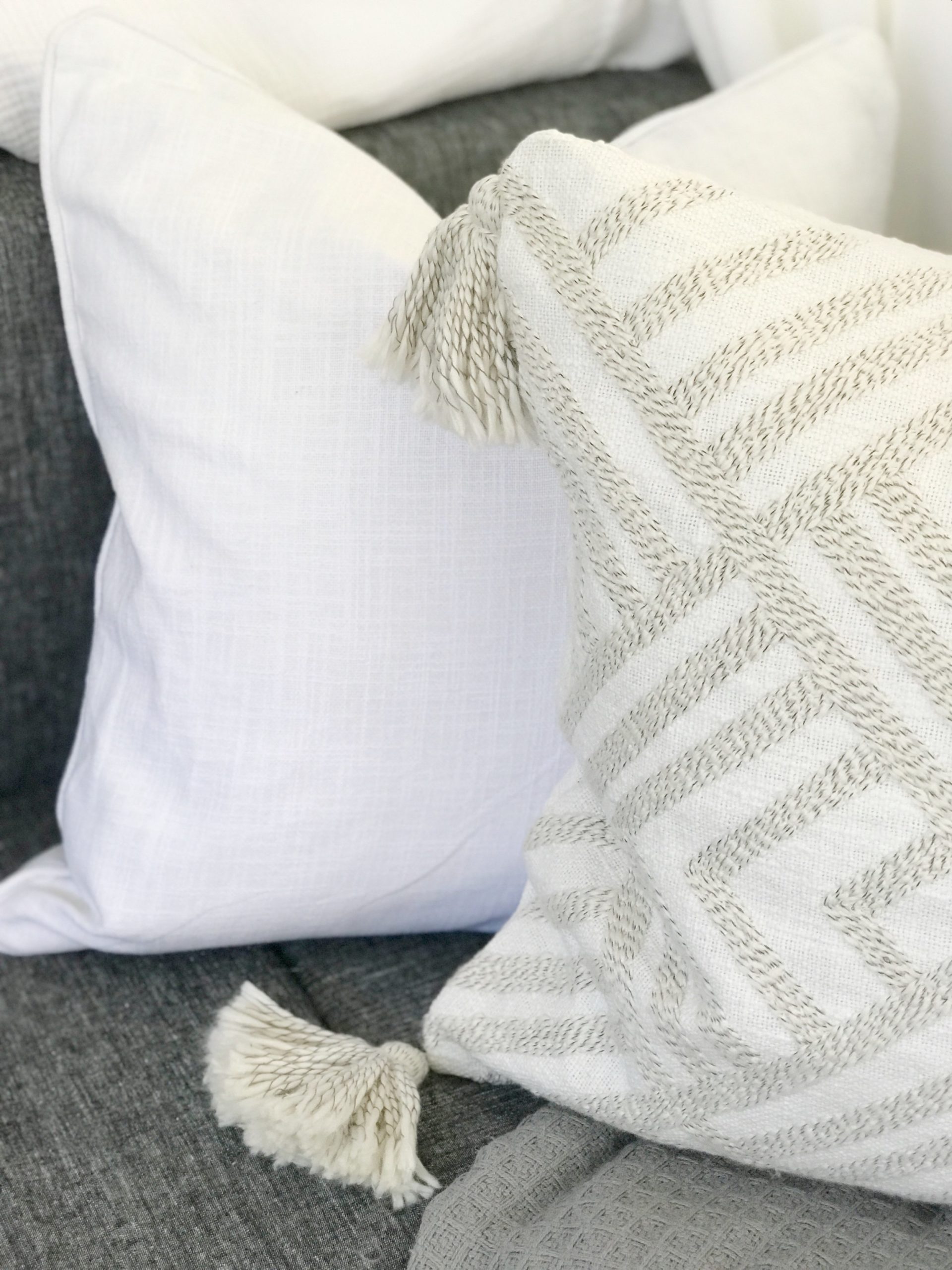 I love the textures and the amazing quality of these pillows, it added the perfect pop to the space. You can find them HERE and HERE.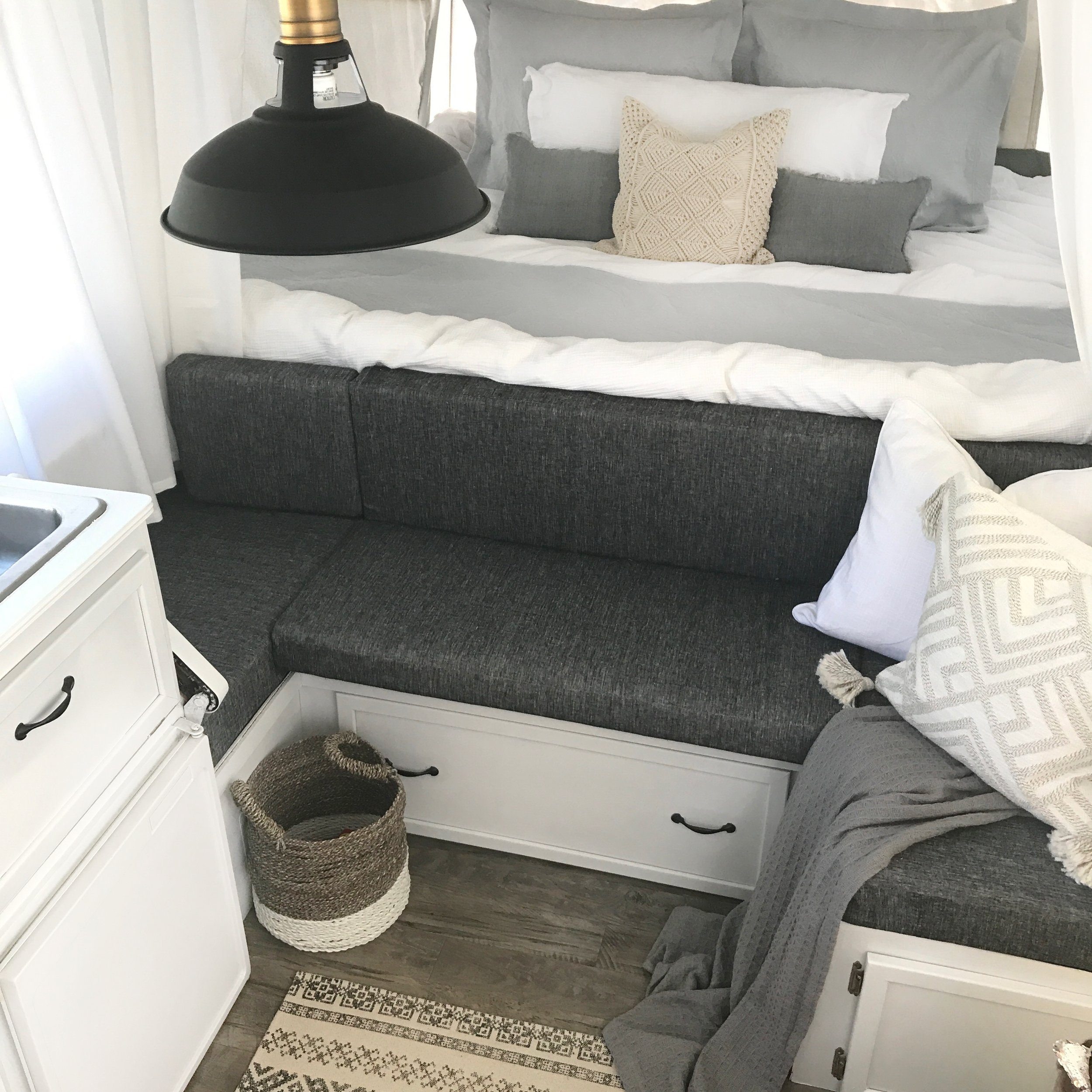 In our home I love to layer our bedding I wanted to replicate that here. I used the Pryor Duvet and euro shams as the base, and added the putnam coverlet for the layered look then topped with pillows. If you ever want to make a space more cozy just add a blanket and some pillows!
This Organic Cotton Blanket from the Company Store is a favorite, we all fight over it! I think its time to get some more.
See the basket there, we keep all our games in there its one of our kids favorite things to do while camping.
Now you can see a peek into the kitchen, lets move onto there.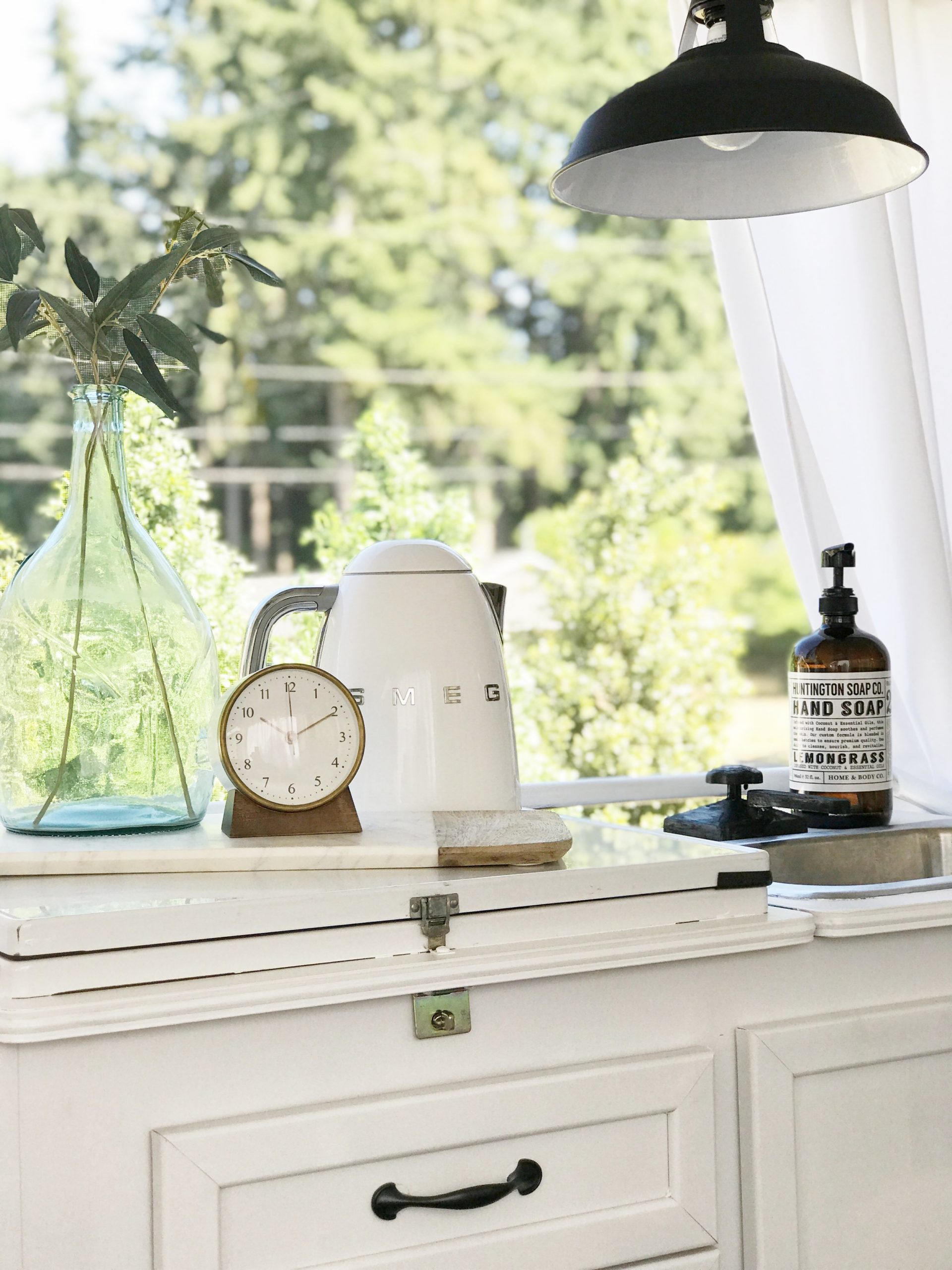 It is truly amazing what some paint can do to a space. I can't get enough of how this little kitchen space turned out. Yes this may not all be practical in here, but it takes a moment to set up and we can feel like we are at home wherever we may be.
James took out this entire piece and painted it, I added the drawer pulls that you can find HERE you can always spray paint your existing ones but I couldn't do the seashell handle.
You know how much I love my Smeg, so in the camper it came! We love to make hot cocoa even in the summer.
These enamel mugs from Vintage North are so special, while they are cute they just remind me of old times and camping.
See these floors, you wouldn't be able to guess that they are a sheet vinyl! We are so happy with them and how they have held up!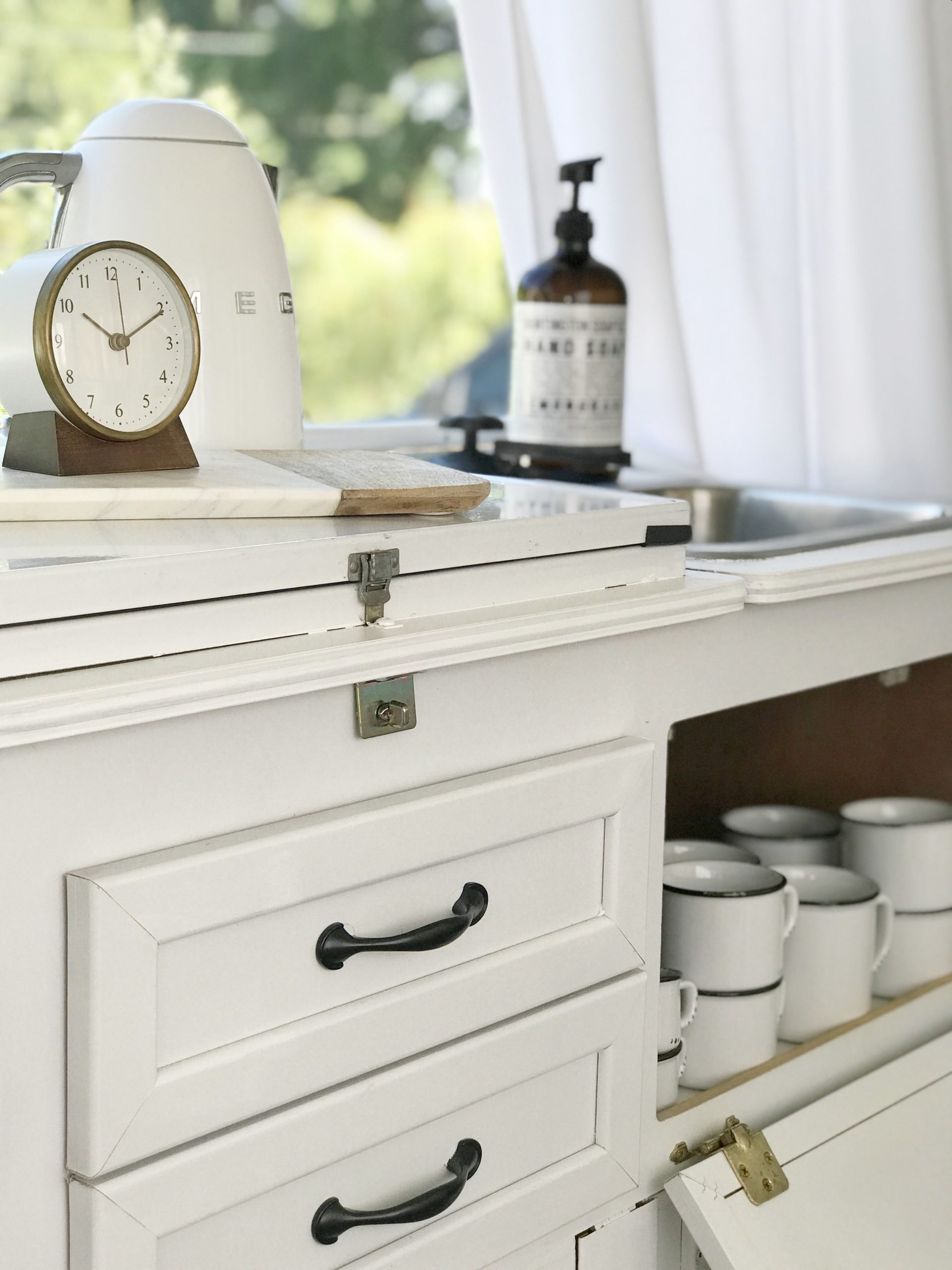 I can't get enough of this view, one thing we do plan to replace is the faucet but it hasn't been on our highest priority so I will make sure to update!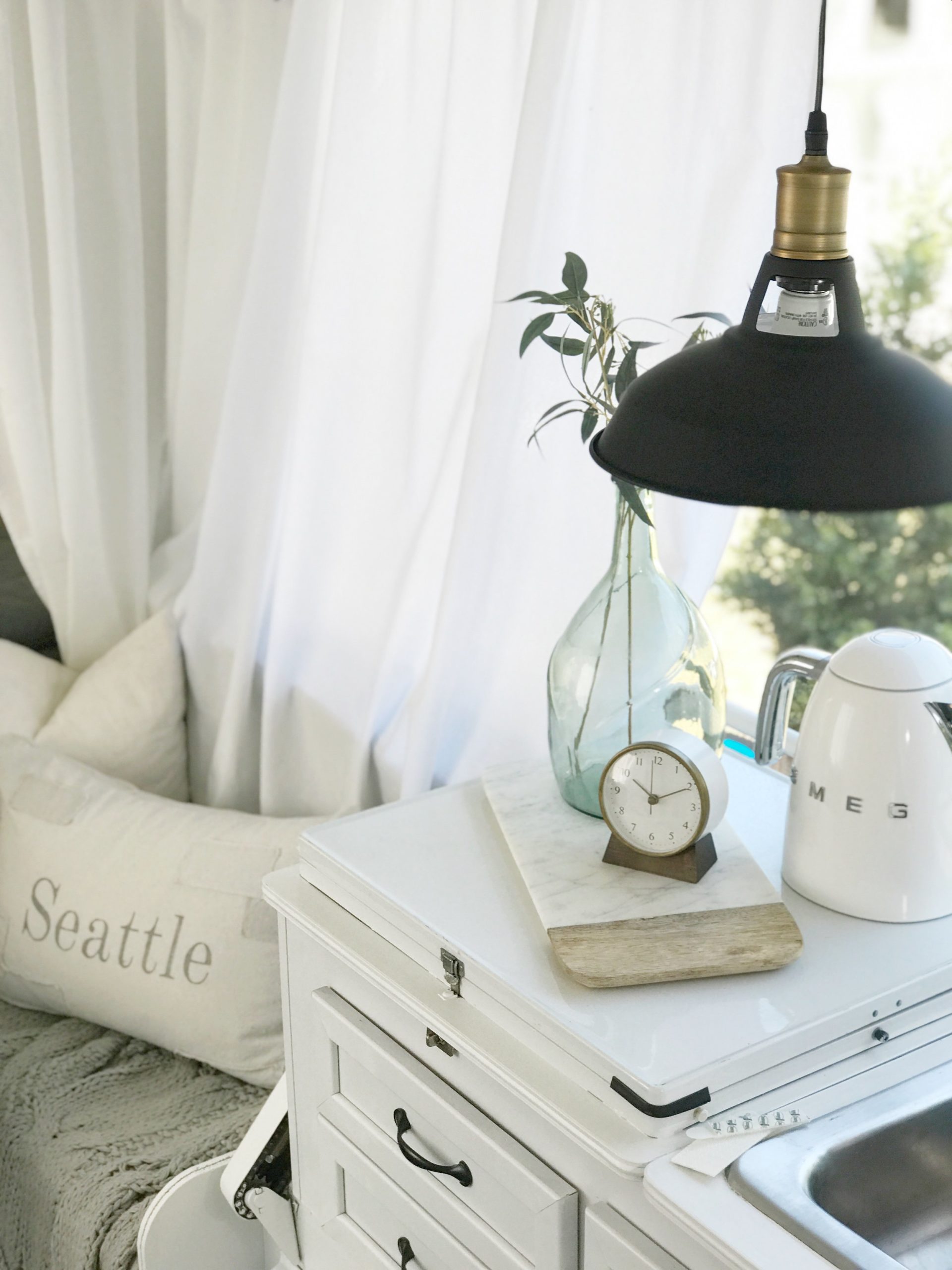 Whoever said you can't have neat lighting in a pop up camper? This light has a plug, and we have it hung up with a hook. Its so nice to have the extra lighting.
Now lets move onto the other side of the camper, it sure is spacious for being a little thing.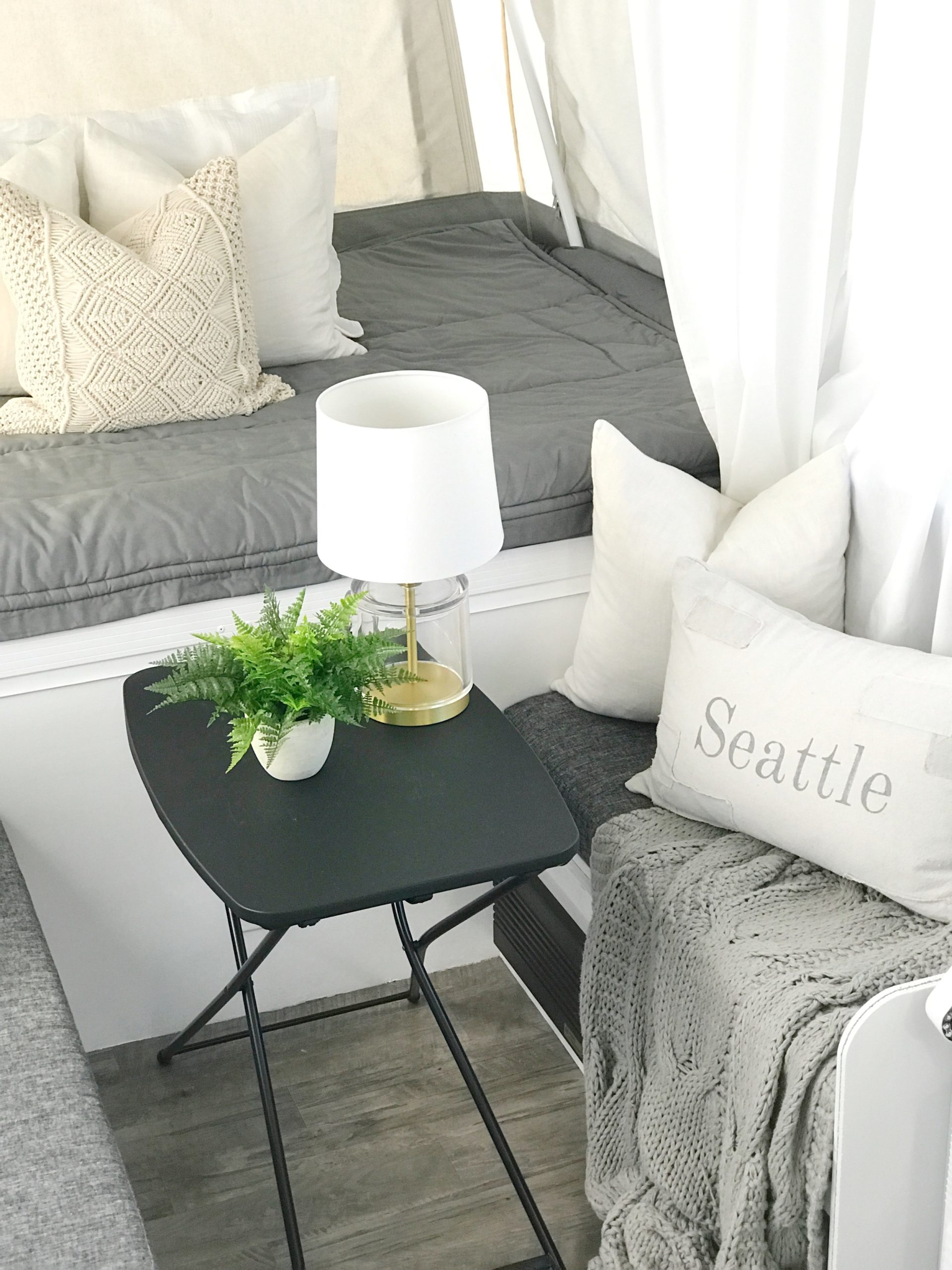 Here is our second bed, this one is the smaller one but still a lot of room. We used our Beddys Beds on here, because with kids it makes it easy! They love how cozy it is, and like the other bed it reminds them of home.
We replaced each mattress from the Custom Mattress Factory, so we knew we could get a good nights rest and they have the best selection of RV/pop up mattresses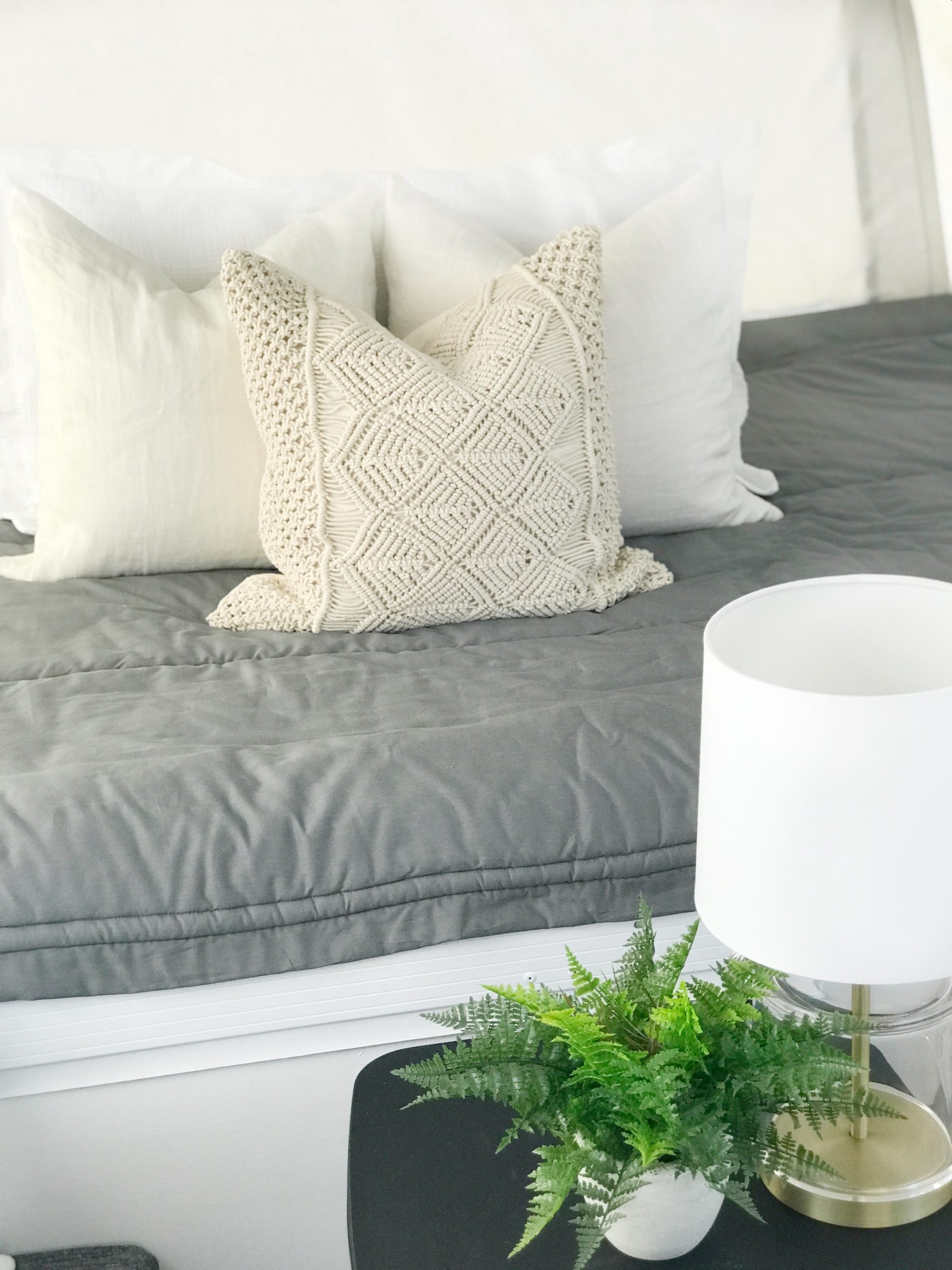 This macrame pillow from The Company Store really helps bring the whole space together, I love how it adds the right amount of texture.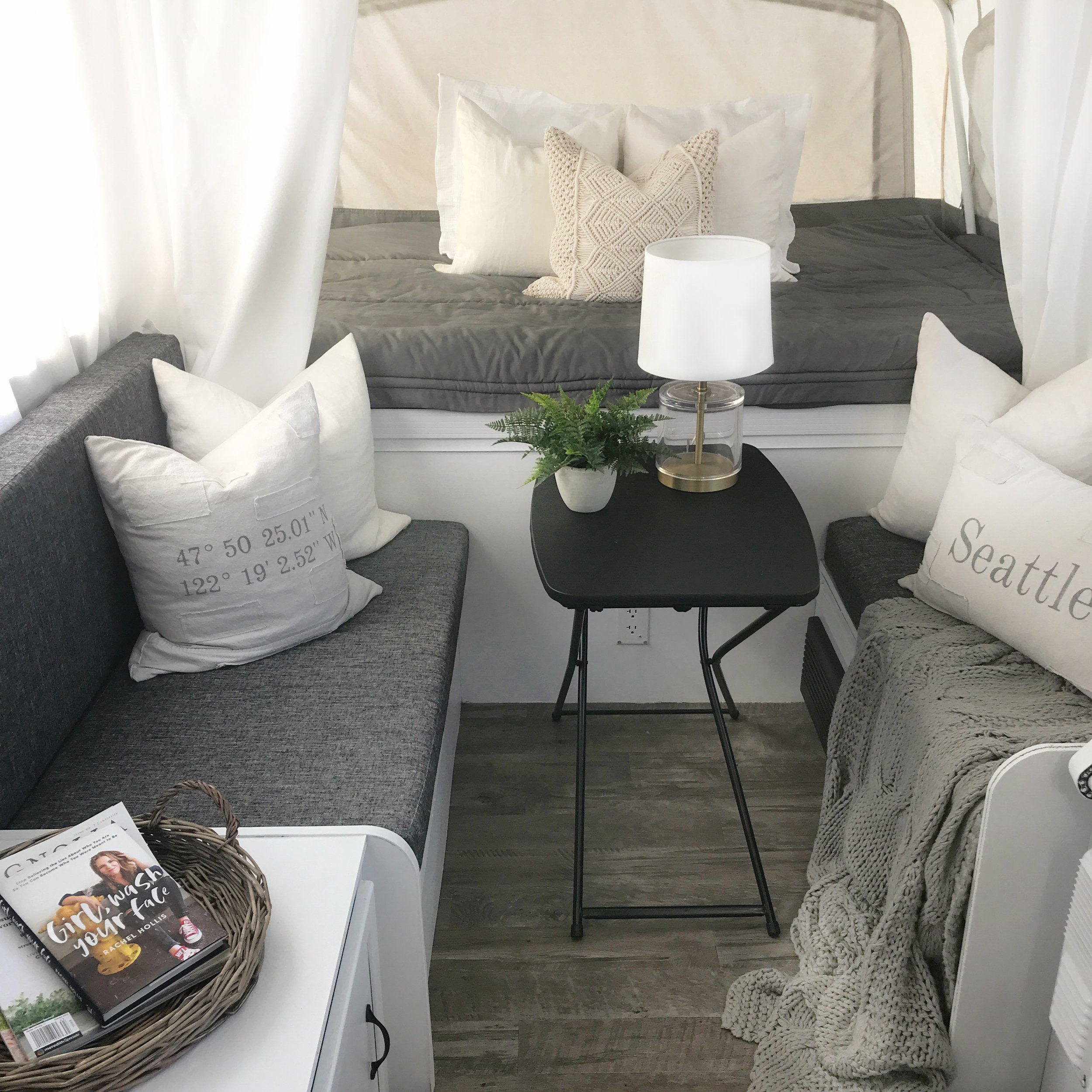 I just can't believe how this space has come together, its sort of like a pinch me is this real? Well James did and it is! We are going to enjoy this little camper to the fullest till it is time to upgrade, plus you know we like a good project so all in due time.
For those of you wondering about space, we have 6 of us who sleep in here comfortably. Our kids are still little and I am sure as time goes on we will need some more space but honestly this can work.
This camper is a great extension of our home when guests visit, my parents enjoy it each time they come.
We are in the Seattle area, as you can see from these amazing pillows from With Lavender and Grace. There is a lot of rain here, and it does get folded down and covered once we aren't using the camper. One thing we did learn is to bring in all fabric items in before storing it for the winter, since it is so damp here it can get moldy. The actual fabric that the pop up is made of shouldn't if taken care of, since it is weather proof.
* Just remember that these are the "staged photos" while its fun to look at the photos, we do use this space to camp and enjoy it. I can't say we "camp" its more like glamping – but we are doing what we can in this season in our life.
Now question for you, do you like to camp? Whats your favorite recipe to do when you go?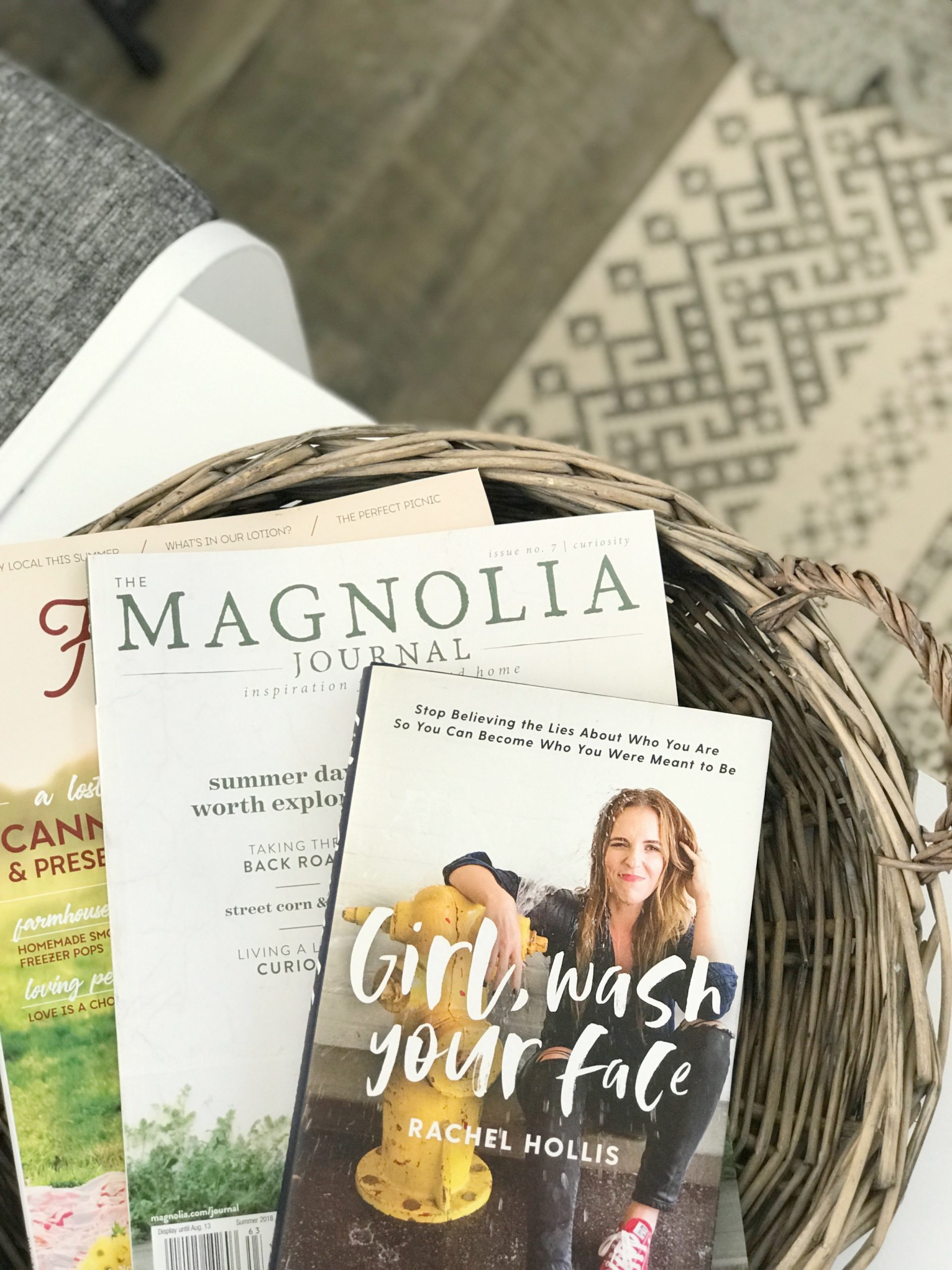 Sources :
The Company Store Pryor Duvet HERE
The Company Store Legends Comforter HERE
The Company Store Putnam Coverlet HERE
The Company Store Linen Pillow Covers HERE
The Company Store Macrame Pillow Cover HERE
The Company Store Diamond Lattice Pillow Cover HERE
The Company Store Concord Pillow Cover HERE
The Company Store Organic Cotton Blanket HERE
Custom Mattress Factory HERE
Beddys Beds HERE
Light Fixture HERE
Black Drawer Pulls HERE
Smeg Tea Kettle HERE
Vintage North Enamel Mugs HERE
Afloral Eucalyptus HERE
With Lavender and Grace Seattle Pillows HERE
Purple Rose Home grey knit HERE
Girl wash your face book HERE *Life Changing
Magnolia Magazine HERE
The Farmhouse Movement Magazine HERE
I hope you enjoyed this tour, look forward to more! Don't forget to follow on Instagram, Facebook, and see what I am pining on Pinterest!