Oreo Dirt Pudding Cups – Recipe
Growing up I remember my grandma always making these oreo pudding dirt cups. The first time she showed us we were so grossed out saying we aren't eating dirt! Well, little did I know how amazing it was. I put a little twist to her original recipe so keep reading.
For Earth Day we wanted to make something fun, and I thought a fun twist to the dirt cup would be something right from our garden – rosemary! I thought it was a great opportunity to let the kids know that it is edible. After raving about how amazing it smells they had a great idea for next year to add some edible flowers.
OREO DIRT PUDDING CUPS
Ingredients :
Powdered Sugar – 1cup
Oreos ( Regular Sized package works great)
Instant Jello Pudding – 2 packages
Philadelphia cream cheese – 1 package
Rosemary
1/4 cup butter – softened
Cool whip – thawed
Gummy Worms
4 cups of Milk – We love Smith Brothers
Mixer
Mixing Bowls
Plastic bag to smoosh oreos or food processor
Jars for dirt cups
HOW TO MAKE OREO DIRT CUPS:
First you will start by choosing the container that you want to put it in, we will be using a mason jar.
Next you need two bowls, one for the pudding and the cream cheese mixture.
Lets start with the oreos. If you put it in a food processor it will come out like a perfect dirt. We chose to have fun with it and placed it in bags and the kids went to town smooshing it.
Time to make the pudding! I love the instant and use two packages. Mix according to directions. I place mine in the fridge once done, thats just how I grew up doing it.
Grab your 1/2 stick of butter softened, 8 oz cream cheese softened, and 1 cup of powdered sugar. Place it in a bowl and mix with a hand mixer.
Once you have both bowls done and pudding is set you will combine them.
Now its time to fold in your thawed cool whip.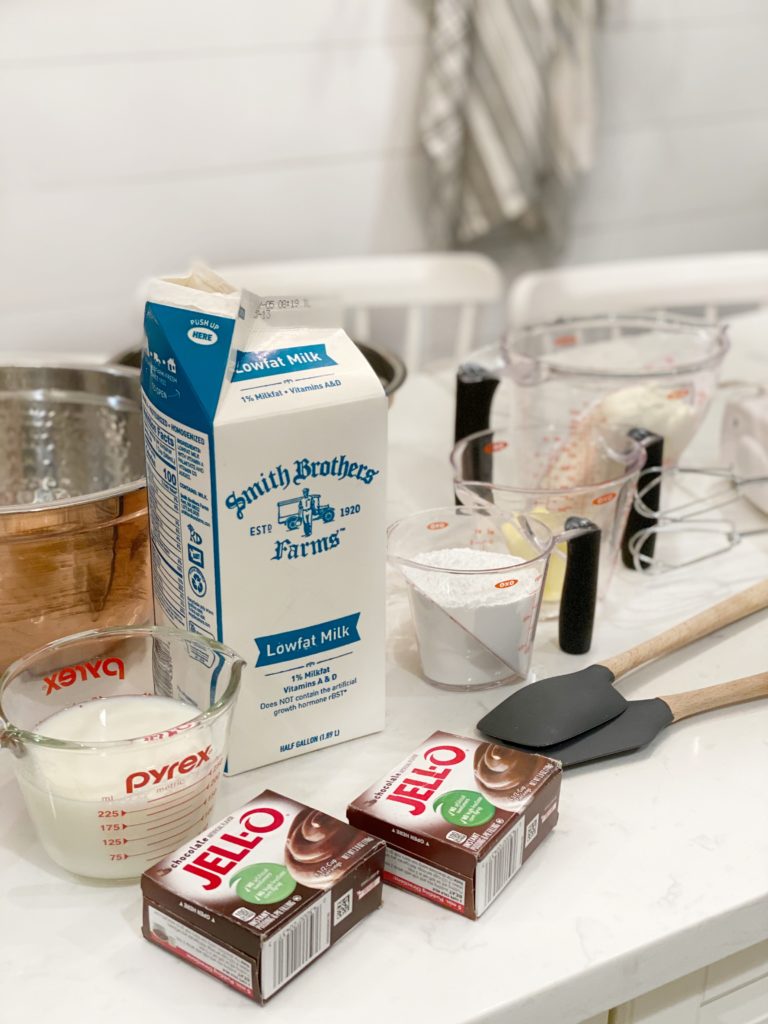 Since everything is prepped its time to prepare! You can start with whatever layer you would like, we start with the oreos, pudding then worms!
Repeat till you get to the top and we make sure the dirt is there! Now you can top with more worms, we added some rosemary for a touch of real gardening!
Hopefully you enjoyed seeing how we make these oreo dirt pudding cups there are so many different ways but this is how I remember making them growing up!
To see more like this :
Over 35 + Indoor Kid Activities for Kids to do at Home
Stay at Home Activities – Outdoor Fun
Pin this image for later, and come pin along with me HERE.