How to Plant a Flower Bed + Cost
Planting a flower bed, is it hard? What plants to use? What is the cost? I will be answering all your questions and teaching you how to plant a flower bed!
When sharing our playhouse progress, the questions I got from so many of you was how did I do the flowerbed! I will be sharing all the details so you can do your own. When working with plants, make sure they work well in your zone.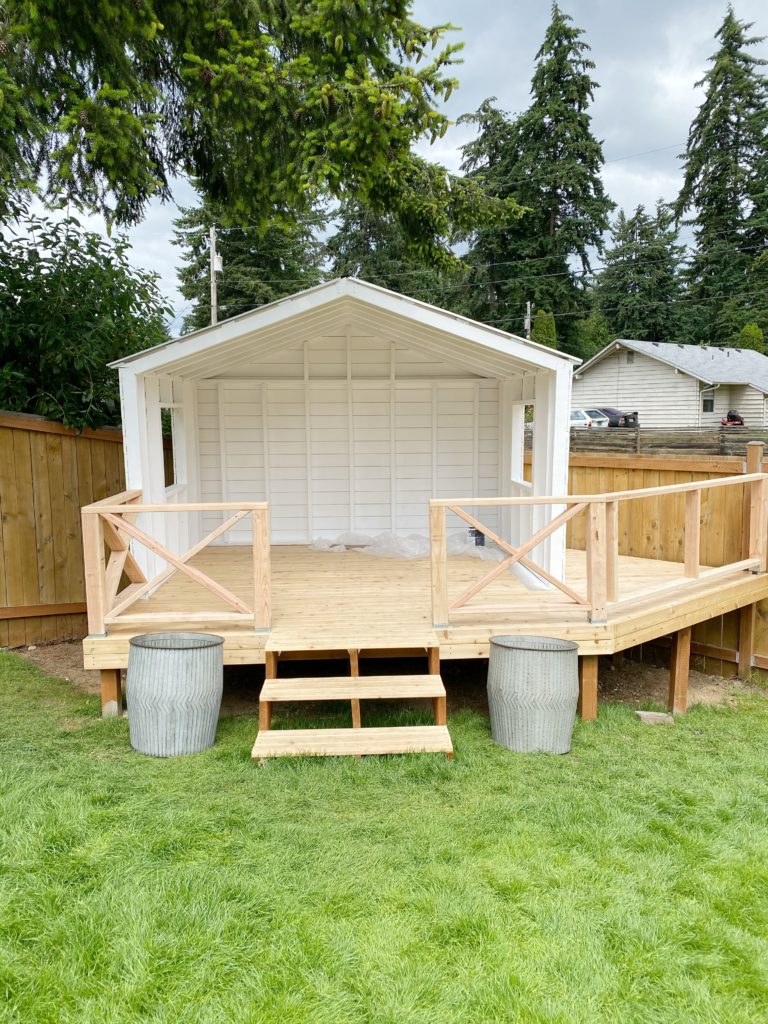 If you saw my previous post for the playhouse, you would have seen the drawing with two planters – but as you can see here it doesn't work. I LOVE these planters from HERE sadly they aren't right for this space it took away from their playhouse.
It was time to go to The Home Depot and get some plants, soil, mulch, landscaping fabric, and edging!
Now to the fun part, or not so fun part! I never realized how hard it was to dig holes and learned that I am no pro! I dug and planned where I wanted all my plants, then it was time to put down some landscaping fabric.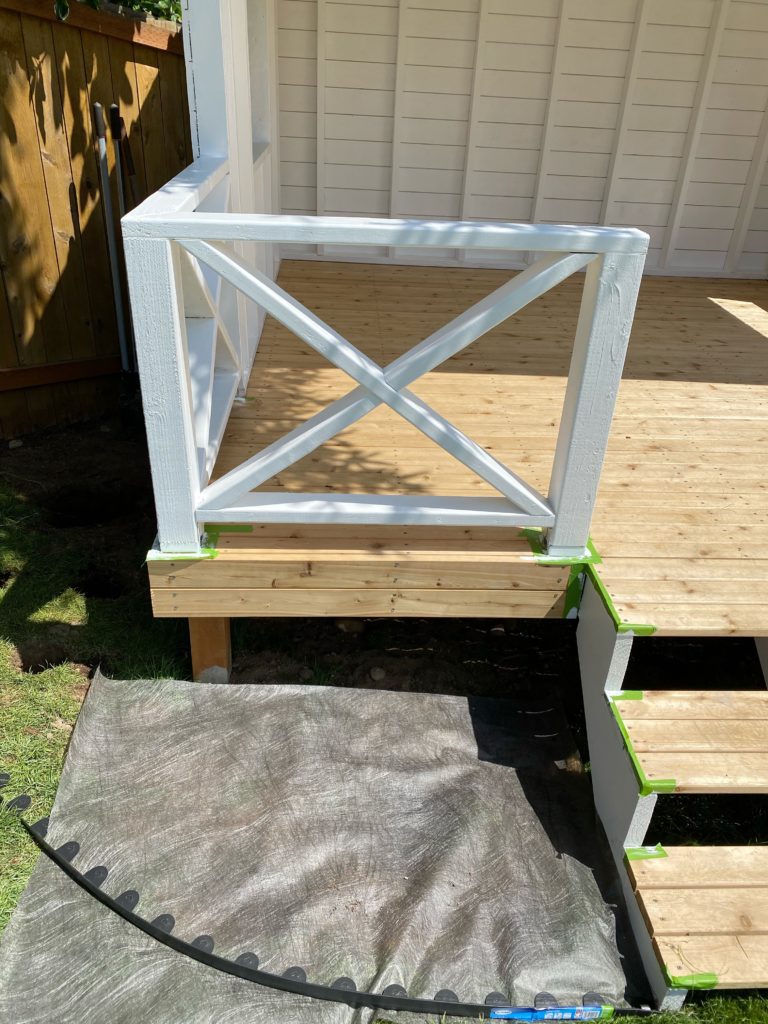 WHAT PLANTS DID I USE?
(1) EUONYMUS MANHATAN ESPALIER 3.58 gallons $69.98
(2) ENGLISH LAVENDER 4.5 gallon $29.98
(1) Orange tree 2.41qt $24.99
(4) hydrangeas $11.97
(3) lavender $4.00 *CLEARANCE 
(6) small boxwoods - *these I had and replanted 
(10) Bags of mulch $20.00 on sale
(8) Bags of soil $20.00 on sale
(1) landscaping fabric - * I had
(1) edging - *I had some, so just needed the small roll $16.98

Total: $271.79 + TAX was my total 
* You would need to add in the cost of the boxwoods and landscaping fabric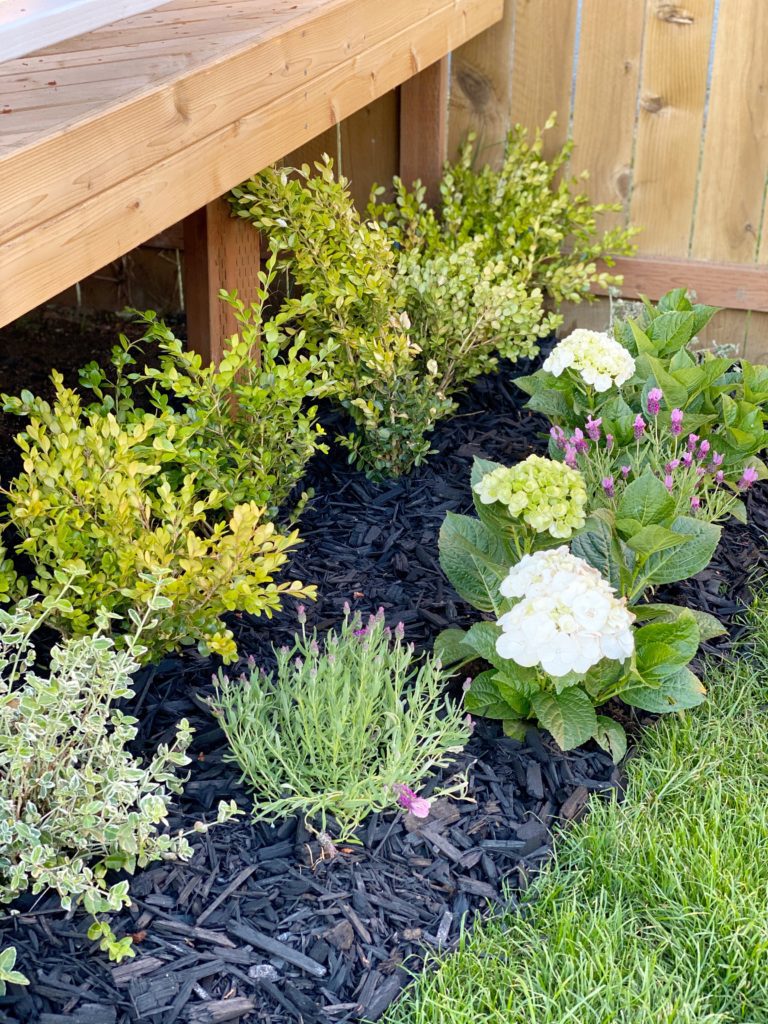 WHAT THE FLOWER BED LOOKS LIKE COMPLETE:
With some hard work I was able to knock this out in just a few hours, I can't believe how much it fits the space and I am so happy with the result.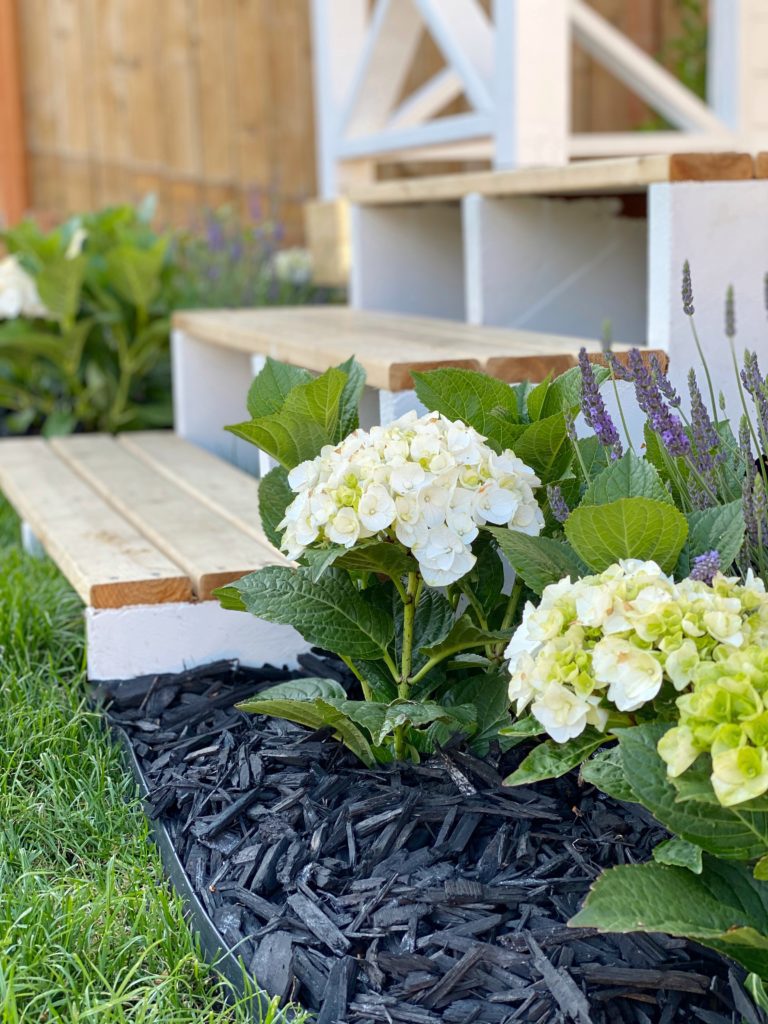 Another thing I decided to do last minute was to paint the wood risers on the stairs, and with the plants and black mulch it just makes it pop up even more.
Do you have hydrangeas? I have always wanted hydrangeas and I thought now was the perfect time!
Before planting I read a lot about hydrangeas and they do like a lot of water and like warm morning sun, then dislike afternoon heat so this spot should do well! It is the wrong time of year to plant them – they like to be planted early spring or in the fall, so we will see how they do!
My favorite plant is the EUONYMUS MANHATAN ESPALIER shrub, this the third one I have bought. This shrub is known to like sun, while ours thrive best in the shade.
I have a lot of lavender, but am so excited for this english lavender its my first time having this kind! I have a whole post on lavender HERE.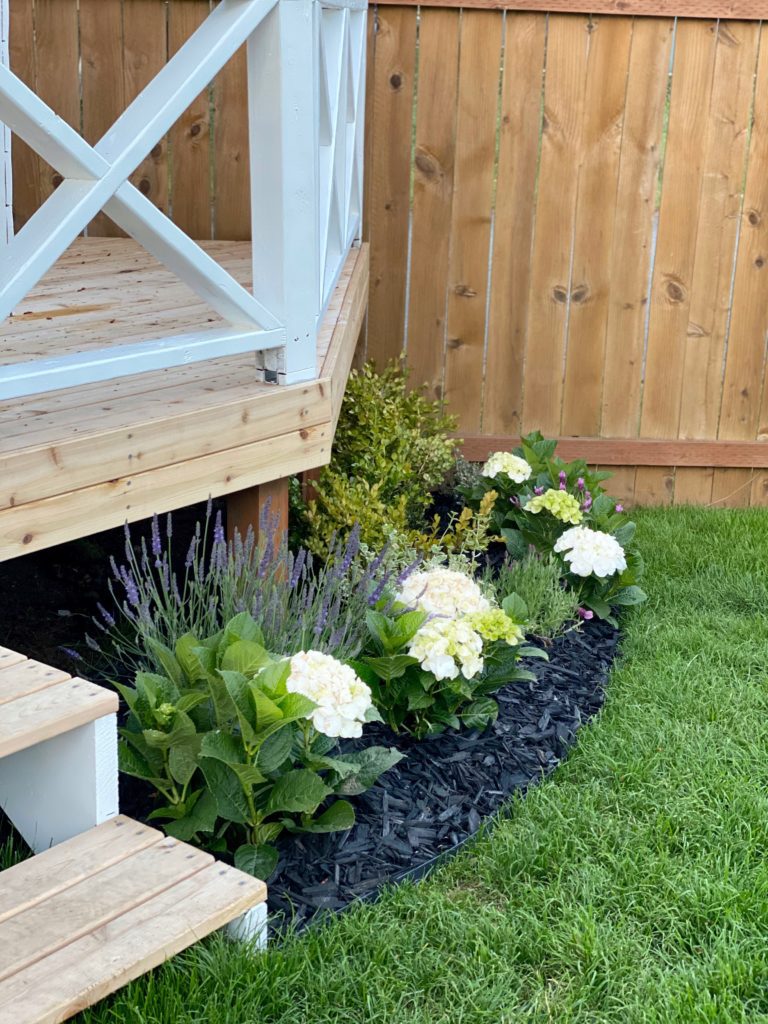 Have you been following along on our backyard redo? We just grew this grass from JB Instant Lawn seed and its grown amazing and I can't wait to watch the flowers grow too!
The flower bed is done, now its time to finish the playhouse. Stay tuned for how we built this playhouse!
First let's watch the bees enjoy the lavender.
PIN THIS IMAGE FOR LATER, AND COME PIN ALONG WITH ME HERE.