Its week 4 of the Jeffrey Court Renovation Challenge, and this week I get to share with you the challenges we have had so far with the challenge, and boy have there been some! If you missed WEEK 1 , WEEK 2, and WEEK 3 head over to those and check them out! Now for a little recap – we will be redoing our fireplace mantle and entire space! This has been quite the adventure so far, and we aren't even to the finish line yet!
Remember to VOTE on the Jeffrey Court Site!
Let me start out by saying, when we went into this Jeffrey Court Renovation Challenge we didn't really have a plan. I had the idea of what I wanted – but how we were going to get there, now that we had no clue.
The first step to get started, normally would be thinking of that plan…. but we ordered the tile and I guess I should start by that as one of our challenges! Challenge 1 -Tile : Always measure…. I spent so long looking at the tile and measuring the grey subway tile that I didn't even think to measure the white one. Needless to say, it is 4 times bigger than I planned but honestly turned out as a blessing because it will look way less busy.
Ok, where was I? We went over what you should do when starting your project but clearly we are doing it a bit backwards. Now onto the demo! If you want the least amount of mess, a tarp and tote always help reduce it. Now we will begin to take it apart starting with the mantle.
This is where we started with last year before we added the mantle. Now the demo begins!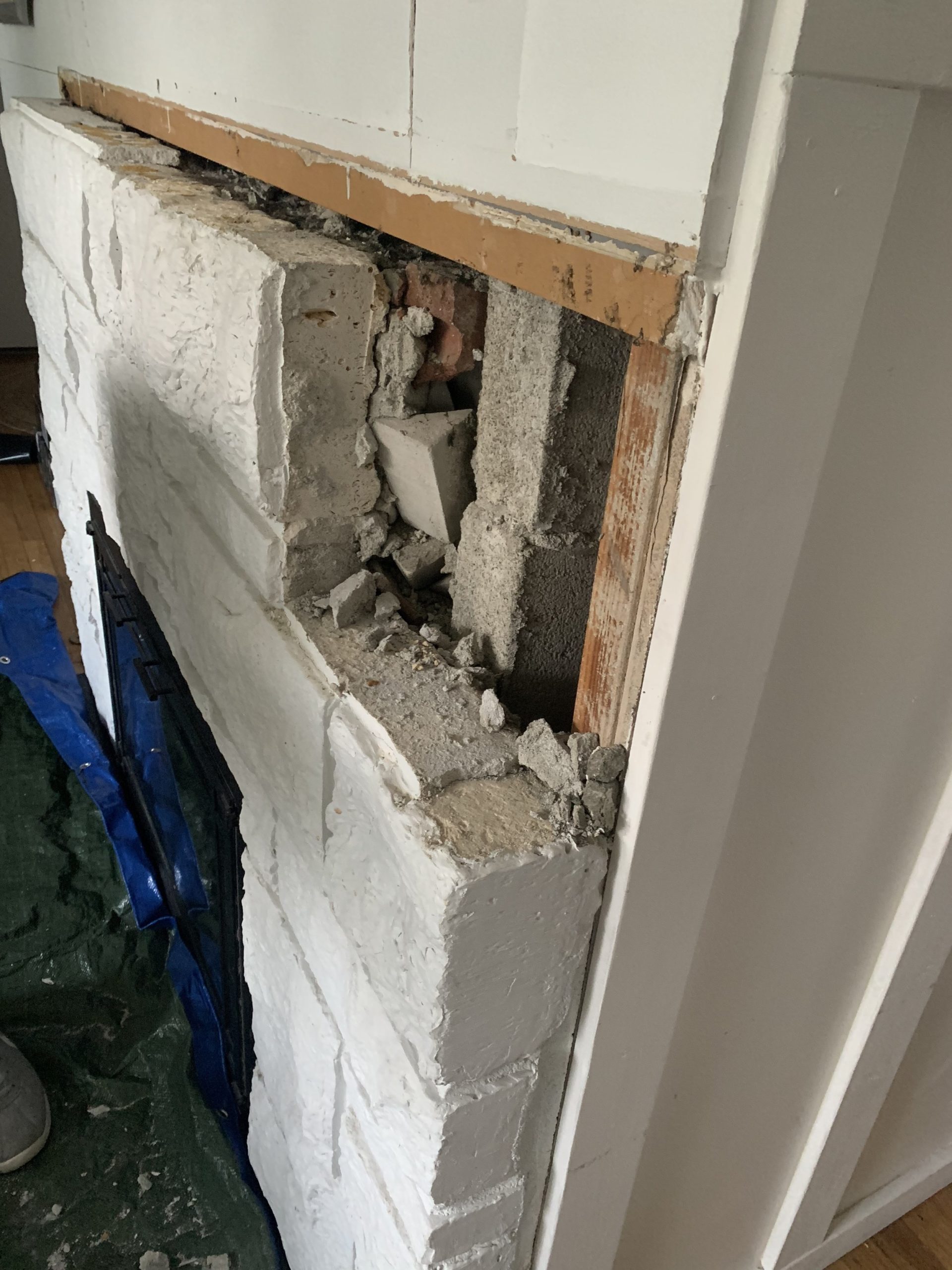 Challenge 2: We had no expectations on what we would find behind the fireplace, but didnt expect seeing a pile of random bricks, rocks etc. So time to tear all that out.
Time for all the mess and clean up!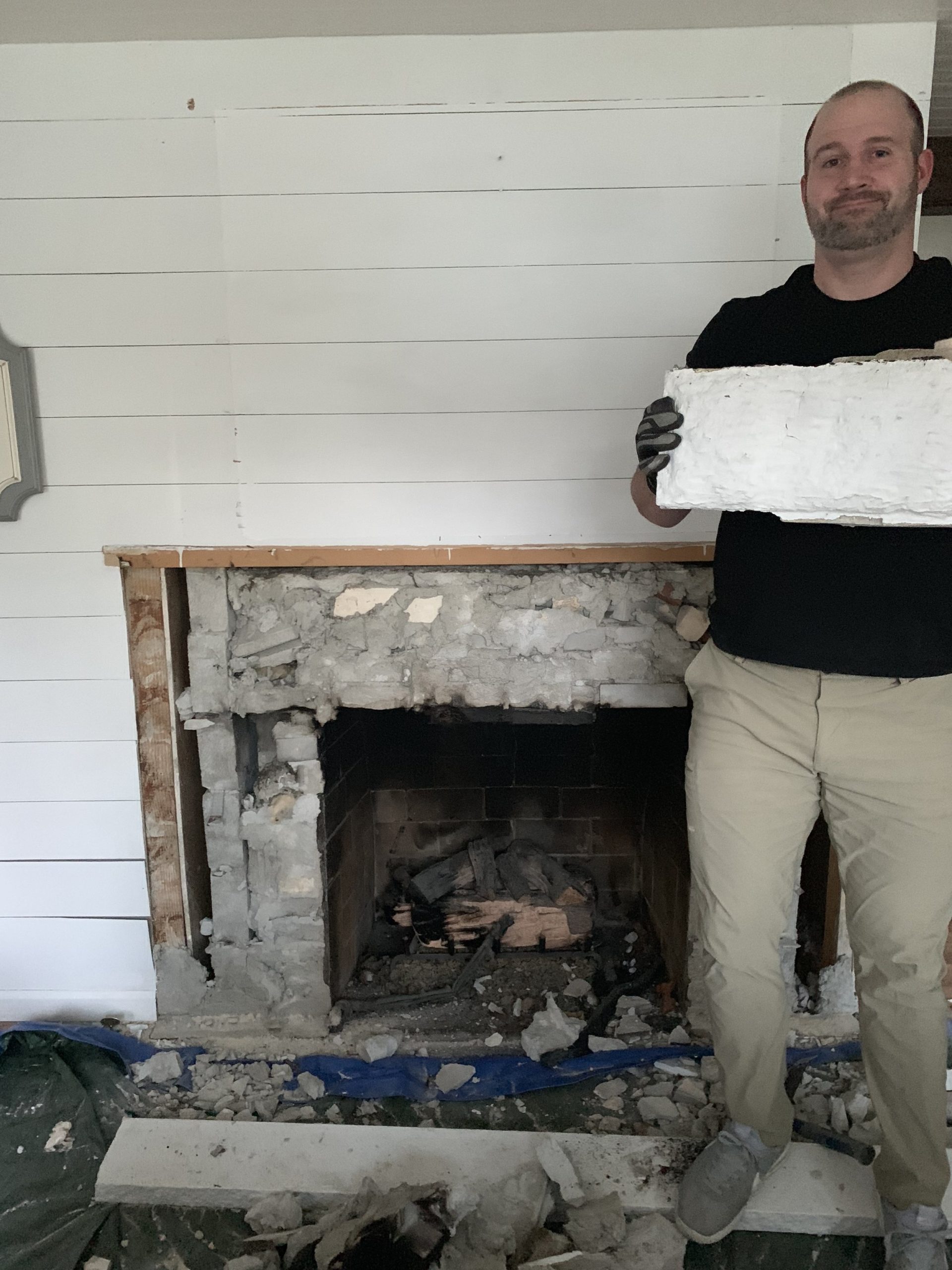 Challenge 3: Honestly not the craziest challenge, but this stone wasn't super quick or easy to get out, and super mess!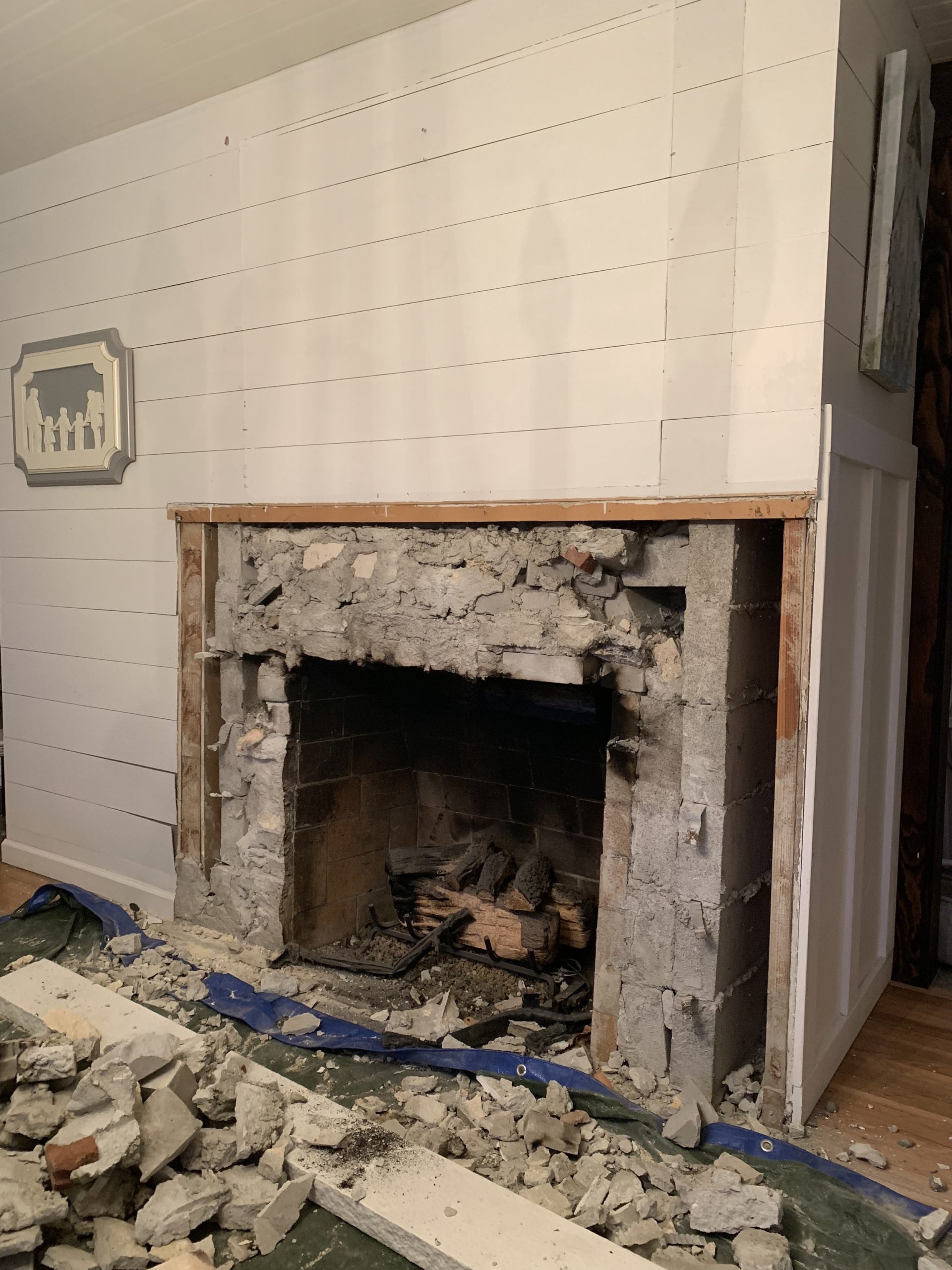 Now time to think about what we are going to do, first clean up time!
Time to tear out the slate, but… it isnt as easy at it seems. Lets keep reading to see what happens!
Challenge 4 : Houston we have a problem, what the heck is this???? Its not stone, or brick … its old cement that is cracking. So if we want a stable surface its time to tear it all out and rebuild. And to think … this was covered in slate and I thought it was going to be the easiest but ended up being so much work.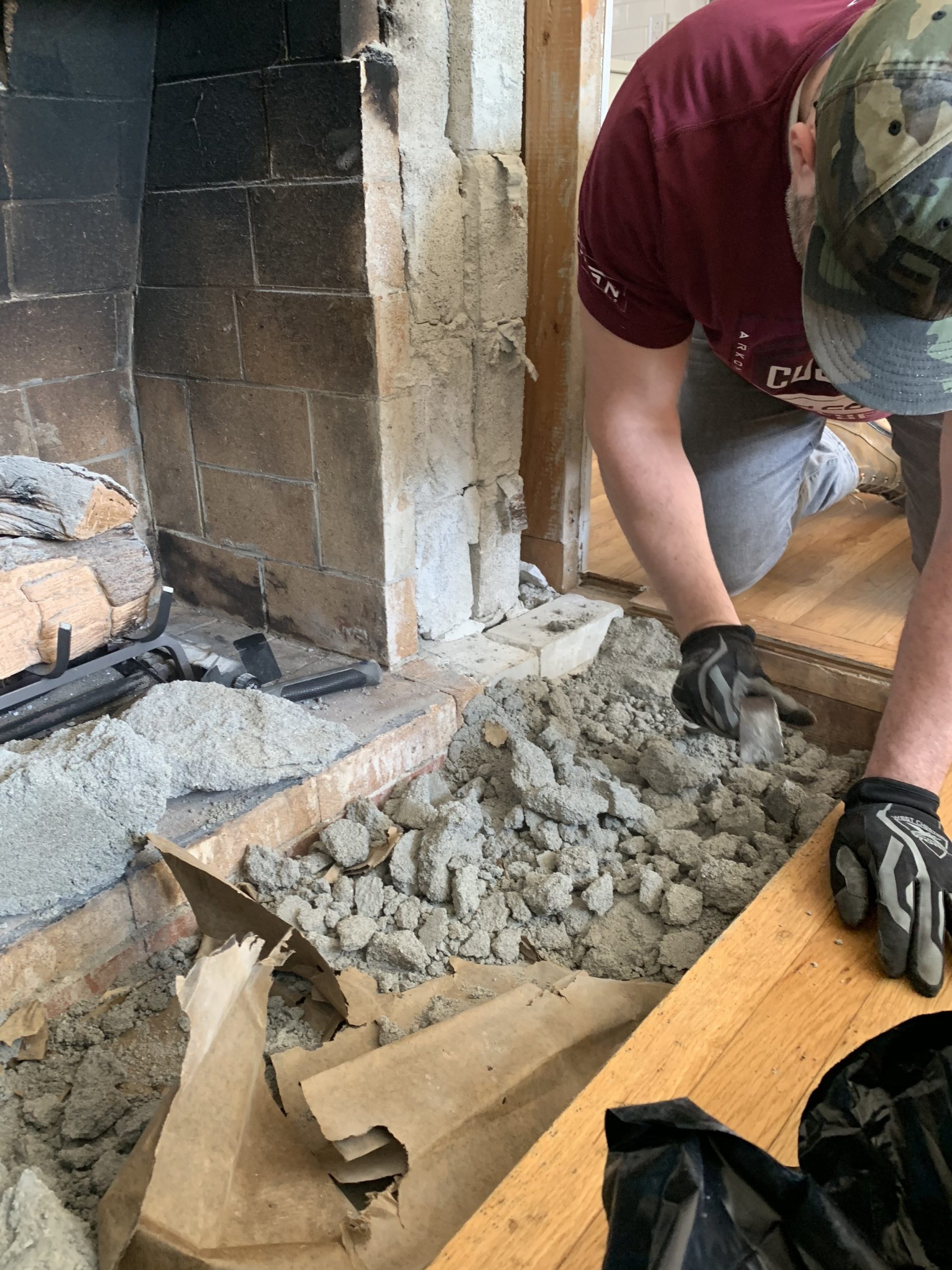 Challenge 5: Most houses aren't perfectly built… and ours every single inch is bad… so we are trying to fix everything as it should be.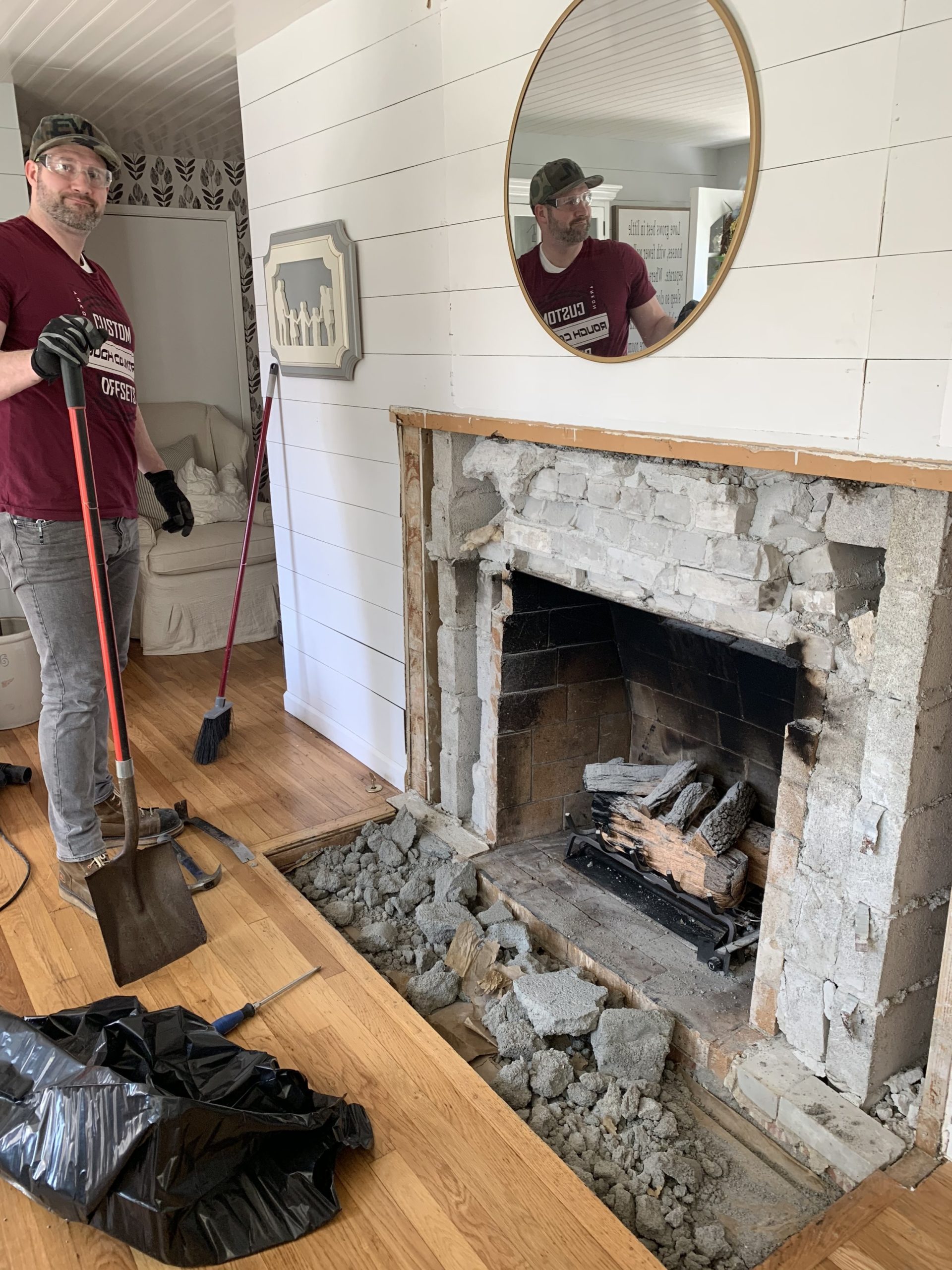 Just a little mess, now see how what we come up with!
Time to clean it all out!
A trip to the store to pick up supplies!
Its time to put a new flooring in, and first its just building it up.
Challenge 6 : Lets talk about the thing no one wants to talk about – BUDGET. Yes we had a budget in mind and we went way over on this one. I will go a little more into detail on the next few posts I dont want to share to much on the reveal … but…. once you run into problems and have to buy extra supplies and dont always think about things like dump runs it all ads up.
Well, now we have a new floor board put in and ready to prep for tile. Demo is complete, and next we will be showing how we turn this hot mess into a fireplace we love.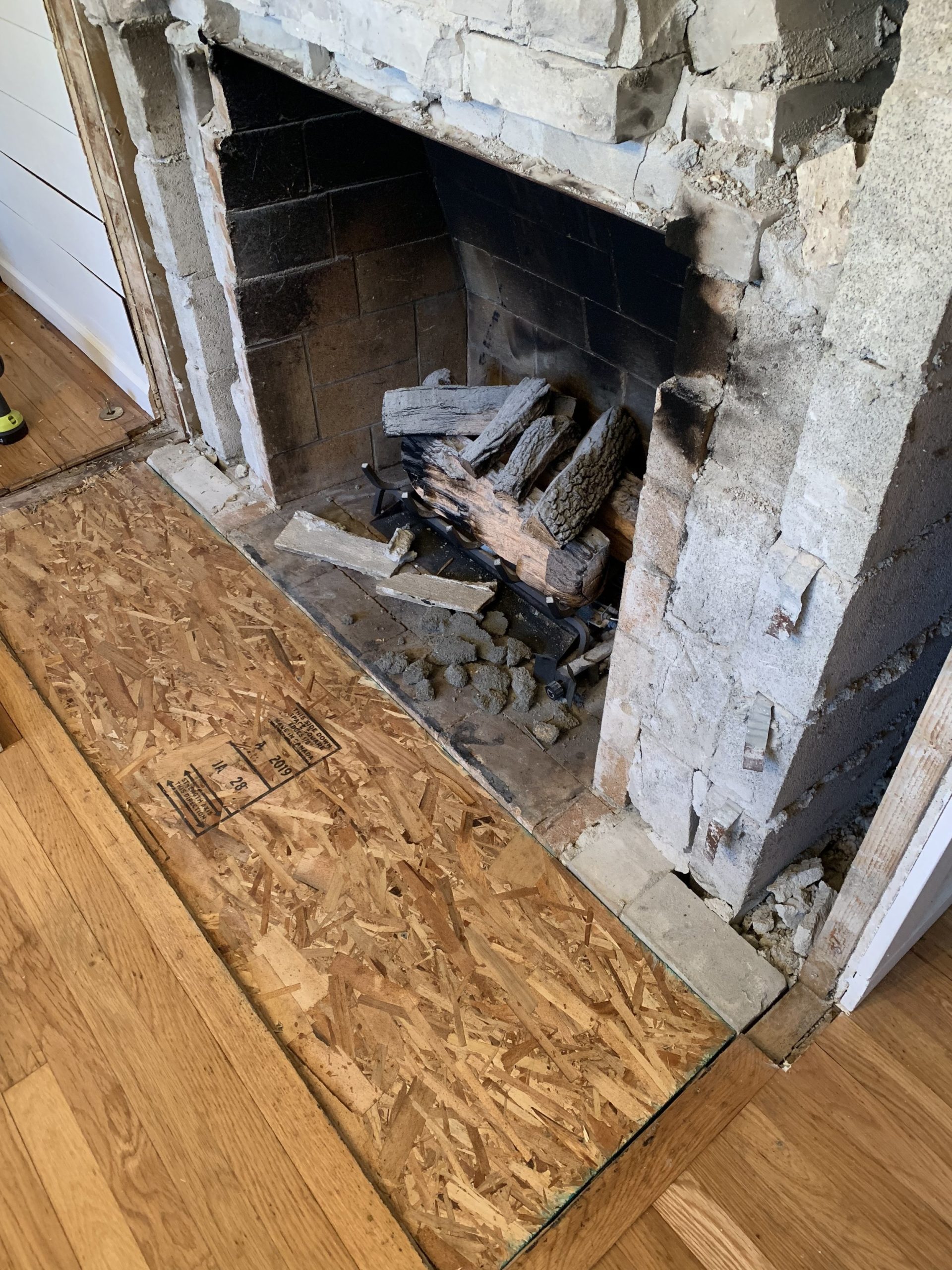 We cant wait to show you how we use the Jeffrey Court tiles and complete this entire space. Let me know what you think we are doing next, I cant wait to share the results. Head on over to Jeffrey Court Blog to VOTE!