Spooky Halloween Playhouse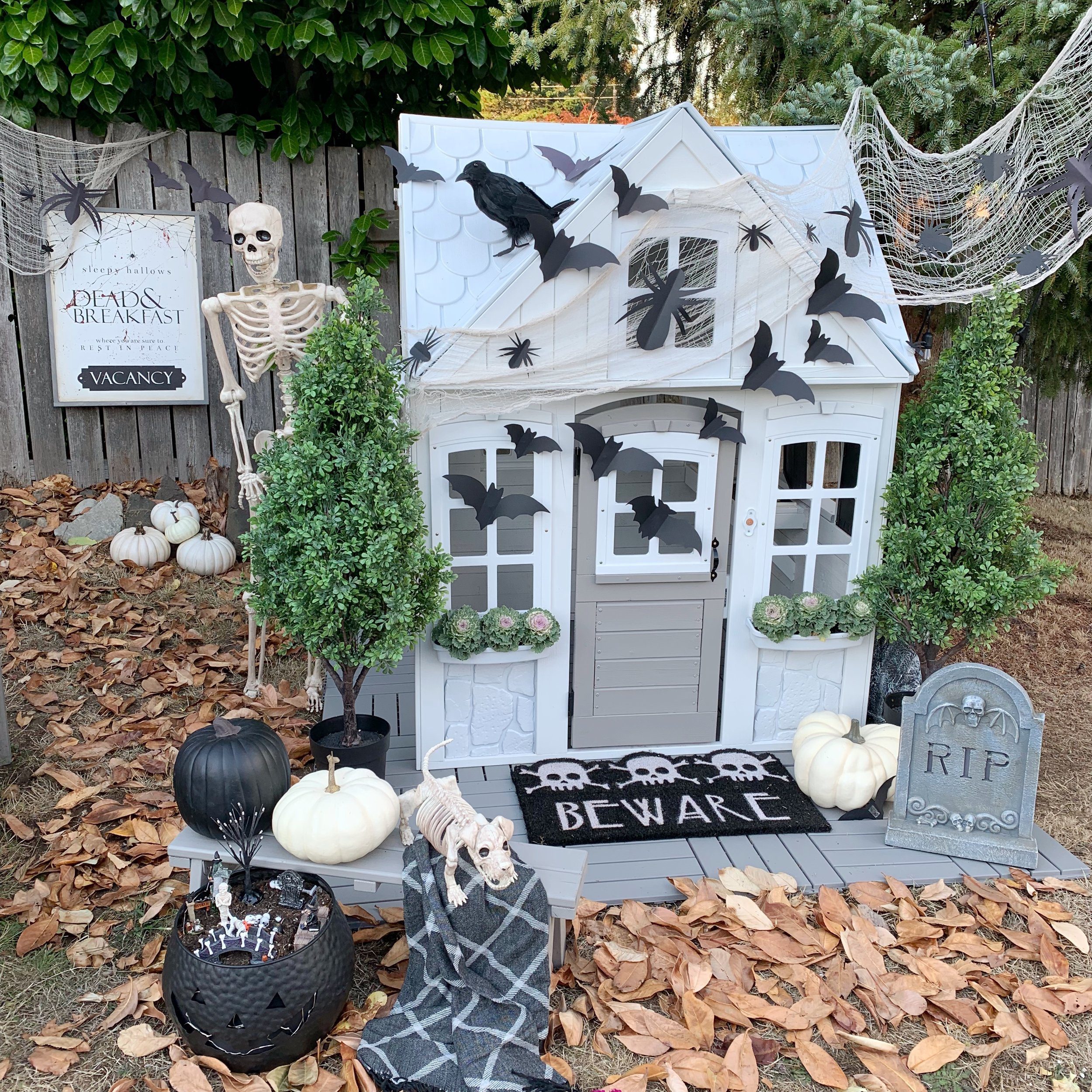 *THIS IS A SPONSORED POST WITH JOANN, ALL THOUGHTS AND OPINIONS ARE MY OWN. THANK YOU JOANN FOR SPONSORING THIS.
We love decorating for holidays, and Halloween is a favorite! The kids were so excited to see this setup come to life, and Zoe got to help pick it all out at JOANN. I need to share the room we did last year (even though this year beats it) it was so much fun and Henry our Skeleton is back again! This not only was fun to decorate but we made a Halloween Fairy Garden and these bats and spiders that you can see the tutorials on the JOANN app. Let me share all the details with you and show you some up close photos. Make sure to leave in the comments your favorite part!
TO SEE HOW WE PAINTED THIS PLAYHOUSE AND ALL THE DETAILS GO HERE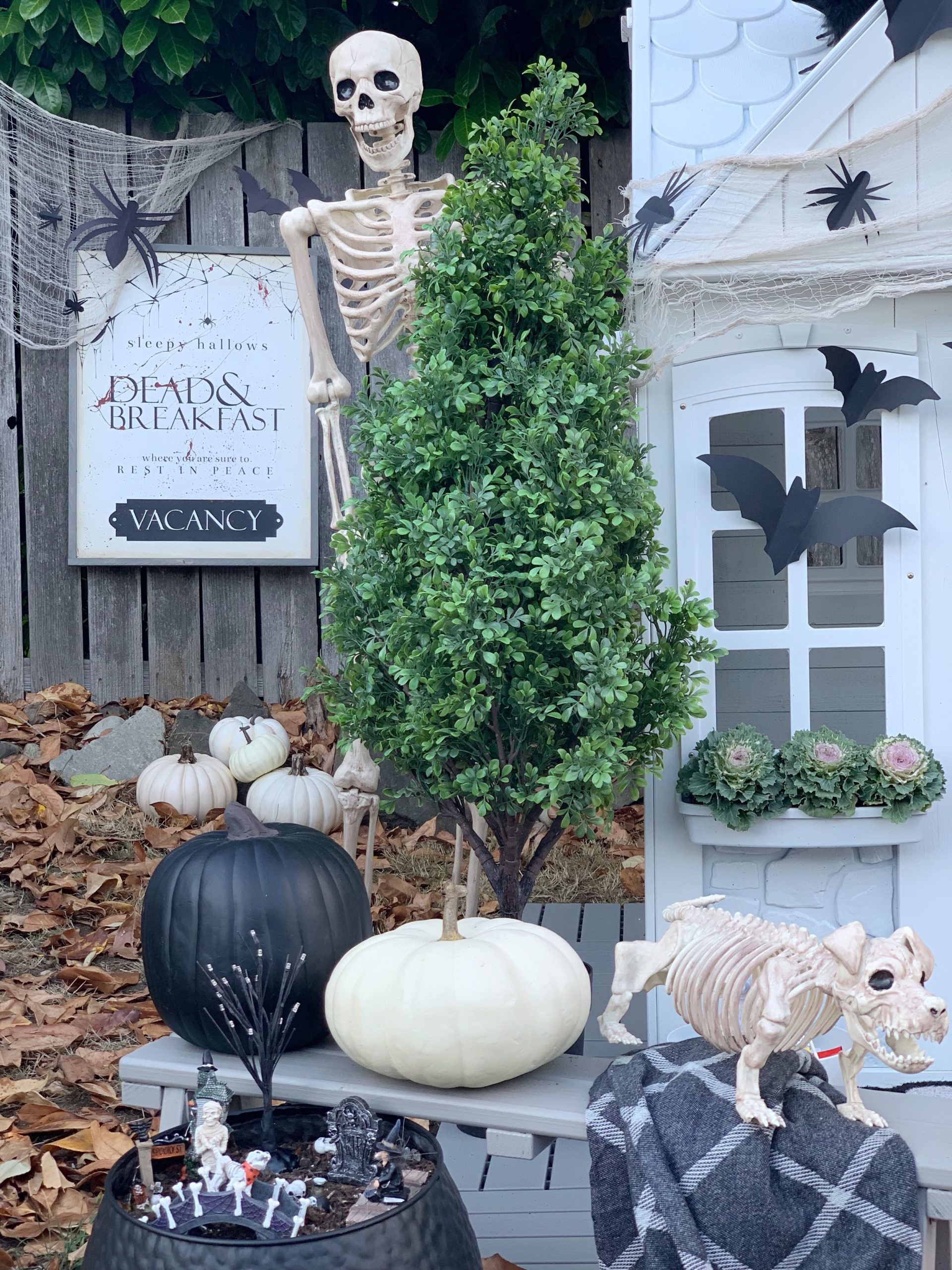 Zoe had so much fun designing this Halloween Fairy Garden you can see how she made it on the JOANN app. If you want to check out the fall fairy garden we made you can see it on this blog post. We love how JOANN has fun pieces for fairy gardens so everyone can make them!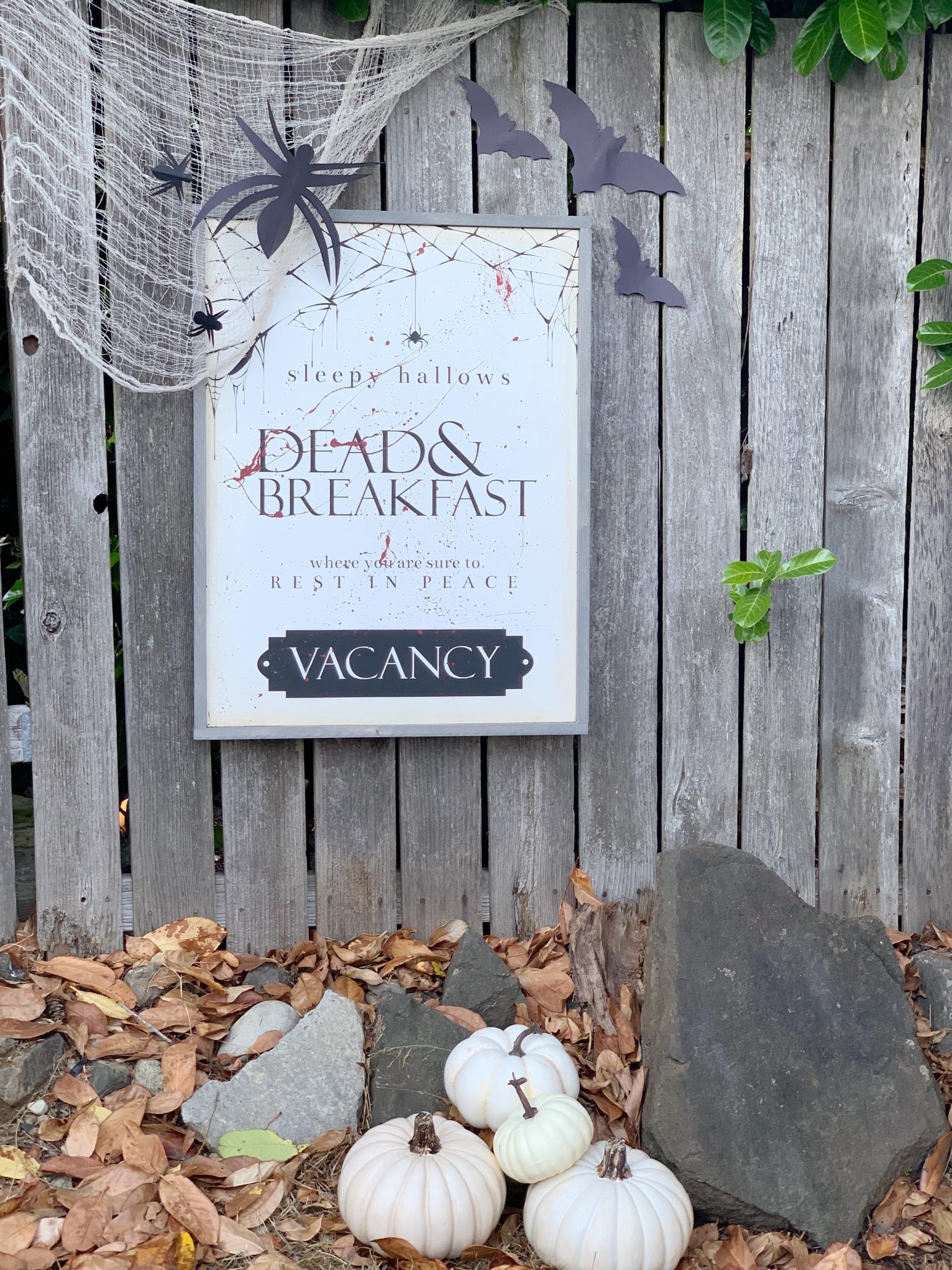 These bats and spiders were a blast to make…. I could keep making more. You can see how I made them too on the JOANN app.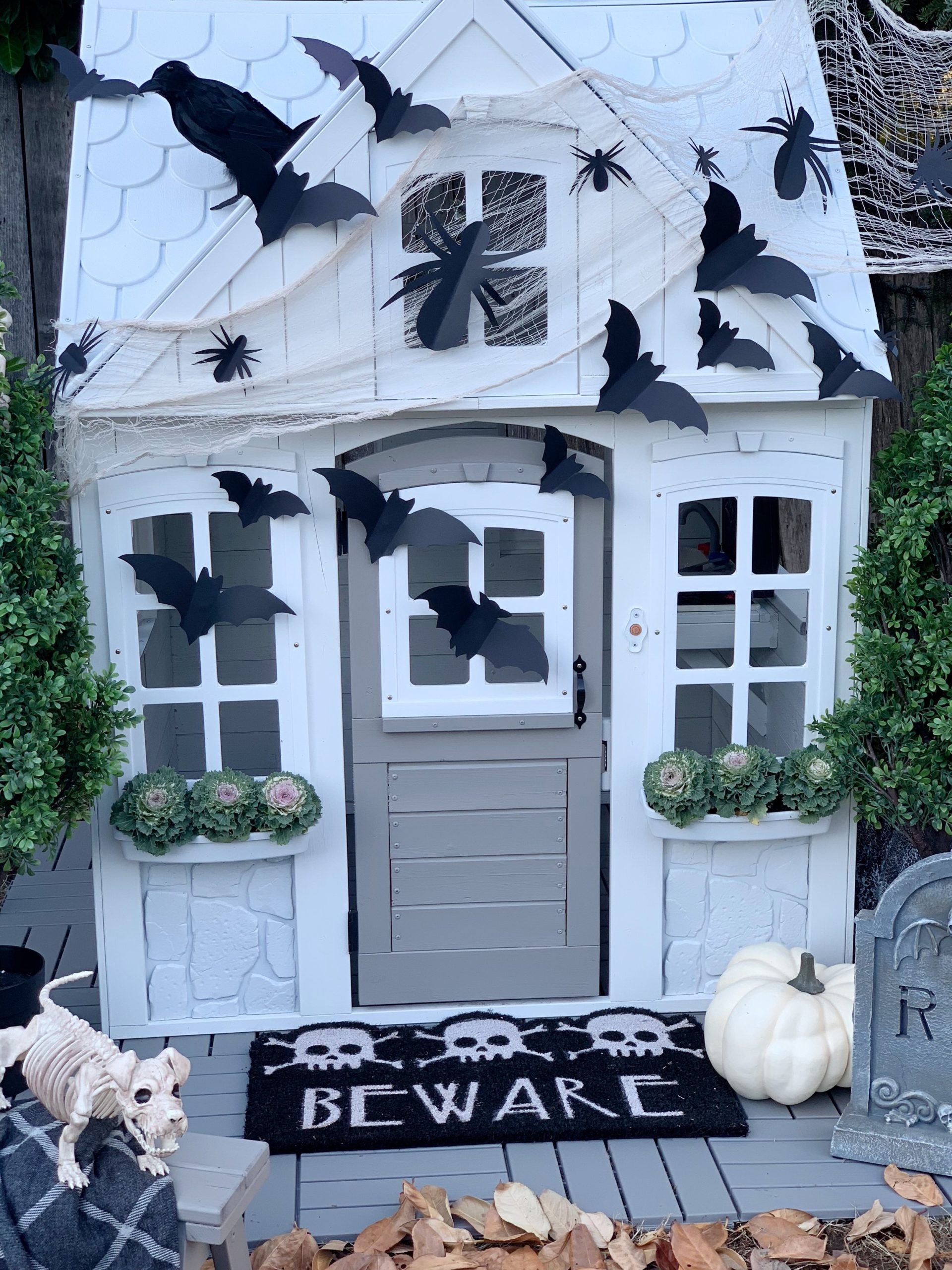 This doormat from JOANN is just perfect – BEWARE!
Here is an up close of the bats and spiders, just remember there wont be two of the same. That is why I love this project so much so easy, cheap and fun to do plus they will make any Halloween space SPOOKY!
The kids named our skeleton pup Rosie last year, and they were excited to see her back. This RIP tombstone sign is so fun since it lights up in the dark!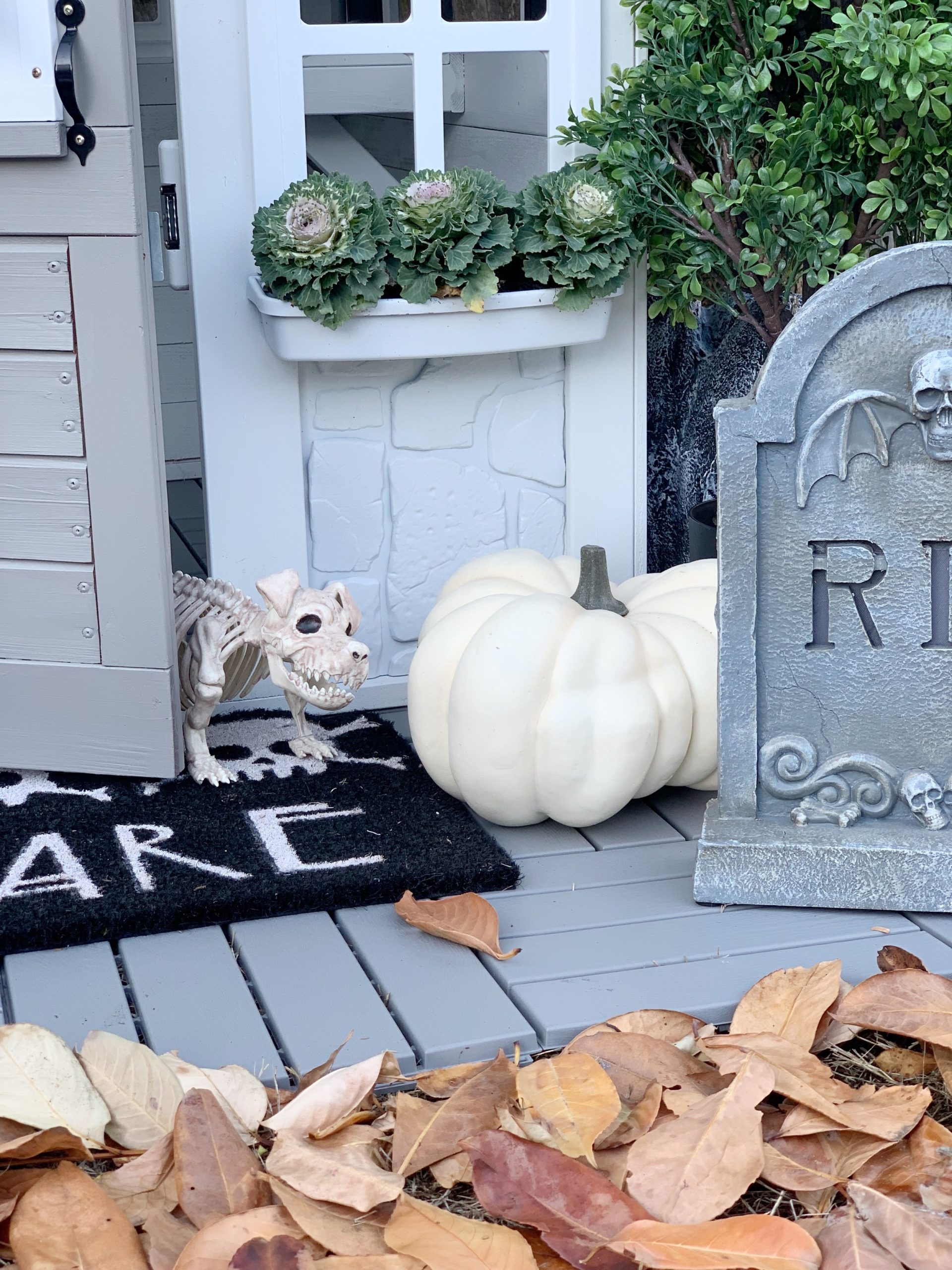 SPOOKY…. did "Rosie" scare you yet? It is crazy how quickly the leaves changed here, the perfect for a fall scene. If you don't have leaves you can always get these from JOANN.
My kids can't get enough of the mummy bowl, the hand moves down and makes noise – it is seriously a must have if you have kids or any trick or treaters. You can find it at JOANN.
Rosie may have got past the mummys hand in the bowl, even if it freaked her out when it moved. Or maybe she didn't want the candy and just the comfy throw blanket from JOANN.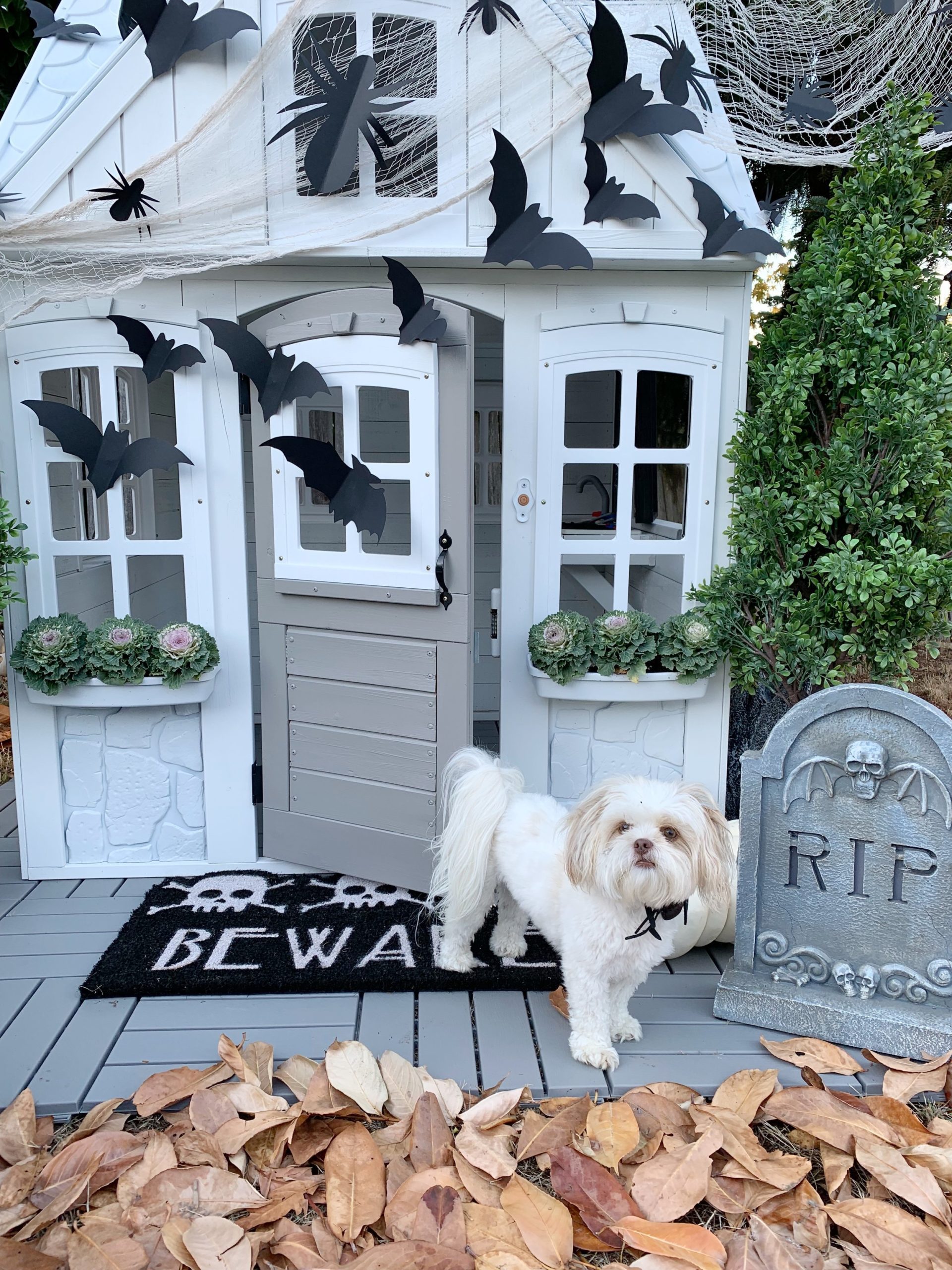 We hope you enjoyed this spooky Halloween scene that we made with JOANN, it not only brings my kids and their friends so much joy but me too! If you make any of the DIYS I showed here make sure to tag me on Instagram or send me a message I would love to share!
Sources :

I have placed all the links below, some are affiliate links thank you for supporting my blog!
You can click on each item.
Boneyard Skeleton Henry
Boneyard Dog Skeleton Rosie
Beware Door Mat
Makers RIP Tombstone
Makers Mummy Hand Bowl
Simply Autumn Black throw
Small white Pumpkins
Medium white Pumpkins
Large white Pumpkins
Black Pumpkin
Leaves
Makers Creepy Fabric
Black Paper for Bats/Spiders – tutorial on the JOANN APP
Black Jack o Lantern – tutorial on the JOANN APP
Makers Dog Skeleton
Makers Halloween Littles Spooky House
Makers Halloween Littles Coffin
Maker's Halloween 50 ct Orange Rice Lights with Silver Wire
Maker's Halloween Littles Sign-Spooky St
Maker's Halloween Littles Poison Bottle
Maker's Halloween Littles Witch-Purple
Maker's Halloween Littles Mummy
Maker's Halloween Littles Spooky Bone Bridge
Maker's Halloween Littles 3 Skull
Maker's Halloween Littles Bat Tombstone-RIP
Maker's Halloween LED Stick Tree-Small
Maker's Halloween Littles Skeleton with Lantern
Pin this image for later, and come pin along with me HERE.