How to Build a Small Privacy Screen
Today we are going to teach you how to do a smaller sized privacy screen / fence! They are addicting to build and the options are endless!
If you saw my post HERE how to build a bigger version, this one is just as amazing but even faster and easier!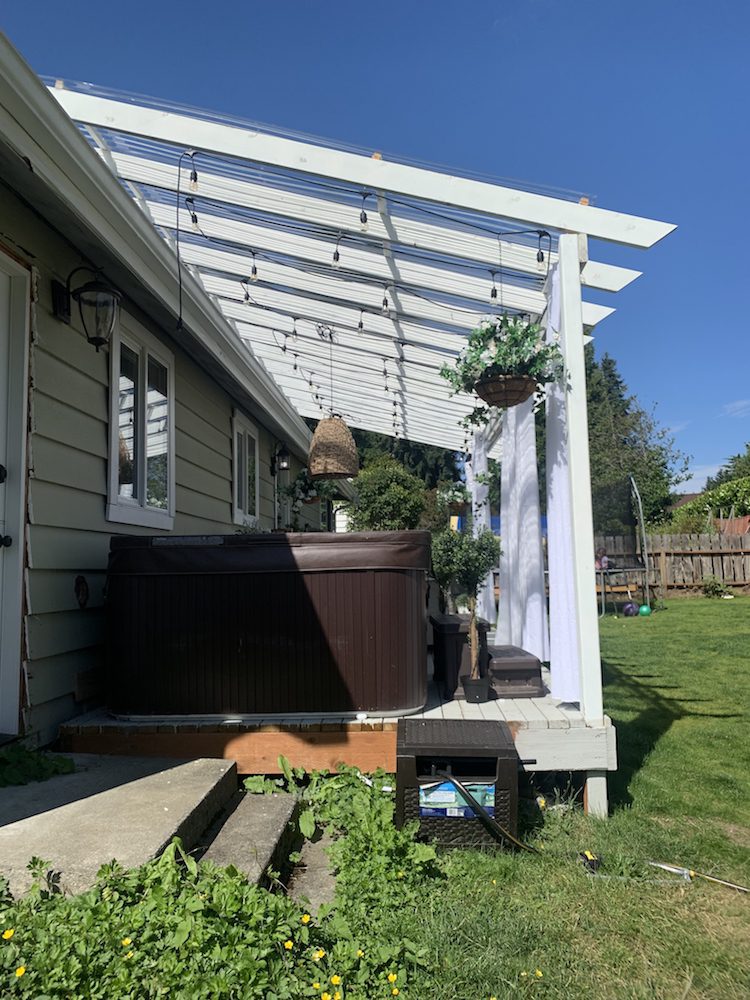 You saw the after above, but my favorites are the BEFORE! This space sure needed some help, but what you can't see here is why I really wanted to build it!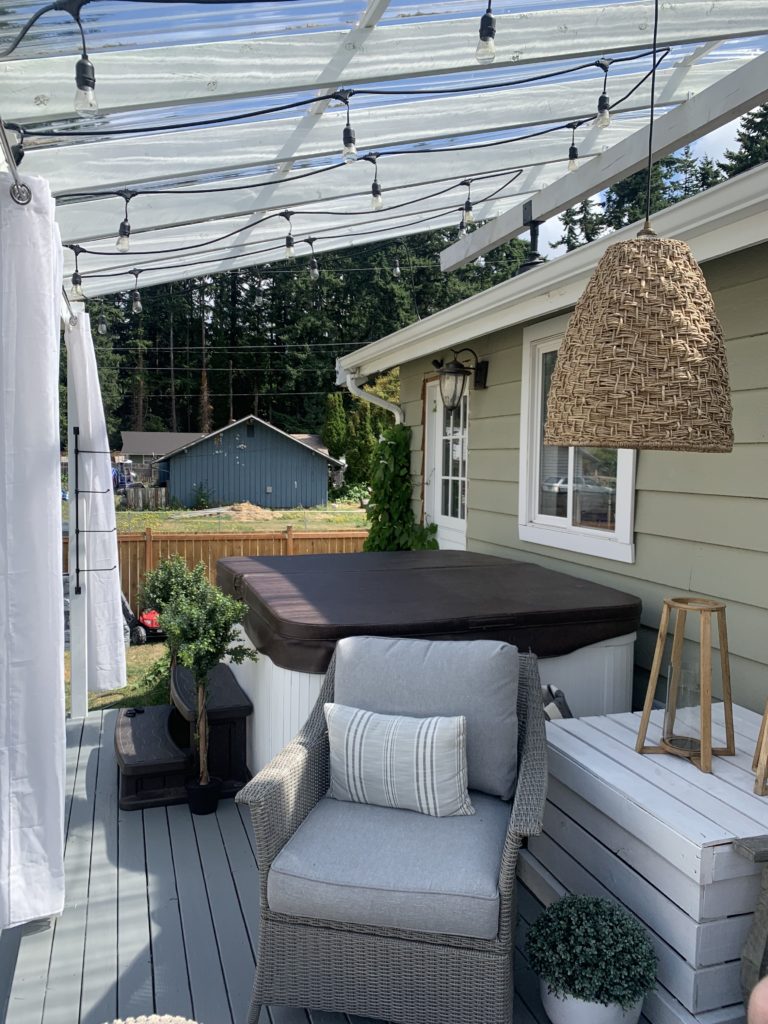 Now here is the real reason I wanted to build this privacy screen! As much as I love our neighbor(s) I don't want to see them when in our hot tub or on the deck, and I don't want to see their "stuff".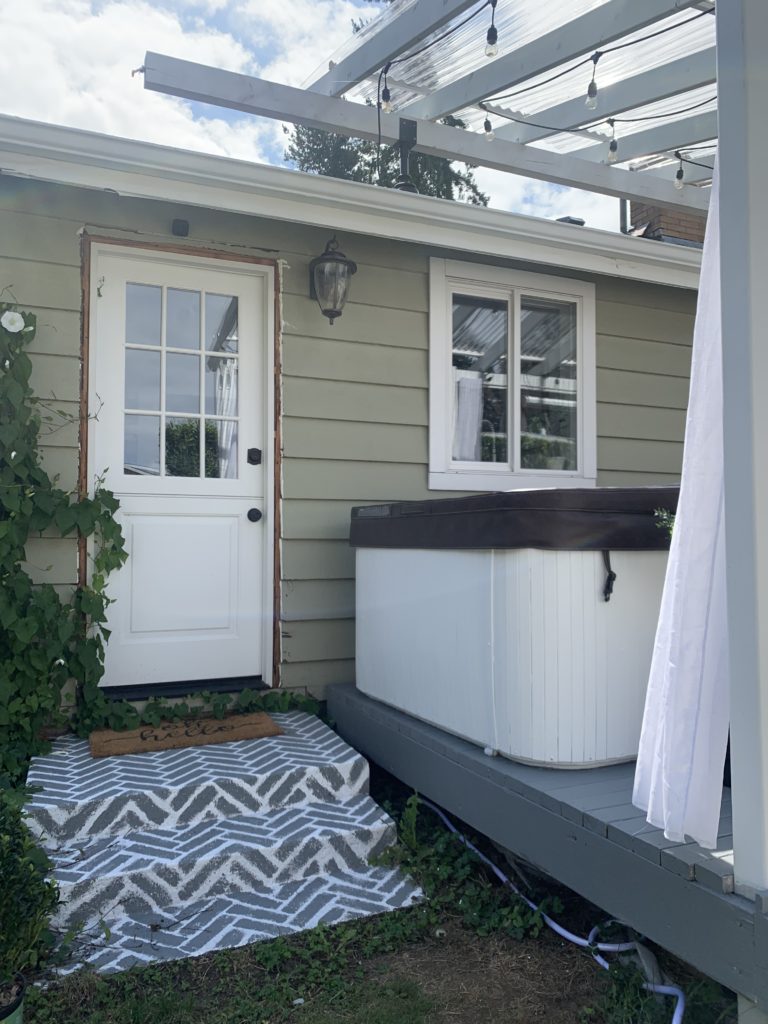 Now that you have seen some of the reasons why we want to build this, another reason is to dress it up! Lets get started!
SUPPLIES NEEDED:
2×4's – we used 2
2×2 – we used 1
1×2's – we used 38
Brad Nails
Brad Nailer
Screws
Saw
*We cut a 1×2 for spacer
*Now for the amount of supplies – this is what we needed for our space, so measure accordingly for your height and width of yours.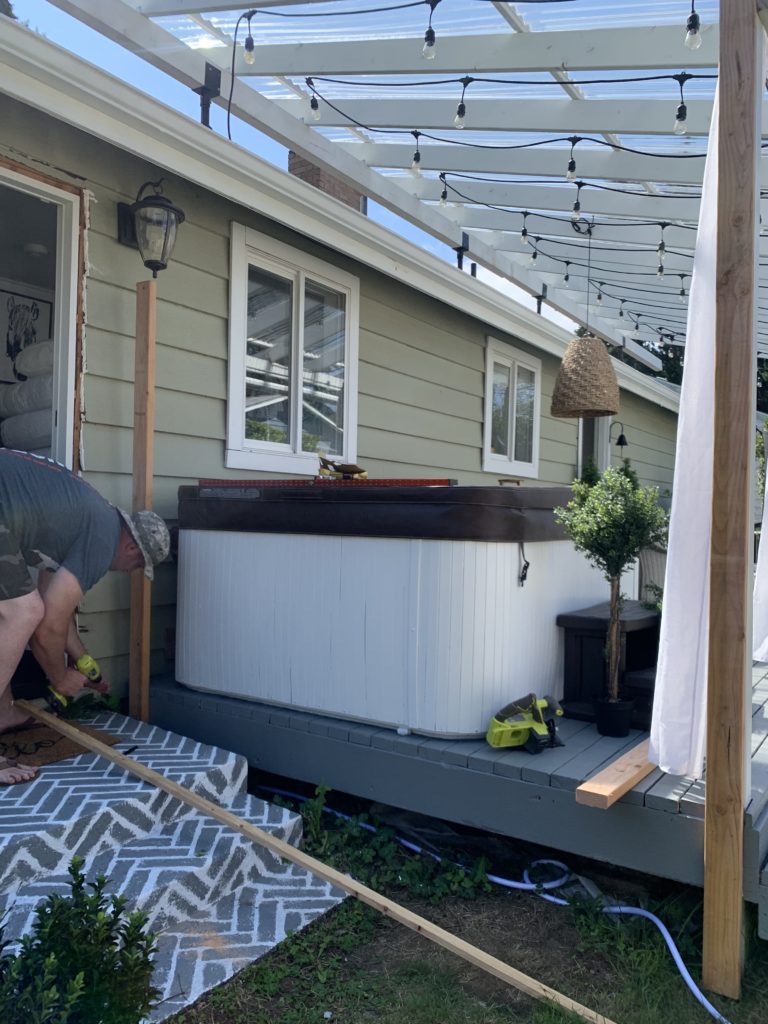 James is going to be doing this one, since I got to do the last I get to tell him how to do it – I am sure he is so excited! Hehe!
This one we are doing the way I wanted to do for the other one HERE but James cemented it in. You can see we attached this to our deck, I wanted it to be easy to remove if needed.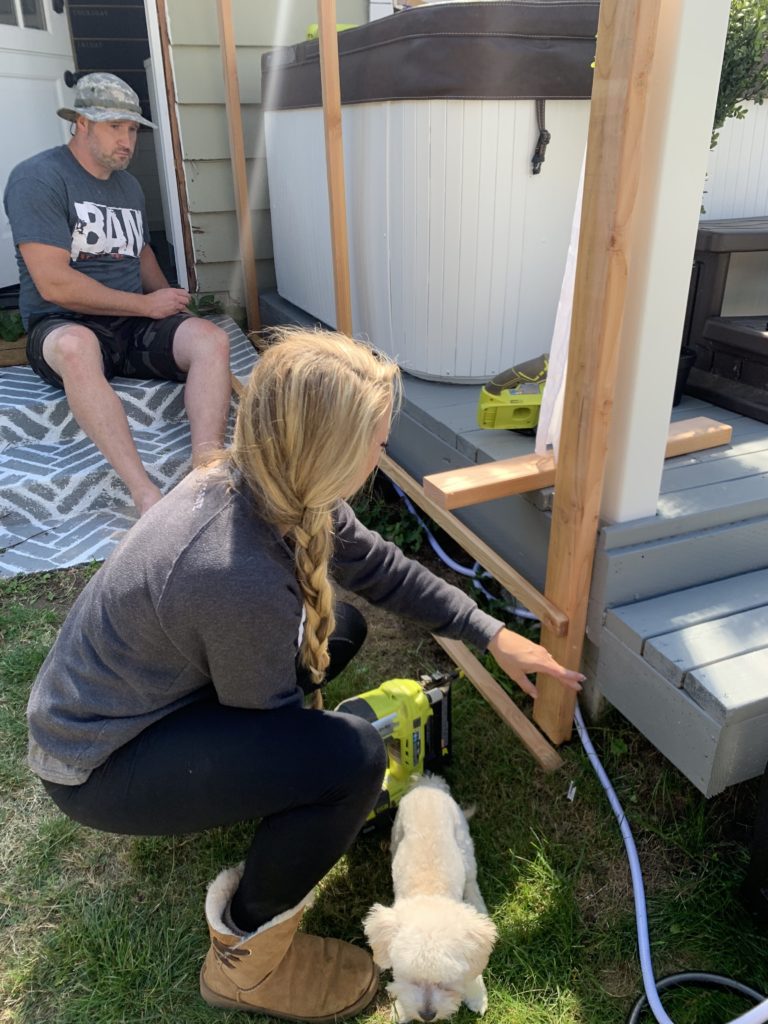 Here you can see we are deciding on how low we want to go, I knew I wanted to add plants so we took that into factor.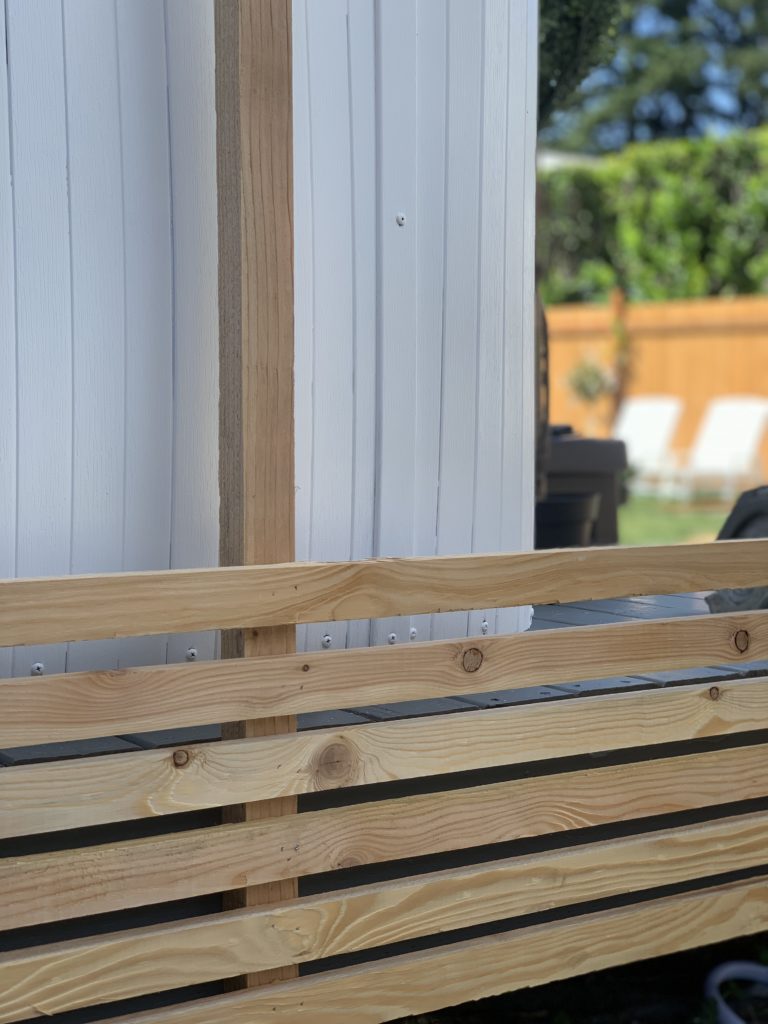 HOW TO BUILD IT:
It is so easy! Just cement or attach your 2×4's and once you do that you will simply attach the 1×2's with a brad nailer. We added the 2×2 for extra support in the middle something we wish we did on our original one.
Make sure to figure out the spacing we just used a 1×2 cut and on its side!
Then you keep going until you get to your end point.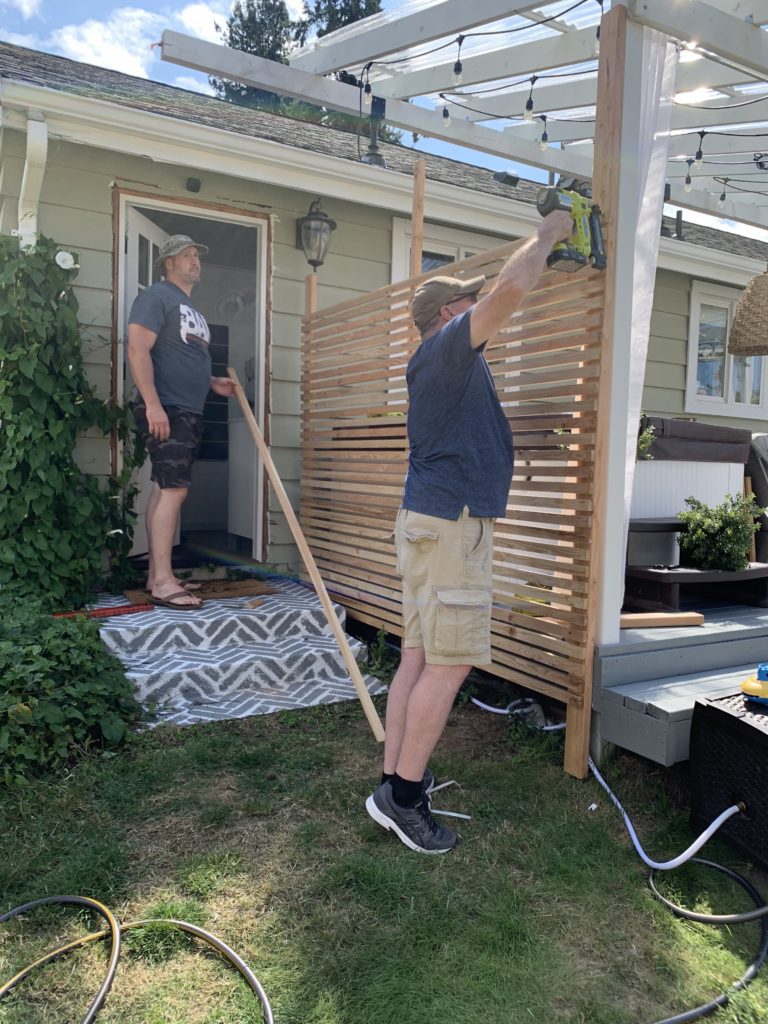 My dad was in town, so he wanted to give a hand at it! I know he had fun with this project to – its really for any skill level!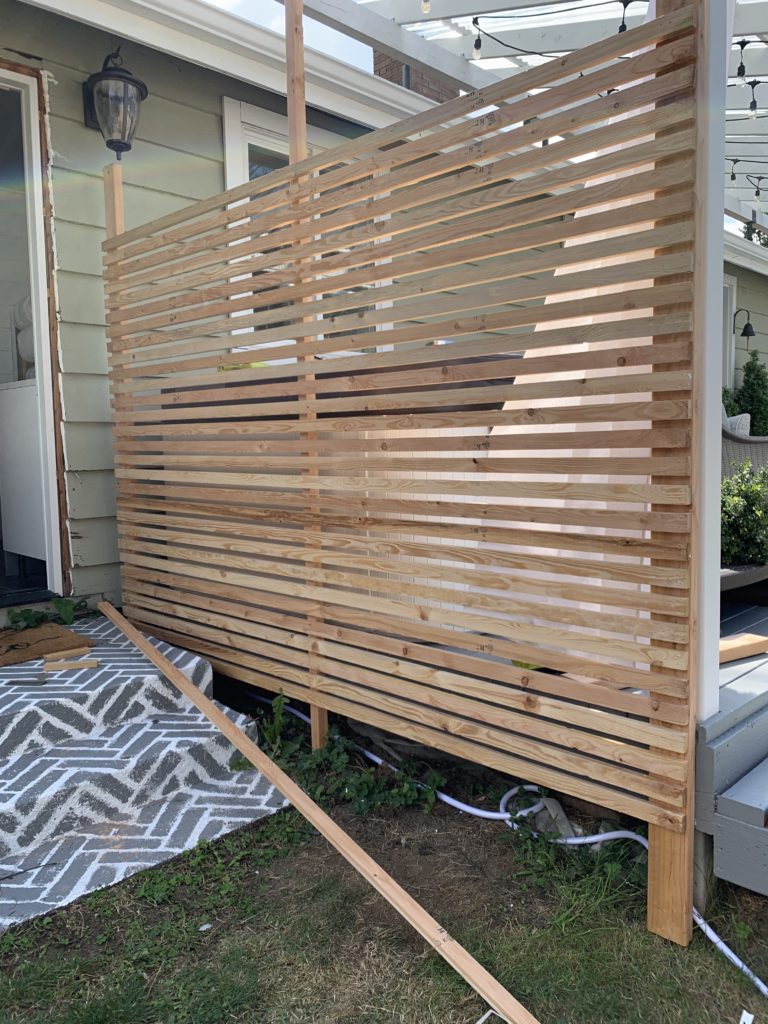 Now I would have wanted to go even higher, but we have a darn light and we weren't looking to have it moved. So, we ended it shorter than wanted and just took the saw to cut off the tops.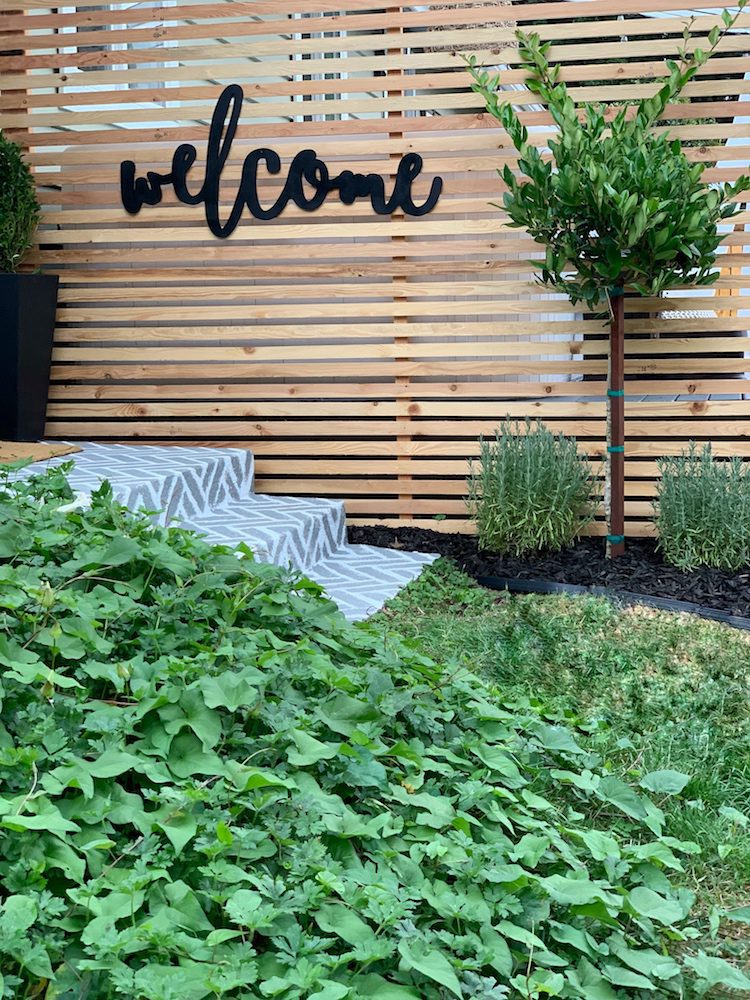 Then we added our plants, some lights and my favorite WELCOME sign! I originally wanted to paint it, but I loved the wood color.
*MAKE SURE IF YOU DIDN'T USE PRESSURE TREATED WOOD AND AREN'T PAINTING WITH WEATHER PROOF PAINT TO SEAL IT!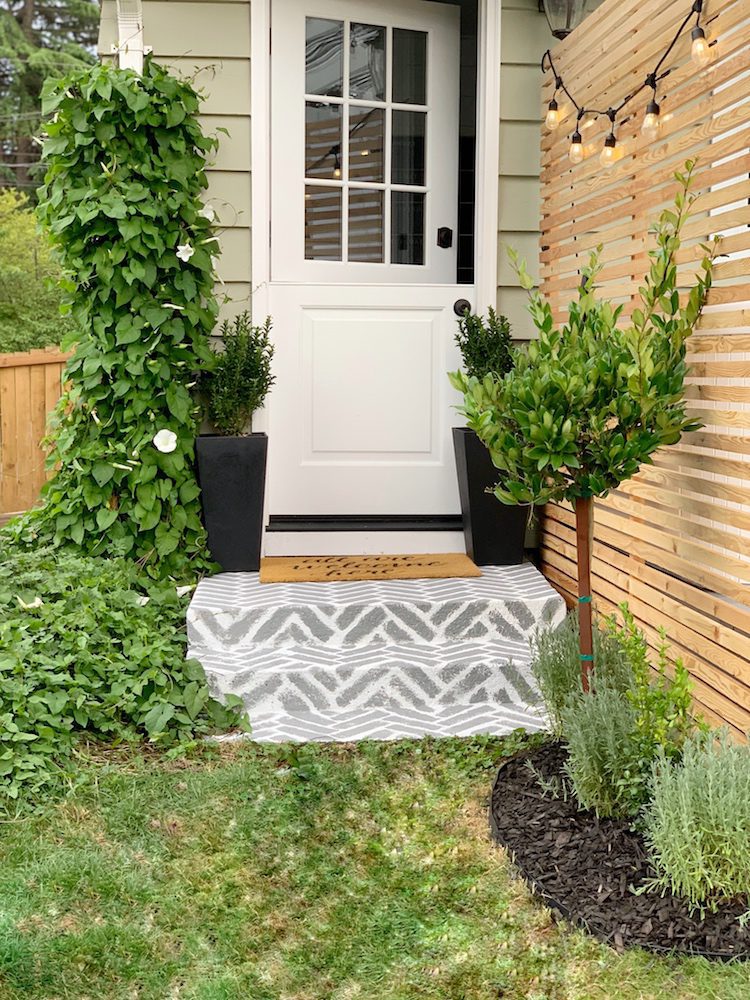 Here is the view of our back door so much better!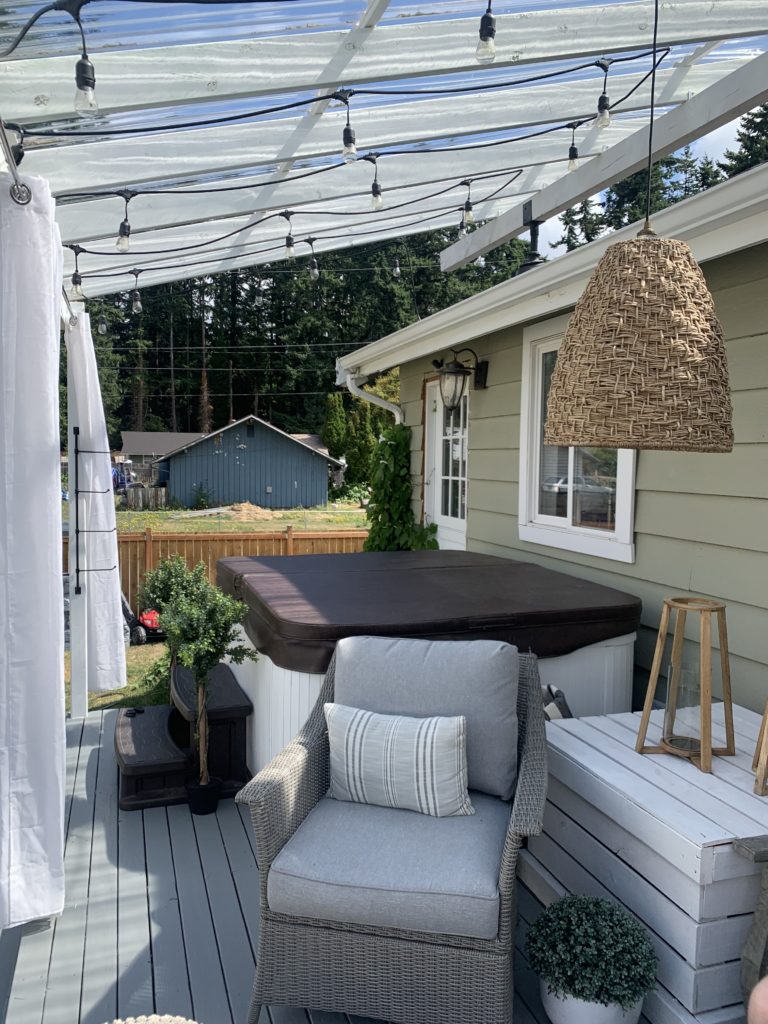 You thought the other view was amazing, look at this one – no neighbors in sight!
This was such a fun and easy DIY, I will be doing an updated post on how its held up so stay tuned!
Now the question is should I paint it or keep it wood colored??
TO SHOP ITEMS FROM THIS PROJECT JUST CLICK THE PHOTOS BELOW:
FOR MORE DIYS LIKE THIS :
PIN THIS IMAGE FOR LATER, AND COME PIN ALONG WITH ME HERE.