A Simple Thanksgiving Table Setting
Where is time going, it is almost Thanksgiving and today I am going to share with you what I do for a simple Thanksgiving table setting. While you won't see a whole feast today, I am showing what you can do as an appetizer before the big meal! I hope this inspires you not only for the holidays, but for everyday – I have the links to all the products at the end so keep reading.
First off, can I tell you how much I am loving how cozy this space is? If you have been following along for awhile you know that this was one big dining room before and we just turned it into a sitting room and a dining room. Since we have transformed this room its become the new place where we all hang out together and the kids don't want to leave – it is the heart of our home.
Today I am going to share all my favorite finds from Bed Bath & Beyond starting with this jute rug, and this coffee table! Before you ask, yes the chairs are new and such a great price!
Here is a close up of the coffee table, and a few of my favorite things including my favorite Bowl you see move all over my house.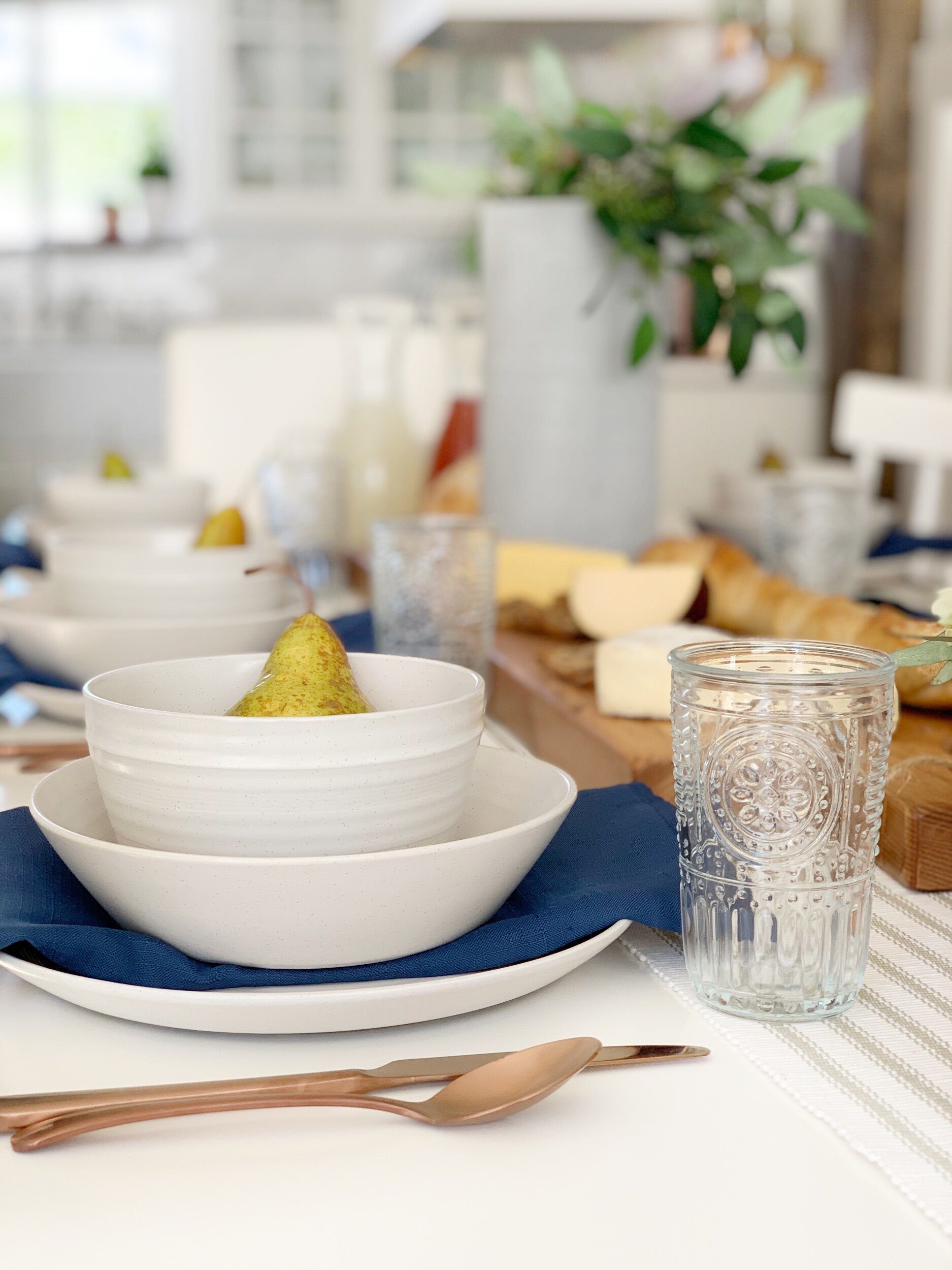 Here is a sneak at my simple Thanksgiving table setting, I am just loving all the details and that you can use these pieces for everyday use!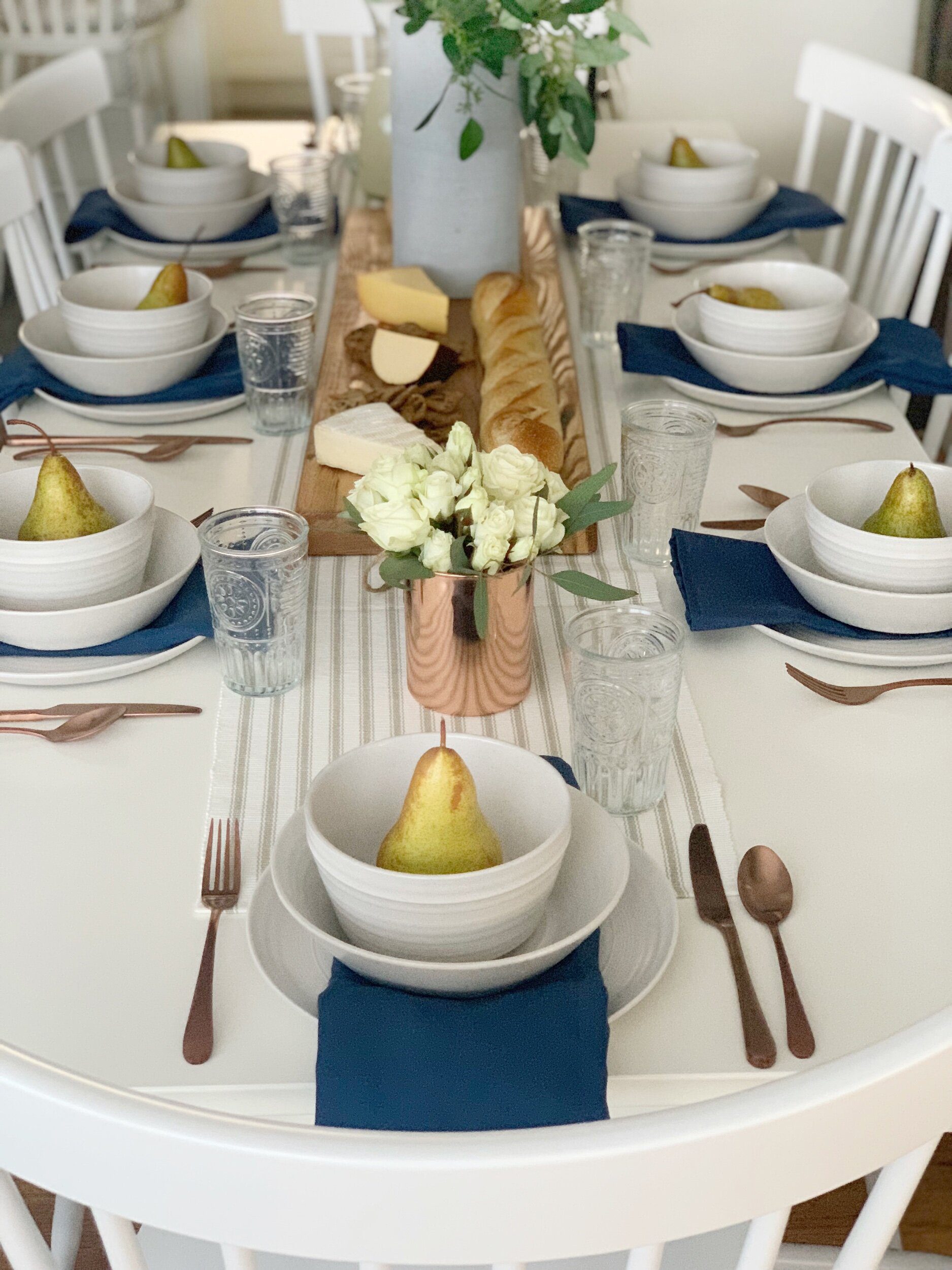 I chose to add pears, so it would be in addition to the bread, crackers, and cheeses on the charcuterie board. It not only is yummy to have them but they add the perfect touch!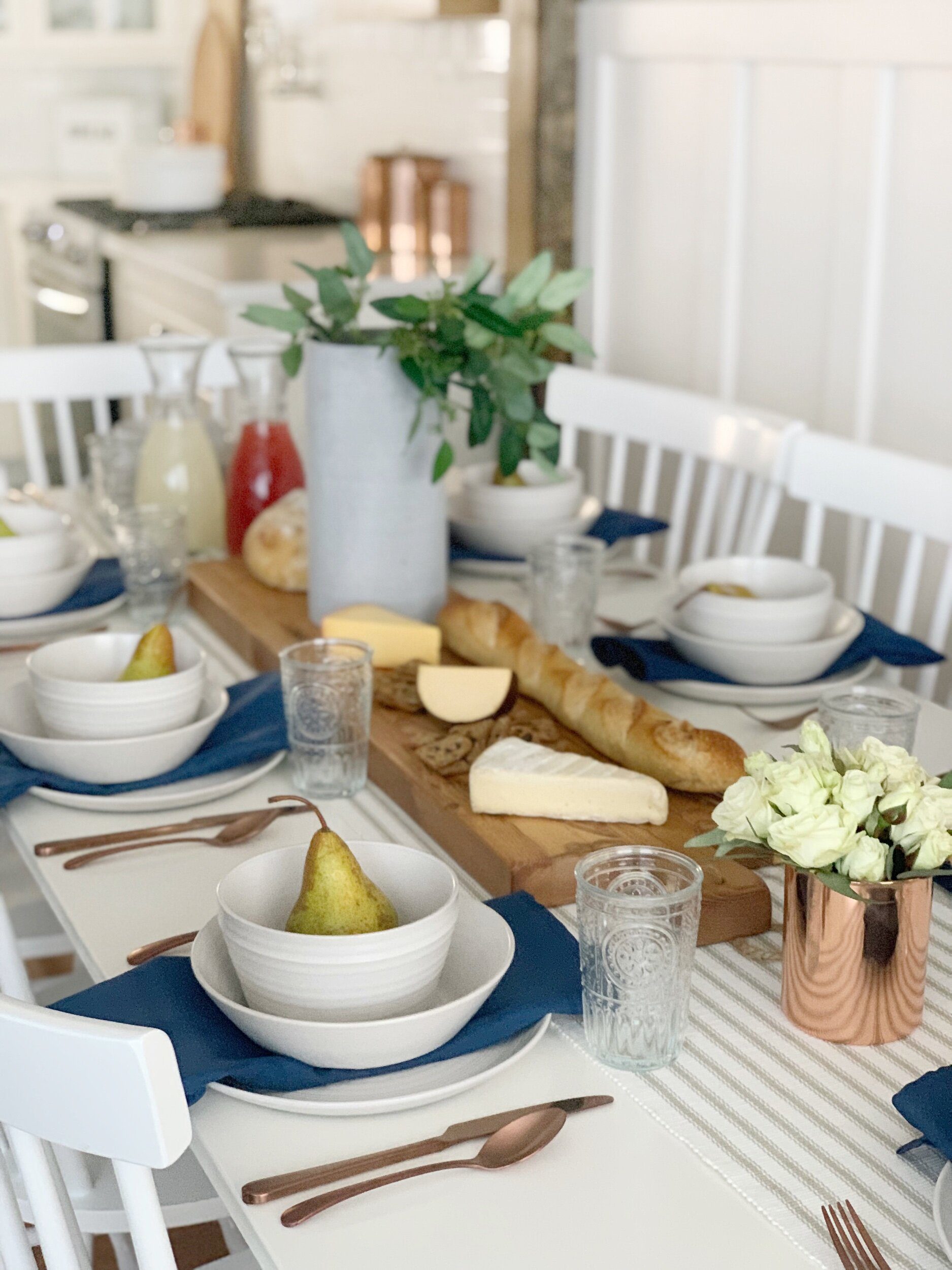 The copper silverware and canister add such a nice pop of color, but I went for more adding the blue napkins. I loved how the table runner just was the perfect touch by not being to much.
When we first redid this space, I purchased fabric chairs for the end of the table.. but quickly did I learn they weren't for me. Not only did they get constantly get dirty but it was so bulky and I loved the look of these spindle chairs all around!
Now that all of this is set out, I am sure ready for a Thanksgiving meal!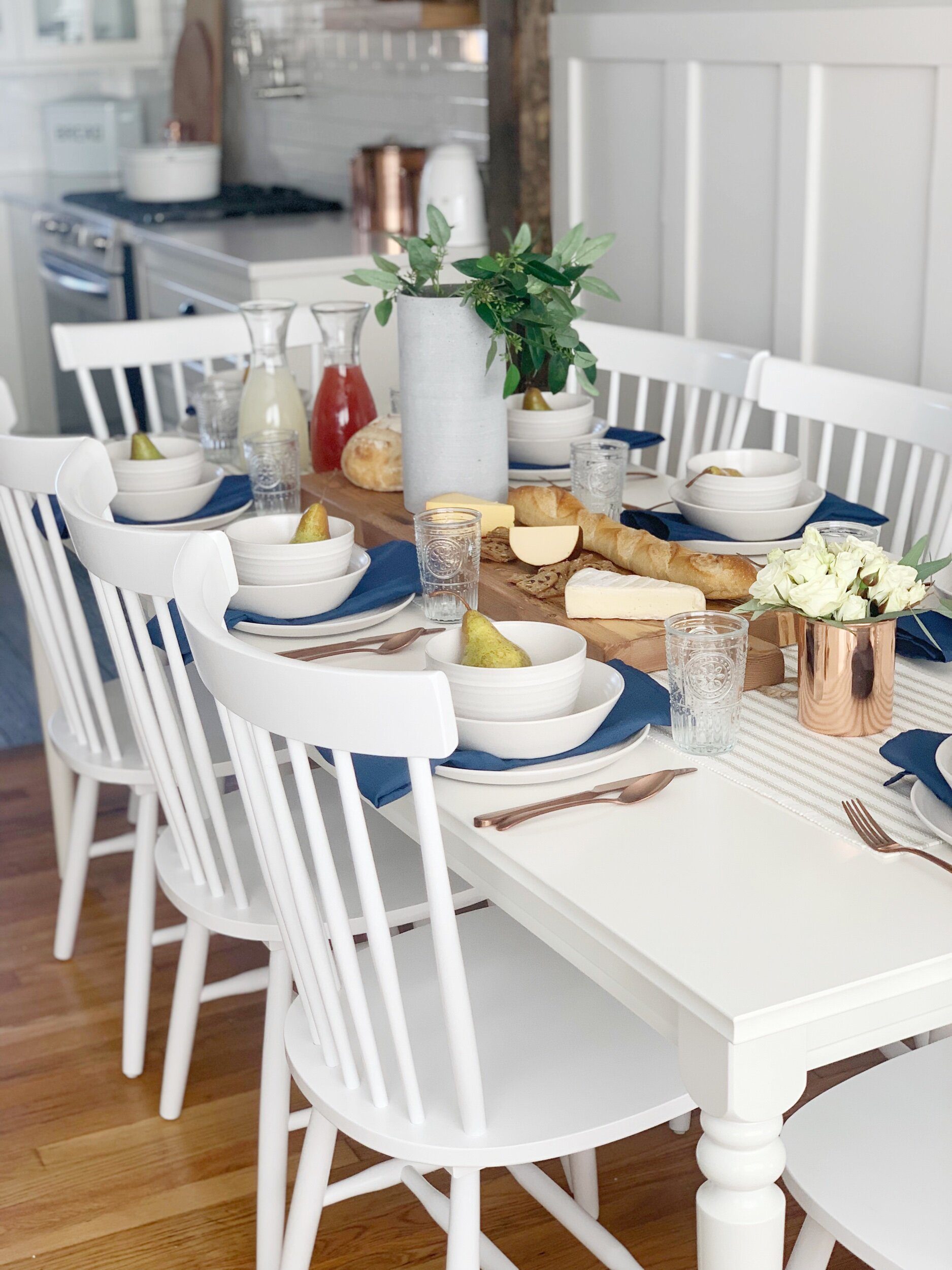 What do you serve before Thanksgiving dinner?
Honestly it can go however you want it to go! Here we start off with bread, crackers, cheeses, meat. If your family likes olives and veggies its the perfect time to add those in! We love to add dips too, so it really just is how fancy you want to get!
I love serving a good drink along with dinner, we love all things sparkling!
When doing a table setting my biggest tip is to not make it to big where you can't see your guests, and if it is to big make sure you can move it easily! I chose doing this vase because it works either way on the table or removed easily!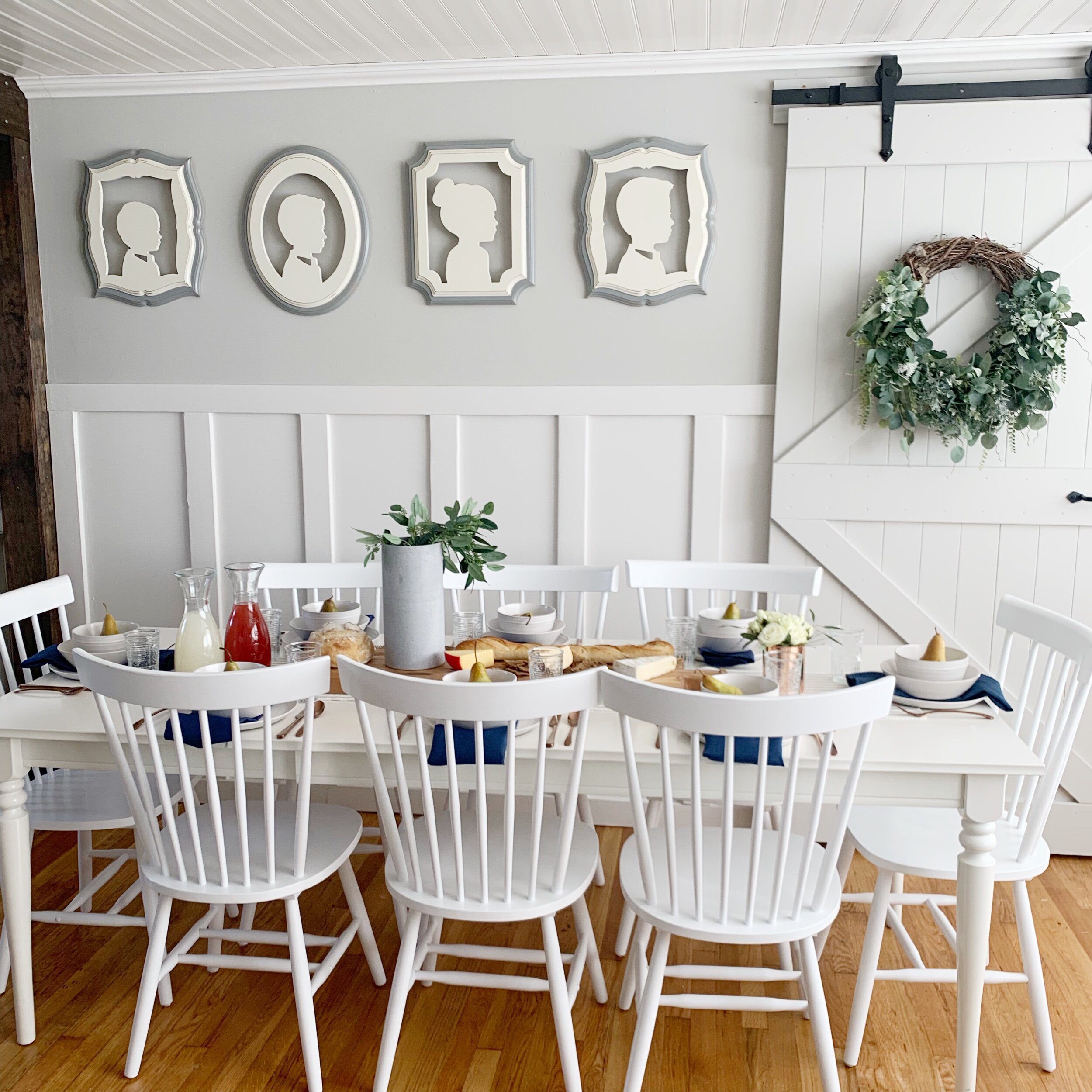 Here is a full view of this table, and its just perfect for our family and guests! If we ever need room we have our kitchen island too and now plenty of room in our front room!
I hope you enjoyed seeing how we set a simple thanksgiving table setting, if you want to see how we dressed it up last year with the turkey and all, I have a post I wrote linked. Get ready to see this space all ready for Christmas next, now do you decorate before Thanksgiving?
Sources :
I have placed all the links below, you can click on each item.
Chairs
Rug
Coffee Table Chest
Charcuterie Board
Glasses
Dish Set
Silverware
Copper Canisters
Bread Board
Glass Bowl
Table runner
Cement Vase
Blue Napkins