DIY : How to Use Peel & Stick Tile
There are so many ways to use peel & stick tile, and today I will be sharing how I used the herringbone tile to redo our fireplace.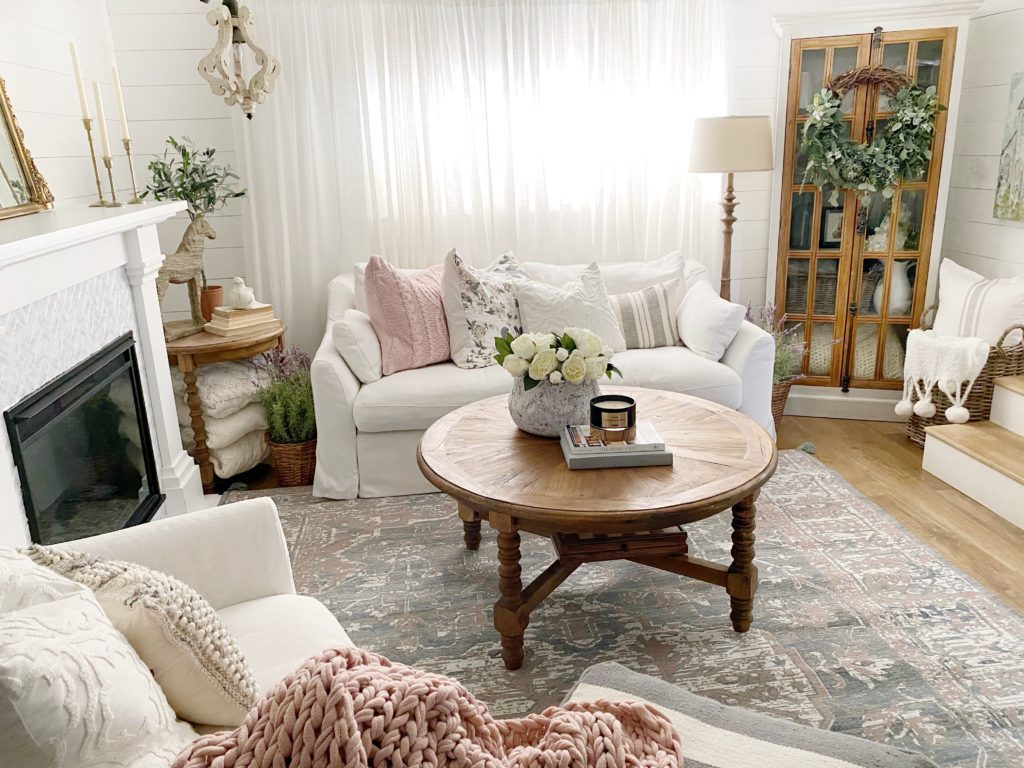 When using peel & stick tile the options are endless. Honestly I wish they were around ten years ago when we first got our house because its such a great way to update a space!
I have had so many friends use them and it was time for me to try them out! We LOVE our fireplace from Bed Bath and Beyond, but I was ready for a change and what better than something that can be temporary or permanent! Now lets get ready to start!
Here are the peel & stick herringbone tiles that we used, you got to see the finished project now lets take you through the process – the good and the bad.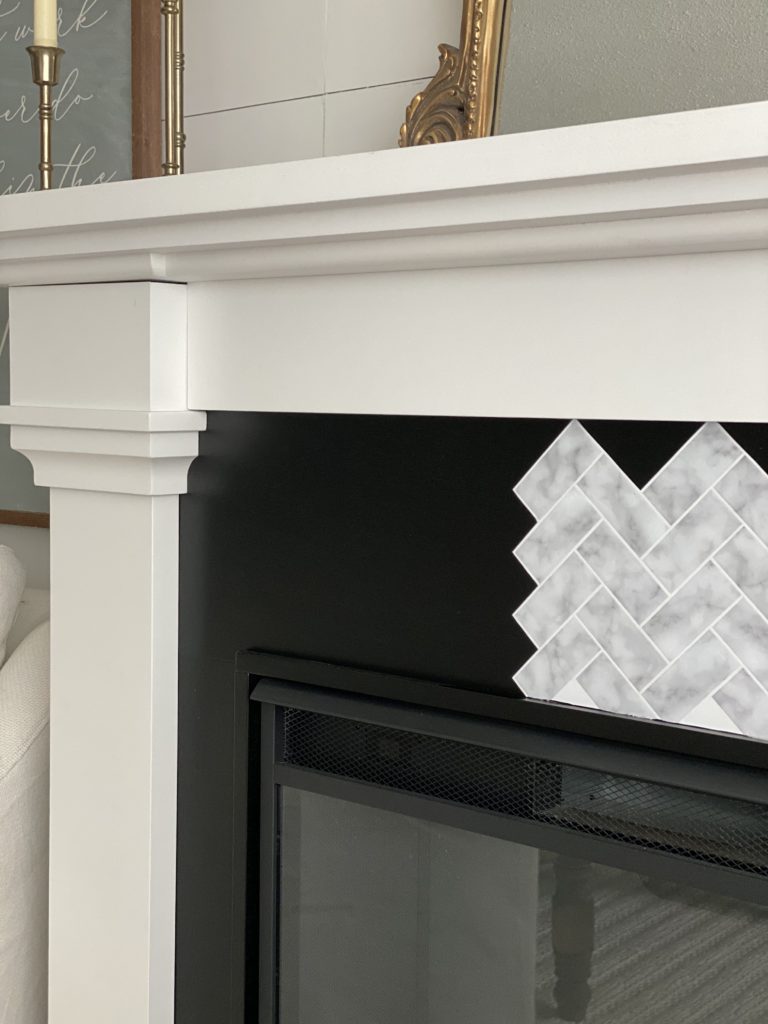 Here we go, the first piece is a success! So the paper after I read it says that you don't need to cut off the white. I cut it off because since the fireplace was black I could see the line through. Make sure to do whats best for your situation.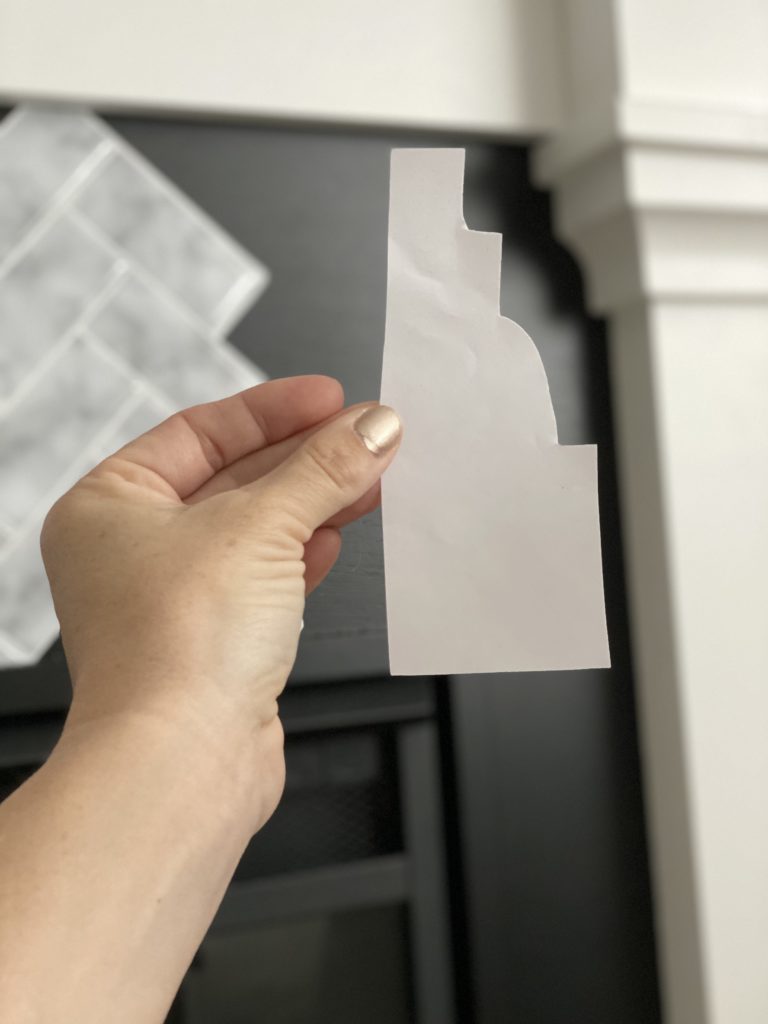 The first two pieces that were on a straight line were a breeze, if the whole project went like that it would be amazing. Now we got to the tricky part – mind you we have FOUR of these corners like this and then the other small parts. Well, I tried and tried and it wasn't going well. I just looked at the other corners and gave up. I called James and he had a brilliant plan… then to wait for him to get home from work!
Do you see whats happening?? Yes we are taking the fireplace apart! James brought to my attention that years ago we put this together and it would be that easy to take it apart! Now it should be so easy to get those pesky corners!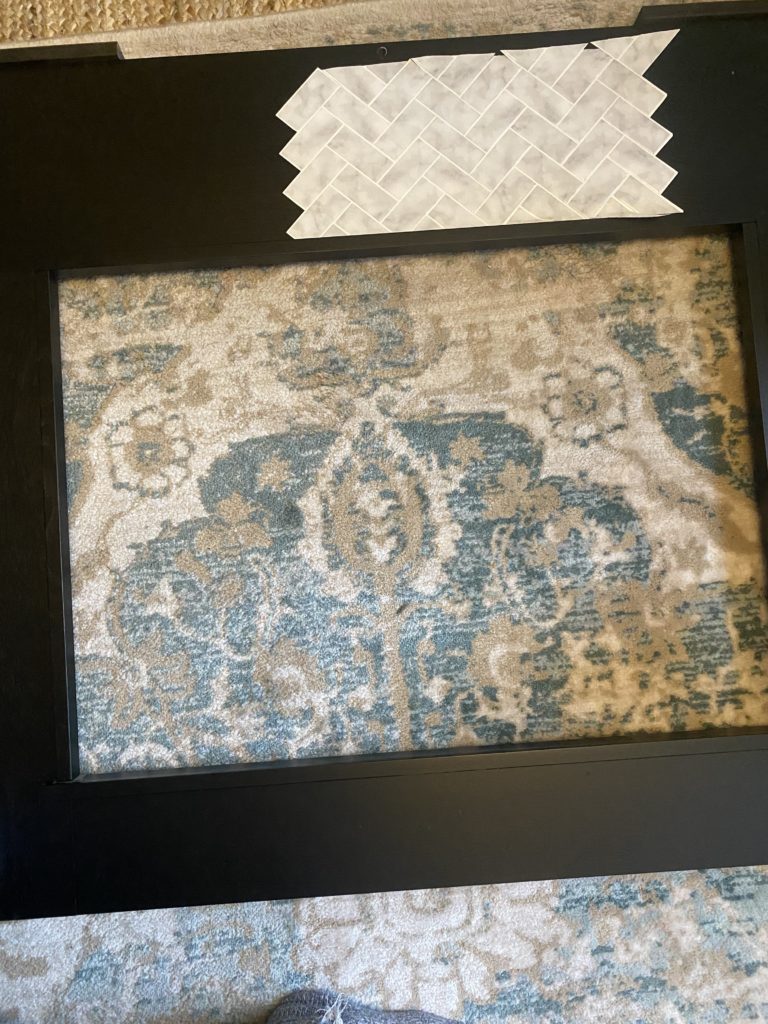 Ok its time to begin! Its all out… eek.. insert freaking out here!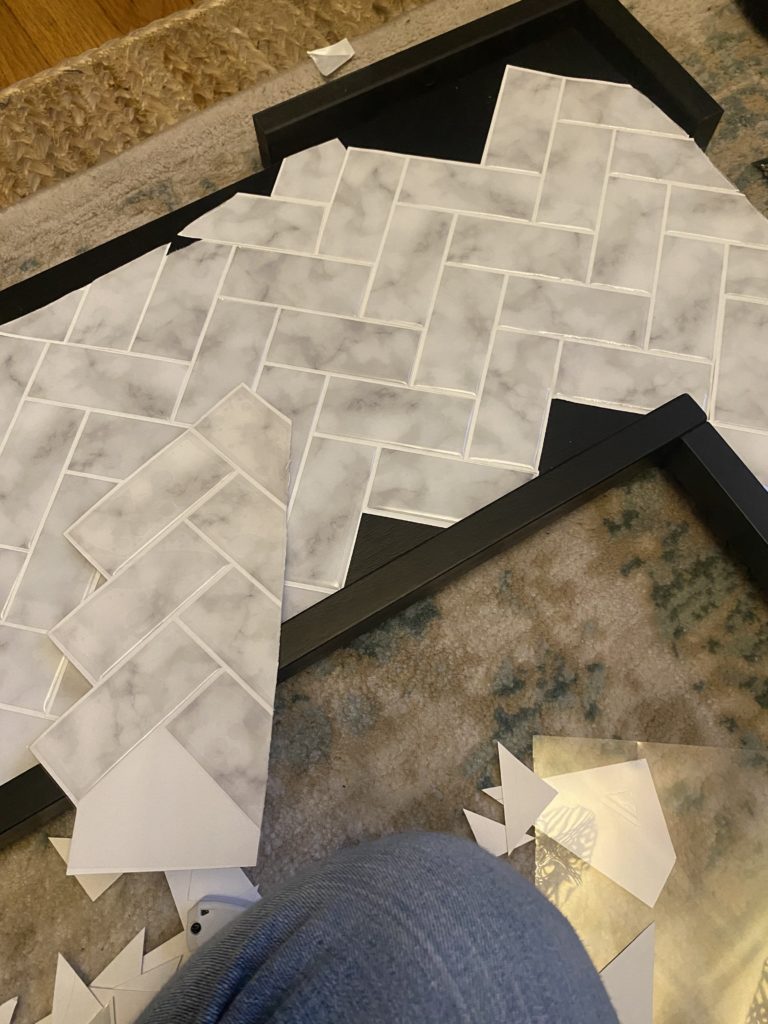 Ok, you know how I said this peel & stick tile will be an easy project and then I took back what I said… now I will go back to easy! This is a breeze!
The peel & stick tile is coming along! I think the whole process will take me as long as it did the one corner.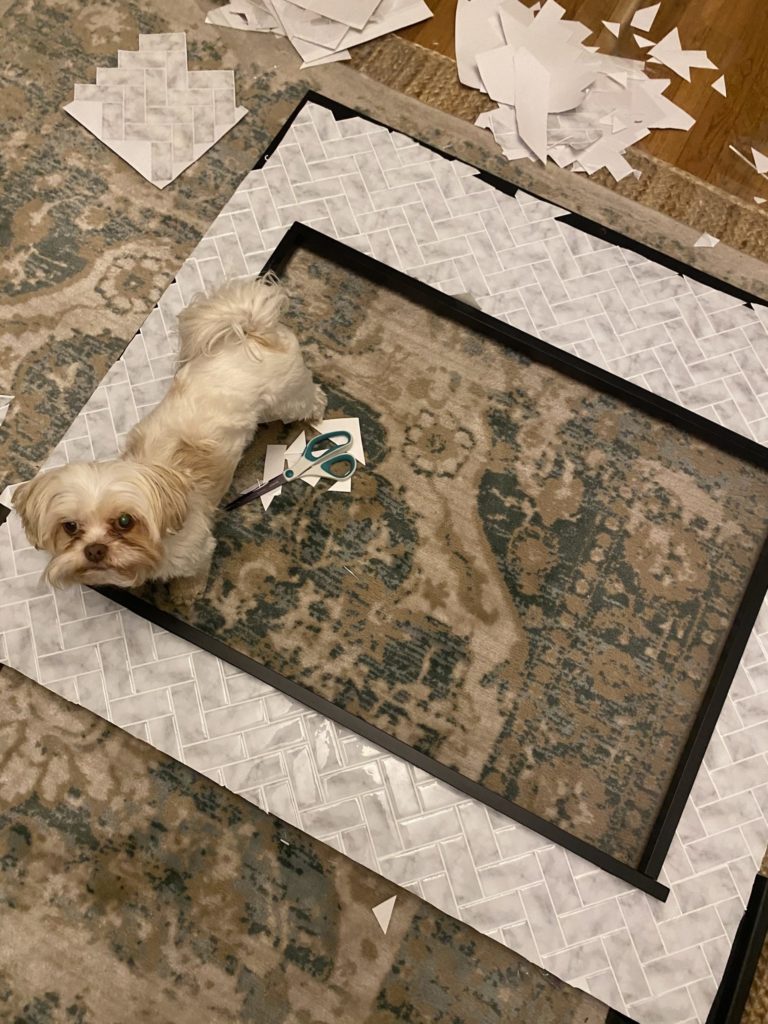 We are about ready to put the fireplace back together! Rosie approves this peel and stick tile!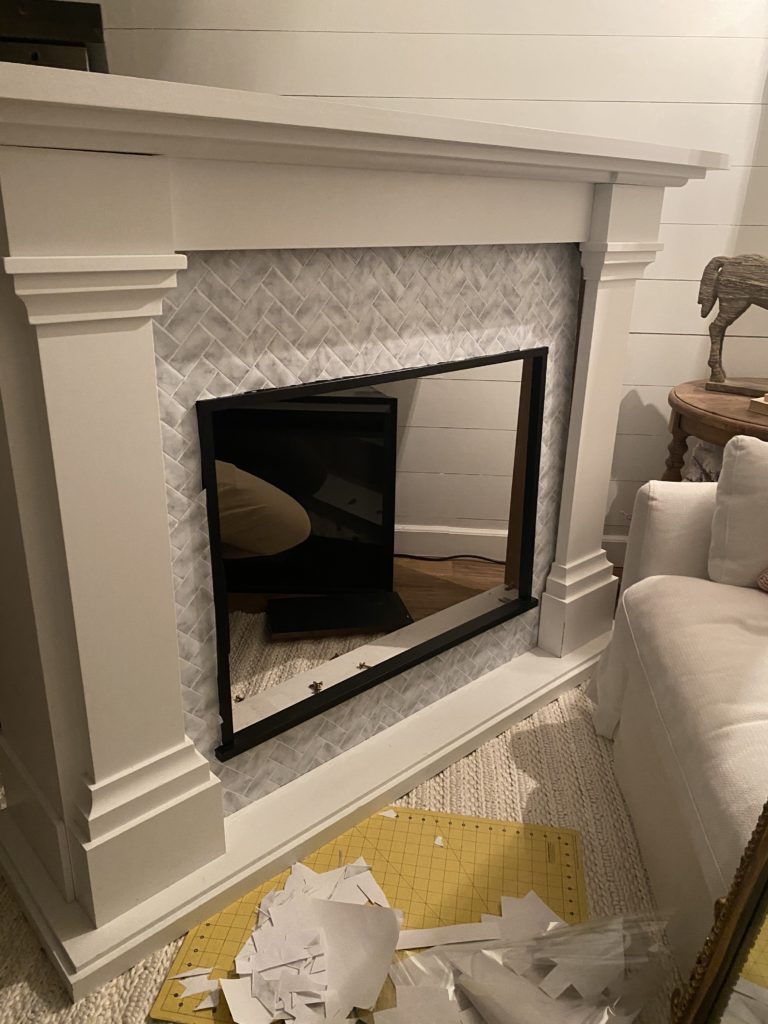 Here it is! Just needs the sides trimmed and we are all set! Ready to see it complete?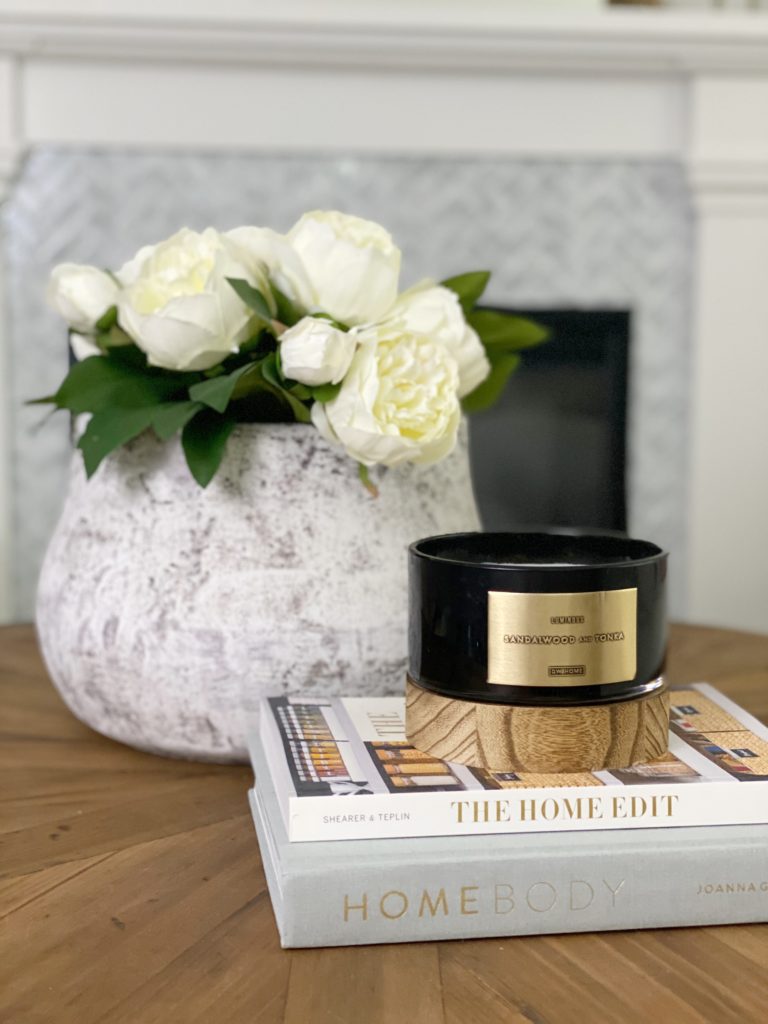 I can't believe how different it looks! I am so glad we were able to complete it! I wish I had another project I could use peel & stick tiles on, because it ended up being so much fun!
Now lets go over some of the questions I have been getting!
How much did this cost to do?
I purchased 5 packages, and I didn't use them all! So it was under $55!
Where do you start when applying it?
I started in the middle, but the trick is to start on the far left side! Then go through there!
How did you cut the tile?
We used a box cutter, and scissors… It just depends on your project and space.
Will it melt if you put on a fireplace?
Well, as you know I haven't had it long I will make sure to update. On the directions it says don't put in a place that gets more than 135 degrees, and thankfully we never turn it up that high.
I hope you enjoyed seeing this easy tutorial! If you have any more questions please let me know below so I can answer them. For sources check below.
TO SHOP THIS SPACE GO HERE OR CLICK ON EACH PHOTO BELOW.
PIN THIS IMAGE FOR LATER, AND COME PIN ALONG WITH ME HERE.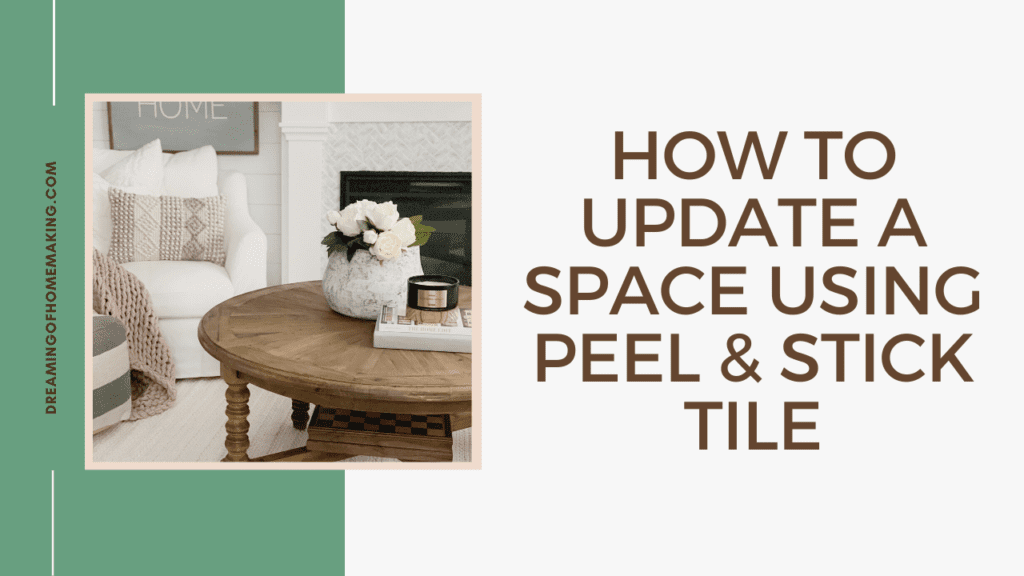 DON'T MISS THESE POSTS :