Your living room is a space you spend so much time, and I wanted to show you 3 easy ways to update it! Paint is always my go to for a space, but today I some more ideas!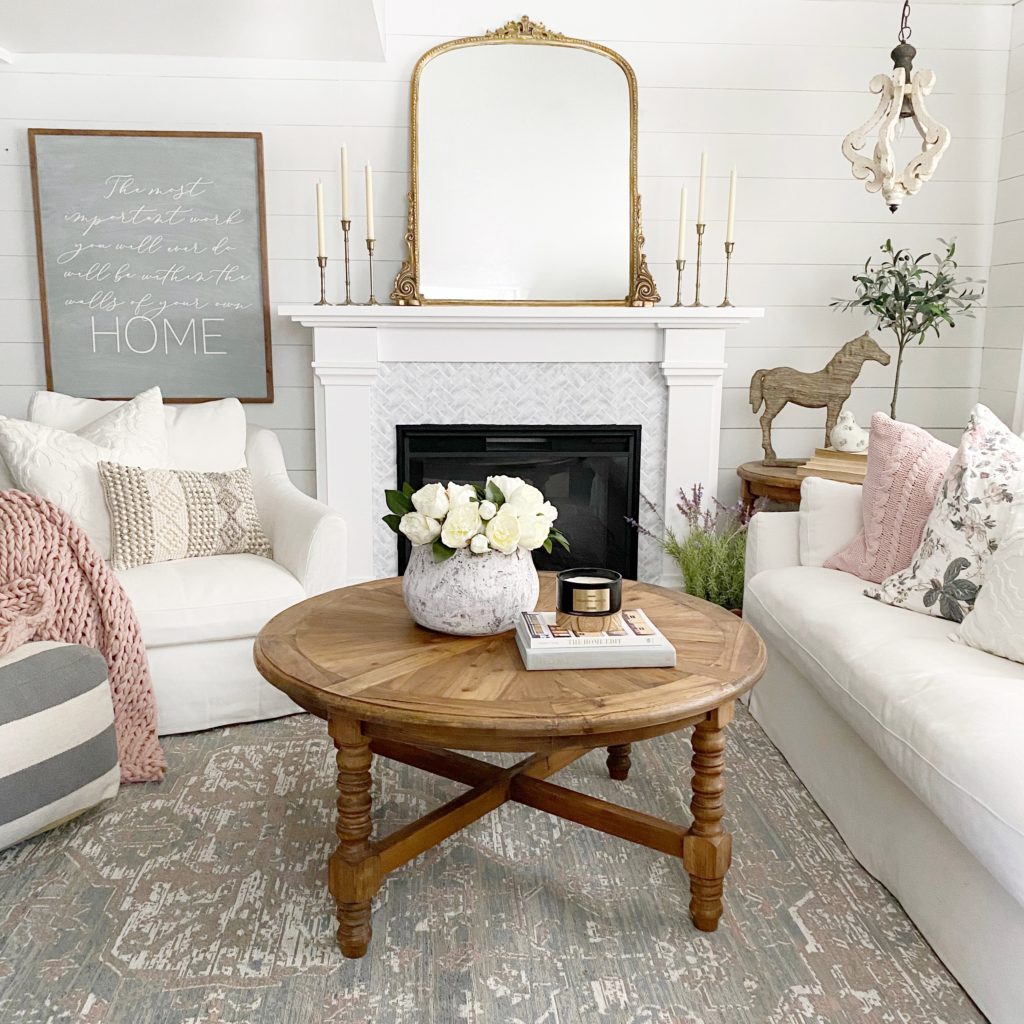 I have shared before how its been so hard to get this space right. This room used to be a garage and its a bit funky! Finding the perfect pieces to fill the space has been a challenge, but thank heavens for Bed Bath & Beyond. You know how much I love this fireplace I found many years ago from there. It has been my favorite part of the room and today you can see how I transformed it!
You can see all the before photos from this room HERE, HERE, and HERE.
EASY WAYS TO UPDATE YOUR LIVING ROOM : SWITCH OUT YOUR RUG
You can see in the photos above the huge difference just changing a rug will do! I love the white rug, but this new one from Bed Bath & Beyond HERE adds such a statement to the room! This is such an easy way to update your living room or any space.
EASY WAYS TO UPDATE YOUR LIVING ROOM : SWITCH OUT YOUR COFFEE TABLE
With this small space it has been so hard to find the perfect coffee table, and I finally found it!! This bench I loved and still love, that you can find HERE I moved to our front room! This new table is just so perfect for this room and I love the color it adds to the space.
EASY WAYS TO UPDATE YOUR LIVING ROOM : ADD SOME PAINT, WALLPAPER or PEEL & STICK
I loved the fireplace how it came, but I was ready for a change! I debated about painting the entire thing but I wanted to just add some tile. So peel & stick was the way to go! I thought easy project… well it wasn't that easy, but so worth it! I will have a full tutorial so check back soon! You can buy the fireplace HERE.
EASY WAYS TO UPDATE YOUR LIVING ROOM : ADD A NEW BLANKET, COFFEE TABLE DECOR, or PILLOWS
This chunky knit blanket, I just adore.. you may have seen it in Zoe's room she loves to cuddle up in it! I love that it is so cozy but it doesn't shed like traditional ones.
I love adding just some cozy textures with the blanket, pillows, and decor. I love this vase I found HERE along with these gorgeous peonies.
With all the time we have been spending at home, the kids wanted to learn chess! We found this gorgeous chess game at Bed Bath & Beyond too! I love that it even has a drawer for all the pieces.
This cabinet I ordered from Bed Bath & Beyond last year has been so perfect in this space. I love that it can hold so many of our favorite things and look so nice. I hope you liked to see all my ideas on how to update your living room! I linked all the items below, just click on each link!
Bee & Willow Rug
Chess Set
Fireplace
Pink Chunky Blankets
Coffee Table
Black Candle
White Peony – I used two
Grey and White Pouf
White Vase
Wooden Horse
Coffee Table
Cabinet
Cable Knit throw
White Curtains
Magnolia Chunky pillow
PIN THIS IMAGE FOR LATER, AND COME PIN ALONG WITH ME HERE.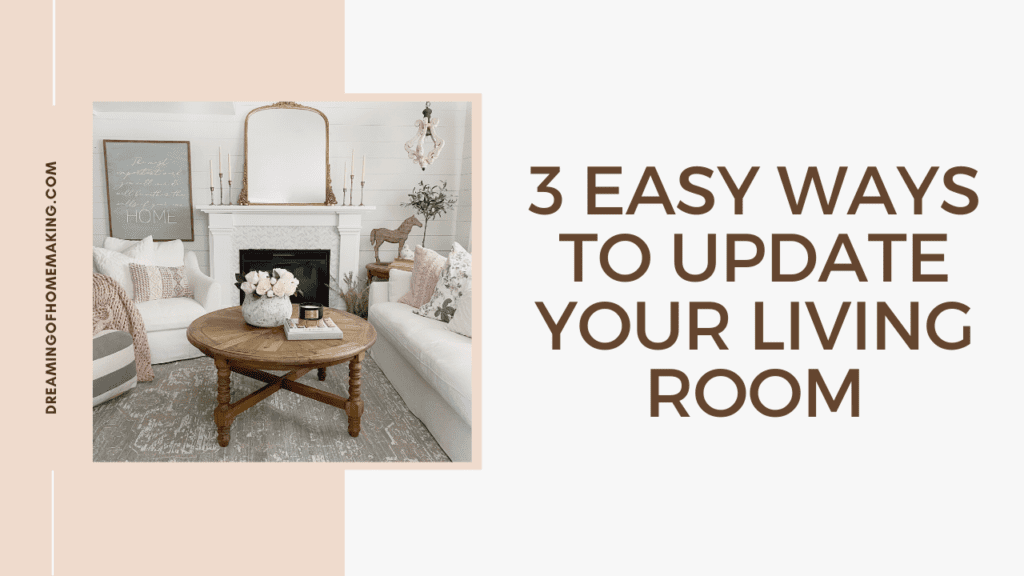 DON'T MISS THESE POSTS :