Organized Entryway + 5 tips to keep it organized!
I always get asked about all the details of my mudroom entryway, while it goes through changes for each season one thing stays the same and thats how its organized! Today I will be sharing all the sources, along with some views along the way + 5 tips to keep it organized.
If you are wondering how we did this space all the details you can find HERE it was such an easy DIY and I wish we did it many years ago!
Here is the whole view of the space, as you can see I like to change things around, the only thing missing in these photos is the "stuff' but you will often find the baskets with paper, and the kids backpacks hanging up. And that leads me to my 5 tips to keep organized :
1. Have a spot for everything. If your kids and you know where everything goes its easy to make sure it stays that way.
2. Label your bins. This is great for your kids to have ownership of their space and a great way for younger kids to learn how to spell their name.
3. Less is best! I am in no ways a minimalist but I have learned that having less things in a space = less clean up and stress!
4. Keep up. Keep up on clearing out their paper bins, check their shoe bins to make sure the right sizes.
Now for number 5 its a bit longer but a good one!
5. Make sure the space works for your family! We have tried so many different ways over the years, and this has been the only one to stay and that is because it works! If your family does a lot of sports, you may need spots for all of their gear, if you want a chore chart in the space add that ( ours is in the hall next to this) , if you have lots of seasons make sure to organize accordingly ( ours is normally always cold and wet so it stays the same haha!) After its all said and done its your family that this needs to work for so make it work for you!
I wish I could let you know where to buy this amazing chalkboard is from, but I got it HERE and it sold out so fast! If I ever find it again I will be sure to shout it from the rooftops!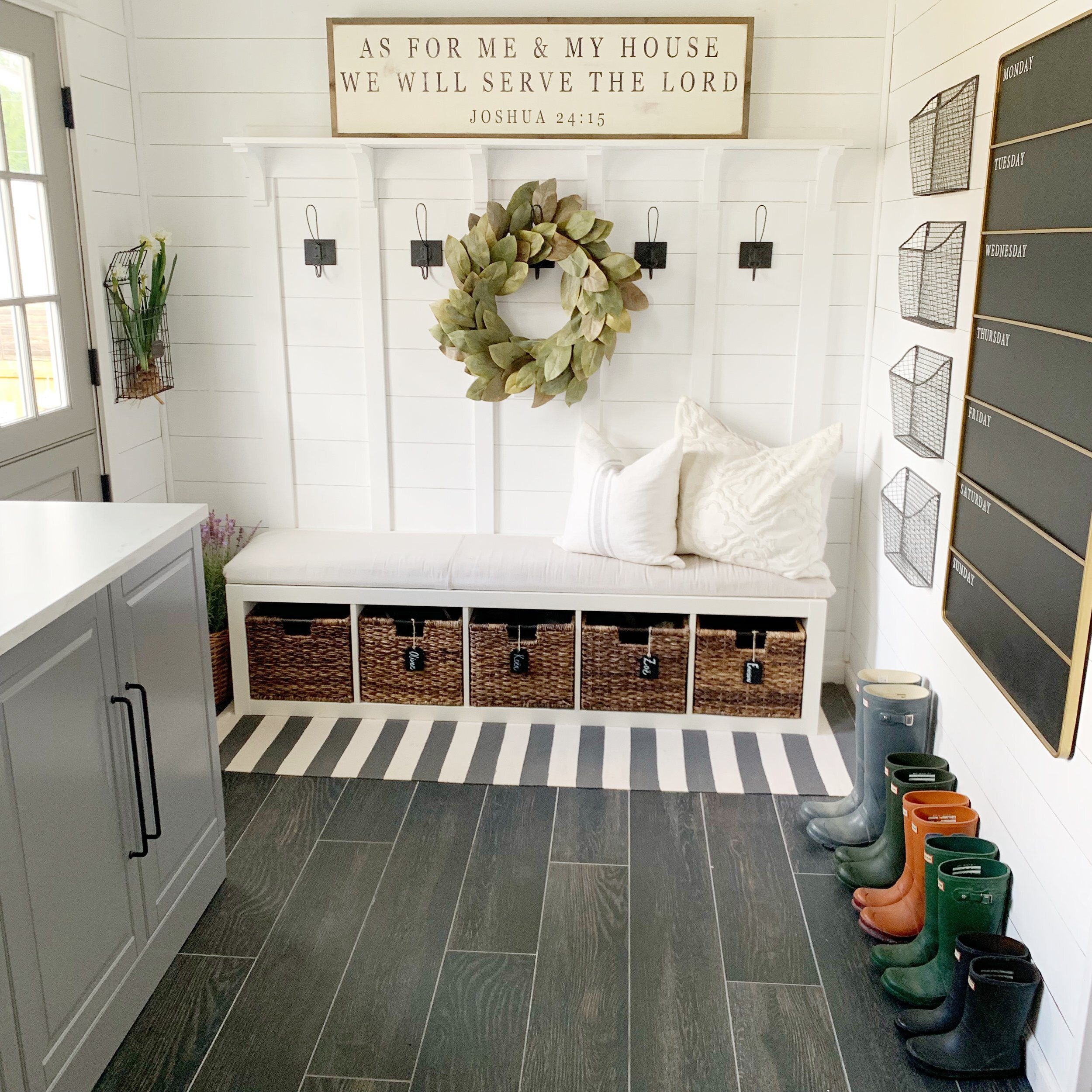 Now for all the sources ( Just tap on each item below) :

Welcome Sign
Hello Doormat
Joshua Sign ( contact link for this size)
Straw Market Basket
Gooseneck Lights
Baskets for bench
Bench Cushion
Pillows
Bench
Hooks
Metal Baskets
Faux Lavender
Stripe Rug
Hanging Light
Wreath
Paint Color : Sherwin Williams Pure White

I hope I answered all the questions you had about this space, and hopefully you enjoyed these simple tips on keeping your entry organized! Let me know if you have any questions and pin this for later! If I inspired you for your space make sure to send me a photo on instagram HERE so I can share it!
Pin this image for later, and come pin along with me HERE.