Bathroom Refresh – 6 projects under 30 min each! Mostly beginner to advanced – come makeover this room with me!
Today I am going to share with you 6 easy projects for a bathroom refresh that all take under 30 minutes each! This month my challenge with the Better Homes & Gardens line at Walmart they asked us to share a project that anyone could do and why not 6! Well really this space is 8 but I wanted to go over the quick ones, and one that wasn't so quick!
First, we went shopping in store and online – you really can get everything you need from the Better Homes & Garden line at Walmart! Here are just a few of the things I picked up but if you didn't know they carry everything from paint, wallpaper, lighting, hardware, decor and even furniture including vanities!
Here is the bathroom we will be working on, the BEFORE. The wall color is nice, but it has neon green popping through and is ready for a fresh coat of paint. The room next door is dark so we want to make it feel brighter. Not only are we going to paint for this bathroom refresh but we have the 6 projects under 30 min each!

Really I would love to replace this vanity, but that is for another day. In our old house HERE is a bathroom we redid with the Better Homes & Gardens vanity.
Project 1 : Decorate with some new decor and accessories! ( Beginner)
I loved this mirror, towels, toothbrush holder, glass apothocary jar, and even planter.
Project 2 : Replace hardware ( Beginner if same holes, medium if new holes)
I loved this Better Homes & Gardens hook, and these knobs and pulls are great.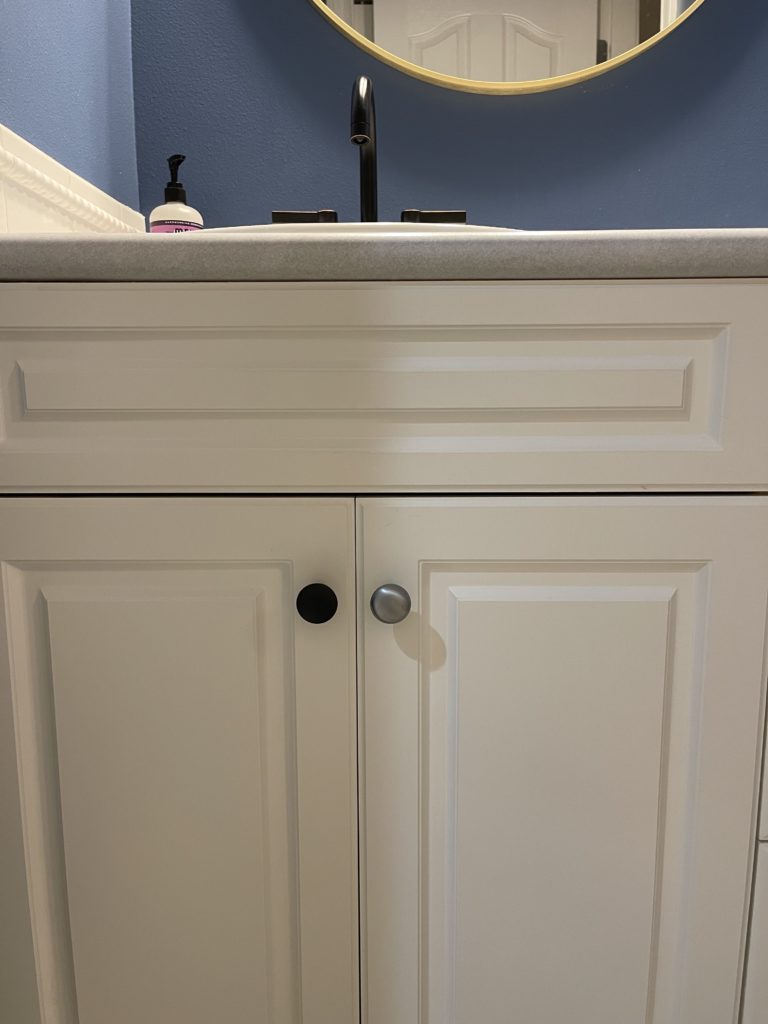 Project 3: Replace Faucet (Advanced always seek a professional if needed)
You can find this faucet HERE, I love how much of a change it can make and so affordable!


Project 4: New Mirror (Beginner)
I might have 3 of these mirrors HERE in this house, it not only comes in gold but black too and is such a statement piece.


Project 5: Paint Vanity (Beginner)
I used some paint I had, but the Better Homes & Gardens line at Walmart has so many amazing colors to choose from HERE.


Project 6: Replace Light Fixture (Advanced always seek a professional if needed)
I had this light HERE in our last house and it changes the space so much! It is bronze, but I always feel looks more black like I am going for.


Then the other projects we did in here, painted the walls. I will be honest I have done a bathroom this size in 30 minutes before. Covering up dark colors takes a bit longer so this didn't go as quickly.

The other project is flooring you can see they are changed, honestly they aren't installed but put them in there… its a longer project for another day but you get my vision.


I hope you enjoyed seeing some quick projects for each level of experience and hopefully you want to tackle some on your own! I know I love to see before and afters and while a space might look good, it normally can always look better and have your own personal touch! Make sure to check out all the items I used from the Better Homes & Gardens line at Walmart to make this space complete!
Here are some of the items I purchased from the Better Homes & Gardens line that you can find at Walmart HERE.

Mirror HERE
Faucet HERE
Hook HERE
Hardware HERE
Planter HERE
BHG Light Fixture HERE
Marble Toothbrush Holder HERE
Marble Tray HERE
Glass Jar HERE
Candle HERE
Heater/Fan HERE
Towel HERE
Chair HERE
Quilt HERE
Pillow Case HERE

Bathroom Paint : Crockery White and Hale Navy
Bedroom Paint: Rainy Afternoon and Crockery White