My First Turkey : How to Prepare the Easiest Thanksgiving Dinner Ever!
I will be honest, I have never been a fan of Thanksgiving and I said that I would never make a turkey. Well, today I went against everything I ever said and thought, and made my first turkey! Now let's get to how this all came about.
I saw on Hickory Farms site that they had a Premium Thanksgiving Dinner, and I thought wow that sounds amazing for someone like me who hosts but doesn't really love the mess and chaos of it. I ordered online and soon after my package arrived, all ready for me to heat up!
Everything came frozen, and packed in dry ice. I put the turkey in the fridge to thaw and the rest of The Premium Thanksgiving Dinner in the freezer. I waited 4 days to cook the meal from the day I received it, I did find lots of recipes to do the same day if needed.
Since I never planned to cook a turkey in my life, I had no clue how to. I followed the instructions on the turkey and found a youtube video on how to prep it! Honestly it was so easy to do, and probably the easiest thing I have ever cooked. The timer on the turkey made It super simple to tell if it was done. I am sure I could have used another pan but this was what I had.
One of the reasons I dislike cooking / Thanksgiving is all the clean up. Ordering from Hickory Farms made it so we could still get the amazing food but without all the stress and clean up. All the sides you can see in this photo, you cook them all at the same time at the same temperature how easy is that?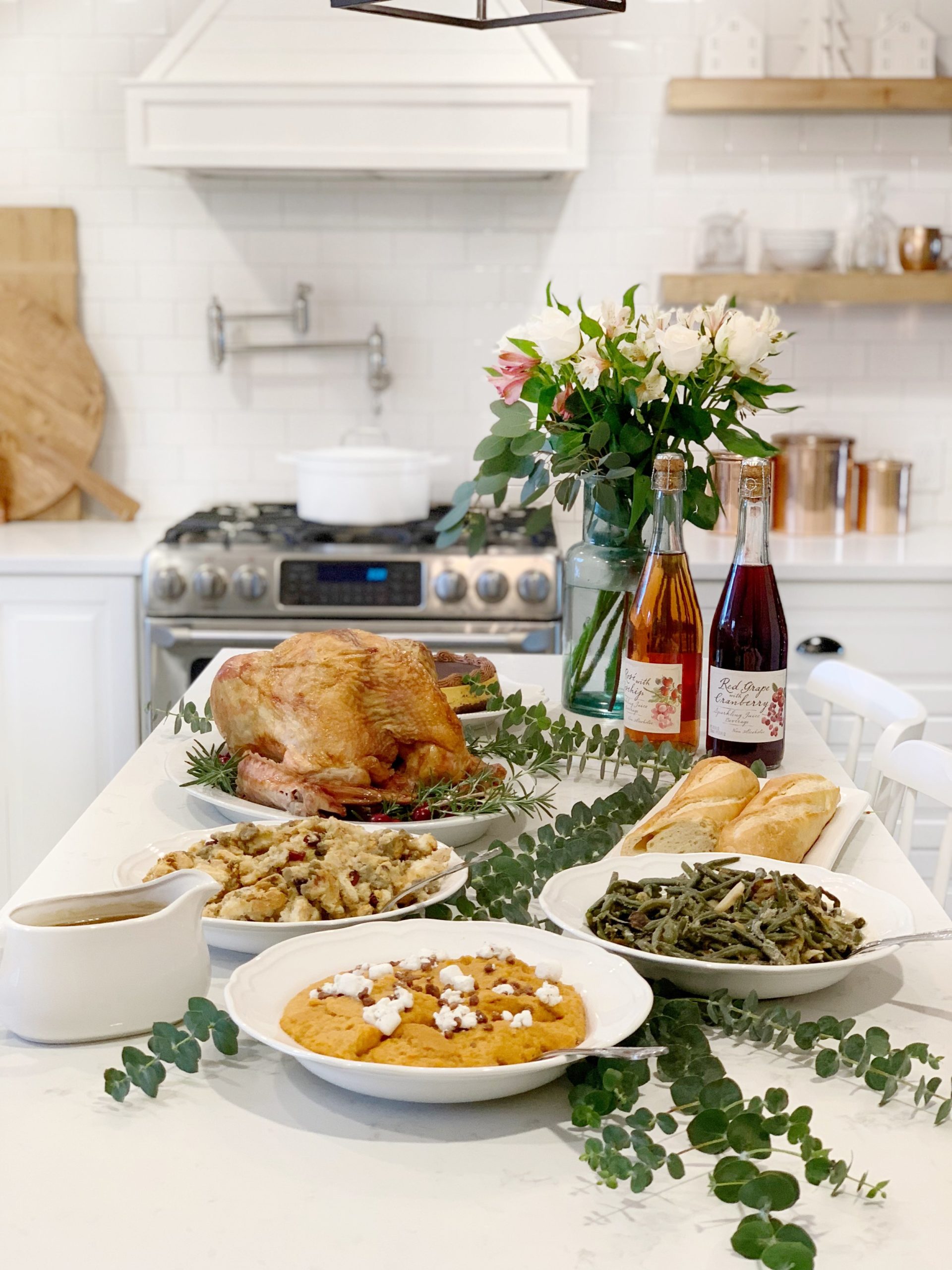 If you want to keep dishes to a minimum just use the containers the sides come in, or if you want to get fancier put them in your best dishes and enjoy! Either way you will love this easy Turkey Dinner!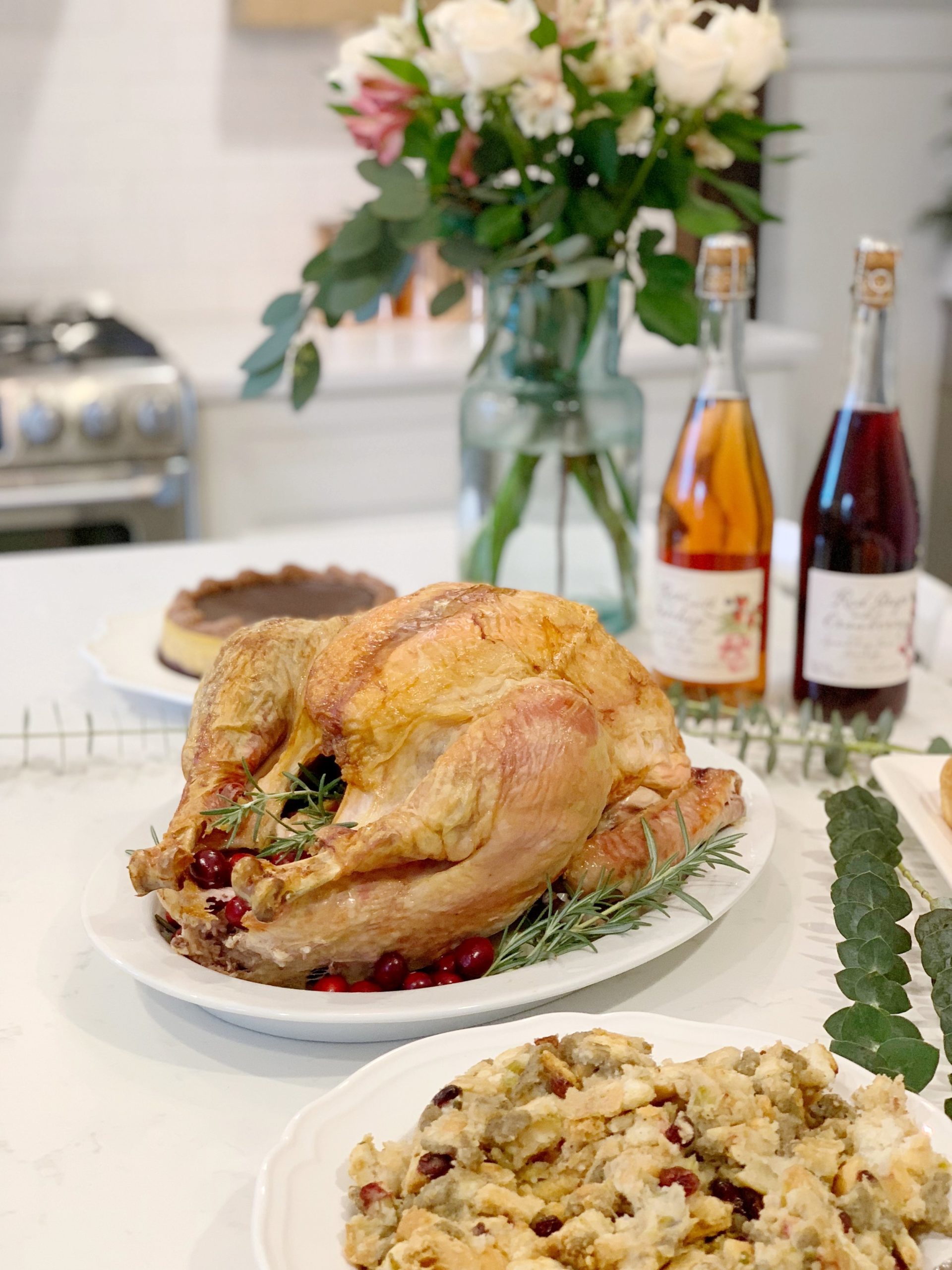 I added some rosemary we had in our window boxes, and some fresh cranberries to the turkey. The stuffing is always my favorite and this was the Apple and Sausage stuffing and it did not disappoint!
These brown sugar sweet potatoes were a hit with my kids, they were so good!
I loved how easy this meal was to prepare, you can make your own gravy from the turkey or get your own.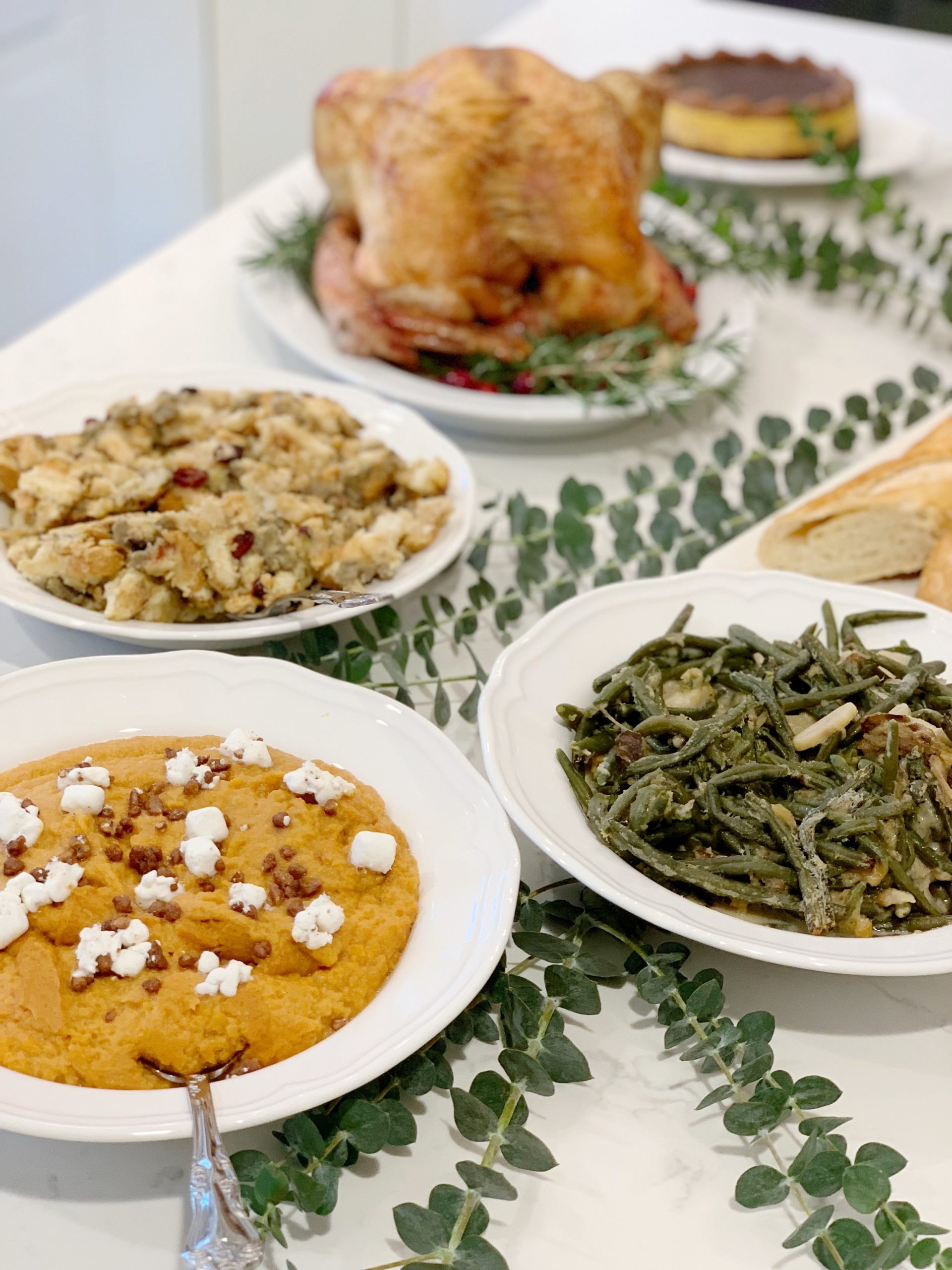 I don't think it can be Thanksgiving without green bean casserole, that and stuffing are my favorites!
The kids have been waiting all day to eat, they kept coming downstairs to see what was cooking!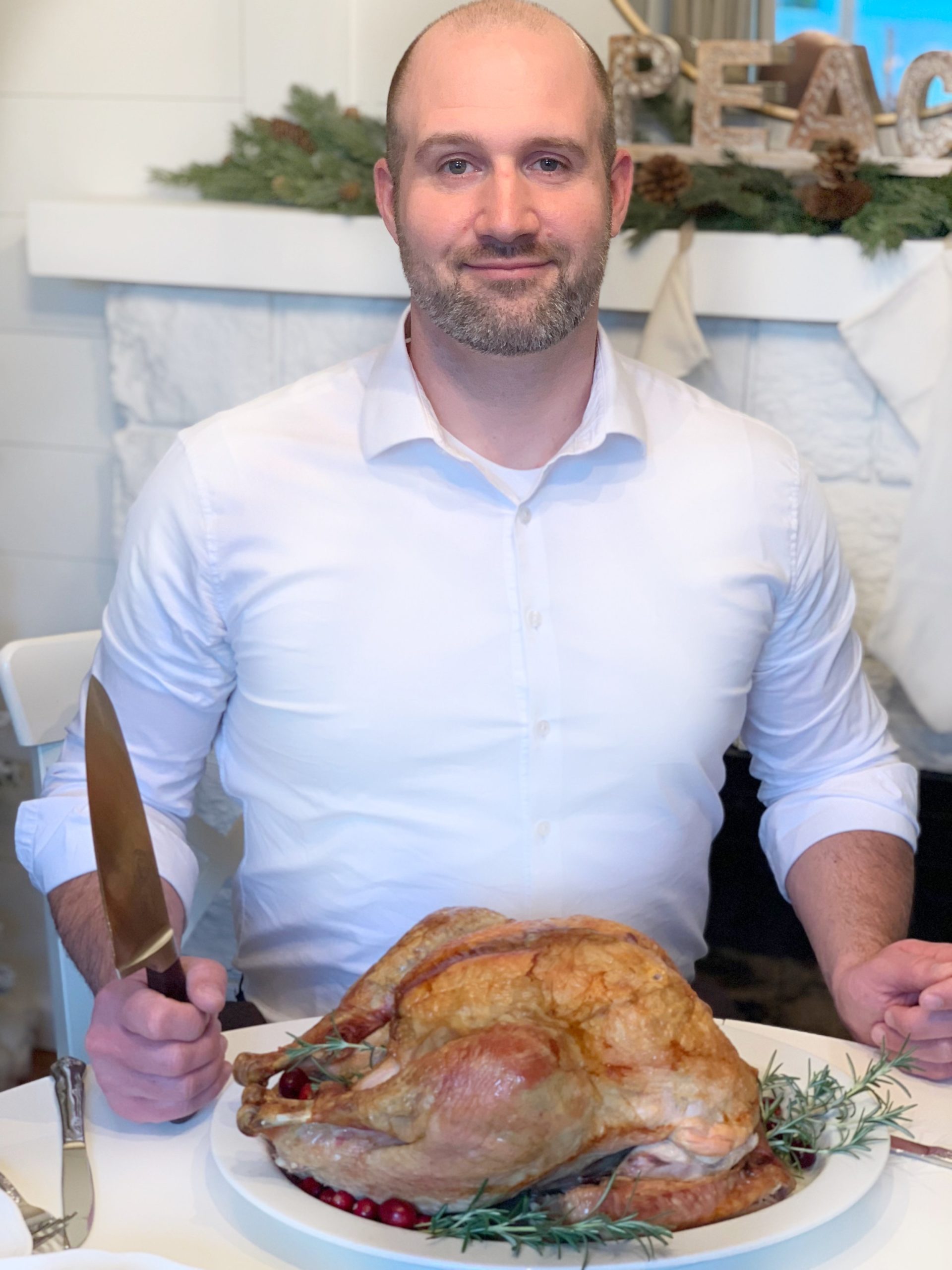 James gets to be the Turkey Carver, and really he hates the job… he got elected to do it at my families Thanksgiving and needless to say there was lots of laughs from my grandpa and he said never again.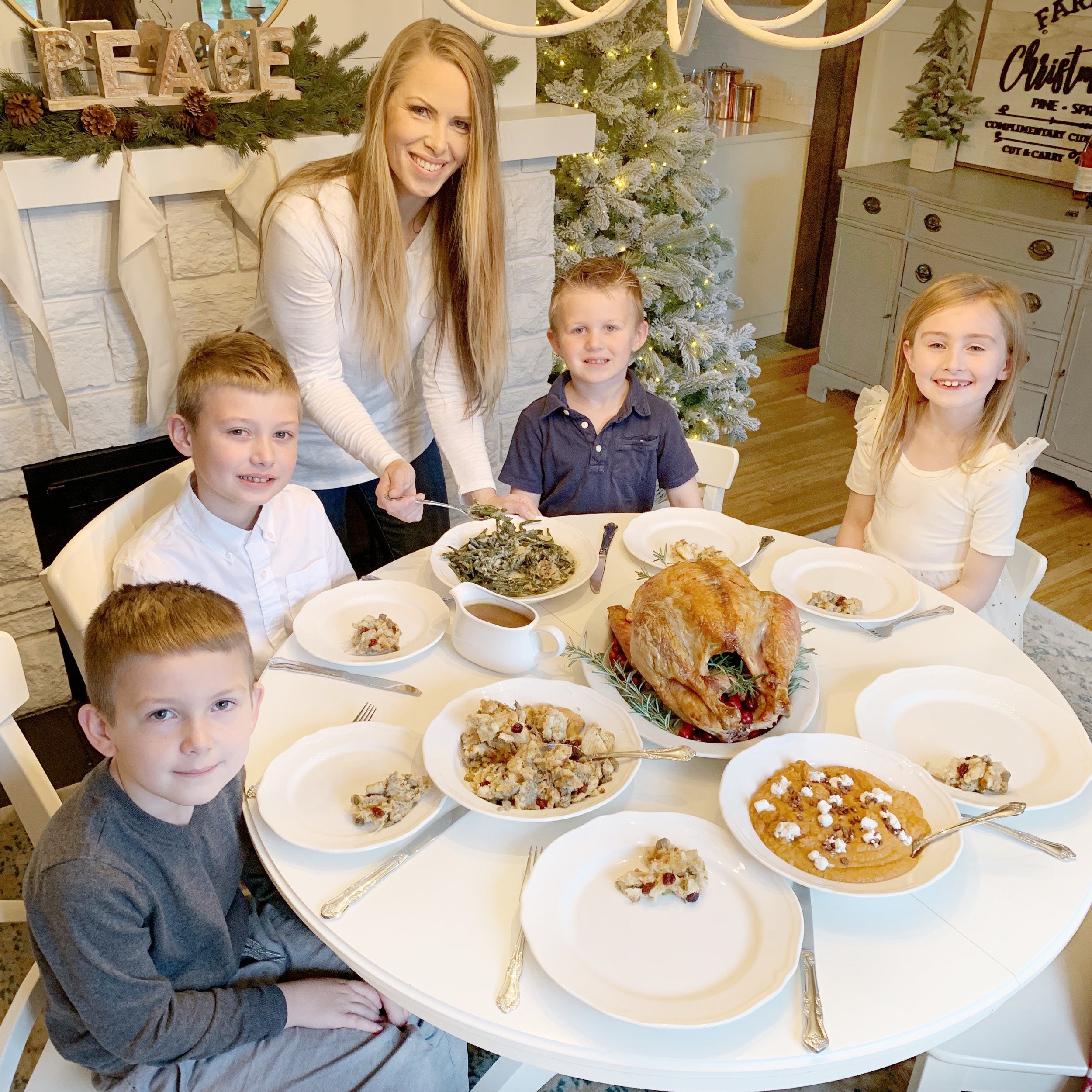 Now it's time to get ready to eat!
Ollie is just a little excited, he is our best eater! I really think he just wants to hurry and eat so he can have the Chocolate Pumpkin Cheesecake.
I survived cooking my First Turkey, all thanks to Hickory Farms! The funny thing is, when I ordered it I will be honest I thought I was getting a cooked turkey! So it was quite the surprise to see a frozen turkey especially to me the one who dislikes Thanksgiving. I will say, now that I have cooked a turkey it was so easy to do and I am really excited to do it again! We all loved it so much and a big thanks to Hickory Farms for this wonderful meal! Now to try the Premium Holiday Dinner Next!
PIN THIS FOR LATER: