Office Remodel-DIY Light Install-Wireless Switch
Today I am sharing about our office remodel doing a DIY light install using the RunLessWire wireless switch!
Have you ever found the perfect light fixture, but only one problem – the space isn't wired for one. We found the solution for us and know that it would be helpful for so many others. In our office we didn't have attic or crawl space access, to put the light and the switch where we wanted it to go. We would have had to tear out some drywall and most likely hired it out! We found the solution!
With the RunLessWire wireless switch all you need is a power source! Under our desk we had a power source, and that is all we needed! You can use the light switch anywhere up to 50-150 ft! Now it is time to install and make my light dreams come true!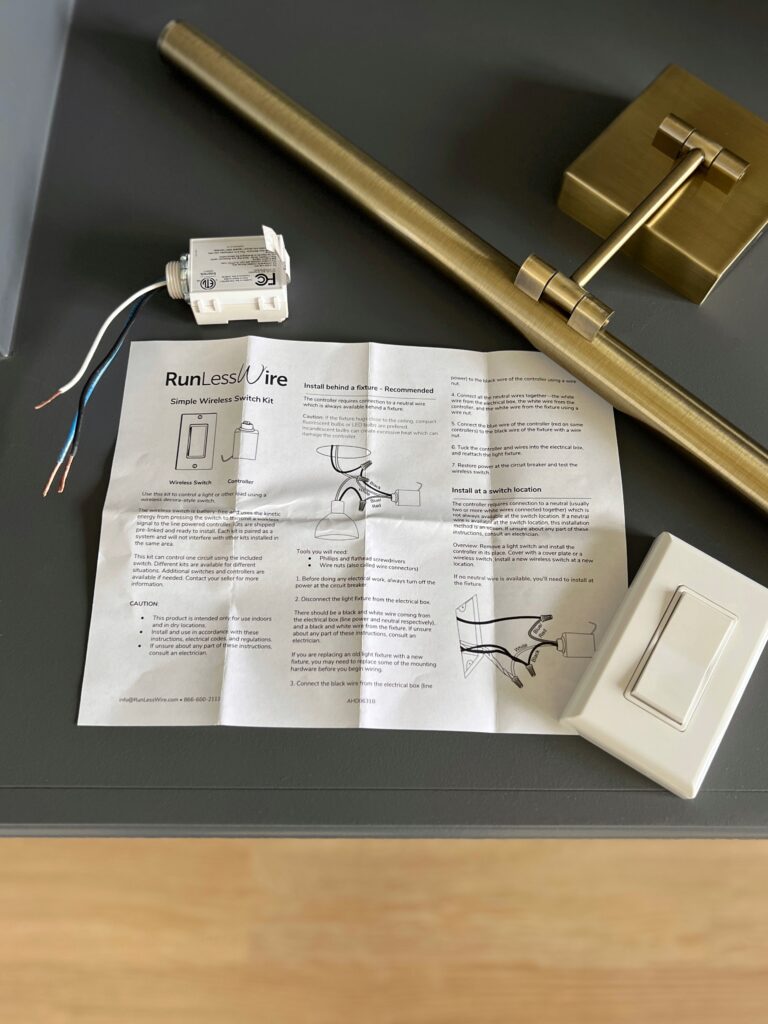 While we would love to show the install, we are a DIY account and not electricians but you can see how easy above! It was simple to do and a quick project!
Here is how the RunLessWire looks behind the light fixture and now its time to hook it up and watch the magic happen!
Tada!! We now have our new light fixture hooked up and can use it anywhere!
I am so excited with this office remodel so far, and stay tuned for more! I hope you loved seeing how we did a DIY Light Install using RunLessWire! RunLessWire's basic wireless light switch kit for this light but they offer so much more like 3 way and 4 way kits. They even have solutions renters to make your livings space better. You can shop this kit below and the other products they offer along with the rest of the office!

SHOP HERE
RunLess Wire Switch ( Use code : DREAM10 for 10% off)
Light Fixture
Dark Paint Color – Behr Graphic Charcoal
White Paint Color – Crockery White
Flooring
Chair