Plant Addicts – What I bought!
Plant Addicts – What I bought! Let me share with you the flowers I found and all the other goodies, I am ready for summer!
Today we turned this little corner into a place I want to just escape. I wish there was a scratch and sniff feature, but I am going to share where I got my plants and flowers from. Would you have guessed from The Better Homes and Gardens line at Walmart? Well if you did you know me to well! Not only are the plants part of their line but everything else you see here, let me go into detail!
First, we headed to Walmart and you can see all the Better Homes and Gardens plants. They have such a huge selection and really everything you need including soil and pots.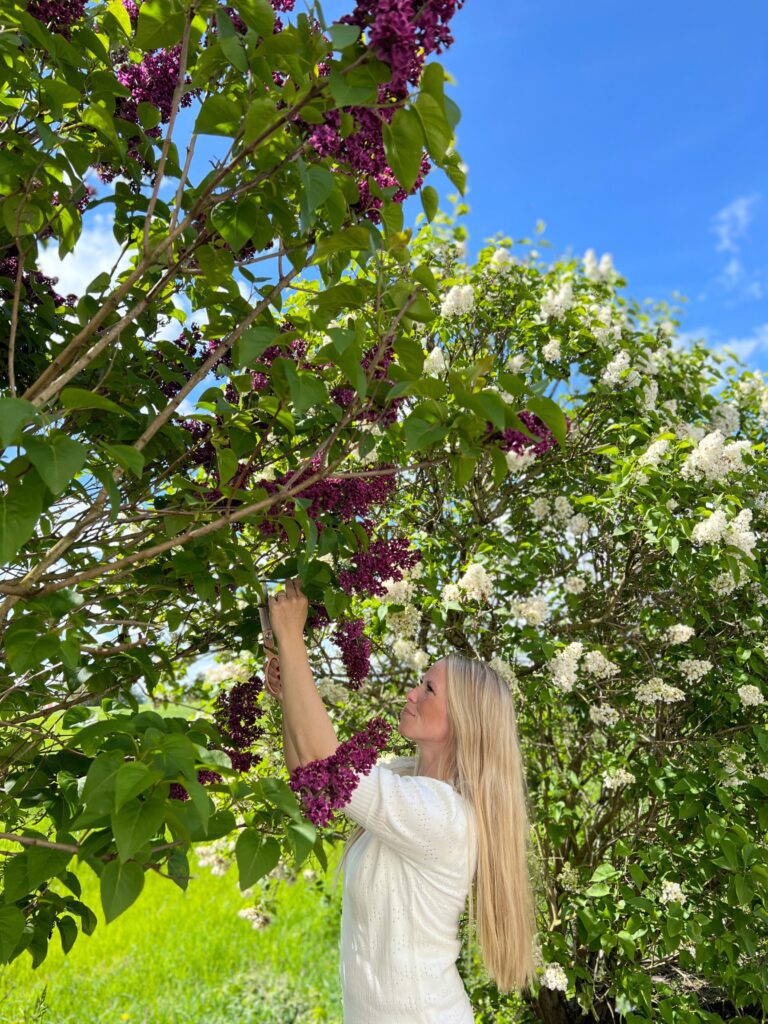 I know it may seem like I have enough flowers and plants, well its never enough. But these lilacs I did pick and put in this Better Homes and Gardens pitcher.
This space all started with this Terrarium Plant stand, it was on my list for so long and I finally caught it in stock! Today we just put in a lavender but Zoe has big plans for this cute piece. On the box it says easy to assemble and they are sure right, it took me minutes! If you are lucky to find it in stock its a must grab!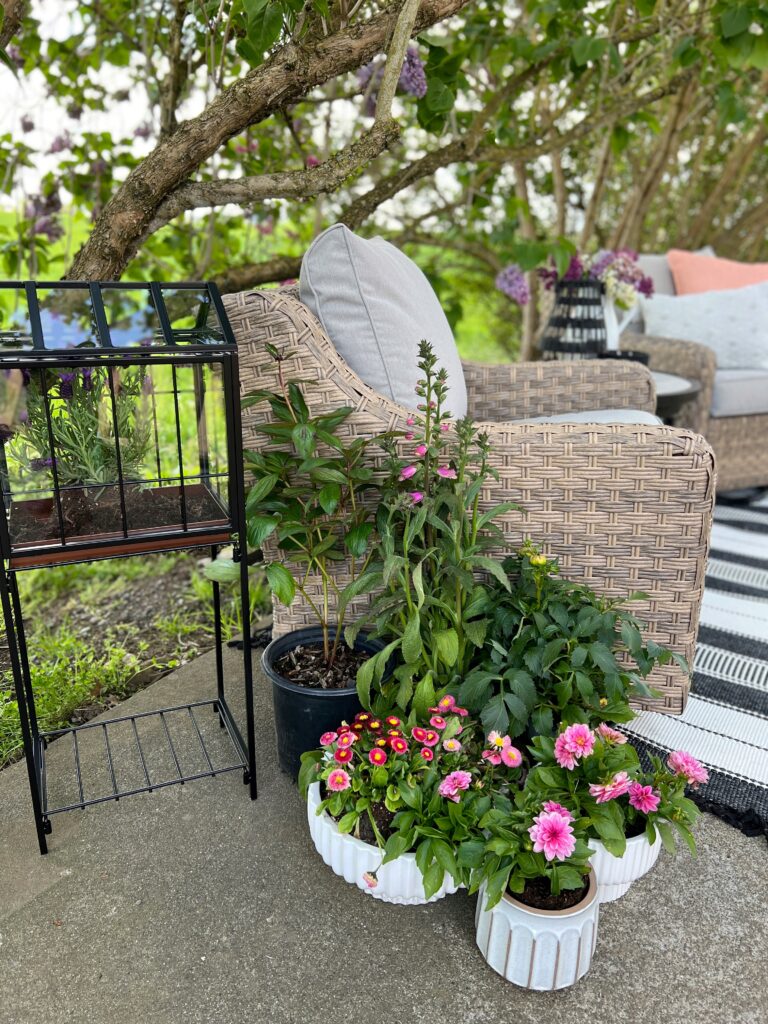 Plant addicts, you can see I have a bit of a problem. Better Homes and Gardens makes it so easy with their gorgeous affordable plants. These are dahlias in different sizes and foxglove.
Nesting tables are the way to go! These came with the two Better Homes and Gardens gliders, and are not only functional but gorgeous.
If only buying outdoor pieces is in your budget and not plants too, then take some clippings from outside or ask a friend and you can feel like you have fresh flowers.
I love this lantern and citronella candle from the Better Homes and Gardens line at Walmart it makes the space extra cozy.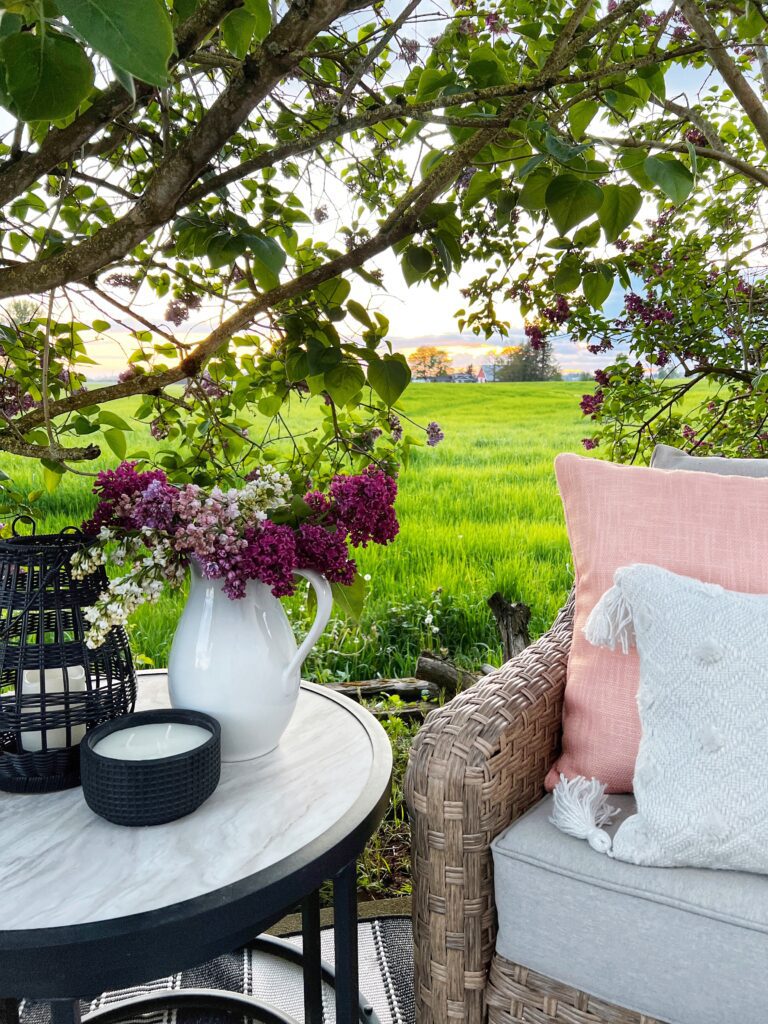 One of my favorite views, our amazing sunset. These cozy pillows are outdoor and I thought the perfect touch of color.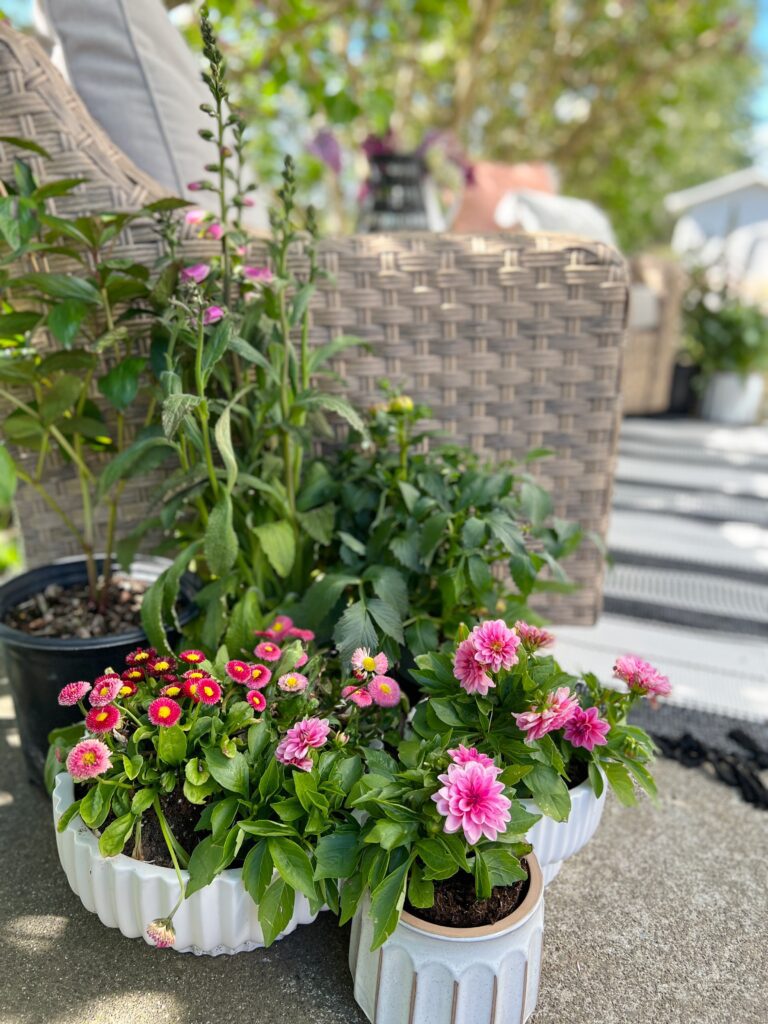 I hope this gave you some ideas of what you can find at Walmart from the Better Homes and Gardens line and how to style it. I love being able to partner with them to bring you fun ideas.

Make sure to pin this post to save for later and don't forget to shop the links below.
To Shop this post, click the items below.
Terrarium Plant Stand
Mister
Better Homes and Gardens Two Piece Glider and table set
Black and White Outdoor Rug
Outdoor Lantern
Citronella Candle
Pitcher
Peach Outdoor Pillow
White Rectangle Outdoor Pillow
Live Plants Better Home and Gardens
Solar Lights
Planter Cream 8″
Planter Cream 6″
White 8″ planter
White 12″ planter